Summer time! It's finally here. And if you're a fellow Canadian you 100% know how much of a celebration that is. We have incredibly long winters here and we tend to stay indoors to avoid the cold (even though it's super pretty) and just long for the warm summer days. There's plenty of things to do in Toronto in the summer once it does arrive but sometimes it can be hard to get motivated to with your plans and before you know it the colours of the leaves are changing and you're panicking that you've wasted your whole summer. But to help you prevent that, I've put together this giant Toronto summer bucket list with all of the things to do in Toronto this summer. Read on and if I've missed any of your favorites let me know in the comments!
Spend a day at the Toronto Islands
There's nothing quite like getting on that ferry from the terminal and watching the islands approach. They're the perfect place to spend a warm summer day. There's cafes, beaches, walking trails, a little amusement park and so much more so it's totally easy to spend an entire day there and even have more to come back to after that.
If you're mainly looking to just relax pack yourself a blanket, a good book and a picnic basket and you'll be set for the day! Bring a camera too because you're in for some fantastic skyline views!
Indulge in some epic ice cream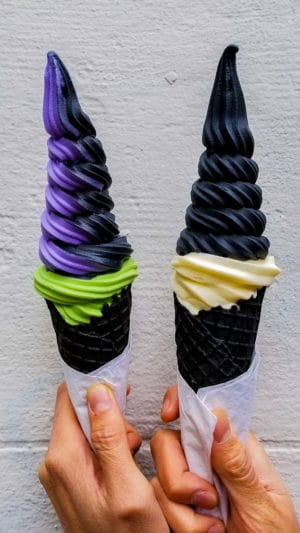 There's nothing like ice cream in the summer now is there?
Toronto's got no shortage of amazing ice cream places to check out and while you're probably going to have to line up for it it's totally fine because it'll be beautiful outside and the wait will totally be worth it.
My personal favorites include Bang Bang Ice Cream and Bakery and Bar Ape but you honestly can't go wrong with number of options the city has to offer!
Pack a picnic and enjoy some nature at some of the best parks in Toronto
There are so many ways to enjoy this. Grab a bunch of friends, pack a giant feast and head to a park for a few hours worth of hanging out.
Alternatively, spend some quality time with yourself and pack a great book, a comfortable blanket and a ton of snacks and be your own best friend for the day!
Who could forget the option of packing a romantic basket and enjoying a relatively cheap date with your significant other? Toronto's got some beautiful parks so whether you choose Trinity Bellwoods, High Park or one of the smaller parks you'll definitely be in for a great day.
Take in the Pride Parade
Grab a great spot on the street somewhere and take in the full glory of the Pride Parade when it takes over Toronto in late June every year. Over 1 million people attend and it's definitely one of the most epic events that takes over Toronto every year!
The 2020 Pride Parade is not taking place but it just gives us more to look forward to in 2021.
Spend some time at any of the beaches around the city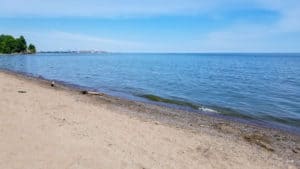 There are so many fantastic beaches to choose from all around the city and you can easily spend a number of days checking them all out!
While the popular ones like Cherry Beach, Woodbine Beach and Scarborough Bluffs always get packed – you can find beaches around the city that aren't quite as full. Make sure to head both west and east to be able to take in all the beaches around the city.
If you're feeling particularly brave why not check out the all nude beach on Centre Island?
Go on a food hunt at Kensington Market
Kensington Market is one of the best parts of all of Toronto and it's got some of the most interesting restaurants in Toronto. It's got the most ridiculous combination of restaurants and a lot of them are limited in seating which presents itself as an ideal summer activity because you can get your food to go and wander around eating it! Pro tip is to buy smaller items from each restaurant so that you can try more of them!
Take a stroll down Graffiti Alley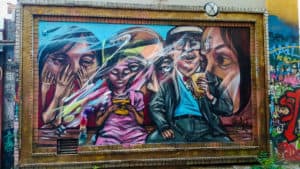 Graffiti Alley has some of the best street art in Toronto and there's nothing like a beautiful day to check it out!
One of the cool things is that the murals change often so no matter how often you go odds are that you'll see something new so make sure to bring your camera and your best summer outfit.
If you're looking to avoid crowds I'd recommend a week day or perhaps early in the morning on a weekend but the good news is that there are so many murals that you'll find an empty one for pictures no matter what.
Make sure to detour down into some of the side alleys because you'll be able to find more pieces that way as well. You may also get to see a picture being painted!
Explore Black Creek Pioneer Village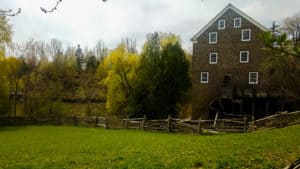 Black Creek Pioneer Village is a great way to spend a day outdoors and to also check out a cool part of Toronto at the same time. It's pretty much a miniature village that depicts living at the time of the pioneers. They put on performances of some of the day to day activities which are worth checking out too!
You can check out prices and opening times here.
Cheer on TFC at the BMO Field
Soccer hasn't always been big in Canada but Toronto FC has changed that for our city and the atmosphere at BMO Field is infectious! Check out their schedule to see when they're playing this summer and head on over to get tickets!
Party it up at the Gatsby Garden Party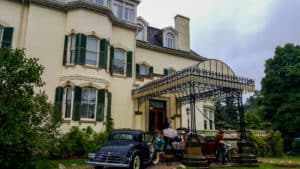 Every summer the Spadina Museum hosts an epic Gatsby Garden Party. It's a great event to grab some friends at, dress up and pretend you're part of a different era! Plus you get to check out a very cool historic building in Toronto.
There's no party for 2020 but we'll look forward to an even better one for 2021.
Get cultural with Shakespeare in the Park in High Park
High Park sets up Shakespeare plays in the park every year with a couple of plays rotating throughout the summer. To check out what's on head to their website.
Go for a hike on any of the trails around the city
There are plenty of beautiful trails all around the city in various lengths that you can check out. If you're feeling particularly energetic I recommend the Don Valley Trail!
Dress up and attend the Queen's Plate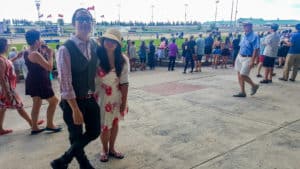 The Queen's Plate is the big annual horse race at Woodbine Racing Track. You don't actually have to dress up to go enjoy the day but it's a little bit more fun if you grab some friends, pretend to be royalty and bet on horses! It's fun even if you have no idea what horse races are!
The 2020 weekend is on September 12, 2020.
Partake in a true Toronto tradition – brunch!
Toronto enjoys a good brunch. Like a lot. So that means there's typically a long wait for it. But luckily if you choose to go in the summer you'll be waiting out doors enjoying the beautiful weather and some of the restaurants even have patios which makes it even more enjoyable.
Take in the Caribana Festival
The Caribana Festival is a month long festival with a ton of events in the month of July celebrating everything Caribbean culminating in a giant parade at the end of the month!
There's no 2020 parade but they'll come back with a bang in 2021. The parade runs through Exhibition Place and Lakeshore Boulevard. If you want to partake in Exhibition Place there's an admission fee but it's free to observe on Lakeshore Boulevard!
Take in a Blue Jays game with the dome open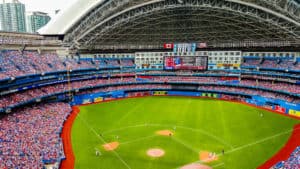 Seriously, it's worth it. The people watching, the atmosphere, the blue sky, the view of the CN Tower. It's all so epic.
You don't even have to like baseball. Grab a ticket in the cheap seats, round up a ground of your friends and you're all set!
The Jays play all summer long so check out the schedule and scout some tickets!
Enjoy a free concert
There are plenty of free concerts playing all around the city and it's one of the best ways to check out the city. Harbour Front Centre is for example offering free concerts in the TD Garden all summer long. You can check out the dates on their schedule. It's undecided if it's proceeding for this year or not.
Take in a movie at TIFF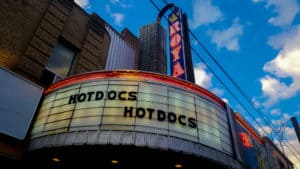 The Toronto International Film Festival is one of the biggest film festivals around the world so whether you want to check out some new movies or stalk some stars, definitely make time for TIFF in your schedule.
There's 100s of movies airing so make sure to take a look at the schedule.
The 2020 festival is still potentially happening so keep an eye out for updates on that.
Enjoy an outdoors movie
There are plenty of venues all around the city and is there anything better than grabbing a blanket and viewing a movie under the stars?
This is a solid list of places to check them out!
Check out the views at Scarborough Bluffs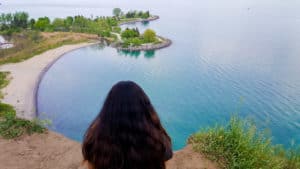 Don't forget the east end! Toronto's huge but luckily the summer is fairly long so make sure to squeeze in some time to hike Scarborough Bluffs and enjoy the aerial view.
Take a day trip to Wonderland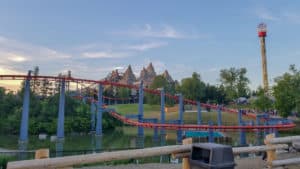 Yes you'll be in line all day but just picture those funnel cakes and it's completely worth it. Plus, it's kind of a ritual.
You have to visit the amusement park at least once a year!
Given how hot the Toronto summers get you know you'll want to enjoy that waterpark!
Partake in the Famous White Dinner
The White Dinner, or Diner En Blanc like it's officially called, has been running in Toronto for 7 years now. 2019 marks the 8th official year. At the moment there's 17000 people on the waiting list for an invite so this one may be hard to get into but if you know somebody who's previously been you should definitely ask them to hook you up with an invite.
Check out the official dates to find out when they're taking place.
Celebrate Canada Day with some fireworks
July 1st is the official birthday for Canada and one that's celebrated across the nation. Toronto is obviously no exception and there's actually a number of sites across the city that celebrate with stunning firework displays.
Walk along Harbourfront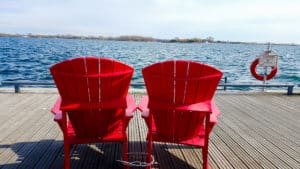 The Toronto waterfront along Harbourfront is beautiful in the summer. There is always a ton of things going on and you'll hardly be bored while exploring the area!
Check out one of the many pools in the city
Toronto's got a lot of pools you can choose from to cool down. The city runs a number of community pools but you could also get real fancy with some of the roof top pools in the city like Cabana Pool Bar and the Thompson Rooftop Pool.
Explore the largest Urban Park (Rouge Park)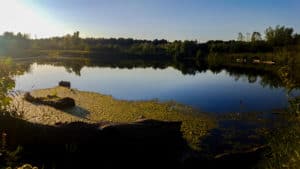 Rouge National Urban Park in Toronto's East End is a giant heaven of trails, water and nature for those looking to explore it. It hasn't always been super accessible but there's now a free shuttle that would allow you to explore the park as much as you want.
The TD Rouge Express does pick-ups and drop-offs at 4 different points and is completely free to use! It is first come, first serve so make sure to check out the website to guarantee yourself a spot.
Check out the Immersive Van Gogh Experience
Toronto's officially become the city of popups and at any given time there's at least 1 or 2 going on. The Immersive Van Gogh Experience runs from June 1, 2020 to September 30, 2020. It's located at 1 Yonge Street in downtown Toronto. Not very surprisingly, it's all about Van Gogh's art. You can find the tickets on their official page.
Rent a bike and explore as much of Toronto as possible
Let's be real, Toronto traffic is no joke. It's awful and creates way too much road rage. And the subway? While it gets you from point A to point B it's not somewhere you want to spend more time on than necessary so why not rent a bike and ride around Toronto seeing as much as you can from your wheels?
Take in some jazz at the TD Toronto Jazz Festival
The annual Toronto Jazz Festival runs in June but is not running in 2020. Expect it back in 2021. There's multiple events across multiple locations so make sure to check out the calendar.
Check out one of many food festivals in the city
Toronto's a food city and that's very much reflected in the summer in the number of food festivals/events going on during the summer: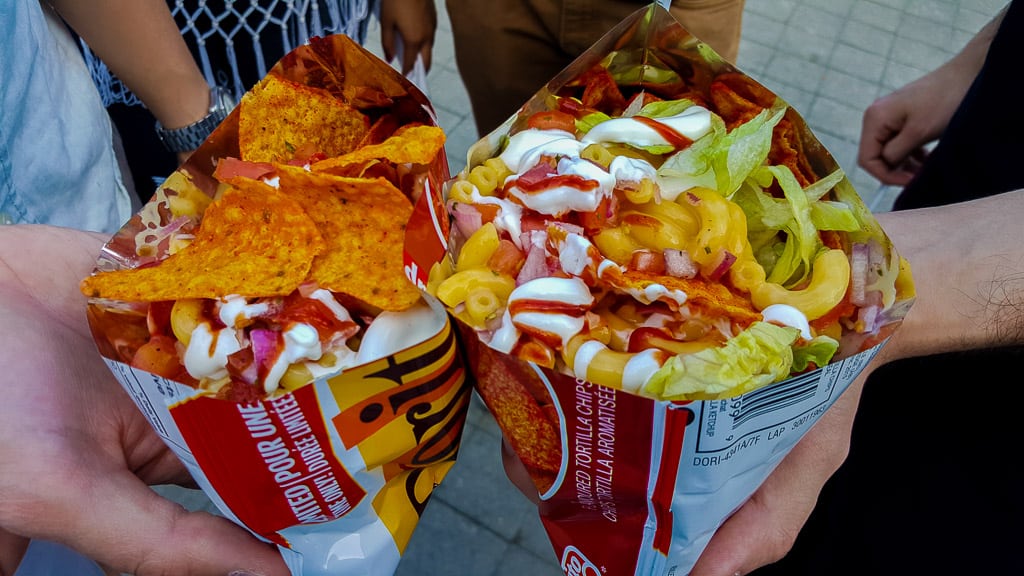 Take in a play during the Fringe Festival
The Fringe Festival is a great way to take in some theater in the summer. There's over 150 shows at 30+ different venues and with tickets only costing $11 (plus some fees) you can check out multiple shows if you're interested. You can find a list of the plays and their schedules here.
Partake in Summerlicious
Summerlicious is an annual event that runs for 2 weeks in July every summer. A ton of participating restaurants offer 3-course prix fixed menus for either lunch or dinner. It's a great way to try out some new restaurants around the city and a great way to get to try out some restaurants you may not have been able to afford otherwise. To find out which restaurants are participating check out the official site.
Walk around the Distillery District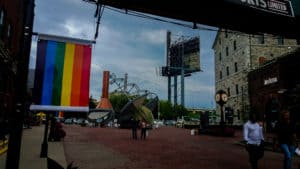 The Distillery District is fantastic year around but it definitely goes all out in the summer with a number of events. There's everything from markets to an art display to a music series to a yoga series!
Shop at a farmers market
Most neighborhoods have some kind of farmers market going on during the summer and it's a great way to get out and support local businesses!
Go kayaking/canoeing on the Humber River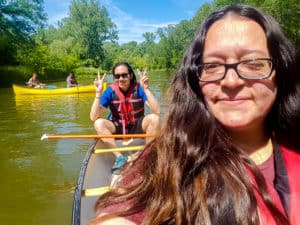 The Humber River in the west end of Toronto is a great place to go kayaking/canoeing within the city! It helps that it's very shallow too so if you're novice you'll be safe!
Explore Evergreen Brick Works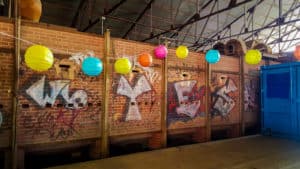 Evergreen Brick Works has events going around year round but in the summer you can enjoy the hikes behind it as well so it's an ideal time to explore this little slice of history!
Partake in true Toronto traditions and enjoy a patio (or two)
Ask anybody in Toronto and they'll tell you we associate our summers with when the patios open. Some brave souls start enjoying patios in May which is still too cold for me but by the time summer kicks off in late June you can 100% enjoy patios! There's probably hundreds of patios around the city and while you may have to wait for a seat it's definitely worth it and a must do this summer!
Take a day trip to some of the fantastic locations around Ontario
While Toronto is amazing and has a ton to offer (look at this list alone!), Ontario in summer is a true beauty so do yourself a favour and reserve some of your weekends for chasing waterfalls in Hamilton, exploring Niagara-on-the-Lake, hiking the Tobermory Grotto and so much more!
Celebrate/mourn the end of summer by visiting the CNE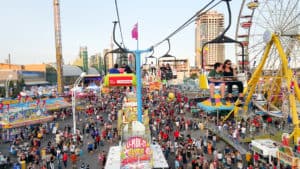 The Canadian National Exhibition (or the EX) marks the official end of the summer but what a way to go.
With incredible amounts of entertainment, crazy foods and things to do there's no better way to celebrate the end of summer than by visiting the CNE. You can shop your way through the international pavilion, eat your way through the food building, ride all the roller coasters, play all the carnival games, watch all the performances and so much more.
The CNE runs from mid August to Labour Day Monday. You can find the tickets and events here.
Unfortunately the CNE will not be open in 2020 but expect it to come back with a huge bang in 2021!
Motivated to get outside yet? What are you most excited to check off on this Toronto Summer Bucket List? Let me know in the comments and pin this post to keep track of your list for the summer!