The Canadian National Exhibition (CNE) is an annual event in Toronto that signals the beginning of the end of summer. It is a two week long party with lots of music, games, rides and most importantly, food. The CNE has become known for its incredibly crazy and adventurous foods. Each year the vendors compete to come up with some of the craziest and most Frankenstein foods possible. I've done some of the hard work for you guys and checked out some of the must try items for this year and come up with my own list of the 8 foods to try at the 2017 CNE. All the prices are listed in CAD and do not include taxes (welcome to Canada y'all!).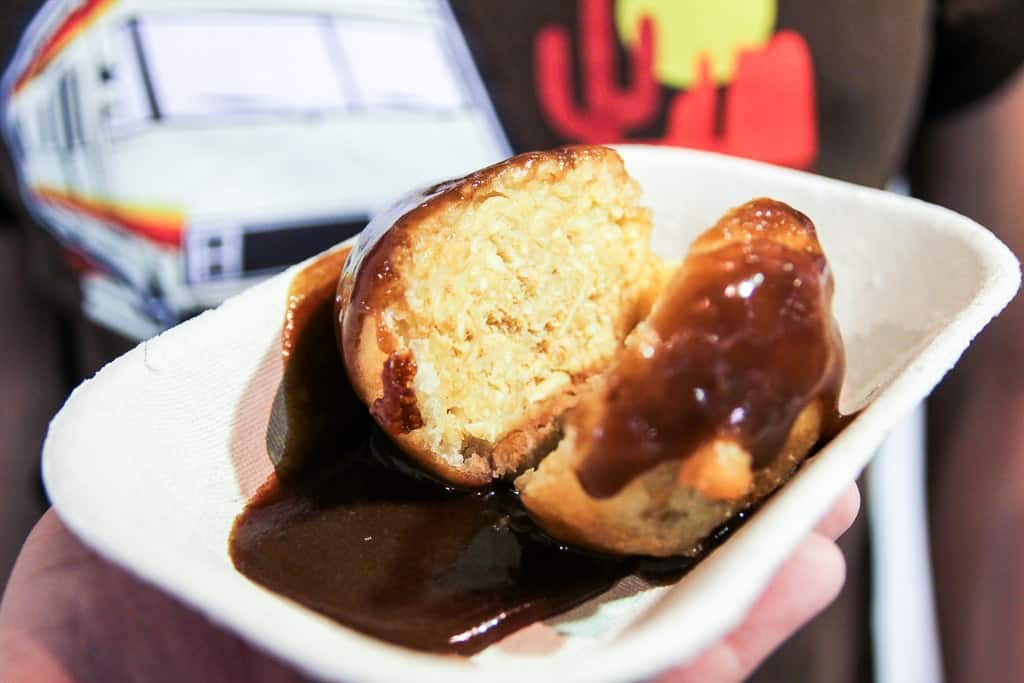 What: Spaghetti Donut Ball
Where: Fritta, Food Building
How Much: $4.75 for 1 of the Beef Gravy Balls and $4.50 for a Tomato Parmesan Ball
Opinion: Have you've ever had those noodle cups and accidentally left them out for too long? That's sort of what this tastes like. It's definitely not a bad taste, it's just nothing special. Bonus points for the sauce though since I don't normally like Beef Gravy and this was totally okay.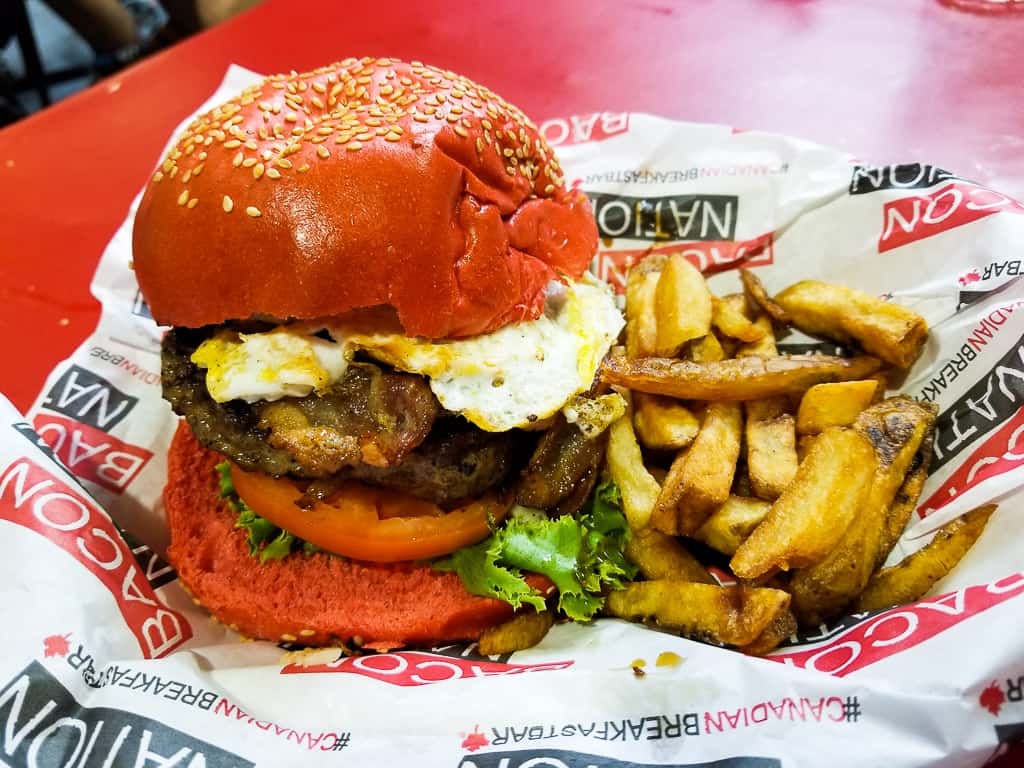 What: Canada 150 Burger a.k.a "The Pig Mac"
Where: Bacon Nation, Food Building
How Much: $13.25 with the option of adding an egg for $1.75
Opinion: On its own it's a great burger. We opted to add the egg which added a really nice taste. My husband could not taste the hot sauce in the burger what-so-ever but as somebody who isn't great with hot flavours I definitely tasted it. It wasn't overwhelming or anything but it's definitely there. Overall definitely a great burger, not so sure on the whole Frankenstein portion though.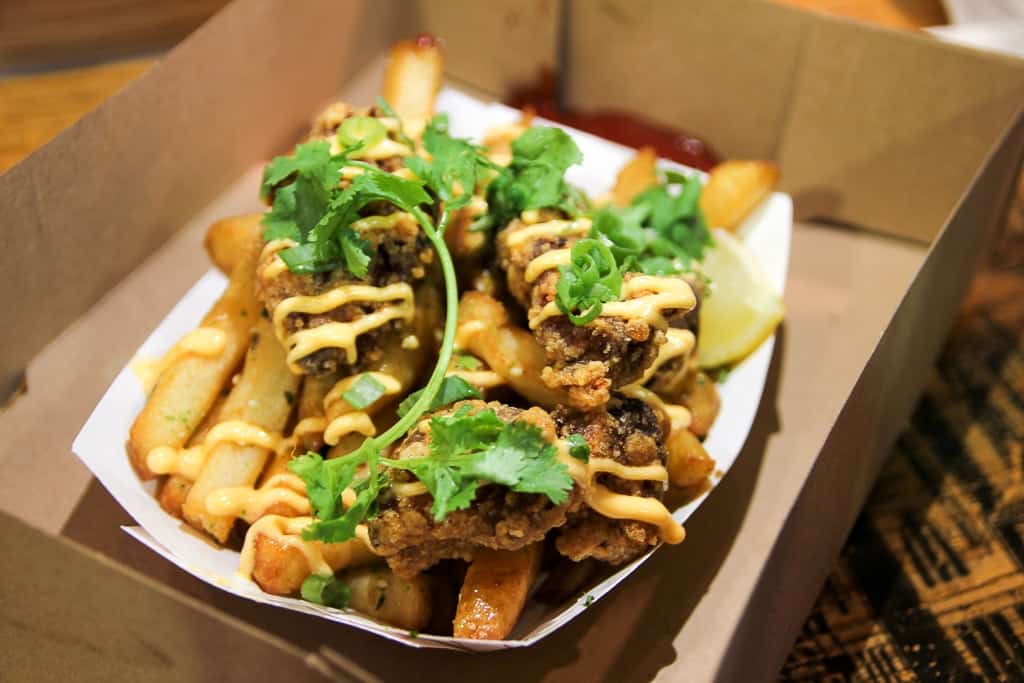 What: Godzilla Fries
Where: Yatai, Food Building
How Much: $11.06 (yes, a very random price)
Opinion: Officially labelled "durty fries topped with J-pop chicken" these were an awesome highlight of the day. Fries were spiced and covered in a mayo and teriyaki butter which were simply amazing!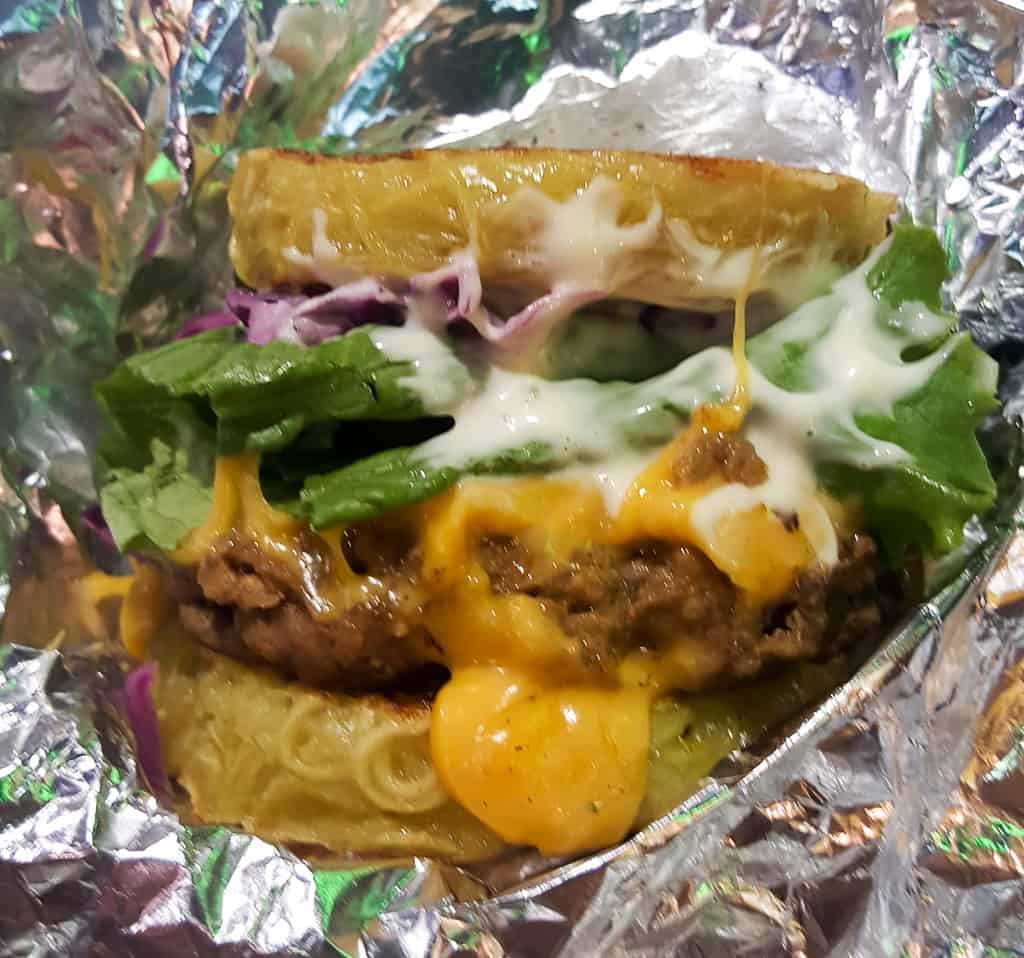 What: Ramen Burger
Where: Yatai, Food Building
How Much: $10.62
Opinion: This is a repeat of last year but it's just so creative that it has to be included. In the name of honesty I totally didn't try this, only my husband did. He said it's so not what you would expect. The ramen bun is apparently soft and slightly soggy in the middle which I would so not be sold on. But it's incredibly photogenic so I'll give it that!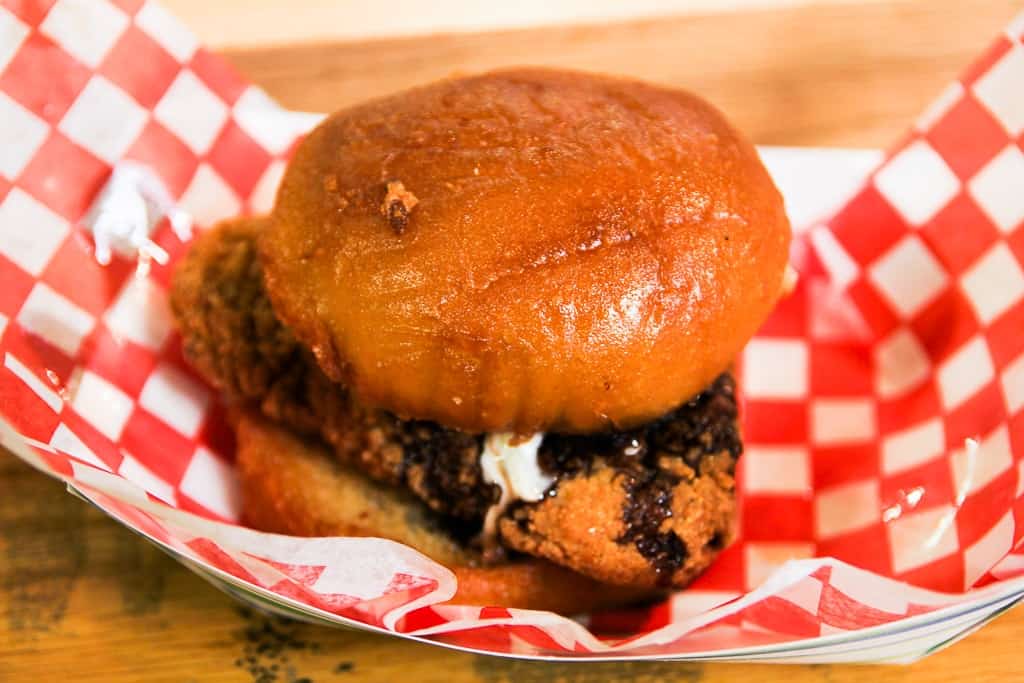 What: Southern Slang
Where: Fran's, Food Building
How Much: $10
Opinion: This is a buttermilk chicken on a cinnamon sweet bun topped with house made slaw and covered in a chocolate sriracha sauce. You really wouldn't think this combination works but it actually does. I wasn't a huge fan of the cinnamon sweet bun on its own but when you take a bite of the entire piece it actually works really well. My major down vote for this is that the bun is incredibly greasy. So greasy in fact that it totally slipped out of my hands and onto the floor. Boo!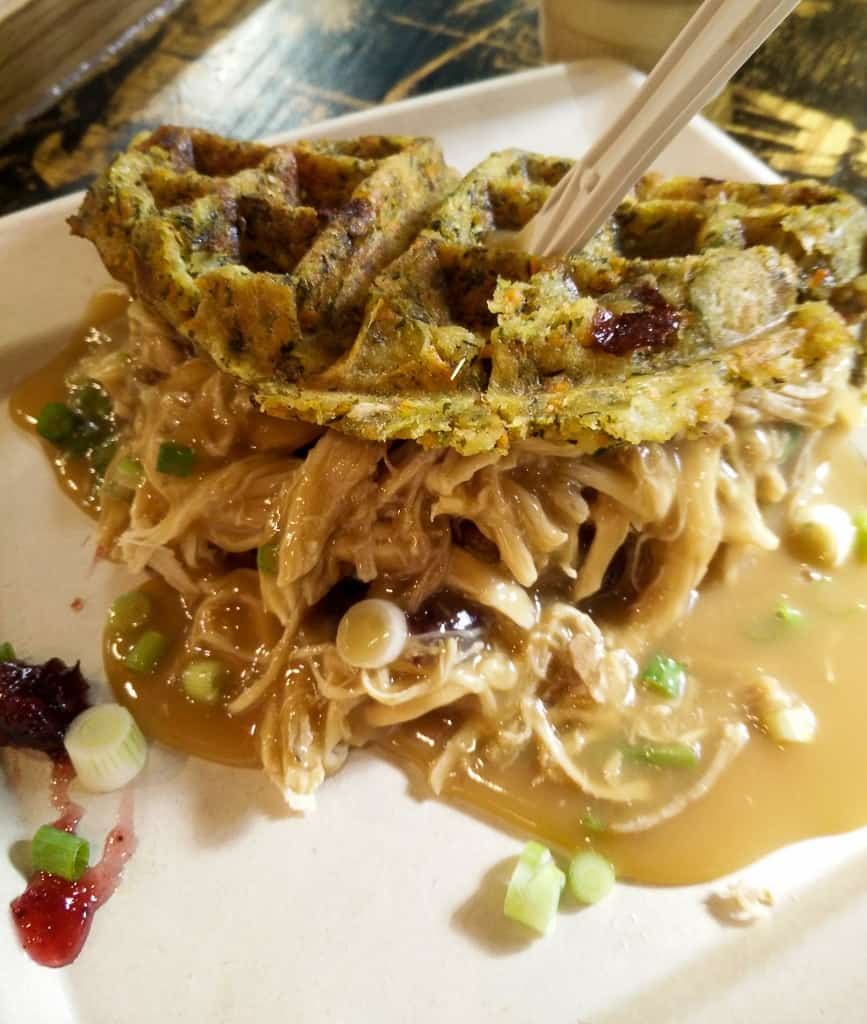 What: Thanksgiving Waffle
Where: Fran's, Food Building
How Much: $13
Opinion: This is actually a repeat from last year but it's very Frankenstein and also very tasty which is why it deserves a spot on this list. It's a homemade waffle made from traditional stuffing and packed with turkey, cranberry sauce, green onions and gravy. Fair warning, it is super filling!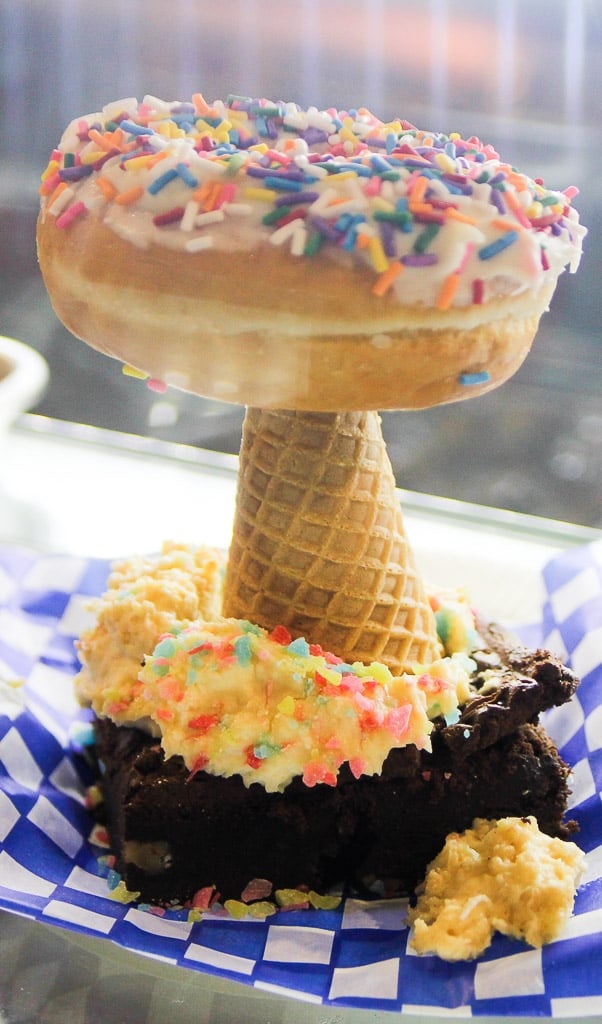 What: Sugar Mountain
Where: Sugar Shack, Food Building
How Much: $12
Opinion: Okay, in the name of honesty, my husband semi didn't let me get this one. His only argument to me was "am I going to have to finish this by myself?". When I could not totally deny that he said no way. BUT we did get a cheesecake on a stick from here and a Jollyrancher/white chocolate covered butter tart which was awesome.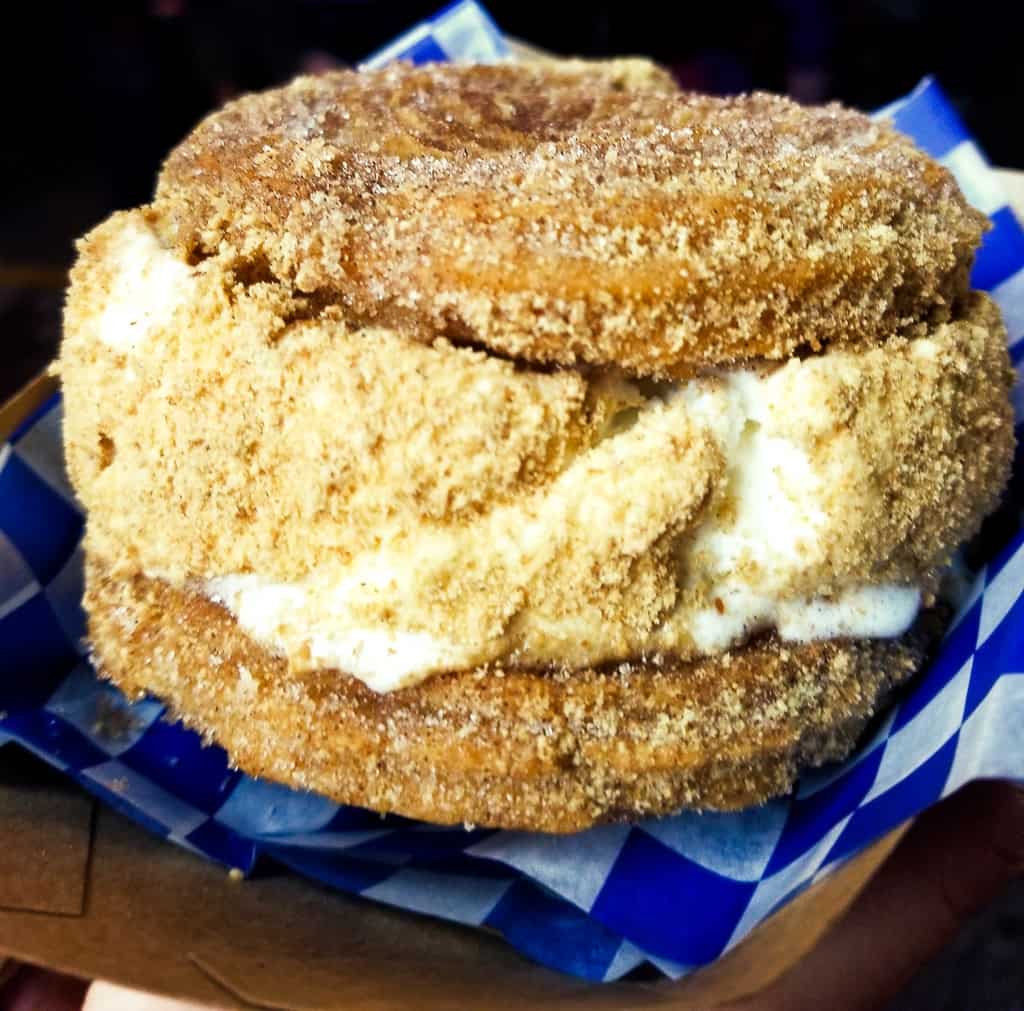 What: Churro Ice Cream Sandwich
Where: Chloe's Doughnut Ice Cream & Churros, Midway Rides by the Dropzone
How Much: $10
Opinion: This is a vanilla ice cream rolled in graham cracker crumbs between two California style churros. I wanted so badly to like this, I really really did. But the churros were so under cooked in the middle that it tasted like eating pure dough. The parts that were cooked were lovely though and it made for a really nice end to the day!
There you have it, my votes for the must try foods at this years CNE. There's of course many more crazy foods to try. My vote outside of this list is for the Dragon's Breath Crepe which is an ice cream wrapped crepe dipped into liquid nitrogen. We sadly ate so much and had such a good time that I forgot I wanted to try these until we were in the car on the way home. Hopefully they'll be around next year as well! The other item making its way around the internet is the black funnel cake which we actually tried to chase down. We spoke to someone at Bacon Nation who said that they're actually not making the funnel cake but they are making charcoal waffle cones. It just didn't seem like the same thing and the line was waaaaay too long so we opted against it.
If you want to check out more items to try at the 2017 you can see pictures here, here and here.
Which of these items would you try? Which would you absolutely not go near? Are you heading to the CNE this year? Let me know in the comments and pin this article to save these suggestions!