The Georgian Bay Shoreline on the Bruce Peninsula boasts some of the most stunning nature Ontario has to offer. Unless you're told you're looking at pictures of Ontario odds are you're going to assume it's from elsewhere in the world. While there's plenty to see and do there (which we'll discuss in other posts) this post will focus on the Tobermory Grotto which it's known as to everyone who isn't from Tobermory. I'm assuming locals probably just refer to it as the Grotto. As you can see it's definitely a climb down but it's oh so worth it so read on for detailed instructions on how to access this beautiful piece of nature tucked away in the Bruce Peninsula National Park.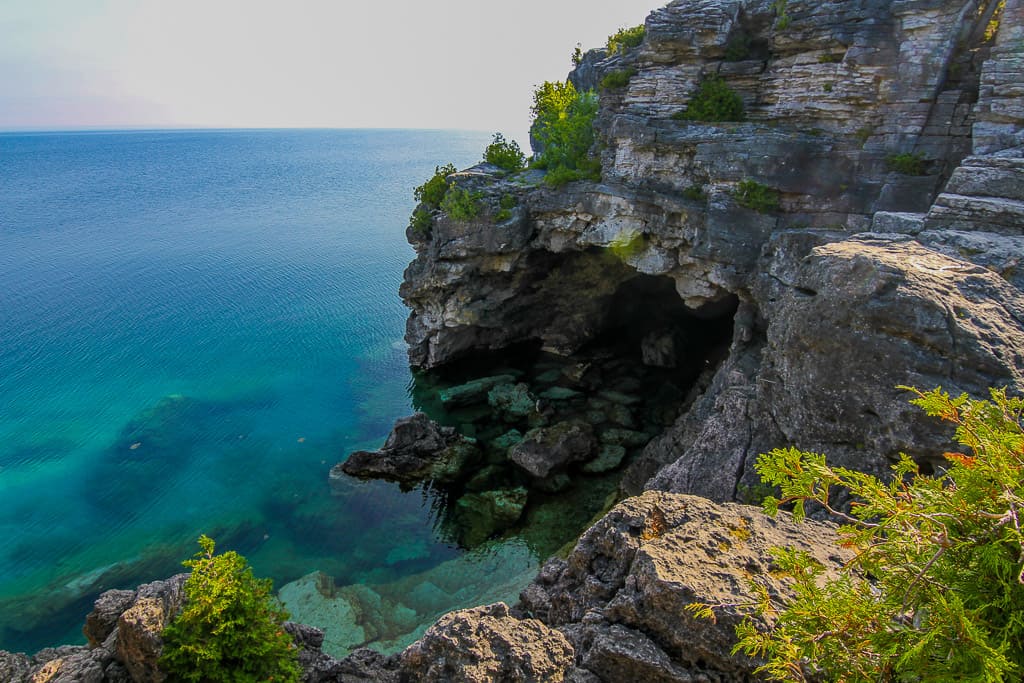 Before You Visit the Tobermory Grotto – Parking Reservation (Updated for 2023 times)
While you used to be able to just take your chances and drive up to the Grotto or even walk in that is no longer the case. The entrance booth that you have to pass to get to the parking lot requires a timed parking reservation or they will turn you back. We spoke to a Canada Parks member to confirm the new rules and they verified that the only exception to the parking reservation is if you bike in to the Grotto. You'll still have to pay the parks admission but you won't have to reserve parking. Given the distance from most accommodations I'm going to assume most people won't be too keen on biking here.
The parking reservations have been put into place to accommodate just how popular the Grotto has become and while you may disagree with the bureaucracy of it all it honestly is for the protection of the environment and to minimize overcrowding and having used the reservation system it's in my opinion a great system.
The parking reservations are for dates between April 30, 2023 and October 31, 2023. There are six four hour time slots available to choose from on each day:
8:00 am – 12 pm
9:00 am – 1:00 pm
12:00 pm to 4:00 pm
1:00 pm to 5:00 pm
4:00 pm to 8:00 pm
5:00 pm to 9:00 pm
Note that as per the rules you can only book your car for one slot. So even if you were willing to book it for the entire day (and pay for it) that wouldn't be possible.
The fee to park the car is $15 per vehicle plus applicable taxes. There's also a reservation fee. We did ours online so it was $6.00. According to Parks Canada's website if you do it by phone it's $8.50.
You can reserve as close to as 30 minutes before the time slot on the same day (obviously as long as there is availability). Once you're ready to book head to www.reservation.pc.gc.ca or call 1-877-RESERVE. You'll have to have an account with Parks Canada to be able to reserve (they're free to set up). Make sure you print a confirmation of your reservation and bring a piece of ID because they'll ask you for it once you arrive.
I want to add a note here, that I'm sure you can bypass this system by parking here after 10 pm or something to avoid dealing with paying for parking but I'd like to stress that you're going to have virtually no cell service and there are lots of rocks and cliffs around and I strongly urge you not to try to do this climb/hike in the dark.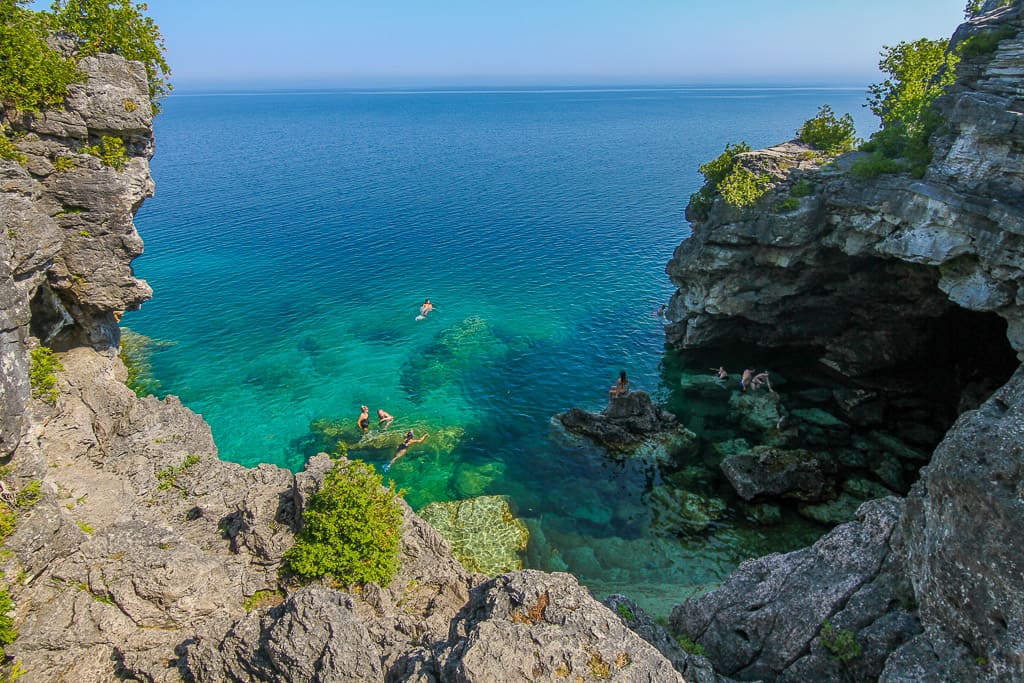 Getting to the Grotto
The hike to and from the Tobermory Grotto is not a very difficult one. It's about 20-30 minutes each way depending on your speed but it's a fairly flat trail until you reach the actual Grotto area which is when the cliffs etc. start. The trail is the Georgian Bay Trail and it's approximately 1.6 km in length. If you're looking at the map below it's the trail highlighted in green. It's a pretty trail that's tree covered and it's a nice walk to enjoy nature in. We had reserved the 8 am to 12 pm parking spot and were already on the trail by like 8:05 am. We had the trail to ourselves until a couple overtook us (yes we walk slow) but they disappeared quickly and we had the rest of the trail to ourselves and even had the Grotto to ourselves for a little bit. Definitely worth waking up early for!
In terms of amenities, the trail has a refillable water station right at the parking lot plus a washroom. There's a bench or two along the trail but the garbage cans are located really only by the washrooms as far as we could tell. There's one washroom (pictured below) towards the end of the trail, right before you hit the Grotto area. It's a good indicator that you're getting close. There's also another washroom right beside the Grotto on top of the cliffs so to speak. So make sure to keep your trash with you!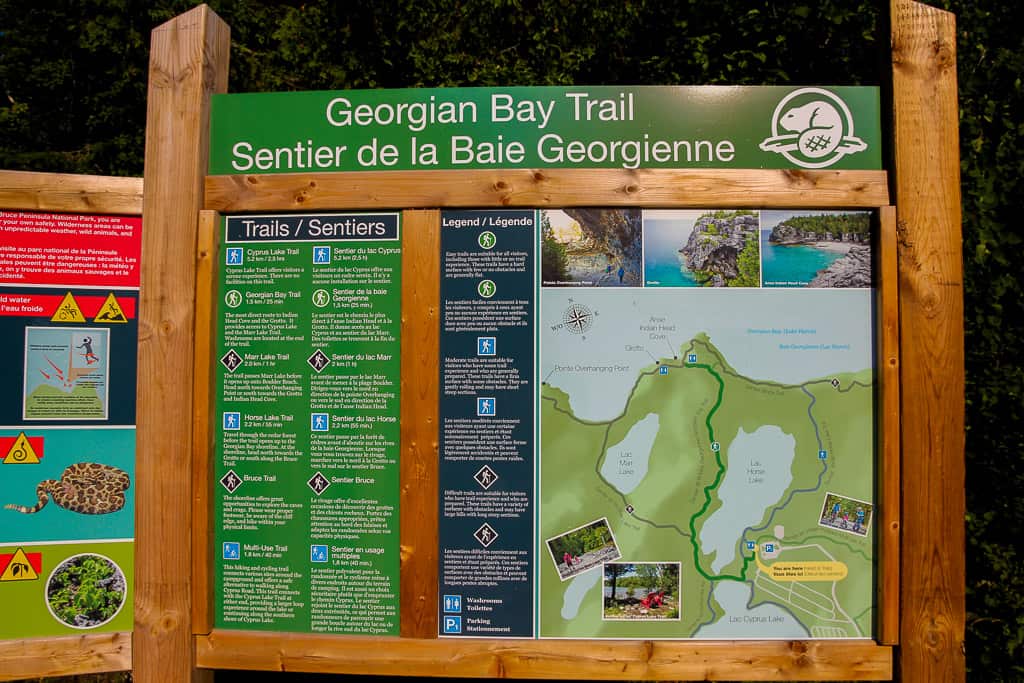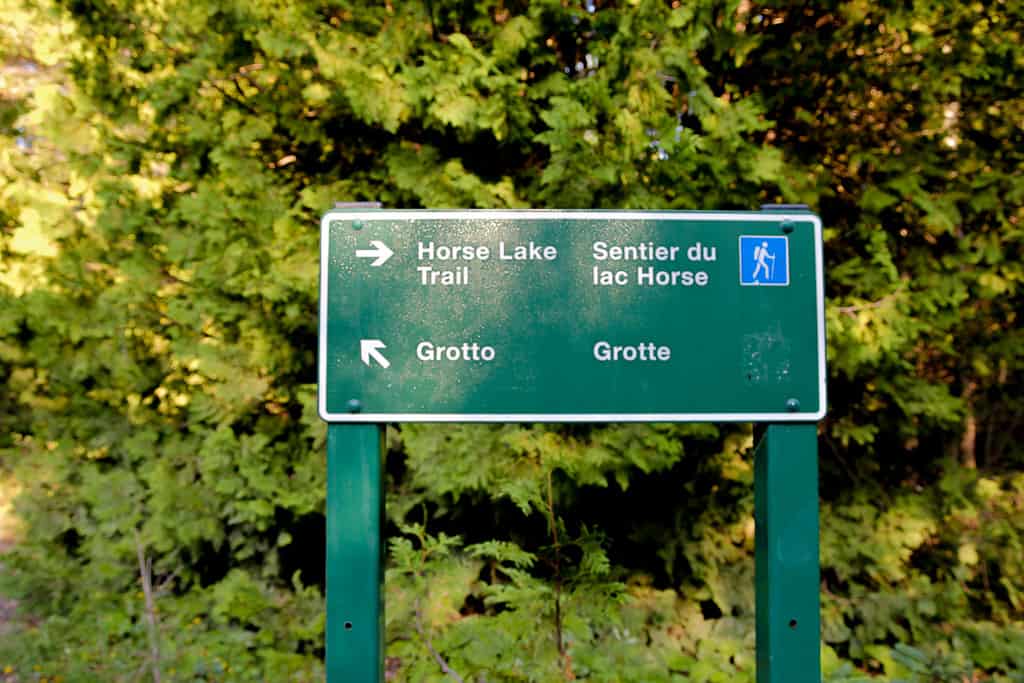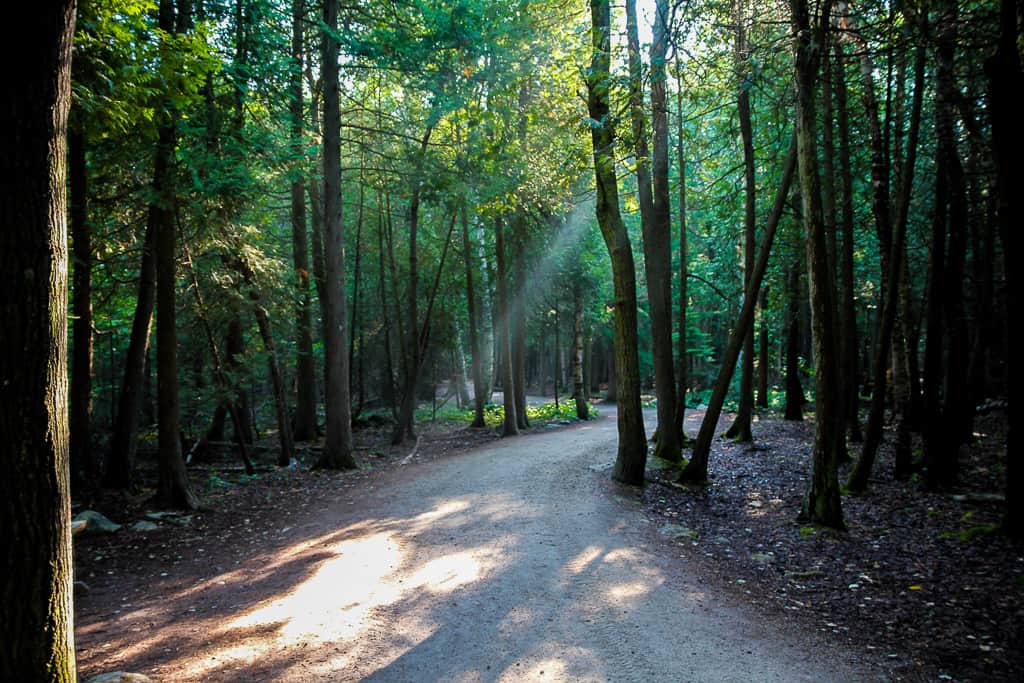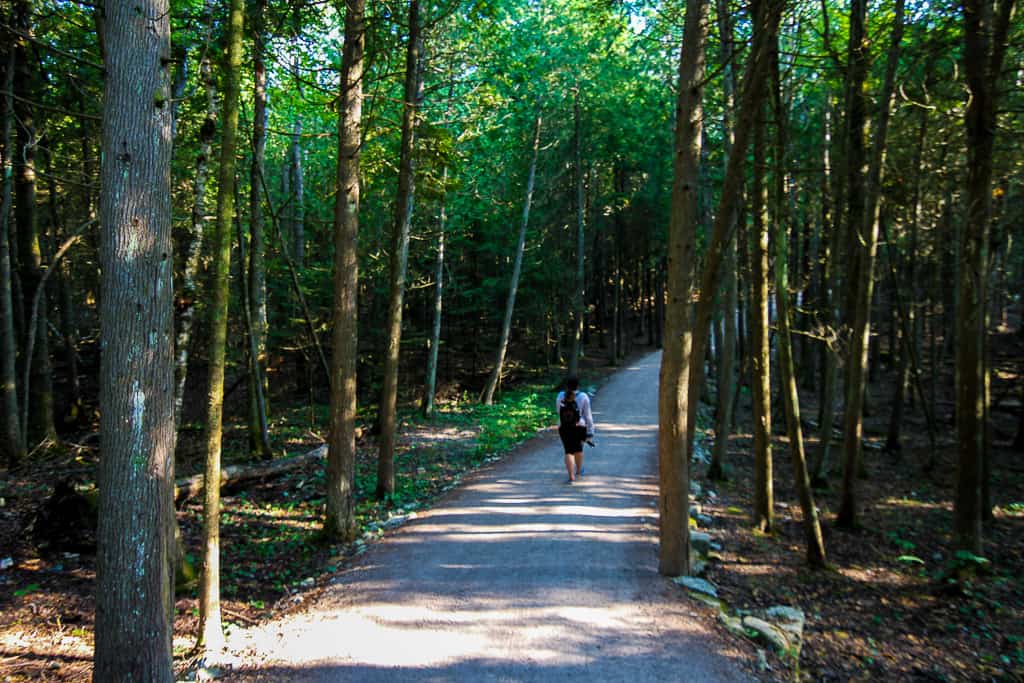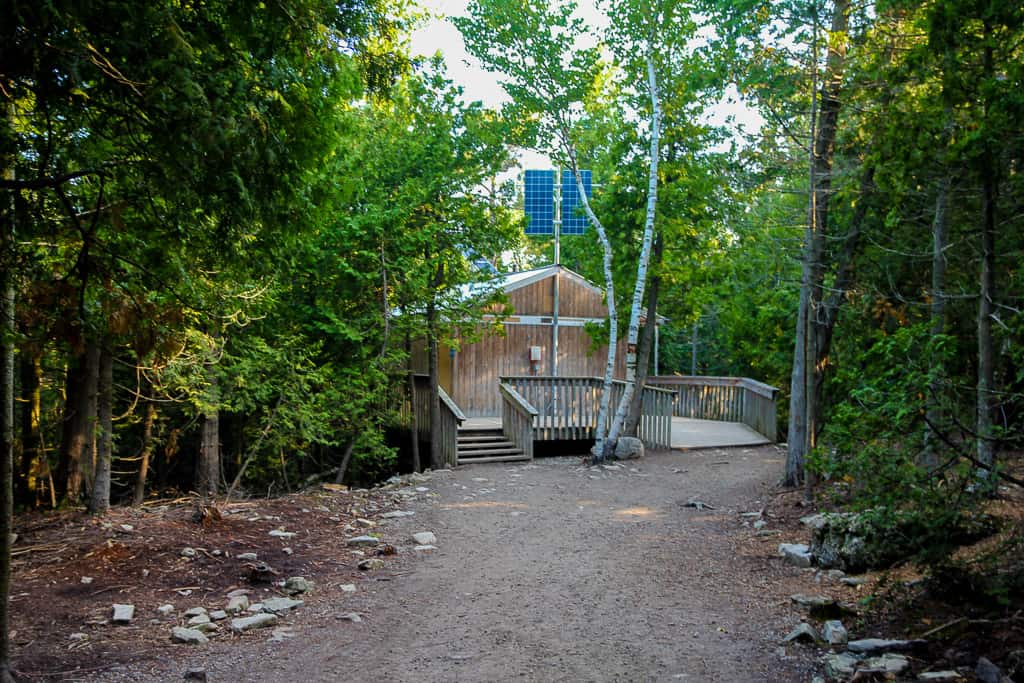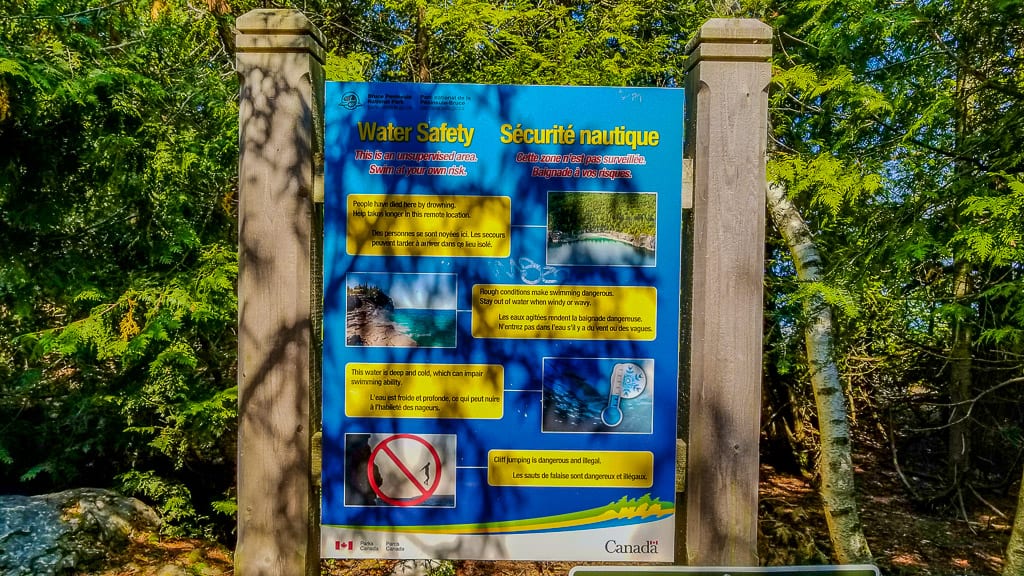 Accessing the Tobermory Grotto
There are three different ways of getting to the grotto. Two of them involve climbing down and the other one involves swimming. I personally did the first method of climbing up and down. For scientific (and blogging) purposes my husband tried the second way as well.
Swimming to the Tobermory Grotto
As I have not tried this method I can't really speak to its difficulty but the cliff you see below is the one you have to swim around to access the grotto. It's not a particularly long swim but the water gets really cold in the deeper portions and it's one of the reasons I wasn't willing to try this method. When we climbed down in the early morning (like 8:30 am) I'd say majority of the people joining us actually did the swim but once we came back a few hours later to document the climb it was definitely more climbers than swimmers.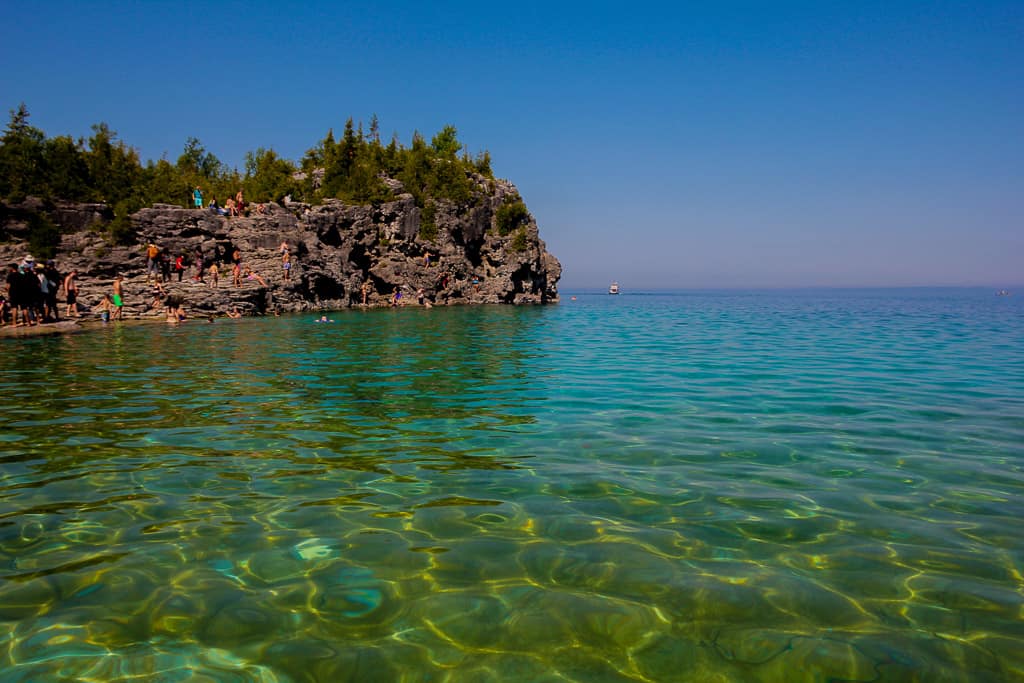 The Recommended Climb Down to the Tobermory Grotto
Honestly short of saying here's a cliff and now climb down it, it's difficult to just write the instructions for the climb down without documenting it so the following pictures (and hopefully helpful arrows) will tell you how to climb down the way we did.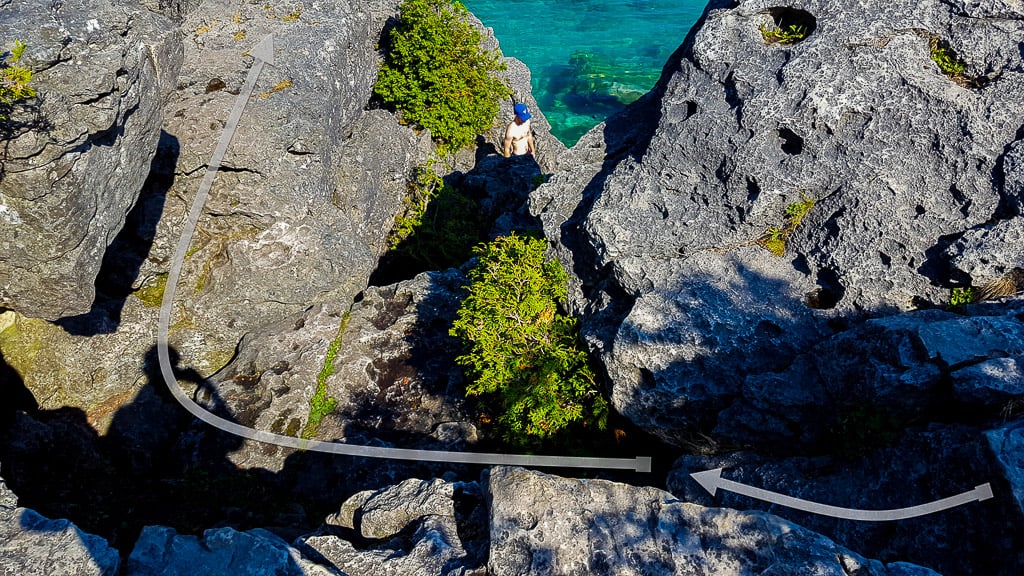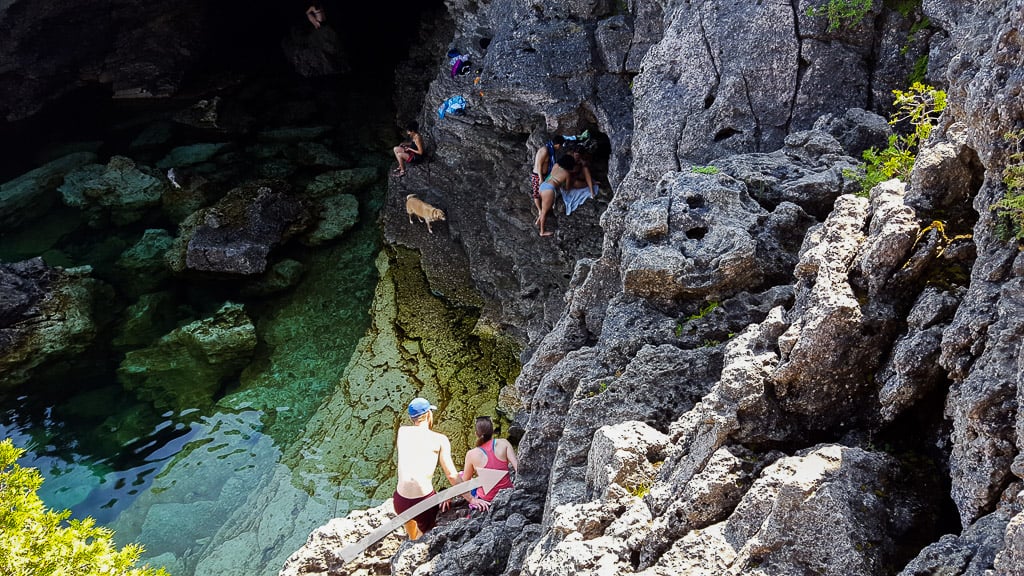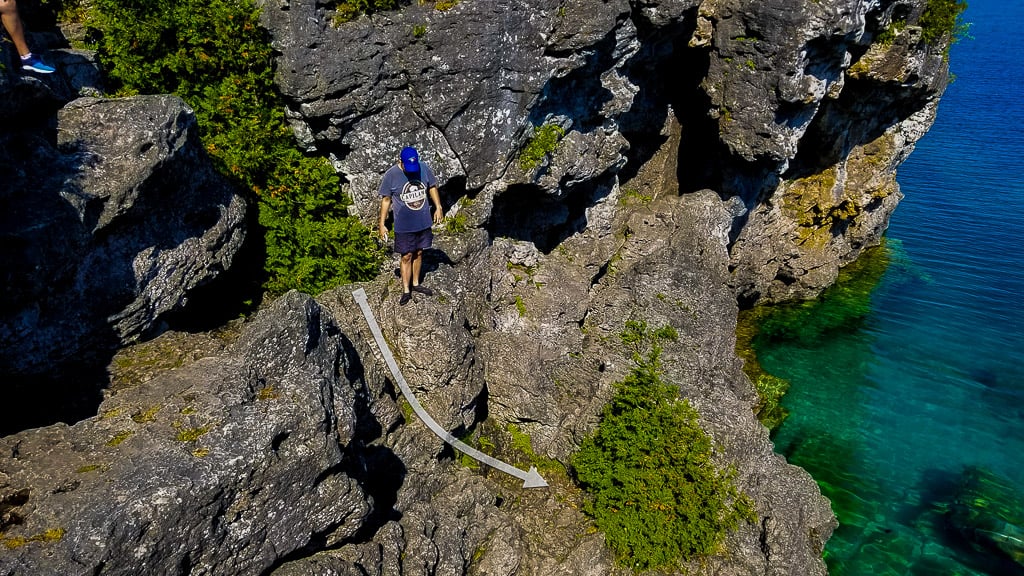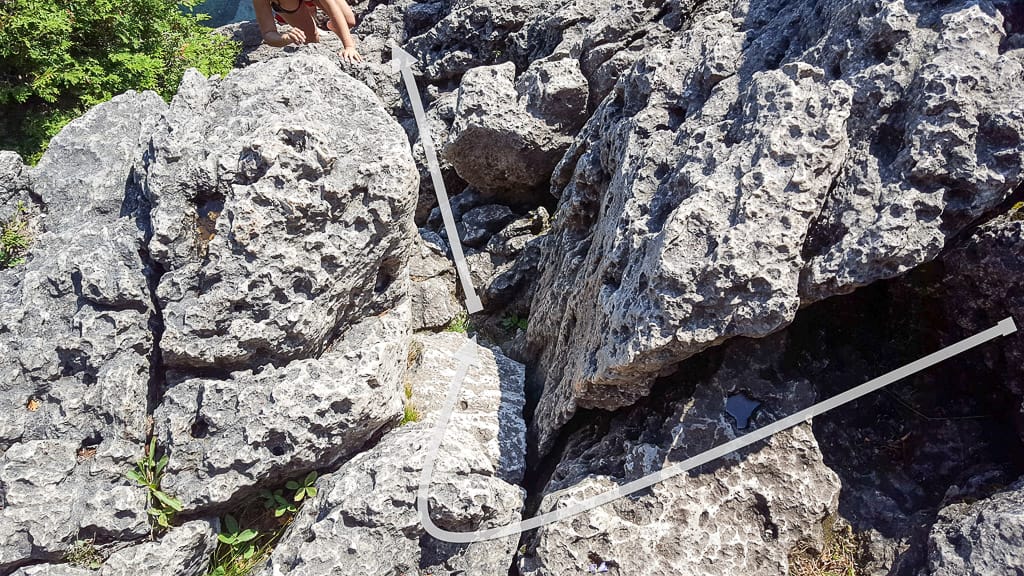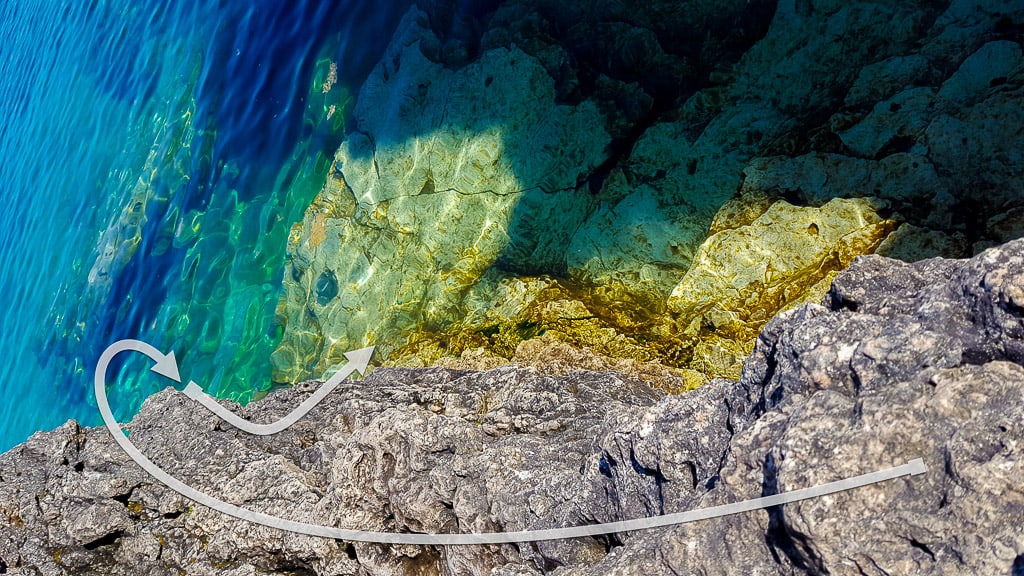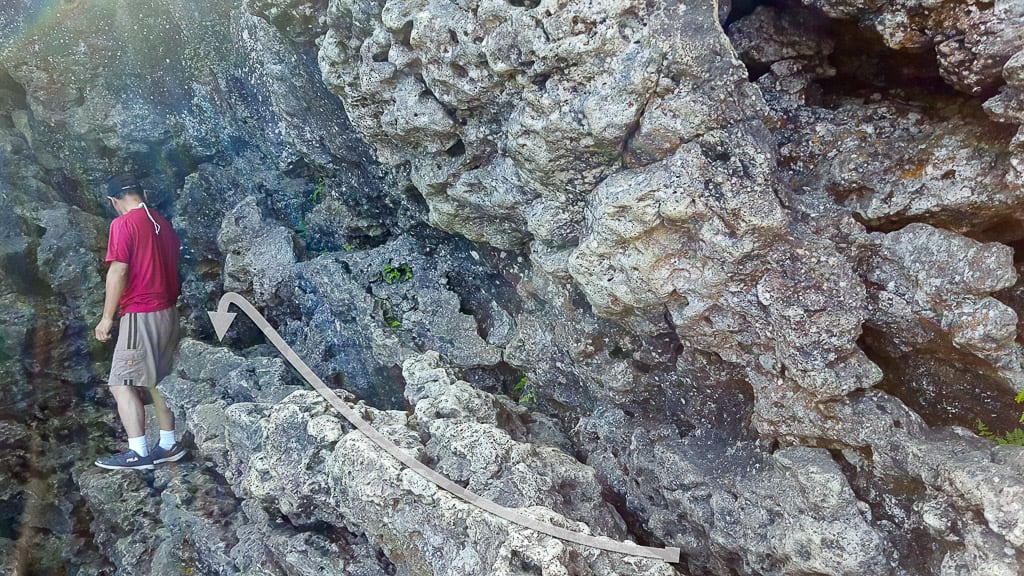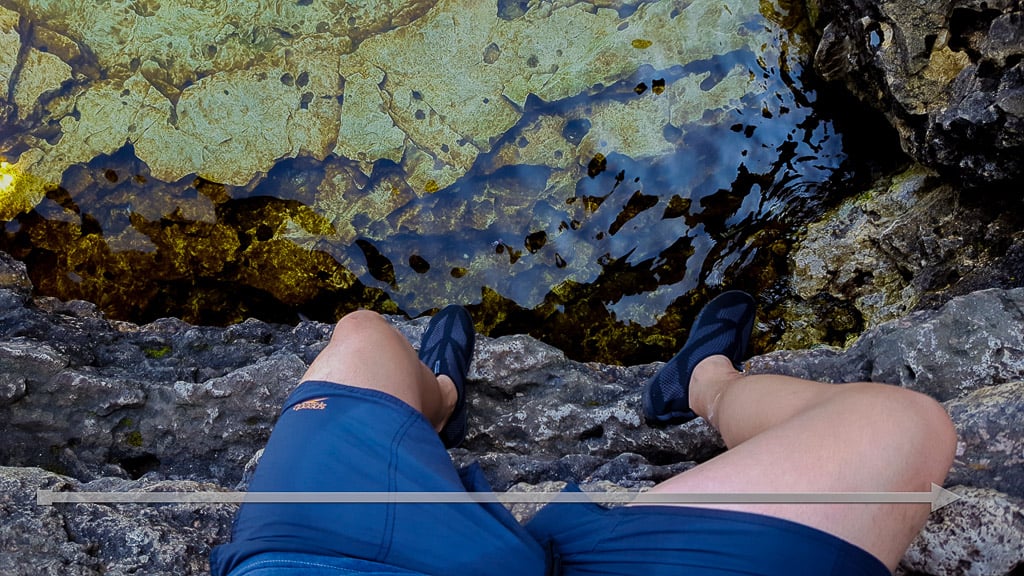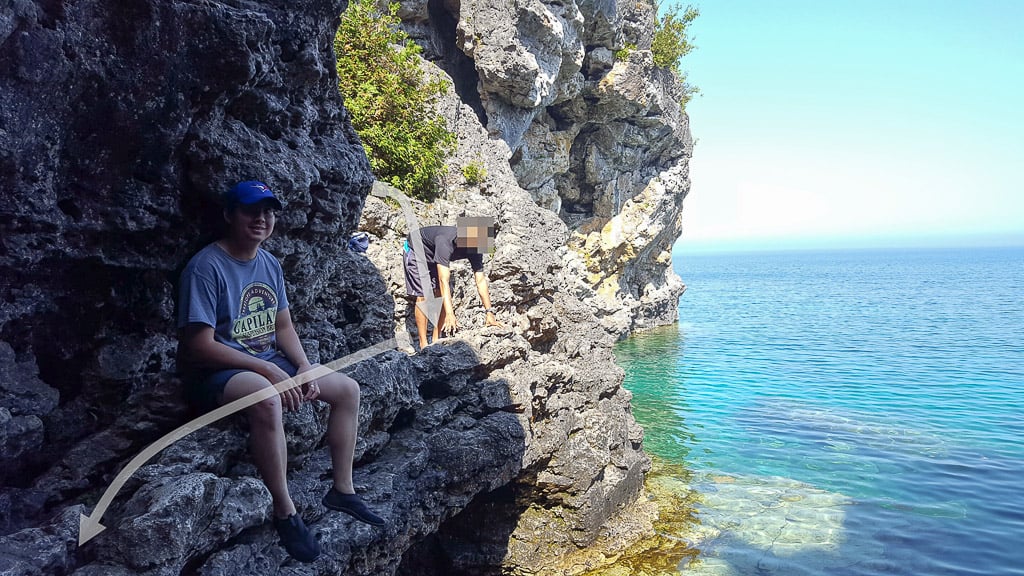 Climb down Hole Path
This is what I refer to as the claustrophobic path and the one my husband tried just so we could document it. Like the above path, we've documented it with arrows which hopefully helps to make it obvious how to do it!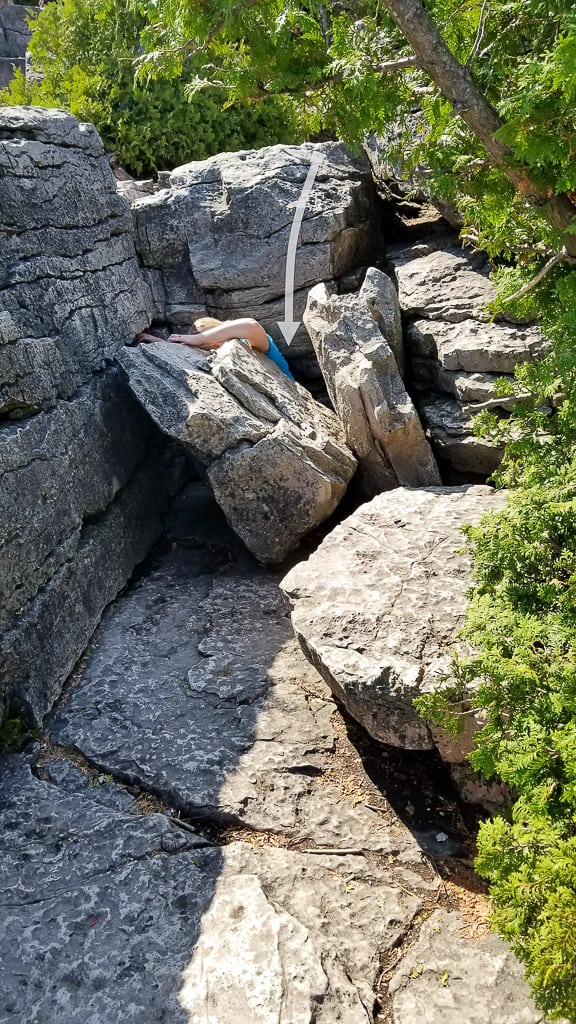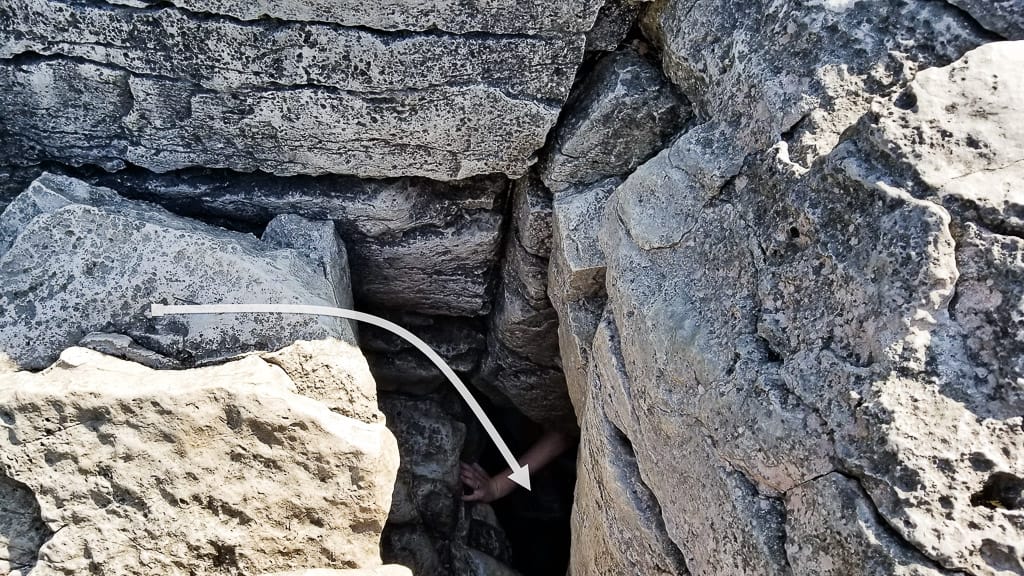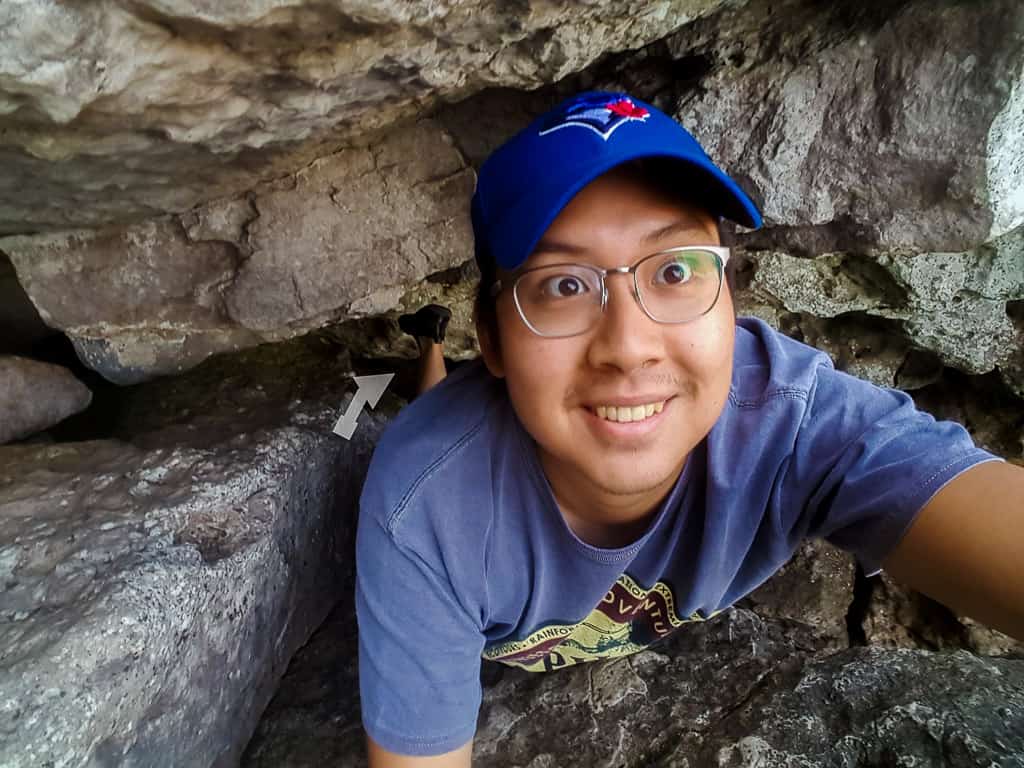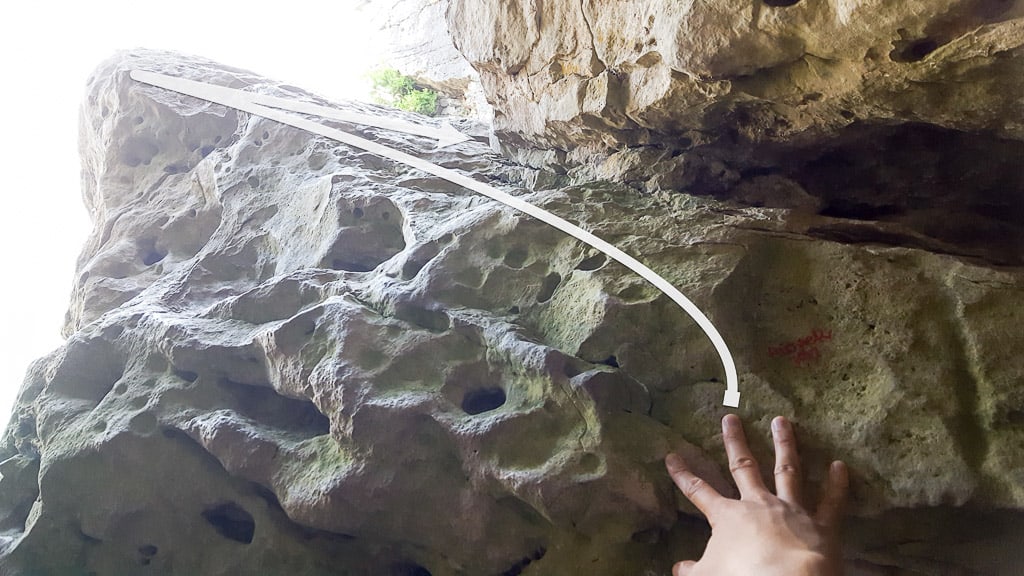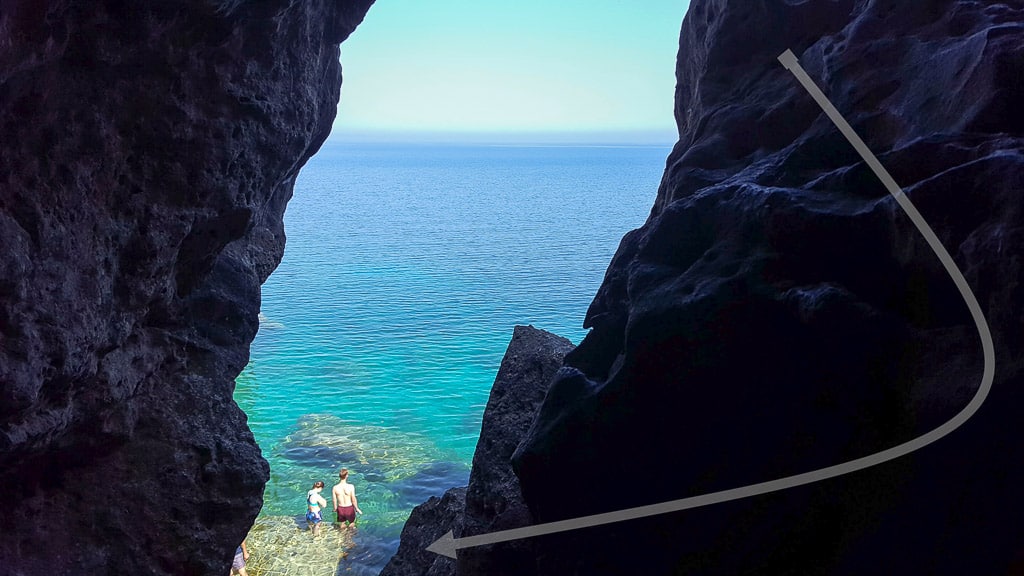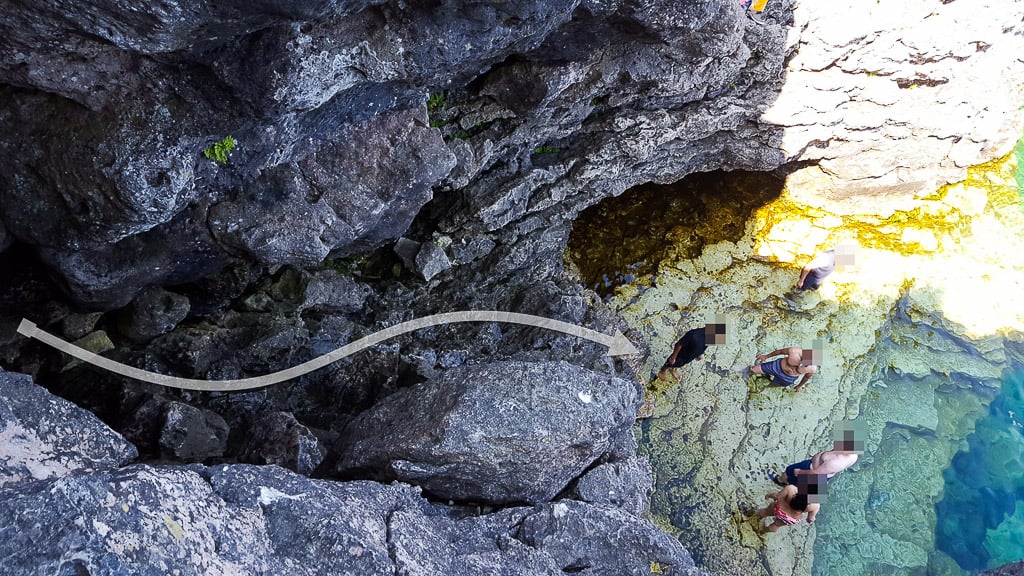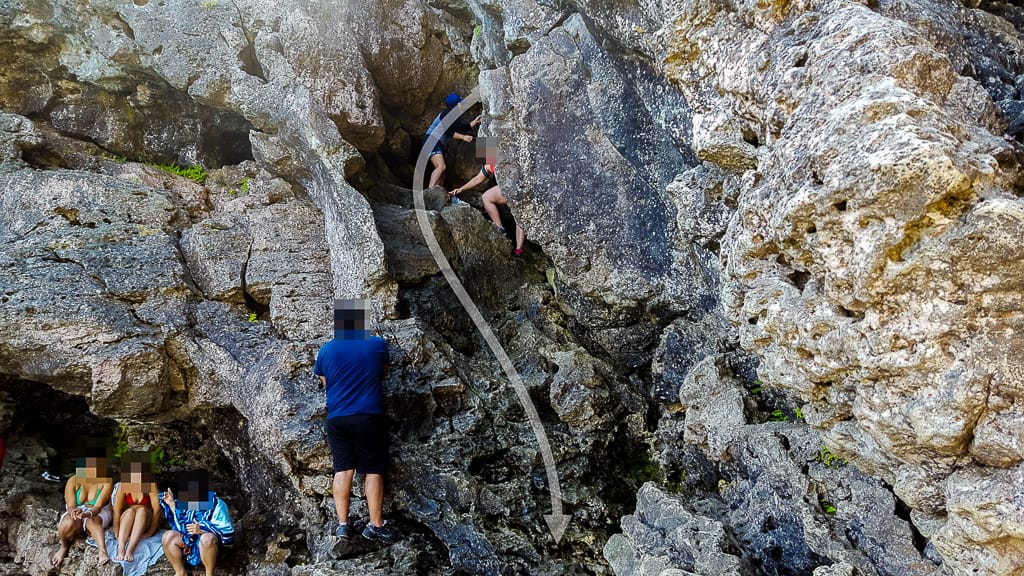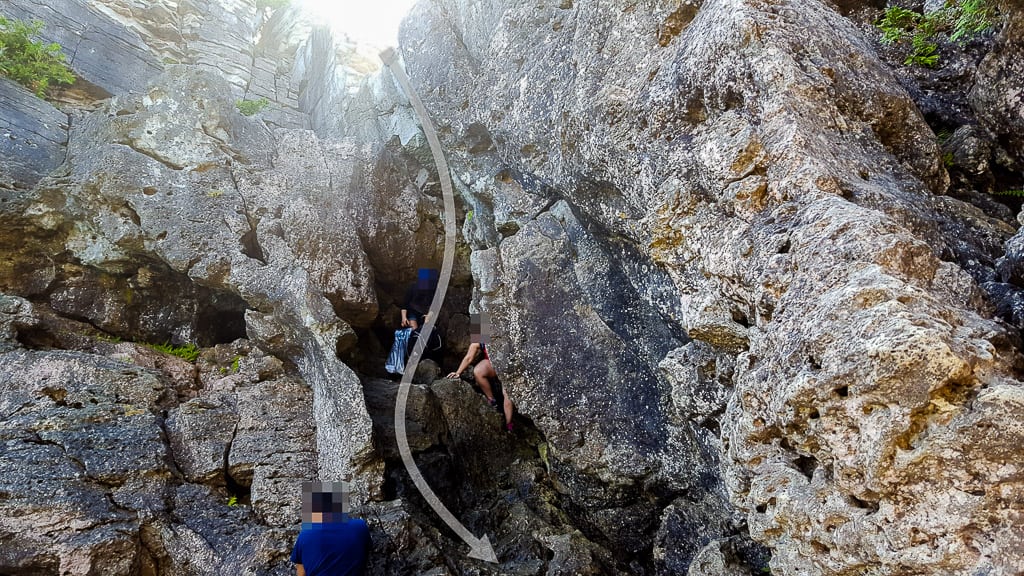 The Actual Tobermory Grotto
Once you've cleared any of the three methods of accessing the Grotto this awaits you: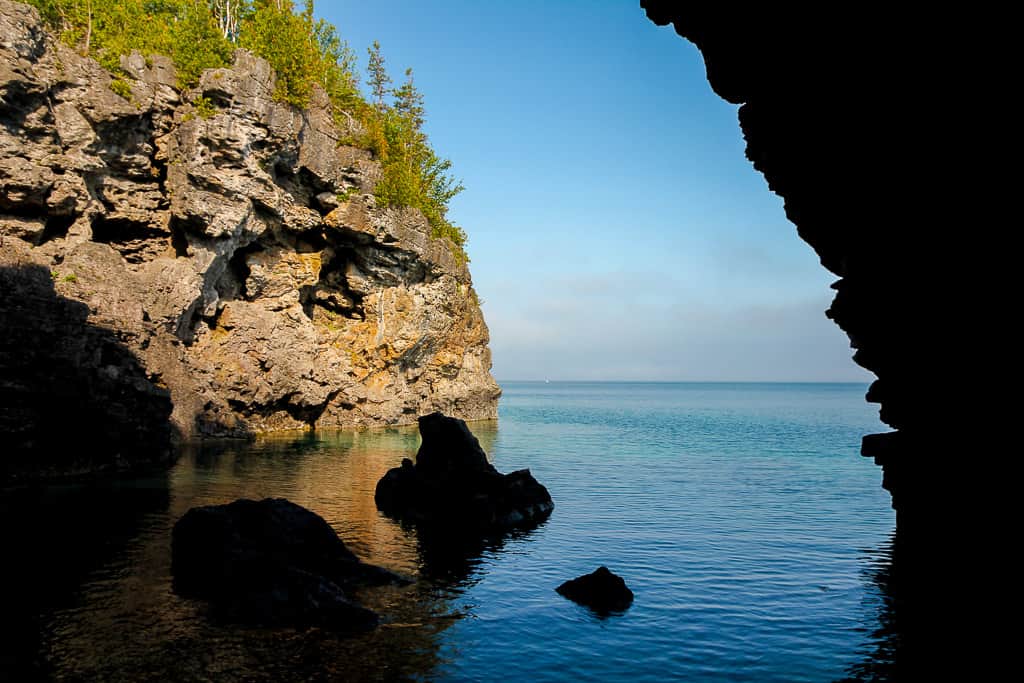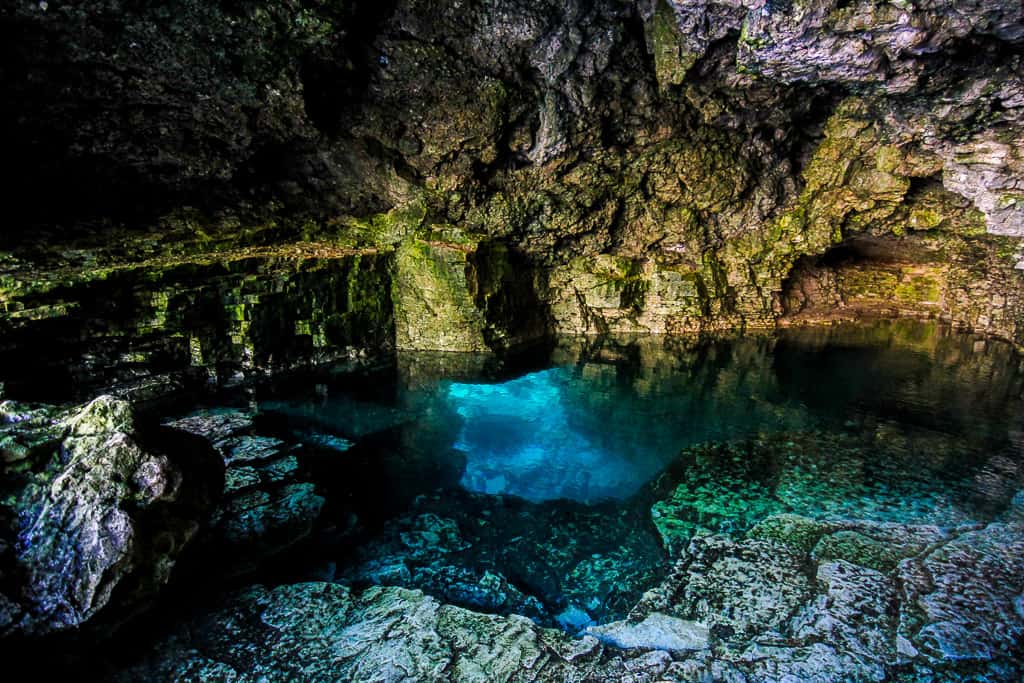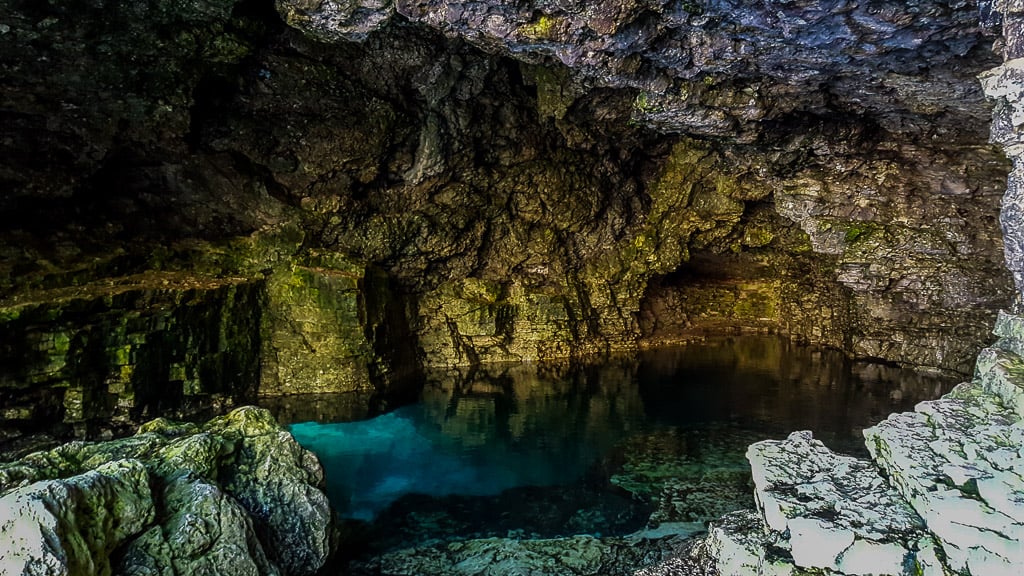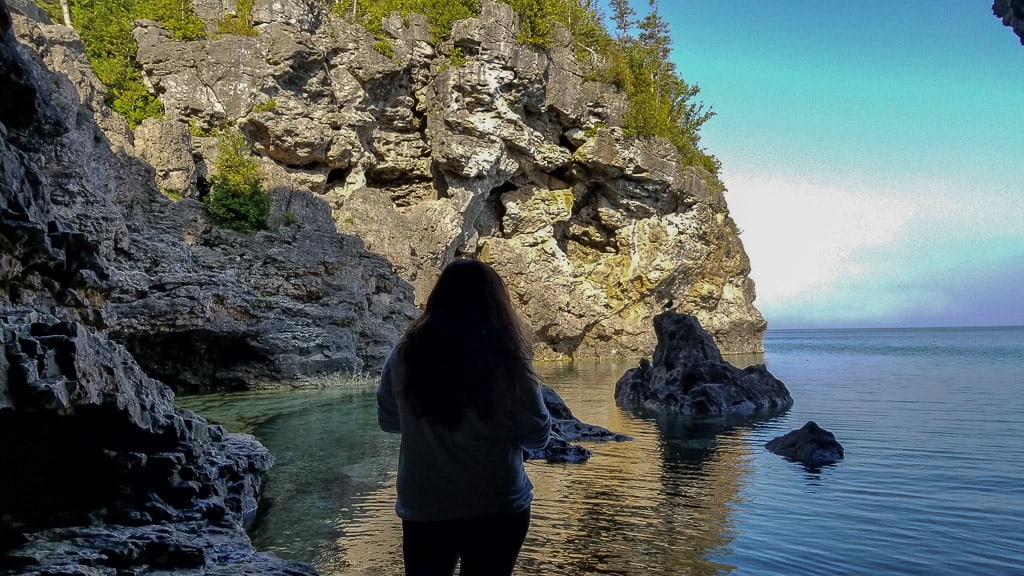 The Area Around the Grotto
While the Tobermory Grotto is obviously the highlight of the area it's definitely not the only thing to check out. If you keep following the "path" to the left, past the grotto you get to see some beautiful cliffs and beaches and you can go as far as the Overhanging Lookout Point (we did this our last time here and it's so worth it!). In addition to that you obviously have the "beach" itself by the grotto. Fair warning, it gets crowded. Like super super crowded so prepare to share the space!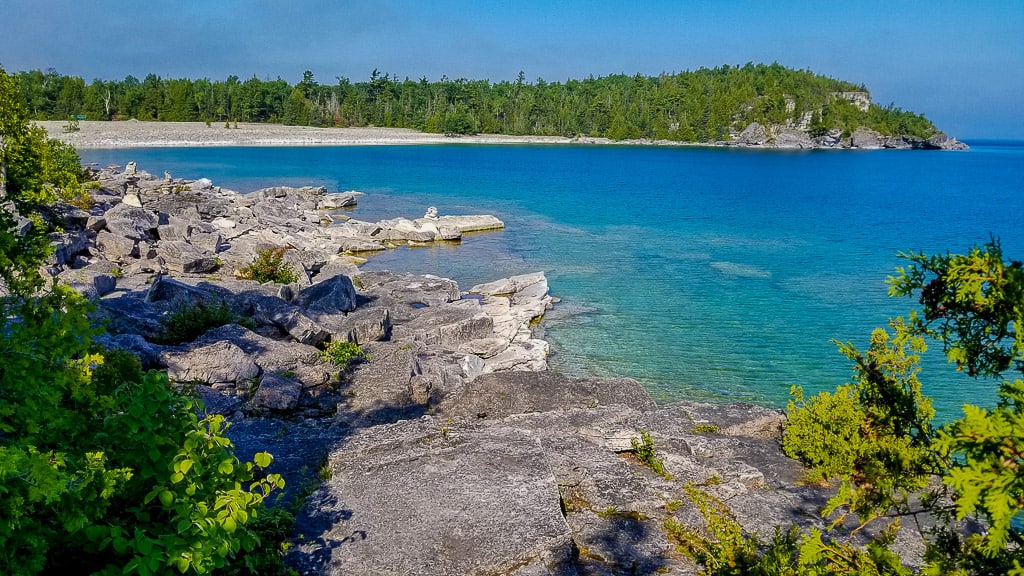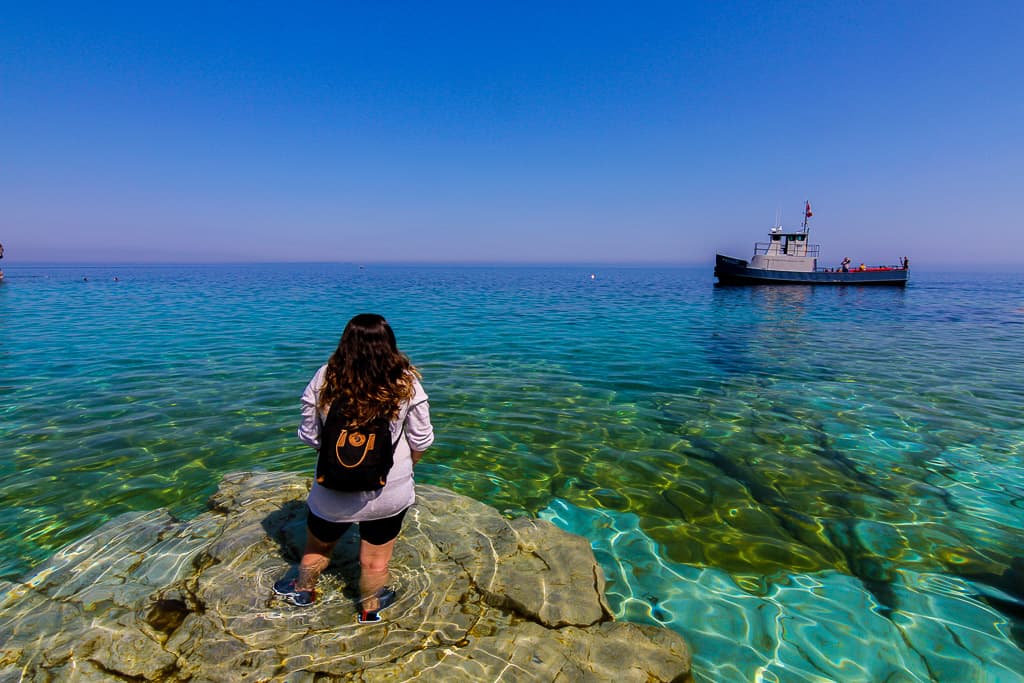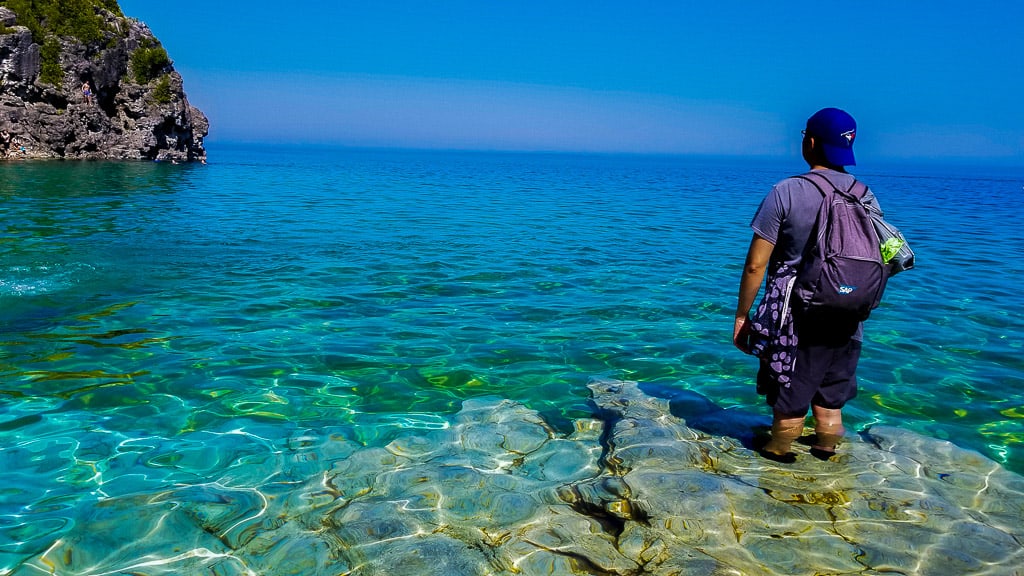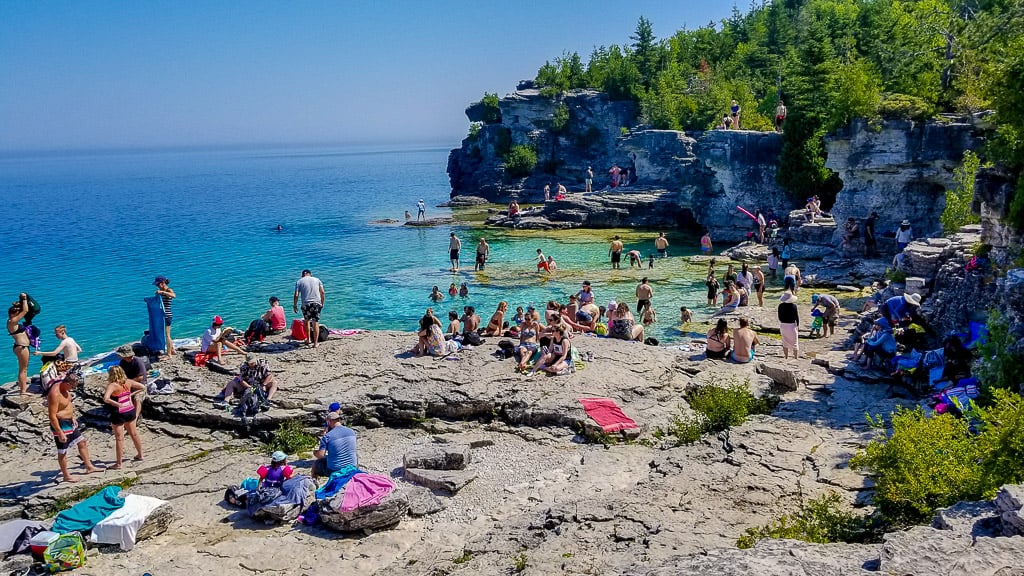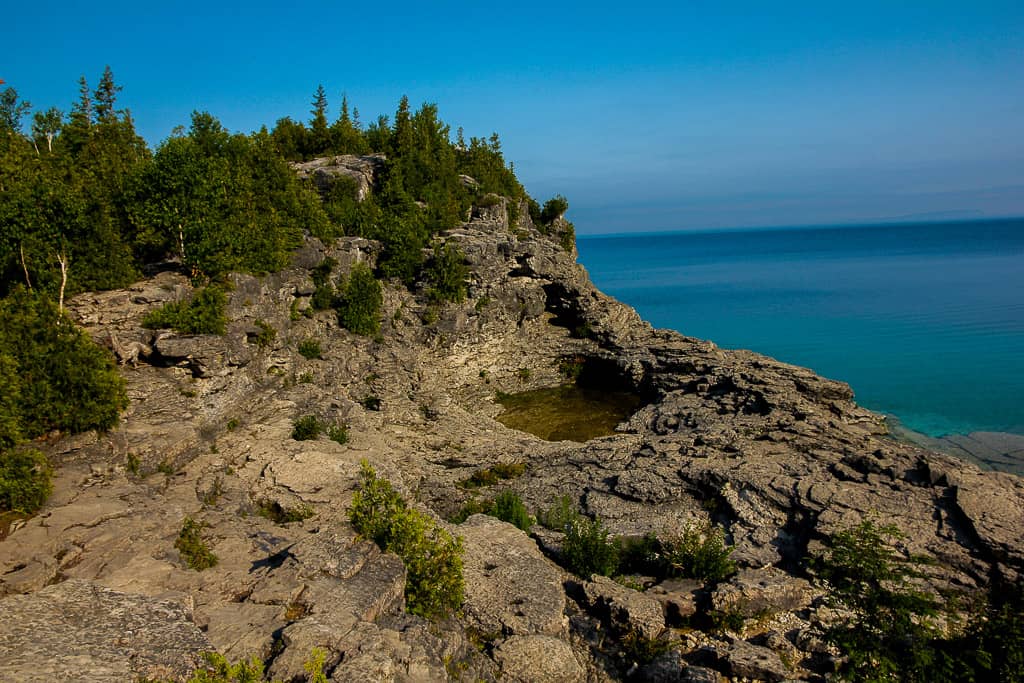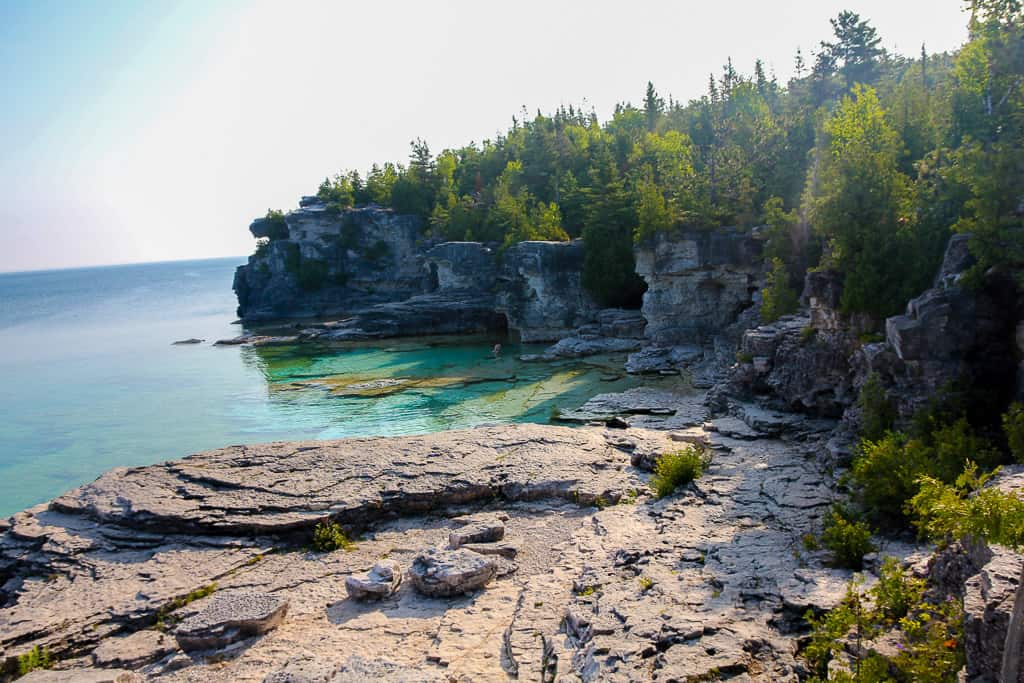 Tips for Visiting the Tobermory Grotto
Water shoes are your friends. Hiking boots etc. if you're sticking to the mainly the trails is what I'd recommend but if you're heading into the grotto my vote is definitely for water shoes – they made a huge difference for us.
Water! While the hike is not super strenuous it does take a fair bit of time and if you're visiting in the summer months then it does get very hot. But drink it all up because luckily there's a refill station right by the parking lot!
The parking slots are for 4 hours and you'll most likely end up using up the entire time so some kind of snack is ideal. Walking/swimming tends to get you an appetite!
Given that it's summer make sure to back sunscreen and bug spray!
Bring your swimming gear + a towel. You may think you don't want to get in the water but once you see that crystal clear blue water it'll be hard to avoid.
Prepare for crowds + waiting. Even if you get the first slot in the morning like we did the crowds do arrive quite quickly. We had the grotto to ourselves for like all of 10 minutes but it's fine and we truly cherished those 10 minutes. This also comes to the climbing up and down – some people are way slower but given the risky climb please do not rush anybody!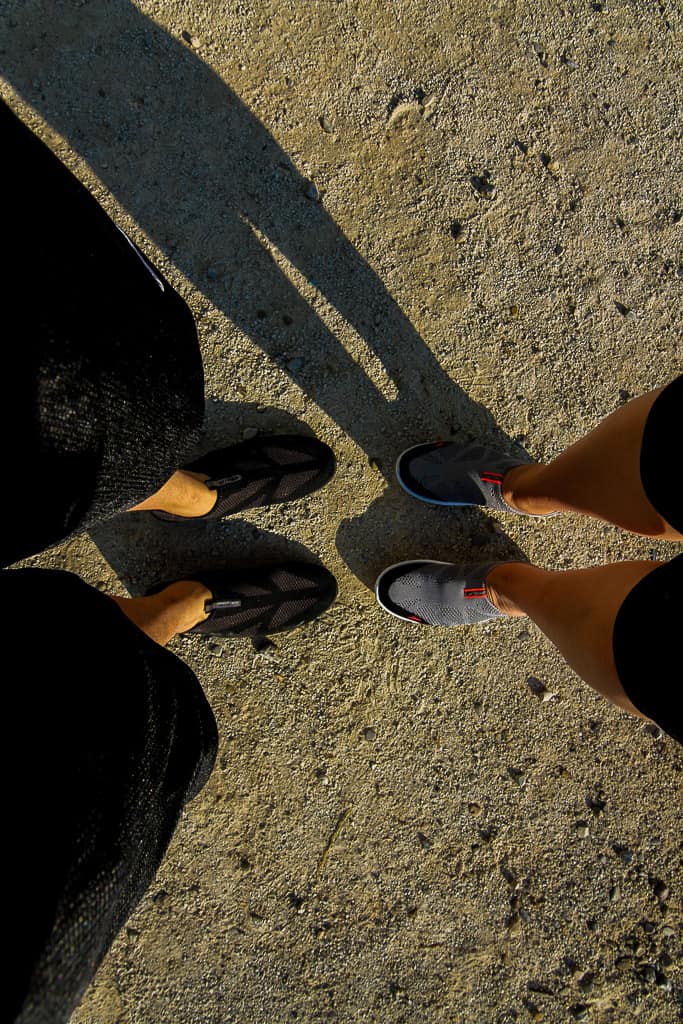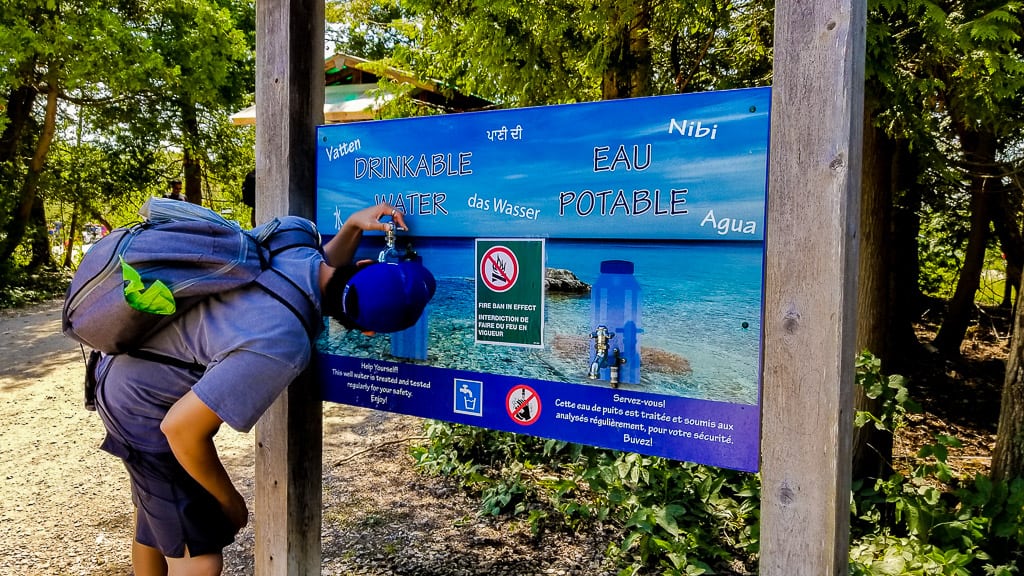 The Tobermory Grotto is only of the epic things to do in Ontario in the summertime but it's definitely a really cool one. If you're looking for more things to do keep your eyes peeled for an upcoming post!
Have you visited Tobermory and the Bruce Peninsula area? If so, did you hike the Grotto? If not, would you? Let me know in the comments and pin this post for your own upcoming visit!