Kensington Market is one of those areas in Toronto you have to visit. And if you've already been, you have to revisit it. It's bohemian, colourful and so very special. It's closely located to China Town and has a great Latin American community. It's got a strong history of being associated with immigration which definitely shows in the restaurants and stores in the area. It's also one of the absolutely best places in Toronto get some food. There's a ton of selection (like dozens and dozens of restaurants) and there's so many different cultures to sample. Most of the restaurants have very limited seating and some of them only have a take out counter so the area is perfect for walking around and eating or for sampling a number of places at a time. It'll make you feel more accomplished for getting to check out so many food places in one go! At least that's what I tell myself to justify the calories. Read on for my suggestions of the best places to eat in Kensington Market!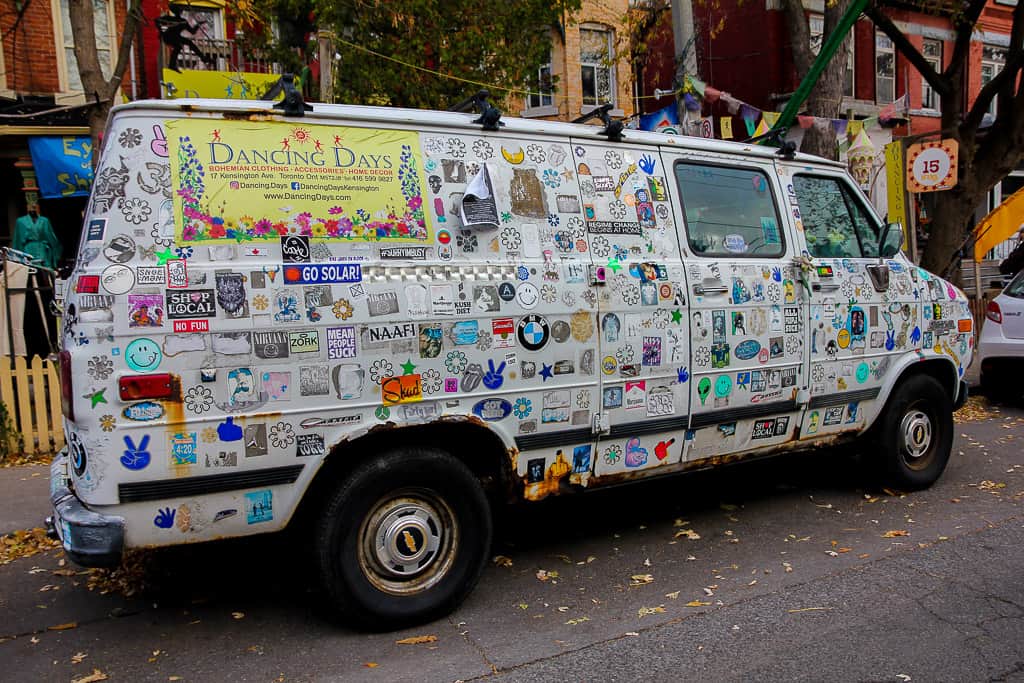 Top Gun Steak & Burger
Location: 251 Augusta Ave, Toronto, ON M5T 2L8
Hours: Sunday-Thursday between 11 am and 10 pm and Friday/Saturday between 11 am and 11 pm
Type of Food: Burgers and sandwiches
Price Range: $10-$30. The sandwiches don't come with sides
What to Order: The Mighty Chicken Sandwich or the Wildcat and a side of fries
Top Gun Steak & Burger is actually one of the larger restaurants in Kensington Market. There's a dozen or so tables and you can usually find one or two empty ones. It's also got a washroom you can use (you'd think this wouldn't warrant a mention but not all of them do!). It's a self order place so you walk up to the counter and order and pay and then they bring your food to you. It's a pretty heavy meal but a really good burger and service is decently fast.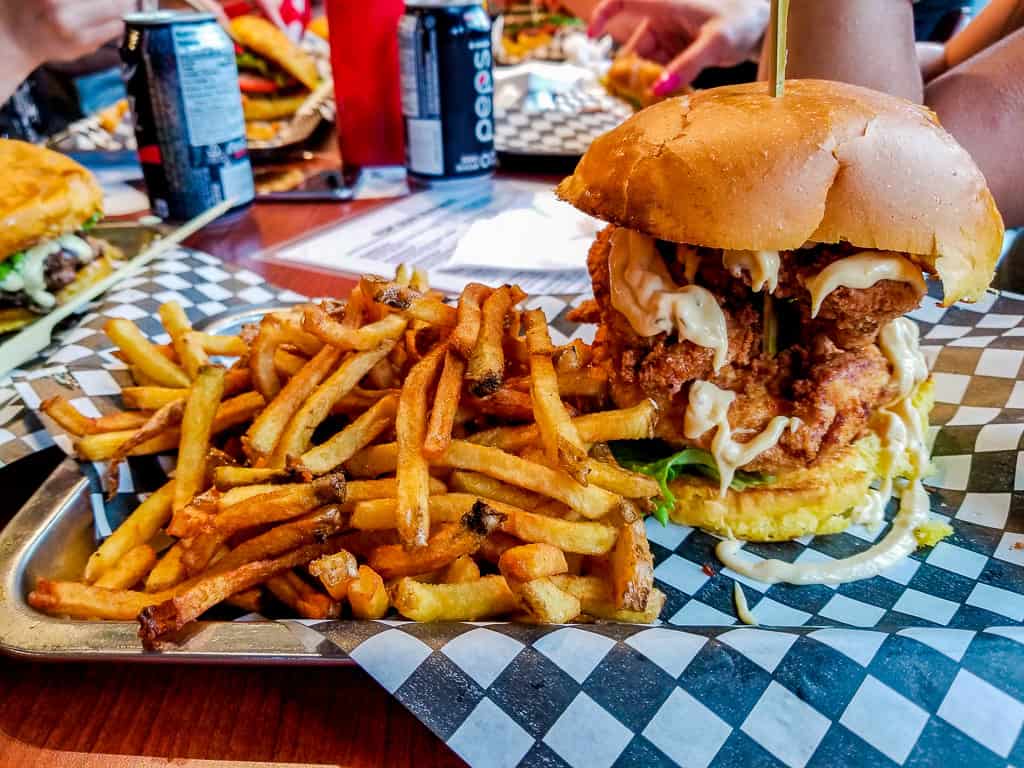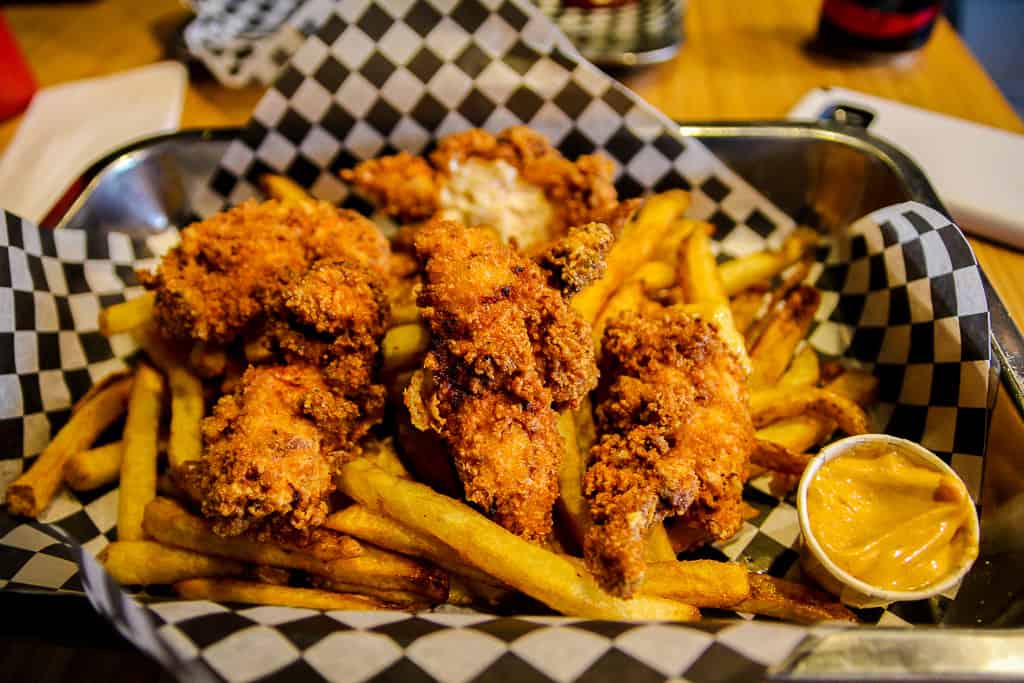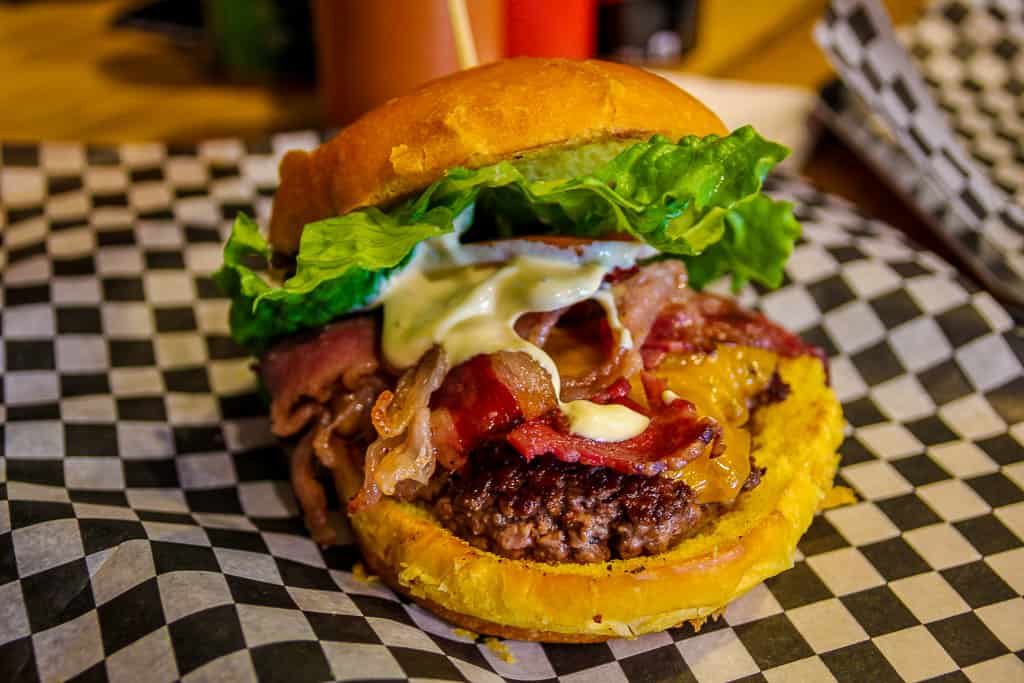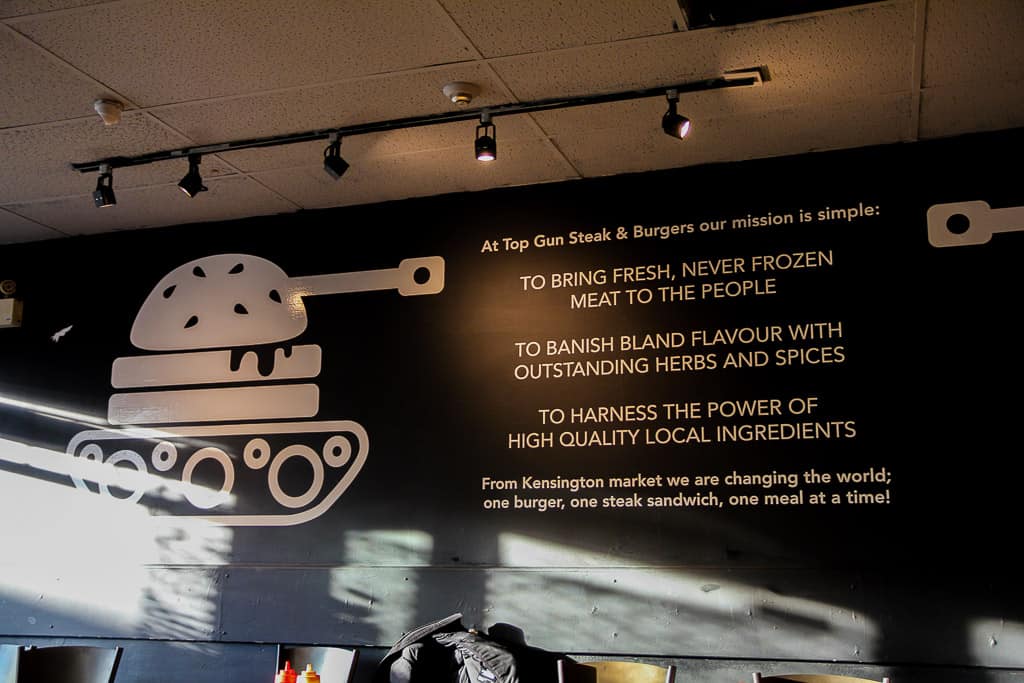 Wanda's Pie in the Sky
Location: 287 Augusta Ave, Toronto, ON M5T 2M2
Hours: Monday-Wednesday between 8:30 am and 7 pm, Thursday-Saturday between 8:30 am and 8 pm and Sundays between 9 am and 7 pm
Type of Food: Desserts and more specifically pie
Price Range: Anywhere from a couple of dollars for a slice upwards towards $20 for a larger pie
What to Order: Pie! More specifically the raspberry rhubarb or the strawberry rhubarb. They are seriously to die for!
Wanda's is an absolute must in Kensington. It doesn't matter how many times I've been here I will honestly not get bored. It's also my go to recommendation for when people ask me where to eat in Toronto. It's seriously that good. They've got a few tables and chairs but they do fill up fairly quickly (at least always when I'm there). You line up at the counter to order and pick up your own order as well (like you'd do at most coffee places). There's cutlery, sugar, milk etc. at a counter in the center of the restaurant if you opt to go with tea or coffee with the pie. But really. Have the pie. You have to.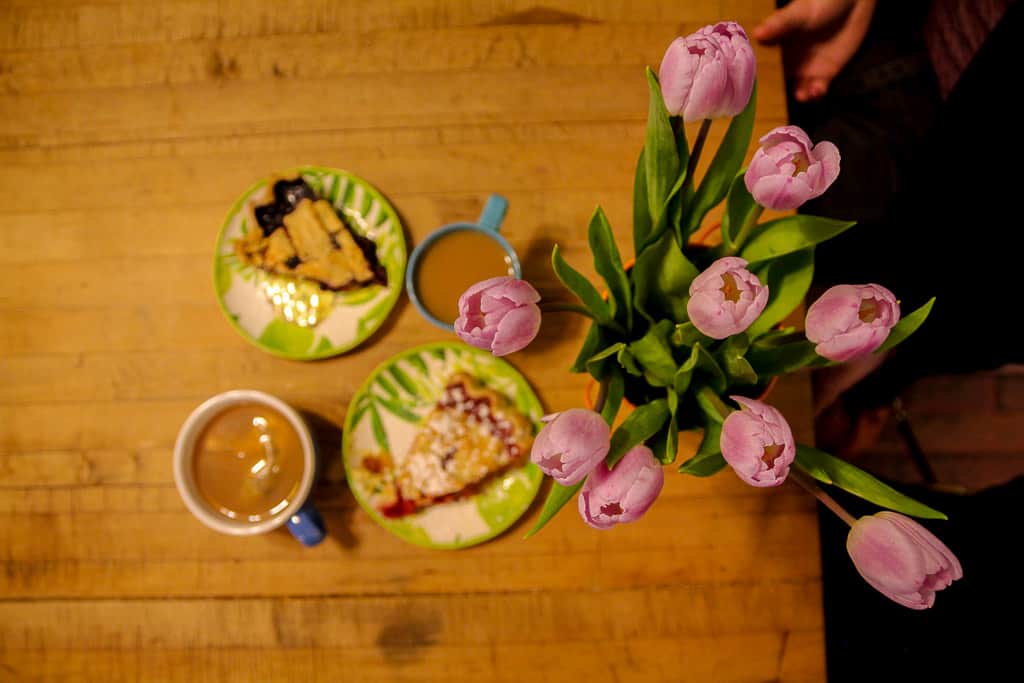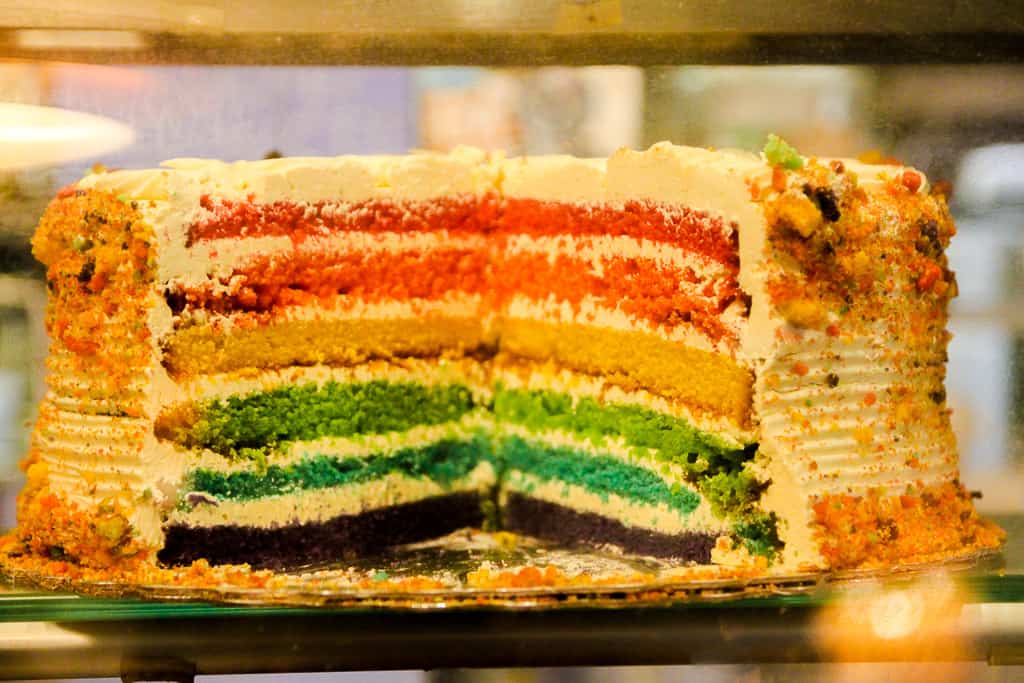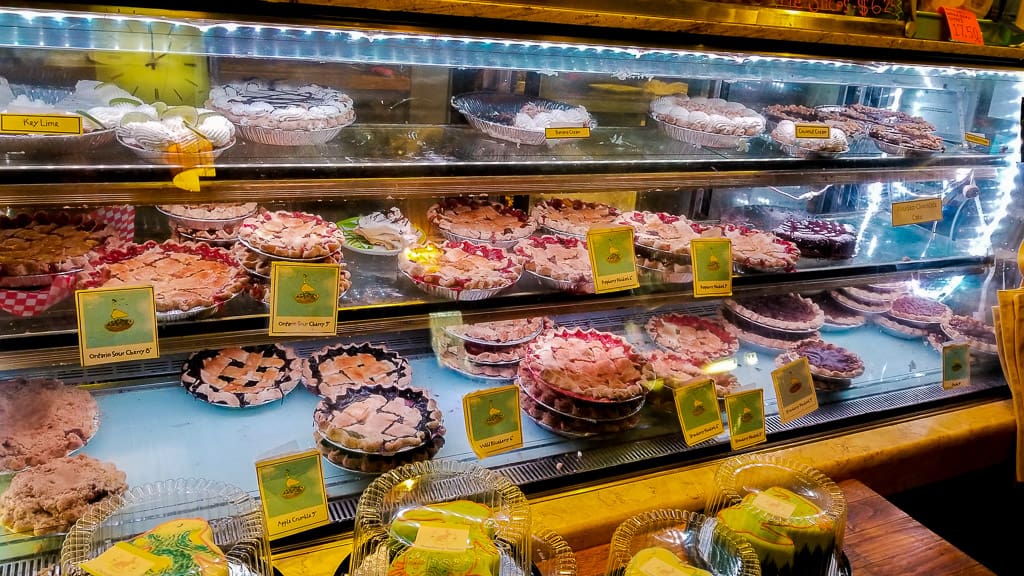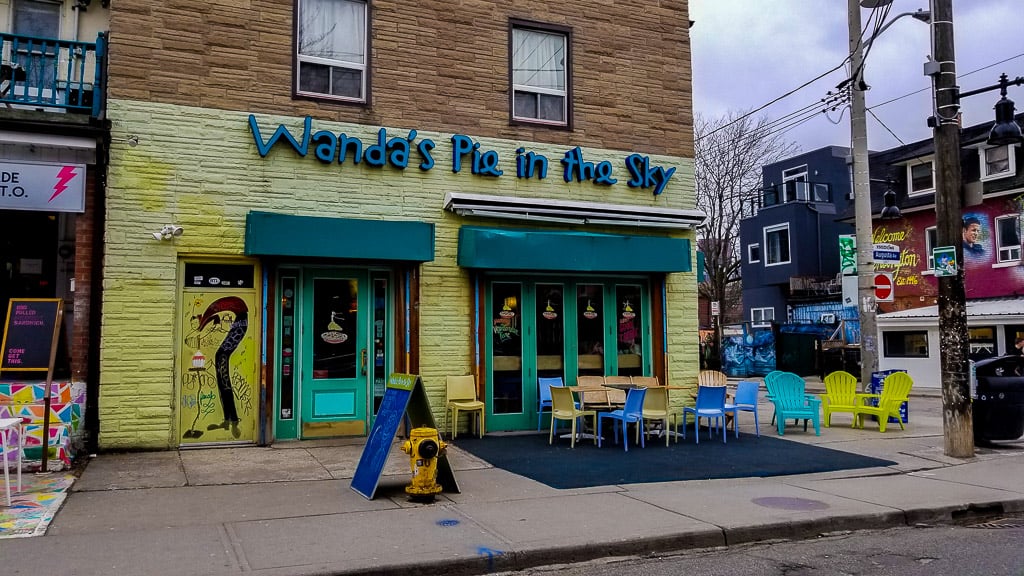 Moo Frites
Location: 178 Baldwin St, Toronto, ON M5T 1L8
Hours: Tuesday-Thursday and Sunday between 11:30 am and 8:30 pm, Mondays between 12 pm and 8:30 pm, Fridays and Saturdays between 11:30 am and 12:30 am
Type of Food: Fries! In all forms!
Price Range: Cheap! Everything is like under $10 and the portions are massive!
What to Order: The fries (duh). If you're stopping in just for a snack I'd grab some fries with any of the signature sauces. If you're looking for a meal then their cultural versions of the poutine is definitely the way to go.
It's really easy to miss Moo Frites (we walked past it when going to it the first time) because it's just a small entrance with a rectangular space leading backwards to the cash. But don't miss it! Make sure you visit it! There's really limited seating, like 10 seats but the counter space actually has really handy little holes you can keep your fry cone in. Super smart! If you go for the poutine creations they do get a little bit messy so I recommend eating with a fork. The place is based on those Dutch fries and sauces so if you're feeling nostalgic for for them from your own visit to the Netherlands this is most definitely the place for you.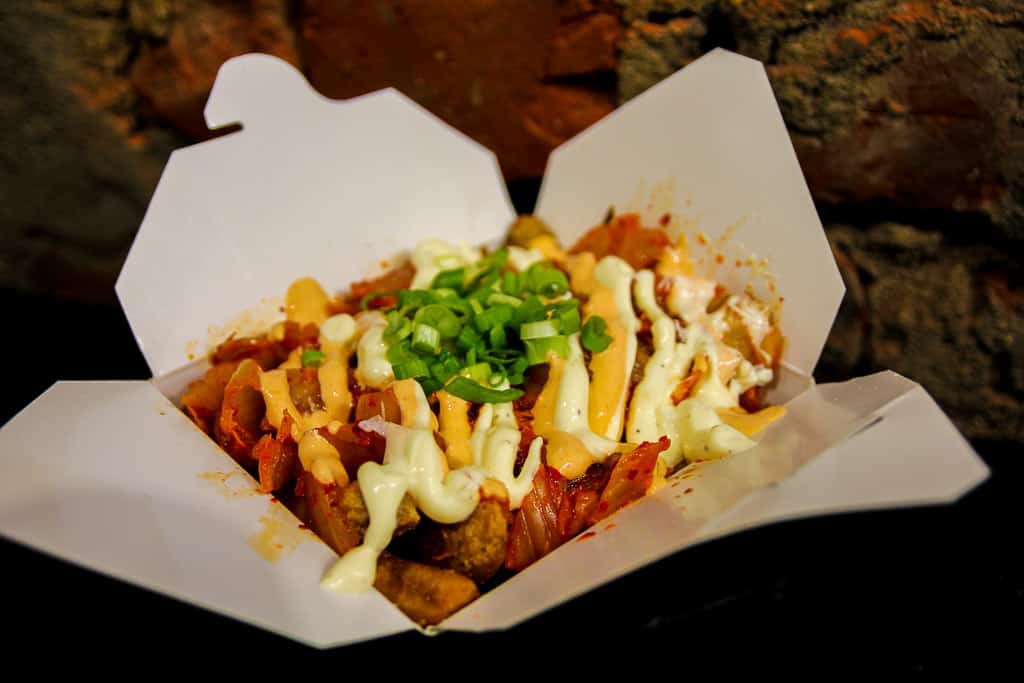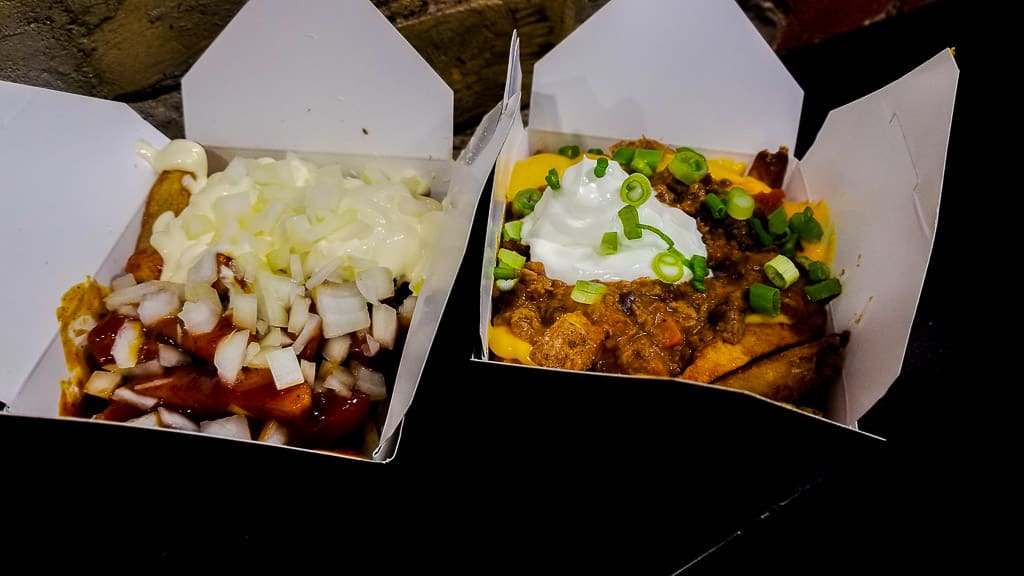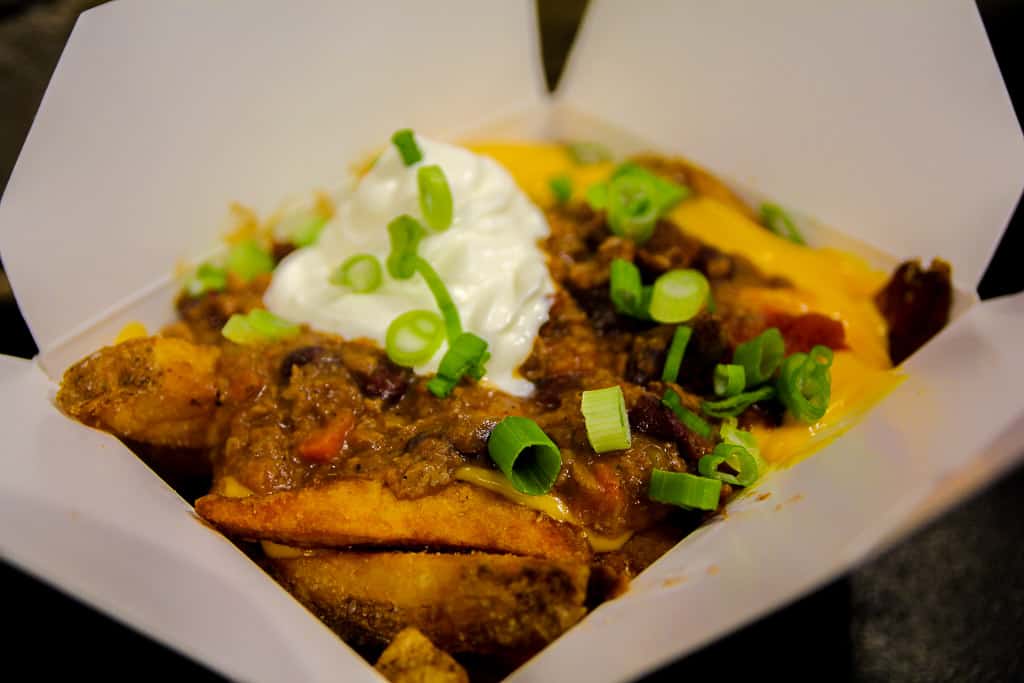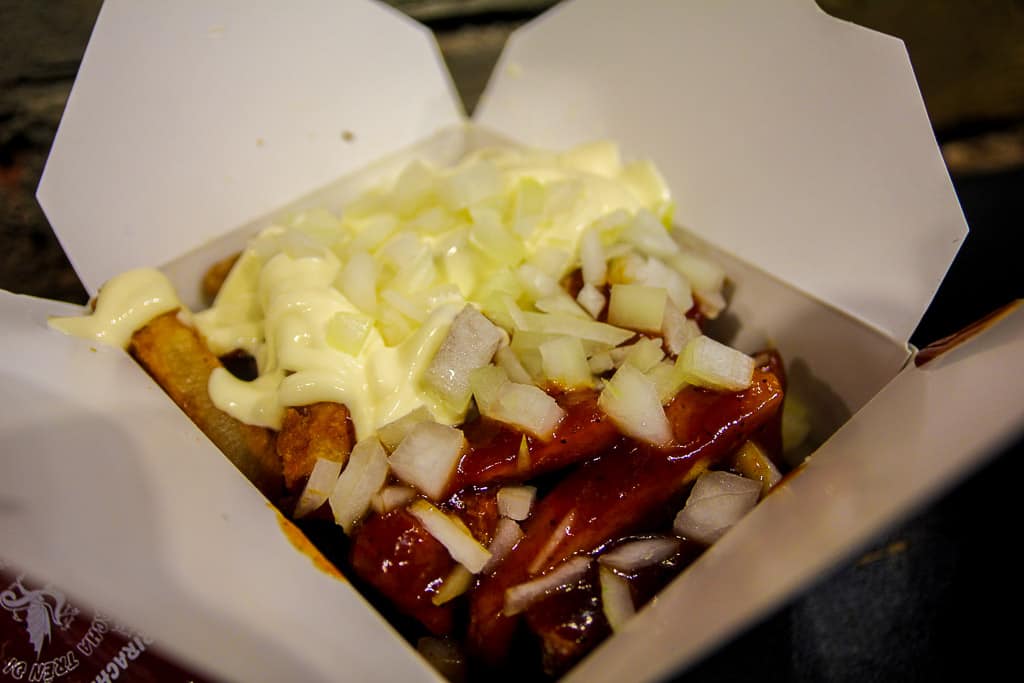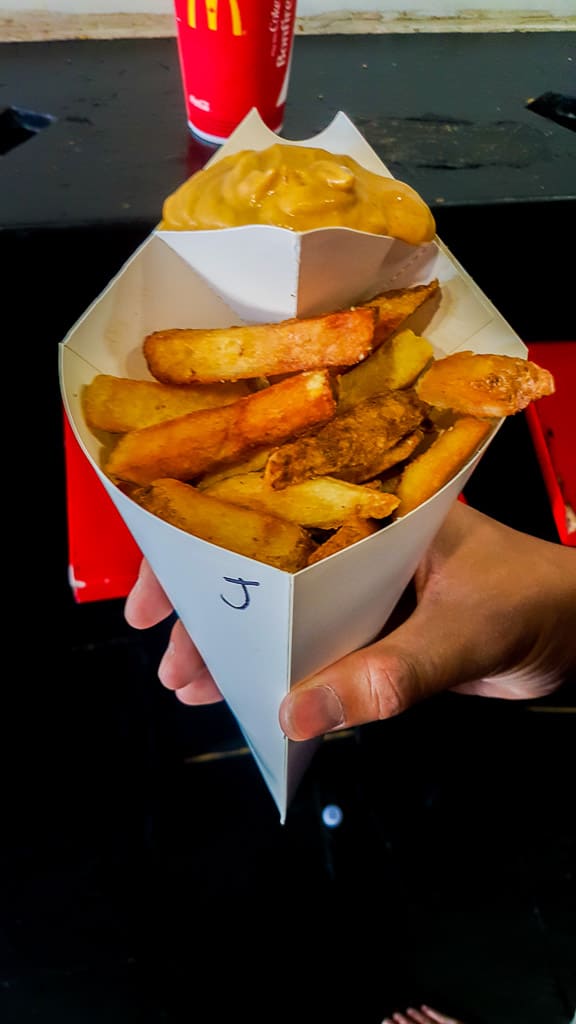 Otto's Berlin Döner
Location: 256 Augusta Ave, Toronto, ON M5T 2L9
Hours: Sunday-Thursday between 12 pm and 9 pm and Saturday/Sunday between 12 pm and 11 pm
Type of Food: German style street food
Price Range: A little bit pricier than the rest of the places on this list (anywhere from like $10-$30 depending on what you're getting and if you're getting a drink)
What to Order: The Currywurst or the Kebobs
Otto's is a restaurant serving German comfort food like currywurst and Döner style kebobs. In true German fashion you can of course get a beer to go along with your food. Döner is pretty much like gyro and it's served with a ton of sauces. If you come here in the summer you can have a seat on the patio in case the few tables inside are occupied. Once you're done enjoying your meal head to the washroom. I know what you're thinking, but no not for that reason! They've got a special little party favor and once you hit a button the washroom turns into a little dance party!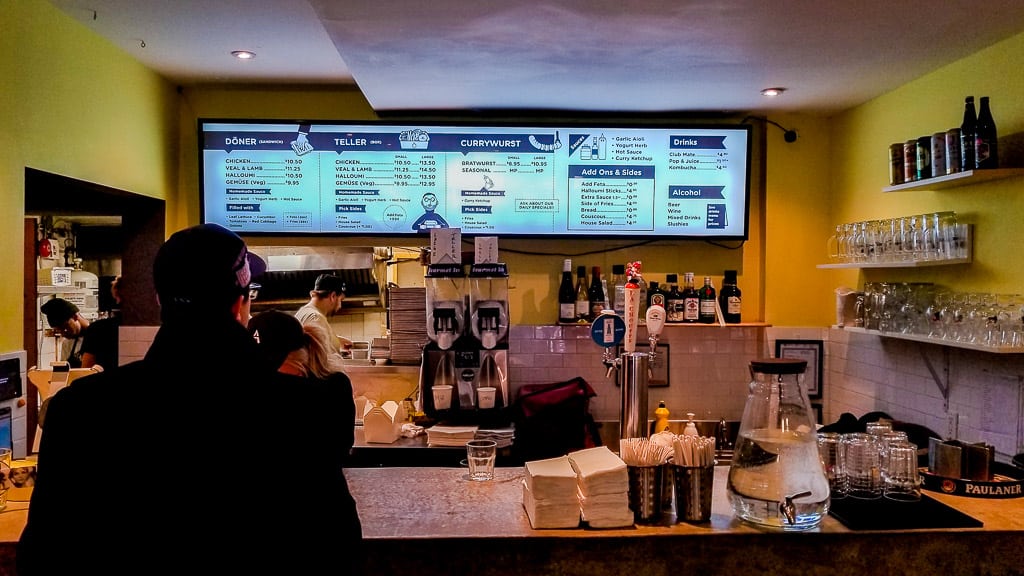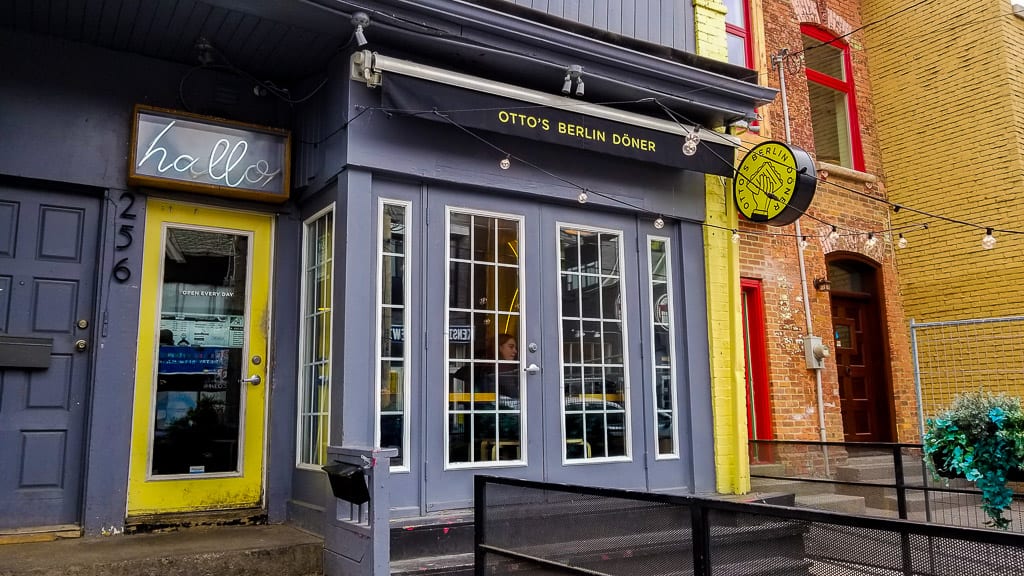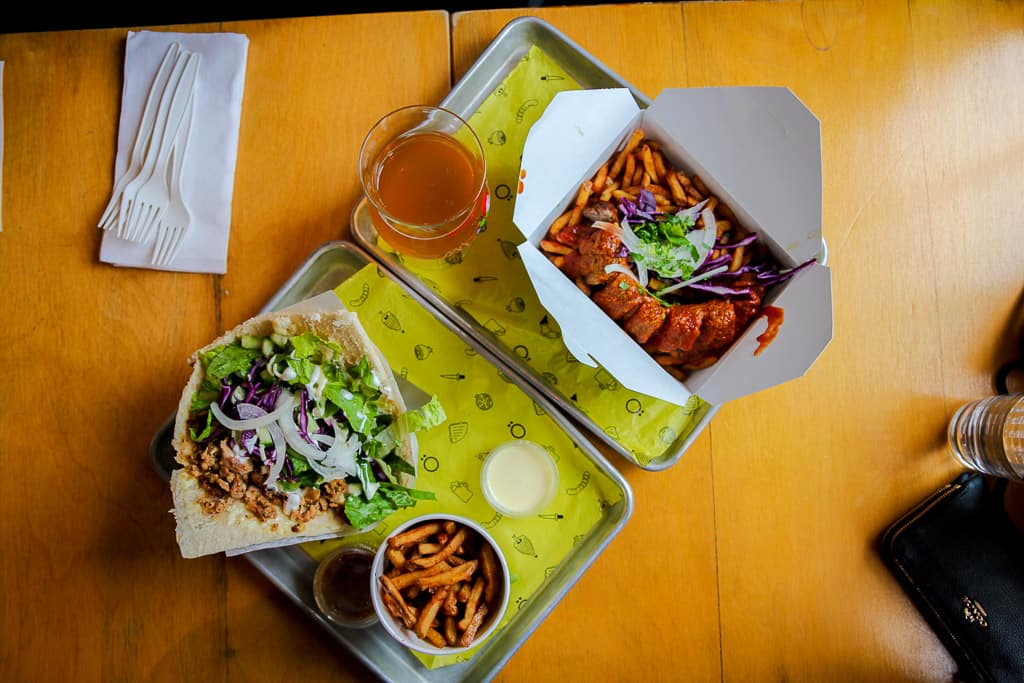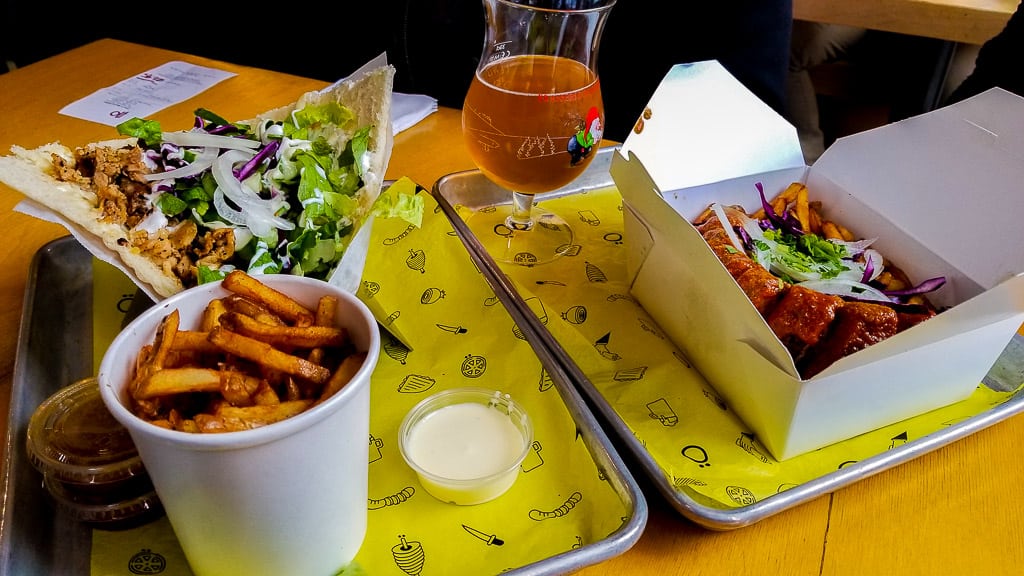 Seven Lives
Location: 69 Kensington Ave, Toronto, ON M5T 2K2
Hours: Monday-Sunday between 12 pm and 8 pm
Type of Food: Tacos
Price Range: $6 per taco (I know but they're really stuffed!)
What to Order: Pretty much everything, it's all great
Wow, arguably some of the best tacos I've had in Toronto in general. Be prepared to line up for this place and be aware it's cash only. Each order is $6 and comes with only one taco but as you can see below they're totally fully loaded. This means they're of course really messy too. The restaurant is one of the smallest ones on this list. There's one shareable table that's always full and enough counter space for like 5-6 people but again, this is fairly busy.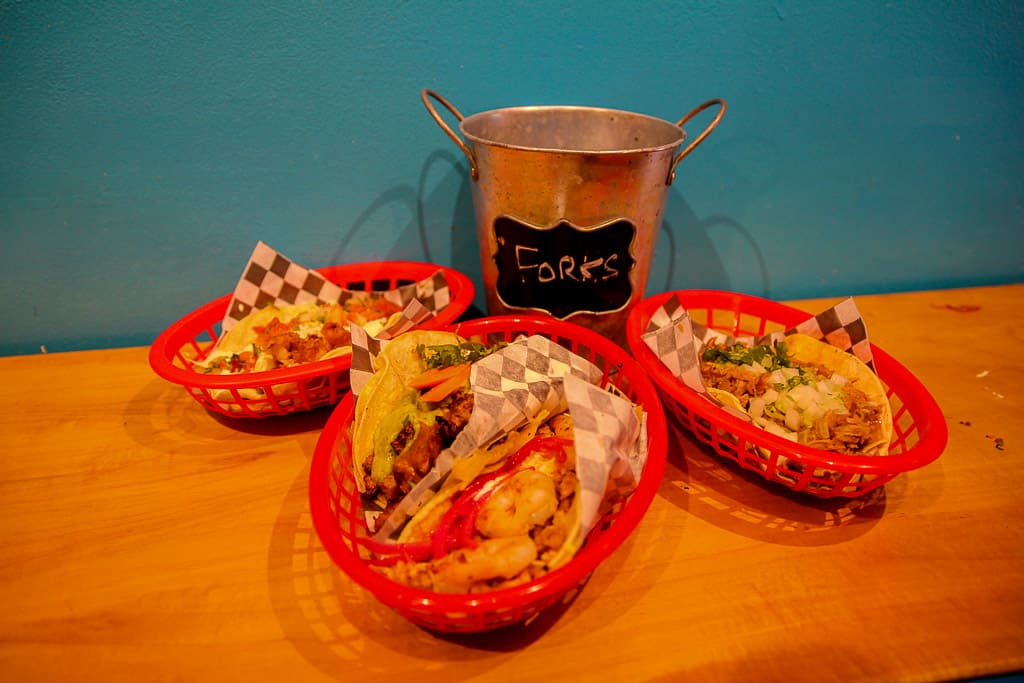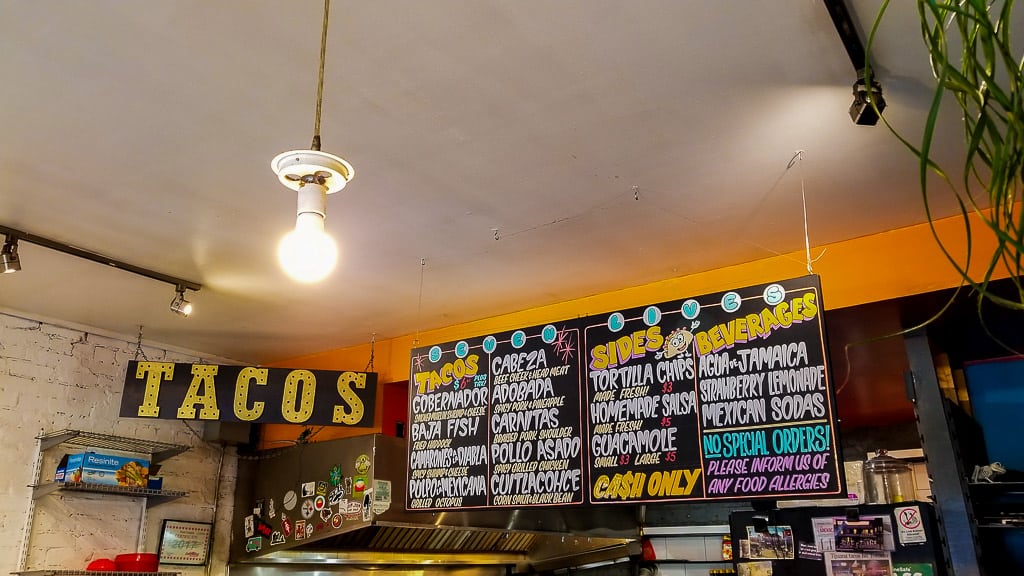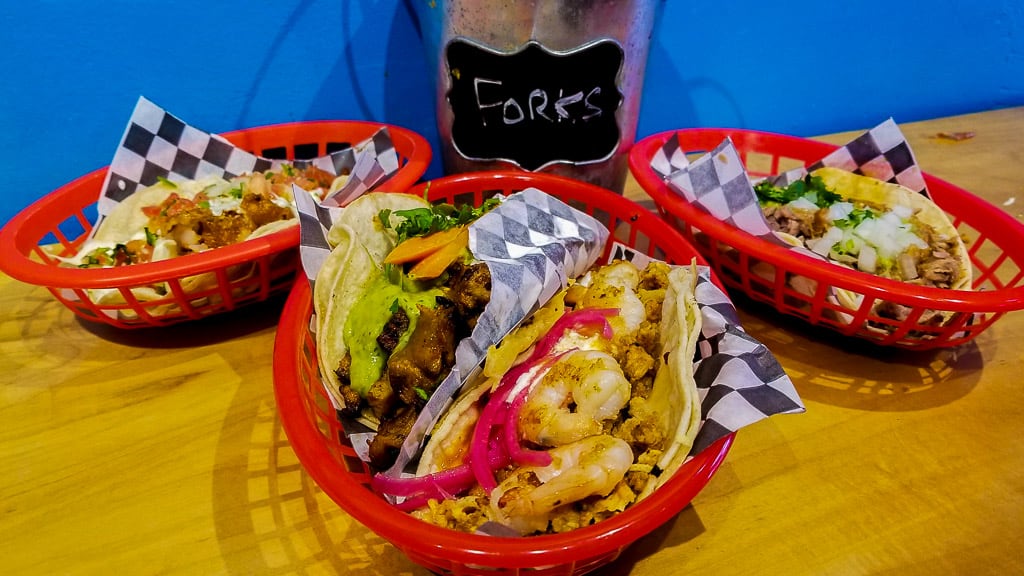 Sweet Olenka's
Location: 225 Augusta Ave B, Toronto, ON M5T 2L4
Hours: Monday-Sunday between 12 pm and 9 pm
Type of Food: Instagram friendly icecream and candy
Price Range: Under $10
What to Order: The icecream bars
Sweet Olenka's is a really instagram friendly place in the items they sell. The place itself is very bare bones but that's okay because you're really here to eat icecream. And that is something they do well. It's one thing to have pretty icecream bars, but pretty and tasty? Now that's special. Plus grabbing one of these on a hot day and walking around to explore Kensington is pretty close to a perfect Toronto day.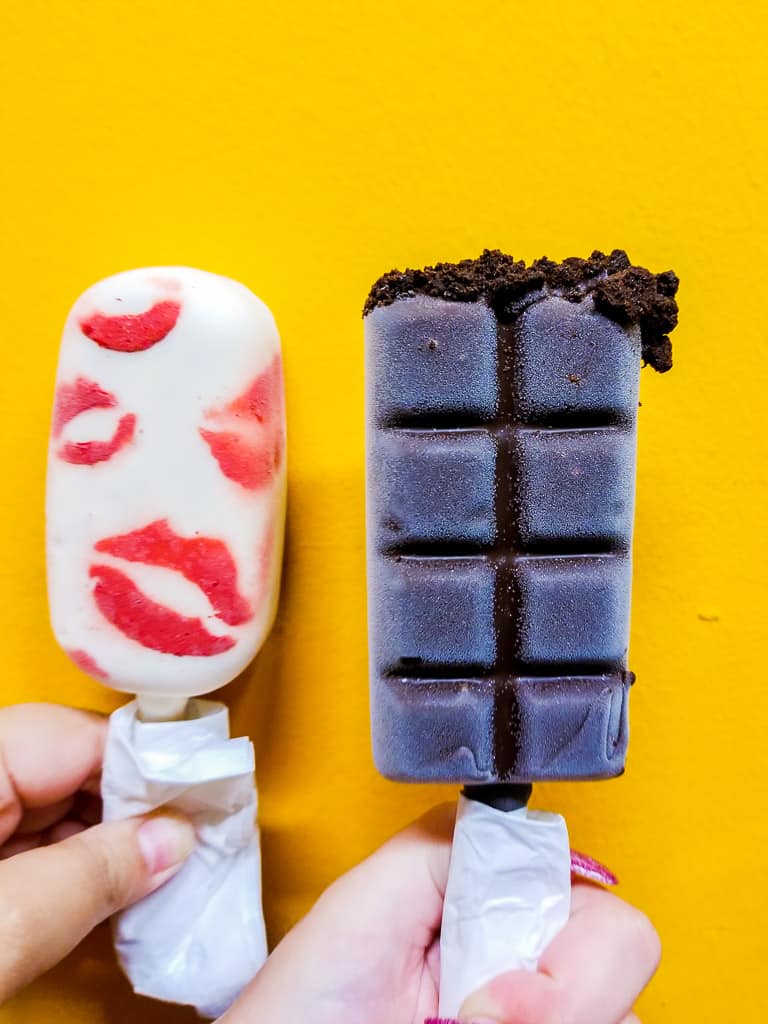 FIKA Cafe
Location: 28 Kensington Ave, Toronto, ON M5T 2J9
Hours: Monday-Sunday between 10 am and 6 pm
Type of Food: Baked goods + coffee and some ready made sandwiches
Price Range: $5ish depending on the quantity of items
What to Order: A semla (a traditional Swedish pastry)
This is one of the coolest places in Kensington. Yes, I'm partial because it's Swedish and I miss everything about Sweden. But really, the interior is very cool as is the exterior. The word FIKA is a Swedish word which pretty much means grabbing a coffee and a dessert usually. The place does get really busy but there's a bigger table in the back and some seat outside as well. Make sure to take a picture of the book wall and of the traditional Swedish Dala Horse.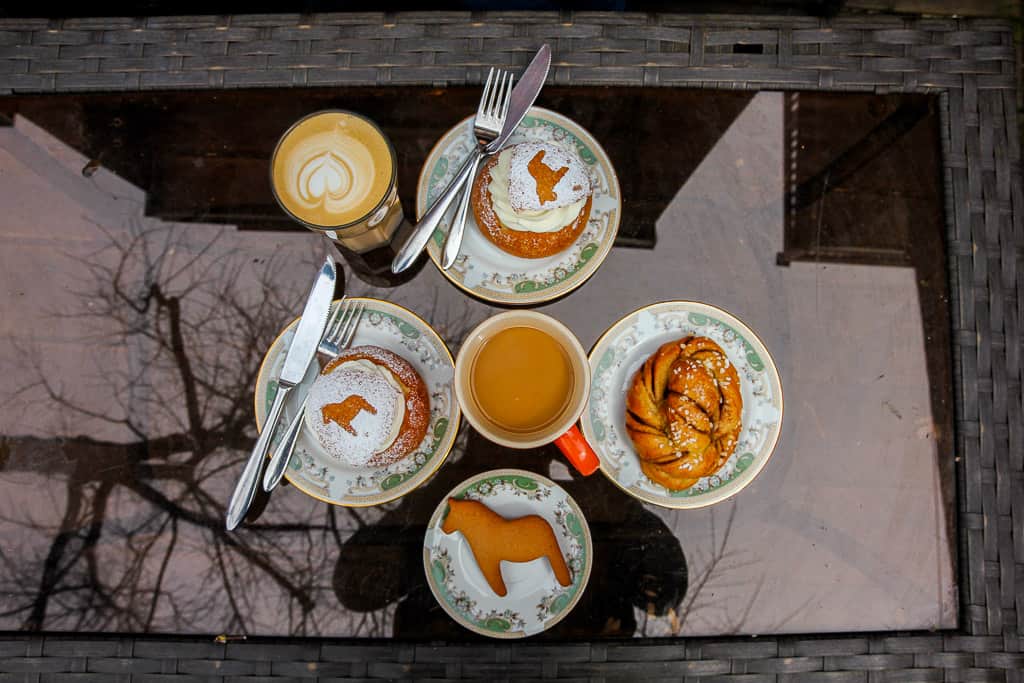 Rasta Pasta
Location: 61 Kensington Ave, Toronto, ON M5T 2K1
Hours: Closed on Mondays, Open between 11 am and 7 pm Tuesday-Saturdays and open between 11 am and 6 pm on Sundays
Type of Food: Italian and Jamaican
Price Range: Around $10-$15 depending on the size you get
What to Order: Is this even a question? Obviously the jerk chicken
So this place is interesting because it's really two places in one. The one entrance/counter serves Italian food and the other one serves Jamaican food. I find the concept really interesting and although we've only tried the Jamaican portion I'd definitely come back for the Italian portion! Like Seven Lives, this place is cash only and also usually has a line up out the door. Like Seven Lives, it's totally worth the wait!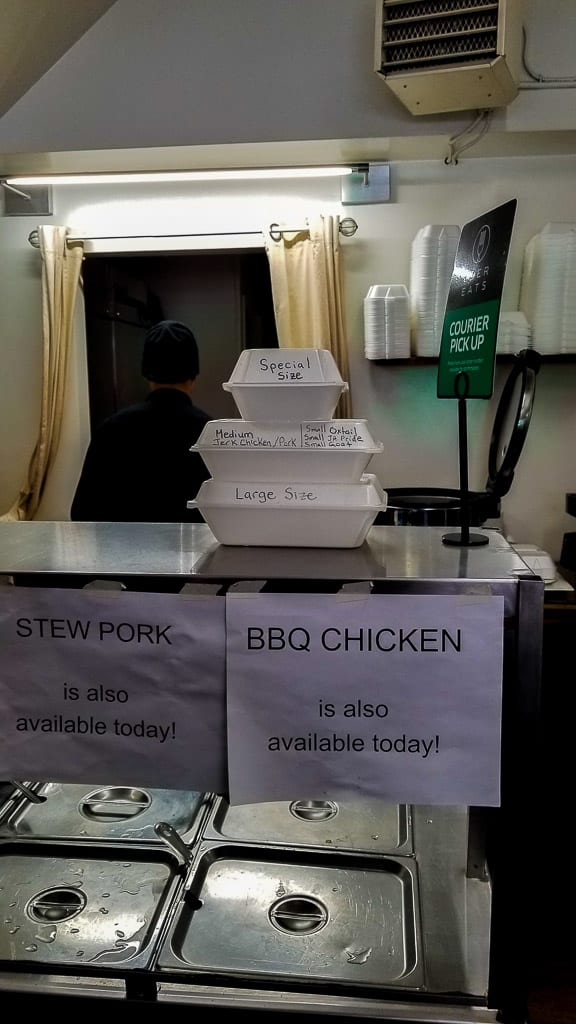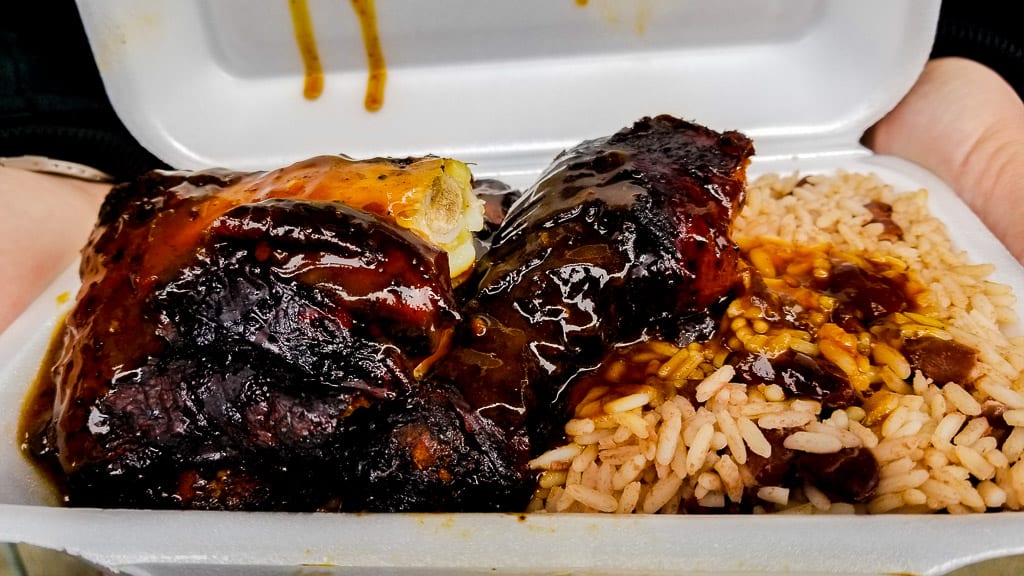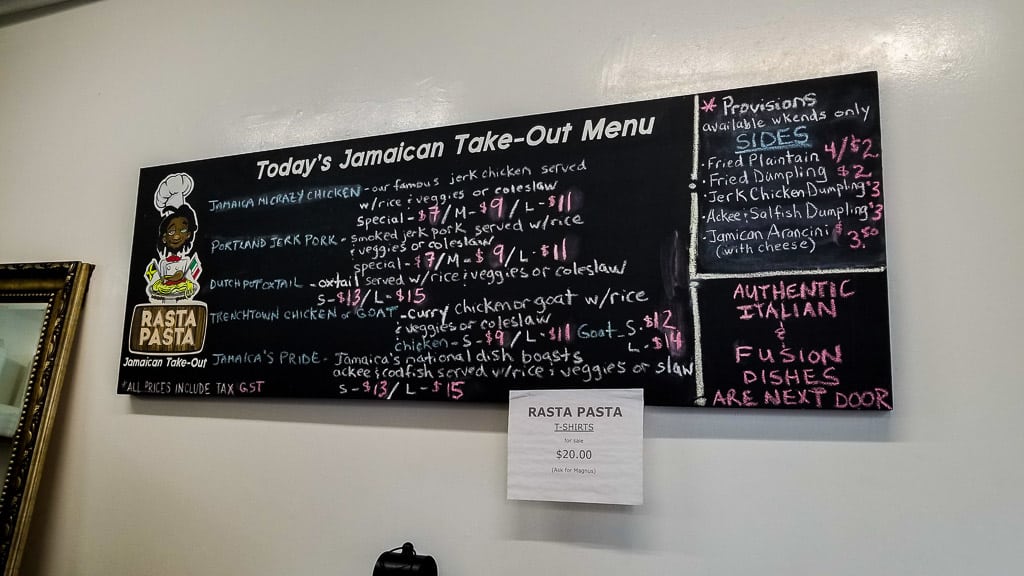 Pancho's Bakery
Location: 214 Augusta Ave, Toronto, ON M5T 2L4
Hours: Monday-Sunday between 10 am and 8 pm
Type of Food: Churros (pretty self explanatory)
Price Range: Depending on how many churros you're going for you're either spending a couple of dollars or $10ish
What to Order: Churros!!!
Would you believe that despite having had this place 5 times, I never stopped to take a proper picture? That's how way too into these churros I've been. Also a statement to how good they are!
Kensington Market can be a bit of a maze if you've never been in the area before. Check out the map below to see where all of the above restaurants are located!
Have you been to Kensington Market? Have you tried any of the restaurants I recommended? What did I miss on my list? Pin this pin for your upcoming visit!