While our fall may have been short, the winter in Canada most certainly isn't. It's Mid-November now and snow has officially begun. Our winters easily last from Mid-November to late April and with the time change it can be grueling to spend so much time indoors in the dark and cold and sometimes it's hard to motivate yourself to get outside. Luckily we're well aware of how dreary winter can be as a province so we go all out with events. There's something going on in virtually every town every weekend but this article will be a great starting point of things to do in Ontario this winter!
Skate down Rideau Canal
Every year the Rideau Canal transforms into the biggest skating rink in the world. The UNESCO Heritage Site boasts 7.8 km worth of skating and goes from the downtown core to Dow's Lake. Skating on the canal is free but if you don't have your own skates you'll have to pay to rent those. There are plenty of places adjacent to the canal where you can rent them however! Keep an eye on the official site to monitor when the skating begins but it's typically in early January.
Enjoy Winterlude

While you're in Ottawa skating down the Rideau Canal, make sure to also stop by the annual Winterlude Festival.
This season it takes place on the weekends between January 31, 2020 and February 17, 2020.
Most of the activities are free and include concerts, ice sculptures, an ice dragon boat festival, a snowflake kingdom and so much more!
The events are spread across the Ottawa core including the town of Gatineau!
Take in an event at the Bon Soo Winter Festival
Bon Soo Winter Festival is an annual event that takes place in Sault Ste Marie. It was founded many years ago as a way to encourage the community to leave their houses during a dreary and cold winter season. This year it's taking place between January 31, 2020 and February 9, 2020. Events include fireworks, dances, a polar plunge and so much more!
Visit some small towns

Small towns all across Ontario go all out for Christmas and the holidays. They decorate, host events and overall just give you that incredible holiday feeling! The picture below is from Victoria Park in Kitchener. The lights were amazing! It doesn't hurt that Kitchener also has a fantastic Christmas Market every year and is only a couple of hours from Toronto.
But besides the holiday activities, there's lots of spas, bed and breakfasts, antique shopping etc. that can be done in these small towns across the province on the winter weekends and it's a great way to see a town you perhaps wouldn't have otherwise!
Check Out Feb Fest in Kingston

Kingston celebrates winter with their annual Feb Fest.
Feb Fest (which you can probably tell from its name) runs in the city through the month of February.
There's a ton of cool events like a Winter Park, a skating rink (with its own events!), a hockey day + tournament, beaver tails and so much more!
Check out Niagara's Icewine Festival
The Icewine Festival in Niagara is Canada's largest wine festival and also one of the more unique ones since it's all about icewine specifically. There's a number of events between January 10, 2020 and February 16, 2020.
Go chase some frozen waterfalls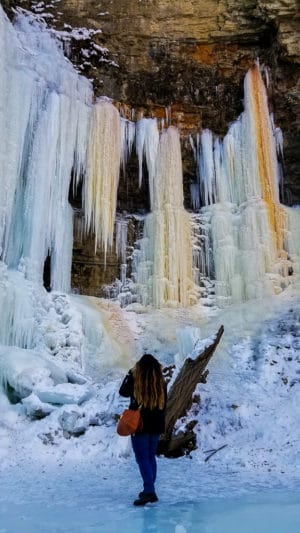 Ontario has a ridiculous amount of waterfalls. Like so many you can't count them. The very cool thing about them is that when they freeze they are absolutely stunning. There's a ton of different locations you can head to to check out some of these frozen waterfalls. One of them is obviously THE waterfall: Niagara Falls. But Hamilton, the capital of waterfalls, also has some absolutely stunning frozen waterfalls.
Go skating/skiing

Is there anything more quintessentially winter than skating/skiing? There's a number of skiing destinations in Ontario ranging from full on resorts, to cross country trails, to private little trails so it's impossible to not find something that'll suit your needs. In addition to that, I challenge you to name a single town that doesn't have at least 1 skating rink! These winter activities are super accessible and therefore a must do this winter!
Go stargazing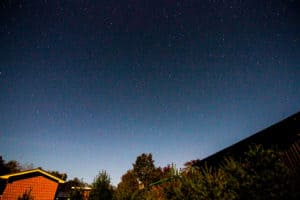 Winter brings with it longer nights which makes it ideal for stargazing.
The easiest way to stargaze is to drive to a large park or open space with as little light pollution as possible to be able to see as many stars as possible without interference from other lights. While it can be cold outside, make sure to give your eyes at least 15-20 minutes to get used to the dark. This will allow you to see more stars almost immediately!
If you want to increase your chances of seeing stars then I'd recommend heading to a dark sky preserve. There's a few around Ontario and one of them is in Killarney Provincial Park (outside of Sudbury, about 4 hours north of Toronto).
Visit one of the outdoor heated spas as a treat

I know I included this on my Ontario Fall Bucket List as well but it's because I think it's such a great outdoor experience even in colder temperatures like fall and winter!
While Nordik remains my recommendation, Scandinave in Blue Mountain is a lot closer and also completely worthwhile to check out!
Participate in a Polar Plunge
There are multiple Polar Plunges around the province in places like Toronto, Ottawa, Chatham, Kingston, Barrie, Waterloo and more. You can find out locations and exact dates here.
A Polar Plunge is exactly what it sounds like. It involves taking a dip in freezing cold water. I've tried it once in Sweden, and while invigorating, you'll definitely be cold. The great thing is that a lot of the official Polar Plunges around the province raise money towards Special Olympics Ontario.
Go snowmobiling

There's plenty of areas all around Ontario that you could go snowmobiling in. We did it a couple of years back in Collingwood and had a great time!
If you're diligent you can probably even score a groupon to try it out for much cheaper. I was suuuuuper surprised at how cold it would be on the snowmobile though so I was most definitely not prepared for it! Don't make my mistake!
But it is lots of fun so you should definitely add it to your things to do in Ontario this winter!
Try some other winter activities
Besides skating, skiing and snowmobiling there's other winter activities you can participate in like ice climbing, ice fishing, tobogganing, snowshoeing and so much more. There's a lot of things to do in the winter that you can't do in the summer and while it's suuuuuper cold you should try to take advantage of the season. We're lucky to be in Ontario surrounded by a ton of beautiful nature that provides us great opportunities to try new things.
Enjoy the Winter Festival of Lights in Niagara Falls
The Winter Festival of Lights in Niagara Falls is the biggest of its kind in Canada. This year will be the 37th annual event. There's over 8 km of lights that you can travel/walk past and they're made up of over 2 million twinkly lights. The route goes through the Niagara Parks and Dufferin Islands. They are all around the parts of Niagara Falls and is a great way to explore the area. The event runs between November 14, 2019 and January 10, 2020. so there's plenty of chances to take in the lights! The Festival of Lights includes shows, fireworks and concerts in addition to the light displays.
Take a day/weekend trip to Blue Mountain

Blue Mountain is pretty much THE ski town for us southern Ontario folks. Blue Mountain town is located just over 2 hours north west of Toronto and makes for an excellent day/or weekend trip. You can of course partake in skating or snowboarding but even if that isn't your thing there's plenty of stuff to do!
There's a bunch of charming shops to stroll around in, plenty of great tasting restaurants (I'd highly recommend Firehall Pizza Co.) and non-skiing/snowboard activities like a fun winter roller coaster in the mountain! Plus it's hard to argue with the aesthetics of the village. It's just so stunning! Blue Mountain also has one of those lovely outdoor spas I mentioned above (Scandinave Spa)!
Get outside

As you can tell from the number of outdoor activities on this list, you really just need to get outdoors this winter.
Yes it's cold and you may even get wet but winter is a special time in Ontario and one that anybody visiting Canada needs to cherish since it's such a huge part of the year.
There's so much to see and do and even if you're looking forward to summer already, I promise you won't regret heading outdoors!
How many of these things to do in Ontario in winter have you already done? Do you normally brave the Toronto winter or do you prefer huddling up inside? Let me know in the comments and pin this post for your own upcoming travels!