Ontario's been hit with pretty bad winter weather this month. We've had multiple days at like -30 degrees Celsius with incredible windchill and lots and lots and lots of snow. Not the funnest time to be exploring Ontario right? Having lived in Canada for 15+ years now I've grown to embrace the winter and despite the cold I try to continue exploring Toronto and Ontario. Let's be real, if I didn't I'd only get to see my surrounding area for like 6 out of the 12 months a year. Yeah, our winters are long. Like really long. With that being said, as long as you are prepared for the weather you can definitely still continue exploring. The best part? Ontario (and the rest of Canada) is absolutely stunning in the snow. Last weekend we decided to explore the Hamilton Waterfalls while they were frozen over. Hamilton's only an hour away from Toronto so it's really easy as a day-trip and while we've hiked the waterfalls numerous times in the summer/spring/fall this was our first time doing so in the winter. Read on for our adventure exploring 3 stunning Hamilton Waterfalls in Winter!
Tew Falls
Tew Falls is a ribbon waterfall with a 41 meter height. In the summer accessing it is a little bit more difficult (involves a shuttle) but luckily it's now winter and the parking lot is pretty much abandoned. It's also only 100 meters from the parking lot so it's all of a 3-4 minute walk up to the viewing platform for Tew Falls. Unlike the other two ones we saw on this visit, Tew Falls wasn't completely frozen over which was cool because you still got to see water but it was surrounded by snow and ice. Fun fact: Tew Falls is only a couple of meters shorter than Niagara Falls!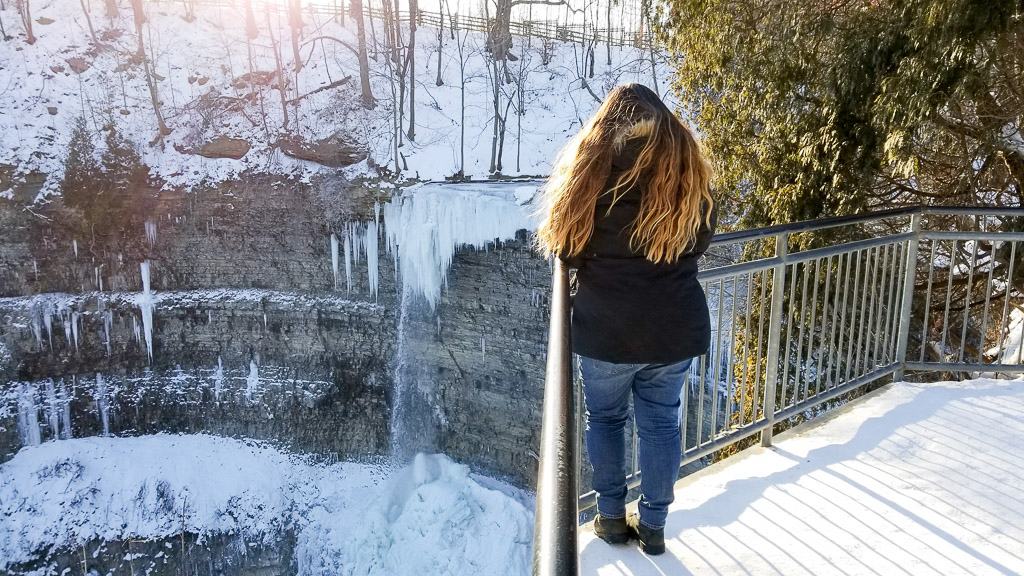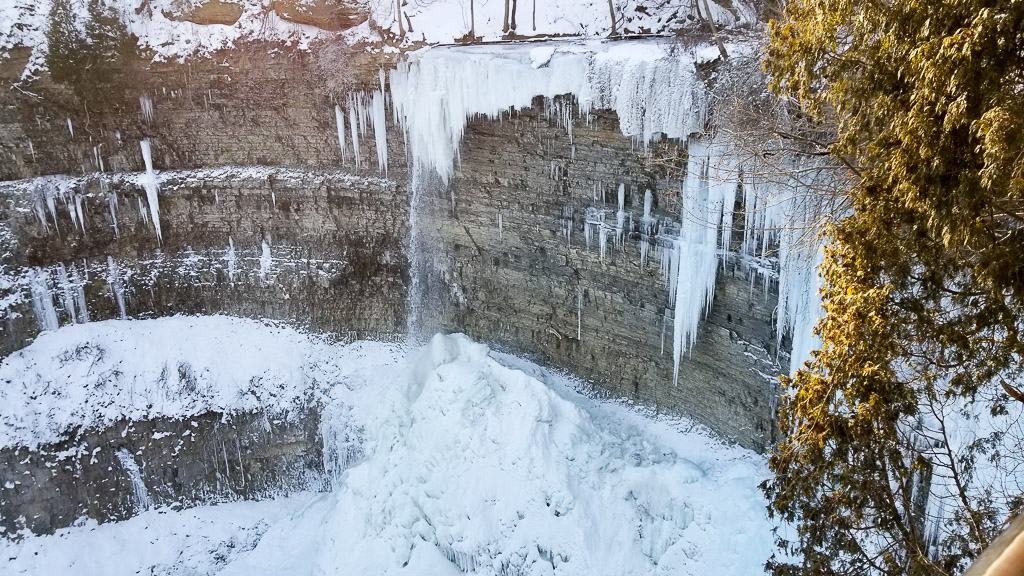 Webster's Falls
While Tew Falls and Webster's Falls are really close (see the below map) you actually can't walk between them. In the summer you'd have to again take the shuttle but because it's winter there's the lovely benefit of actually being able to use the parking lots! You have to pay to park but it depends on how long you spend there. Webster's Falls is one of the classic waterfalls in Hamilton and while it's fenced off people access the bottom of it all the time. I've done it in the summer and it's fairly safe but I personally would not risk it in the winter with all the snow and ice. The view from above is absolutely stunning though and taking it in from there is still magical!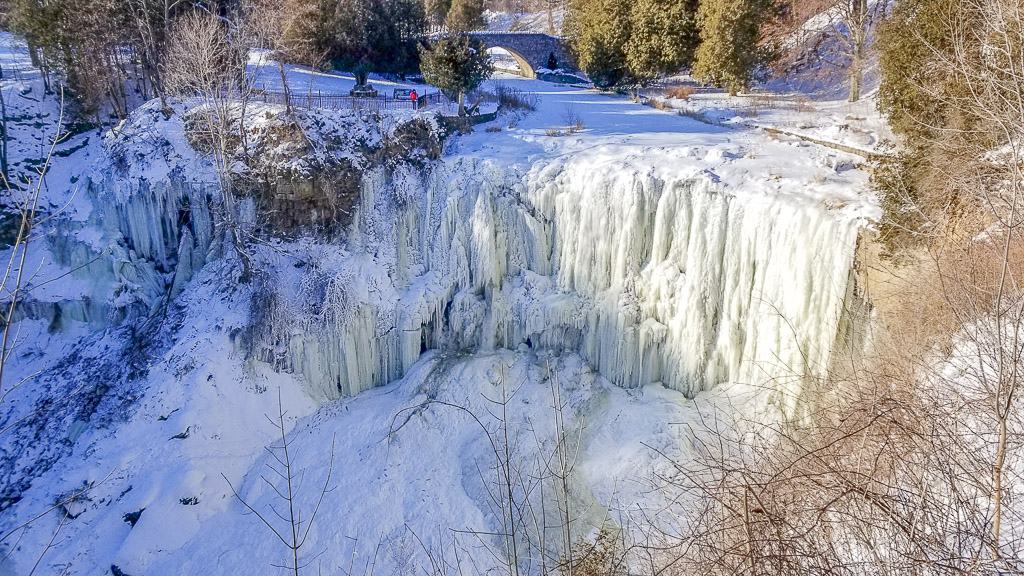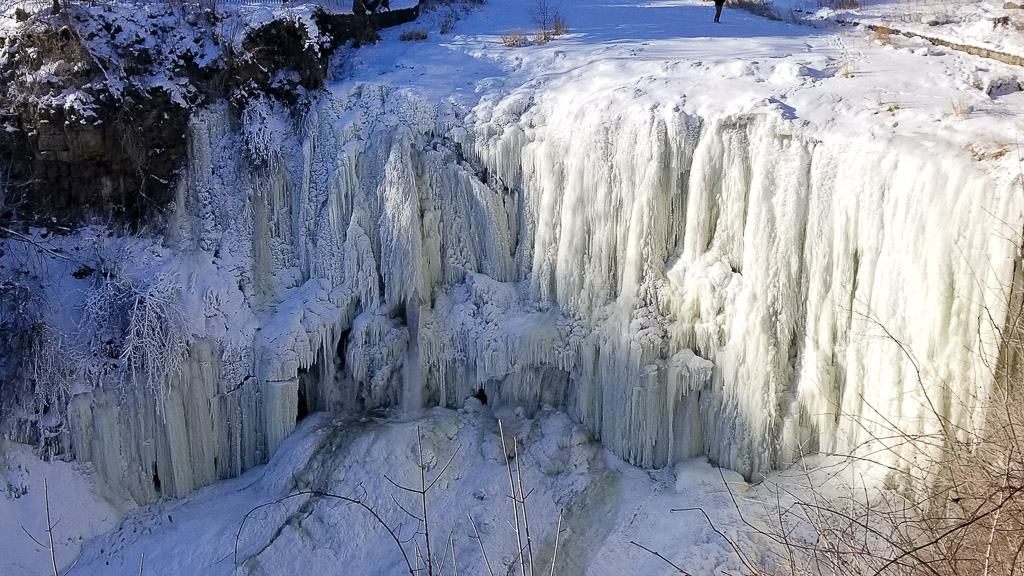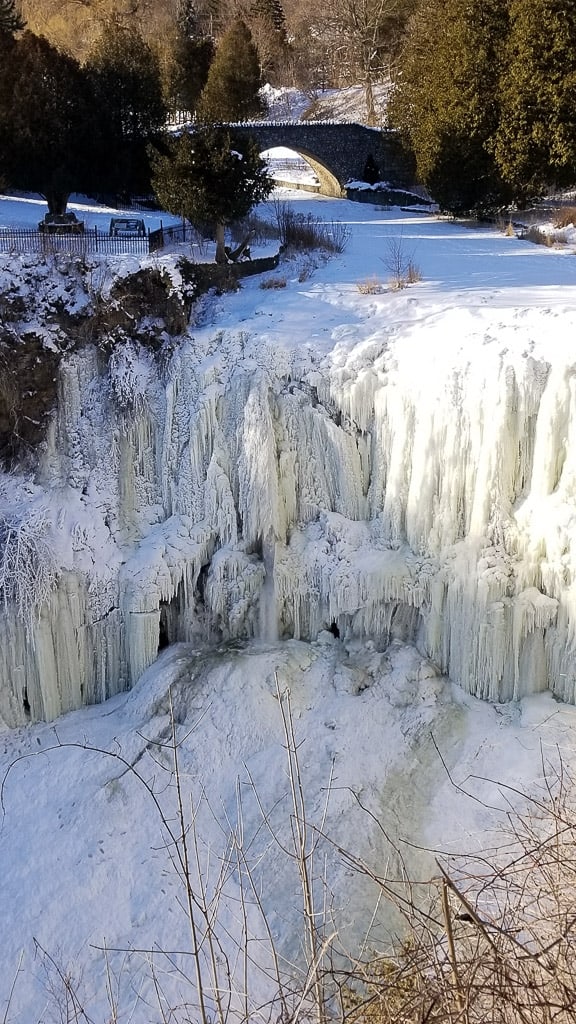 Tiffany Falls
Tiffany Falls is arguably the best of these falls to check out because you can access it so very easily. It's about a 5-10 minute walk from the parking lot depending on your speed (it's literally 360 meters from the parking lot). The hike there is not very extraneous and doesn't require any level of fitness at all. Because of the snow and the ice you do have to be careful not to slip! I of course say this from personal experience because I very confidently walked the trail with zero problems but fell completely flat on my butt once I got to the viewing platform. Terrified an older couple who probably thought I died too haha. If you happen to be reading this I apologize for scaring you!
Tiffany Falls is incredibly popular and once the falls are frozen over people do actually go ice climbing on the falls (which to me is absolutely insane but hey to each their own!) so there's usually a fair amount of people there on weekends. If you can, head there early or on a weekday to have the place to yourself!
Google/GPS kind of misdirects you when trying to find Tiffany Falls so make sure you're inputting the parking lot I've added onto the map below as opposed to just typing in Tiffany Falls (that'll take you into a residential area). Parking also costs here but it was like $2 for an hour which is more than enough time to explore the falls and take lots of pictures.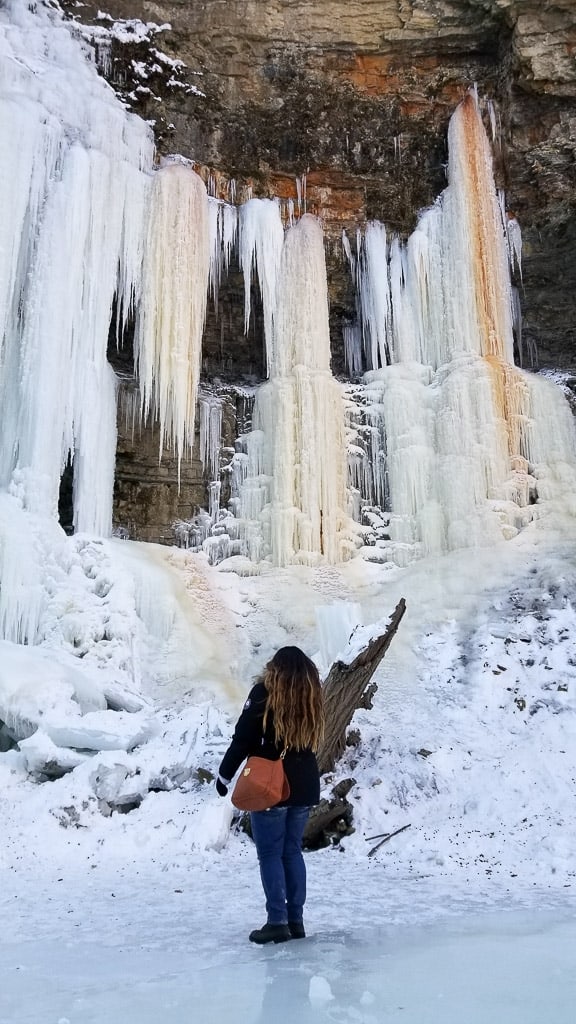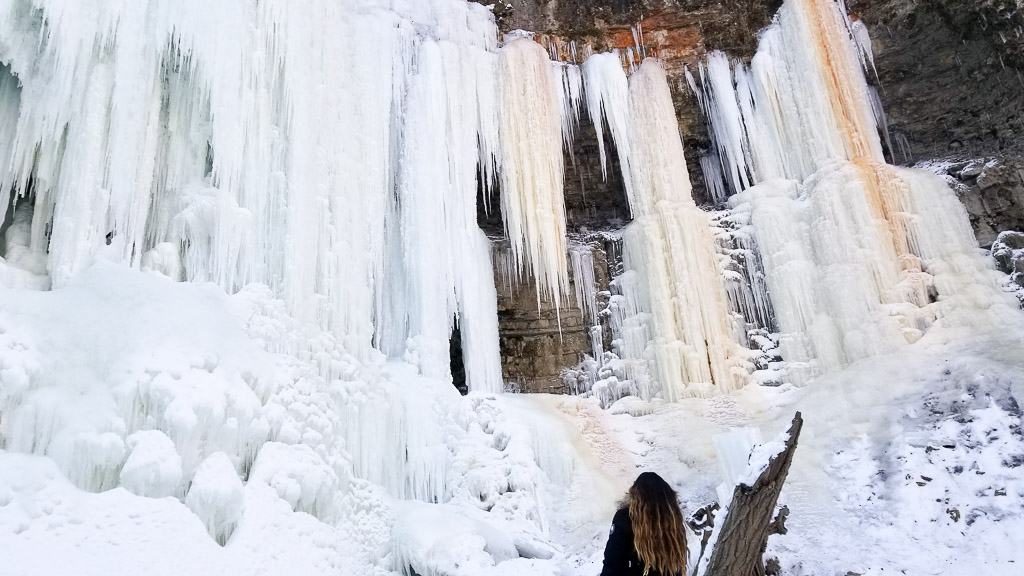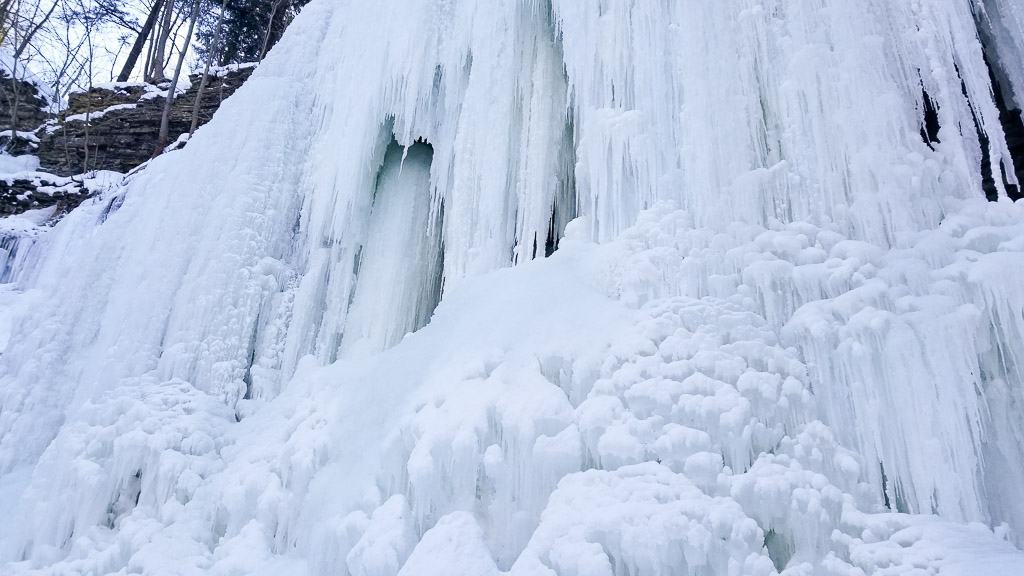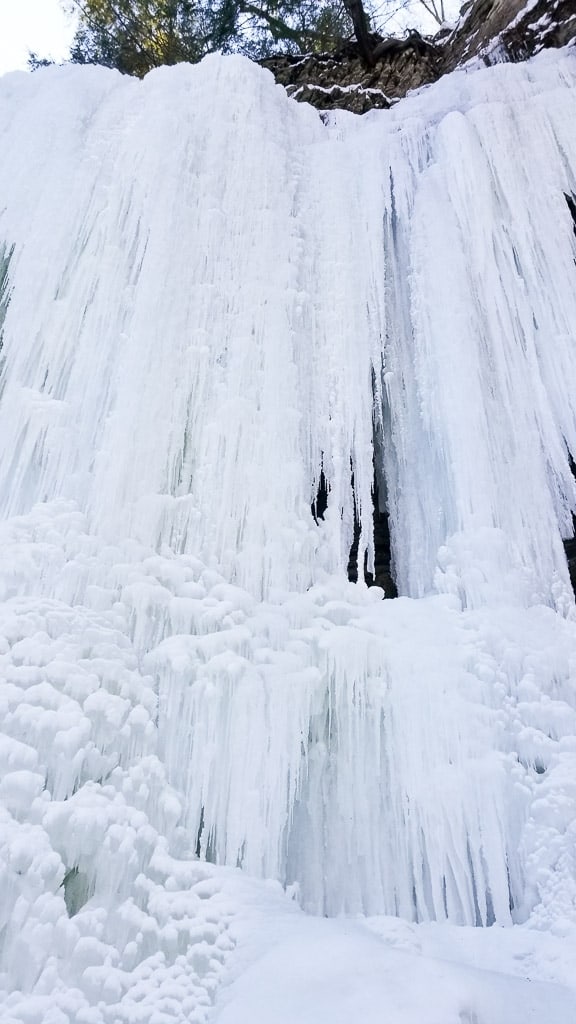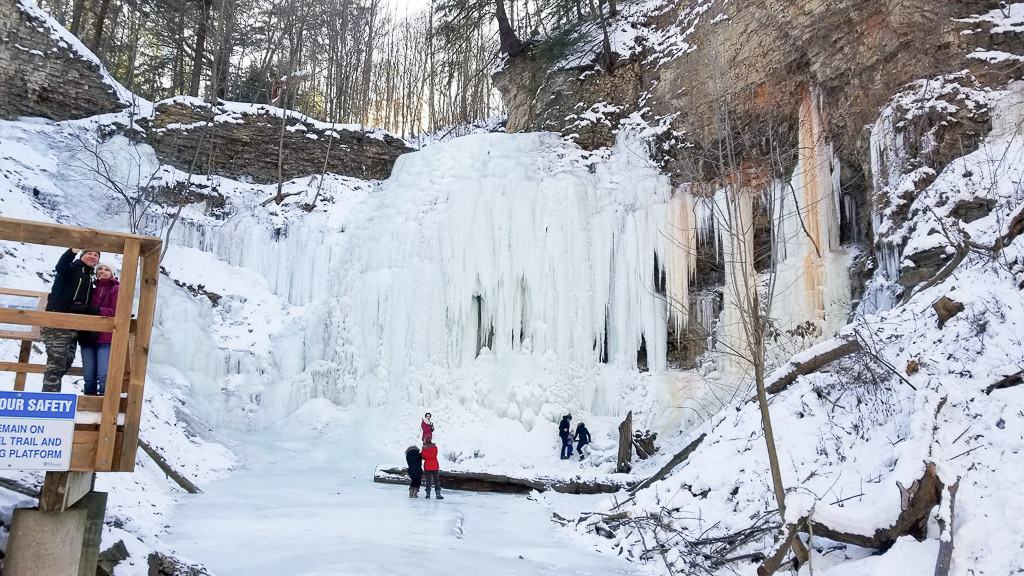 Check out the below map to figure out where to go to check out these waterfalls. Like I mentioned above, if you're headed to Tiffany Falls make sure you set your GPS to the parking lot and not the falls!
Do you do any winter exploring in your area? Have you ever checked out frozen waterfalls before? Let me know in the comments and pin the post for your upcoming visit!