Winter! Hate it or love it, you do have to deal with it. Particularly if you live in, or are visiting, Toronto between the months of like December and April. Yes, it can be freezing and dark and bleh but there are lots of things to do in Toronto in winter and Toronto winter(s) don't have to be gloomy! The upside of a Toronto winter is that the city is incredibly pretty covered in snow so let's dive right into what there is to do in Toronto in the winter.
Winter Fridays at Brick Works

The Evergreen Brick Works is a really cool part of Toronto. There's always events going on and fun things to do and see.
One of the more new things they're doing is Winter Fridays. The event runs on every Friday between January 3rd and February 14th. There's skating, outdoor games, fire pits and so much more. You can even take a break and enjoy a drink from the sipping container. There will be a DJ playing music for the skating rink.
Skates are available for rental at $5/pair and there's no cost for skating. If you need sharpening that's available as well, at $7/pair.
There's also great hiking trails around the area if you feel like hiking in the snow.
Winter Stations is an annual art event that will run this year for the sixth time. It takes place along Woodbine Beach and it's essentially public art installations that are built on the beach around the lifeguard stations. This year the event takes place between February 17, 2020 and April 1, 2020 and the theme is Beyond the Five Senses. Winter Stations is a competition and artists are welcome to submit their own designs of which the winners will be chosen. It's these winners that then get to build their installations! If you're interested in the details of the competition you can check out their website.
We've been to check out Winter Stations a couple of times, back in 2016 and 2017. It's a free event which is great and it's outdoors which is a lot of fun. The installations are a couple of hundred meters apart so you do obviously have to walk between them but a lot of the installations are interactive which is super fun and makes up for having to walk haha!
If you're interested in the event I'd recommend checking it out sooner rather than later because unfortunately the installations do get either taken down earlier than indicated or they get destroyed.
Check out Loop
Winter Stations is actually also hosting another event before the official installations go up for the year. This one is called Loop and will take place at York Street Park between January 15th-February 9th, 2020. Like Winter Stations the event is free. This one is all about "interactive retro-futuristic machine powered" installations where the visitors actually power the exhibits. It'll run between 9am and 10pm every day but looks like it'll be coolest at night when it lights up.
Visit the IceFest in Yorkville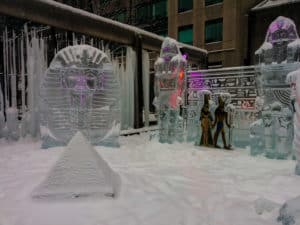 Ice Fest in Yorkville is a long running event that takes place during one of the first weekends in February every year. This year it's taking place on February 8th and 9th, 2020. The event is free but it's in support of the Heart and Stroke Foundation so if you buy a Maple Syrup Taffy those proceeds will go to the foundation! There are other vendors selling food and drinks as well during the event.
Ice Fest is pretty much all about ice sculptures and a ton of them! Over 70,000 tons of ice is created into stunning clear sculptures and you can even see them being carved during your visit! Each year is themed differently and the sculptures all play into that event. Past themes include Medieval Times which included sculptures like a giant castle and a throne large enough for two. This year the theme is Awesome 80's.
Go skating on any of the outdoor skating rinks in the city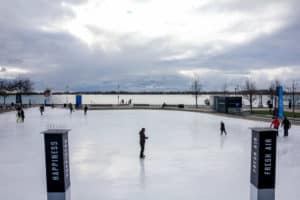 The City of Toronto has 52 official outdoor skating rinks in virtually every neighborhood in the city and they're a great outdoor activity to do with your friends or your family.
Facilities will range from rink-to-rink – some of them offer skate rentals, change rooms and toilets and some don't. Take a look at the official website (linked below) to see what facilities you can find at what rink.
Most of the rinks are open 9 am to 10 pm 7 days per week.
You can take a look at the official site for when each rink opens but it's generally in late November/early December and the generally stay open until the very end of winter (closing around the first day of spring).
Go skating in the Bentway
The Bentway is the public space under the Gardiner Express highway and like last year, it'll open to skating this winter! It's got an impressive figure 8 skating trail that you can enjoy. This is its third year running but it was super popular last year with over 50,000 people checking it out. It will be open until February 17, 2020.
There are skating lessons available as well as rentals and there's some options for food and drinks available on select dates. There's also a tiny winter village with fire pits and blankets! If you want more details head on over to their official page.
Enjoy some indoor activities
Let's face it, there's a chance it gets way too cold and that's okay! Toronto has dozens of indoor activities that you can participate in when it's just slightly too chilly outside. Between the museums, galleries, entertainment venues and restaurants there are so many things to choose from. Best of all? There's so many free things to do in Toronto.
Explore Lake Ontario when it freezes over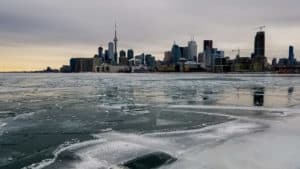 Lake Ontario is absolutely stunning in any kind of weather but it's just a little bit extra special when it freezes over.
With all the beaches and lake fronts we have in Toronto there are plenty of places to access the lake from when it freezes over. The picture to the left is from the Polson Pier Skyline View which can be found at Jennifer Kateryna Koval's'kyj Park.
People went so far as to skate and play hockey on it last year! It's super important to be careful if you're stepping on to the ice because you never know how thick or thin the ice may be. I'm overly cautious so I like taking it all in from the safety of land but that's just me!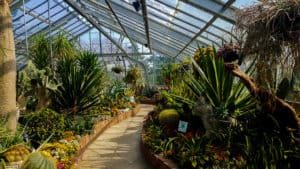 Let's be real, Toronto gets cold. Like super super cold.
One of the best things you can do this winter is to check out one of the 3 conservatories Toronto has.
Not only are they free but they're all super warm too to keep all the plants alive and strong so you can walk around without your jacket and pretend it's summer!
Treat yourself to a spa day
Toronto has some stunning spas like the Elmwood Spa, Hammam Spa and the Hazelton. If those dreary winter days are just becoming way too much then a day at the spa may be exactly what you need.
Hike the Scarborough Bluffs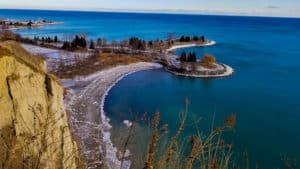 The Scarborough Bluffs is one of my favourite parts of Toronto and like Lake Ontario (which it sits on) it's stunning in any type of weather.
It's beautiful to see it completely covered in snow and it's an excellent place for doing some light hiking! It goes without saying to be super careful around water in these freezing temperatures.
If you're looking to take in the above view (like the picture on the left), look for Scarborough Crescent Park on Google Maps.
Winter at Ontario Place
Ontario Place is running their big winter festival again this year. Just like last year there will be bonfires, skating, movie screenings, trails lit up by fairy tales and a light festival. The winter events at Ontario Place kick off on February 8, 2020 and run all the way until March 29, 2020. The event runs between 4pm and 11pm every day. The snack shop closes a little earlier – at 10pm.
It should be noted that admission to the festivals itself is free but the movie screenings are not. To see which movies are playing when and if tickets are available head to Ontario Place's website to find out.
Check out a new restaurant during Winterlicious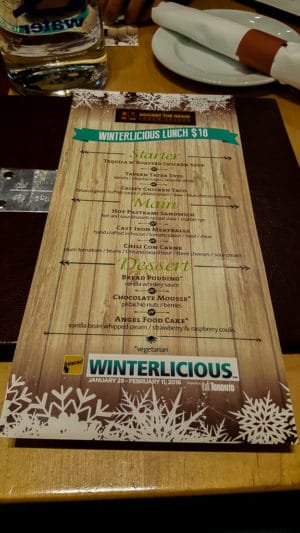 Winterlicious is an annual event that runs for 2 weeks in late January/early February every winter. This year it's running between January 31, 2020 and February 13, 2020.
Reservations are accepted as of January 16, 2020.
A ton of participating restaurants offer 3-course prix fixe menus for either lunch or dinner. It's a great way to try out some new restaurants around the city and a great way to get to try out some restaurants you may not have been able to afford otherwise.
Lunch prices are: $23, $28, $33 while dinner prices are: $33, $43, $53.
To find out which restaurants are participating check out the official site. You may want to make reservations asap for those restaurants you're dying to try because they do fill up super quickly!
Explore Terra Lumina at the Toronto Zoo
Terra Lumina is a light fest/interactive event put on by the Toronto Zoo. Every evening the zoo turns into an illuminated experience. Visitors will walk 1.5 kms (approximately 1 hour) through the event which tells a story about a future where humans and animals have learnt to live in harmony.
It'll run between December 13, 2019 and April 13, 2020. Adult tickets are $29.99 + HST, child tickets are $24.99 + HST and parking is $8. You can get tickets and more information here.
Attend the Toronto Light Fest in the Distillery District
For the fourth year in a row, the Distillery District will be hosting their epic Light Fest. This year it runs between January 17, 2020 and March 1, 2020 and the event will once again be free. The lights turn on around dusk every day and stays open until 9pm between Sundays and Wednesday and until 10pm between Thursdays and Saturdays.
There's also some lives performances while walking around and some of the installations are interpretive. The installations can be found all over the Distillery District so you definitely need to walk down all the little alleyways to make sure you see them all!
Get outside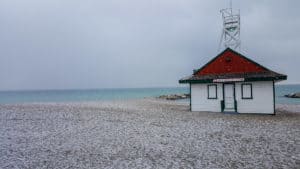 One of the most important things to remember to do this winter is to get outside. I know I said it about summer and about fall but it's really super important! If you don't make time for going outside on the weekends or on your day off, chances are that you'll be seeing very little sunlight and I don't know about you but my body definitely craves it. Yes it's cold and sometimes too cold, but most days if you dress appropriately, it's totally manageable!
So, let's be Canadian about it, dress up in super heavy clothes and go outside and have some fun!
How many of these things to do in Toronto in winter have you already done? Do you normally brave the Toronto winter or do you prefer huddling up inside? Let me know in the comments and pin this post for your own upcoming travels!