Ah, spring. Quite a fickle time in Ontario to be honest. We know it's technically spring as of March 20th but does the weather agree with us on that front? Often times not. It means that Toronto and Ontario has a fairly short spring. It's quite similar to our falls in the sense that you've only got a short time to squeeze in springtime celebrations but unlike fall that's okay because you're blessed with a fantastic summer once spring is done! But while it is short, spring in Ontario is absolutely beautiful. The melting snow and blooming flowers make you quite happy and somehow always signify a new start. So let's figure out all the things to do in Ontario in spring to get the celebrations started!
Celebrate National Canadian Film Day
National Canadian Film Day is an annual event that celebrates all things Canadian Cinema! 2019 will mark 100 years of Canadian Film so it's one worth celebrating when it takes place on April 17! You can celebrate yourself by streaming a movie online with CBC or Netflix or you can go to one of many events across the country!
Check out Cherry Blossoms
Springtime is synonymous with flower bloom and no flower really gets more attention than the Cherry Blossoms! This is most likely because they bloom for such a short period of time and require such specific conditions to do so. It somehow gives you a sense of urgency of needing to see them when they finally do bloom! It's also always a bit of a waiting game since their blooms are highly weather dependent and will vary from year to year so you have to kind of keep an eye out for when they're blooming sometimes. 
While the Toronto Cherry Blossoms get a lot of attention there's plenty of places in Southern Ontario that have some gorgeous Cherry Blossoms worth checking out! Some of these are Spencer Smith Park in Burlington, The Royal Botanical Gardens between Burlington and Hamilton and Kariya Park in Mississauga!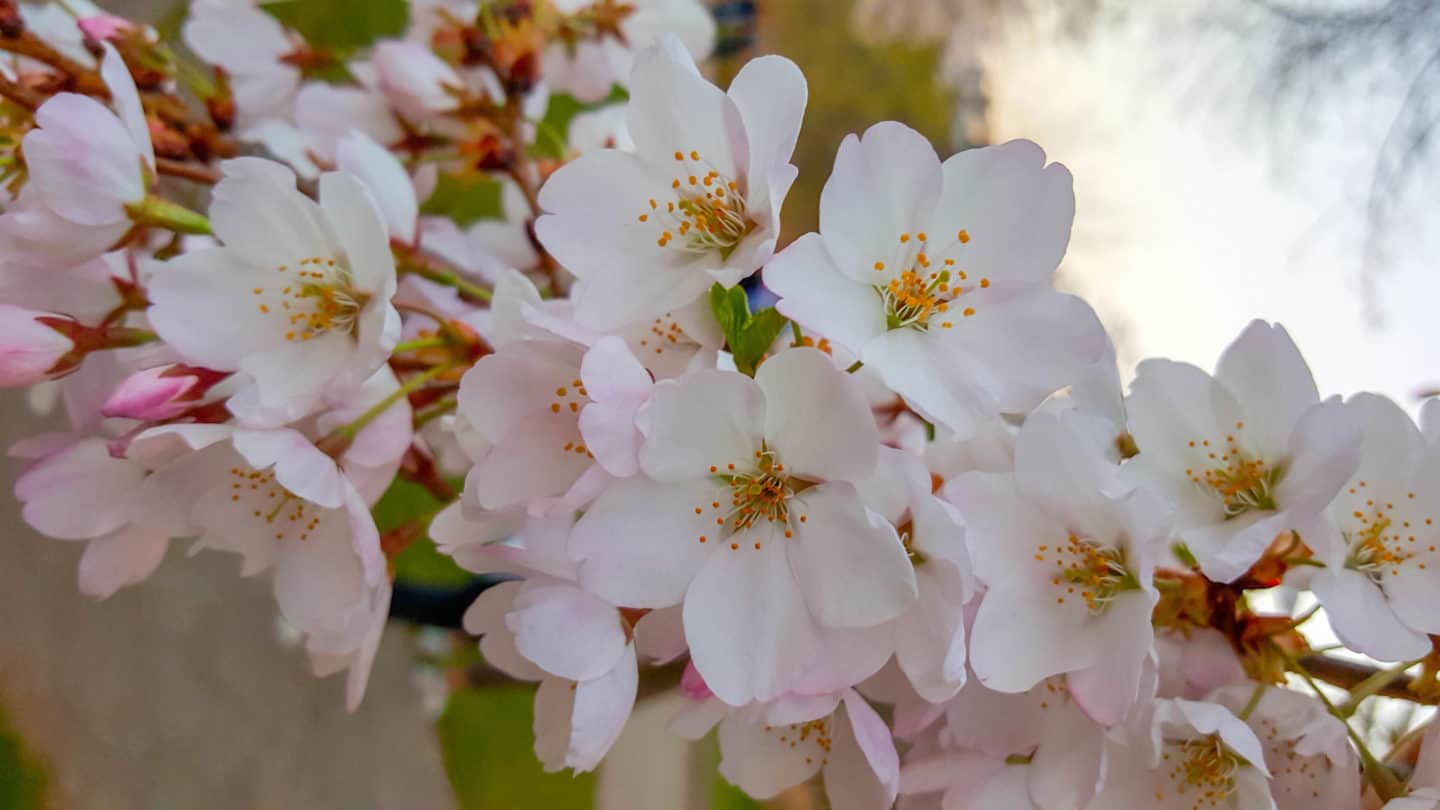 Road Trip to Guelph for brunch at a Harry Potter Restaurant
The road trip portion will definitely vary based on where in Ontario you're located but it's worth heading to Guelph regardless since grand opening of Lumus and Nox promises to be fantastic! It's a Harry Potter concept restaurant complete with multiple houses (known there as guilds)! While they've been soft open for a few weeks their grand opening is April 17, 2019. Given the publicity it's already getting, I'd highly recommend securing a reservation before heading there. They're currently taking them on their Facebook page but you should eventually be able to book it directly on their website. 
Hang out at the Mississauga Water Front Festival
The Water Front Festival in Mississauga has been ranked as one of the top festivals in Ontario for many years and this year will be 22nd time the festival is put on! It's scheduled to take place June 15-June 17, 2019 in Port Credit Memorial Park. The festival has pretty much everything you can imagine a festival should have from carnival rides to performances to street food to a petting zoo. It runs between 6 pm and 11:30 pm on the Friday, between 11 am and 11:30 pm on the Saturday and between 11 am and 6 pm on the Sunday and since it's free you've got not reason not to check it out!
Check out the Peony Festival in Oshawa
This year marks the 15th annual Peony Festival in Oshawa. It's taking place on June 15th and 16th between 10 am and 4 pm and it's totally free to attend! There are hundreds of peonies and lots of live musics and vendors selling products and food! There's an outdoor portion and an indoor portion to this even and it's worth checking out both of them. More details can be found here.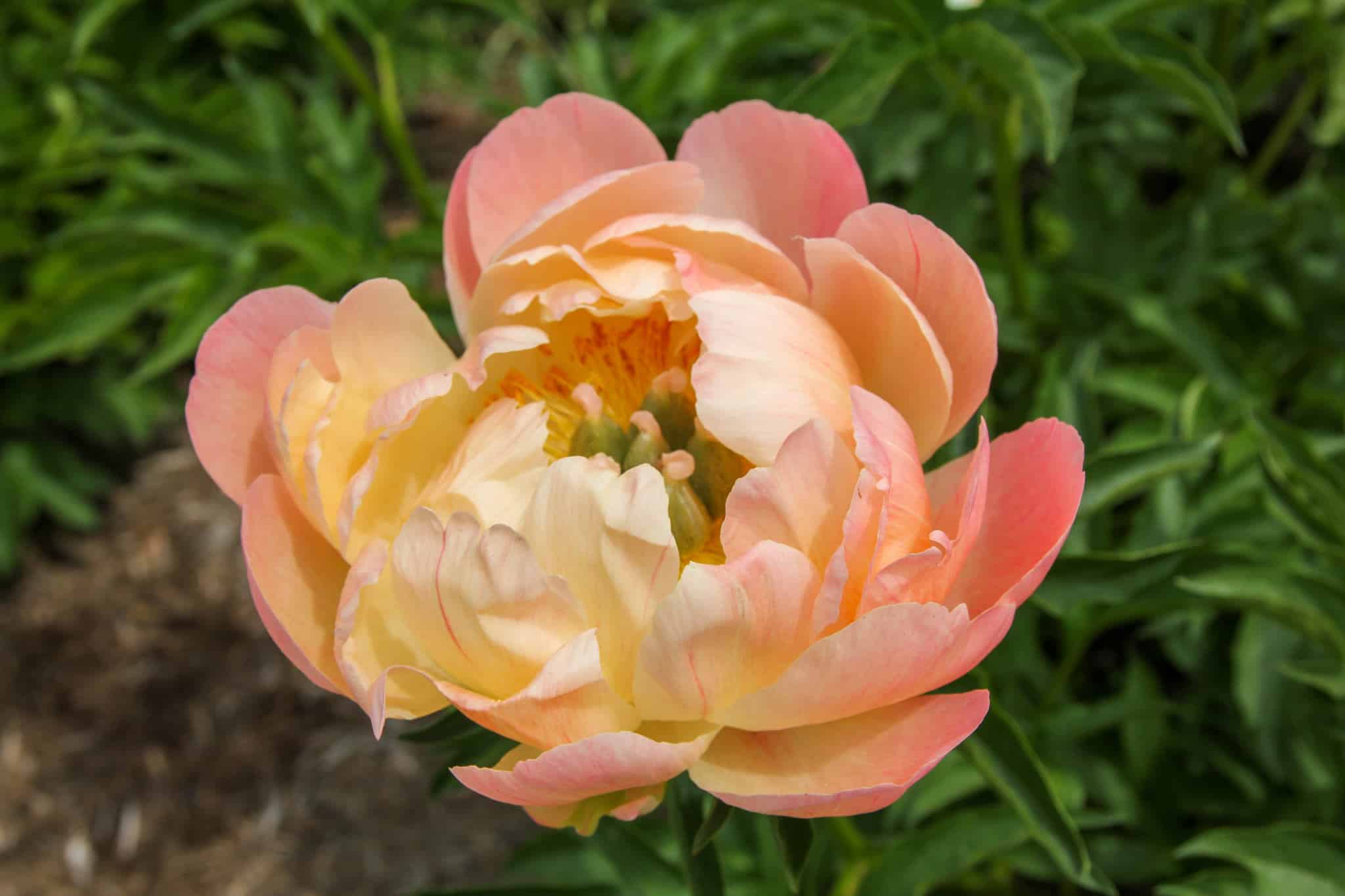 Visit a Maple Syrup Festival
There's nothing quite as Canadian as Maple Syrup and springtime is the best time to experience this because it's harvest time! There are a ton of options for experiencing Maple Syrup Festivals around the province so check out which is closest to you and gather up some friends and get ready for a sugar overload! It's also a great opportunity to actually learn how maple syrup is made and the process it goes through. Additionally, you'll be able to support local businesses when you visit and maybe purchase some goods! Most of the maple syrup related events take place between late February and early to mid April so now's the time to go!
Visit the White Water Walk in Niagara Falls
The White Water Walk in Niagara Falls is a great alternative way to take in the famous falls! It's a beautiful boardwalk that is just over 300 meters long and follows along the Class 6 white-water rapids. It's a self-guided tour so you'll find lots of information boards explaining the nature in the area. If you haven't done this before I highly recommend doing it! There are 2 platforms that get you right up and close to the water and it makes for some absolutely stunning pictures!
The White Water Walk is seasonal and typically is open between April and November. Going early in spring means the water will be more forceful and the crowds slightly smaller so I definitely recommend visiting in Spring as opposed to the summer. This year it opens for the season on April 14, 2019. Adult tickets are $14 + tax and child tickets are $9 + tax. You can find more information the tickets and opening hours here.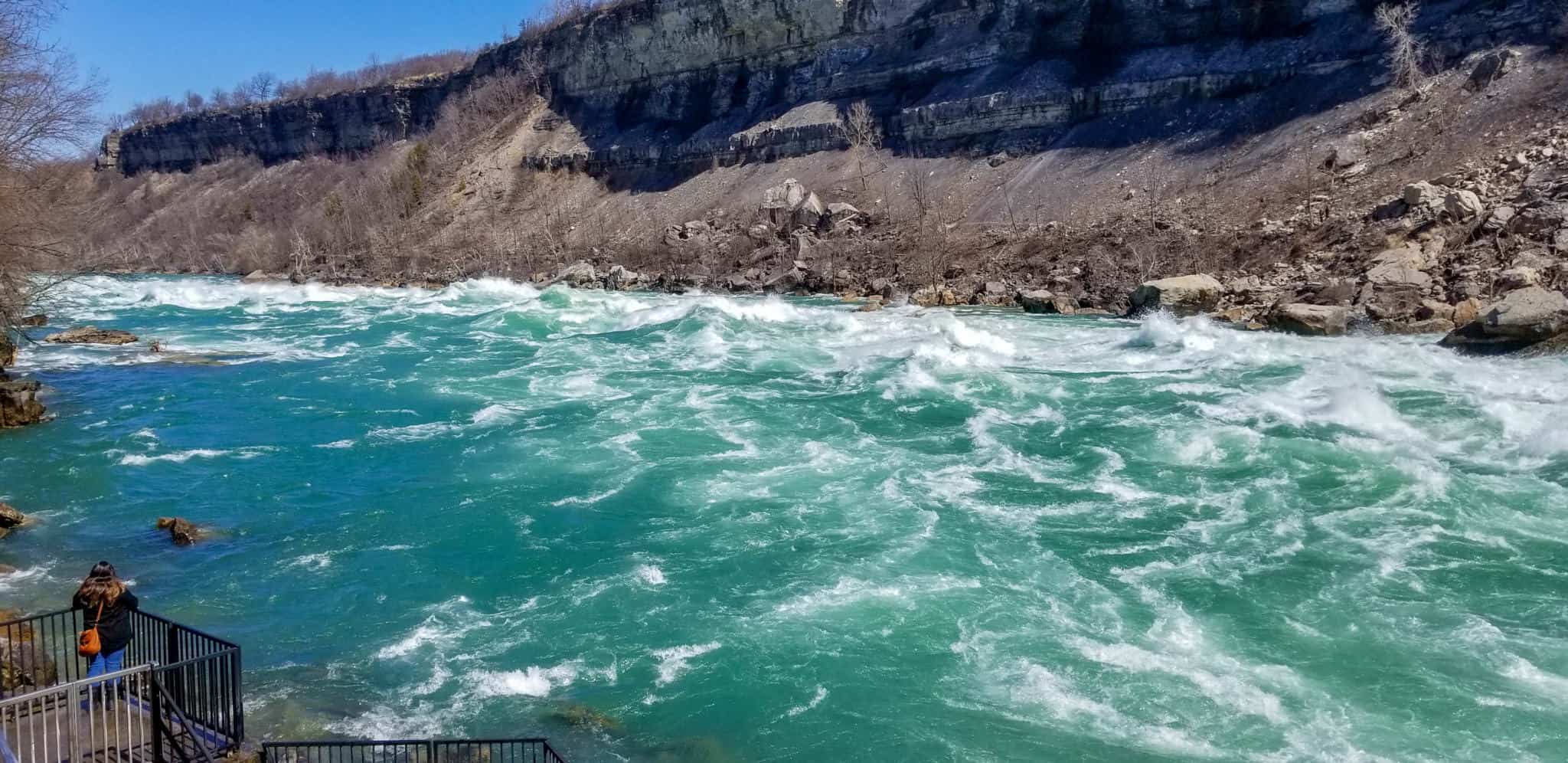 Visit the Butterfly Conservatory in Niagara Falls
Another thing to take in the Niagara Falls region in spring is the fantastic Butterfly Conservatory! The conservatory is a giant tropical paradise filled with plants, waterfalls and thousands of butterflies from 45 different species. The attraction is self-guided so you can take your time walking around or sit down on one of the benches to just take it in. Do be careful not to step on any of the butterflies as they totally don't care about you and land pretty much anywhere they want to!
The conservatory is open year round but spring time is the perfect time to go because you'll get to experience nicer weather while walking to and from the conservatory and you'll get to heat up inside the tropical conservatory! Tickets for adults are $16 + tax and they're $10.25 + tax for children.
I'd HIGHLY recommend getting the Niagara Falls Wonder Pass if you're visiting in the spring (which I think you should!). It includes admission to the Butterfly Conservatory, Niagara's Fury, Journey Behind the Falls and the Floral Showhouse. The passes are typically $74 for adults and $53 for children but in the winter/spring (i.e. November-early May) you can get the adult ones for $25 and the child ones for $17! We actually did a day trip to Niagara Falls in April 2018 and got this pass. We easily did all 4 activities in a day without rushing what so ever and for $25 it was an absolute steal!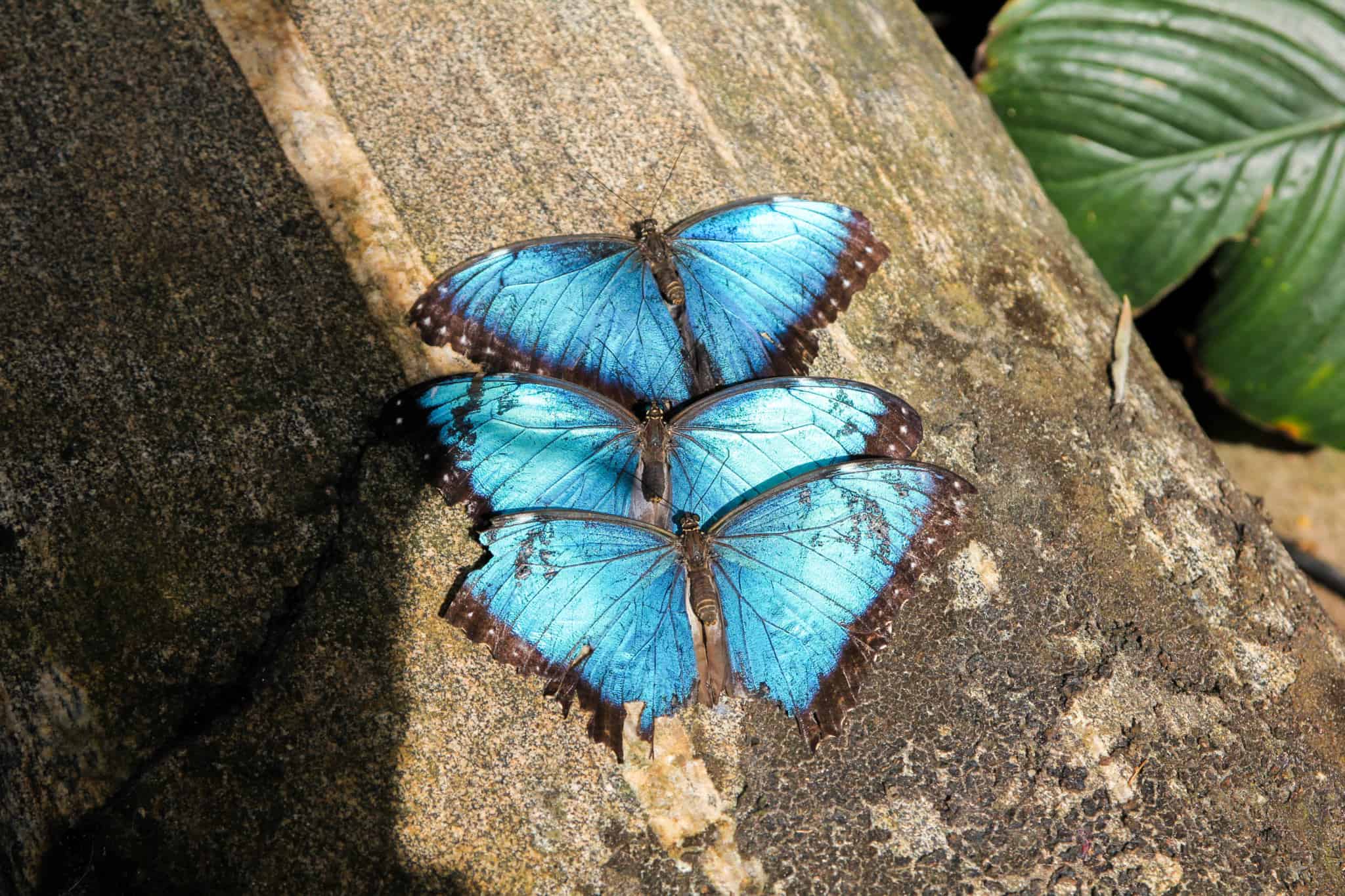 Partake in Earth Day
Earth Day is an event that takes place annually, across the country, every spring and this year it's set for April 22, 2019. It's a day all about celebrating nature and getting out into nature and doing something to help nature thrive. Back when I was in school this involved cleaning up local parks from garbage etc. but even if you're not in school you're able to get involved! The calendar lists plenty of activities across the province (and country) and across the weekend too, not just on Earth Day itself. If you've got an hour or two to spare it's worth getting involved and making a difference. Plus you get to help clean up our beautiful province while hanging out in nature! Some of the events are more celebratory in nature while some aim to raise funds. Either way you'll be supporting a great cause so it's worth looking into!
Wander around the Royal Botanical Garden
Located between Burlington and Hamilton you'll find the Royal Botanical Garden. Given that its whole existence is dedicated to flowers it does make for a pretty great spring activity. They've got lots of varieties in flowers and between mid-March and early June a ton of different flowers bloom! They do have a page so you can monitor what's blooming ahead of your visit in case there's a specific flower you're looking to see. The Gardens are open between 10 am and 5 pm daily but do require tickets. Adult tickets are priced at $18 and can be purchased here. 
Participate in 30 by 30 & spend time outdoors
Ontario's got some absolutely fantastic nature and while you definitely should enjoy it year round spring is a great time to head outside. Everything is coming back alive and temperatures are heating up but won't be too hot! A great challenge I try to do during the Month of May is the commitment to spend 30 minutes in nature for 30 days in a row. This can be anything from like a city park to a big hike but it's just making sure to take the time to be in nature every day. It's originally an initiative created by the David Suzuki foundation back in 2012 but one that I think is easy (and free!) to complete for most people!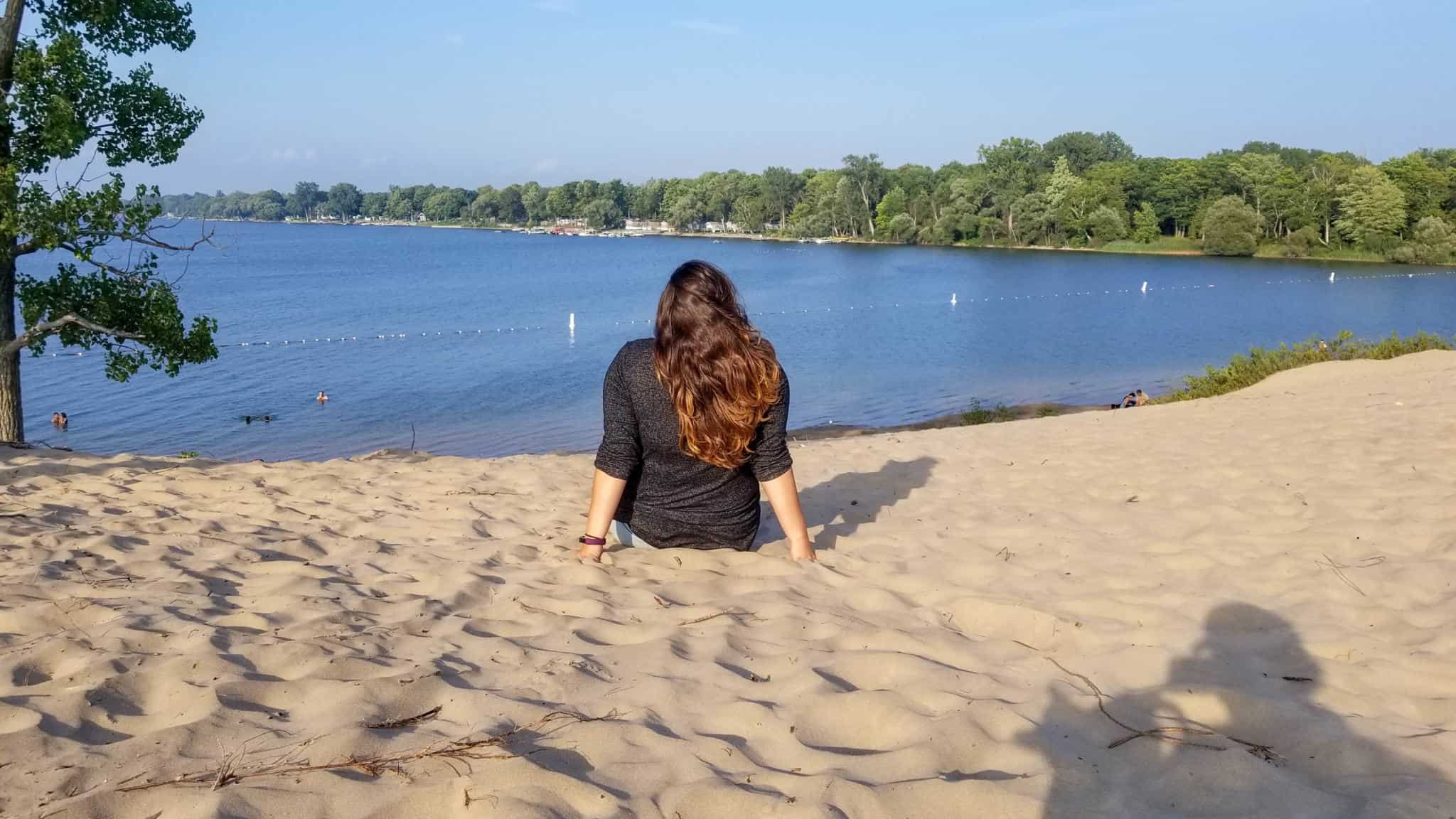 Visit Dundas for their Busker Fest
A great spring time activity is checking out the International Busker Fest in Dundas (located about 1 hour west of Toronto)! This year it takes place June 7-9, 2019 and it's completely free! The event will take place along King Street West in downtown Dundas. There will be 4 different performance stages and 2 different music stages and lots of vendors all around. You can check out the schedule here if you're particularly interested in one busker but I'd just head there to take it all in!
Partake in Doors Open Ontario
Doors Open is a fantastic program where you get access to otherwise private/closed buildings across the province. While the program runs from April-October a large majority of towns have their dates in the spring: Guelph (April 27), Peterborough (May 4), Whitby (May 4), Hamilton (May 4-5), Richmond Hill (May 11), Toronto (May 25-26), Owen Sound (June 1), Whitchurch-Stouffville (June 1), Northumberland County (June 1-2),  Ottawa (June 1-2), Clarington (June 8) and Erin (June 8). 
I'd highly recommend checking at least one of these events out. We've done the Toronto one a few times and it's always fun to get to see buildings you otherwise wouldn't! The events are free and you don't have to register ahead of time. Do keep in mind that some of the buildings will be super popular so there may be lineups for some buildings!
Head to Ottawa for the annual Tulip Festival
The 2019 Ottawa Tulip Festival is scheduled between May 10, 2019 to May 20, 2019. It does coincide with the May long weekend so if you haven't been to Ottawa before it's definitely a road trip worth taking!
The festival has been running annually since 1953 and gets more than half a million visitors. The events are spread out through out the city and showcase over a million tulips! While some of the events require tickets a lot of them are actually free. More over, you don't actually need to partake in any events to enjoy the flowers since there are beds of tulips planted all over the city! My favorites are definitely Dow's Lake and Parliament Hill so make sure to check those out.
The festival is a fantastic place to take tons of pictures and to get to see Ottawa truly shine!
Visit the Orchid Festival in Tobermory
Tobermory is one of the more popular summer destinations in Ontario just because of the insane amount of things to do in Tobermory including the absolutely stunning nature! Tobermory gets really, really crowded during the summer so it's worth considering a visit in the spring instead! One of the reasons to head there for spring instead is their annual Orchid Festival. This year it's taking place May 31-June 2. You can find the schedule and events here. The festival isn't free and ticket prices will vary depending on which of the events you're interested in but you can check out the prices here.
Get Your Wine On in Niagara
Get Fresh in the Valley hosts an annual self-guided tour of wineries in the Niagara Region on two different weekends in the spring. This year it's the April 27-28 weekend and May 4-5 weekend. 17 wineries are participating and the ticket/pass allows for 1 free tasting at each of the wineries. Given that you're bound to get a little intoxicated from this, I'd highly recommend making a weekend out of it and booking an airbnb or hotel in the area! You can check out tickets and a list of participating wineries here. 
Use the May 2-4 Weekend to go cottaging
The long weekend in May, the Victoria long weekend, also known as the 2-4 weekend is the first long weekend that Ontario typically gets decent weather and one where most people decide to open their cottages back up or head to rented cottages. It's a weekend typically spent hanging out with friends and family and enjoying the changing weather with some BBQ, water activities and fireworks on the Monday! This is in celebration of Queen Victoria's birthday and most towns will have some kind of fireworks going.
Head to Midland for their annual Butter Tart Festival
Midland (located about 2 hours north of Toronto) hosts an annual Butter Tart Festival in early June and has done so since 2013. The festival gets super popular (they had 65,000 visitors last year!) and their 150,000-200,000 butter tarts always sell out! The event itself is free to attend but if you're wanting to purchase from any of the 200 (!) vendors/food trucks keep some cash on you! 
The Butter Tart Festival is taking place June 8, 2019 this year in the downtown core of Midland and runs all day between 9 am and 5 pm. The judging wraps up around 3:30 pm which is when I'd assume most of the tarts would have sold out as well. You can check out more information on the festival's official page.
HOW MANY OF THESE ITEMS HAVE YOU ALREADY MANAGED TO CHECK OUT IN ONTARIO? WHAT'S ON YOUR LIST FOR THE SPRING? LET ME KNOW IN THE COMMENTS AND PIN THIS POST FOR YOUR OWN ONTARIO TRAVELS!