I may not have been born in Canada but in the last few years I've definitely embraced being Canadian and have set out to explore and enjoy this country way more than I did in the like first 10 years I was here prior to that. One of the things I did for the very first time last year was to check out the Ottawa Tulip Festival in Ottawa. We had such a great time and I was blown away by how cool of an event it was. We went on a rainy day so it was fairly empty and we had a great time taking pictures and walking around seeing all the variety in flowers. While it may not be as giant as the tulip festivals across Europe it's most definitely worth checking out.
When I was putting together my bucketlist of travel goals to accomplish before turning 30 I kept coming back to how good of a time we had at the festival so one of my 30 travel goals before turning 30 was to revisit the festival and we got to last weekend! I was still impressed by the flowers so I've decided to put together this little guide of information with things you need to know before visiting the Ottawa Tulip Festival.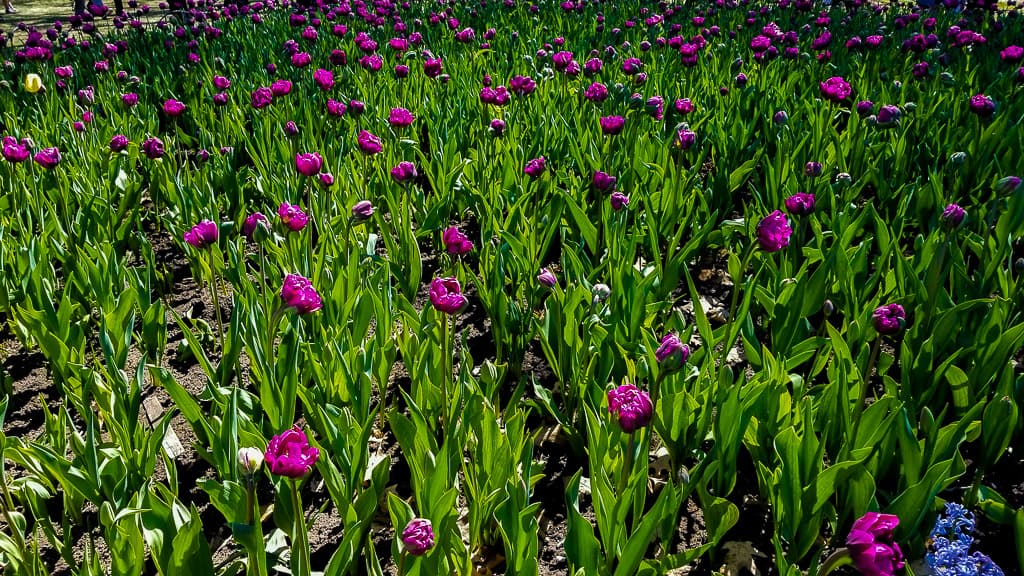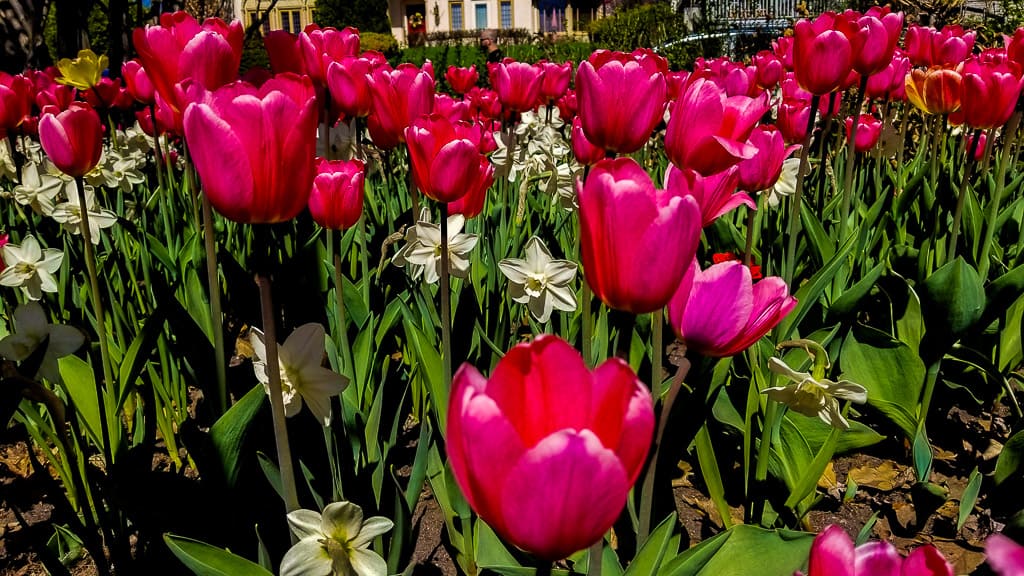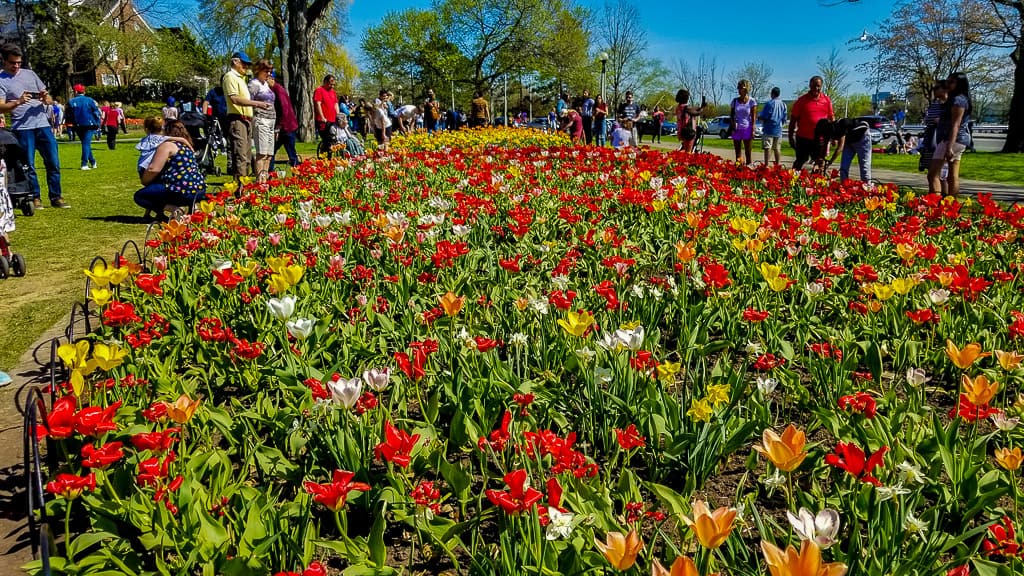 History
The Ottawa Tulip Festival (also known as the Canadian Tulip Festival) has been running for over 60 years. It started as a gift from the Netherlands to Canada.
On May 10, 1940 Nazi Germany invaded the Netherlands and occupied the Dutch which resulted in over 230,000 people dying. Princess Juliana (of Netherlands) arrived in Canada in June of 1940 to escape the war and brought with her her two daughters; Princess Beatrix and Princess Irene. The family rented a house in Rockcliffe Park and the younger princesses attending public school. Prince Bernard (Princess Juliana's husband) visited often and Princess Juliana ultimately gave birth to her third daughter in Canada. A wing of the Ottawa Civic Hospital was actually de-territorialized so that the new princess would be of Dutch citizenship.
At the end of the war, Princess Juliana gifted Canada 100,000 tulip bulbs as a thank you for keeping her safe during World War II. Ever since, the Dutch Royal Family and the Dutch Bulb Growers Association have each sent 10,000 tulips to Canada every single year. The tulips made Ottawa more popular in the spring and in 1953 the Canadian Tulip Festival was created. These days, over 1 million bulbs bloom every year and over 1/2 million visitors come to Ottawa to see them. While the festival is about the tulips it's grown to be so much more including performances, races, parades, activities for kids etc.
Where to See the Tulips
Tulips are planted pretty much all over the city so there isn't only one place to see them. You can stroll down virtually any street in Ottawa. That being said there are a few hot spots that are extra loaded with tulips:
Commissioners Park/Dow's Lake
If you've only got enough time to check out one place that should definitely be Commissioners Park. There's dozens of tulip beds here with over 300,000 bulbs of a bunch of different varieties and colours. There's also a ton of different vendors selling a variety of foods and drinks. Because this is one of the locations that are free it's also by far one of the busiest locations with thousands of people flocking to it everyday of the festival. One of the really nice things in Commissioners Park has which is unique is the story of how the Ottawa Tulip Festival came to be. You'll see a big sign (pictured below) labelled the Tulip Legacy followed by a series of smaller signs describing the history I've summarized up above.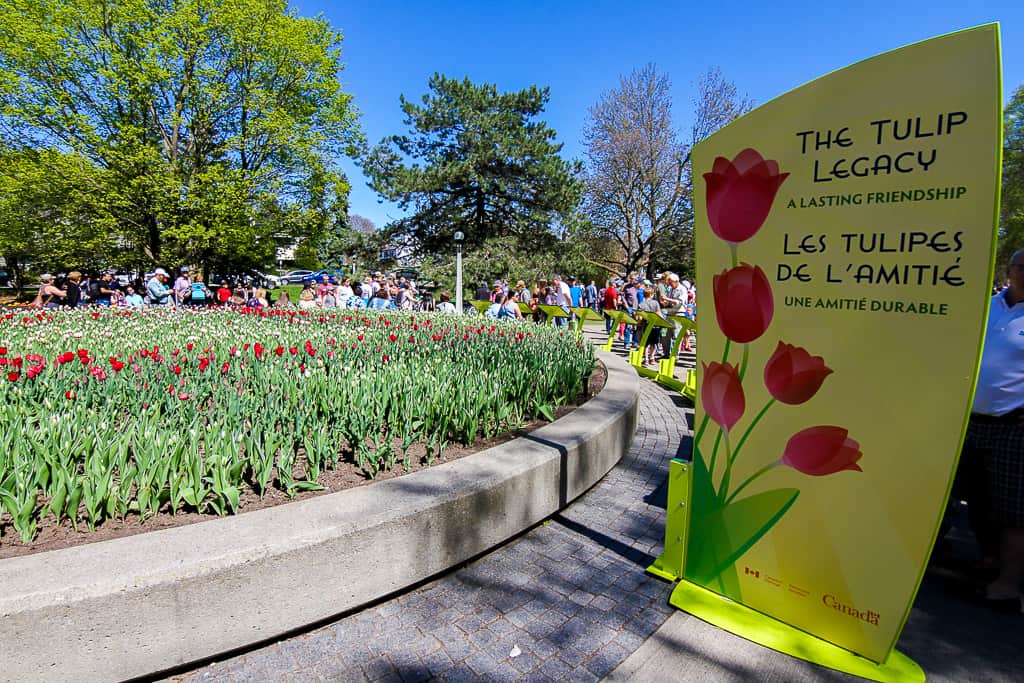 Byward Market
Byward Market is where you'll find the urban experience for the Tulip Festival with lots of artwork, food opportunities and photography opportunities but it isn't as filled with actual flowers as the rest of the spots on this list.
Lansdowne Park
Landsdowne Park is the one place you'll have to pay to partake in but it's also where most of the activities are centered. This includes musical performances, raffles, arts and crafts, film screenings and so much more.
Garden Promenade
The Garden Promenade Tulips can pretty much be found walking through any of the parks in Ottawa with beds of colourful flowers to enjoy!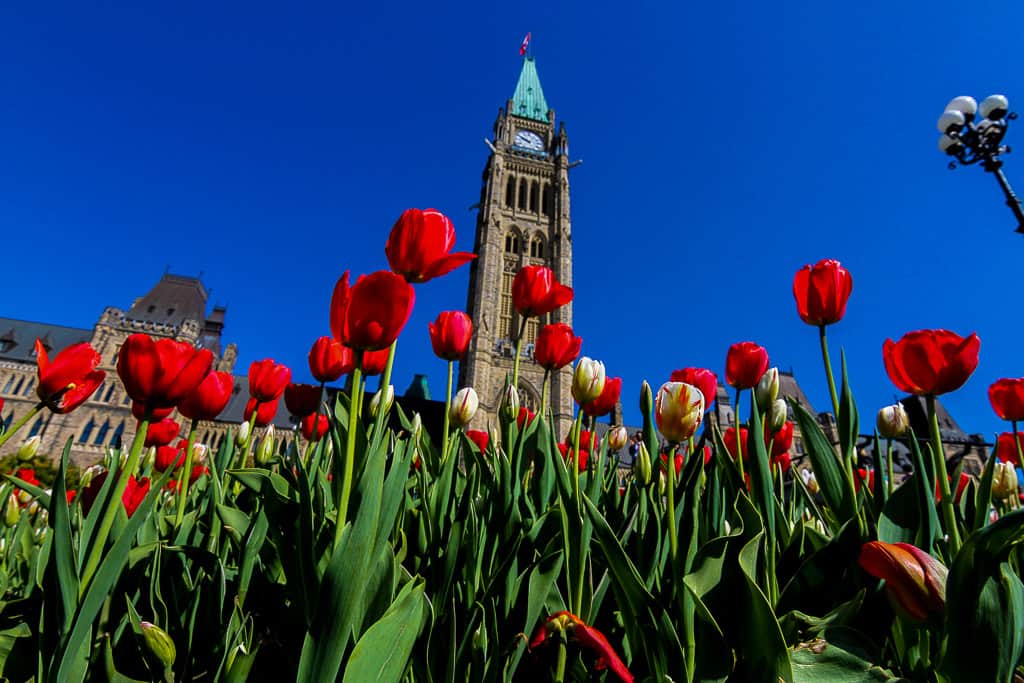 Festival Details
Majority of the sites are free – the exception is Landsdowne which costs $15 for a 1-day ticket
The festival runs for 2 weeks each year and includes the long weekend in May
There's no real hours to most sites as they are outdoor
There's a ton of events going on at the same time including performances. You can see the full schedule of events for all the venues on the official website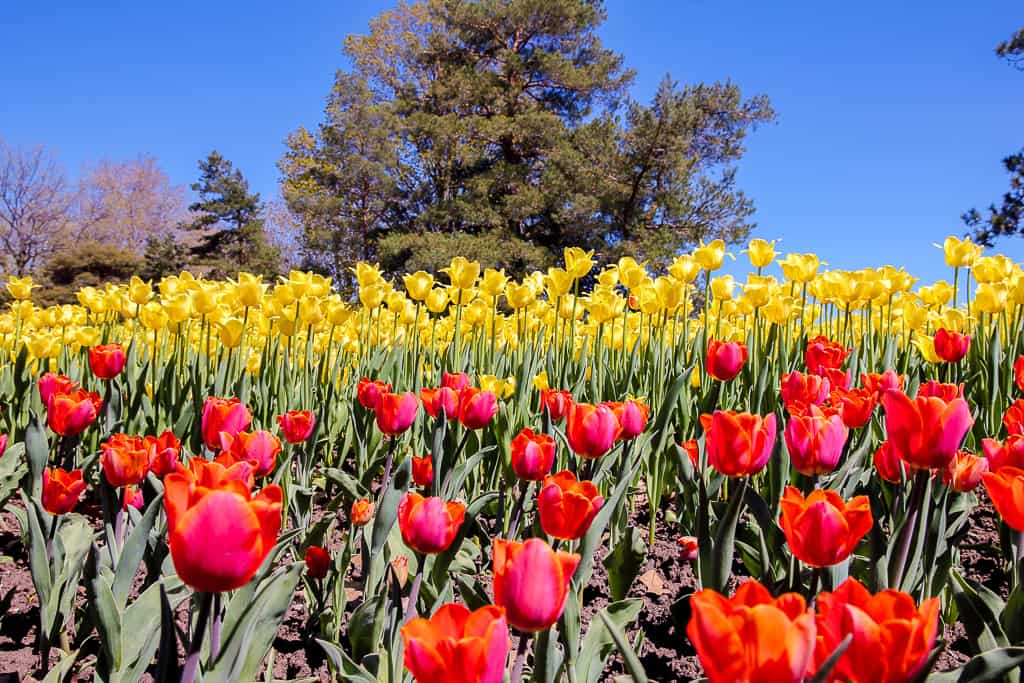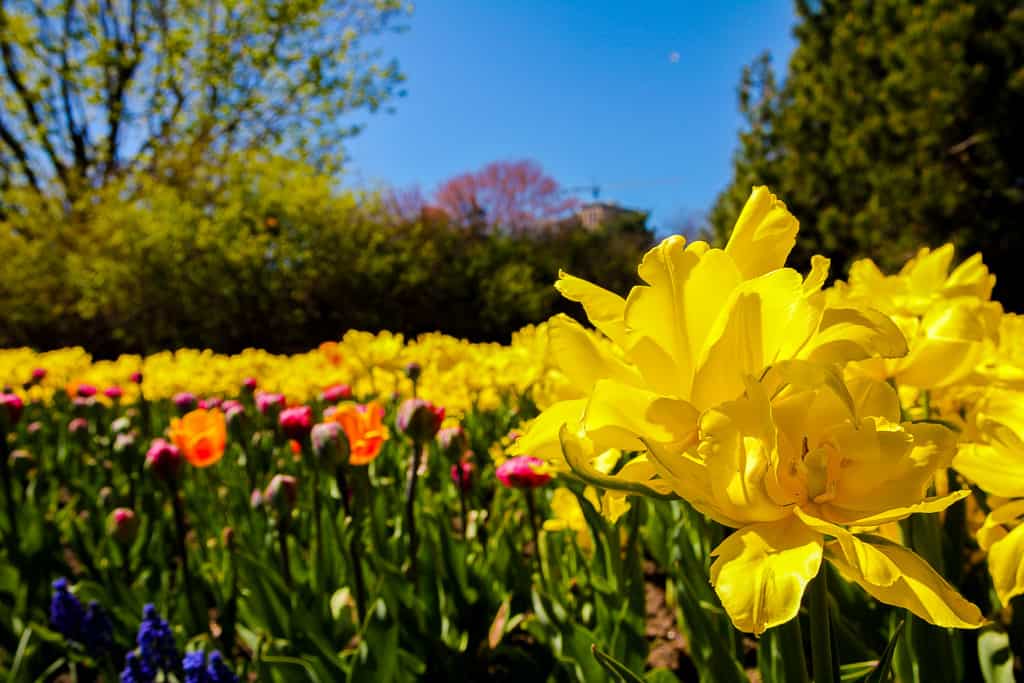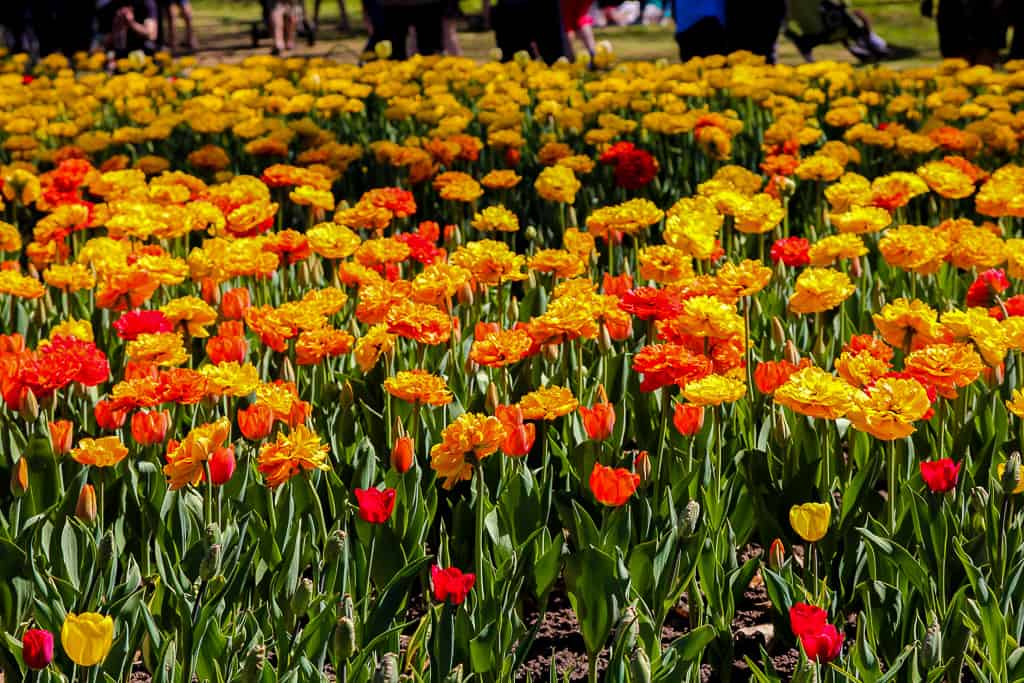 Tips for Visiting the Ottawa Tulip Festival
The morning is your friend. The event runs for a very short duration (like less than 2 weeks) and is extremely popular. Going really early in the morning will allow you to have a more peaceful visit and you'll be less stressed (especially if giant crowds aren't your thing!)
Rainy days are actually great because the crowds are way smaller. It's also much kinder to your camera! The sun totally distorts the colours on those super bright days
Bring cash for all those tempting vendors that are selling everything from lemonade to poutine to icecream
Make sure to dress appropriately – if it wears hot then sunscreen and hats are your best friend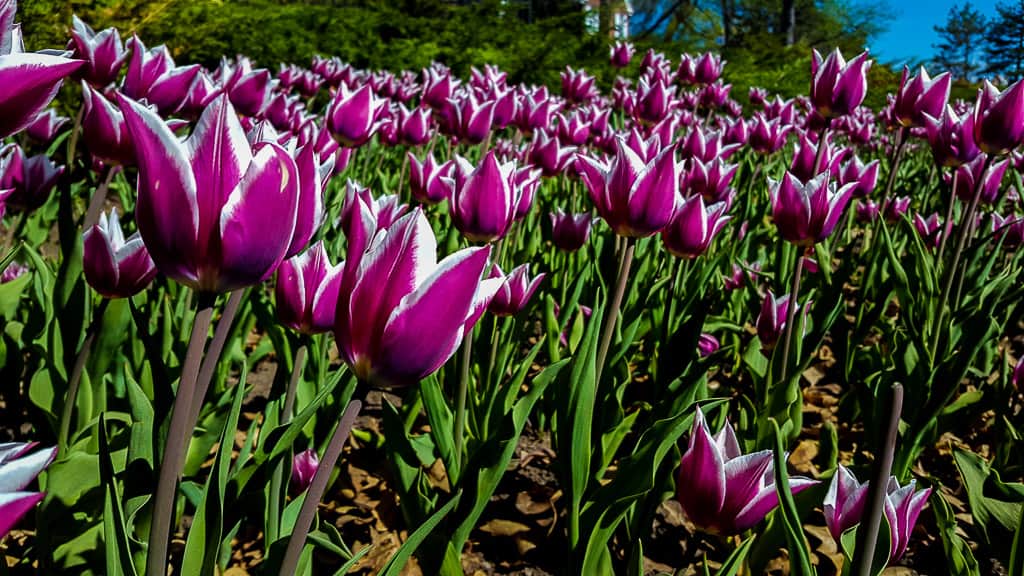 Have you visited Tulip Festivals anywhere? Let me know in the comments and pin this post for your own visit to Ottawa's festival!