Detroit is an interesting city in many ways. There's plenty of biases and beliefs about how unsafe the city is and the lack of things to do there. It's hard to disagree with it until you go there. But isn't that the case with most misconceptions about travel? I digress. One of my 30 before 30 travel goals was spending a weekend in Detroit and we decided a random weekend in April was the perfect time to cross this off our list. I was pretty motivated by the fact that Detroit is close by (4 hours by car and no flight expenses woohoo!) and the fact that Detroit's quickly becoming THE place to visit just because of how underappreciated it is. I thought a weekend in Detroit would be enough but it just gave me a taste and I can't wait to go back. But for now, read on for how to spend a weekend in Detroit to get your first taste of the city!
Day 1:
Eastern Market
We started our day at the Eastern Market bright and early on the Saturday. The Eastern Market has been around since 1841 and is one of the oldest markets in the United States. There's a couple of different markets during the week but the Saturday Market is the one that runs all year long. It's open between 6 am and 4 pm every Saturday throughout the year and features as many as 225 vendors depending on the season.
There are however other markets like I said so if you find yourself in Detroit on a day that isn't a Saturday. The Tuesday version is a smaller scale of the Saturday Market with fresh produce, baked goods and meats. It runs between June and September and is open between 9 am and 3 pm. The Sunday market is on between 10 am and 4 pm and runs between June and September. This market caters more artists like musicians and jewelers. The Thursday Night Market is new for the year and will run every third Thursday of the month and includes music, art, drinks and much more.
Pro-tip before going: Parking is free in the entire area if you can find it. There's a visitor center/office and washrooms for your use. Bring cash! While some vendors accept cards a lot of them don't and you'll have a much easier time with cash.
We walked around the market for a few hours taking pictures and snacking on some incredibly delicious baked goods. We also discovered the Eastern Market Murals but we really wanted to have enough time at the Art Institute so we decided to save the murals for the next morning.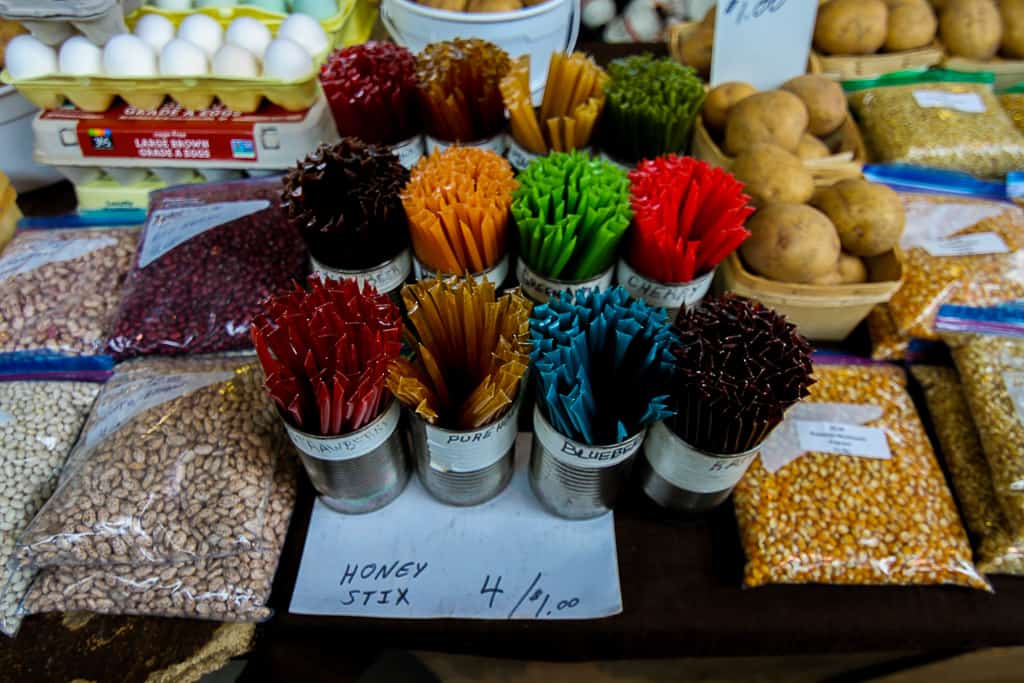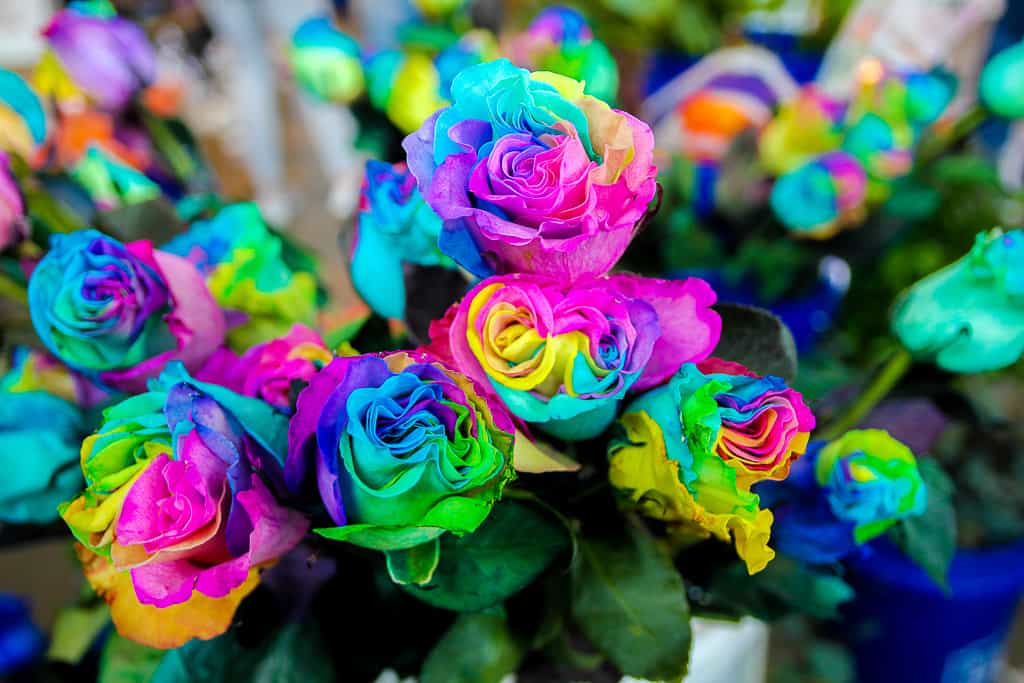 Ford Piquette Plant
The Ford Piquette Plant was the first plant built by the Ford Motor Company and where the first car made for the masses was built. You can take daily tours and admission for adults is $12. We chose not to go in but to take in the history from the outside and you can totally picture people coming in and out and cars being made!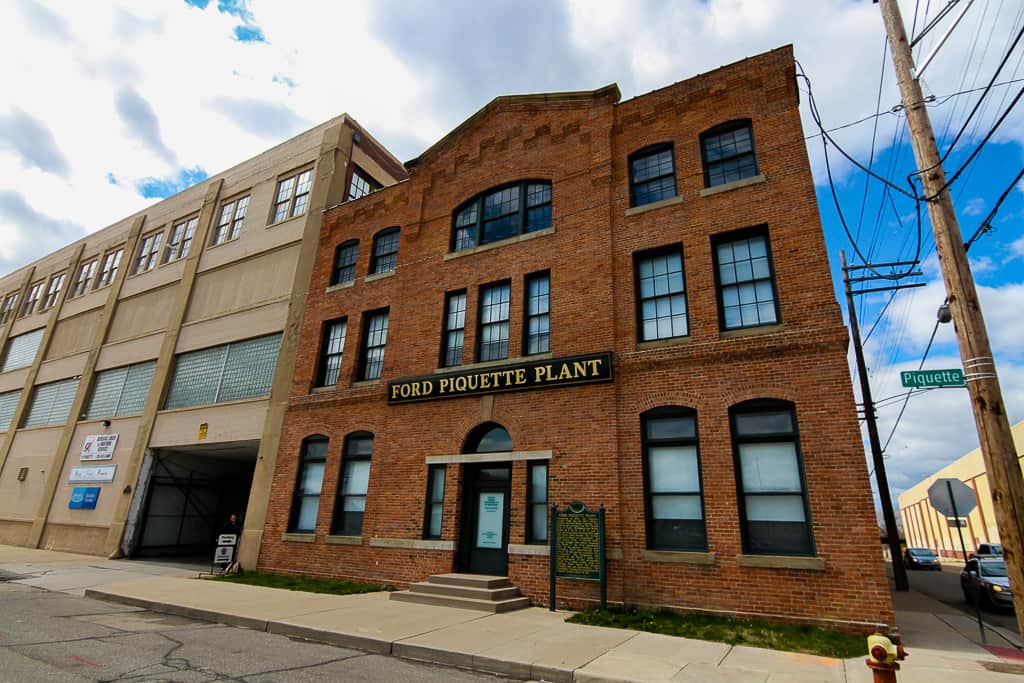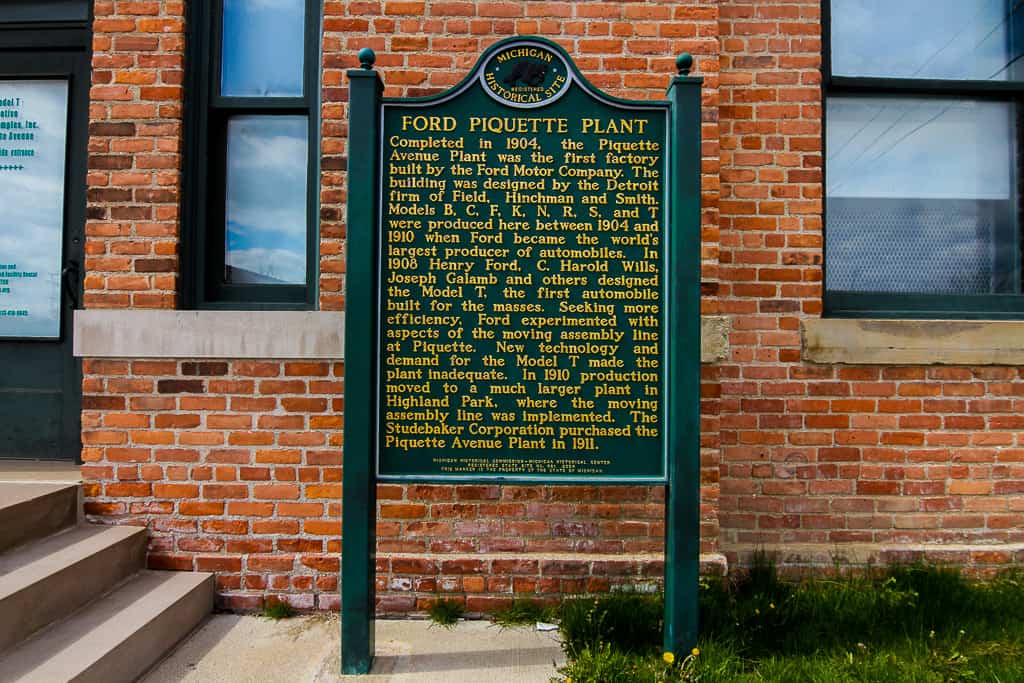 Detroit Institute of Arts
The Detroit Institute of Arts is regarded as one of the best museums in the United States and has an incredibly significant art collection with everything from Warhol to Picasso to Van Gogh. Allow me to admit here, I was a little bit shocked at the size of their collection. I put the museum on our itinerary because it was still a semi-cold weekend and I didn't want to be out doors for the entire time and because the pictures I had seen of the interior architecture were absolutely amazing. I went into touring the museum thinking at most we'd be here for an hour or so and then we'd move on. In general we're not huge museum people and we tend to move through them faster than most people but we ended up spending the entire afternoon going from floor to floor and it ended up being one of my favorite parts of the trip. The Institute's website has a really cool feature where you can search for different art pieces and I'd totally recommend checking that out here. Two of the must sees in the institute are the incredibly grand entrance and the Rivera Court. The Rivera Court contains murals painted by the well known Mexican artist Diego Rivera and it depicts the city's manufacturing history. It's considered one of the best examples of mural art in the country and Diego Rivera himself considered it some of his best work.
The Institute can be found at 5200 Woodward Ave, Detroit, MI 48202, USA. There are parking lots around as well as street parking but none of it is free. The museum is open between Tuesday and Sunday (Tues/Wed between 9 am and 4 pm, Thur between 9 am and 8 pm, Fri between 9 am and 10 pm, Sat between 10 am and 8 pm and Sun between 9 am and 5 pm). Entrance tickets are $14 USD for adults and $8 USD for students.
Lincoln Street Art Park
Lincoln Street Art Park is one of the places to find the best street art in Detroit. We actually came across it by dumb luck. We were looking for food options on Trover (a great app for discovering hidden gems) and I saw a picture of some really cool street art and once I looked it up we discovered the park was pretty close by so we headed over and spent a good hour just walking around taking it all in. The street art is set in an abandoned former industrial park so there's no visiting hours to it and it's completely free to access!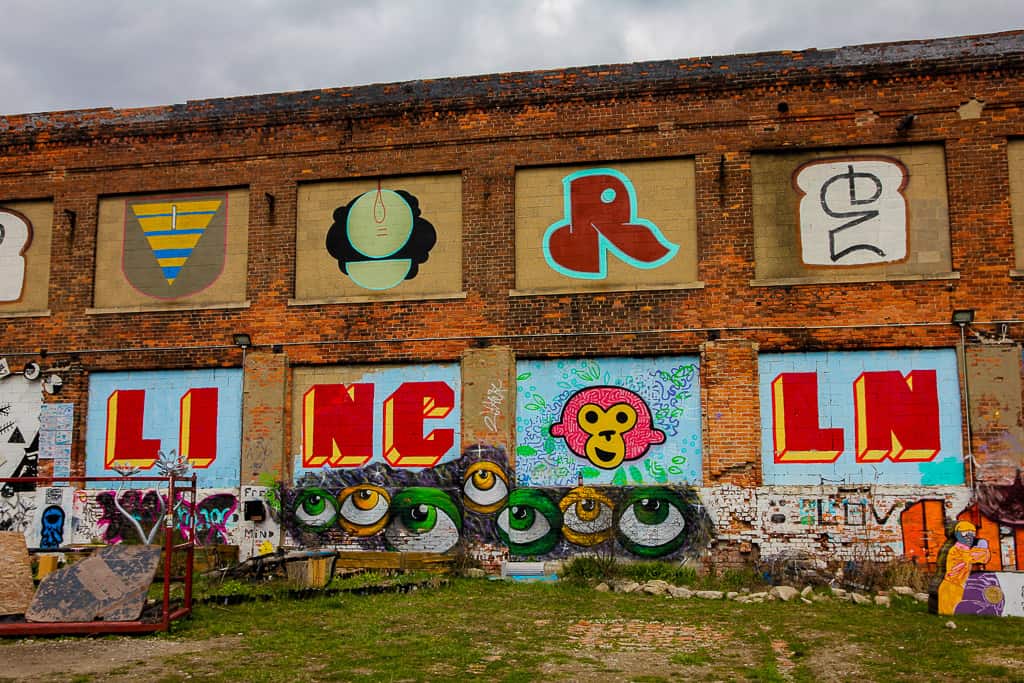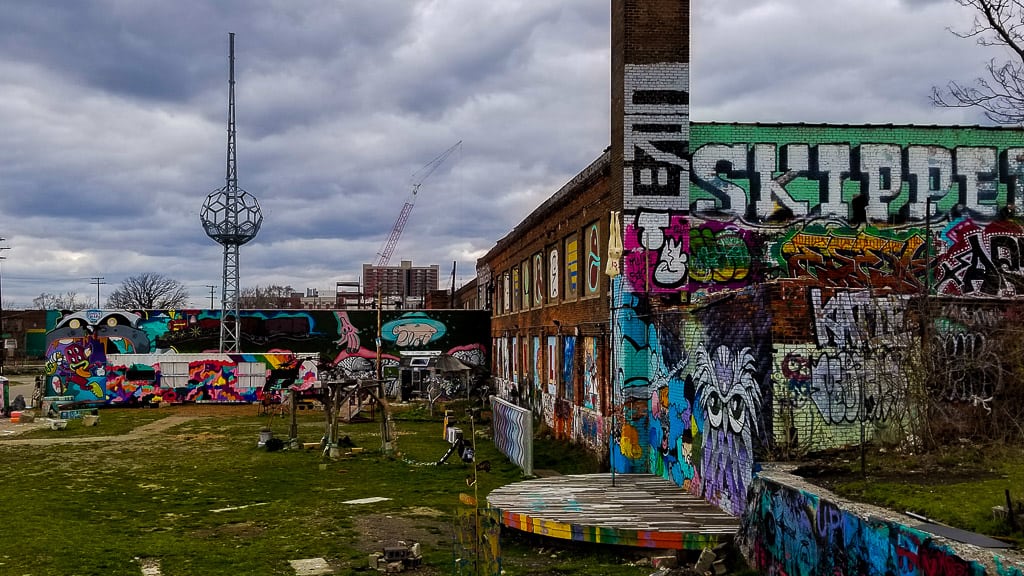 Motown Museum
So the Motown Museum was arguably our only fail during our trip. For some reason I did not think it would be as popular as it was and since the city didn't seem busy at all I honestly thought we'd have no problems getting in. But when we got there in the afternoon all the guided tours had sold out! Definitely a negative of a going with the flow kind of itinerary and since the only way to see the museum was through a guided tour we unfortunately missed out on it. We did have fun taking in the outside of it and also spent some time browsing in the gift store. To better plan out your visit check out the details like ours and prices here.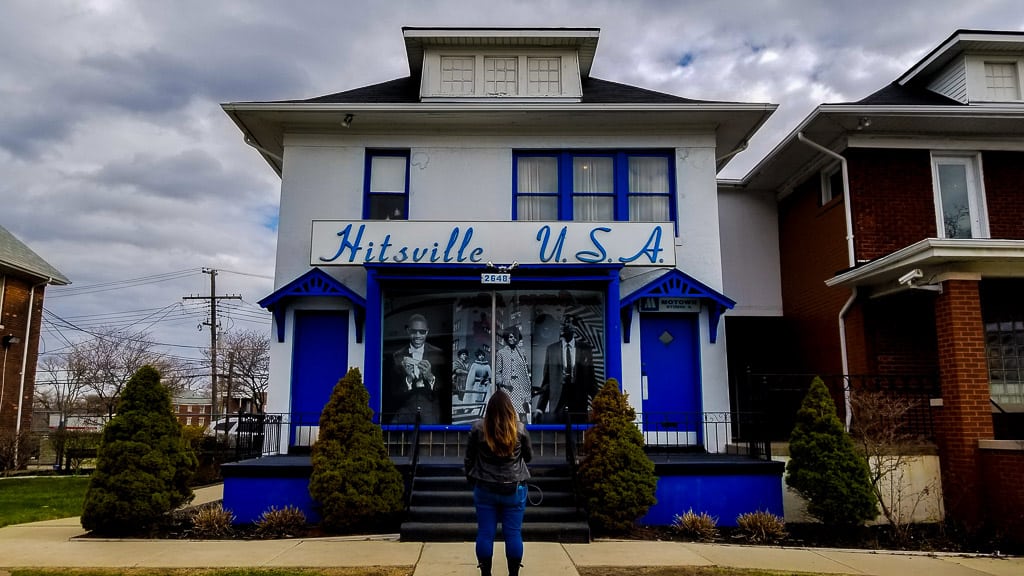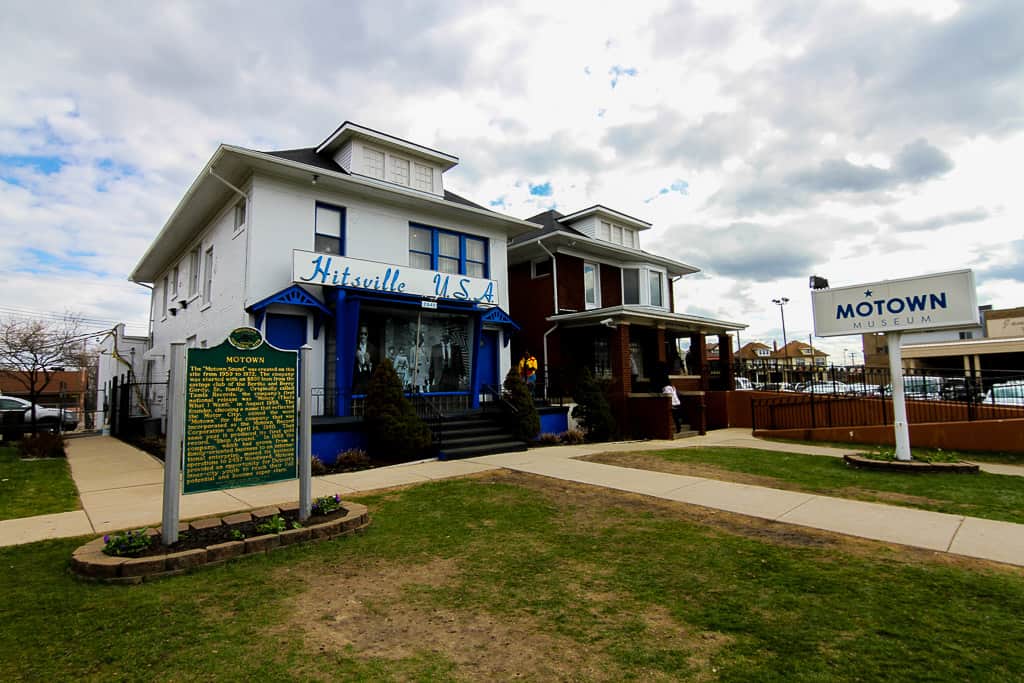 Detroit Public Library
The main branch of the Detroit Public Library is another one of those buildings with absolutely insane interior architecture. We didn't spend too much time here, maybe half an hour in total but the grandness of the place is absolutely insane and one you have to check out. You can check out the hours of this branch on their website.
Corktown
Corktown is a historic district in Detroit and it's been around since 1834. It's also one of the coolest neighborhoods and where you'll find some of the best food. We had heard so many good things about Slows BBQ and decided to grab dinner there. We're from Toronto and used to ridiculous wait times for restaurants so we put our name on a list and were told about 45 minutes. We took this time to walk around Corktown and check out some street art and the abandoned train depot. It's definitely an up and coming neighborhood but it was a great walk and there was a ton to see! About 1.5 hours later we finally got a table and while it may have been because we were incredibly hungry, the food was amazing. We ordered virtually everything on the menu and ate so much we called it a night after dinner and just spent the rest of the evening relaxing and preparing for tomorrow!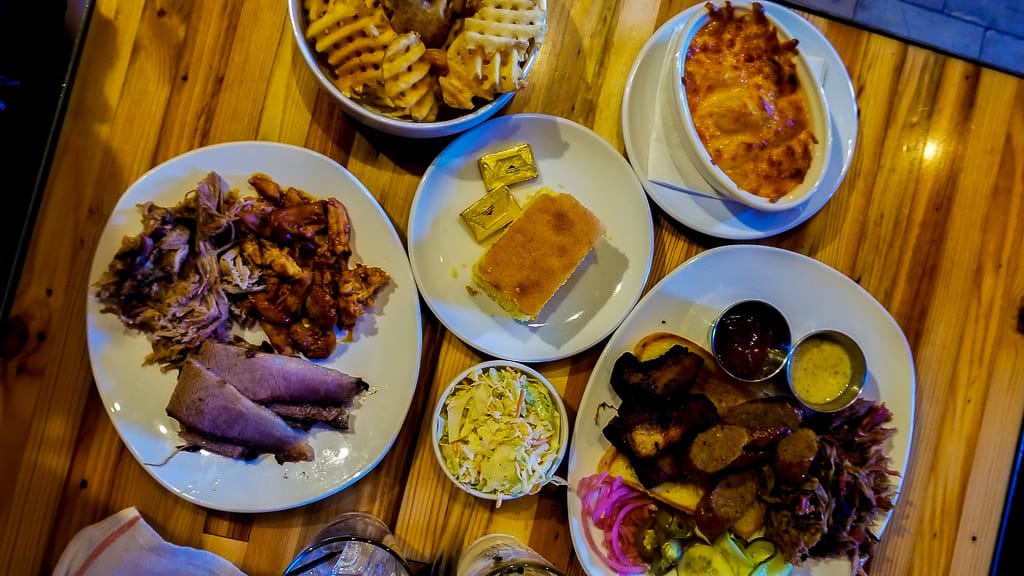 Day 2:
Bagels at Detroit Institute of Bagels
Another place that came incredibly highly recommended by every post we read was the Detroit Institute of Bagels so it was our first stop on our second day in Detroit. In my opinion it's on the more expensive side with two bagel sandwiches costing us about $15 USD. It was however super tasty and it definitely lives up to it's recommendations. We liked the bagels so much we grabbed a bag of day old bagels for $5 USD which was definitely a steal! You can find Detroit Institute of Bagels at 1236 Michigan Avenue and they're open between 7 am and 3 pm on weekdays and 8 am and 3 pm on weekends.
Eastern Market Murals
After grabbing breakfast we headed over to the Eastern Market Murals. We had seen some of them while walking around the market the previous morning but decided to explore further on the Sunday morning when it wasn't so busy. We spent 2-3 hours walking around and seeing all the murals. I was honestly so impressed with the street art in Detroit and highly recommend you make it part of your itinerary!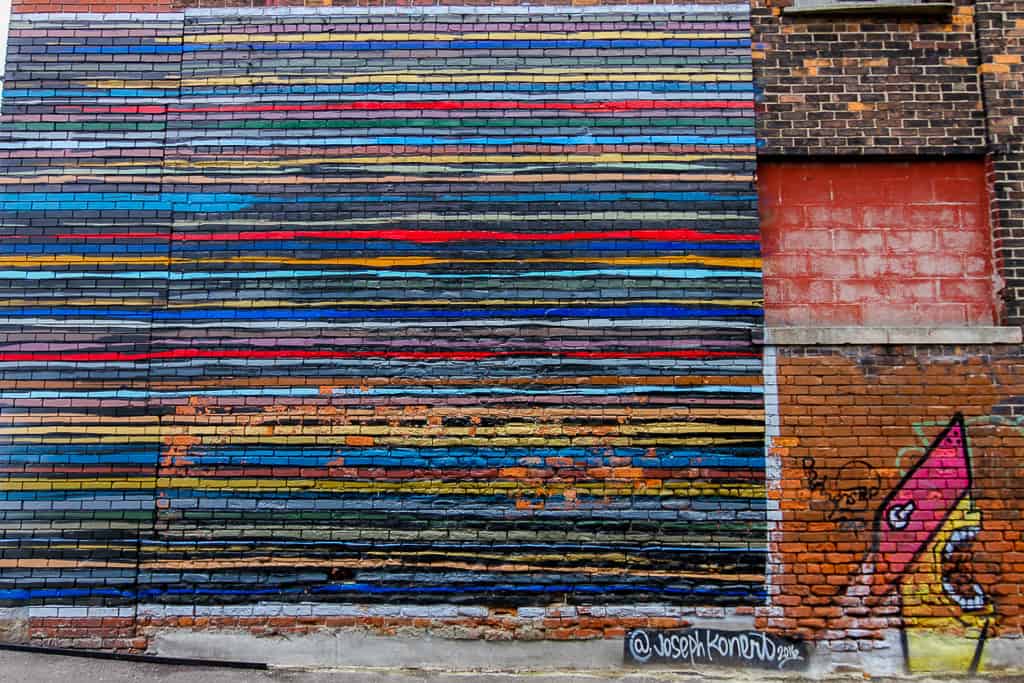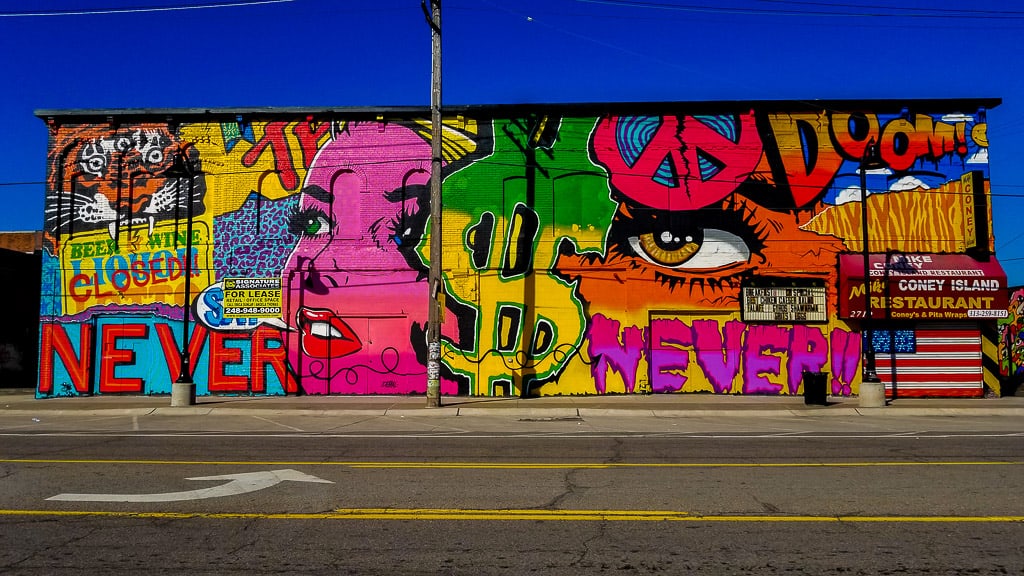 Coney Dog
We didn't find too many food items that were sold as absolute must tries while in Detroit. One of the exceptions however was the Coney Dog. A Coney Island Hot Dog is a hot dog topped with a savory meat sauce and sometimes other toppings as well. It can be found in diners but we read that the best place to have them in Detroit was at American Coney Island so this is where we stopped for lunch. Honestly? I don't get it at all. The combination wasn't good to me but my husband loved it and ate both of mine. The American Coney Island restaurant is open 24/7 so whenever you have a free spot in your itinerary stop by and grab a Coney Dog.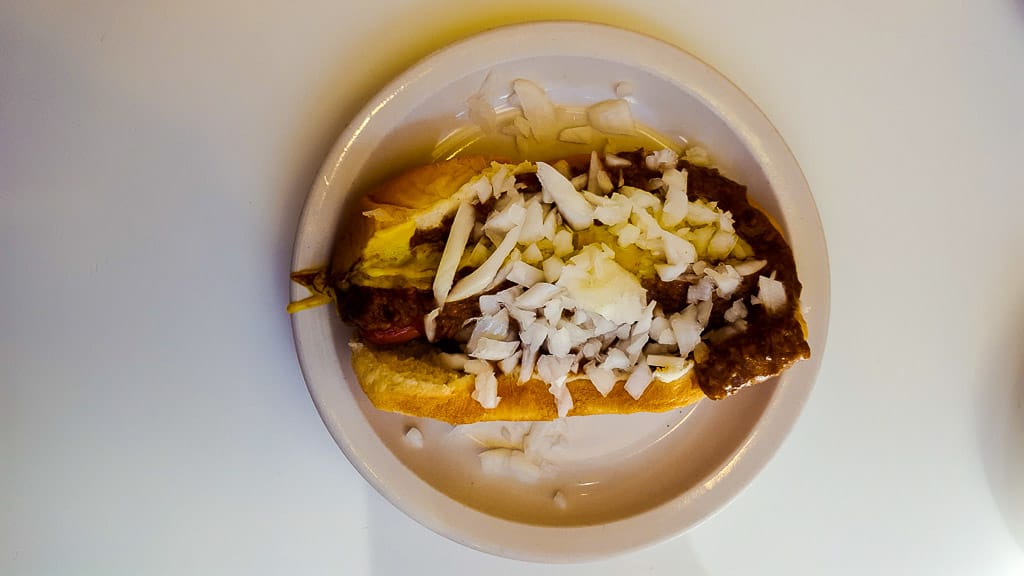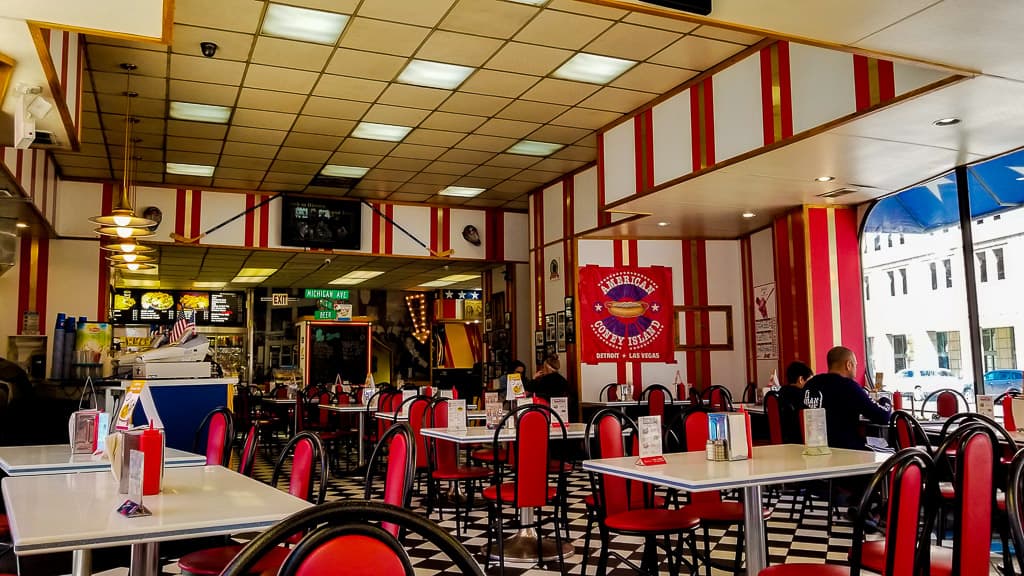 Monument to Joe Louis + Michigan Labor Legacy Monument
The two monuments pictured below are located pretty much right by the border crossing to Windsor. They're nothing special to be honest but we were driving past them so we stopped to take a look and if you know what they stand for then they're pretty iconic in their own right.
The Michigan Labor Legacy Monument, also known as Transcending, is located in Hart Plaza (1 West Jefferson Avenue). The monument is a large broken circle dedicated to the labor movement. The break in the circle at the top represents the work that still needs to be done. David Barr designed the circular portion of the monument while Sergio de Guisti designed the base and the monument was dedicated in August 2003.
The Monument to Joe Louis, also known as the Fist, is located nearby at 5 Woodward Ave (also Hart Plaza). It was commissioned by Sports Illustrated Magazine and designed by Rolf Kriken. It was dedicated in October 1986 and is meant to represent the boxer's fights inside the ring and out of them.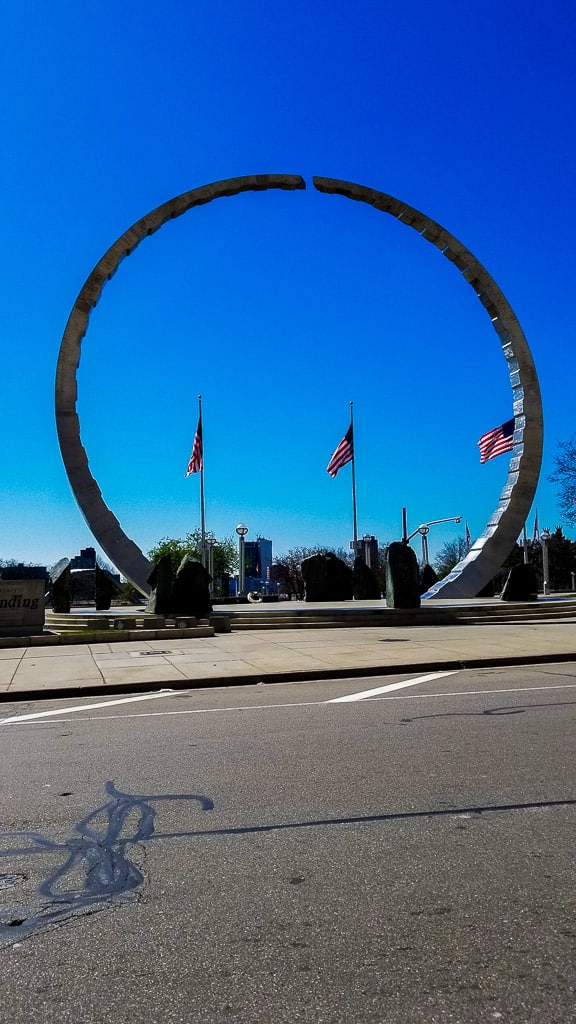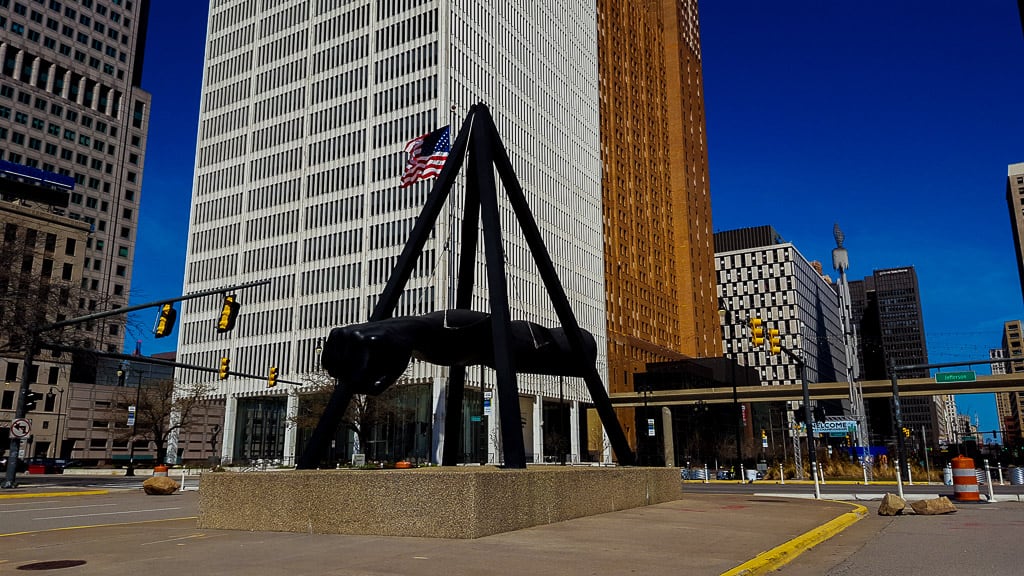 Belle Isle Park
Belle Isle is an island park located in the Detroit River between Michigan and Ontario. It's a giant 982-acre park with a ton of things to do. It's honestly like a full-day activity on it's own and we barely got a taste in the 2-3 hours we spent there. It's got pretty much everything from hiking, to a beach, to an aquarium, to a lighthouse, a conservatory, a giant slide and so much more. The park is open daily between 5 am and 10 pm. If you drive onto the island it'll cost you $11 and most of the attractions have free parking and will be free to enter. The exception is the giant slide which costs $1 USD per slide. To check out specific details on all the available attractions check out their official page. We somehow got lucky I suppose but there was nobody there to take our entrance fee and we even looked around for who/where to pay but couldn't find anybody. We drove around for a bit checking the island out and then hiked/walked to the lighthouse and then drove to check out the conservatory area. I definitely wish we had way more time at the park but it was also a bit chilly the day we went so it's 100% on the list for when we go back.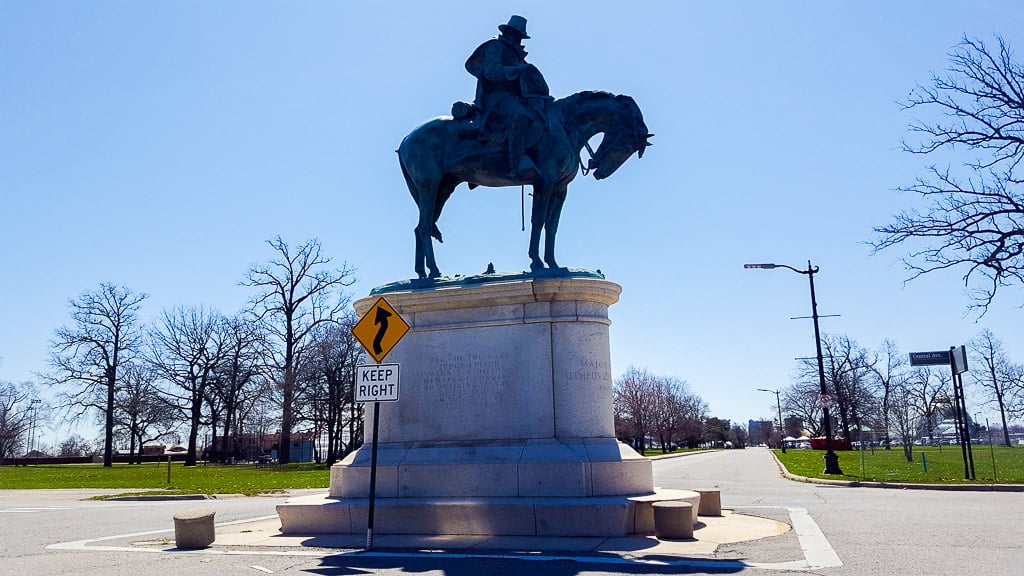 Historic Fort Wayne
The Historic Fort Wayne is located at 6325 W Jefferson Ave, Detroit, MI 48209, USA. There are guided tours available for $5/person but they're optional and you're free to walk around on your own and explore which is what we did. The grounds is surprisingly large and there's a lot to see and if you're into history this is definitely the place to check out.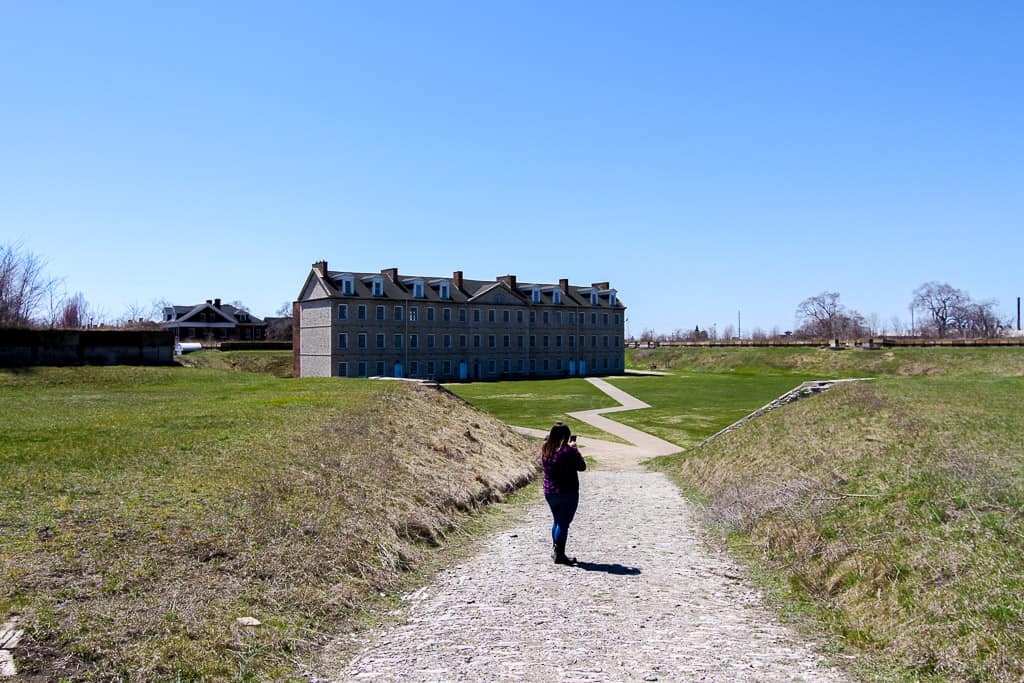 Ambassador Bridge
Ambassador Bridge can be seen from a bunch of places around Detroit but the best view has to be from Riverside Park. It's the bridge that connects Windsor and Detroit (aka Canada and the United States)!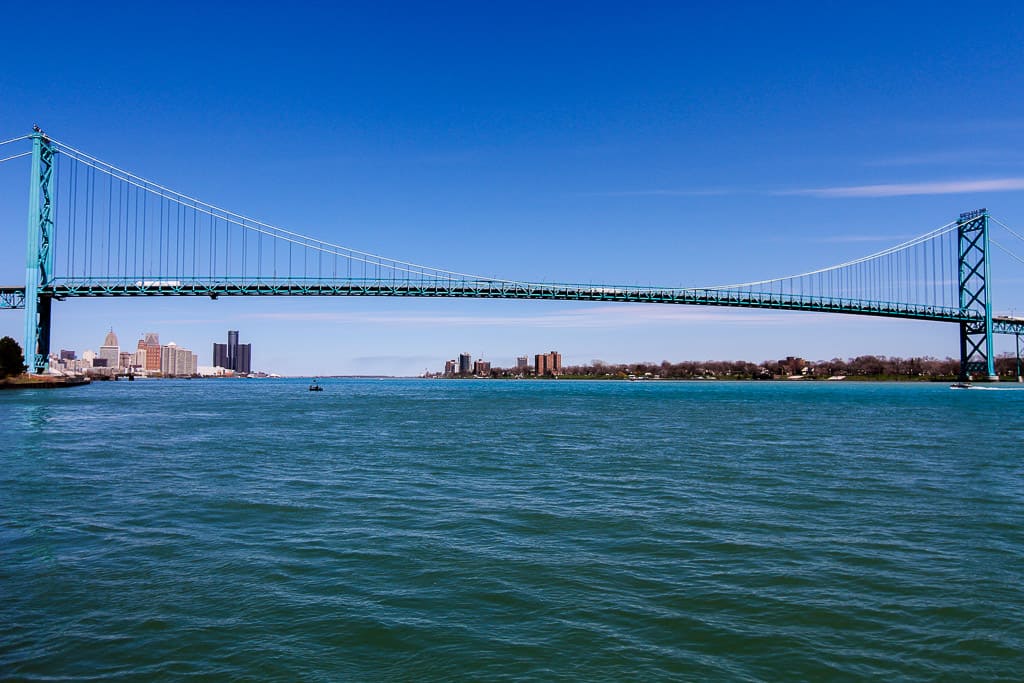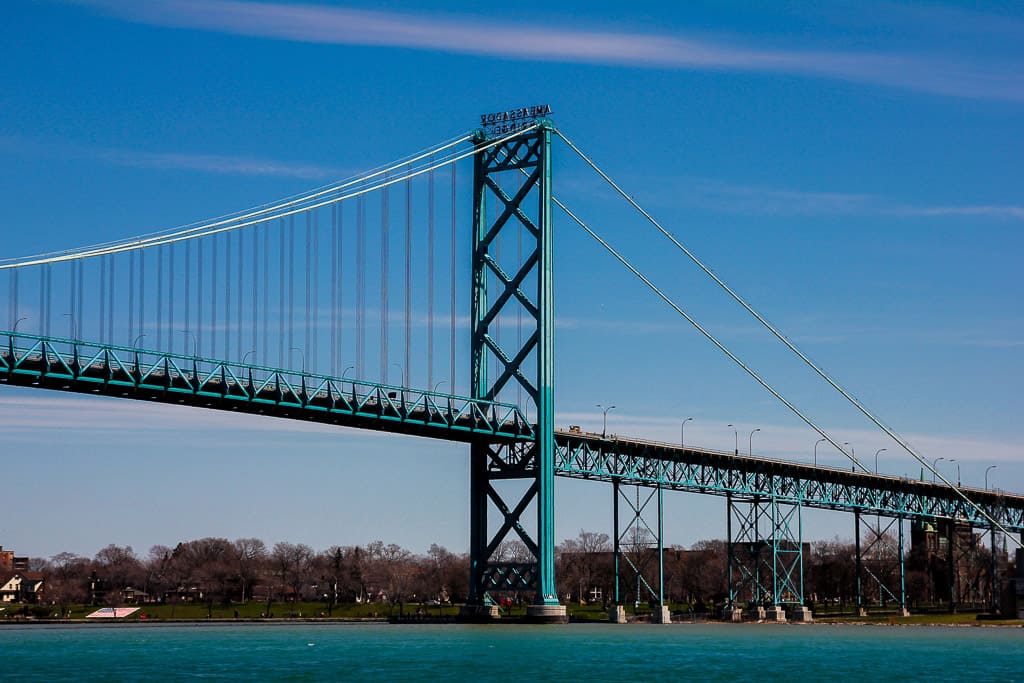 Shake Shack
On the way out of town we decided to grab a quick dinner and I honestly can't even tell you why but for some reason I was curious as to where the closest Shack Shack location was and would you believe my shock when I found out there was one in Downtown Detroit?? (Specifically at 660 Woodward Avenue). Shake Shack is by far my favorite American chain and I will eat it anywhere I find it so naturally we had to grab some. I'm never impressed by their wait times but it was a fantastic ending to two great days!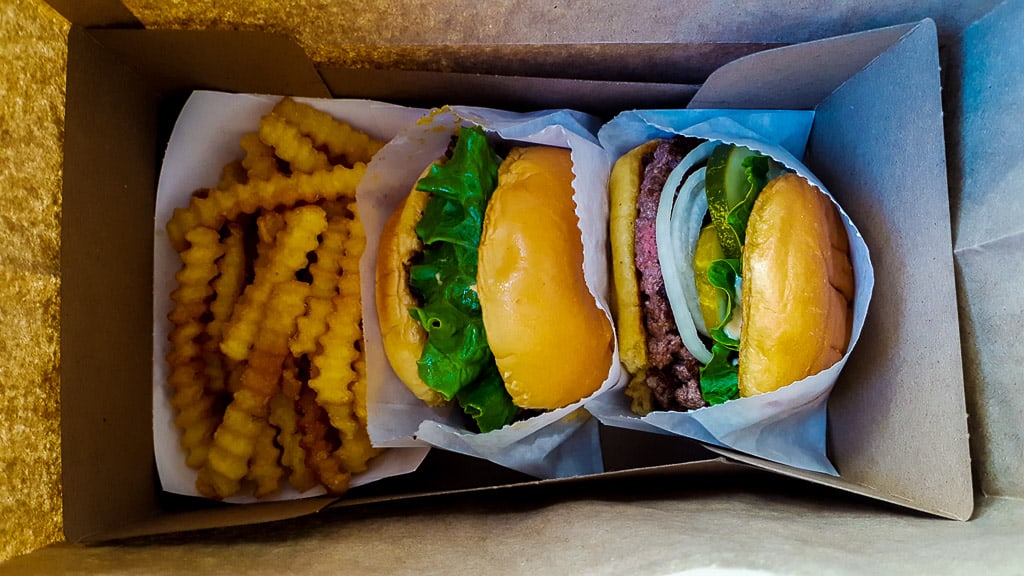 Have you been to Detroit? Would you go based on how much there is to do? Let me know in the comments and pin this post for when you go!