Miraflores is arguably the most tourist area of Lima but it's popular for a reason. It's located on stunning cliffs with beaches overlooking the Pacific ocean. It's also very safe, there's lots to do and see and it's very central to the other neighborhoods you'll want to see so it's a great base for your stay in Lima! Because it's so central there's a lot of things to see and do and it can be hard to decide what to do but luckily you've got this guide of a ton of things to do in Miraflores to help you along!
Try paragliding
Miraflores is a spectacular place to try paragliding because of the cliffs. The recommendation is to go visit in the morning and to get up in the air as early as possible to start your day. There are a ton of different companies along the coast doing paragliding so I would recommend just waiting until you're there to go check one of them out. Do keep in mind that being able to get up in the air will be highly dependent upon the weather! I opted not to do it but a couple of my friends did and they seemed to thoroughly enjoy it despite the lack of visibility! Depending on the company you choose to go with you may even get an SD card with pictures/videos of your experience!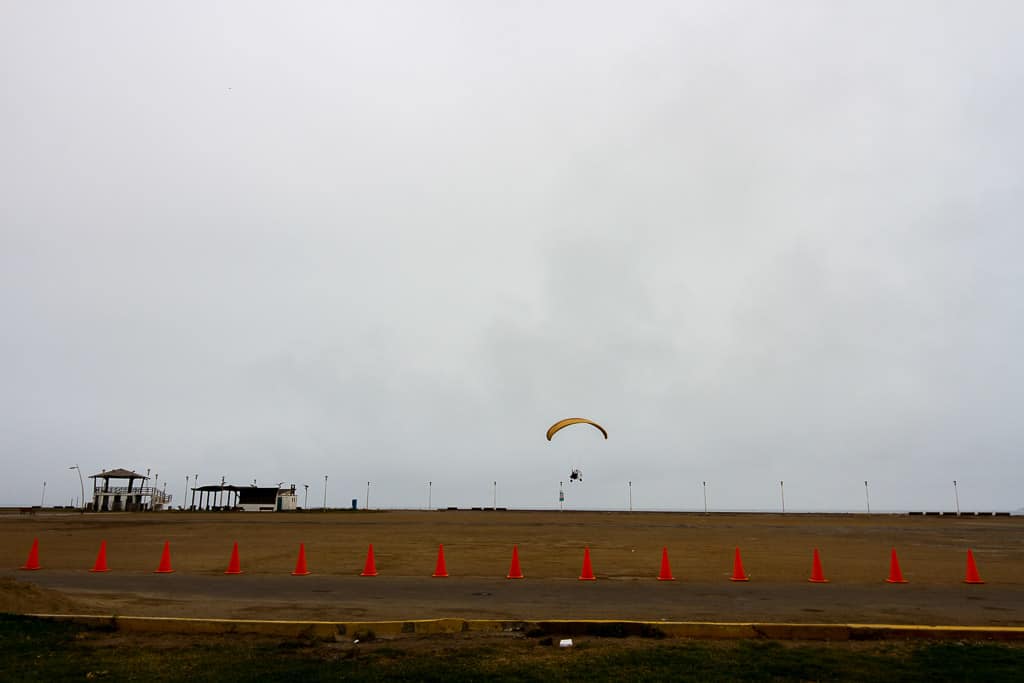 Find the John Lennon Peace Memorial
It may be a bit surprising to find a statue dedicated to one of the Beatles but in Lima you totally can! Located in the west end of the Miraflores District (bordering on the San Miguel District) you'll find a statue of John Lennon playing his guitar with the word 'Imagine' in tiles underneath. Weirdly enough it's located right between a skateboarding park and a dog park but either way it's a great starting point for walking the boardwalk which is where we started our walk!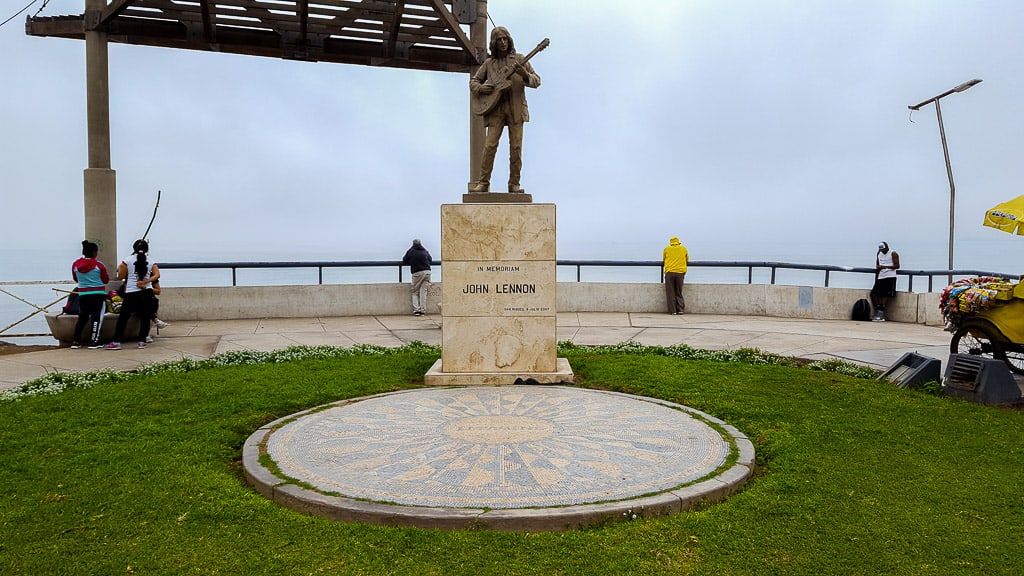 Walk the entire length of El Malecon
The boardwalk along the cliffs in Miraflores is over 10 km and bypasses a number of parks, most famously the Love Park. It's incredibly well maintained and you'll see plenty of people enjoying the parks and walking and biking along the boardwalk. The colours of the cliff are fantastic and as a result I guarantee you'll be stopping for a ton of pictures! Make sure to walk down towards the beaches for some portion of your walk as well! There's also a ton of art pieces within the parks that are worth a stop because they show some of the Peruvian culture!
Check out some stunning murals
Like any major city in the world at this point, Lima has some stunning street art and a lot of this stunning street art can be found in Miraflores specifically. I wouldn't say there's one area over another that has nicer murals or a larger concentration of them but you will definitely be able to spot them while walking down the boardwalk. Some great places to catch street art is on the side of buildings and down alleyways and side streets!
Detour into the side streets to see some local architecture
Besides detouring into alleyways and side streets just for the street art you should be doing it for the local architecture as well! The houses are more colourful than what you're probably used to and it makes for beautiful pictures. It's also slightly less busy than the main streets so you'll be able to walk around and take pictures. I personally loved seeing the colourful houses because it brightens the area up so nicely.
Take a selfie with the La Marina Lighthouse
La Marina Lighthouse isn't the largest lighthouse around and odds are it won't even be the grandest one you'll ever have seen but it is beautiful and the white and black contrasts in the colours make for really nice pictures. When you add the backdrop of the black and green cliffs and the oceans it's hard not to enjoy it. When we were there there was lots of activities going on with street vendors, an outside yoga class and a ton of families and locals playing and having birthday parties. Interestingly, the lighthouse was originally built in 1900 at Punta Coles but was taken apart in 1973 and moved to Mira Flores. Even more interestingly, the lighthouse is designed by the famous architect Frances Gustave Eiffel. Yes, the same man who created the Eiffel Tower!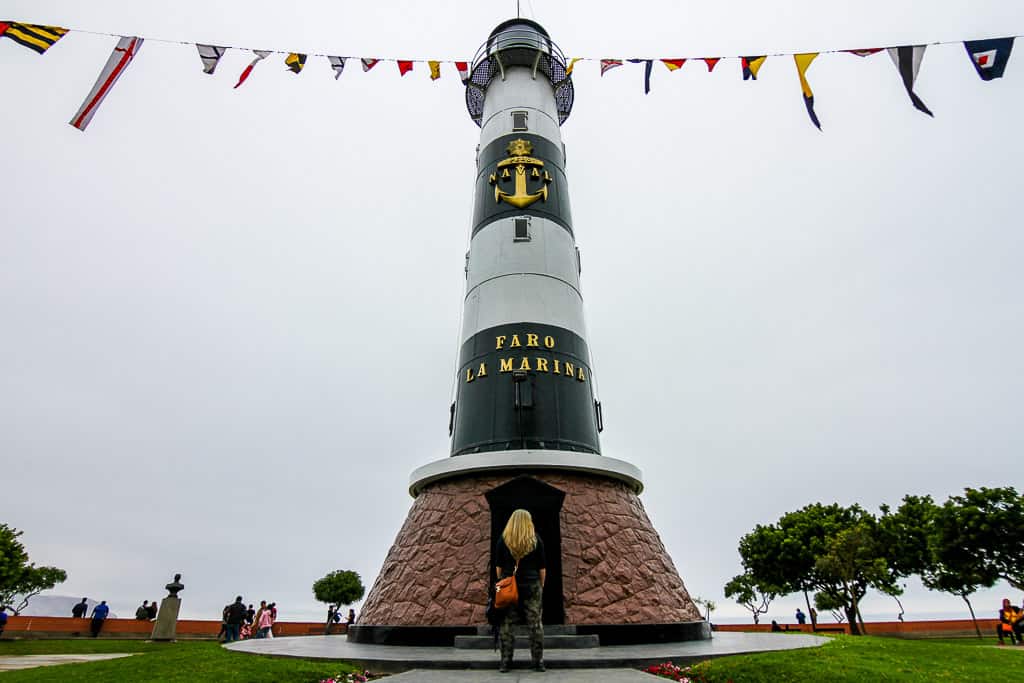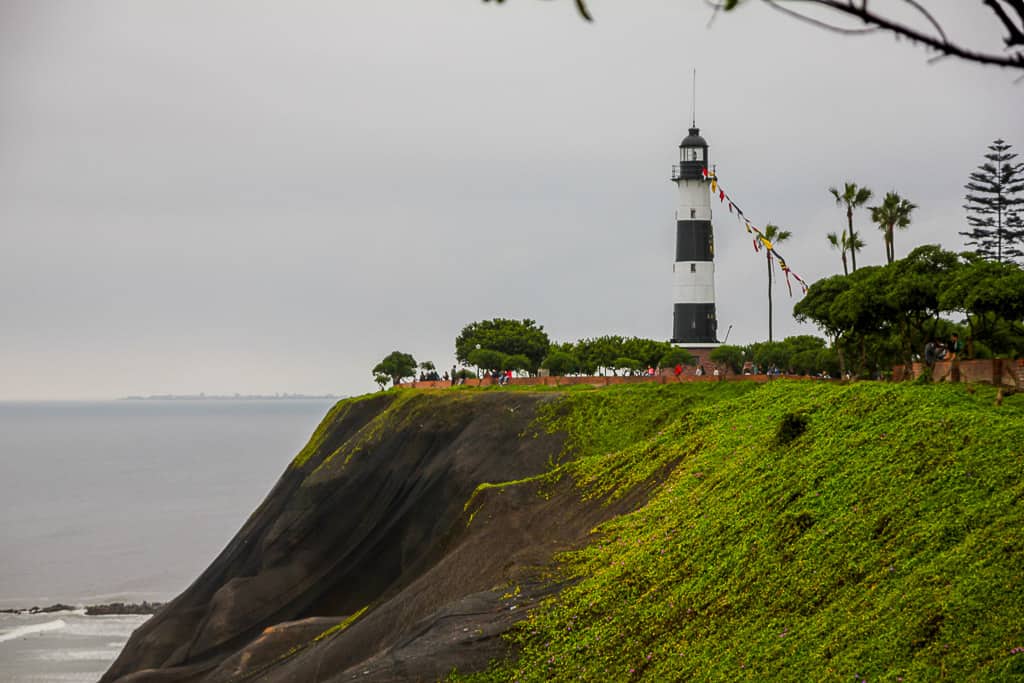 Grab some street snacks
There are street vendors selling snacks and drinks all up and down the boardwalk and it's worth grabbing some! I bought a churro in one of the parks for something ridiculous like 20 cents or something and it was yummy! Obviously you know your stomach best here and some people can't handle street food but I don't seem to have that problem. I would love to have showed you a picture of the churro but I seem to have been so excited to eat it that I didn't manage to grab one! Churro was only one of the options, I saw many other vendors selling popcorn, cotton candy, hot chocolate and so much more!
Celebrate love at Parque Del Amor
Parque Del Amor, or Love Park, is located right along the boardwalk. It's a small park but it's got a fantastic view of the ocean and the cliffs. There's a ton of decorative mosaic walls around the park which make for beautiful pictures as well but of course the main piece of the park is the statue. "El Beso" which translates to "The Kiss" is a statue made by Victor Delfín. It shows two lovers embracing in a kiss and just begs for you to take your own equally cheesy pictures!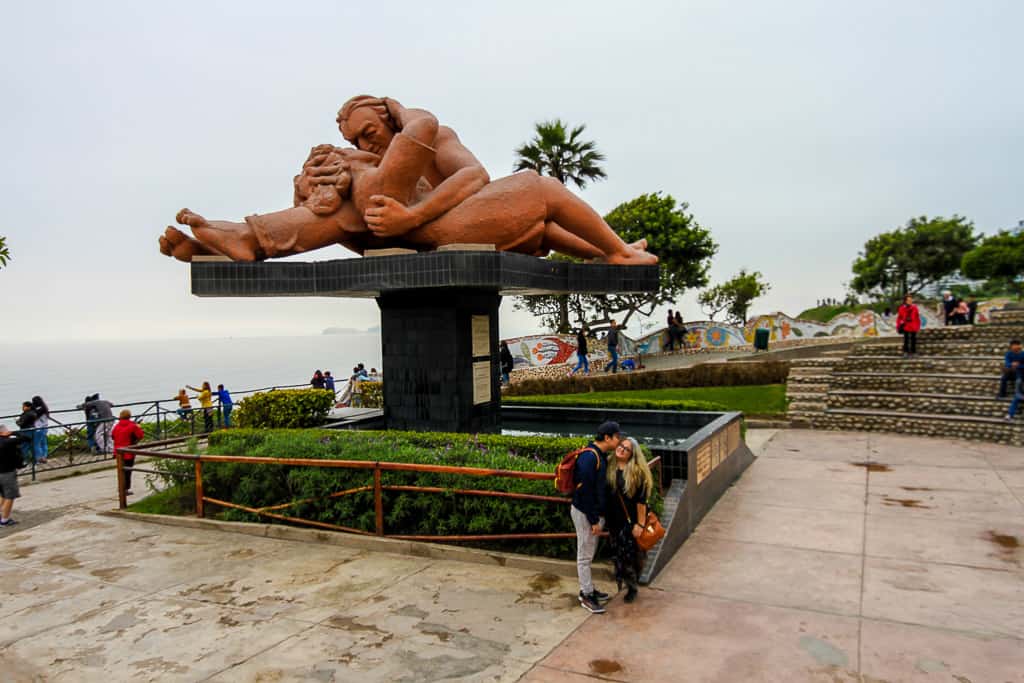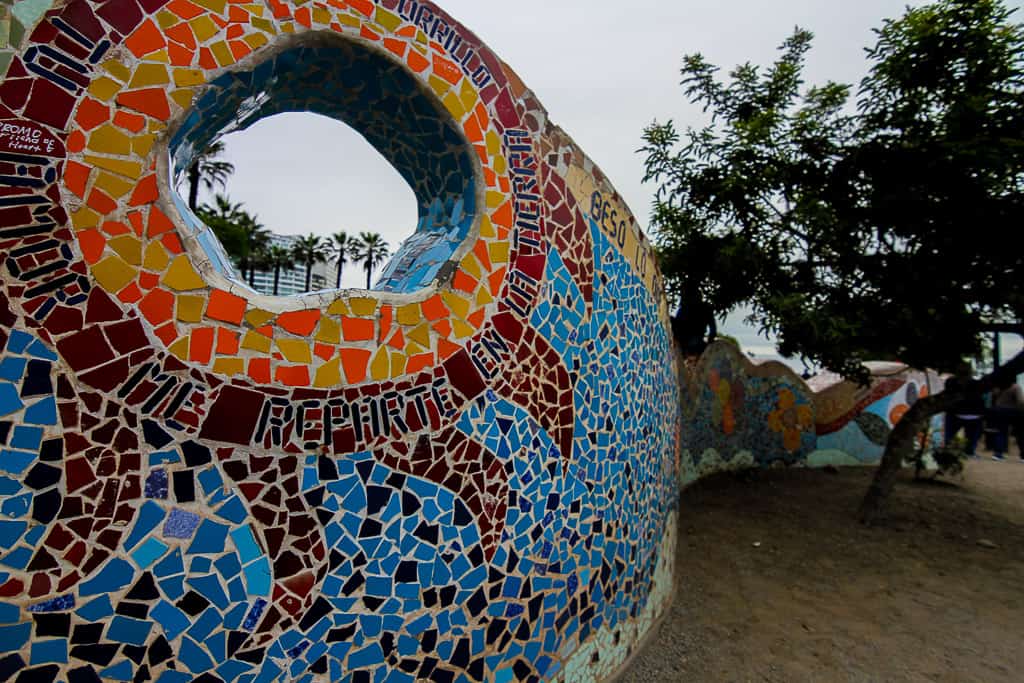 Eat a Crepe at Beso Frances Creperia
Further below in the post I advise that you need to just try to eat as much as possible while you're in Miraflores but I specifically wanted to highlight Beso Frances Creperia as a must do stop as well! The food is yummy but ultimately not super special. The reason you're stopping here is for the view! You get to sit right on the cliffs while eating your snacks and taking in the view of the cliffs and the water! It's a pretty fantastic experience and why I had to include it on this list. Beso Frances Creperia is a chain with 8 locations but I'd definitely recommend the one in Miraflores! They're open daily from 7:30 am to 11 pm.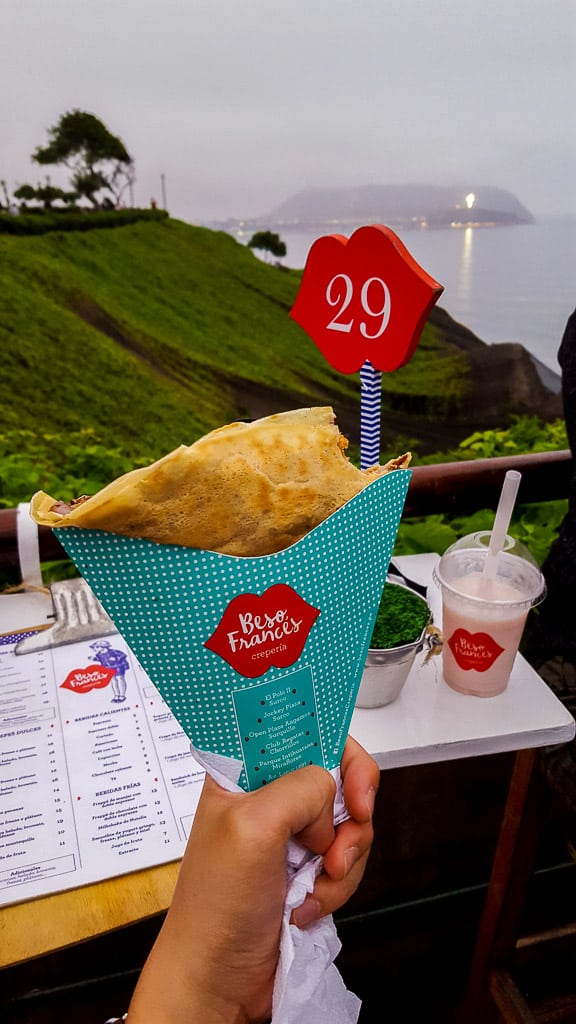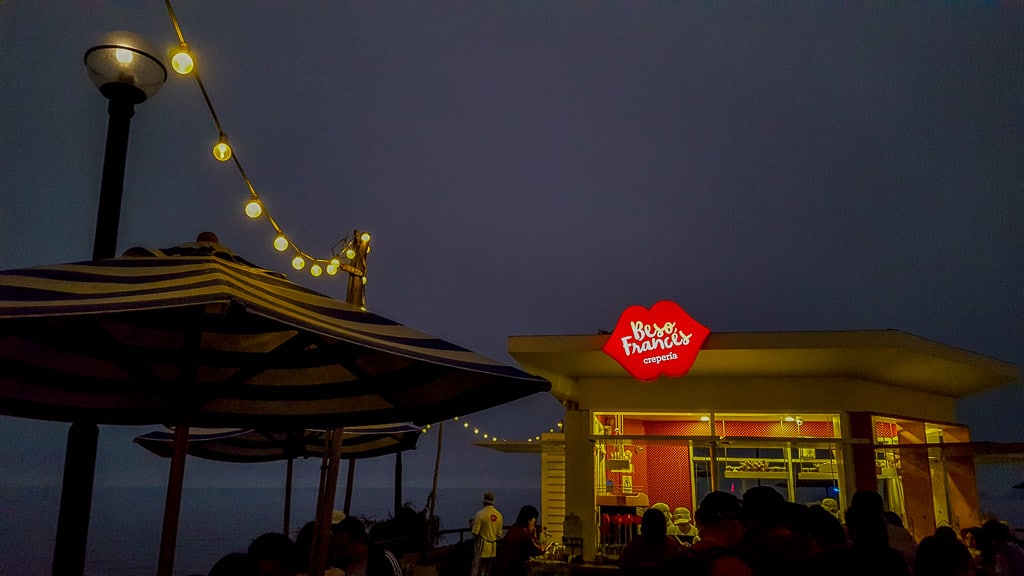 Wait for dark to see a giant lit up cross
The cross is technically located on Morro Solar in the Chorrillos district but the boardwalk in Miraflores is one of the best places to actually see it once it gets lit up at night. The cross was built as a welcome gesture for when Pope John Paul II visited Peru and has remained standing ever since. Even on a super foggy day like when we visited it still shines super brightly!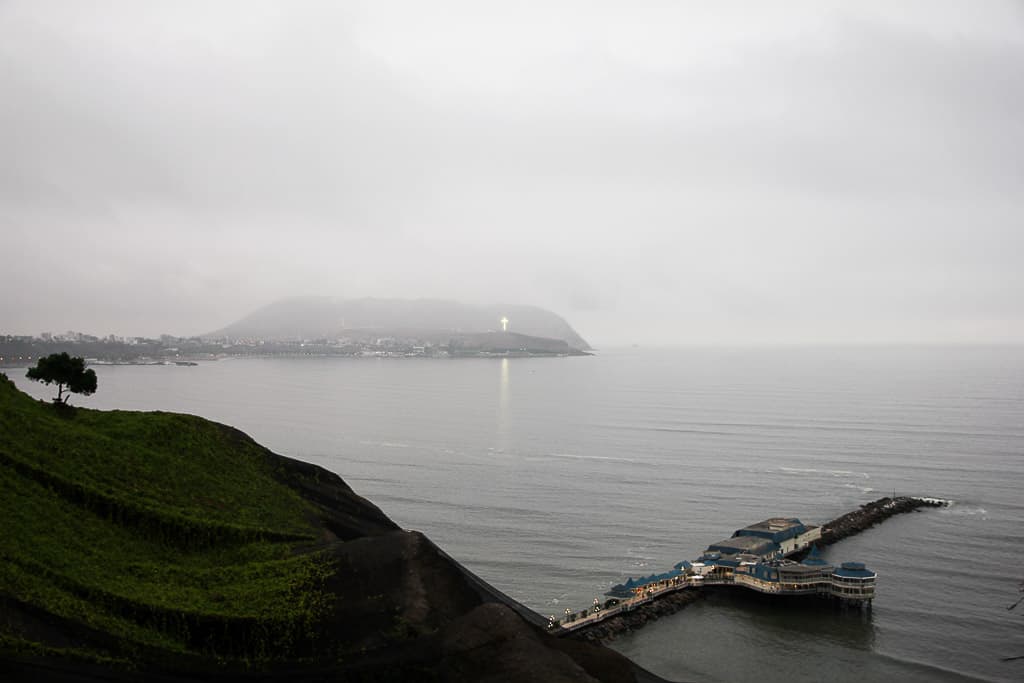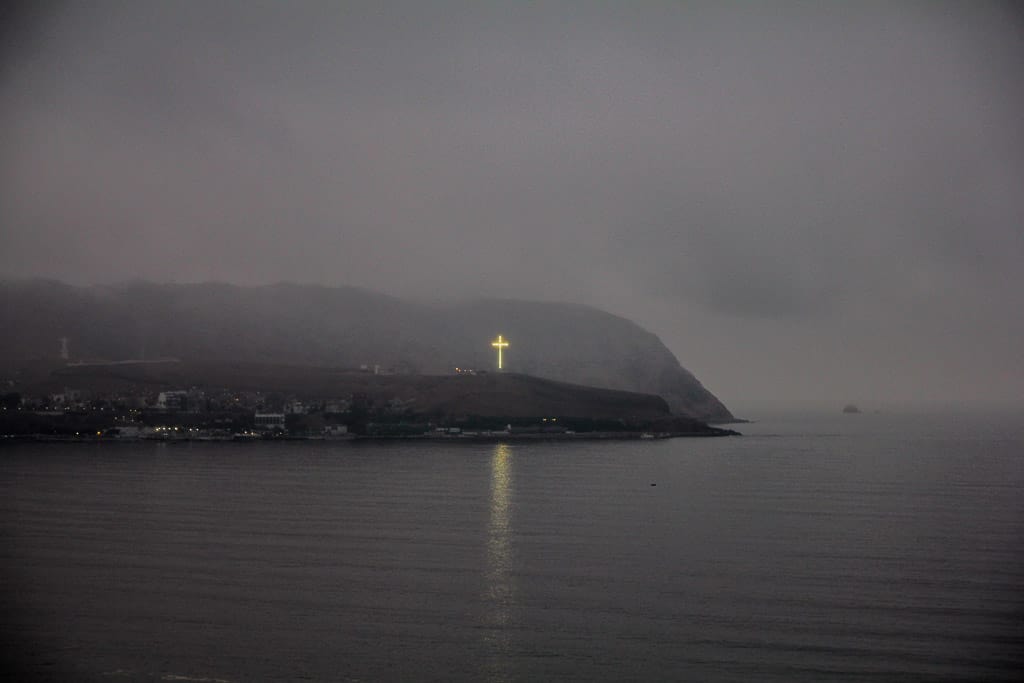 Shop at the Indian Market
The Indian Market is located on Avenue Petit Thouars and is open daily from around 10.30 am to 9 pm. It's a huge open air market with dozens of different vendors selling every type of craft and souvenir you could possibly think of. They take both soles and American dollars depending on what currency you have. We did majority of our shopping at the Indian Market because we had read that prices in Cusco and Aguas Calientes would be ridiculously expensive. I don't know that I necessarily found them super awful in Cusco but our days in Cusco were a lot more packed and I'm glad we got souvenir shopping out of the way in Lima which is something I'd recommend doing as well!
Try a restaurant or two
Miraflores is home to an incredible amount of restaurants across almost every type of cuisine. It's tempting to just grab some fast food to be able to keep going with your day but you'd be doing yourself a disservice. I highly recommend trying at least one or two of the restaurants while you're in the area!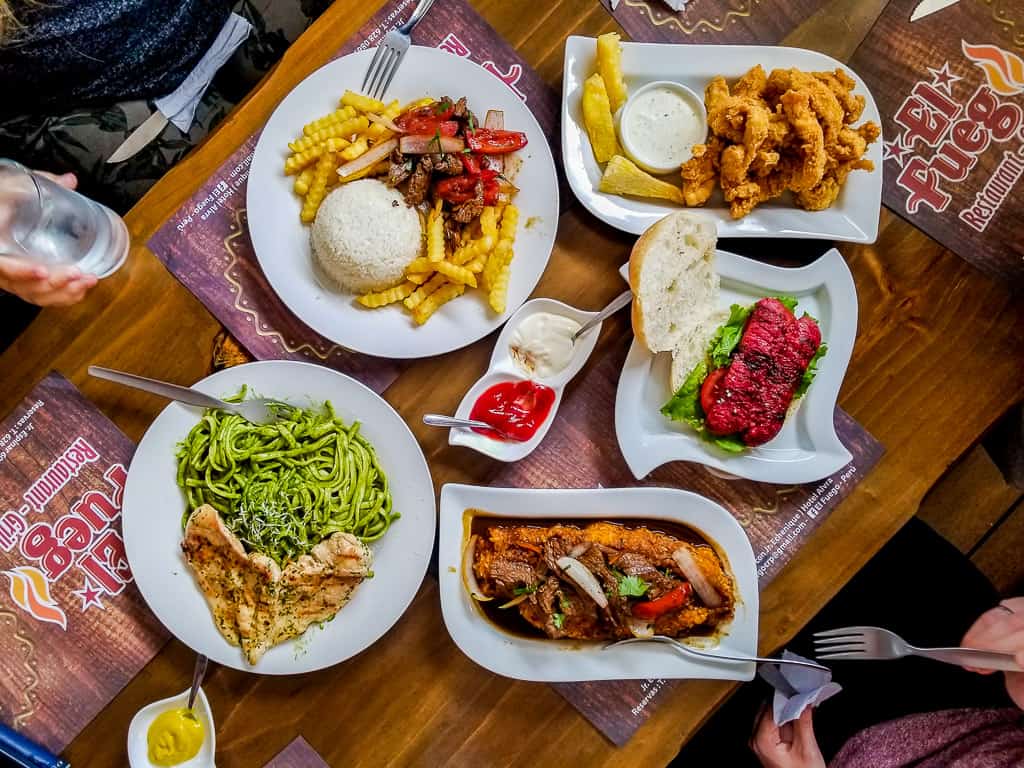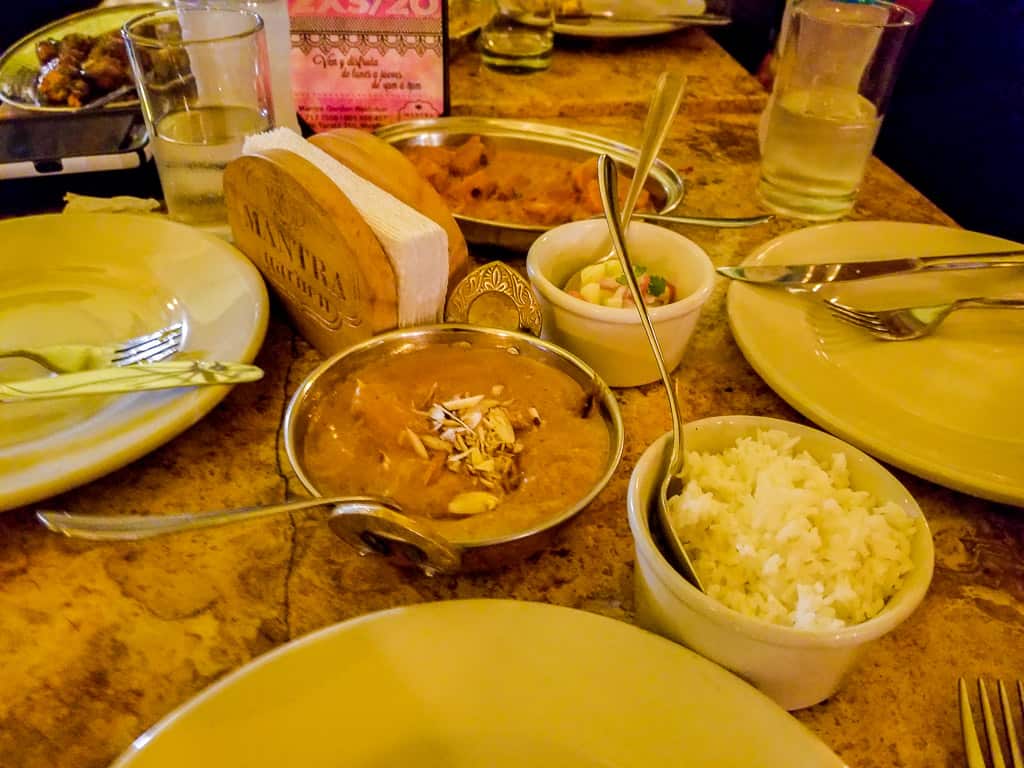 Visit the cats in Kennedy Park and take in a live show
Kennedy Park is located in the center of Miraflores and while the park isn't super large, that's not what it's known for. It's known for its 50 (!) stray cats that live in the park! While the cats are technically considered strays they are fed by the community! They're quite friendly and pose for pictures but I'd be careful about petting them! The amphitheater in the park also has lots of live performances and one of the nights we were in Lima there was a live salsa dancing night!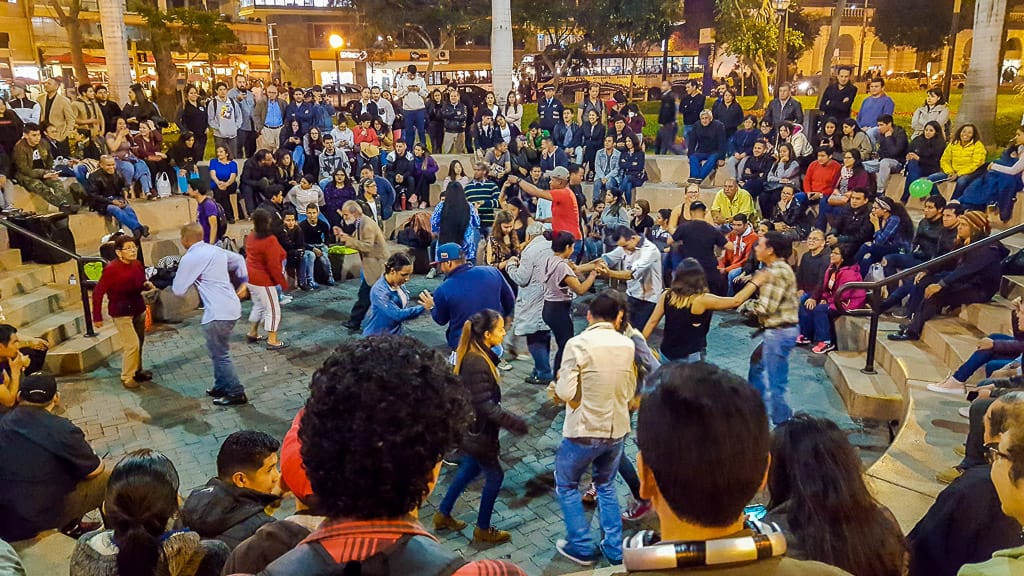 Attend a mass at the Virgen Milagrosa Church
Located right at Kennedy Park is a Catholic church by the name of Virgen Milagrosa which was built in 1939. The inside of the church is beautiful withe a giant statue of the Virgin Mary that's got LED lights coming out from it! I think the opening hours vary but mass appears to be on quite often so if you're based in the area I'd just peek in when passing by and stop by for a couple of minutes. Even if you can't make it into the church it's worth a visit just for the exterior architecture which is beautiful!
More Things To Do
There's a ton more to do in Miraflores like gamble at the many casinos, visit the Huaca Puccllana ruins, trying some surfing, wandering around the piers and shopping at Larcomar Mall. There's of course dozens of stores to shop in, parks to visit and restaurants to shop in and if all you wanted to do in Lima was to spend time in Miraflores you could certainly spend many days enjoying the district without getting bored.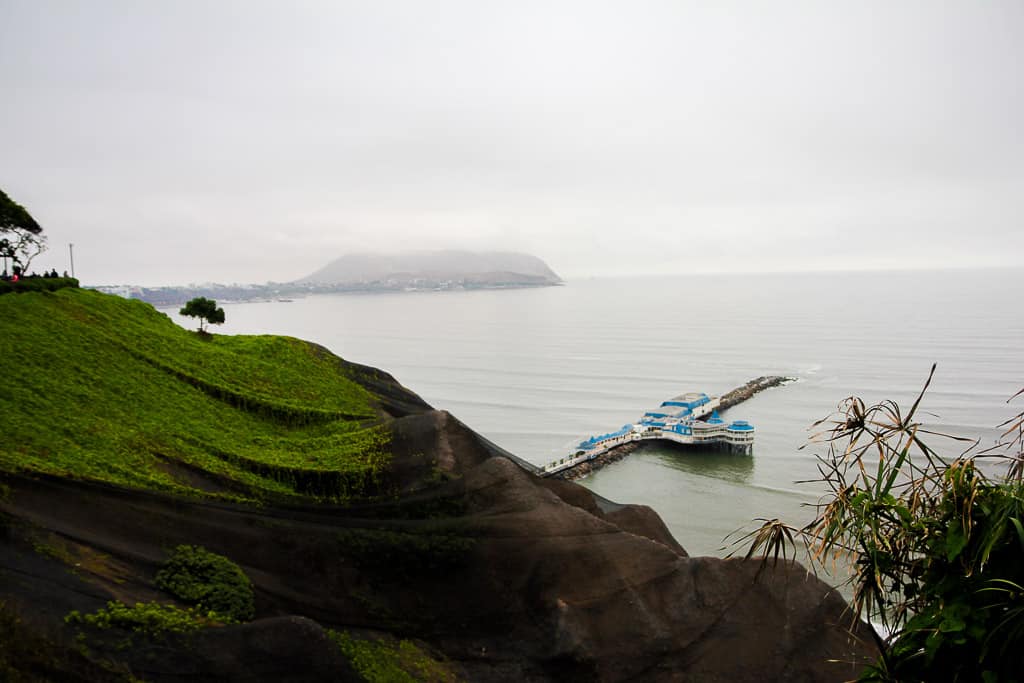 I've put together this handy little map with the locations of all the things I mention so you can take a look at where they are and decide which ones you'd want to do together!
Have you visited Lima and more specifically Miraflores? What was your favourite part? Let me know in the comments and as always pin this post for your own upcoming trip to Peru!