Summer time guys! Summer feels like it just started and summer time means finally spending more time outdoors! It may be overwhelming figuring out where to go and what to do but luckily I've put together this guide of 35+ things to do in Ontario in the summer to help you plan out your summer adventures. 
#1 Take in a play at the Stratford Festival
Stratford is a small town located about 2.5 hours to the West of Toronto. If you don't drive there's even a very handy bus directly from Toronto to Stratford. It's known for its annual Shakespearean Festival that takes place every single summer between May and October.
There are some Shakespeare plays on the schedule every single summer but there's also plenty of other plays to check out. Once you've taken in a play or 2, do stick around in the town. There's plenty to see and do and it definitely counts as an excellent weekend getaway from Toronto!
#2 Eat Kawartha Ice Cream
Kawartha ice cream is one of those fundamental summer things. It's a locally produced ice cream in Ontario and comes in a number of flavours. They've only recently gotten into stores but have been around for 75 years in lots of little small towns around the province. The company has 10 stores themselves but their products are sold elsewhere so you can definitely still try them even if they're not in your area. There's plenty of flavours like I said but my recommendation is the black raspberry thunder so head to a location where they sell Kawartha ice cream and enjoy it on a hot summer day!
#3 Hike the flower pots and the Grotto and see the stunningly blue waters of Tobermory
Tobermory is one of those amazing places in Ontario that you just can't explain. Between the Bruce Peninsula National Park and the Fathom Five National Marine Park there's an incredible amount of nature to take in and at minimum you should dedicate a weekend to a trip up here. It's located about 4 hours north of Toronto and you could theoretically do it as a day trip and if that's the only way for you to see this part of Ontario then definitely do it but I do recommend the weekend trip. You will not regret it! Some highlights including taking a boat over to Flower Pot island and hiking its entirety, visiting the Tobermory Grotto, swimming in the blue water and of course taking in the small town charm of Tobermory itself. If you're feeling adventurous (and like splurging) you should consider the helicopter ride over the area as well!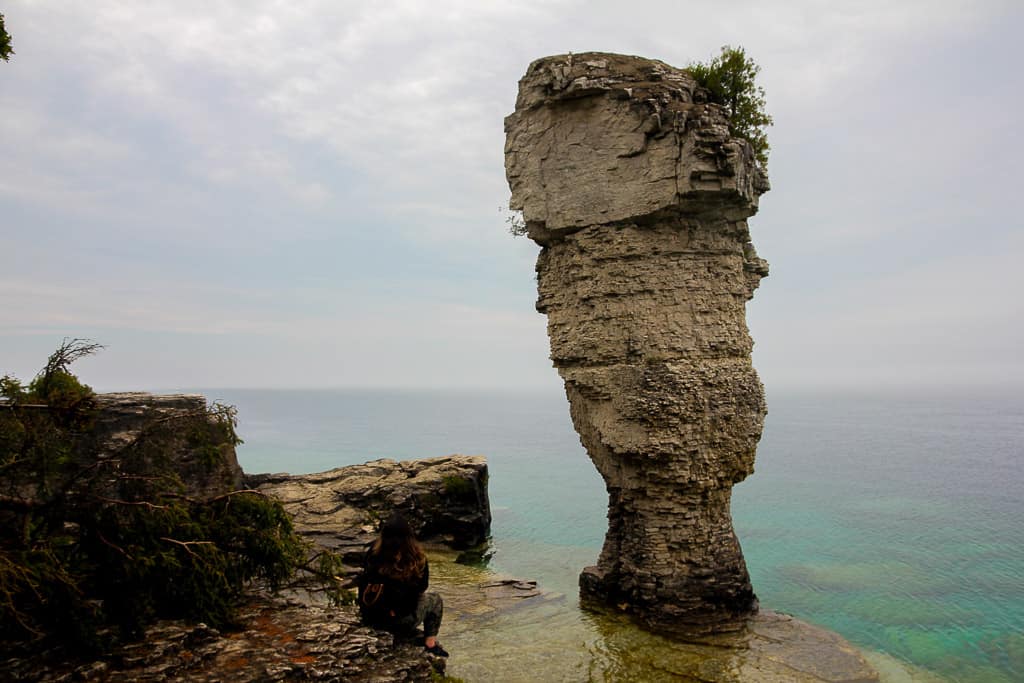 #4 Road Trip
Ontario is so much bigger than people assume. To give you perspective, Ontario is bigger than France and Spain combined! It's great for us who live here or for us who visit because it means it's a pretty safe bet that there's plenty to see that you haven't seen yet. One of the best ways to explore Ontario? Road trip! Gather up a bunch of friends and drive in virtually any direction you see (but perhaps not into the lakes) and you'll be able to come across some cute towns, stunning nature and plenty of interesting things to do. 
#5 Be like millions of other people and spend a day enjoying all the cliche things in Niagara Falls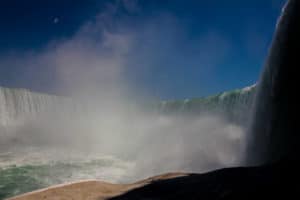 Niagara Falls gets approximately 12 million visitors a year which is an astounding number. Given how much there is to see and do there I certainly don't blame international tourists/travelers for coming to visit. For people who live in Ontario though it's sometimes hard to remember just how epic the falls are and just how much there is to do in the area.
So pick a weekend and head to Niagara Falls to do all those cliche things you don't do because you forget how great Niagara Falls is!
Picture below is the Canadian side of Niagara Falls but definitely look into how the American vs Canadian side of Niagara Falls holds up!
#6 Enjoy one of the MANY provincial parks
Ontario has over 300 provincial parks and over 200 conversation areas. They're all a little bit different but they're all spectacular in their own sense and there's nothing quite like connecting with nature in the summer so why not check out one of these many, many, many areas?
 #7 Check out a food festival
While Toronto of course has a ton of food festivals going on all summer long, they're not the only place in Ontario with food festivals. Lots of smaller towns (and larger ones!) have plenty of food festivals throughout the summer and they're a great out door activity. This is a pretty good list with a fair amount of different options.
#8 Visit a winery in any of the Ontario wine regions
While the Niagara-on-the-Lake and Niagara Escarpment are very well known for their wineries there are other regions worth checking out as well including the one in Prince Edward County, the one along Lake Eerie's North Shore and newer areas like the Ottawa Valley and the Georgian Bay. Obviously drink responsibly and book a night at a hotel or a cute bed and breakfast near the wineries. If you're looking for a twist on the standard visit to a winery this bike ride from Toronto to Niagara will definitely earn you the rights to drink up!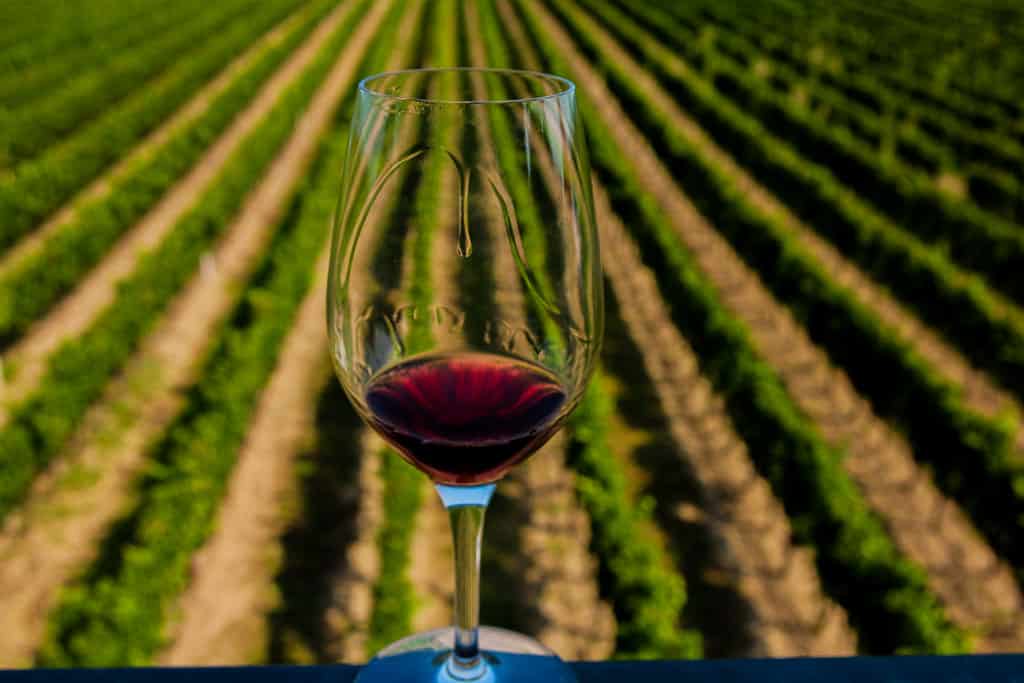 #9 Attend a music festival
Besides ice cream and the beach, is there anything as summery as a music festival? Picture blue skies, shining suns and your favourite bands performing live? Pretty easy to see why it's a must during the summer. This list is a pretty good one to find the ones going on in Ontario. And, yes it's typically for the younger crowd but there's nothing stopping anyone of any age from going to one!
#10 Partake in some activities on the water like kayaking and canoeing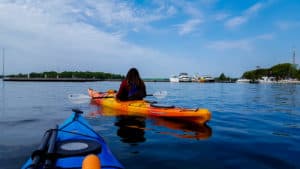 Ontario has an astounding 250,000 lakes. I know. Let's pause for a second and take that in. But as large as that number is, it's also good news because there's plenty of places for you to partake in water activities!
Grab any kind of vessel like a kayak, canoe, paddle board etc. and spend some time on the lakes.
Make sure you wear your life vests and sunscreen though!
#11 Explore a lavender farm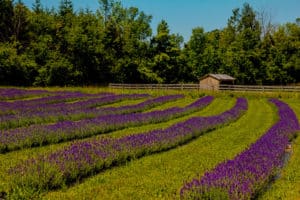 Lavender farms are of course popular because of how pretty they make your Instagram but they're also a great summer activity.
Ontario has a fair amount of different lavender farms and you can't go wrong with any of the ones you pick.
They're usually fairly large so they make for a good walk but do bring your camera because as Instagram common as it is, it's still worth the pictures!
#12 Hike some waterfalls in Hamilton
Hamilton is pretty much the waterfall capital of Canada with over 100 waterfalls in the area and there's plenty of the waterfalls that are accessible for climbing and hiking. While you may be competing with some crowds depending on which waterfall you visit and when you do so, they're still worth it. There's something special about standing beneath a water fall that's rushing down with water. Practice safety when climbing falls though!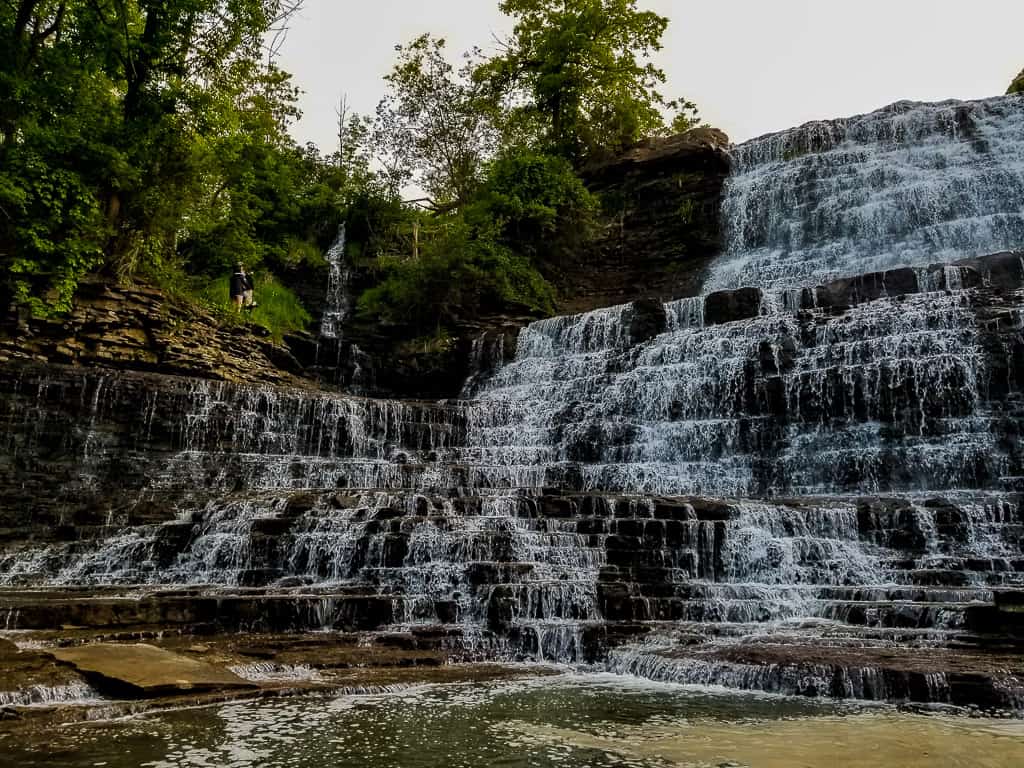 #13 Visit the Cheltenham Badlands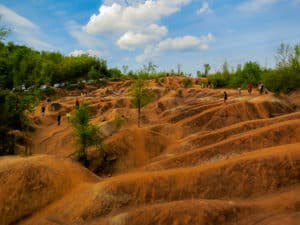 The Cheltenham Badlands is a special part of Ontario's geography.
Badlands are an area of soft rock where nothing grows that's become very rounded/hilly.
They used to be open to the public but unfortunately the wear and tear on the badlands forced the closure of the lands to the public. This year a viewing platform was installed and while you can no longer walk around on them like we could a few years ago they're most definitely worth a visit because of how unique they are.
#14 Explore 1000 Islands and its towns
The 1000 Islands is an area along the St. Lawrence River which borders both the United States and Canada. The area actually has 1864 islands and lots of small towns are included in the area like Gananoque and Brockville. A couple of the islands make up one of the Canadian National Parks but there's a ton of things to see and do in the area and they're one of the best summer trips you can do in Ontario!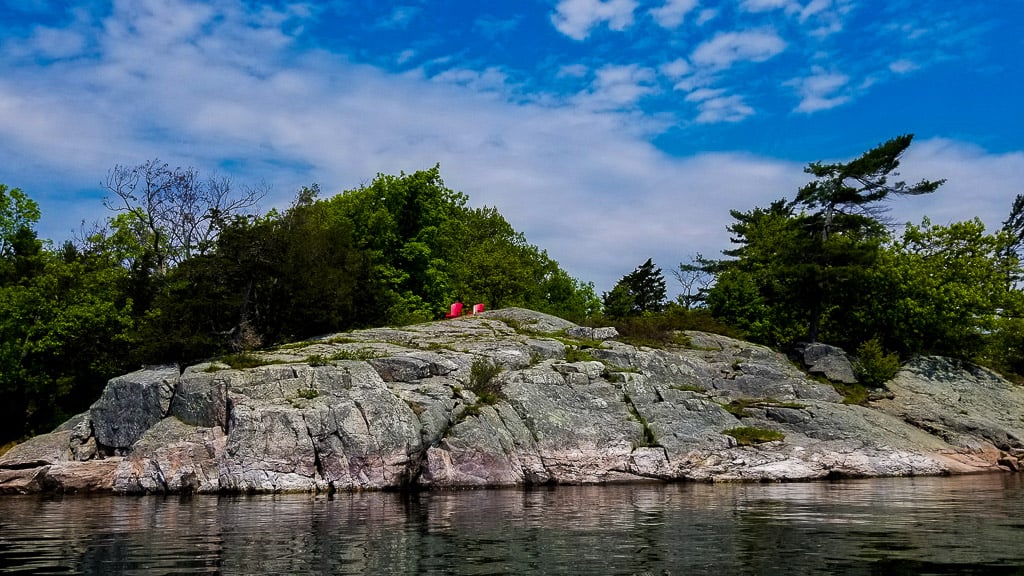 #15 Spend a day at any of the water parks around the province
Sometimes all you want to do is ride a few slides and hang out in some pools so why not explore some of the water parks around Ontario for one of those days?
#16 Go tree top trekking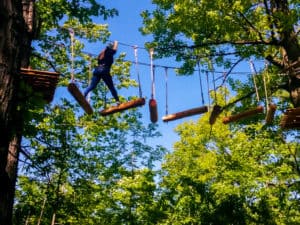 Once you've had an easy day or two relaxing by the waterfalls may I suggest getting a little bit more adventurous?
Tree top trekking is a great summer activity that lets you not only get outside but also gets your blood pumping. Some of the courses are scarier than others so make sure you pick one you're comfortable with but they're all fun and a great summer weekend activity!
The Donkey Sanctuary in Guelph is a fantastic place and a unique thing to consider doing with your summer days off. You get to visit the farm where they take in abused/neglected donkeys and care for them. It's definitely a summer must do since they're only open to visitors from the public between May and August. You can check out their exact hours here.
#18 Take a cruise
There's nothing quite like being on a boat in the summer and with the number of lakes around there's plenty of places to take some pretty epic cruises. You can of course explore Niagara Falls on boat but my vote is for taking a cruise through the 1000 Islands or around Tobermory and Fathom Five National Marine Park.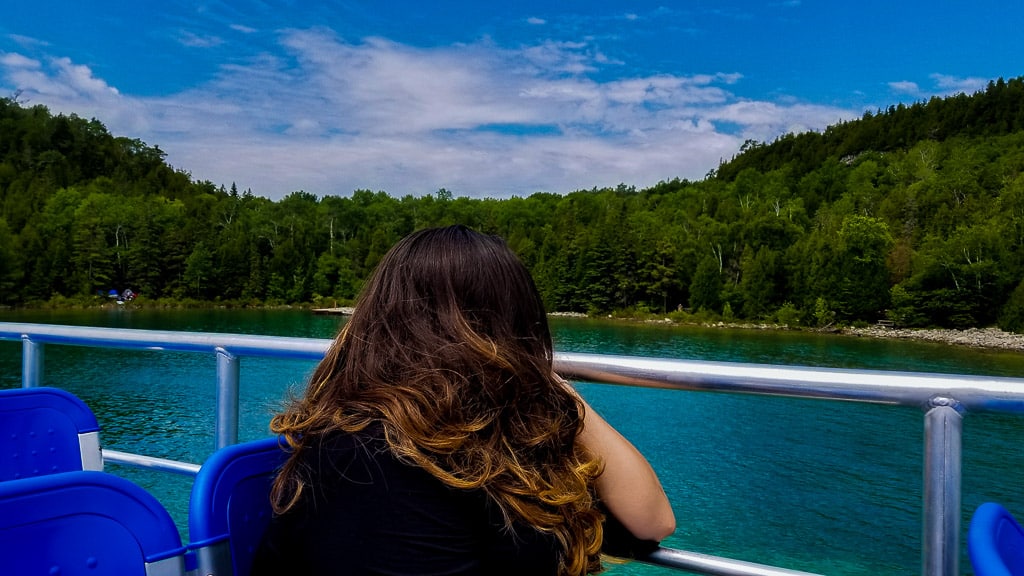 #19 Visit one of the National Parks and soak in some nature
Ontario has 6 national parks and 2 marine conservation areas spread throughout the province. A large majority of them are completely accessible from Toronto so they're 100% worth checking out. If you're looking for one to start with then Rouge Urban National Park right on the east side of Toronto is a great start!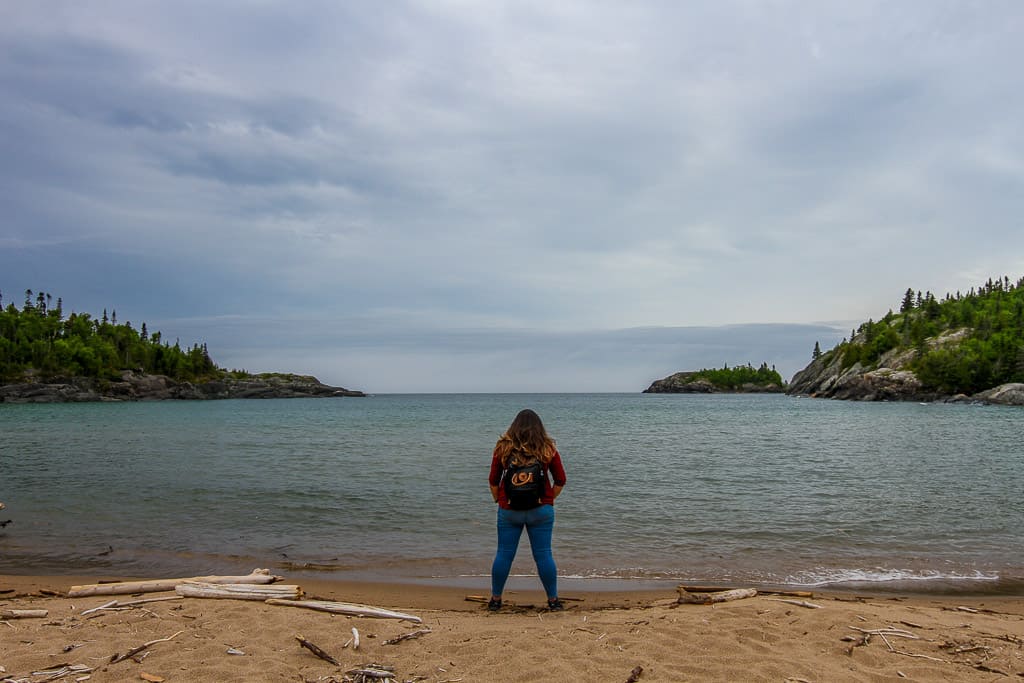 #20 Explore some abandoned ruins around the province
So there's some debate here in regards to whether this should be promoted by bloggers or not. A lot of the ruins around the province are private property and it's up to you to judge if it's worth exploring them or not as you are trespassing on most of them. Some of them do not care what so ever (the Barber Paper Mill in Georgetown) while some have security patrolling (Camp 30 in Bowmanville). I'm of the opinion that the situations will vary and it's ultimately a judgement call. Camp 30 is borderline scary so we didn't really venture inside any buildings but walked around the exterior of them instead. The Barber Paper Mill is also scary but it's out in the middle of the open and quite obviously accessed very open.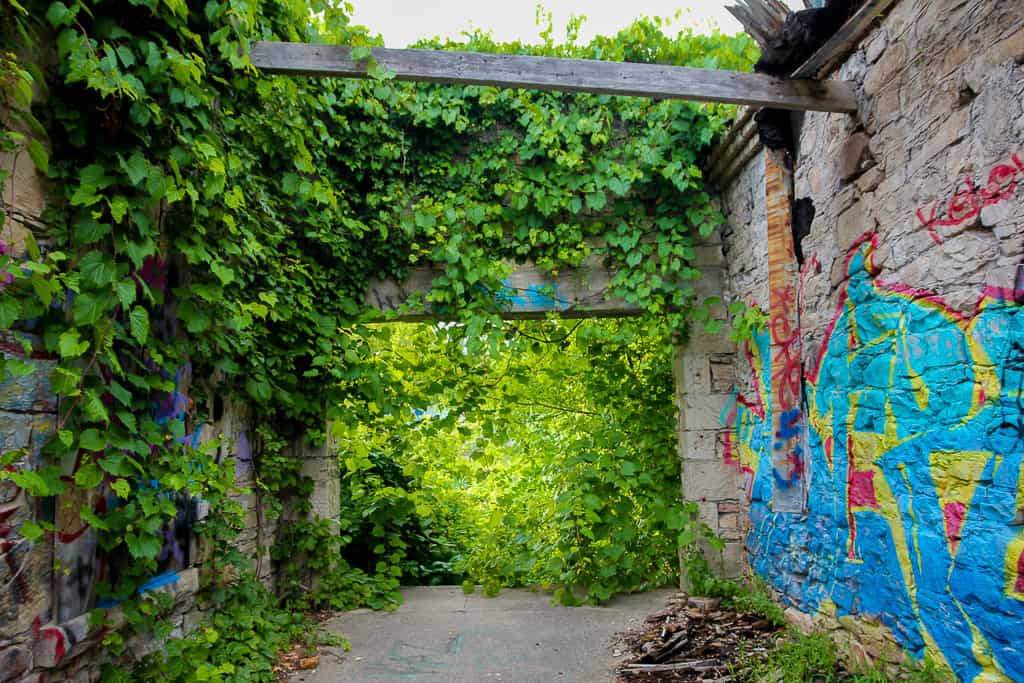 #21 Go fruit picking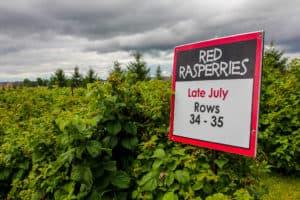 This one's a great one to do because depending on when in the summer you go you can totally get a different type of berry/fruit.
There are dozens of farms around Ontario so you're not looking at a super long drive either.
We checked out Brooks Farms about 1 hour north of Toronto when they had the raspberries in bloom. Totally worth it! It's typically fairly cheap too with an entrance fee/per pound fee and it's a good outdoor activity!
#22 Explore some caves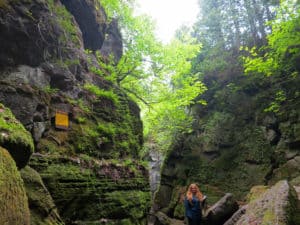 Now I know this isn't an activity most people consider but Ontario has some great caving activities for you to explore. Some involve actually exploring within the caves, some around them and some all of the above.
Between Scenic Caves, Warsaw Caves, Bonnechere Caves and so many more there's plenty of options and locations to make fit into your summer exploring.
 #23 Gather up a group of friends and head to a cottage
Now this is arguably one of the most Canadian things on this list. Cottaging is a true and tested Canadian activity. There's no wrong way to do cottaging – all you have to do is have a good time. There's usually some bonfires, some lakes and lots of socializing involved but it's honestly one of the best ways to spend a weekend and if you gather a large enough crowd it's usually not too expensive. If you don't know where to look for cottages airbnb actually has a fair amount of options!
#24 Take a day trip to some adorable small towns
This blog obviously focuses on Toronto so I clearly adore my own city but given the millions of people who live here it can sometimes get fairly crowded and that's especially true in the summer when everyone is out and about trying to soak up the sun as much as possible. The solution? Head to one of the many dozens small towns all around Ontario for a perfect day/weekend trip. I personally recommend Stratford and Port Hope which are in opposite directions but both completely worthy of their own trips. You'll get all that summer experience with ice cream, blue lakes, patios and more but just none of the crowds!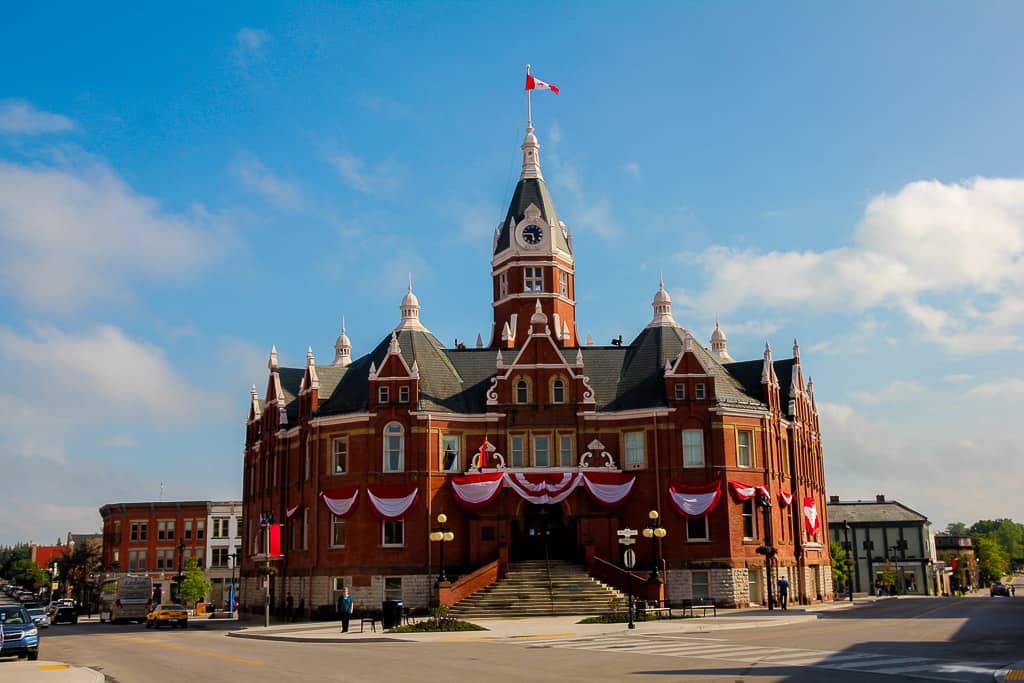 #25 Pack a blanket and head to a Dark Sky Preserve
Did you know that Ontario actually has multiple dark sky preserves? These are areas of the province that are ideal for stargazing. Depending on when you try your luck you may even be able to spot some Northern Lights! Parks Canada has some you can check out but there are other ones as well.
#26 Swim in one of the Great Lakes
Ontario has portions of 4/5 Great Lakes within the province so why not take advantage and go swimming in some of the Great Lakes? (As a cheat, the 4 lakes are: Lake Ontario, Lake Eerie, Lake Huron and Lake Superior).
#27 Explore one of the counties that you haven't before
While Prince Edward County is incredibly well known and visit there are lots of beautiful counties around Ontario worth exploring including Bruce County, Grey County, Haliburton County and Lanark County.
#28 Hike a portion of the Bruce Trail
The Bruce Trail is a 890 km long trail that runs all the way from Niagara to Tobermory. The trail is both the oldest and longest in Canada and there's plenty of places where you can hike a portion of it. But if you're feeling adventurous and up to it why not hike the entire trail? I'd personally start small but then again I'm not a great hiker so overnight trails are so not my thing. To check out more information about the trail head to the official site.
#29 Spend a day on some beautiful beaches
Given how many lakes there are in Ontario, there's obviously a fair amount of beaches as well. It can be hard to figure out which ones are worth the trip or not. A good indicator of a nice beach is whether it has blue flag status or not (indicating that it's clean and accessible) and believe it or not, Ontario has almost 30 blue flag beaches. Check out the closest one to you here.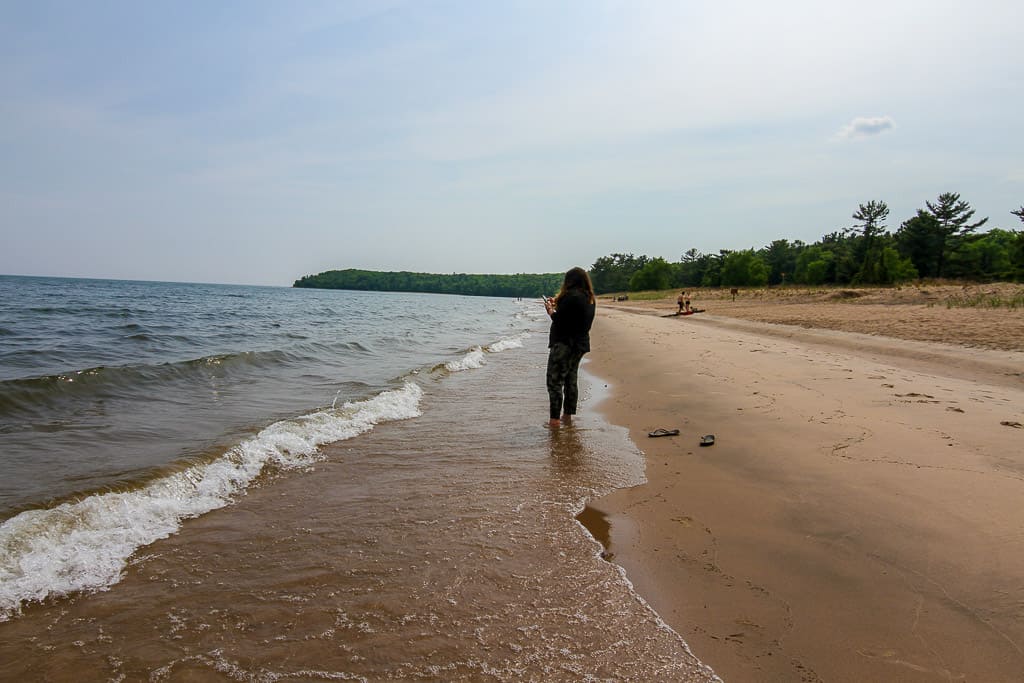 #30 Visit the southernmost point of Canada at Point Pelee National Park
While you can potentially argue that a lot of Ontario's nature is the same (but how dare you!), Point Pelee National Park is definitely unique. It's got a tropical climate similar to Spain because of its location and its also the most southern land bound point of Canada. It's about 4 hours from Toronto and makes for an excellent trip with lots of easier hikes!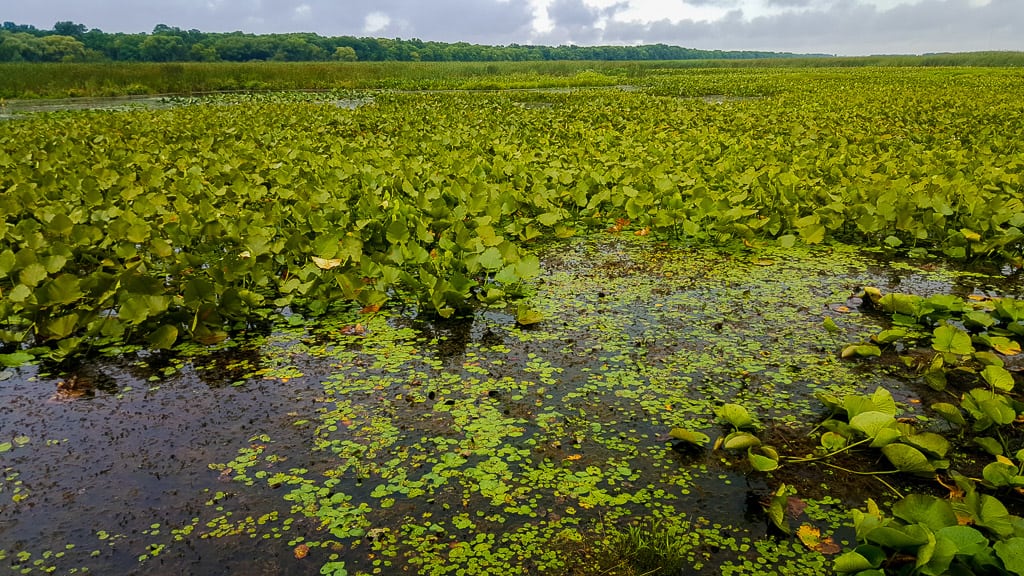 #31 Explore a sunflower farm
So you may have read the news that a sunflower farm got shut down because of how insanely popular it got on Instagram and while it's a shame because it was a beautiful farm, it's also a lesson. It's a privilege to travel and to explore and you have to respect the nature you're in. While this particular farm is no longer open to visitors there are others that are and they're a great place to visit because of how impressive the flowers are but again, respect yourselves and your surroundings if you're going to visit these places.
#32 Camp! If you're not a huge camper like me, why not try an oTENTIK?
oTENTIKs are unique to Parks Canada and a great combination of tents/cottages. For people like me who aren't completely sold on actual camping they're a great stepping stone to still roughing it a little but not actually sleeping on the ground!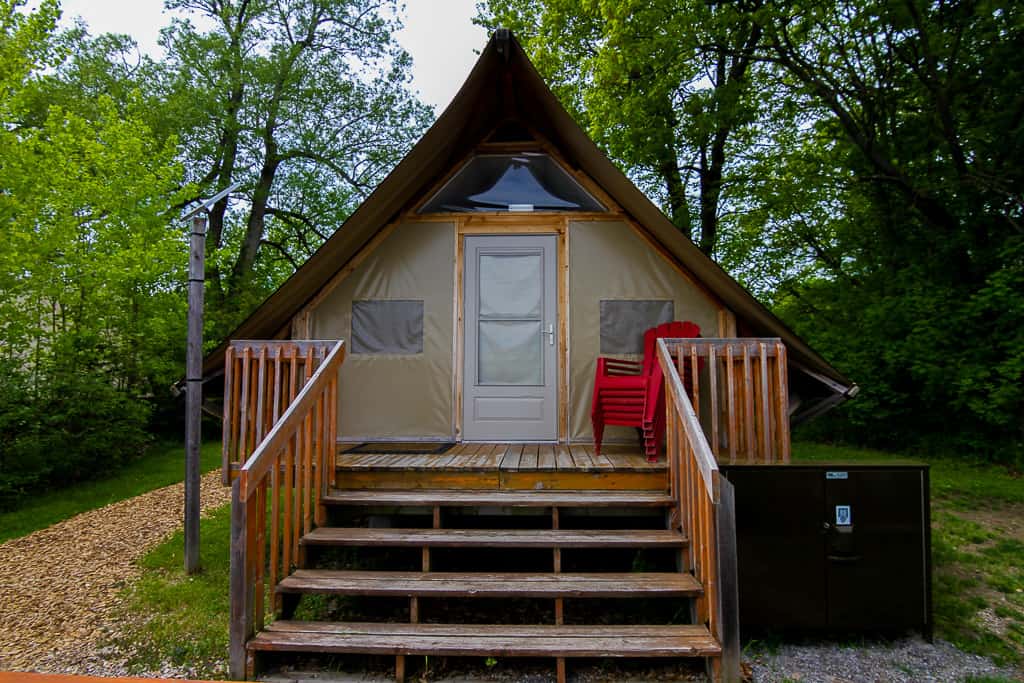 #33 Hike to the very special Bathtub Island in Lake Superior Provincial Park
Lake Superior Provincial Park is arguably one of the most stunning pieces of nature Ontario has to offer. What makes it even more impressive is the natural pool that's formed by Bathtub Island. It's quite a drive up north but looking at how stunning it is there's definitely plenty of reasons to go!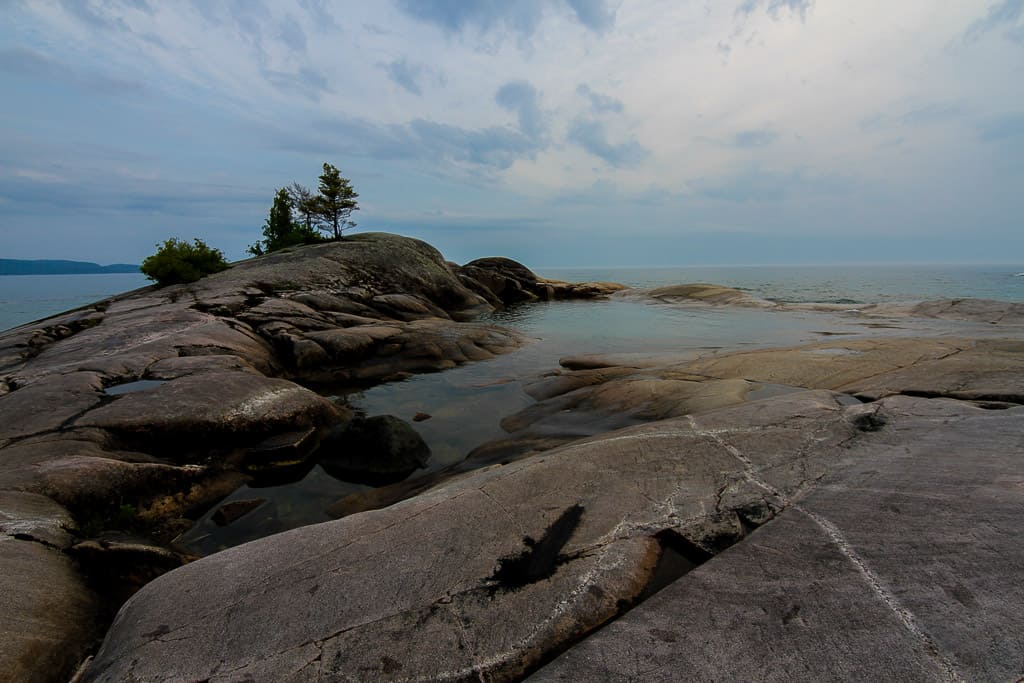 #34 Explore some very Canadian highway attractions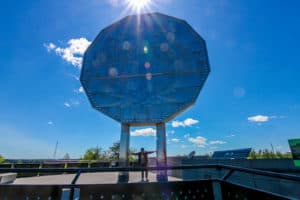 From giant apples, to giant nickles and to giant Canadian Geese we Canadians certainly got creative with our highway side attractions.
This incredibly comprehensive map shows you over 1200 of these attractions across Canada. Ontario has a ton of its own and one of the more well known ones is the giant nickle located in Sudbury (and pictured below).
 #35 Catch some sunsets and/or sunrises
Alright, this one might not be exclusive to Ontario by any means but with the fantastic geography we have in the province it provides some absolutely spectacular sunsets and sunrises. You can catch some over a city skyline, over a beach, over a forest or even over a lake. Bonus points for the fact that it's so warm you won't even regret doing it!
#36 Visit a Farmers Market Around the Province
Farmer Markets are great because they support local businesses, let you get outside and provides you with fresh products! Given how many farms there are around Ontario that also means there's a ton of Farmers Markets around the province to check these goods out at. This is an excellent website that lets you find over 180 markets based on location (you can even select the days you want to visit!).
 #37 Cut yourself a bouquet of fresh flowers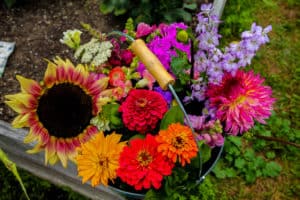 Country Cut Flowers is a farm located just outside of Newmarket (approximately 45 minutes north of Toronto) where you used to be able to drop by and cut yourself a stunning bouquet of fresh flowers (like ours pictured). But due to some recent publicity they've decided to close down the drop in system and arrange for reserved spots instead.
Yes it takes some of the spontaneity out of it but you're still able to gather yourself a beautiful bouquet, feel accomplished by cutting it yourself and get to take it home! Check out the Facebook page for upcoming dates!
There are of course other farms around Ontario where you can do the same thing so make sure to check those out as well!
How many of these items have you already managed to check out in Ontario? What's on your list for the summer? Let me know in the comments and pin this post for your own travels!