Toronto's food scene is absolutely insane. It's my mission to share as much as possible of it in my Where to Eat in Toronto Series and this latest post brings you some of the best coffee shops in Toronto! Now personally, I don't drink coffee. I know, I know. But I'm just not a fan. There are however plenty of people who love coffee so I've reached out to some fellow travel bloggers for their personal favorite places to find coffee in Toronto so read on for the best coffee shops in Toronto!
Soho House
Malou from Skip To Malou selected Soho House as their pick:
Soho House in Toronto is probably not the first place that comes to mind for a great coffee, but the cold brew is one of the best I've ever had and the rooftop is amazing in the summer. The food is also excellent and I love the 'no phone' policy – you're not allowed to take any photos of anyone there, which allows everyone to relax and really engage in great conversation. Founded in London in 1995 as a private members' club for people in the creative industries, Soho House & Co has since opened clubs across Europe and North America. The only downside is that since it's a members club, you'll need to sign in as a guest of a member, but you can check with various travel groups to see if anyone would be willing to host you!
Soho House Toronto is based in the historic Bishop's Block on Adelaide Street West. I'm quite a stickler for trying to cut down on single use plastics, so I would also recommend that you ask for them to leave out the straw when you're ordering your drink. Every little helps!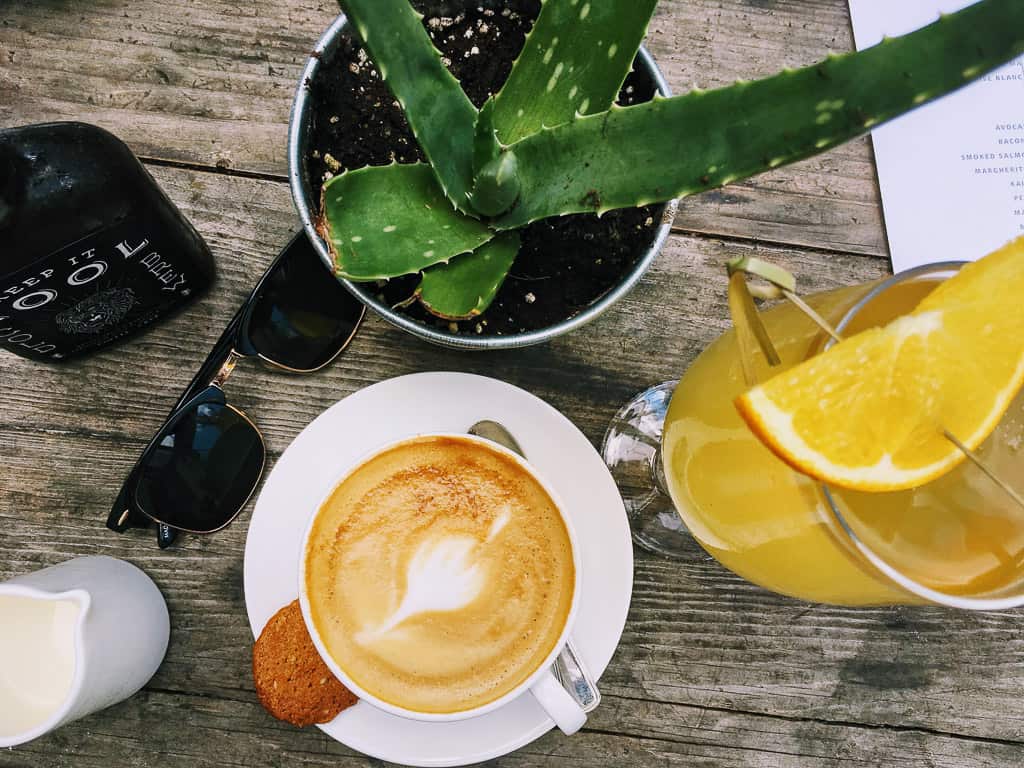 Snakes and Lattes
Samah from God and Wanderlust selected Snakes and Latte as their pick:
Sip a latte and munch on some snacks while playing a board game at Snakes and Lattes. With bookshelves littered with every board game you can imagine, it's fairly easy to find a game whether it's two of you or several and the knowledgeable servers are there to help figure out game rules. What's better is their full fledged menu where you can stop by for lunch or curb that post-dinner hunger. I'd recommend the roasted veggie and goat cheese wrap or their delicious soba noodle salad. Snakes and Lattes has three locations within Toronto and it's the perfect cafe to try something different while eating out.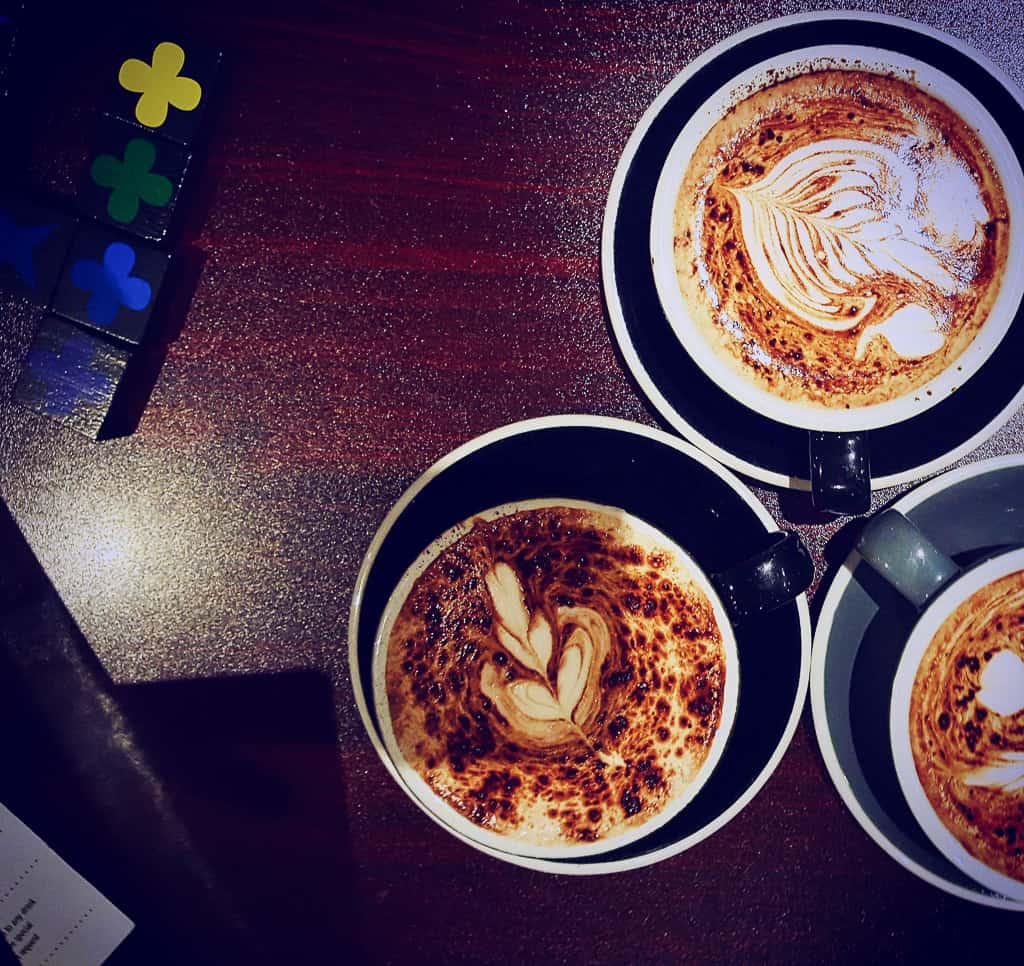 The Sovereign Cafe
Kristal from Adventure Dawgs selected The Sovereign Cafe as their pick:
I drink a lot of coffee and I have found a few places in Toronto that I like, but by far my favourite is The Sovereign Cafe. There are two locations: the main cafe is at 1359 Davenport Road and a much smaller cafe at 3 Oakwood Road. The main location has seating and space for parking while the smaller cafe on Oakwood is mainly take-away with a few chairs outside.It's not much bigger than a closet but I can leave my dogs outside and we still see each other.
What I like about The Sovereign Cafe, other than the smooth-as-silk coffee, is the fact that the gentleman working knew my "usual" after two visits and I saw that other customers were greeted the same way. That personal touch is lacking in so many other places. Oh and get the cortado.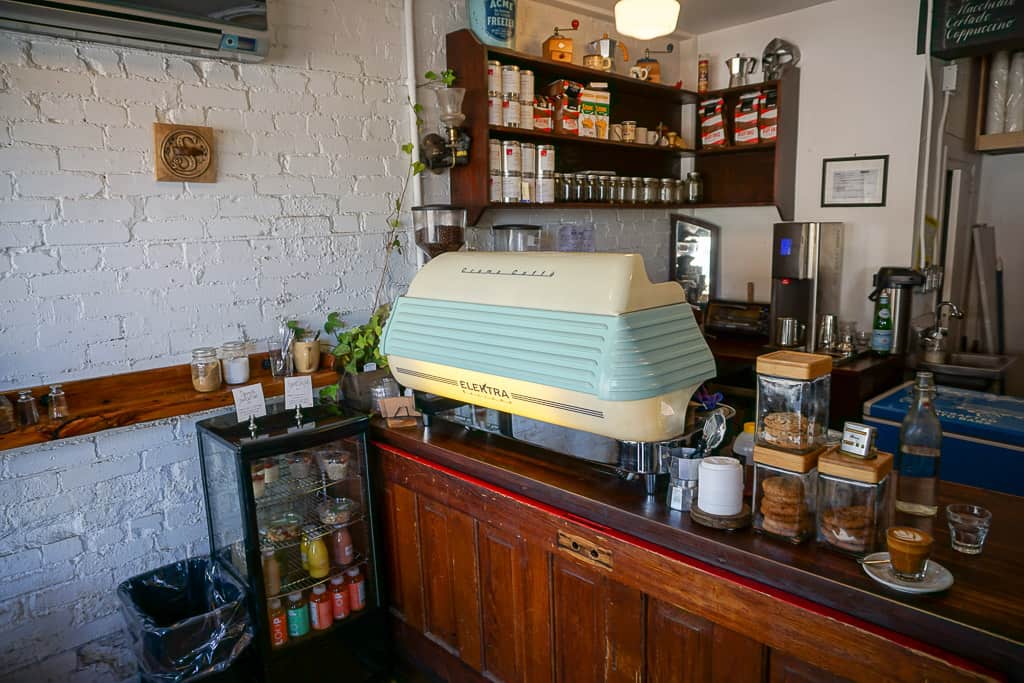 Moonbean Coffee Company
Christopher from Rudderless Travel selected Moonbean Coffee Company as their pick:
One of my favourite places in Toronto is the always eclectic Kensington Market. It's definitely different but at the same time it's original and it's authentic. Nothing is cookie cutter and nothing fits the mold, but everything can be found there.
In addition to Kensington Market, I created a list of some of my other favourite Toronto spots in my 48 Hour Toronto Itinerary. But for now lets talk coffee. I heard that Starbucks once tried to set up shop in Kensington Market and the residents and store owners sent them packing. What that means is that the coffee shops in Kensington Market are one of a kind.
Accept no substitutions.
One of those coffee shops is Moonbean Coffee Company. They only deal with the highest grade of green coffee from countries worldwide. (Single estates, micro lots, is Certified Fair Trade or Organic, Rain forest Alliance and other certified places). The science behind the superb smell and outstanding taste it their process of roasting small batches to gently bring out the coffees individual character. They also carry a big selection of brewed coffee, their signature espresso base beverages and over 30 loose leaf teas. In addition, if you have a sweet tooth like me then you will enjoy the house baked goods like biscotti as well as cakes from local bakers that include vegan and gluten free choices.
If you're ever in Toronto don't you dare miss Kensington Market and when you're in Kensington Market get your caffeine fix at Moonbean.
My South American coffee loving friends who know coffee, love it when I bring them there!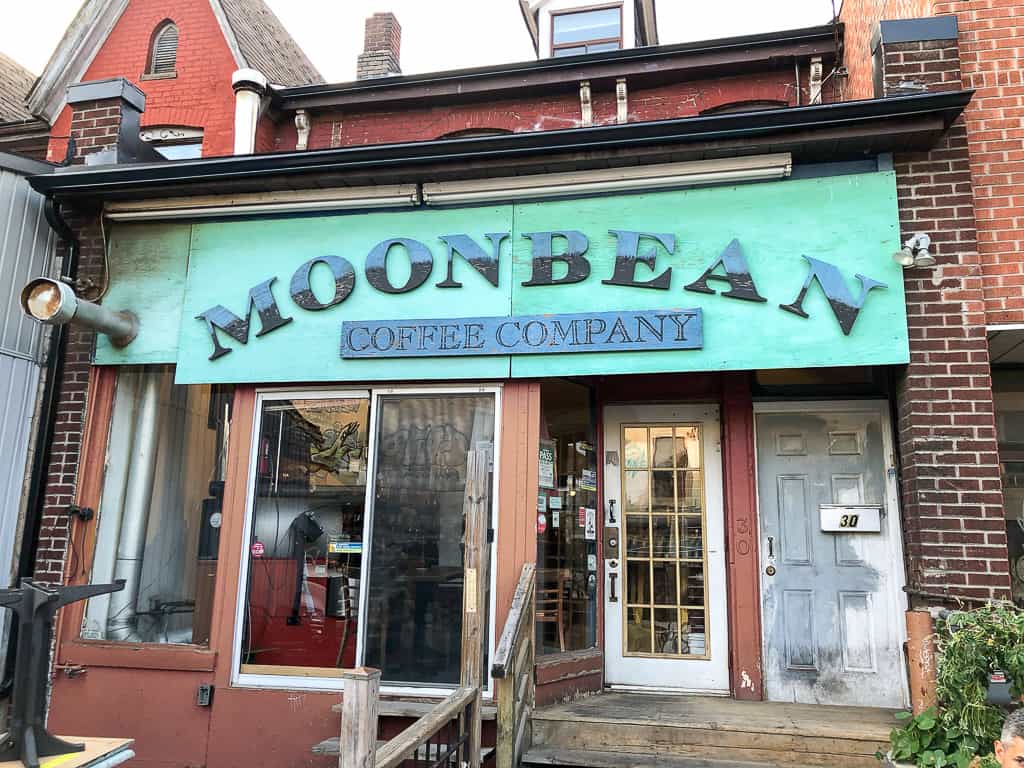 Tori's Bakeshop
Lauren from Justin Plus Lauren picked Tori's Bakeshop as their choice:
Tori's Bakeshop is a 100% vegan coffee shop with two locations: their first coffee shop opened in The Beaches, and they now have a second location in the Canary District. You'll find delicious coffee and tea beverages made from your choice of plant-based milks, such as soy, almond, coconut, and oat milk. Go for your standard coffee or cappuccino, or try something more unique like a lavender latte. Pair your coffee with one of their delectable desserts. Their decadent donuts, cupcakes, cinnamon buns, cookies, and other baked goods are so delicious that you won't miss the dairy or eggs for one second. If you don't manage to make it out to their two cafes, Tori's Bakeshop is a regular at the annual Toronto Veg Food Fest every September at the Harbourfront Centre, which is a free event that you shouldn't miss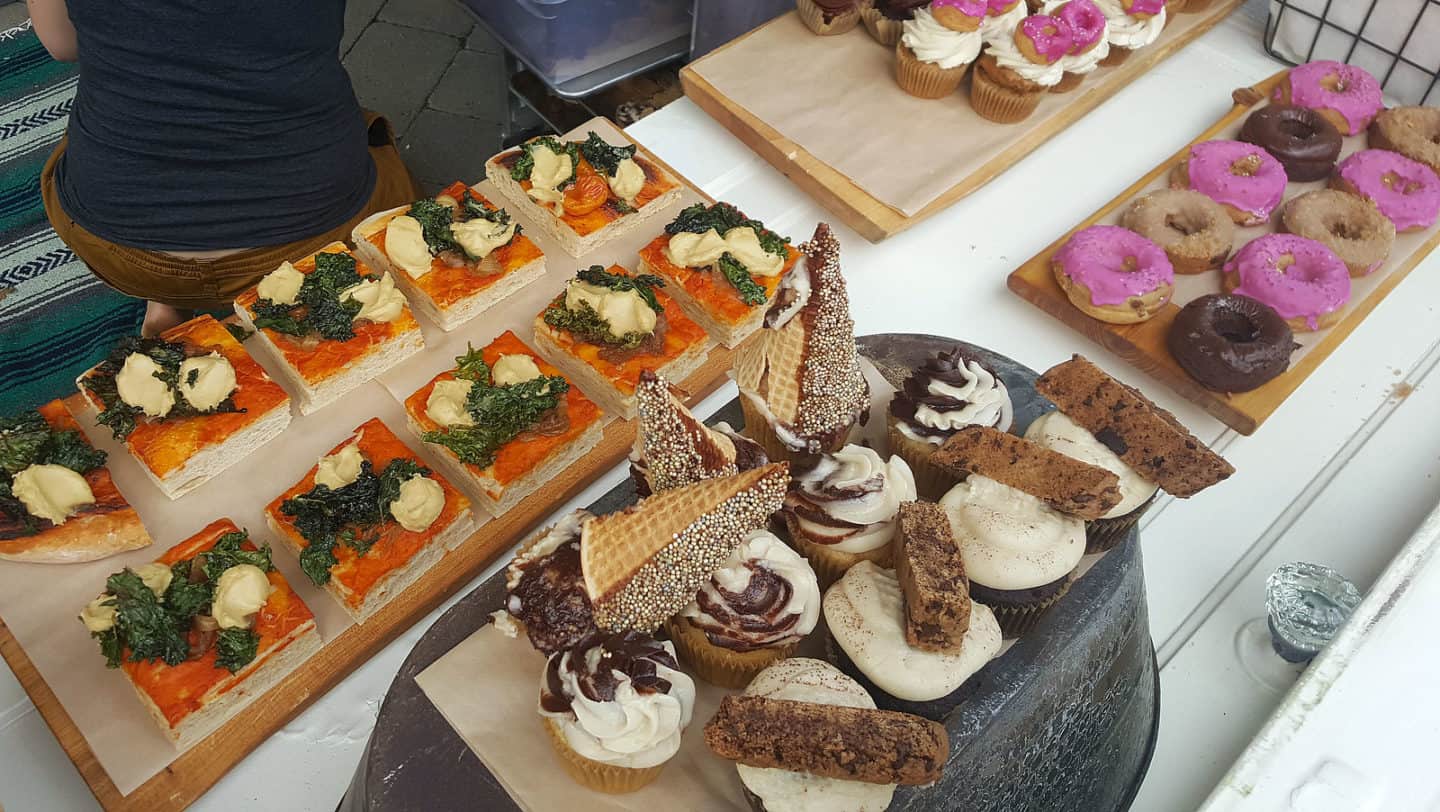 FIKA Cafe
I, of course, had to pick a place myself even if coffee isn't really my thing. My pick is the very Swedish FIKA Cafe in Kensington Market. The word fika is actually a Sweidsh word which means taking a break to grab a coffee and some kind of dessert. It's pretty much part of your daily life there. Anyways, more about the actual place! I'm totally partial to it since I'm Swedish but the inside of the cafe is actually super cool and the outside patios on both the front and back of the cafe are both really cool places to relax. While I don't drink the coffee, my friends seemed to enjoy it so I consider that a win for it. I'm really here to tell you to order the semla! It's a traditional Swedish pastry (the one with the little lid in the below picture) and it's honestly to-die-for.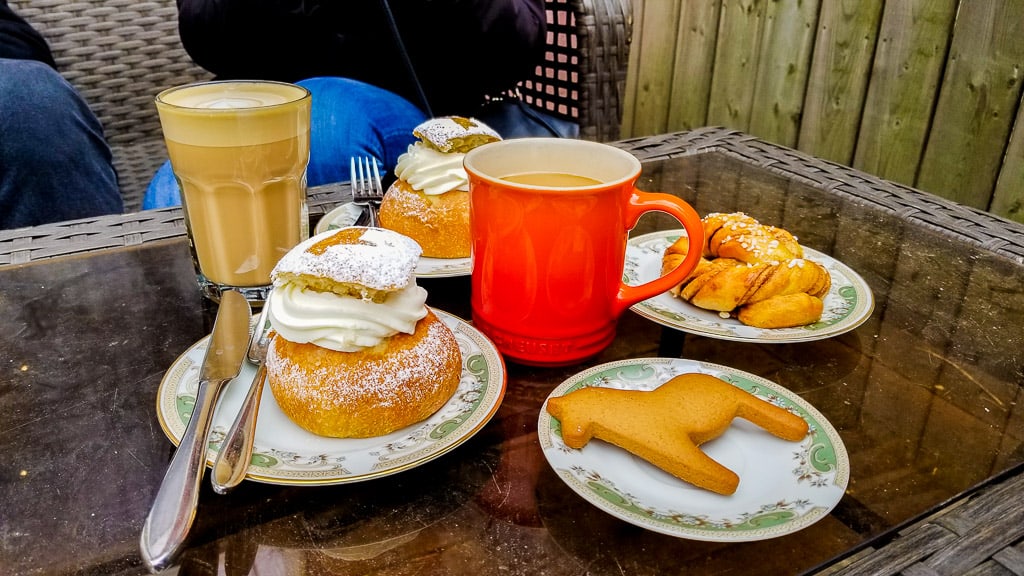 There you have it folks! 6 of the best coffee shops in Toronto. I've put them all on a map right below so you can figure out which one is closest to whatever activity you're doing!
Are you a coffee drinker? Have you checked out any of these places? Is there a favorite of yours we totally missed on this list? Let me know in the comments and pin this post for your own upcoming trip to Toronto!