Canada is one hell of a country if I do say so myself. While I wasn't born here I've 100% adopted this country as my own in the last 15 years I've spent here. Canada is a huge country (in fact, the 2nd biggest country in the entire world) with a giant list of things you can do here. While there are plenty of reasons to visit Canada it can sometimes be difficult to figure out where to start off a trip in Canada hence this list! I've reached out to some fantastic fellow travel bloggers to get their opinion on the most beautiful places in Canada that you can use as your starting base for your own trip to Canada!
Alberta
Edith Cavell Meadows in Jasper National Park
Jill of Adventure J suggested Edith Cavell Meadows in Jasper National Park and I'm definitely seeing why:
Edith Cavell Meadows is one of the most stunning day hikes you can tackle in the Rocky Mountains. Located in beautiful Jasper National Park, Alberta, this hike takes you right to the edge of a stunning glacier fed lake called Edith Cavell Pond. From the waters edge you can look up and marvel at Angel Glacier, hanging precariously off the edge of Mt Edith Cavell. From there, a well marked trail leads you up through a high alpine forest to beautiful open mountain meadows (hence Edith Cavell Meadows). The views from the top are even more breath taking than the ones from below as you realize you're at eye level with Angel Glacier. What makes this hike so amazing is how easy it is to get right into the beautiful mountains with only an hour or two of hiking. For such a short trek (just under 8 kms round trip) there are 3 incredible lookouts along the way so its well worth the effort to do the entire hike.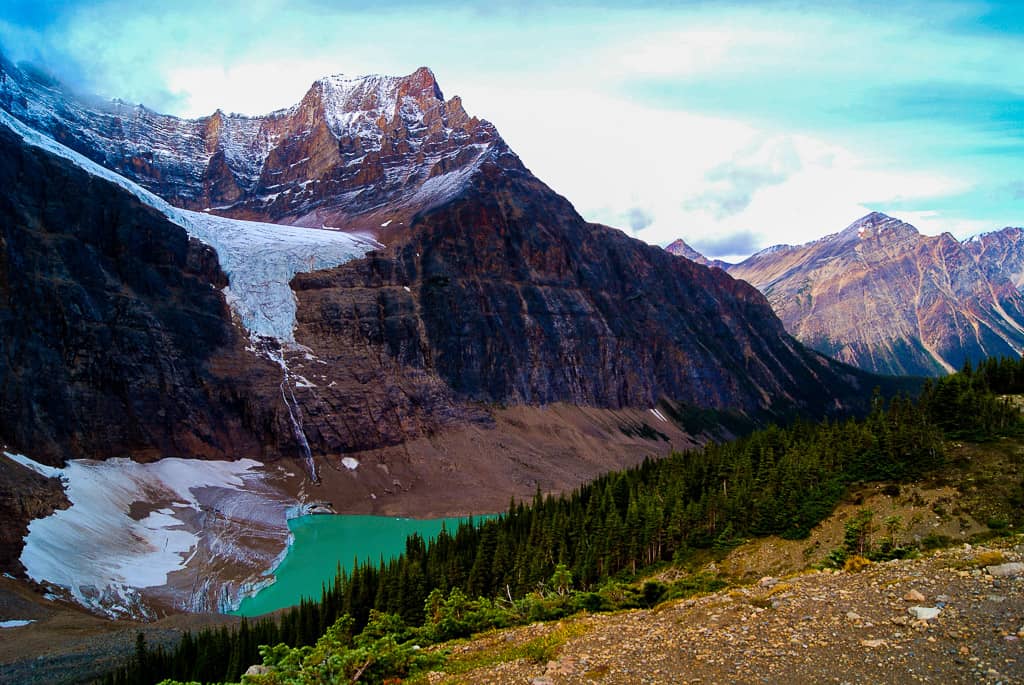 Lake Agnes + Lake Agnes Tea House in Banff National Park
Julianne of It's Five Here selected Lake Agnes and its tea house and after seeing this picture I'm definitely sorry I missed out on it:
Without a doubt, Lake Agnes Tea House is one of the most beautiful places in Canada. Located in Banff National Park (near Lake Louise), the Canadian Pacific Railway built Lake Agnes Tea House in 1901 as a refuge for hikers, and they've been serving tea for over a hundred years (since 1905). To get to the tea house, thirsty travelers must put in the work first by hiking up a gorgeous 3.5-kilometer trail before sipping on a cuppa. This doesn't deter the masses, however: the Lake Agnes Tea House trail is one of the most popular hikes in Banff. Your legs might be a bit sore when you reach the top, but never fear: the reward is worth it. You can relax and sip on one of over 100 different types of loose leaf tea at Lake Agnes Tea House as you gaze out at the majestic mountains in front of you. It's pure, uninterrupted bliss.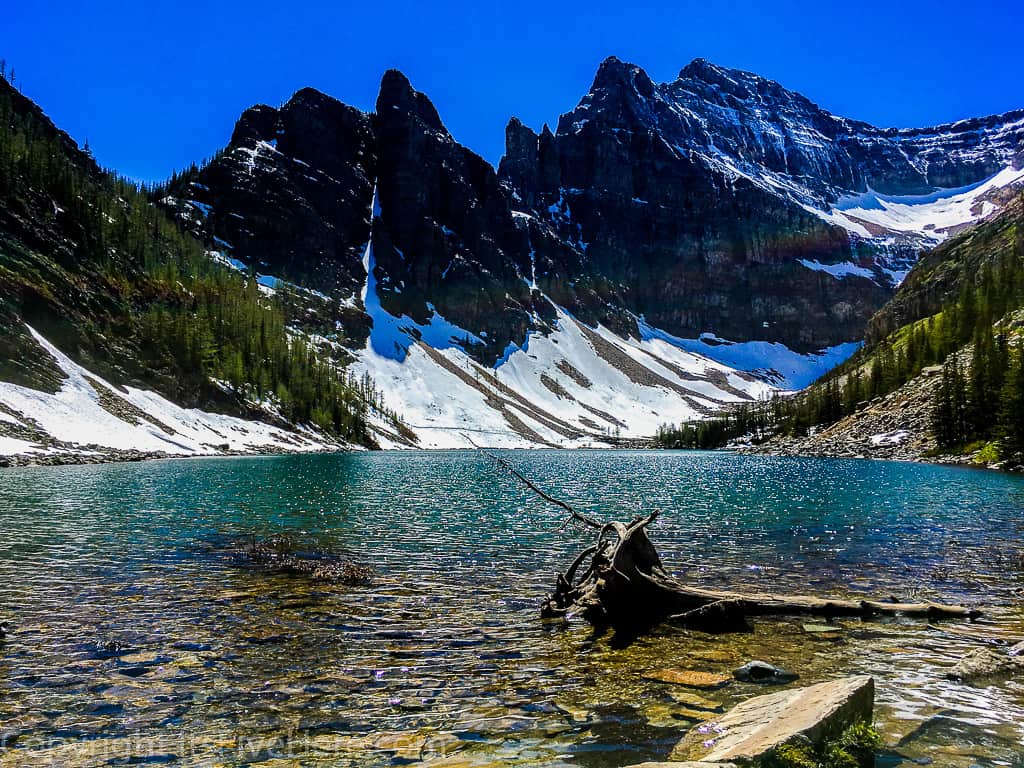 Lake Louise in Banff National Park
Meagan of Two Restless Homebodies selected Lake Louise as their most beautiful place in Canada and I couldn't agree more:
Lake Louise: one of the most frequented glacial lakes in Banff National Park. Why? Because it's easy to access, home to a gorgeous hotel, STUNNING to look at, and surrounded by a number of picturesque hiking trails. What's not to love?! For the perfect Lake Louise experience, start out on the boardwalk in front of the lake, taking that iconic shot with the mountains and opaque turquoise water behind you. Then, if the weather's kind enough, rent one of Lake Louise's famous red canoes and take a paddle out onto the water to take in the scenery up close. If you're feeling energetic, find one of the nearby trails (we hiked Big Beehive and couldn't believe the amazing view from the top) and take an adventure alongside this beauty. Or, if you're looking for a luxurious rest with a view, make sure to head over to the Fairmont Chateau Lake Louise for afternoon tea or a bite to eat. At Lake Louise, neither you nor your camera can go wrong!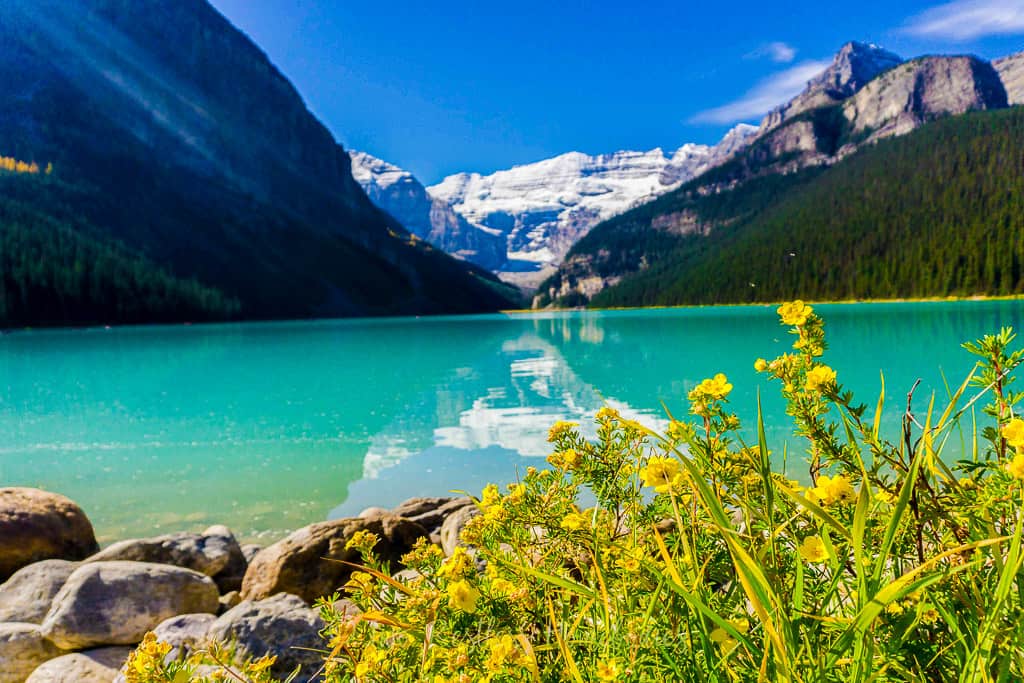 Maligne Lake in Jasper National Park
Ivana from Post Cards from Ivi picked Maligne Lake and I'm so glad this got included in the list because I absolutely loved it:
Maligne Lake is located in Jasper National Park in Alberta. It is definitely one of the most beautiful natural lakes in the region and a place you can't miss if you're visiting Jasper. Surrounded by peaks, this lake is famed for the colour of its water, fed by the glaciers of Jasper National Park and Spirit Island, a small islet on the lake. Maligne Lake was one of my favorite places on my road trip to Banff and Jasper National Parks and I would recommend it to any nature lovers and outdoor travelers.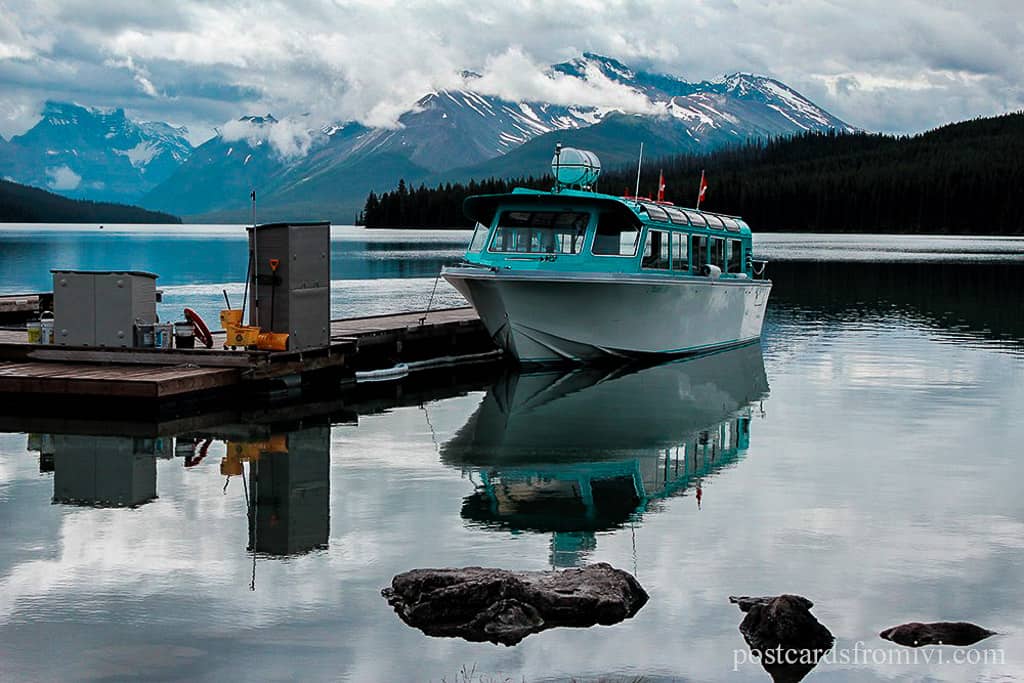 Moraine Lake in Banff National Park
Kristal from Adventure Dawgs picked Moraine Lake and I have to agree that it's definitely one of the absolute most beautiful places in Canada:
Banff National Park is undoubtedly one of the most famous of the Canadian parks and Moraine Lake is one of the most spectacular lakes in the park.  Travel along the Trans-Canada Highway and just south of Lake Louise you'll find Moraine Lake Road.  The road is only 13 km (8 miles) long but it seems much longer as it winds through the pine trees to the lake.  There are shuttle buses from Lake Louise if you don't want to drive.  The lake is fed by the glaciers covering the sides of the towering mountains above you.  There are a few trails around the lake that provide the opportunity to view the scenery from different areas.  Or you can rent a canoe to explore from the water.  Visitors to the park will have the chance to see plenty of wildlife and the area around Moraine Lake is known for grizzly bear activity.  While the park is open year-round, peak visitor season is typically July and August.  Make sure pack extra layers because it can be quite cool close to the water.  If you're like me and travel with dogs, they have to be kept on leash at all times.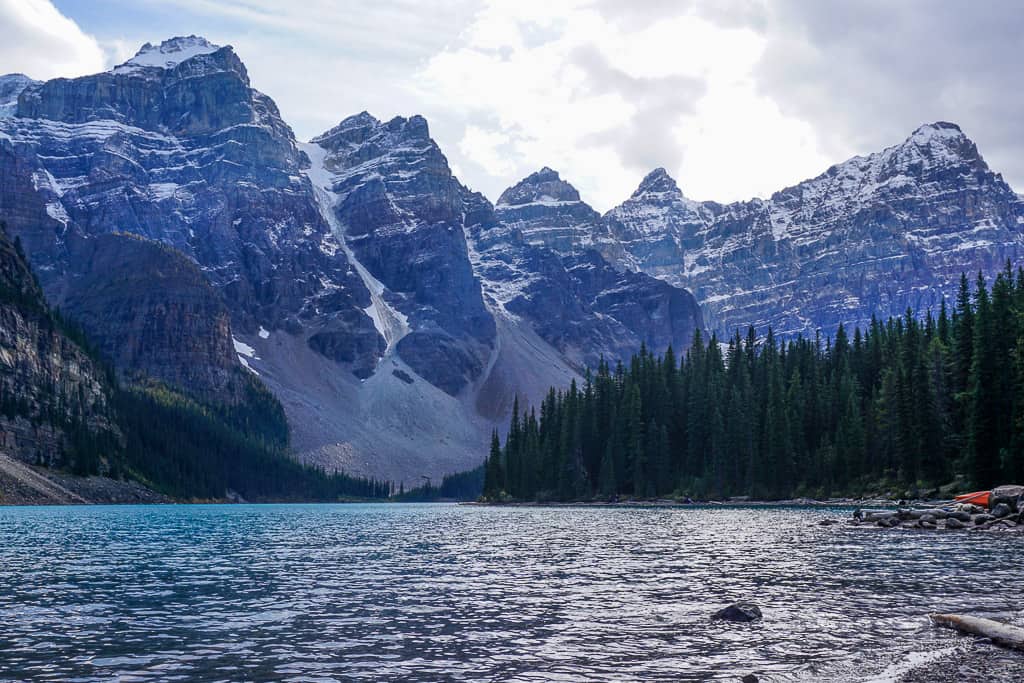 Wilcox Trail Pass, Columbia Icefields, Jasper National Park
Michelle from the Wandering Queen picked the Wilcox Trail Pass in the Columbia Icefields and look at how stunning it is:
Located in Canada's Jasper National Park, The Columbia Icefield is an astounding area to experience. One of the most beautiful regions in Alberta, the icefield is full of tall, grand mountains and ice-blue glaciers. The minute you set eyes on the stunning views, you can not keep your eyes off of them. The Columbia Icefield is home to the glorious Athabasca Glacier. To have the ultimate glacial experience, you can purchase a ticket for a guided tour to hike directly on the glacier! Walking on the glacier without a guide is strictly prohibited due to safety reasons as well as environmental. If paying to walk on the glacier isn't your cup of tea, then make sure to take a walk right up to the glacier. Another excellent option for enjoying the area is to
hike the Wilcox Pass Trail
. Of all the hikes in the Canadian Rockies, this hike was my absolute favorite. Why? Because, the majority of the trail has lush green fields with towering mountains in the distance, all while cute Bighorn Sheep are watching you from afar. Plus the view of Abathasca is surreal. Columbia Icefield is one of the best areas in Jasper National Park and shouldn't be missed on any excursion in Alberta Canada.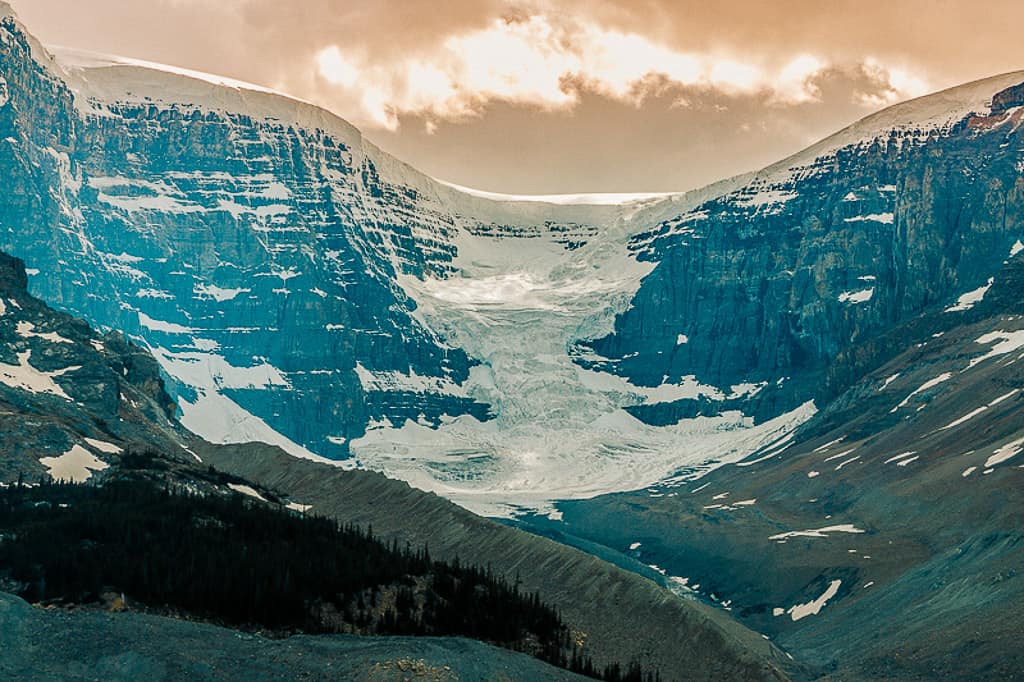 British Columbia
Emerald Lake, Yoho National Park
Dhara from Not About the miles picked Emerald Lake in Yoho National Park which is a place I can't wait to get to:
In a region full of spectacular natural wonders, Emerald Lake in British Columbia still shines like the gem after which it is named. The lake is located in Yoho National Park, part of the Canadian Rockies UNESCO World Heritage Site. Emerald Lake was discovered in 1882 by Tom Wilson, a Canadian guide, when he was chasing horses that had broken away. Enthralled by the beautiful lake, he gave it the name of Emerald Lake because of its color. Nestled in the midst of tall mountains, the alpine lake really is that surreal blue-green color you see in photos. Visit in the summer, when the lake is fully thawed. You can rent a canoe or rowboat and get out onto the water to appreciate the beauty of your surroundings. Or you can walk around the lake; there is a 3-mile trail that goes all around the lake and also affords stunning views of mountains and glaciers. Emerald Lake is easily accessed from both Lake Loiuse and Banff, but if you want to spend the night, Emerald lake Lodge is located right at the water's edge. The Lodge also boasts two restaurants, perfect for lunch.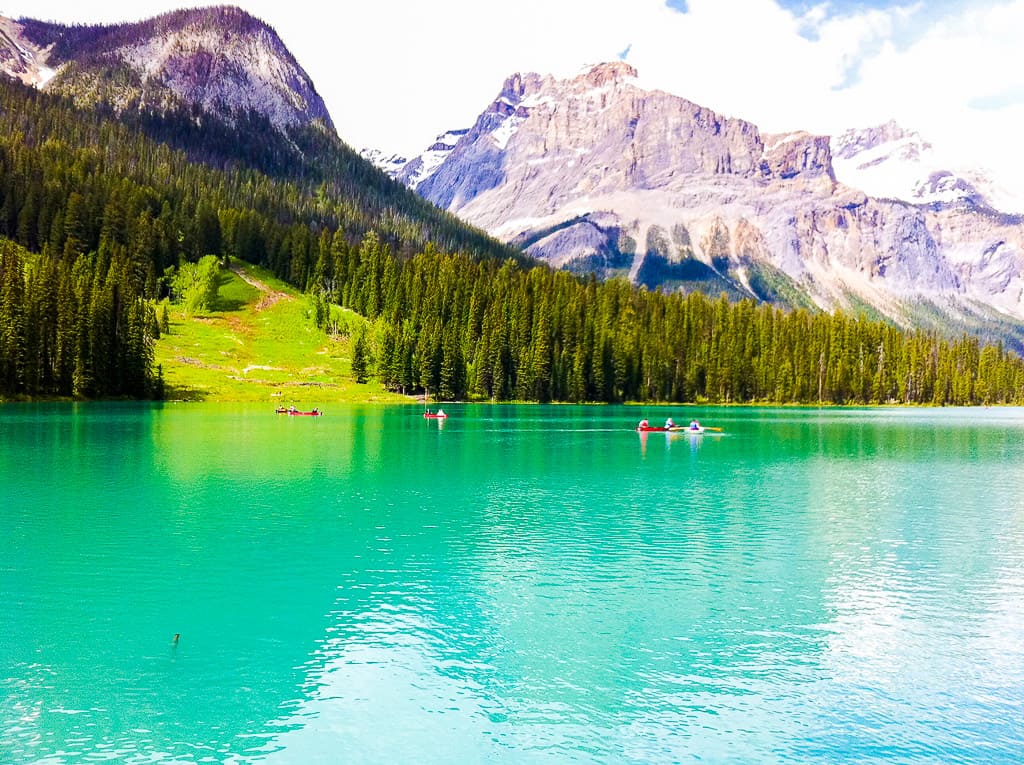 Garibaldi Lake, Garibaldi Provincial Park
Hannah of That Adventurer picked Garibaldi Lake in Garibaldi Provincial Park and look at how stunning it is:
Garibaldi Lake in Garibaldi Provincial Park is between Vancouver and Whistler in BC. The lake is a stunningly beautiful cool-blue; just like you imagine when you think "Canadian lake"! It's a 6 hour round hike to get to Garibaldi Lake, but I promise it's more than worth it! At 11450 meters above sea level and surrounded by snow capped mountains and alpine meadows you'll want to spend at least an hour soaking up the scenery. The lake is glacier fed so it's freezing cold but a (very) quick dip is the perfect way to cool down after your steep hike up there!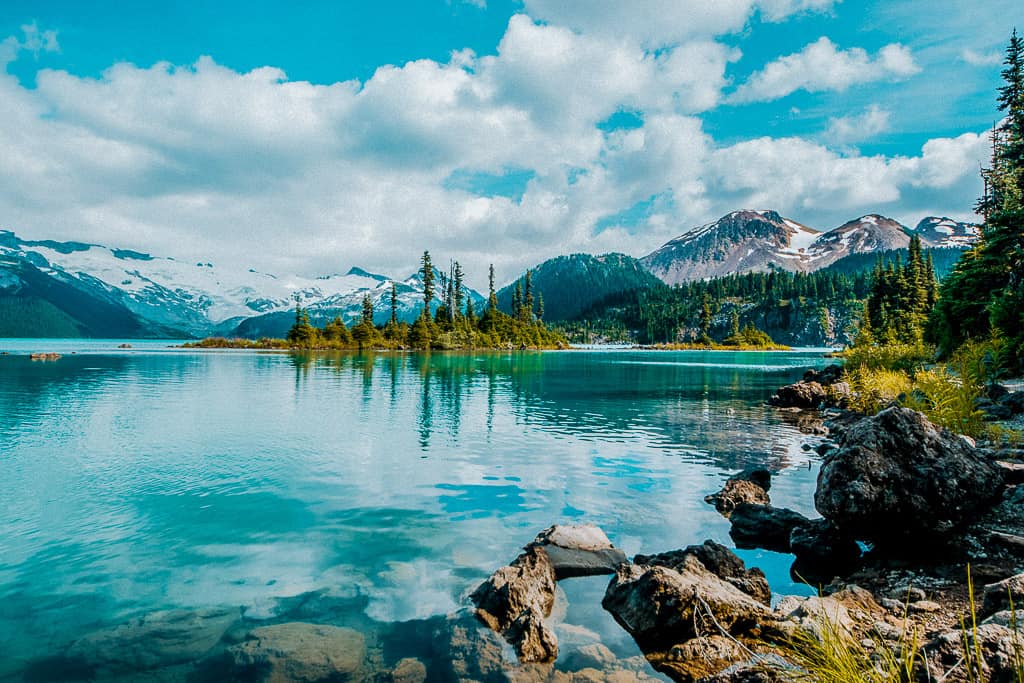 Golden Town
Ben from
Horizon Unknown
selected Golden Town as their pick of the most beautiful place in Canada:
Golden, in British Columbia, is not only a nature lovers paradise, it's also a great place for adrenaline junkies! Situated around three hours west of Calgary, Golden is surrounded by three mountain ranges and five national parks, so there is something to suit every visitor. Hiking, white water rafting, mountain bike riding, snowboarding – the list goes on and on. All while being surrounded by magnificent mountains and thick pine tree forests. With so many activities to choose from, experiencing the beauty the way you want is almost too easy. But you don't need to step foot outside Golden to be immersed in the beauty of the town. Golden was built around the merging of two rivers, Columbia and Kicking Horse River. Just walking along the shoreline gives a lovely view of the quiet town with mountains towering in the distance. If you're in search of adventure or just a relaxed town to soak in stunning scenery, then you can't do better than Golden!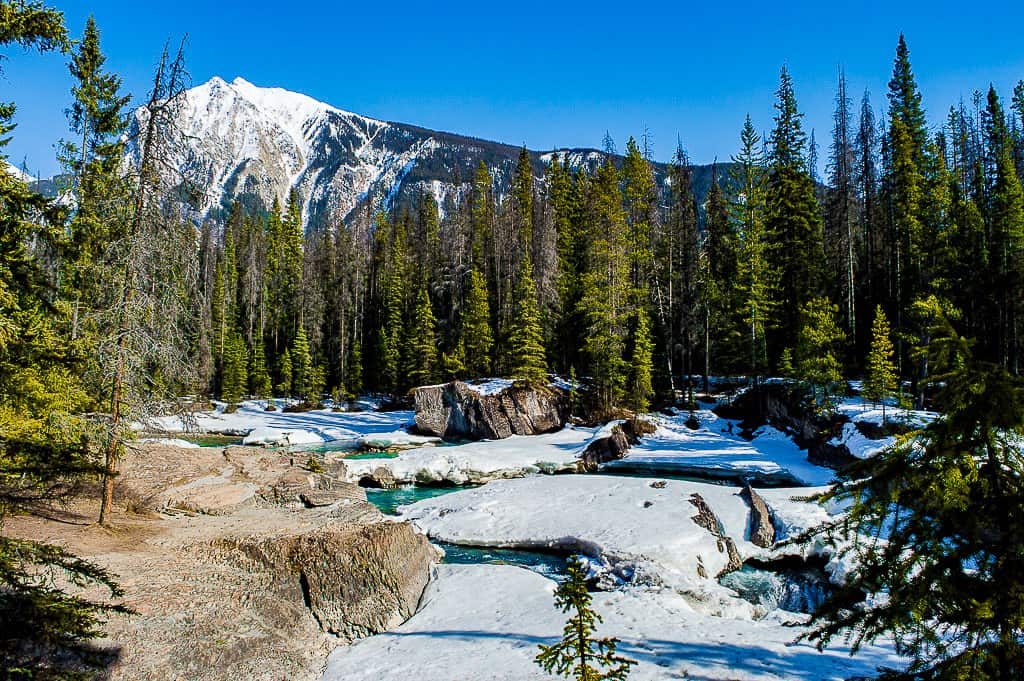 Granville Island, Vancouver
Margie of
DQ Travel
selected Granville Island in Vancouver as their most beautiful place in Canada and it's such a great pick:
Granville Island is located on the southern side of Vancouver just under the Granville Bridge. It is known for its public market, arts and theater district, shopping, restaurants, and craft stores. It's a beautiful place to stroll, eat/drink and enjoy the outdoors with the Vancouver skyline in the distance. Granville Island has become a favorite of locals and tourists alike due to its public market with food vendors, fresh produce, award-winning restaurants and laid back vibe. The boutique shops filled with artisan crafts and goods are also a reason people are drawn to this outdoor mecca. Due to its location on False Creek, the Granville Island marina and seaport are also busy with activity. During the summer months, people kayak and paddle board around the island or take a ferry to enjoy the views. Overall, Granville Island is a nice, relaxing place to spend an afternoon soaking in some local food, arts and culture.

Haida Gwaii (formerly Queen Charlotte Islands)
James from Travel Collecting picked Haida Gwaii as their most beautiful place in Canada:
Haida Gwaii, formerly known as the Queen Charlotte Islands, is an archipelago off the coast of British Columbia, north of Vancouver Island. You can only reach it by plane from Vancouver or ferry from Prince Rupert.  Taking a kayaking trip around Haida Gwaii is the best way to see the islands, as this allows you to slow down and take everything in at a leisurely pace.  There is an eerie beauty to the islands.  They are covered in cedar and spruce trees and frequently half-shrouded in sea mist.  Spanish moss hangs on trees, large ferns and soft moss form a carpet below and pebble beaches are often strewn with drift wood. It is not uncommon to see black bears and Sitka Deer on the shore, bald eagles flying overhead, and whales, seals and sea lions swimming nearby.  Haida Gwaii is a nature wonderland.  The highlight, however, is visiting SG̱ang Gwaay (Ninstints in English), which is the best-preserved (now abandoned) First Nations village in North America, and can only be reached by boat.  Witnessing the rows of slowly-decaying totem poles as they gaze hauntingly out to sea is an amazing experience.  This is a rare, magical place.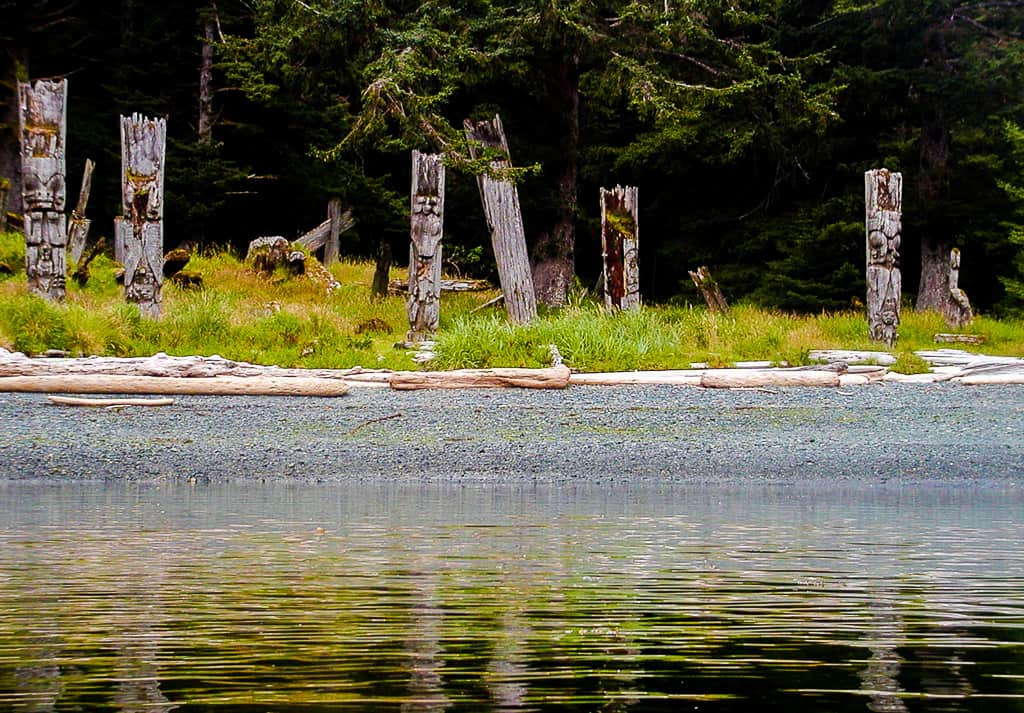 Salt Spring Island
Shannon from Sole Seeking picked Salt Spring Island for their most beautiful place in Canada selection and look at how stunning that view is:
In the middle of the Pacific waters between Vancouver Island and mainland British Columbia, you'll find the rural oasis of Salt Spring Island. The largest of the Canadian Gulf Islands, it can be accessed via ferry from either Swartz Bay or Nanaimo on Vancouver Island. Salt Spring may be renowned for its hippie culture, but it offers something for everyone, whether you are seeking delicious local cuisine, exciting outdoor adventures, or lazy days by the ocean. The weekly Saturday market in the main town of Ganges showcases a variety of locally made products that demonstrate the natural beauty of West Coast living. During the rest of your visit you can cycle along quiet roads past lush meadows full of grazing animals, visit a winery or cidery to sample some of the region's local fruits, kayak or paddle-board on lovely St. Mary's Lake, hike up Mt. Maxwell for breathtaking views of the island-dotted Pacific Ocean, and enjoy a dreamy sunset on one of the many tranquil beaches. From striking bald-eagles to colourful jellyfish, there is an abundance of unspoiled nature to be discovered on Salt Spring Island. If you are looking for an escape from urban living, choose the beautiful environment of Salt Spring Island.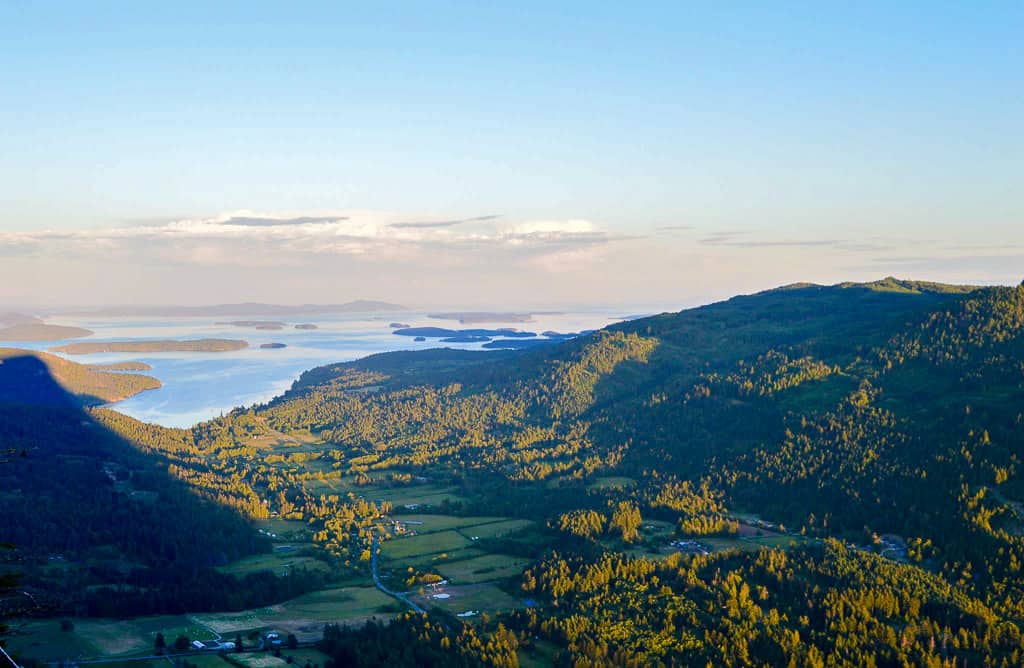 Small Towns, Vancouver Island
Lori from
Fitz 5 On the Go
 picked the small towns of Vancouver Island as their most beautiful place in Canada;
For the first month of our family travel gap year we chose to stay just north of the lovely town of Ladysmith, British Colombia.  It was a perfect choice.  Vancouver Island is beautiful and dotted with lovely small towns.  We spent our days wandering tide pools, watching otters play, swimming and exploring the nearby towns and cities.  Ladysmith's downtown has lovely shops and some great family friendly restaurants.  There is also a wonderful park and playground along the waterfront.  Ladysmith is 20 minutes South of Nanaimo and a little over hour north of Victoria and we enjoyed visiting both cities.  The nearby town of Chemainus is also a wonderful small town to visit.  It's famous for its 39 murals that cover many of the downtown buildings and can make for some great photos.  The downtown has a great little park and playground.  Other photogenic small towns worth a visit include Parksville, Cowichan Bay, and the stunning Tofino (on the west Coast).  With so many idyllic towns to choose from and such fabulous scenery around every corner, Vancouver Island makes a wonderful spot to explore this beautiful part of Canada.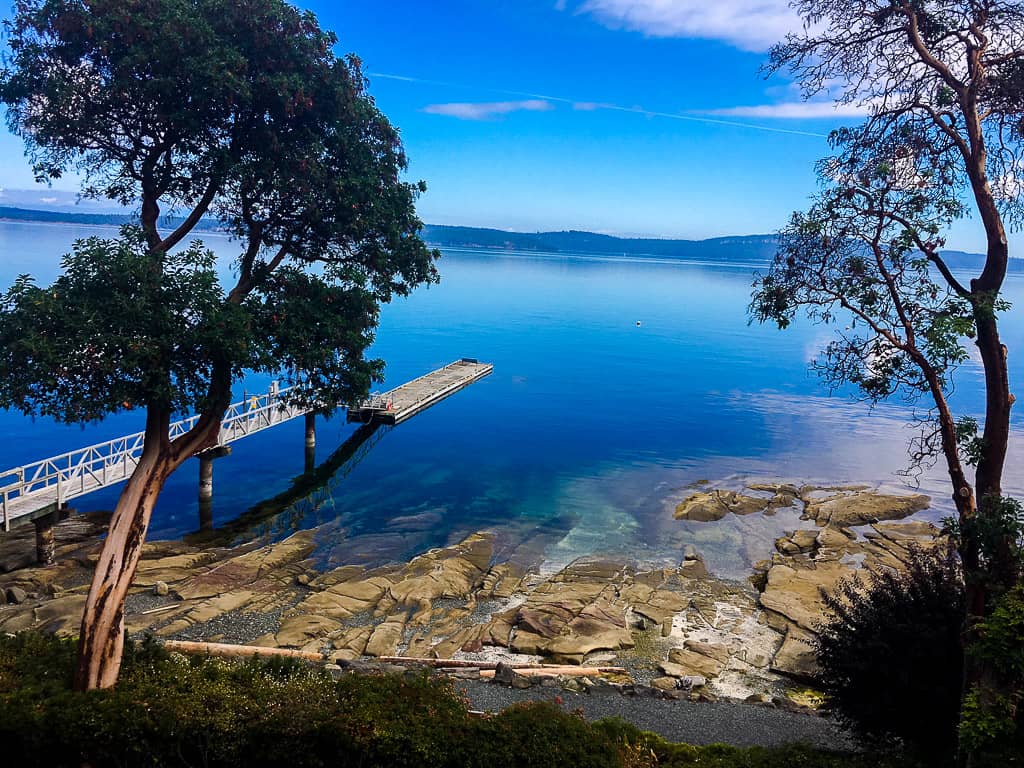 Watersprite Lake near Squamish
Josy from A Walk and A Lark picked the stunning Watersprite Lake as their most beautiful place in Canada selection:
Squamish if full of ridiculously pretty views, but I think my favourite has to be the beeeeautiful Watersprite Lake. It is a bit of a trek to get there; You need a 4×4 vehicle to make it to the trail head, then you have to hike for 8.5 km (through admittedly gorgeous back-country) to get to the lake. But once you've made it, you will be greeted by gorgeous emerald green water surrounded by steep mountains in all directions. On calm days, the lake turns into a giant mirror, reflecting the surrounding snow and distinctive Watersprite Tower. This is one location that really deserves its fairy-like name! To find Watersprite Lake, take the Sea to Sky highway to Squamish, then turn right, just after the Chief onto the Mamquam River Forest service road. Keep following this road to the BC Hydro dam which is the trail head for the hike up to the lake.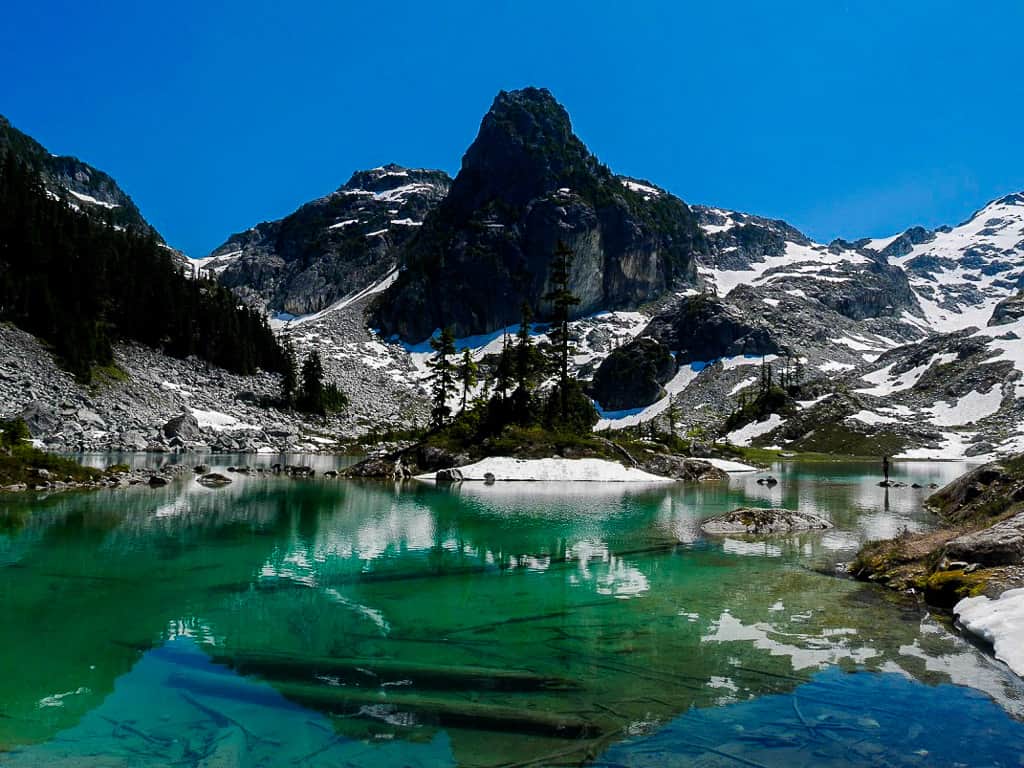 Manitoba
Polar Bears on the shores of Hudson Bay in Churchill
Bret and Mary of Green Global Travel picked the Hudson Bay in Churchill which is a place that's so amazing that it's on my Canadian Bucket List:
Located in northern Manitoba near the border with Nunavut,
Churchill
looks like any number of other tiny towns you might find in the Arctic region of Canada or Alaska. It has its own distinct charm, but for the most part the town's design is more about function than fashion. The only sign that Churchill is different is a literal one, warning residents and visitors alike to keep an eye out for polar bears. There's a good reason Churchill bills itself as "Polar Bear Capital Of The World." Located on the shores of the Hudson Bay, the town is prime bear-watching territory thanks to polar winds that turn the shallow water into ice early in the season. In October and November, hundreds of hungry polar bears make the pilgrimage to these shores to wait… and wait… and wait for enough ice to form that they can go out in search of their favorite delicacy: Ringed seals.
Outside of town, only 19 tourist vehicles have permits to enter the protected wilderness area. Even those are not allowed to deviate from the bumpy roads originally created when the military tested rockets in the area. Tourists are not allowed to set a single foot on solid ground. Feeding a bear will not only get you removed via helicopter immediately, but you will be handed a bill for the evacuation expenses. Clearly, these people are serious about protecting their bears.
As they wait, they lie around like overgrown puppies, occasionally getting up to stretch or play-fight (which is actually a way of establishing the hierarchy of power once they're out on the ice). Visitors ride around in massive ATV "Polar Rovers," which are built on a fire engine's chassis with massive wheels like you'd see on a combine. The bears, bored with waiting, will often put their paws up on the side of the vehicle, almost close enough that you can feel their breath. The area they gather in is undeniably beautiful. In autumn, the yellow, orange, and red colors of the tundra are reflected in the bay's calm waters. The landscape is dotted with Arctic foxes, Arctic hares, ptarmigan, snowy owls, and various other species of wildlife. And in winter the entire area becomes a snow-white wonderland.
Climate change is impacting the entire Arctic and sub-Arctic region of Canada. The ice forms later and later, and there's less and less of it every year. Who knows how long Churchill will remain cold enough to retain its title as the world's polar bear capital? But, for now, it offers an incredibly unique animal interaction that no wildlife lover should miss a chance to experience.

New Brunswick/Nova Scotia
Bay of Fundy
Lee and Stacey from One Trip At A Time picked the Bay of Fundy as their most beautiful place in Canada:
The Bay of Fundy, bordered by New Brunswick to the north and Nova Scotia to the south, boasts the highest tides in the world. Because there isn't an outlet to the east, the water has nowhere to go when the Atlantic rushes in which causes tides of up to 53 feet (16m)! This huge tidal range offers unique opportunities to walk on the "ocean floor" at low tide as well as dramatic photographs of the same places at low and high tide. In Truro, a tidal bore happens most days when water pushes against the river flow through the city. And in Saint John, where the Bay of Fundy collides with the Saint John River, a series of rapids and whirlpools are created when the rising tide reverses the flow of the river and creates the "Reversing Falls".
In several places around the Bay, ancient fossils are exposed such as at Joggins Fossil Cliffs – now a UNESCO World Heritage site. This is also an amazing place to go whale watching with multiple species using the Bay at different times of the year – like these humpback whales we were so fortunate to see.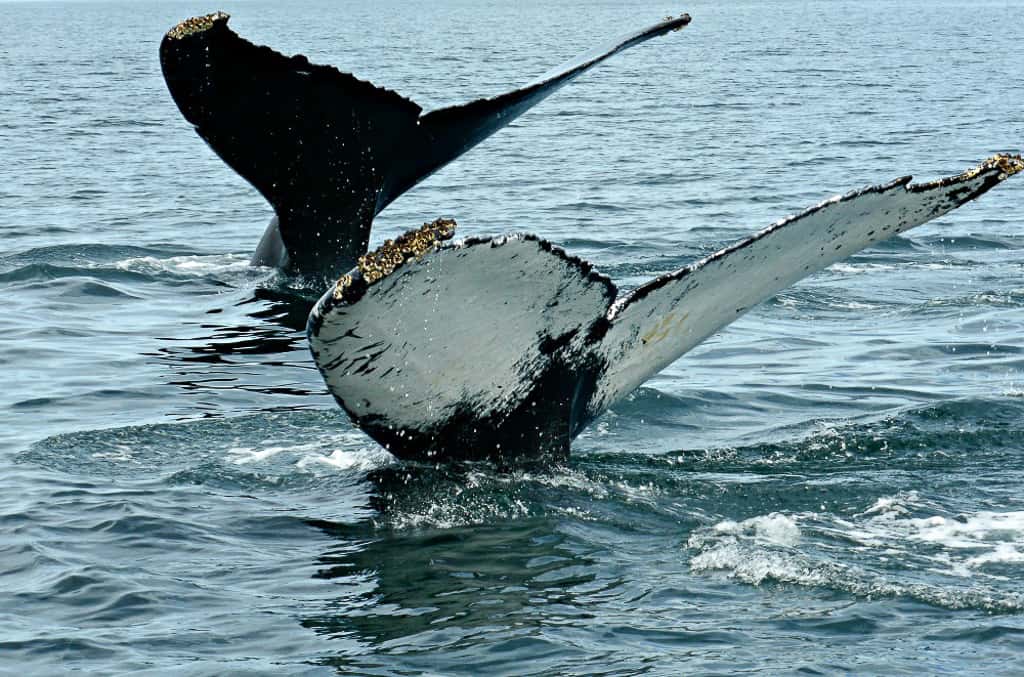 Northwest Territories
Great Slave Lake
Lindsay of I've Been Bit selected Great Slave Lake as her most beautiful place in Canada:
As the deepest glacial lake in North America, it's not surprising that Great Slave Lake will take your breath away. Known as 
Tu Nedhe
 meaning "big lake" in Dene Soline, one of the Indigenous languages of the north, her incredible power is seen in all seasons. She is a provider in more ways than one. The fish that come from her feed many, and she grants transportation to remote communities when she freezes. Yes, once the temperature drops she freezes so much that even transport trucks can traverse her ice roads. You may be nervous to walk on it but trust me, you'll be amazed by the strength and beauty. It's definitely a must-do when braving the harsh winters of the
Northwest Territories
and you might even be awarded with a beautiful sunset for your bravery! Plus she's shaped like a Canadian goose… can a lake be any more amazing?!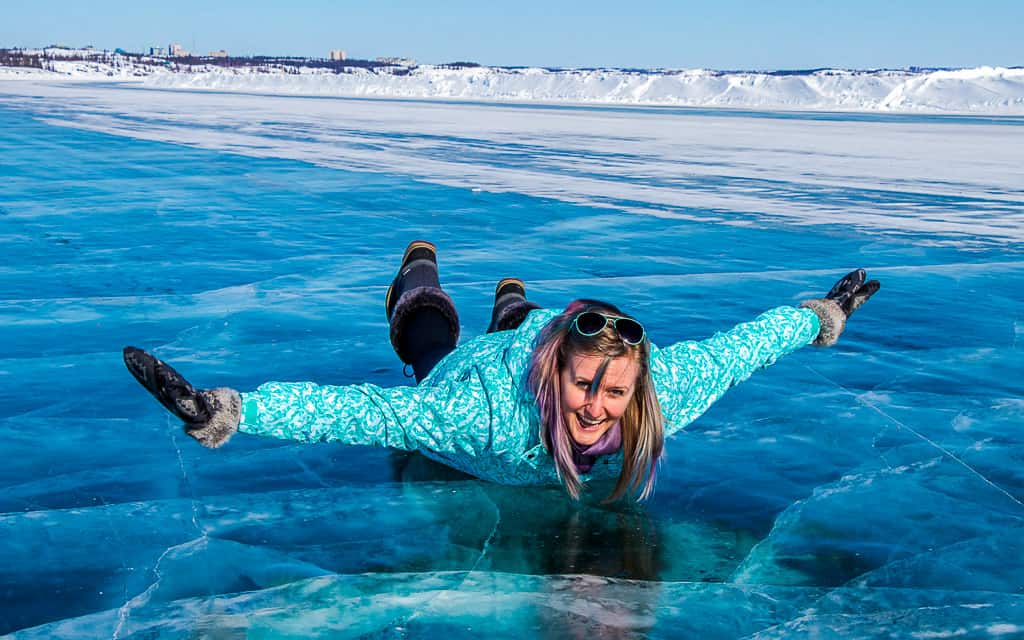 Northern Lights, Yellowknife
Philip from Zen Travellers picked the Northern Lights in Yellowknife as their most beautiful place in Canada and it's hard to disagree:
Yellowknife, located in Canada's Northwest Territories is one of the best places in the world to see the northern lights.  Due to its high latitude the lights can be seen almost any night provided you have clear skies.  Because Yellowknife is so remote, light pollution is minimal, and during the winter nights are long.  It's said that if you visit Yellowknife during the winter for at least four days you have a 90% chance to see the lights.  I'll take those odds.
We did just that and went to Yellowknife for 4 nights in May hoping to get a chance to see and photograph this amazing phenomenon.  Our luck held up and we had clear skies for three of the four nights that we stayed there.  Each night the show got progressively better, culminating in a minor storm on the last night, which worked out perfectly as that was the night that we had rented a car to get further from the city!  The northern lights are a beautiful sight to behold and Yellowknife in Northern Canada is one of the best places to see them.
Nova Scotia
Cape Sable Island
Meggan from Let's Get Tripsy picked Cape Sable Island as their most beautiful place in Canada:
Cape Sable Island (simply Cape Island to locals) is located on the South Shore of Nova Scotia. It is a small island inhabited by some of the province's friendliest folks and surrounded by some of the most stunning grey sand beaches. Cape Island is the most southern tip of Nova Scotia and is connected to the mainland via a causeway which was constructed in 1949. It is a mecca for lobster and seafood in general with the main industry being our Atlantic Ocean and the fishery.
It is an out of the way spot but worth your time especially for a great photo opportunity! While on the island you can you laze on the beaches of which the island is completely surrounding by, you can search for colourful beach glass, go swimming if you are brave and resistant to cold perhaps (?) and if you are hungry for a meal, there are some great local options such as Route 330 or the West Head Takeout, both local favourites. So if you want to avoid some typical Nova Scotia sights and escape to somewhere new, visit Cape Island, make some memories and grab some great photos to last a lifetime!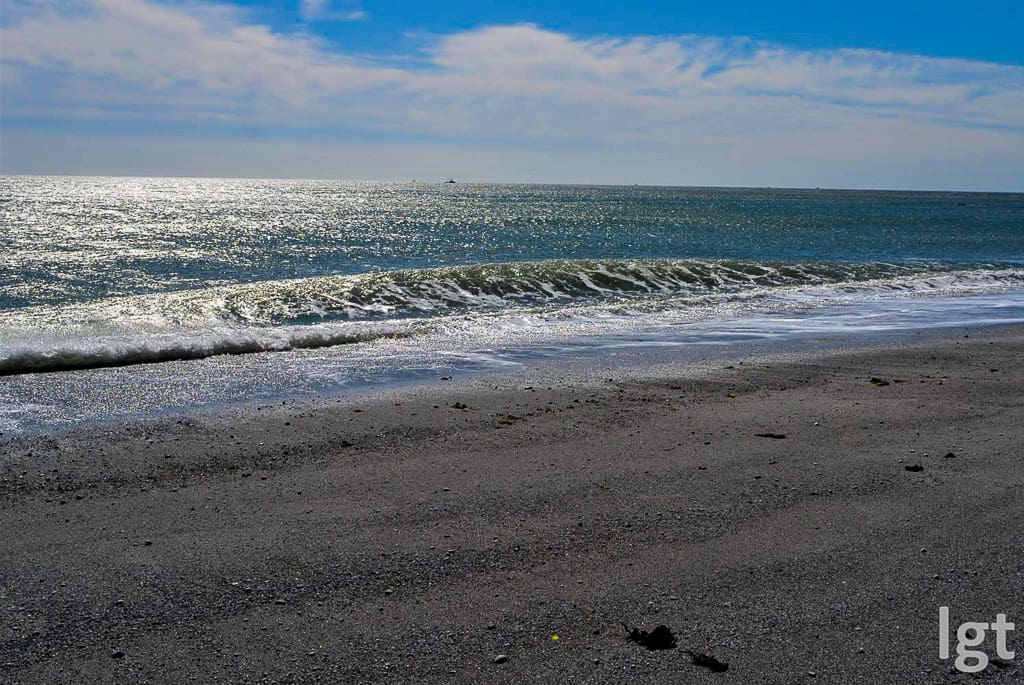 Skyline Trail, Cape Breton
Tara from Back Road Ramblers picked the Skyline Trail in Cape Breton as their most beautiful place in Canada selection:
If you're looking for a gorgeous, not-too-strenuous hike in the Canadian Maritimes, complete with majestic ocean vistas and awesome wildlife, you have to check out the
Skyline Trail in Cape Breton
, Nova Scotia. This famous trail is one of the most exciting hikes along one of the most gorgeous stretches of highway in the whole world. The Skyline Trail is located on the western side of Cape Breton Island in Cape Breton Highlands National Park, between the towns of Chéticamp and Pleasant Bay.
This is an easy to moderate hike that can be completed as a 5.4 mile (8.7 km) loop or 4.3 mile (7 km) out-and-back trip. If you hike early in the morning or late in the evening, you have a very good chance of spotting wildlife, including coyotes, bears, eagles, and moose. The highlight of the Skyline Trail, and the reason thousands of visitors hike it each year, is the boardwalk down to the headlands with spectacular views of the Cabot Trail, the Gulf of St. Lawrence, and the town of Chéticamp in the distance. Hiking the Skyline Trail is definitely one of the highlights of any trip to Cape Breton Island.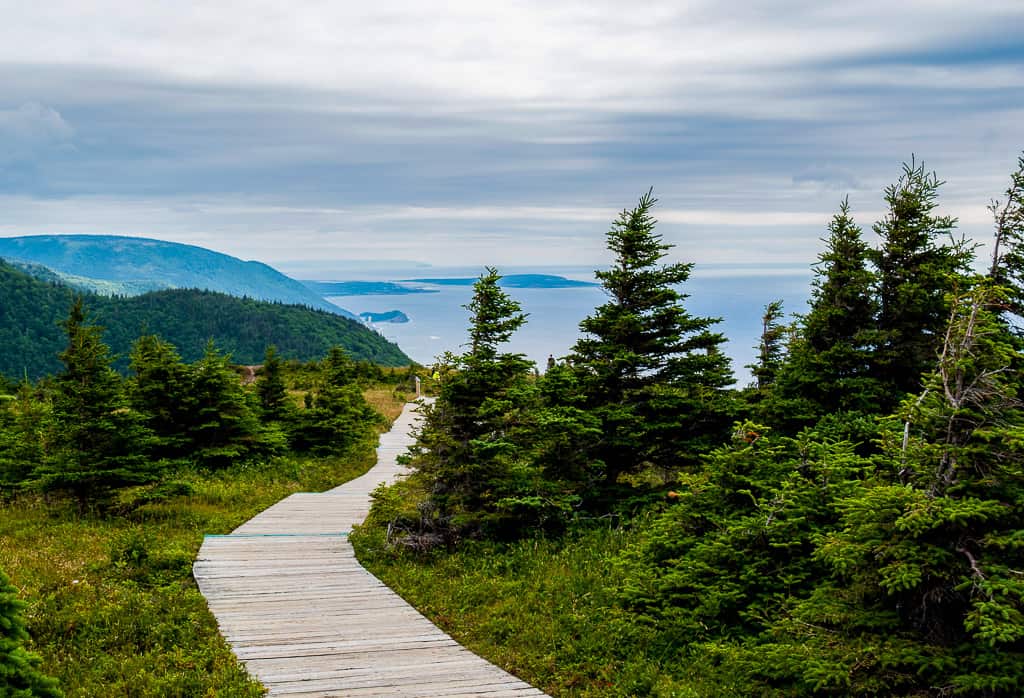 Ontario
CN Tower, Toronto
Nicole from Nicole LaBarge selected the CN Tower as her most beautiful place in Canada. While it's not conventional I do agree with its beauty:
When you first arrive in Toronto and get your first glimpse of the skyline there is one building in particular that stands out – the CN Tower.  Standing at 553 metres it is an impressive sight in Toronto. You can visit the CN Tower every day of the year except Christmas Day.  It costs $58 to go to the top of the Tower but one of my favourite things to do is to eat at the 360 Restaurant for lunch.  You will need a booking but you will have an hour to look at the beautiful view while the restaurant rotates 360 degrees. The Tower is located right in downtown Toronto and can be seen from across the city.  Every night after sunset the Tower lights up which is well worth seeing.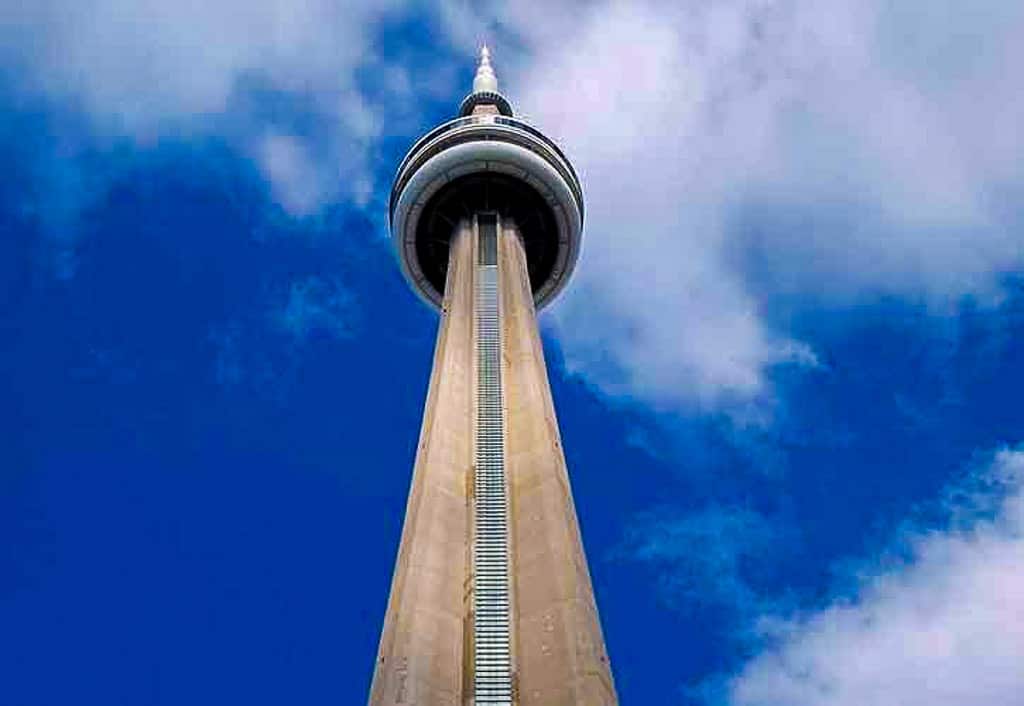 Lake Superior Provincial Park
Janine from Fill My Passport selected the beautiful Petroglyphs in Lake Superior Provincial Park as her most beautiful place in Canada:
A spot that seems like a blessing for Torontonians to visit (as it is a 9-hour drive approximately from the city centre), Lake Superior Provincial Park is truly a fauna of wildlife and vegetation that should be witnessed by visitors. Not only is it naturally appealing with the lush forests and prolific wildlife, but it holds a dear history of the First Nations tribes that shaped Canadian heritage to what it is today.
Not for the faint at heart, many flock to the park to hike to the petroglyphs – sacred messages to the gods inscribed on the rocks out on the dangerous shores of Lake Superior – the largest of the great lakes. Follow the signs from the highway and begin your hiking 400 metres to the sacred edge. The petroglyphs can be found on the famous Agawa Rock- a spot only accessible by scaling rocks and holding a chain rope. Do not attempt the hike past the safe rock edge unless you are wearing slip-resistant shoes, the rocks are dry, and there is low wind. You DO NOT want to get washed away! People have died from being washed away with the water, hitting the rocks below… eek! But don't let this stop you if you truly want to see the petroglyphs after the effort to get to them! They really are worth seeing!
These images are the messages of love and wishes of hope from the Ojibwe tribes to the gods. They are remarkable symbols of endurance as for centuries they have withstood the test of weather, age, and erosion, as well as evading acts of vandalism. Perhaps it has to do with the difficulty in accessing them, but these beautiful painted messages have braved the elements to this day. The most impressive of them all is Misshepezhieu is the Great Lynx – the spirit of the water. Legend has it that he possibly could work against the human race or for it should he see fit.
After snapping some deserving photos of the petroglyphs, discover many other incredible areas of the park boasting plentiful wildlife, campgrounds, beaches, and leisure activities for the whole family.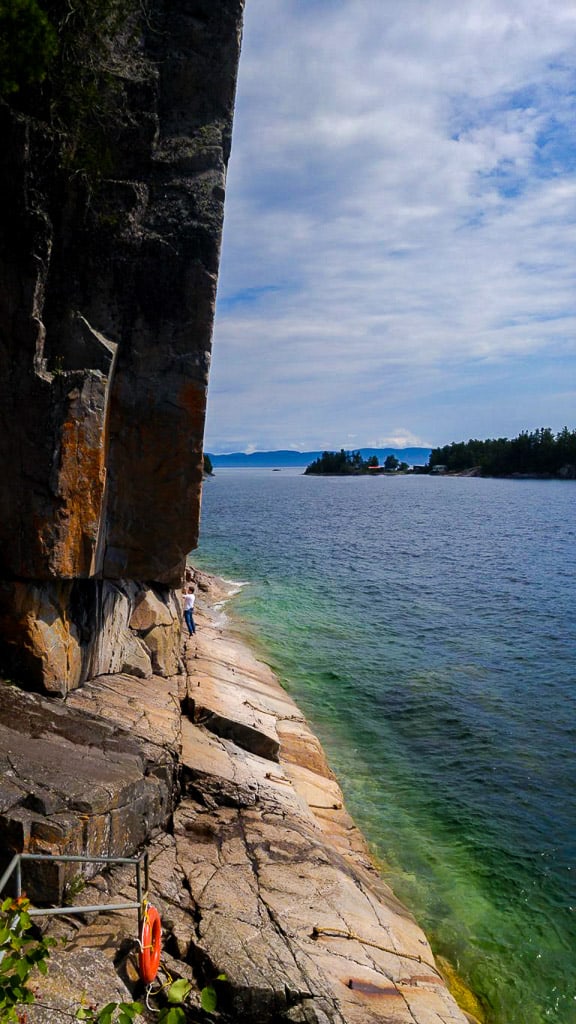 Niagara Falls
Edit from
Edit Around the World
selected the world famous Niagara Falls as their most beautiful place in Canada:
Approximately 130 km southwest of vibrant Toronto, the town of Niagara Falls is definitely a must-visit place if you'd like to see the waterfall with the highest flow rate in North America. Worldwide famous for its beauty, the falls attract millions of tourists in any season. Located at the border with the USA, many people cross to the neighbors just to admire nature's creation from the Canadian side, which is considered much more picturesque than the American side.
Much before seeing the falls you can hear the noise of it from far away. The water makes a lot of noise, Niagara Falls being loud, but in the same time creates a very calming atmosphere especially when you're right next to it. For an even closer and wet experience you can board on the Maid of the Mist boat. Cruising under this majestic waterfall is a sensational feeling, makes you realize how small you are right next to such a wonderful and impressive creation. It's relaxing and uplifting just to be there and listen to the sound of the water. If you pay attention you may spot a rainbow too. Magical and unique for its outstanding natural beauty, Niagara Falls can be easily considered one of the most beautiful spots in Canada and the world.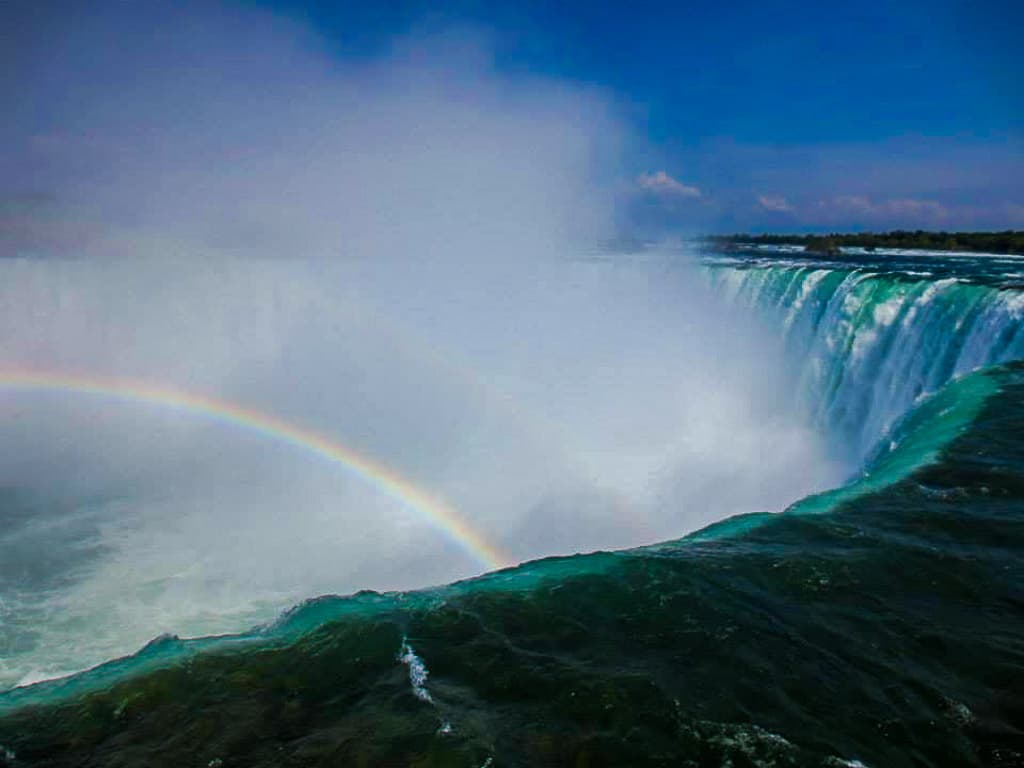 Tobermory and Bruce Peninsula
I of course had to contribute something myself and I thought long and hard about what I'd consider the most beautiful place in Canada. Banff and Jasper National Parks were certainly in the running as was Lake Superior Provincial Park but luckily they got represented here on this list already which made my choice pretty clear. The Tobermory and Bruce Peninsula National Park area is arguably the most beautiful place in all of Canada for a number of reasons. It's got small town charm, crystal blue waters, a flower pot island (!), the stunning Tobermory Grotto, beautiful beaches and that's not even half of it! There's fantastic restaurants, amazing hikes, super adorable bed and breakfasts and fantastic star gazing! It's a must do when in Ontario and frankly a must do when in Canada in general!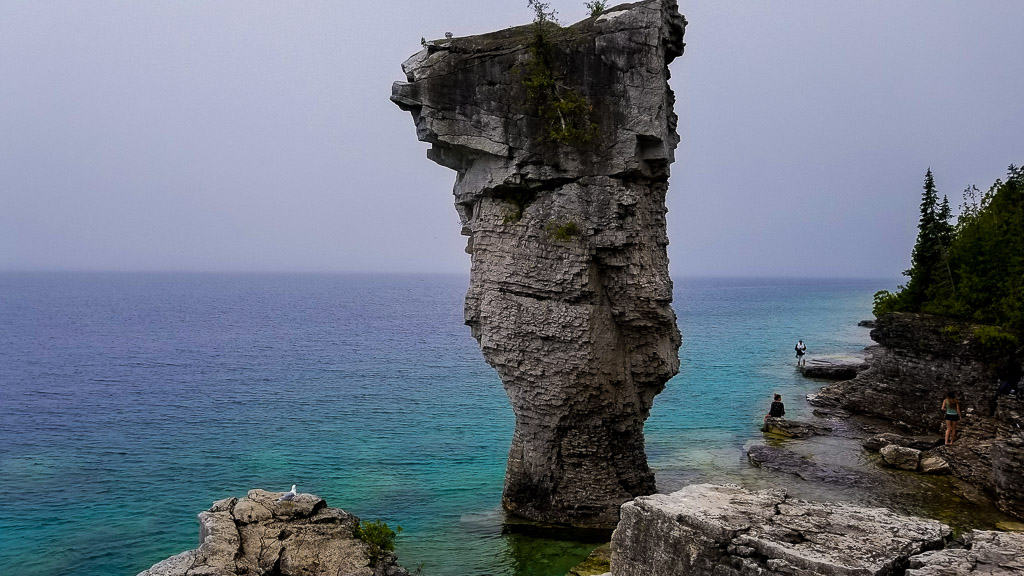 Toronto Islands
Lizzie from Wanderlust and Life picked the Toronto Islands as their most beautiful place in Canada and I totally agree:
One of the most beautiful places in Canada has to be the
Toronto Islands
. They are a collection of small islands that sit in Lake Ontario off the shore from the metropolis that is Toronto. Accessible by ferry, it takes about 10-15 minutes to travel to the islands from downtown Toronto. Despite the short trip, walking around the islands genuinely feels like you are in another world. In the summer months the islands are a bustling hive of activity with rides, cafes, and yacht clubs. In the winter months, though whilst not as busy, the islands are just as beautiful. Ward's Island is a must see. It is one of the residential sections on the island, and one of the best places to take a picture of the Toronto skyline. On top of that the houses are so quaint and beautiful. We had to stop at nearly every one to take a photo. We recommend visiting in autumn, when the leaves on the trees turn orange against the backdrop of the colourful quirky houses.  The best thing is whilst walking around and exploring the island, it is so easy to forget the hustle and bustle of downtown Toronto is a mere 15 minutes away.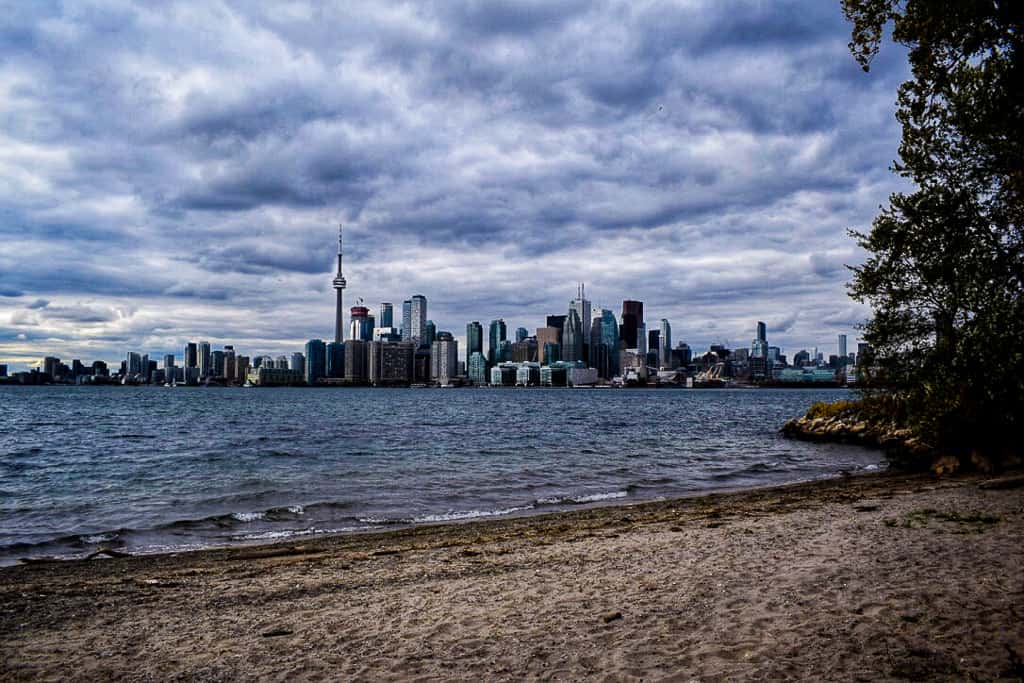 Wasaga Beach
Brittany from Big Time Travels selected Wasaga Beach as their most beautiful place in Canada:
Wasaga Beach, Ontario is a sandy summer paradise along the coast of Georgian Bay, just two hours north of Toronto. Visitors flock to this lovely beach town to enjoy the 14 kms of beautiful beach. Given the vast length of the beach, Wasaga Beach has been deemed the longest fresh water beach in the world. In addition to the world renowned beach, Wasaga Beach is also home to the Nottawasaga River that runs parallel to the beach. Given the amount of water found in this town, Wasaga Beach is a haven for water sports and activities.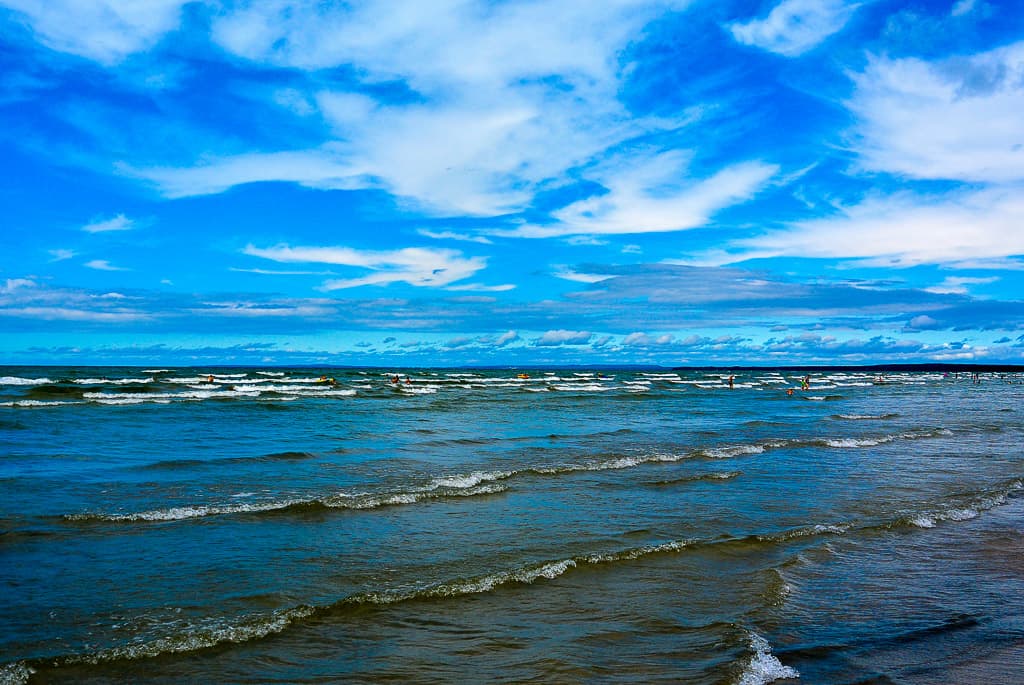 Prince Edward Island
Green Gables
Jo from Beyond the Lamp Post picked the stunning Green Gables as their choice for the most beautiful place in Canada:
First time readers (and lifelong fans) of L.M. Montgomery's Anne of Green Gables fall in love with the gothic romance of Anne's Haunted Wood, the Arthurian romance of her Lake of Shining Waters, and the warm and cosy home she shares with Matthew and Marilla. Cavendish, a small town in eastern Canada's Prince Edward Island, is home to all of these places and more. The farmhouse that inspired the local author in imagining Green Gables has been restored and converted into a museum dedicated to the books, and a few hours spent walking around the area will bring to life all of your childhood fantasies. Cavendish is also the most popular resort area on Prince Edward Island, and home to some of its most beautiful beaches. With a population of less than 10,000 people, even in the peak of summer, though, you're sure to find a spot for some quiet tranquillity any time you visit.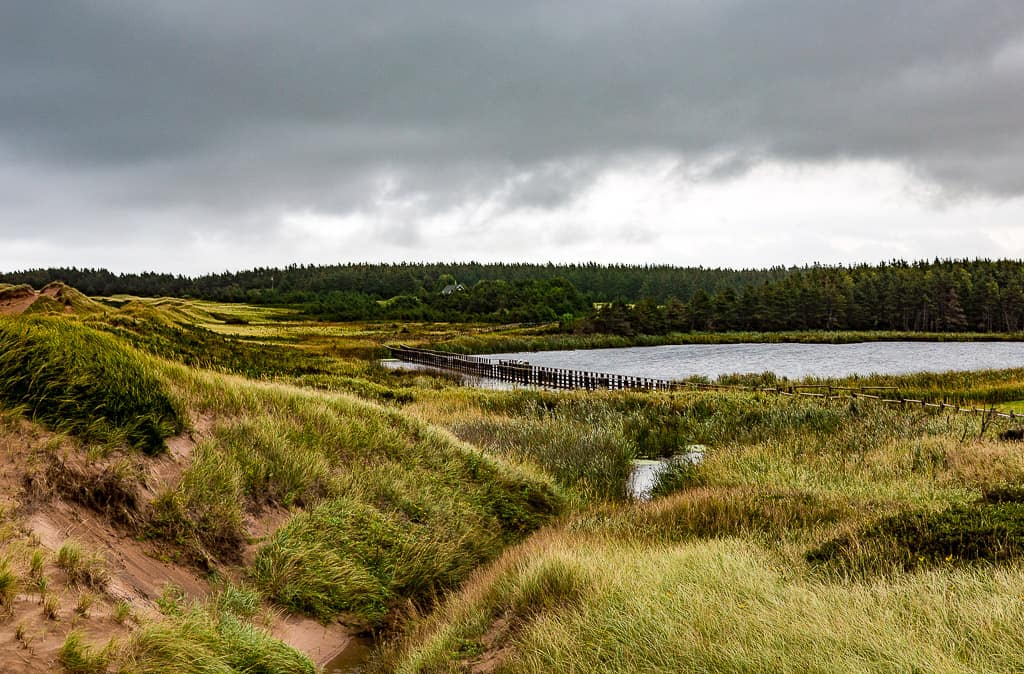 Photo credit: Tony Webster on Visualhunt / CC BY-SA.
Quebec
Basilica Notre Dame
Wendy of Empty Nesters Hit The Road picked the gorgeous Basilica Notre Dame in Montreal as their most beautiful place in Canada:
The Basilica Notre Dame is one of the highlights of Old Montreal, and is not to be missed while visiting this city located in the province of Quebec.  Like many churches of its kind, its history is complicated. The original Notre Dame Church was completed (mostly) in 1672. But a century and a half later it was decided that a larger church was needed.  It would take over 50 years until the second iteration was completed, but the result was magnificent! For the first fifty years of its existence Basilica Notre Dame was the largest church in North America.  Built in the Gothic Revival style, both the interior and exterior details are impressive. What is particularly striking inside is the prominence of the color blue, both behind the altar and across the vault.  Behind the main sanctuary is a smaller, more intimate chapel called Notre-Dame du Sacre Coeur. 20 minute guided tours are available in French and English and are included in the admission fee. Longer tours are available that include a visit to the balcony and crypt.

Chateau Frontenac
Stephanie from The World As I See It picked the beautiful Chateau Frontenac as her pick for the most beautiful place in Canada
The Château Frontenac is one of the most photographed hotels in the World. And towering atop a cliff in Old Quebec City it is easily one of the most beautiful places in Canada. Built in 1893, the Château Frontenac is a historic and luxury hotel with over 600 guestrooms, dining options, a stunning lobby with a resident dog, and offers incredible views over the St. Lawrence River.
Inspired by the French Renaissance architecture, Châteauesque, similar to chateaus built in the Loire Valley of France in the late 15th to early 17th century, with a striking copper roof and orange-red bricks, the Château Frontenac exudes beauty from every angle. But one of the best places to take in the beauty of this majestic hotel is from the Dufferin Terrace. Soaring above you, you'll feel like you're beholding a royal castle in Europe. And while it may not be a castle, the Château Frontenac certainly has all the bewitching attributes of one and is pure Canadian royalty.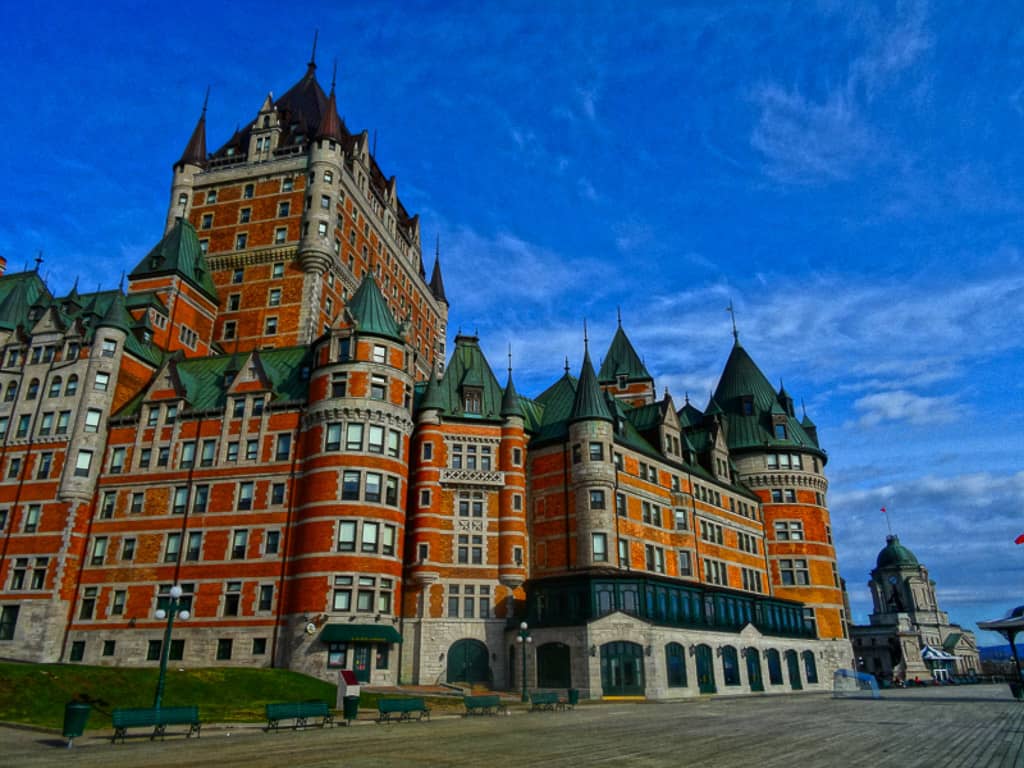 Mont Tremblant
Natasha from The World Pursuit picked Mont Tremblant as their most beautiful place in Canada:
Mont Tremblant is a town nestled in the beautiful Laurentians mountains of Quebec. The town, or a really small village, is beautiful all year around but in my opinion, it really shines in the winter time. The village is compact and designed to be car-free. Nothing in town takes more than five minutes of walking. Within those five minutes are cafes, high-end restaurants, breweries, and boutique shops. From the village center, anyone can access the mountain trails and sledding and ice skating rink in the winter. As an avid snowboarder, the real draw for me is how close the ski resort is to the town. Almost every hotel here is ski in/ski out because the town is literally at the base of the mountain.
Mont Tremblant ski resort is one of the best ski resorts in North America and consistently ranks as the best on the east coast. On a beautiful winter morning, it's easy to see why families flock here for their winter vacation. Even if you're not a skier or snowboarder there are still plenty of activities to enjoy in town. Whether you're on the mountain or off it, it's a given that you will enjoy the views and vibe of Mont Tremblant. It's one of the most beautiful places in Canada that I can't wait to return to.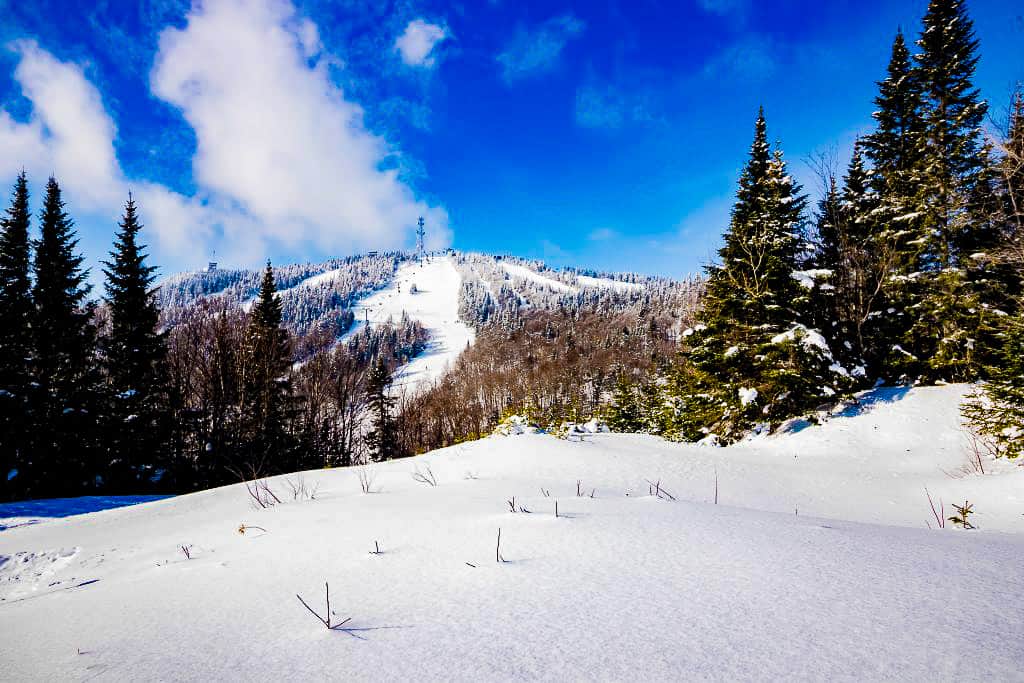 Montmorency Falls
Sara from Our Life in a Suitcase selected Canada's highest waterfall, Montmorency Falls, as their pick for the most beautiful place in Canada:
When our friends living in Quebec City told us to visit Montmorency Falls, I though it's probably just a small waterfall. I didn't expect it to be so powerful with beautiful landscape which impressed me a lot. The best part is, it's just 20-30 minutes of driving from Quebec City. There's a nice Parc de la Chute-Montmorency with picnic area and playground for kids. You need to cross the waterfalls from the top to reach the park and staircases taking you down to the bottom of the waterfalls. These staircases will let you see the falls from different angles. It's pretty a long staircase so get ready for taking lots of steps. But it's worth of getting tired here to see this beauty.
There's also a zip line to jump from 300 meters if you are looking for some adrenaline. I didn't jump though. I loved standing on a bridge of the waterfalls and watching down how the water was running down to St. Lawrence river. It creates an amazing view!

Old Quebec
 Talek from Travels with Talek picture the historically beautiful Old Quebec as their choice for the most beautiful place in Canada: 
Old Quebec boasts a heavy dose of French culture.  You perceive this influence in the graceful architecture that reminds you of graceful Parisian buildings and in the quaint shops and streets.  The best place to absorb this French influence is in the food where no matter what you taste, a simple slice of cheese and a baguette in a bistro is a culinary treat. The influence is most evident in the French language spoken by the majority of the population.  Wander through the streets of Old Quebec and you can easily convince yourself that you are somewhere in France.  But the city is also part Anglo of course. And that is what gives it that unique Anglo-French vibe and ambiance.
A great way to explore this charming city is on foot but a horse-drawn carriage through cobble-stone streets is another option. Make sure to visit Chateau Frontenac, atop one of the cities highest points in an expansive plaza facing the St Lawrence River.  The plaza often holds art exhibits and hosts street performers. Make sure to stroll Rue Saint Jean and Petite Champlain.  The area around the old port is full of restaurants, museums and shops.
Whatever you do, don't leave Old Quebec without sampling the cuisine and especially the local dish, poutine. A unique concoction of French fries, little chunks of cheese smothered in gravy.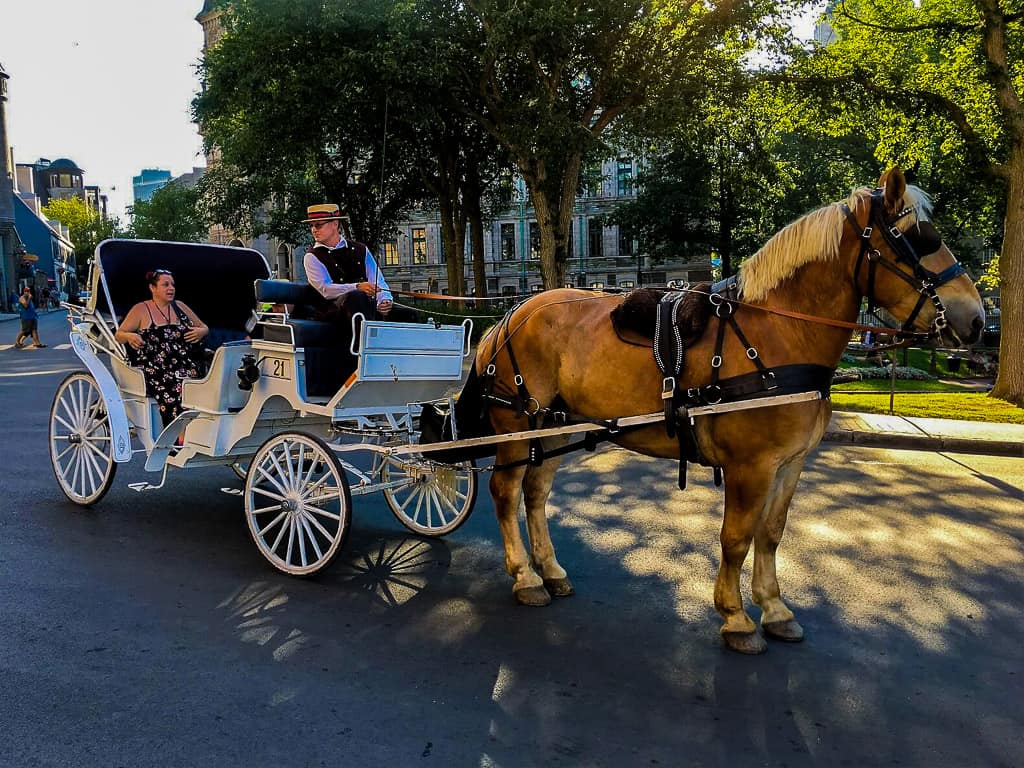 Saskatchewan
Grasslands National Park
Kristal from Adventure Dawgs also selected Grasslands National Park as their most beautiful place in Canada:
For years I had this idea about the perfectly flat prairies where I would be able to see my dogs running away for three days.  Then I visited
Grasslands National Park
.  The park is at the southern end of the province where flat prairie gives way to the Badlands.  Rather than one big piece of land, the park is comprised of an east block and a west block.  I saw more wildlife in the day that I was visiting the west block than I had in my entire trip across this country, with bison dotting the hills to grouse next to my car to vast prairie dog towns.  I stayed in the Frenchman Valley Campground in the west block.  It is fenced to keep humans and bison apart and at night you fall asleep to the sounds of the wind blowing across berms and coyotes howling at the moon.  It is a starkly beautiful land one that forever holds a special place in my heart.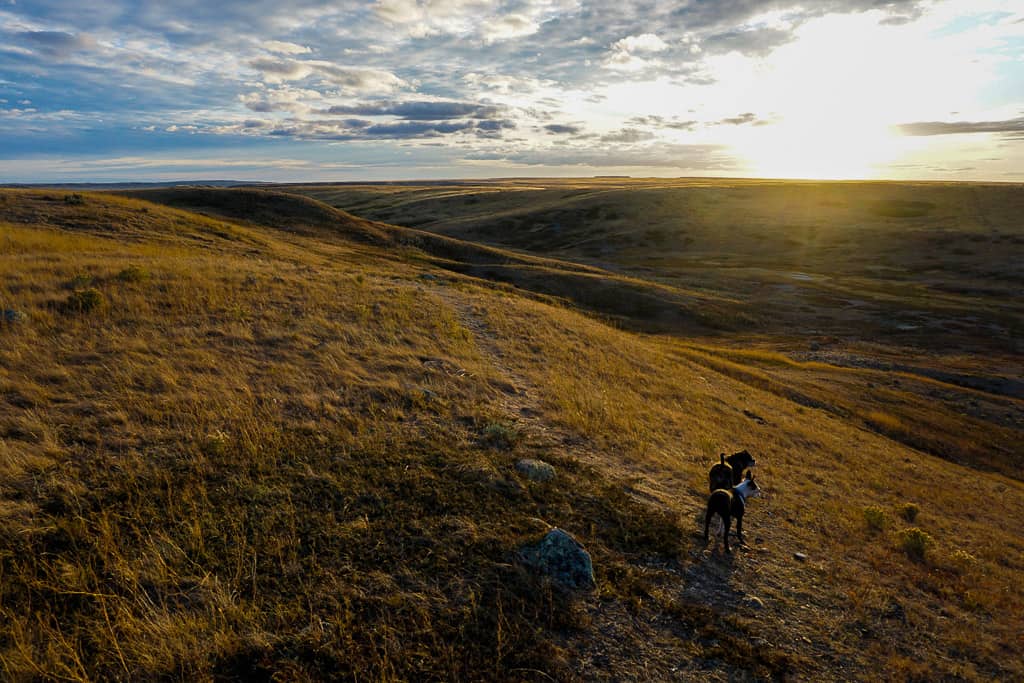 There you have it guys! 33 absolutely amazing places across the country covering almost all provinces and territories including cities, national parks, lakes, mountains and so much more! How many of these beautiful places in Canada have you visited? Which of the ones you haven't seen would you want to see the most? Let me know in the comments and as always pin this post for your own upcoming trip!