The past few years have been some absolutely great travel years and 2019 was no exception. It was a year of firsts including the first time long term travelling (a full 3 months!), first time travelling while working remotely and first time solo travelling. I managed to hit 3 continents, 18 countries (including Canada), and countless cities. I've traveled by plane, train, bus and car and honestly had so many fantastic experiences that I can't wait to spend the next few months sharing.
Because I traveled so much this year it's hard to pick a favourite so I thought I'd summarize the travelling months before picking favorites:
January
We (my husband and myself) started the year in Alberta, road tripping around Banff and Jasper and visiting friends in Edmonton where we rang in the new year. We had so much fun (even if it was freezing) seeing the province all covered in snow. We have previously been to Alberta and done the same route but it was in August so it was a super nice contrast.
February
In February, I headed over to New York City with some of my best friends for a girls weekend with the main purpose of seeing the Cursed Child on Broadway! We did some sightseeing in New York as well and despite having been numerous times before I managed to see some brand new things like the Guggenheim Museum. Plus we ate, a lot. That's one of the best parts of New York City isn't it?
March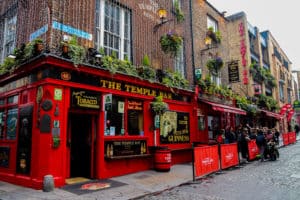 We headed off to a cottage a couple of hours from Toronto to spend time with our group of friends for my 30th birthday which was an absolute joy.
At the end of the month we headed off for a trip to Iceland and Ireland. We have previously been to Iceland in the summer so the 3 days we spent there was a nice (and cold) contrast to that first visit. We road tripped around the south of Iceland and spent some time exploring Reykjavik more. We flew directly to Dublin from Iceland and spent the rest of March in Ireland road tripping around the entire country.
April
We were meant to come home to Toronto in early April from Ireland but ended up getting an extra day and a half in the country due to WOW Air going bankrupt and used it to explore Dublin even more!
May
In May we mostly took it easy but headed to Sarnia for another cottage trip for my husband's 30th birthday. We also did some day trips to Hamilton and Prince Edward County which are great areas to explore and re-explore!
June & July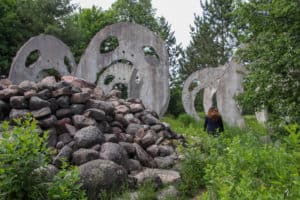 To prepare for the coming 3 months of travelling, I spent majority of June and July home in Toronto. We did some day trips from Toronto but mainly explored new restaurants and took it easy. One of the highlights was the day trip to the Screaming Heads up north. Super unique and highly recommended! Also got to check out Scandinave Spa in Blue Mountain which was a super relaxing day.
August
We started the month of August by flying into Indonesia for 2 weeks. One of my best friends got married in Bali and we were so, so, so happy to be a part of one of the most beautiful weddings I've attended. We also took the opportunity to explore some of the island before setting off for Jakarta, Yogyakarta and Mojokerto.
After eating everything in sight, exploring temples and meeting family, we headed over to Thailand for 10 days. We landed in Bangkok where we spent a couple of days exploring the capital with our friends and once they headed back home to Canada we headed off to continue exploring and visited both Chiang Mai (my absolute favorite part of Thailand) and Phuket. We ate so many different foods, visited numerous temples, swam on the Phi Phi Islands and saw some stunning elephants. Thailand was a country I had very few expectations of and it totally blew me away – I have so much to share from there and can't wait to get started!
We left Thailand in the last week of August and my husband flew home to Canada while I started my European adventure. I spent a couple of days in the Netherlands exploring Rotterdam and Amsterdam before heading off to Switzerland for a week. It was my first experience with solo travel and while there were moments of loneliness, it was overall a pretty great experience!
September
Right on September 1, I flew to Copenhagen to head into Malmo to spend a few days catching up with family and eating all the food I haven't had in years. Malmo is my hometown and where I was born and raised and I forced my cousin into a couple of days of sightseeing while I was there. It was weird to see how much the city had changed and surprising to realize I hadn't been back to Sweden since 2015. Definitely don't intend to go that long between visits next time and it's on my agenda to actually road trip my beautiful home country at some point.
After a few days of relaxing, I flew to Paris with my sister and younger brother. We had surprised him with a visit to Paris to go to Disneyworld! It was the first time at the theme park for any of us and we made the most of it. It was their first time in Paris as well so we saw the Eiffel Tower, the exterior of Notre Dame and so much more.
Once they headed back to Sweden I moved on to Luxembourg, Nice and Monaco which I spent sometime exploring. Really enjoyed Luxembourg's quietness and how easy it was to get around! I was only in Monaco for a day trip from Nice and while I loved all the remnants of Princess Grace, it had definite vibes of Dubai which isn't one of my favorite places in the world just personally speaking.
My next stop was Prague where I got to meet up with my lovely husband again. We had 5 days in the country and spent majority of it exploring the capital in addition to a couple of day trips. We absolutely fell in love with Prague and I would go back in a heartbeat. The city was so laid back and there was so much to see and do! We headed directly to Budapest from Prague for a couple of days exploring that city and I definitely wish we would have had more time to see more of the country and the city and I'm super excited to go back.
Once my husband headed back to Toronto, I headed towards Ljubljana for 3 short days of exploring Slovenia. I was pleasantly surprised by all of Slovenia and thought it was one of the absolute easiest countries to be travelling solo through! The capital is so compact and easy to travel around and the day trips are super accessible.
My last stop of the European portion of my trip was Vienna where I headed directly after Slovenia. I spent majority of the 4 days I had completely exploring the city. I wanted to head over to Bratislava for a day trip but I enjoyed Vienna too much and stuck around the city!
Once I flew home to Toronto I had a couple of days to catch up with friends and re-pack before I flew to Punta Cana with my family to celebrate my dad's 60th birthday!
October
The first week of October was spent in Punta Cana with my family celebrating my dad's birthday. We did a couple of day trips but mostly relaxed on the resort and went swimming! My dad had always wanted to go to Punta Cana so I was really happy we got to take him.
Once we landed back in Toronto I had one day to repack before I headed out to London for the remainder of October. I did majority of this portion alone but did fly my cousin out from Sweden for a couple of days. I left majority of the touristy stuff for the days that she was here and it was nice to redo some of those parts of London.
I've been to London numerous times before so this trip for me was more about getting to know the city more and straying out to the parts of the city I just hadn't had time to discover on previous trips. I spent the weekends exploring different markets and the days wandering around the pretty neighbourhoods and exploring museums I hadn't even heard of before. I spent a decent amount of time in the parks and took some day trips to Oxford and Windsor! I learnt that the Central Line during rush hour is the absolute worst line to be on and that buses are just way better for your presto card. I chased Banksy pieces, mastered London grocery stores and found all kinds of views of London to enjoy.
I loved my time in London and I already can't wait to go back and dive even deeper into the neighbourhoods I loved like Shoreditch and Hampstead.
November & December
After 3 months of non-stop travelling I wanted some time at home so I spent the remainder of the year catching up with family and friends (and my own home!) and fondly looking back on the past year of travels. We celebrated both Christmas and New Year's Eve at home and it was a nice couple of months. I'm of course itching to get back out on a trip so 2020 which hopefully have some good trips in store as well!
That of course brings us to my favorite travel moments of the year in no particular order:
Top 10 Travel Moments of 2019
Visiting Indonesia for the first time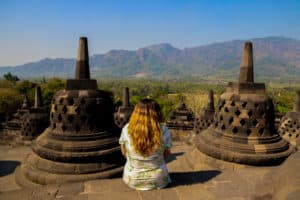 Indonesia is my husband's home country. He was born and raised in Jakarta before he moved to Toronto in Middle School and I've wanted to visit for a while now to see where he's from and obviously to see all the beauty that Indonesia has to offer.
Two of our closest friends got married in Bali at the beginning of August so it was the perfect opportunity for us to finally visit Indonesia for the first time. The country is beautiful and has so much variety to offer and none of the cities we saw were anything alike. Ubud (and Bali) was beautiful and filled with so much to see and do, Jakarta was the definition of a busy, chaotic capital but had some of the best food we ate in the country while Yogyakarta was more laid back with some fantastic temples to discover.
While I obviously did not understand anything in terms of language, it was really nice to see, in person, some of the things my husband had talked about over the years and to see him back in his own country speaking his own language so it's definitely one of the best memories of the year.
Chasing waterfalls in Iceland
If I had to pick a favorite part of nature, waterfalls would definitely be in the top 3. There's nothing as impressive or magical as a strong waterfall and there's nowhere quite as spectacular for waterfalls as Iceland.
We had previously been to Iceland in the summer and seen a number of waterfalls on that trip so I didn't know whether I'd be anymore blown away when we visited for a second time in the winter but boy was I wrong. The waterfalls in Iceland were even stronger in winter and we got to see a couple we hadn't before that were really impressive. There was one in particular, Gljúfrabúi, right by one of the most popular ones, Seljalandfoss, that we had somehow missed on our first visit and you could walk right up to it and it was such a great experience!
We did get semi-soaked which was unfortunate but it was a super great experience and one that definitely stands out from the year.
Taking my dad to the Dominican Republic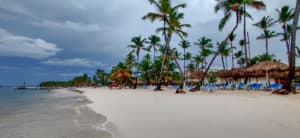 My dad has wanted to go to Punta Cana in Dominican Republic for as long as I can possibly remember and I've thought about how to make that happen for him. He had a big birthday this year, the big 6-0, so me and my sisters decided it would be the best 60th birthday gift ever to surprise him with a one week trip to Punta Cana!
We booked an all-inclusive to make it the easiest experience ever and spent most of the week relaxing on the resort, eating and swimming. We did book a couple of day trips including one to Saona Island which was absolutely stunning! I'll definitely be writing more about this at some point in the next few months but if you're in the area you have to go on a day trip to the island – it's exactly the kind of Caribbean dream island you'd picture.
Spending a full 3 weeks in London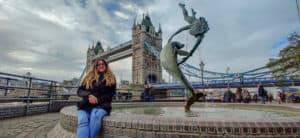 I'm in love with London, England and everything about the British culture. A huge part of my personality feels like I legitimately should have just been born in England. For a number of reasons life hasn't allowed me to make it my permanent home base but I try to visit as often as I can and when I finally got the opportunity for some long term travel I knew it had to involve getting to know London more fully than I had in the past.
I based myself in the Bethnal Green area which was a super affordable option within walking distance from Shoreditch and Brick Lane and an easy bus ride into the core of London. It was a great base for exploring the city and allowed me to visit areas like Canary Wharf and Greenwich which I had never had time to do before. The long time period also meant that I didn't have to rush back and forth doing a million things but could take my time fully exploring each area I was in for the day.
The 3 weeks flew by and I already miss London but I can't wait to go back again and hopefully see more of England on the next few visits but finally getting to slow travel London was one of my absolute favorite parts of this entire year!
Finally visiting Prague and Budapest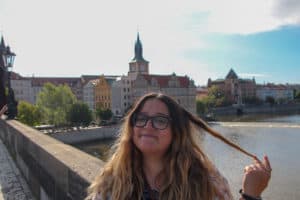 Prague and Budapest have both been at the top of my must-visit list for a really long time but we hadn't found ourselves in Europe for a few years. It's also typically part of most people's initial big post-graduation Europe trip but it wasn't for me! We focused mainly on Western Europe and I definitely felt like I was missing out on not having seen Prague and Budapest.
Luckily that was remedied this year! I spent a total of 7 days between the 2 cities with my husband and absolutely fell in love with both of the cities. I wish I had way more time than I did but I was so happy to finally get to see the cities that it's still one of the best travel moments of the year for me!
It's high on my list now to come back and explore both Czech Republic and Hungary more thoroughly but the cities are such a nice introduction to the countries and I'm beyond excited to share some content on them both soon!
Road Tripping around the Ring of Kerry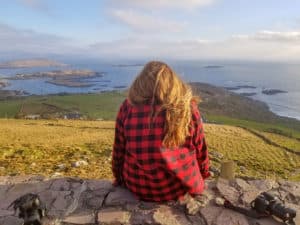 I've always been a fan of road tripping – there is so much freedom in driving a car somewhere because you control your own itinerary. You decide where to stop and for how long to stop. Ireland in general provided a great road tripping opportunity but nothing was quite as spectacular as the Ring of Kerry.
We only had one day to dedicate to the famous road trip so we started bright and early and went until sunset – it was a long day but we took it at our own pace. We managed to dodge the big tourist buses for most of the way so we had majority of the lookouts and ruins that we stopped at to ourselves!
We were two people and split the ride so that made it a lot more tolerable for us – if you're solo travelling a full day of travel may not be super doable but the road trip is beautiful, and I'm sure even a small portion of it will stand out as a great travel memory for you, just like it did for me.
Riding the train in Switzerland
Switzerland was the first new country that I explored solo. I only spent a few days in Netherlands before moving on to Switzerland but I had been to Amsterdam a couple of times prior so I was already familiar with portions of the city.
I was a little wary about getting around in Switzerland on my own and dealing with luggage etc. on my own but the trains in Switzerland are like something straight out of a dream. Every single train I took was on time down to the minute – it was super easy to stick to my itinerary since there were no issues on with the delays!
All the trains I rode had huge windows and stunning views and while I loved exploring the towns and cities, the train rides themselves were such an experience and something that stands out almost the most from my trip to Switzerland!
Visiting an elephant sanctuary in Chiang Mai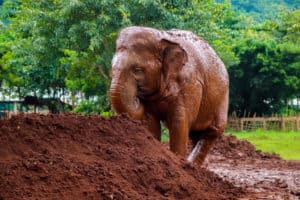 It was high on my list to visit an elephant sanctuary whenever I finally made it to one of the countries on my must-visit list in Asia and Thailand happened to be one of the first we visited.
We spent a lot of time researching elephant sanctuaries to make sure that the one we visited was ethical and did nothing to contribute to the harm of elephants. It's hard to do when you're strictly doing research on the internet versus checking places out in person but I wanted to do what I could to make sure that we weren't in any way financially contributing to places that harmed elephants.
We read nothing but good reviews on the Elephant Sanctuary and it ended up being one of the main reasons that we added Chiang Mai to our Thailand itinerary (and surprisingly it ended up being our favorite part of Chiang Mai!).
We opted for the half day tour and got to feed the elephants (behind a fence), learn about their stories, watch them take a bath and snap some absolutely fantastic pictures of the beautiful creatures. It can be really hard to hear the stories of abuse that the elephants go through before coming to a sanctuary but it's so important to understand why these sanctuaries exist and the work that they do.
I found the entire experience at the sanctuary to be quite moving and I'm so happy we made sure to make time for it during our trip in Thailand.
Visiting my first Disney park
I've been a giant Disney fan for many years but for many reasons have not been able to visit a Disney park yet but that was finally remedied this year. As a surprise to my little brother, me and my sisters got tickets to visit Disneyland Paris and to take him with us. We got the two park pass and visited both Walt Disney Studios and Disneyland.
Disneyland Paris is the smallest Disney Park so it was a great first park to see and visit. We spent the full day between the two parks and got to explore most of it and go on the more well known rides while still taking in the parade.
While the amusement park was great, the highlight for me was being able to take my brother and create a great travel memory for him to have as he grows up!
Biking around Lake Bled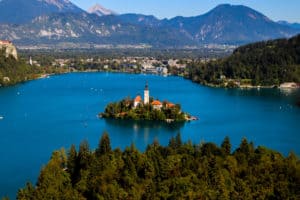 Slovenia was one of the last countries on the actual European portion of my trip and I was a little fatigued at this point so I didn't have too many expectations going into it and kept my itinerary quite flexible. I decided Lake Bled was a must however and did some googling the night before. I found a company offering e-bike rentals for the day for a relatively decent price and decided some time in nature might actually be exactly what I was looking for.
I took the bus to Lake Bled from Ljubljana and picked up my bike bright and early. I biked the 5-6km to Vintgar Gorge and hiked the gorge before biking back to Lake Bled and then biking around the lake. Eventually I also hiked up to a view point (which totally almost killed me but more on that another time) which is where I got the above shot. It was by far the most active I had been on the entire trip and suffice it to say I was sore the next day but it was a super enjoyable day and definitely stands out as one of the highlights of the year!
There you have it! My 2019 travels all wrapped up. What was your own favorite part of your travels in 2019? Let me know in the comments and let me know if you have anything planned for 2020 already!