Everyone's got their must dos when they visit a city right? I'm one of those people who love to eat. Okay, most people love to eat. But I love finding out what you have to try in a city or country and trying said food. Visiting any place in the US is of course associated with cheap and fast food. There's tons of upscale restaurants and fine dining all around the states but particularly in New York so don't assume that you've got no options but fast food. That being said, there's nothing quite like a hot dog/burger/bagel from NYC so here's my current list of 6 must eat places in New York.
Crif Dogs
There's nothing quite as classic as the New York hot dog (hence it features on this list twice). It comes in many forms and shapes. You can find it anywhere from street vendors, to take out places to sit down restaurants. Our first place on this list happens to be a sit down place.
Crif Dogs is a restaurant with two locations. One's in Brooklyn (555 Driggs Ave, Brooklyn, NY) and one's on the Lower East Side of Manhattan (113 St Marks Pl, New York). We tried out the location in Manhattan. It's a tiny place that's pretty hard to notice unless you know what you're looking for. There's also a line out of the door on Saturday evenings. That happened to be when we went. Luckily the line out the door is for the speak easy that has it's entrance in the restaurant. As we were just looking for some good food we got to skip that line and head straight over to the counter to order.
We got two Crif Dogs which is their naked smoked pork and beef hot dog that you can customize any way you want. And I really do mean any way you want. From the standards like mustard and ketchup to the originals like bacon and avocado to the completely out theres like pineapple and beans. We opted for customizing our own but they have some great creations already that you can check out on their menu.
The sides are not to be missed! They're best known for their chili cheese tater tots which are the equivalent of the fries we got but with tater tots instead. It looks super messy but it's very, very tasty.
In terms of price this is a great place. We had dinner for 2 people for under $20 USD including tips and drinks.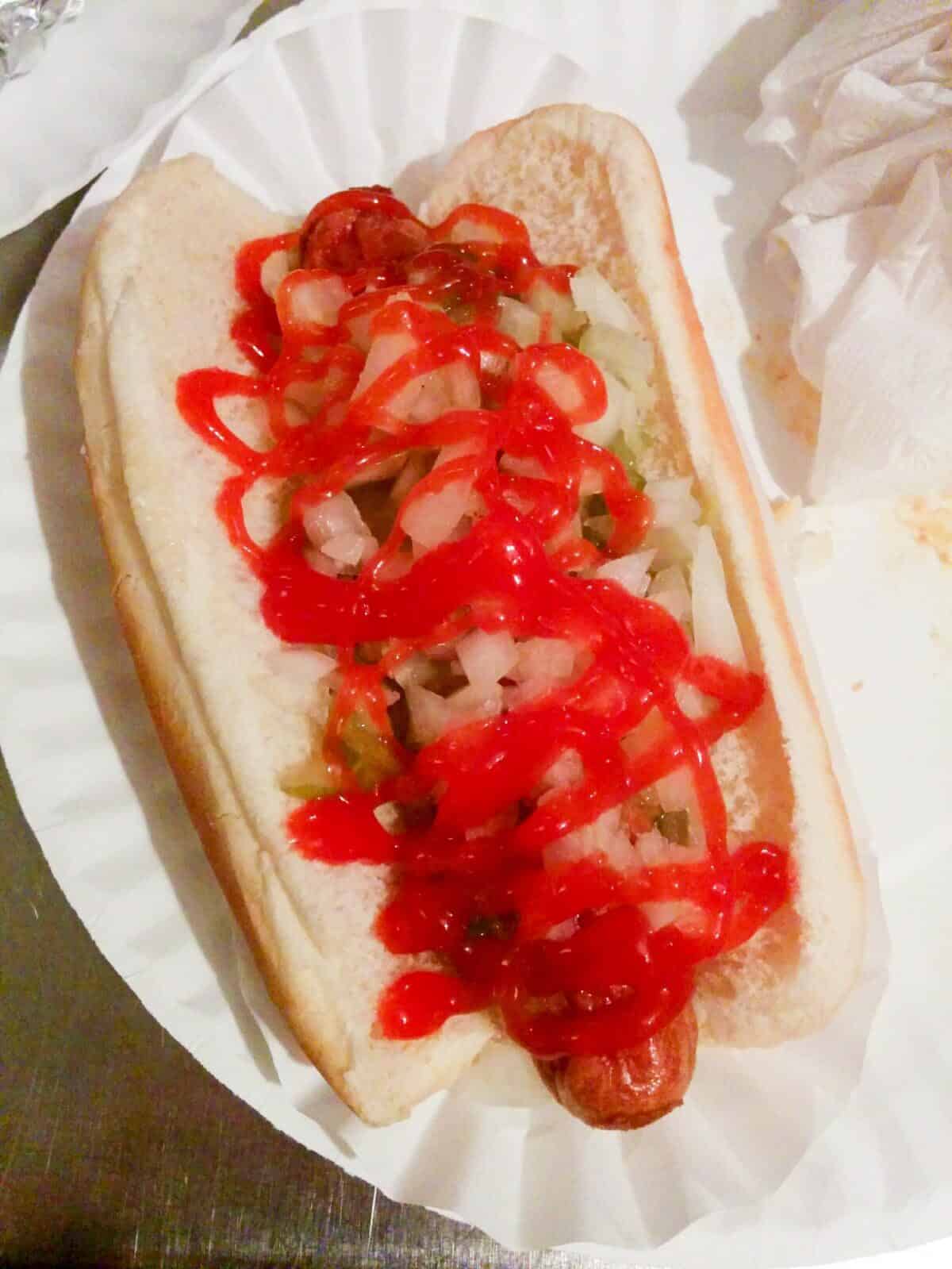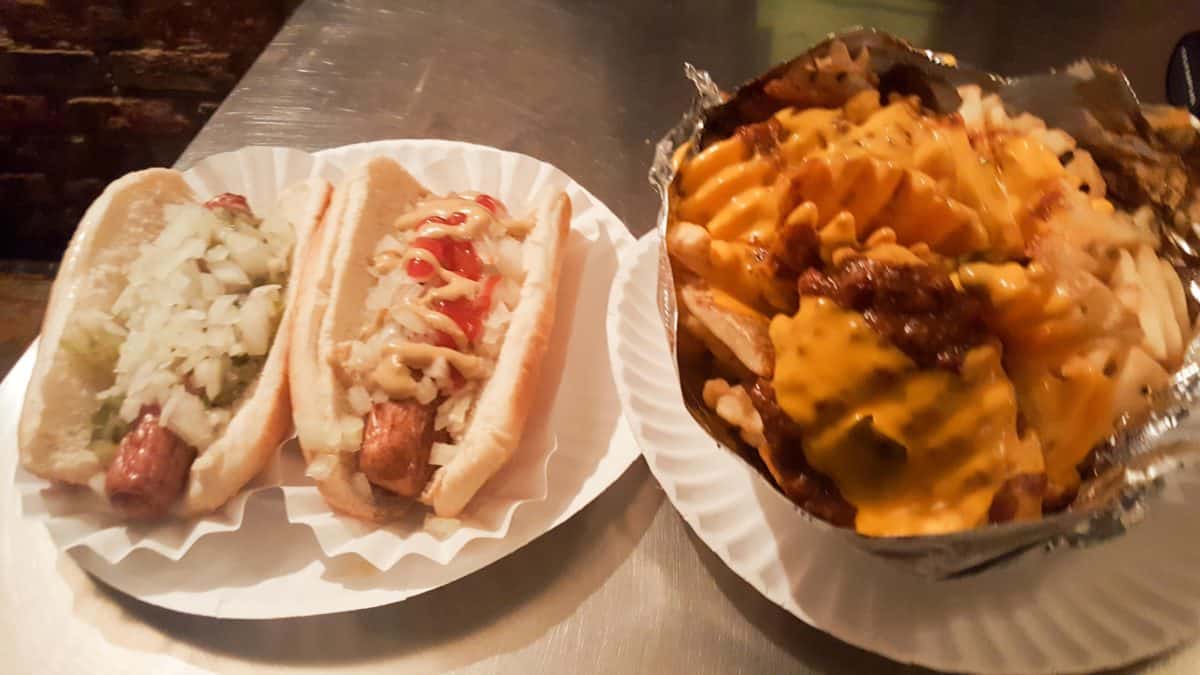 Big Gay Ice Cream
What's a trip without dessert? Big Gay Ice Cream originally started as an ice cream truck but now has three store locations in New York as well as one in Philadelphia. The ones in New York can be found in either the East Village (125 East 7th Street, NY), the Meatpacking District (353 West 14th Street, NY) or the West Village (61 Grove Street, NY).
We visited the East Village location and were immediately stuck with a very hard decision. What do we pick?? As you can see from the menus there is a very large number of choices you can make here. We both opted for decked out cones. But when I find myself back at this place it's definitely an ice cream sandwich I'm trying!
The chocolate cone is the Salty Pimp Cone and the lighter one is the Bea Arthur Cone. They're both soft serve vanilla cones. The Salty Pimp Cone includes dulce de leche  and sea salt and then a generous dip in chocolate. The Bea Arthur Cone is injected with dulce de leche and covered in crushed Nilla Wafers.
Two cones clocked in at about $14 USD if I recall correctly so it's a little bit on the pricier side for just ice cream but the flavor definitely makes up for it.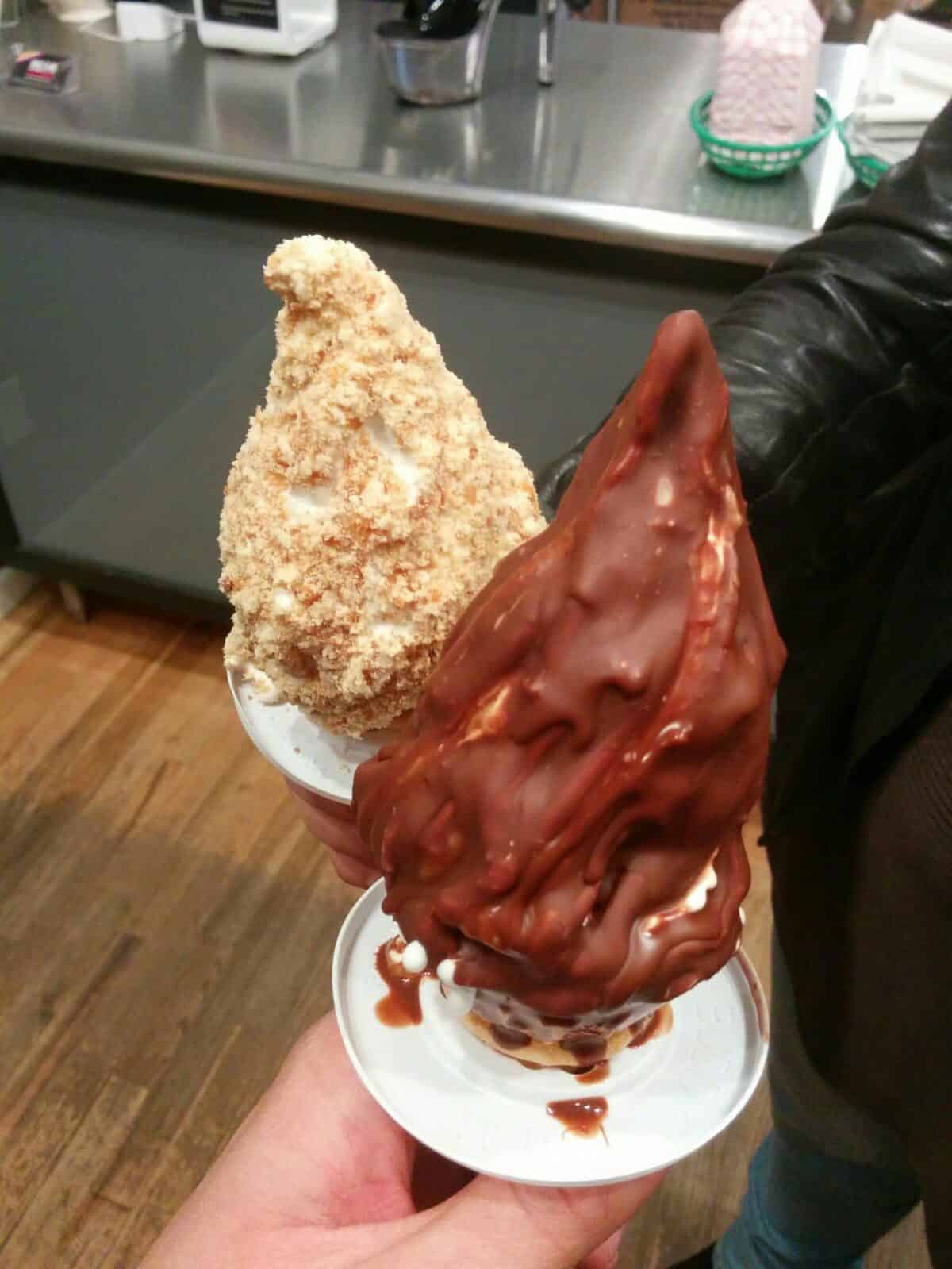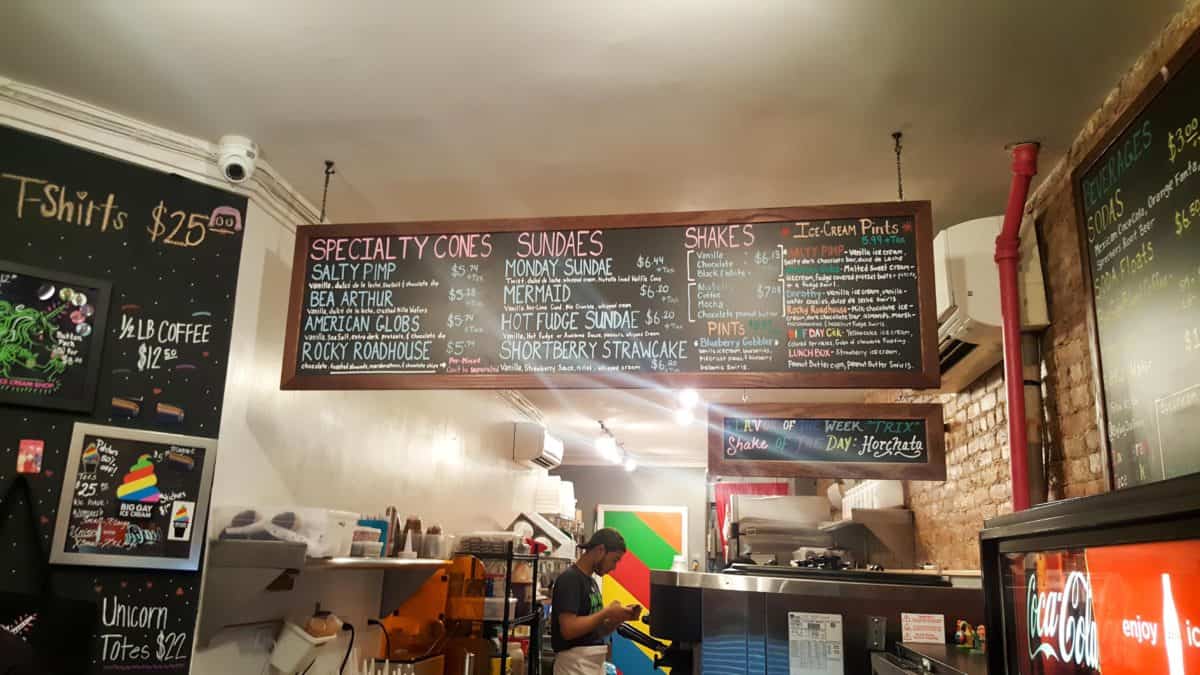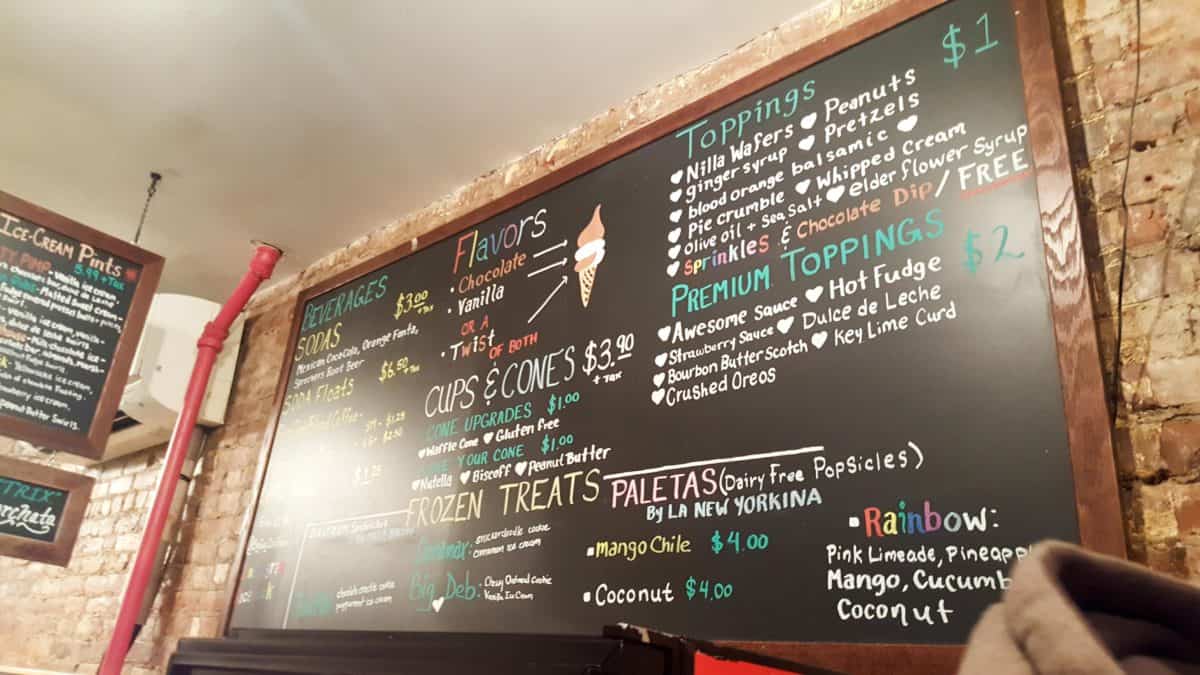 Shake Shack
Shake Shack is a burger place that was created in New York. And it's probably one of the best burger chains out there! So when in New York you have to try it. Like, have to. It originally started out as a hot dog cart in Madison Square Park. After a couple of summers of line ups they opened their first official kiosk in the same park. I've had Shake Shack in a couple of other locations (London, Boston and Chicago) and I'm always impressed by it. I thought it was kind of cool to get to try it at their first ever location (Madison Avenue & E.23rd Street, NY). As a bonus, this location is close to the Flat Iron Building (as in like 25 meters from it)!
We split fries (hello wedding diet) and had a burger each. We both had the Shack Burger which includes the ShackSauce which is a must try. I opted for a single burger with no cheese while the fiance went for a double cheeseburger (yay for men burning more calories). Rang in at about $16 USD so not bad for a dinner for two!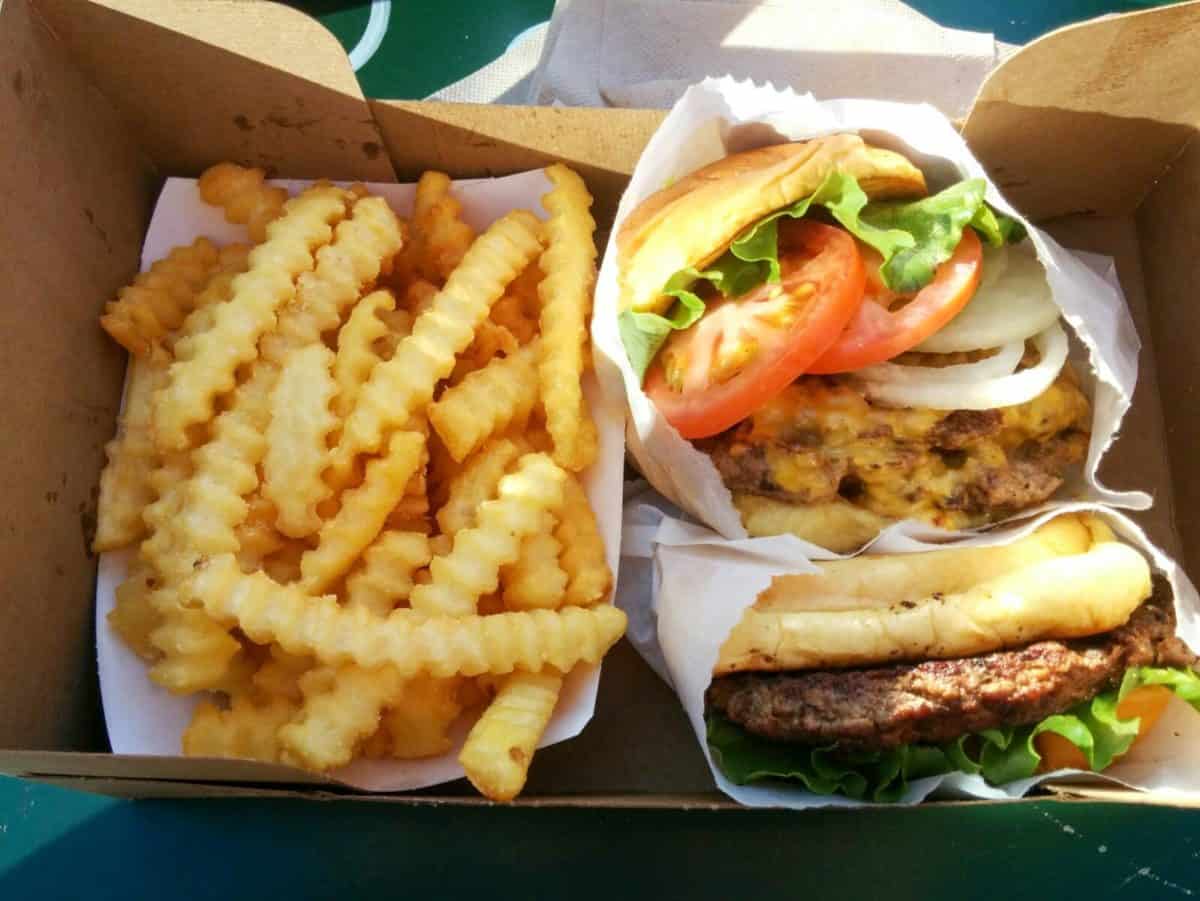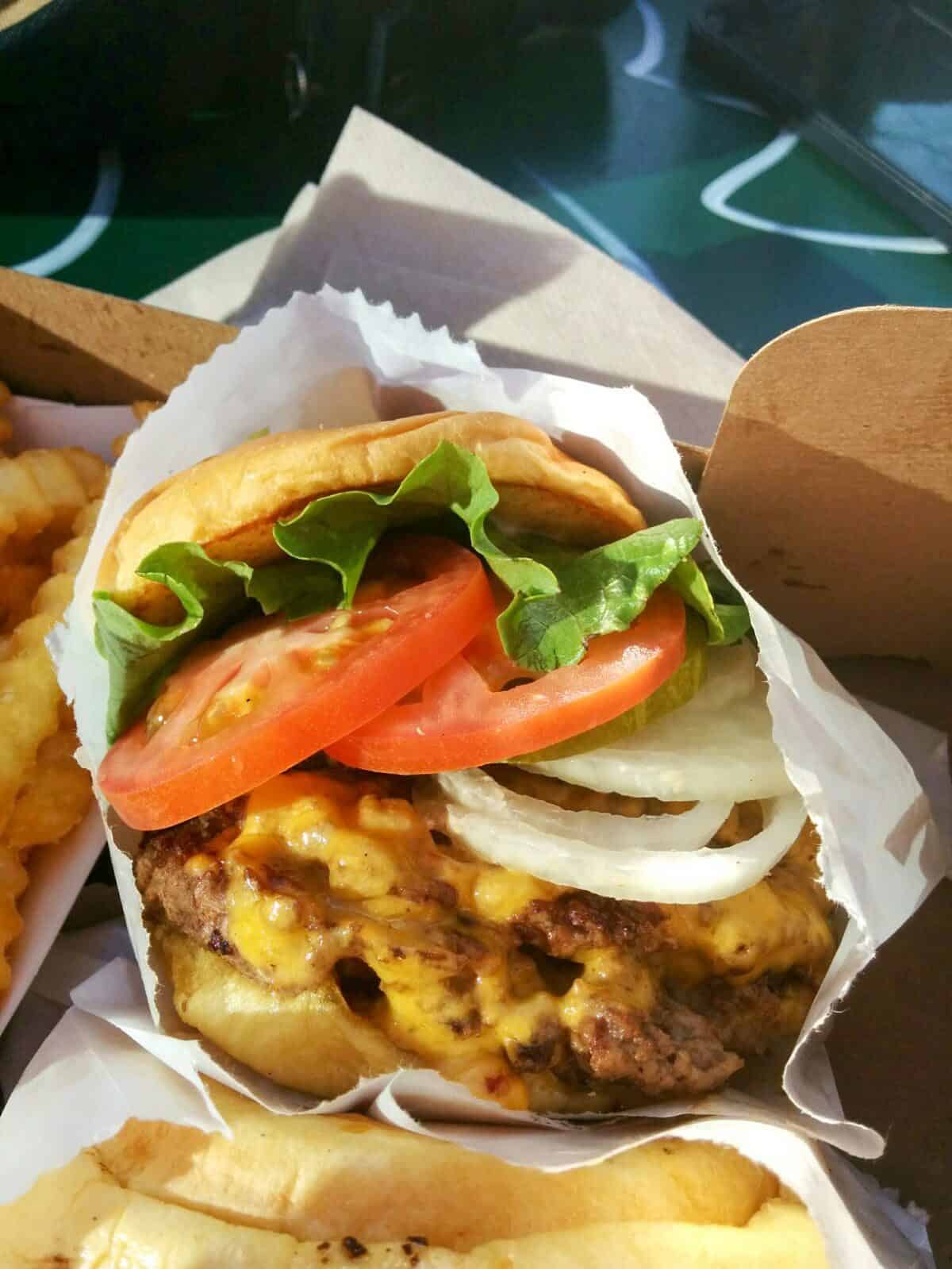 Egg
Doesn't something about New York just scream sit down fancy brunches? To me it does at least. We found Egg while exploring Williamsburg in Brooklyn. It's such a cool little place in one of the best places of New York. I fell in love with Williamsburg and can't wait to go back. Egg is located at 109 N 3rd St, Brooklyn NY. It's a breakfast/lunch place with tons of options.
This place is ideal for all types of travelers (solo, families, couples) because it's a large space and accommodating (plus the people watching is great!). If you're travelling with a toddler in New York especially you would love this restaurant since there's a great park down the street too.
The day that we went there was actually a gas leak so they were serving a limited menu but it worked with what we wanted anyways. We both opted for eggs, hash brown and a country style biscuit (which was so heavenly). Feeling sort of fancy we also ordered a pitcher of mimosas.
The service is good and the food is fantastic. Prior to bringing our food out we got served some complimentary beignets which is a type of French pastry made from fried dough.
This is arguably the most expensive place on the list as our total clocked in at almost $50 USD but I'd like to point out that the pitcher of mimosas was $18 USD so had we opted not to drink it wouldn't have been that pricey.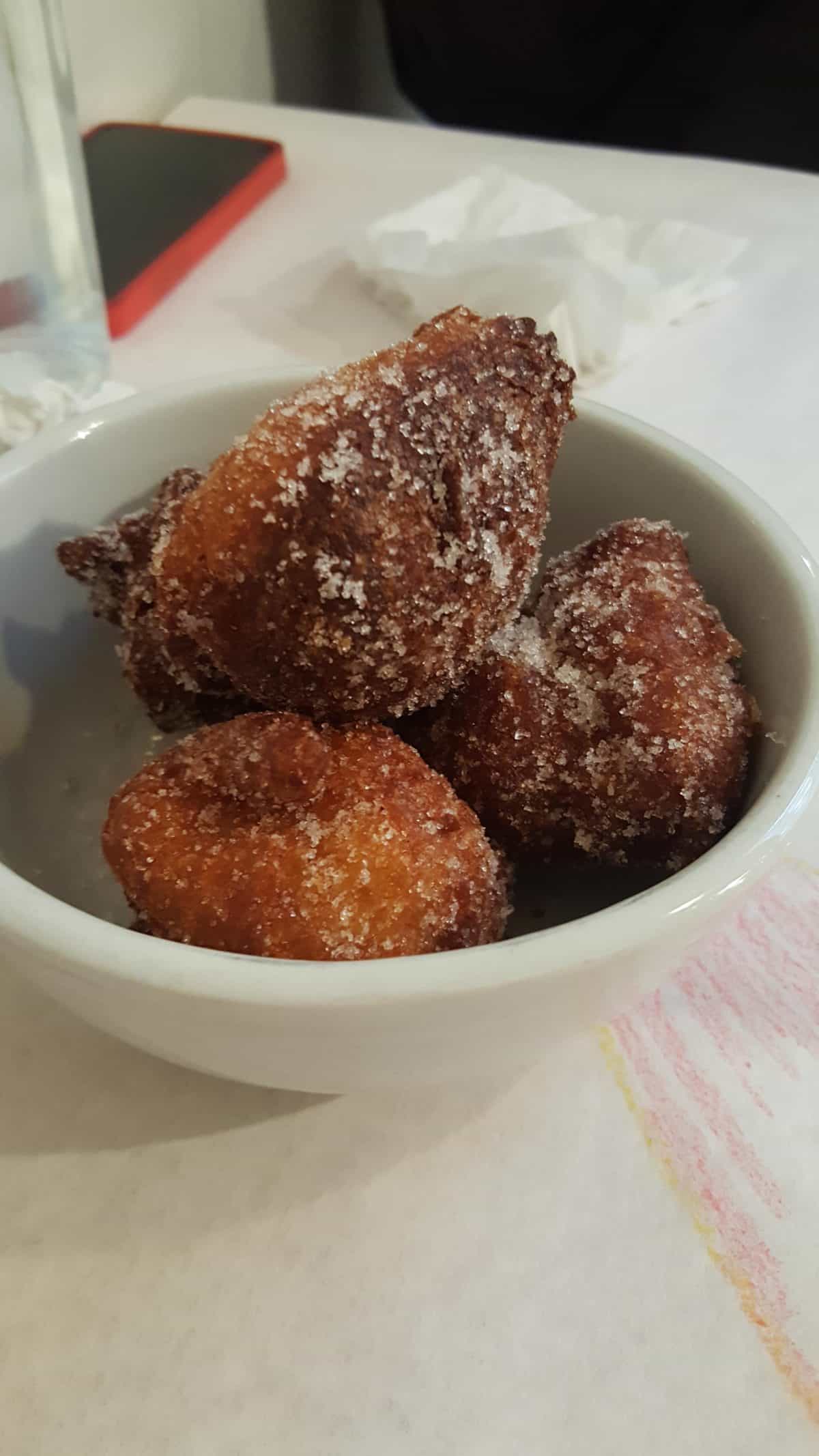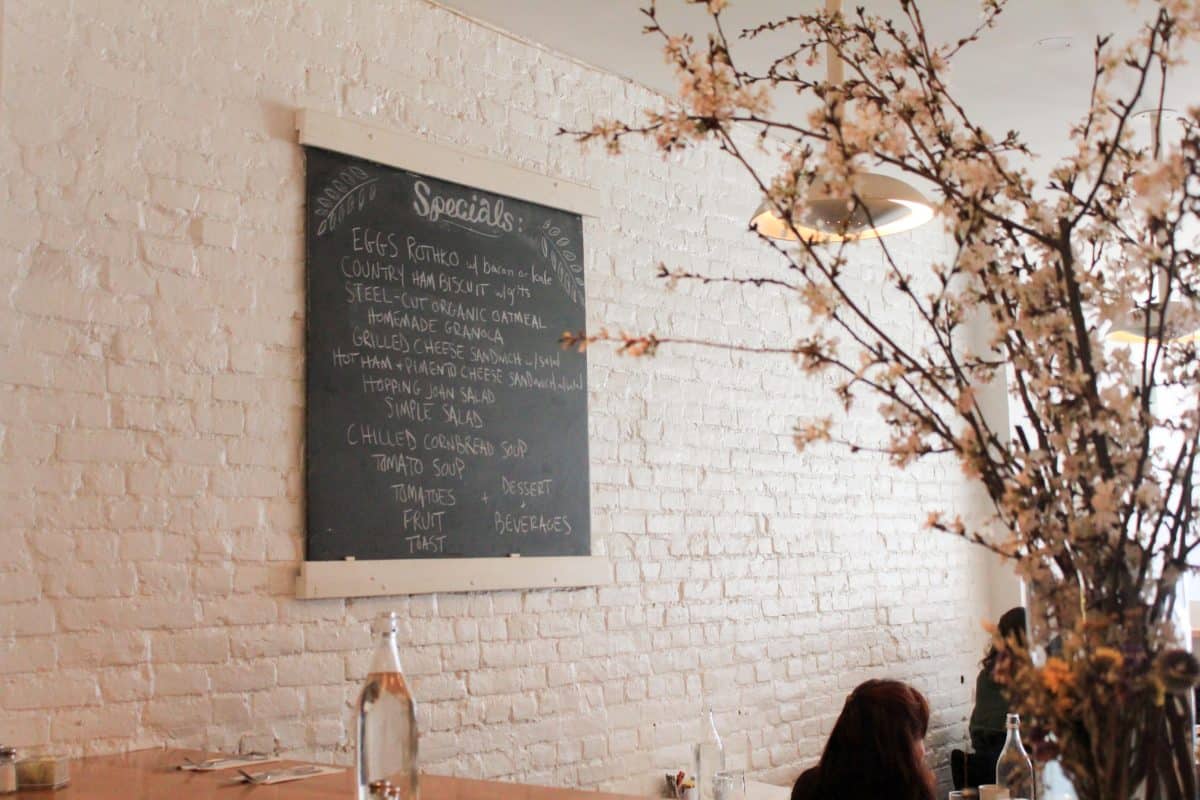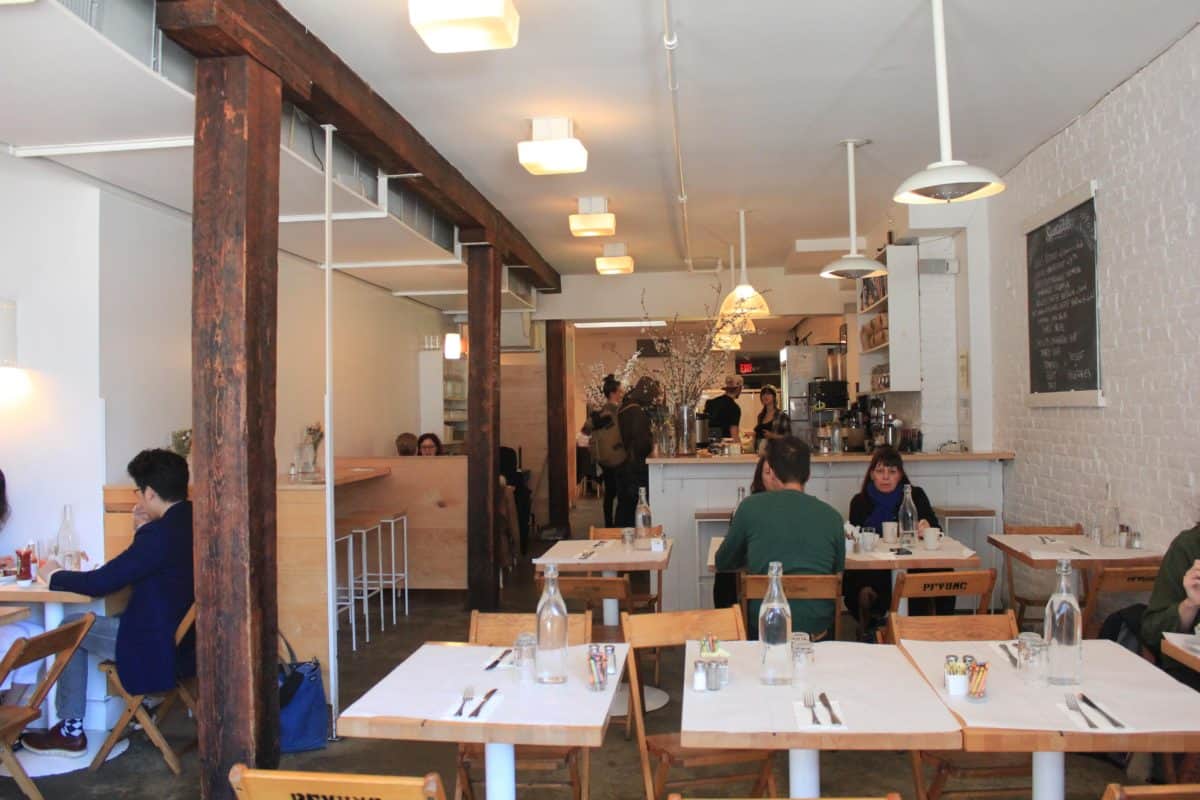 Papaya Dog
The second hot dog place on the list is Papaya Dog in the West Village (333 Avenue of the Americas). This is the place that arguably falls into the cheap fast food category the easiest. But it's a super quick lunch and actually really tasty. They've got tons of different cheap eats including fries, hot dogs, burgers, juices etc. On account of our brunch at Egg we split the one hot dog and fries which rang in at something ridiculously cheap like $4 USD or something. As my pictures aren't super descriptive I'd like to throw in that this is one of the places that Anthony Bourdain recommends in New York!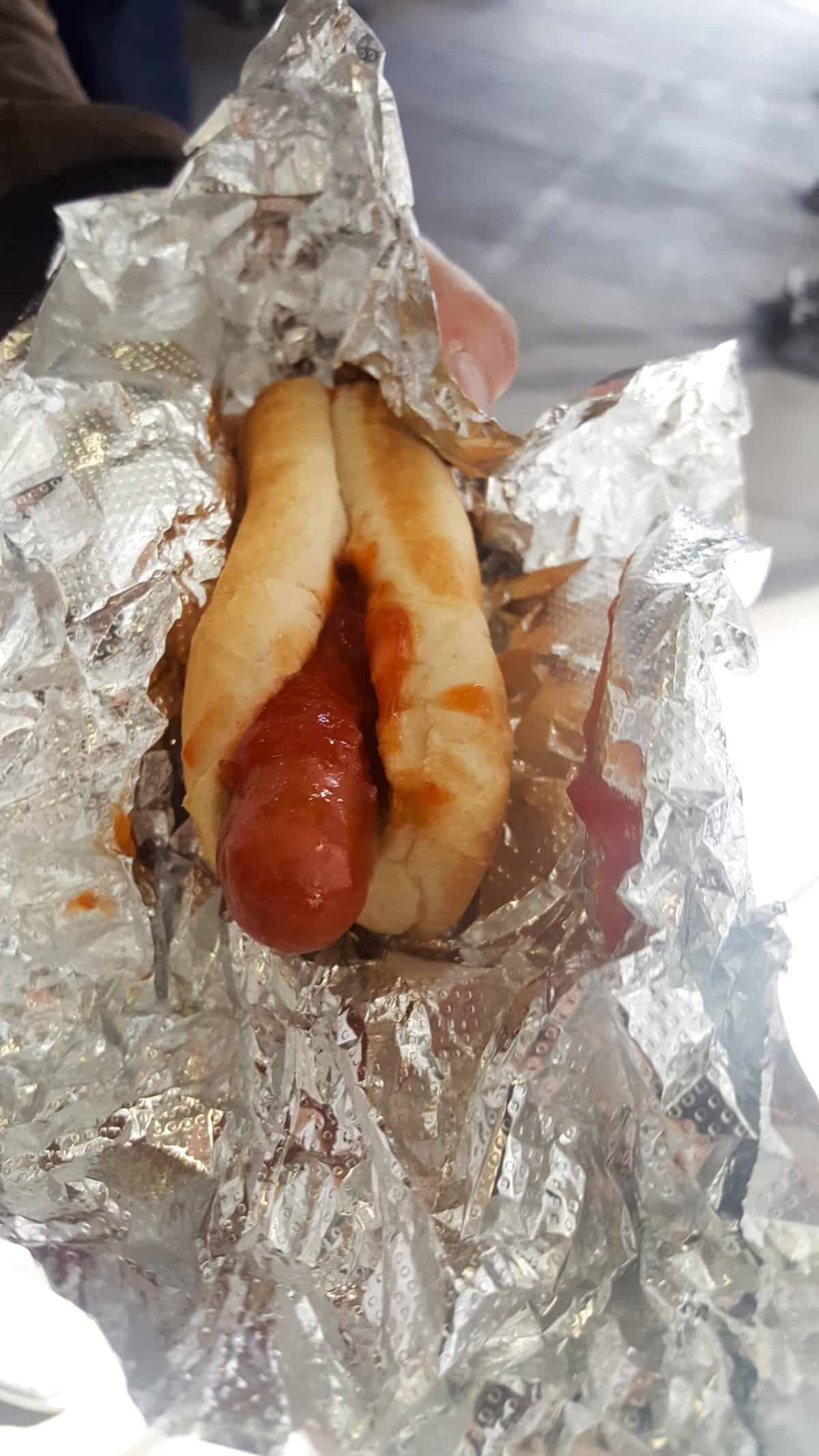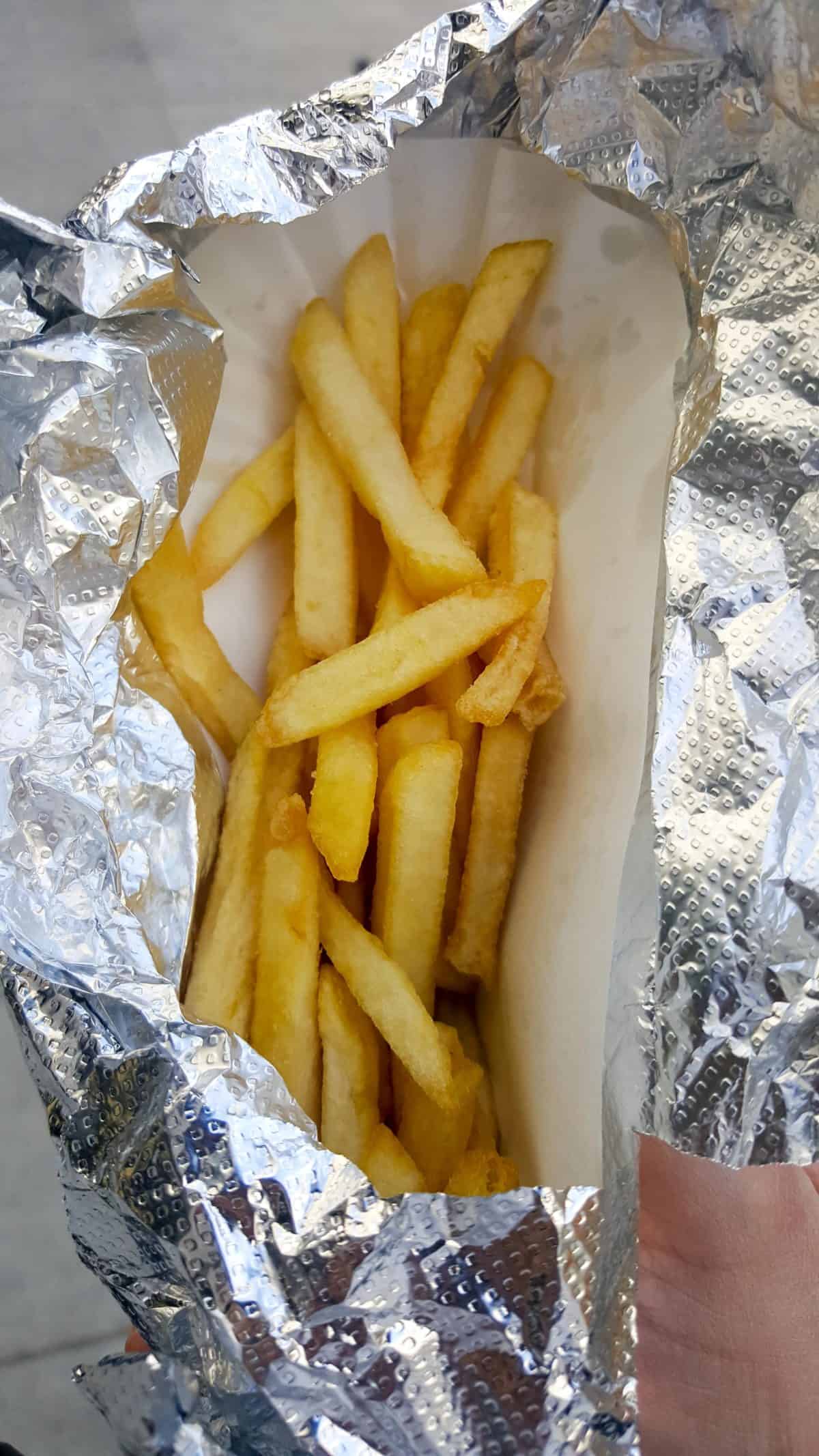 Pick-a-bagel (or really any New York Bagel)
Now this one is probably going to be up for debate as I picked a food chain to showcase the very iconic New York Bagel. However I'd like to preface this by saying that we sort of winged our breakfast places on this trip. We walked around until the we were hungry and found something we wanted to try. This time it happened to be the pick-a-bagel location around the Metropolitan Museum (785 Lexington Avenue, NY) And you know what? It was fantastic. The bagel was crispy and flavorful and the egg and meat combination tasted so great. Are there other fantastic stand alone locations that have to be tried? Yes and on my next visit I will do my due diligence to try a non-chain but in the mean time I actually loved the food here and would highly recommend it if you're ever around it.
The two fully loaded bagels rang in at about $12 USD.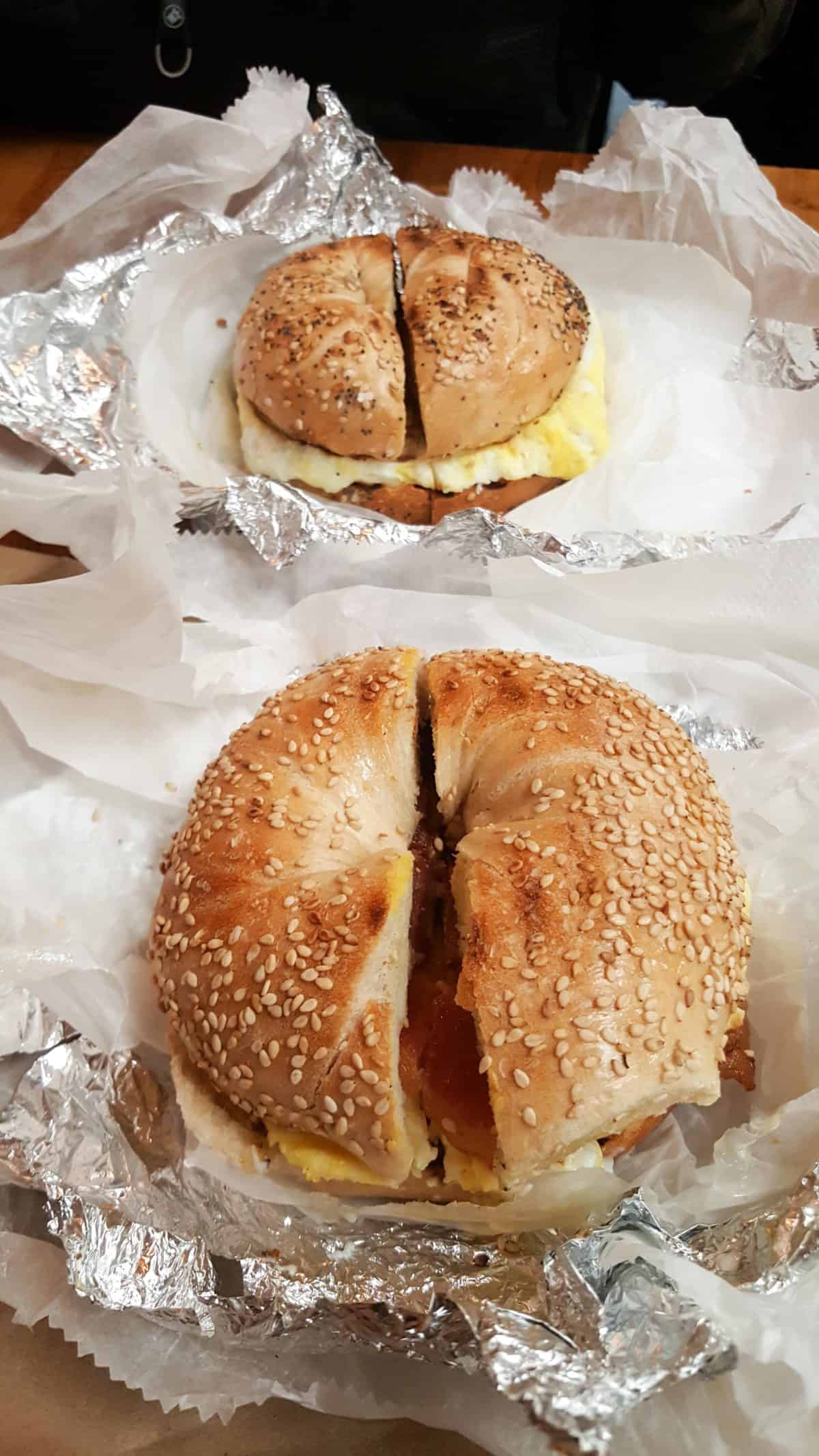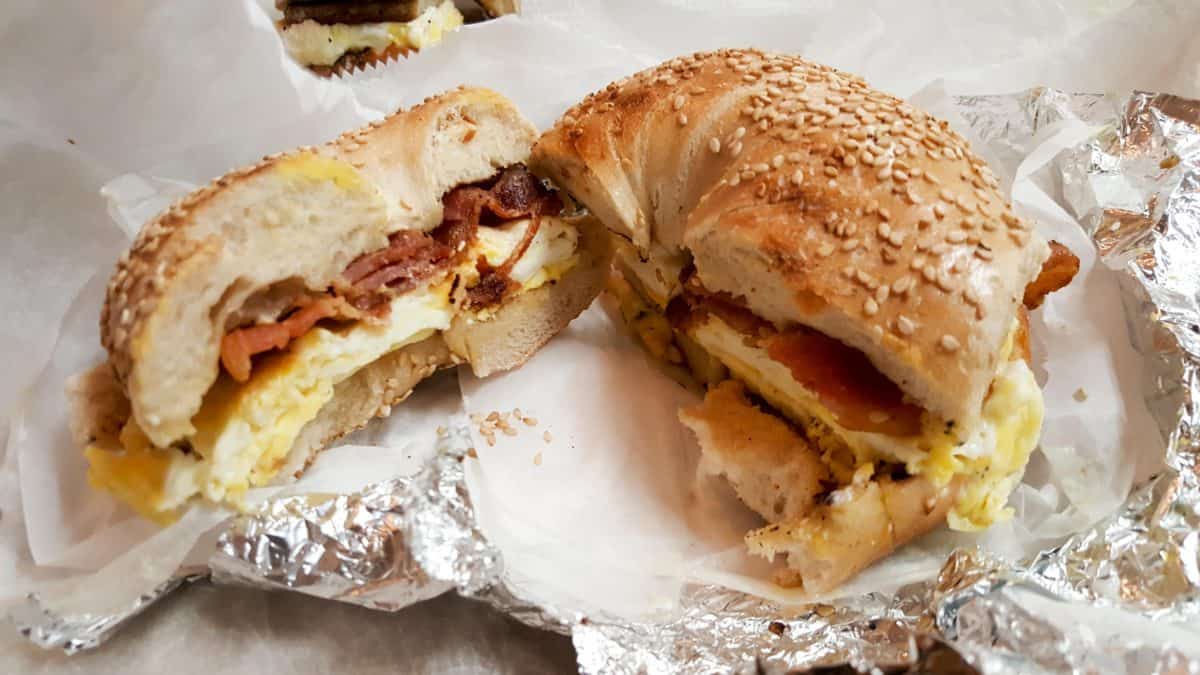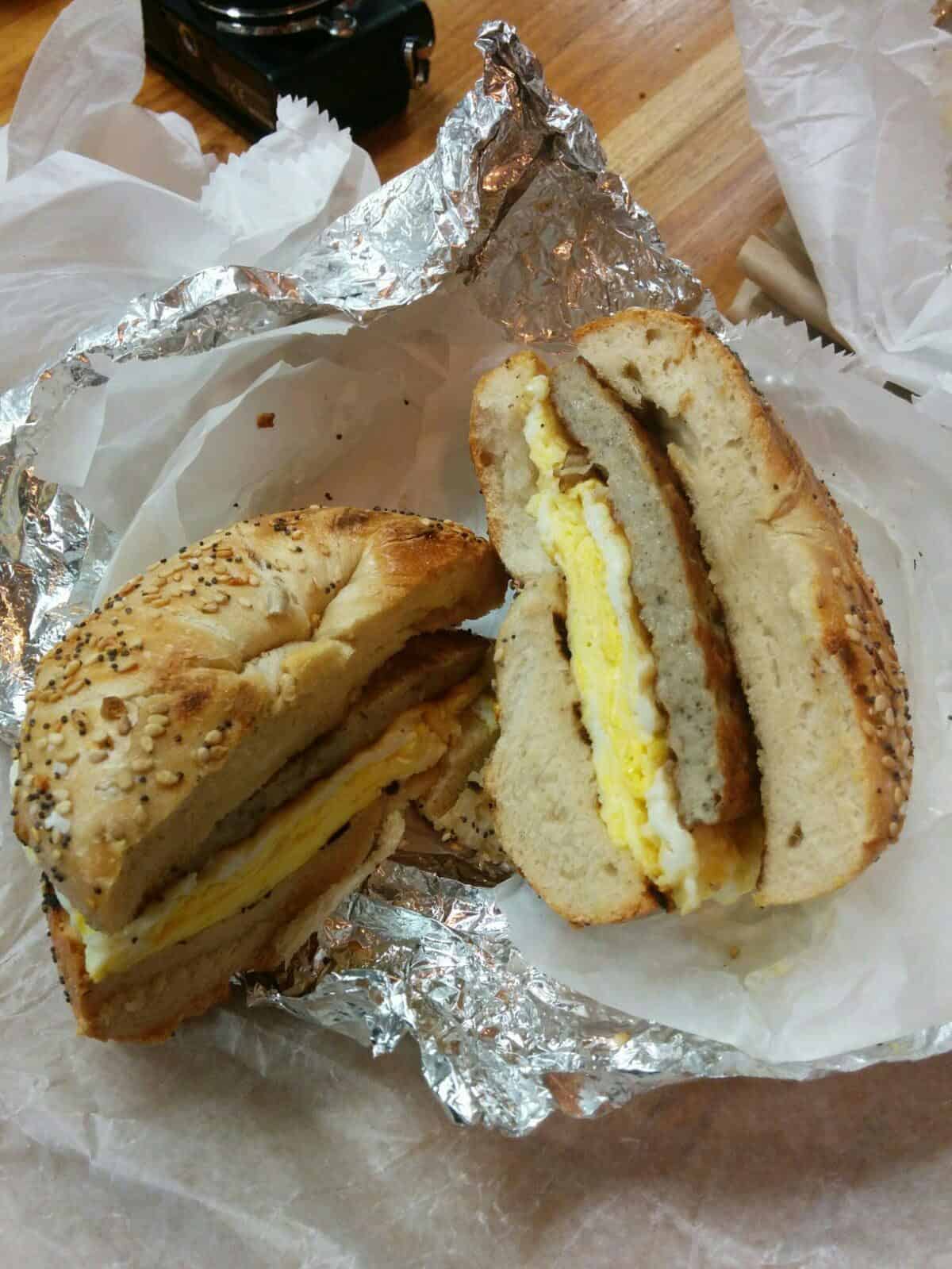 Bonus: Any street food anywhere. New York has vendors in pretty much every corner and on every street. Gyros? Burgers? Hot Dogs? Nuts? Anything you want. I suggest trying this at least once! It's pretty much a must do in New York.
So there you have it. My first edition of the must eat places in New York. I'm sure I'll put out more New York food lists as the city that never sleeps is luckily only a bus ride away from home. We did this entire food list in one weekend in New York so it's totally doable on your first trip! If not, there's always a reason to come back to New York isn't there?
Have you been to New York? What food place stood out for you?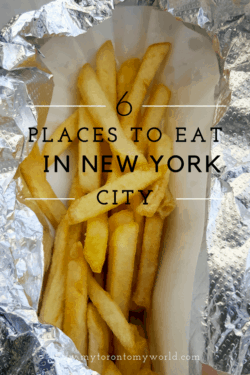 ps. Pin this post for your own trip to New York!