London is an amazing city with a huge list of things to offer but it's also expensive. I've been to London a number of times now and what's always saved me are the London grocery stores. Although I should add that if we want to be accurate we should be calling them supermarkets which is what grocery stores in the UK are called. London grocery stores are definitely not all created equally and if you're not used to them there's definitely a few things to know so read on for everything you'll need to know about London grocery stores to save money in London for your upcoming trip.
If you're interesting in saving money and maximizing your travel rewards make sure to travel with the best travel credit cards and use those for your grocery spending!
#1 There are a ton of options
You'll see the big chains like Tesco and Sainsbury's all across the city but London has hundreds of grocery stores and many different chains. Besides the big chains like Tesco, Sainbury's, Marks and Spencer, Waitrose and Co-Op there are also the budget store chains Asda, Aldi and Lidl. The big difference is that Asda, Aldi and Lidl can't be found in central London but you'll be able to find them outside of the core like in Camden and Shepherd's Bush.
Another great place to find groceries in London is in all the independent, local and ethnic stores. London is incredibly multicultural so you'll find a number of ethnic stores (like Asian and Middle Eastern) spread throughout the city as well as local shops
In addition to the chain stores and local grocers, London is known for a ton of markets. There are a number of markets that run through the week (the Borough Market for example) where you can pick up fresh produce, cheese, bread and so forth. This applies to farmer's markets as wells. There's of course a huge number of weekend markets all across the city that would give you a ton of options for picking up fresh food as well.
Another place to find food, although usually not very cheap, is the food halls of various department stores. Harrod's, Fortnum and Mason and so many more have their own food halls with what I would label higher end goods.
#2 Not all grocery stores/supermarkets are created equally
Depending on which part of London you're visiting a store in you'll find that they definitely vary in size and shapes.
Tesco for example has a number of different sized stores. The big ones are the Tesco Extra and Tesco Supermarkets while the medium sized ones are the Tesco Metro. The smaller ones you'll find virtually everywhere are the Tesco Express. I've noticed the prices in the Express stores can be a little pricier than the larger stores.
Sainsbury's similarly has different sized stores as well with the ones labelled just Sainsbury's (like the one pictured below) being the biggest one and the Sainsbury's Local being the smallest ones.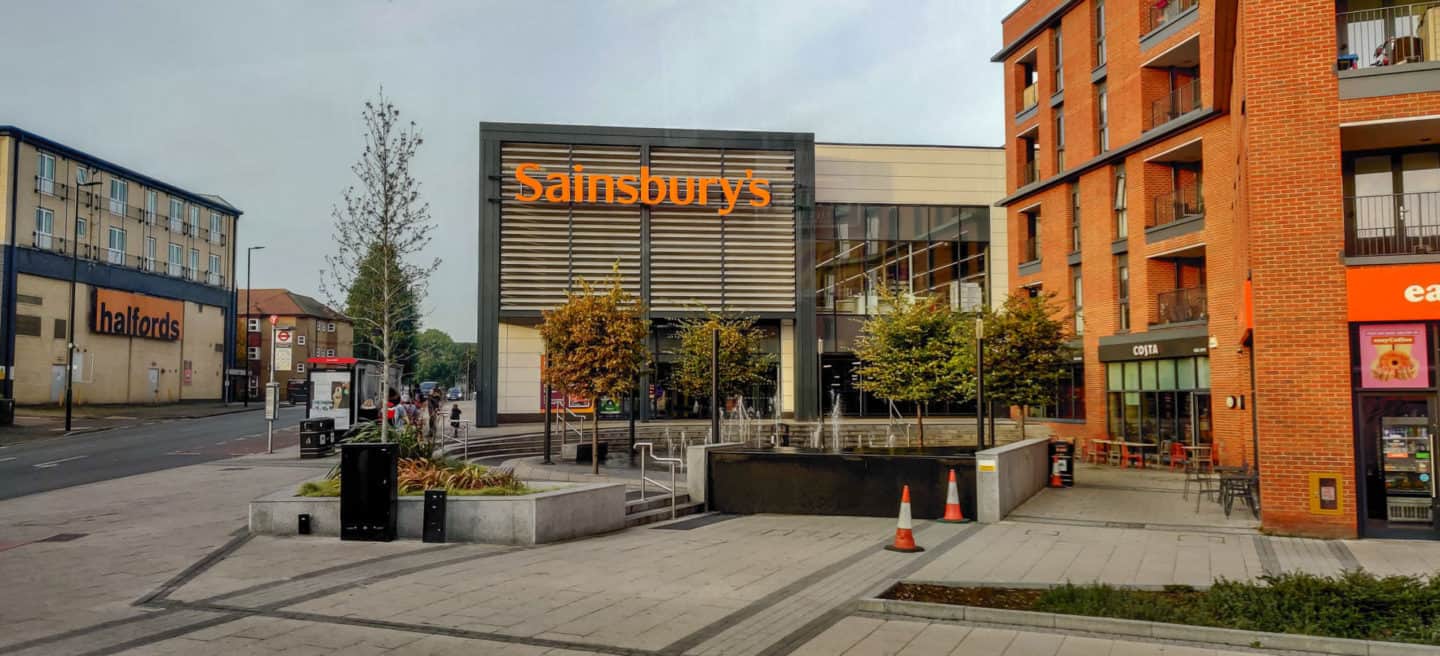 #3 Opening Hours
Like a lot of other places in Europe, England has limited opening hours on Sundays and this applies to grocery stores too! While you can find some 24 hour stores and late closing stores throughout the week, this typically will not be the case on Sundays. It will vary from store to store but expect openings anywhere from 10am-12 pm and closings anywhere from 4pm-6pm.

#4 The meal deals
The meal deals (particularly at Tesco and Sainsbury) are the best kept secret to saving money in London in my opinion.
At Tesco specifically, you can get a meal deal for 3 pounds. You'll get a main, like a sandwich/salad/wrap/pasta in addition to a drink and a bag of crisps or a chocolate bar for 3 pounds! it's significant savings in comparison to even a fast food meal (and usually a little healthier too).
Other stores have their own meal deals that can be little more expensive but Tesco is by far the best one (in my humble opinion). Stores like Boots (which is the UK's equivalent of Shopper's Drug Mart or CVS) have their own meal deals as to quick eat places like Greggs, Pret A Manger and EAT but prices will be a little higher.
If you're staying somewhere with a microwave or oven the stores have super cheap chilled/frozen meals as well. I had excellent curries, lasagnas and Shepherd Pies for 2-3 pounds each.

#5 Cheap, cheap, cheap
London grocery stores are actually fairly cheap in comparison to the rest of what you'll have to spend on in London (i.e. transport and accommodation). If you're staying in an airbnb or an accommodation with any kind of fridge I would highly recommend bulk buying some fruits/vegetables or drinks to keep with yourself.
A tip is that the chilled drinks in the fridges right by the cash are normally a little pricier than the drinks in the aisles so if you're not in immediate need for a chilled drink you can pick up a pack of non-chilled ones for cheaper!
A second tip is to look for store branded products. Tesco and Sainsbury's for example carry lots of products like pastries and cookies in their own brand which can be significantly cheaper than brand names.

#6 Fresh Food, Bread & Pastries
The major chains will have a nice and big bread and pastry section with freshly baked goods every day. They've got an assortment of pastries and bread that cost just under the pound mark and honestly the vanilla crown from Tesco is one of best pastries I've ever had in my entire life and I'll admit to having had it virtually every day of my last trip. Seriously. It's so freaking good.
It goes without saying that the pastries and croissants in the grocery stores is significantly cheaper than the bakeries and it makes for a cheap (and quick) breakfast on the go for those fully packed London days!

#7 Souvenirs
Another surprising aspect of London grocery stores and supermarkets is that they're actually a great place to grab some souvenirs and gifts for home. Not only do they have all the unique versions of Maltesers you could possibly want, they're also at really reasonable prices. Chocolate bars and nicer packaging can all be found for a few pounds!
If you're heading towards a Marks and Spencer they actually have super nice tins with London landmarks on them containing short breads (and other cookies) that also make for really nice souvenirs. They're obviously a little pricier than chocolates or candy but they're beautiful gifts that will surely be appreciated!
#8 Plastic Bags
The plastic bags at the grocery stores in London cost 10 pence. Depending on where in the world you're from coming from this may be a shock. The stores in Canada have the same kind of fee (although it's definitely cheaper) so I knew what to expect and avoided buying bags when I could and brought my backpack along for when I needed to buy a lot of things.
#9 Self Check Out
In London grocery stores self-check outs are incredibly popular and you'll come across many stores where there may only be one or two tellers working but two rows of up to 8 self-check out counters are available. Make sure to pay attention to the signs on the machines, some of them are card only and if you're intending to use cash you'll be wasting your time at those machines.
Pay attention to the etiquette at the self-check counters – line cutting is a huge no-no and some stores will have an employee who calls you up to the next available machine.
And there you have it: everything you needed to know about London grocery stores and supermarkets! Pin this post for your own upcoming trip to London (or the UK in general) and let me know if you have any questions in the comments!