Banksy is the most well known street artist of all time and one of the most well known artists of our generation. Not much is known about Banksy except that he's from Bristol where his pieces started appearing in the 1990s. There's a huge amount of interest in Banksy's art and people are always curious about where to find his pieces. This article will highlight some of his pieces in London specifically with a detailed location and exact information on where to find the Banksy London locations.
Who is Banksy?
I'm assuming you found this article because you're already interested in Banksy and because you're looking to find out how to see some of his pieces. BUT, if that's not the case then let me do a little explaining as to who Banksy is.
Banksy is a street artist from England, Bristol specifically, who's been active on the street art scene since the 1990s. His pieces are often satirical and usually comment on current political/societal issues and he's known for his distinctive stenciling technique. He's chosen to remain anonymous for decades now and while there are theories as to who he is nobody actually knows.
Banksy's pieces are worth incredible amounts these days. A piece sold for 9.9 million pounds during auction in October 2019 and because of this, pieces get removed from the public very quickly. There are numerous pieces that have been removed from buildings and streets where they created only to be sold during an auction.
There's a number of copy cats and because nobody knows who Banksy really is it can sometimes be hard to distinguish his pieces. There's a lot of information out there and it can be hard to verify it. Banksy does have an Instagram and an official website where he announces projects so if you're looking for information straight from the horses' mouth so to speak then these would be the best outlets.
If you're interested in more information about Banksy I'd highly recommend checking out the documentary "Exit Through the Gift Shop".
Where can you find Banksy pieces in London?
While some locations have a higher concentration of Banksy's there's no real hot spot. They're spread through out the city. If you're super limited on time I'd recommend going for the ones that are grouped together. Shoreditch has 3 pieces within a 5 minute walking distance. The 2 Basquiat pieces are right beside each other at the Barbican Centre and Graffik Gallery in Notting Hill has two of them right outside of their door as well.
Love Rat – London Bridge
Location: Underpass beneath London Bridge where it meets Tooley Street
When was it painted: Unknown
Closest tube station: London Bridge, accessed by the Northern and Jubilee lines
The rats are one of Banksy's most recognizable pieces and the one that you'll be able to find in many different locations not just in London but elsewhere too. This one is located across the underpass from where the London Bridge Experience and Ice Cream Shop can be found. It's quite low to the ground so you'll need to bend down to see it head on.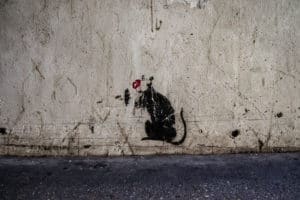 Designated Graffiti Area
Location: In the beer yard of Cargo located on 83 Rivington Street in Shoreditch
When was it painted: Around 2006
Closest tube station: Old Street, accessed by the Northern line
One of the best preserved Banksy creations is actually inside a club in Shoreditch. The beer yard of Cargo nightclub features 2 Banksy pieces (the second one is below). The first piece shows a security guard holding a leash for a fluffy poodle. They're standing next to a sign that says" "By order, National Highways Agency, this wall is a designated graffiti area, please take your litter home."
The piece is covered and well protected. With the lights and decor of the yard it's also one of the prettiest pieces on this list.
Worth noting for both this piece and the Guard Dog and His Master's Voice piece is that they're located within the property of the Cargo nightclub so their opening hours do apply. We've walked past it when the yard's been locked and you won't have access to the pieces in those cases. I couldn't find the hours online but late afternoon/evening would be an ideal time to check them out.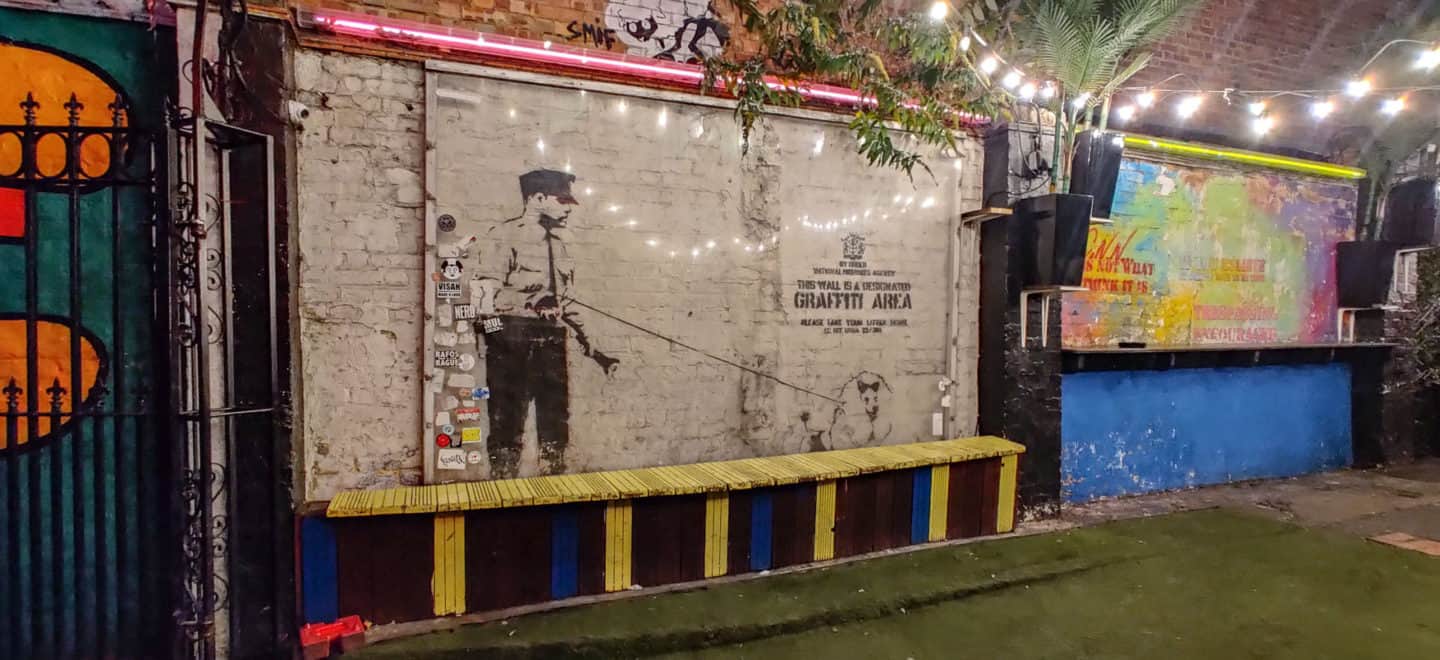 Guard Dog and His Master's Voice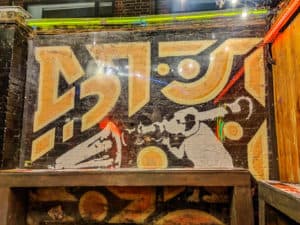 Location: In the beer yard of Cargo located on 83 Rivington Street in Shoreditch
When was it painted: Unknown
Closest tube station: Old Street, accessed by the Northern line
The second pieces that you'll find in the beer yard of Cargo nightclub in Shoreditch is the Guard Dog and His Master's Voice piece. It's a satire of the famous HMV logo, with HMV standing for His Master's Voice. The original HMV logo features a dog, named Nipper, looking into an old-school gramophone. Banksy's piece has Nipper aiming a rocket launcher into the record player instead of looking into it.
The piece has been interpreted to be Banksy's take on the music industry.
While the Banksy pieces are obviously super popular, the street art in Shoreditch in general is worth checking out and exploring Shoreditch is one of the things to do in East London.
Royal Family – Crazy Beat
Location: 129 Stoke Newington Church Street, on the side of the building
When was it painted: Roughly 2001
Closest tube station: There isn't really a close tube station to this piece and it's probably the one most out of the way on this list but you can take the overground to Stoke Newington railway stop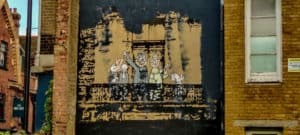 This piece featuring Banksy's take on the Royal family on the balcony were they often appear for the public can still be found on Stoke Newington Church Street in North London. It's been around since 2001 but has almost been painted over several times.
In 2009 in particular, Hackney Council was in the process of covering the art work in black paint but the building's owner intervened and stopped them but you can see the black paint all around the piece still.
The piece, or a version of it, was later used by Blur on the cover of their 2003 single titled Crazy Beat.
Thomas the Tank & Little Rat – Graffik Gallery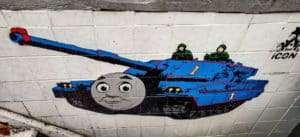 Location: Graffik Gallery, 284 Portobello Road, by the stairs down to the basement
When was it painted: Unknown
Closest tube station: Ladbroke Grove Station, accessible by the Circle and Hammersmith & City lines
If you're standing right in front of Graffik Gallery there's a fenced off staircase down to the basement and you can see the 2 pieces on the wall of the stair case. The first is one of Banksy's signature little rats with a heart. There's been variations of this rat found in multiple locations and cities. The second piece is Thomas the Tank engine with two soldiers in it.
Unlike the rest of the pieces on this list, not too much has been written about these two. It's believed that this isn't the original spot of the pieces and that they were moved here.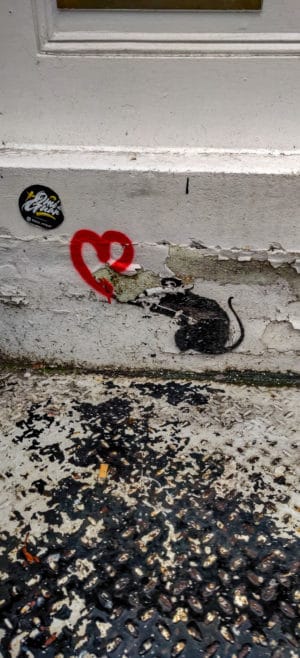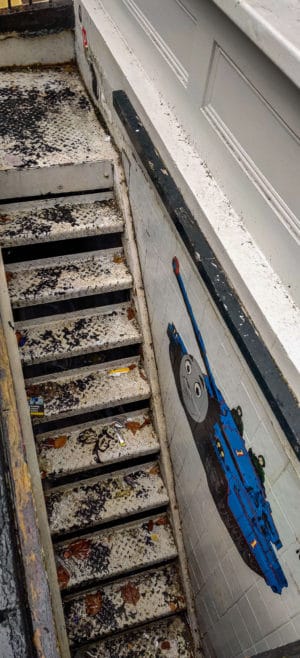 Extinction Rebellion
Location: On the side of Marble Arch at the corner of Hyde Park (you can see which side right below in the picture)
When was it painted: April 25, 2019
Closest tube station: Marble Arch, accessible on the Central line
On April 25, 2019 the Extinction Rebellion piece appeared on the side of the Marble Arch as the site where the Extinction Rebellion camp was cleared away. It's been covered by polycarbonate to protect the piece and while it hasn't technically been confirmed as Banksy by the artist himself, experts agree that it's his work.
The piece is of a girl holding a small Extinction Rebellion sign crouching by a newly-planted seedling with the words "From This Moment Despair Ends And Tactics Begin".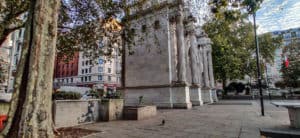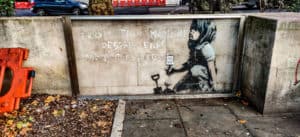 Snorting Copper
Location: 115 Curtain Road, close to Curtain Road and Dereham Street, down the little alley on the left hand side of Frederick Gibberd Partnership office building
When was it painted: 2005
Closest tube station: Old Street, accessed by the Northern line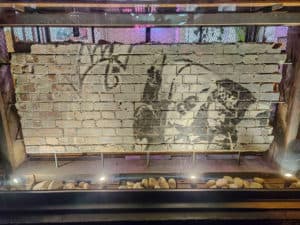 The piece itself shows a police officer on the ground, on all fours, snorting a line of cocaine. The original piece included a line of white spray paint on the floor which snaked around the surrounding streets.
The Snorting Copper piece has quite a unique history. It originally appeared in 2005 on the side of a public toilet on Curtain Road. Hackney Council decided to remove the art so it was spray-jetted, painted over, boarded up and for all intents and purposes lost to the public.
Uniquely enough however the piece was rediscovered. Property developers who bought the site and wanted to turn the toilet and building in homes/office spaces found out about the Banksy.
They removed the plywood boards and found that the painting was preserved almost entirely. They sent it off for preservation and instead of selling it off decided that it should be displayed to the public which it has been ever since it's unveiling on October 5, 2017.
It's different than the rest of the pieces because it was restored so you could argue that it isn't the exact original but nothing was done to the actual piece. The restoration was to remove the layers that were placed on top of the piece.
My Tap's Been Phoned
Location: Parking lot by Chrisp Street and Susannah Street
When was it painted: 2011
Closest tube station: Canary Wharf, accessed by the Jubilee line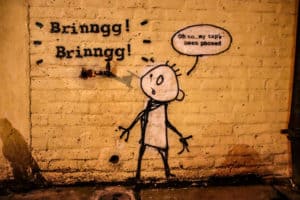 The summer of 2011 was the summer known for Rupert Murdoch's phone-hacking scandal (where journalists were phone and voicemail hacking).
Banksy decided to comment on the situation with a piece that can be found in Poplar (East London), specifically at the intersection of Chrisp Street and Susannah Street (which the closest major intersection is Chrisp and East India Dock Road.
As a play on words, Banksy incorporated an actual tap into the piece and has the tap "ringing" with the cartoon saying "oh no, my tap's been phoned".
Falling Shopper
Location: Mayfair, specifically at 25 Bruton Lane on the side of a building
When was it painted: November 19th/20th 2011
Closest tube station: Green Park, accessed by the Jubilee, Piccadilly and Victoria lines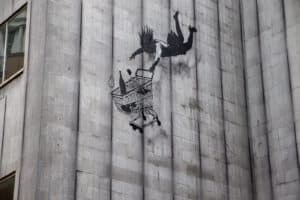 Mayfair is one of the upscale and posh areas of London. It's filled with high end shopping brands like Louis Vitton and it's not exactly where you would expect to see street art, let alone where street art would survive very long. Given it's commentary on consumerism it's obviously the perfect location for this art piece.
The piece can be found on the side of a building down Bruton Lane (closest to where it meets Bruton Street). It's quite high up on the building and was apparently painted using scaffolding. It's interesting to get to see the behind the scene of the piece which you so rarely get to do with Banksy's pieces.
Banksy + Basquiat – 2 pieces
Location: At the intersection of Beech Street and Golden Lane by the Barbican Centre
When was it painted: 2017 around the opening of their exhibition on Basquiat
Closest tube station: Barbican, accessed by the Circle, Hammersmith & City and the Metropolitan lines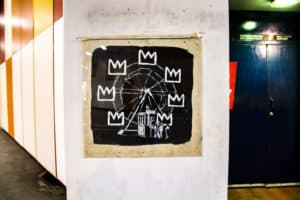 Basquiat is another very well known artist who became famous for his street art in New York in the 70s and 80s. He tragically died of an overdose at the age of 27.
In 2017 the Barbican Centre opened an exhibition with the work of Basquiat which is when these 2 Banksy pieces appeared. They're both plays on Basquiat and his work.
The crown is one of the symbols Basquiat is known for (similarly to Banksy and his rats) and so Banksy has replaced the cars of the Ferris Wheels with crowns. He posted this piece to his Instagram with the caption: "Major new Basquiat show opens at the Barbican – a place that is normally very keen to clean any graffiti from its walls." which appears to poke fun at the Barbican Centre.
The second piece is Banksy's version of Basquiat's own piece named Boy and Dog in a Johnnypump (from 1982). The difference is that Banksy's version includes 2 police officers that are searching the figure. He posted the picture to his Instagram with the caption: "Portrait of Basquiat being welcomed by the Metropolitan Police – an (unofficial) collaboration with the new Basquiat show"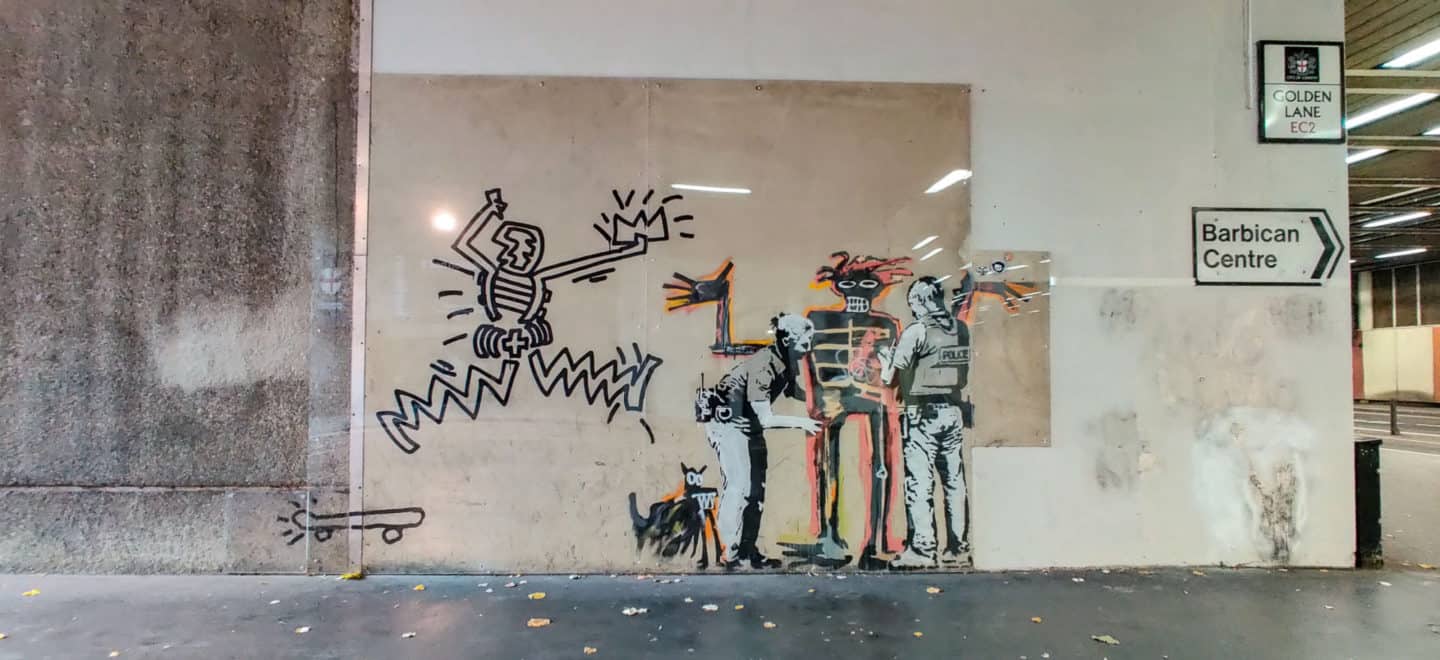 Map of Banksy Locations in London
I've put together a Google Maps with all of the locations of the above pieces below. The legend has the name of each piece and some of them have more detailed information in their description to allow you to find the piece more easily. All you have to do is share the map to your phone and you'll be able to see all the pieces as you go.
Aren't there more pieces?
There are of course more locations and pieces in London but I visited 4 of the locations circulating around and the pieces are now covered up/removed so I've chosen to only include the pieces I have seen in person myself on my most recent trip and as you can see a few of these are protected and should hopefully be around for a long time.
Banksy is also making new art constantly so there's a chance he pops by again and if I hear of it I'll be sure to update the post as well!
Hopefully this guide on the Banksy London locations helps you in your own chasing. If you have any updates on pieces that may have been damaged feel free to let me know in the comments and I can update the post for everybody to be aware!