Road tripping has been and always will be one of my favorite ways to spend a day. I've been far too busy this year so I've haven't gotten out as much as I'd like but I did get the chance to finally do the drive up to the Screaming Heads this summer!
This is one of the rarer day trips from Toronto in the sense that it's not super, super well known and when we were exploring the place it honestly felt like we had it to ourselves which if you've been to Tobermory or Niagara Falls, or any of the other popular day trips from Toronto, you'll know is quite rare. So what are the Screaming Heads? Read on for everything you'll need to know in order to experience them yourself!
What are the Screaming Heads?
The Screaming Heads are an art installation created by Peter Camani on his 310-acre (!) property where he lives. You may not be familiar with the artists name but he's got art pieces hanging in both the Vatican and Buckingham Palace and the Screaming Heads project is now the giant project he's been working on for decades. The property features a number of different statues/art pieces made of concrete but the largest and most visible ones are the 'Screaming Heads' which is the name of the project as well.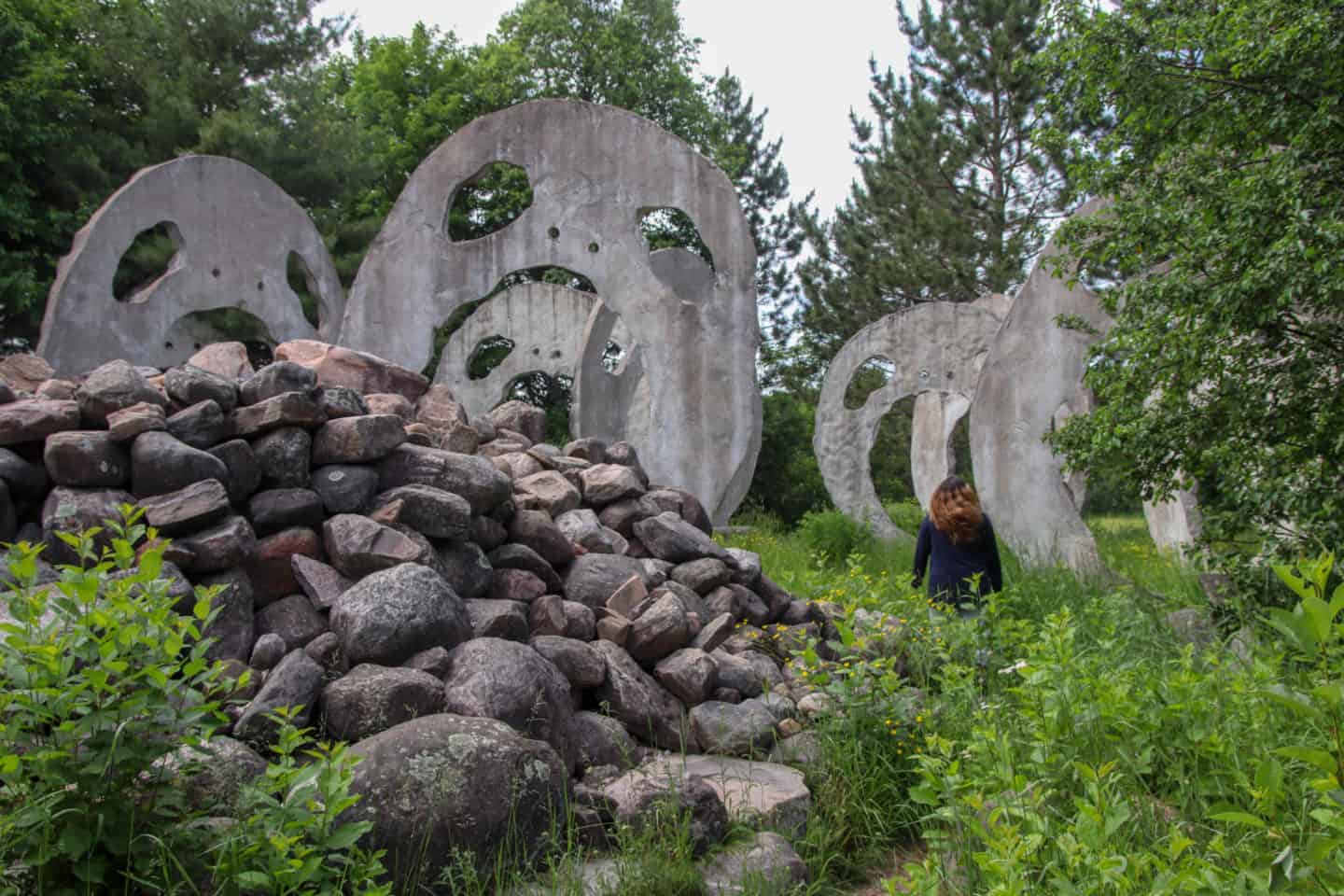 Where are the Screaming Heads located?
The Screaming Heads are located on Midlothian Road in Burk's Falls in Ontario. It's about a 3 hour drive north from Toronto which makes it ideal for a day trip. I'd recommend spending a couple of hours walking around and taking in all that the property has to offer so don't head out too late in the day.
How to get to the Screaming Heads?
The only way to get to the Screaming Heads in my opinion is to drive. I'm sure you could take a bus up to Muskoka and perhaps walk a portion but it would be fairly difficult in my opinion so for this one you're definitely going to want to rent a car if you don't already have one!
To get to Screaming Heads you'll be heading towards Burk's Falls. Once you've reached Burk's Falls continue west on the 520 to Midlothian Road. Continue about 3 km down the road and you'll see the giant field on the left. There will be a small entrance for the parking lot with the below sign. It's easy to miss the sign but the Screaming Heads are incredibly visible as you drive down the road so you'll definitely know that on the right track.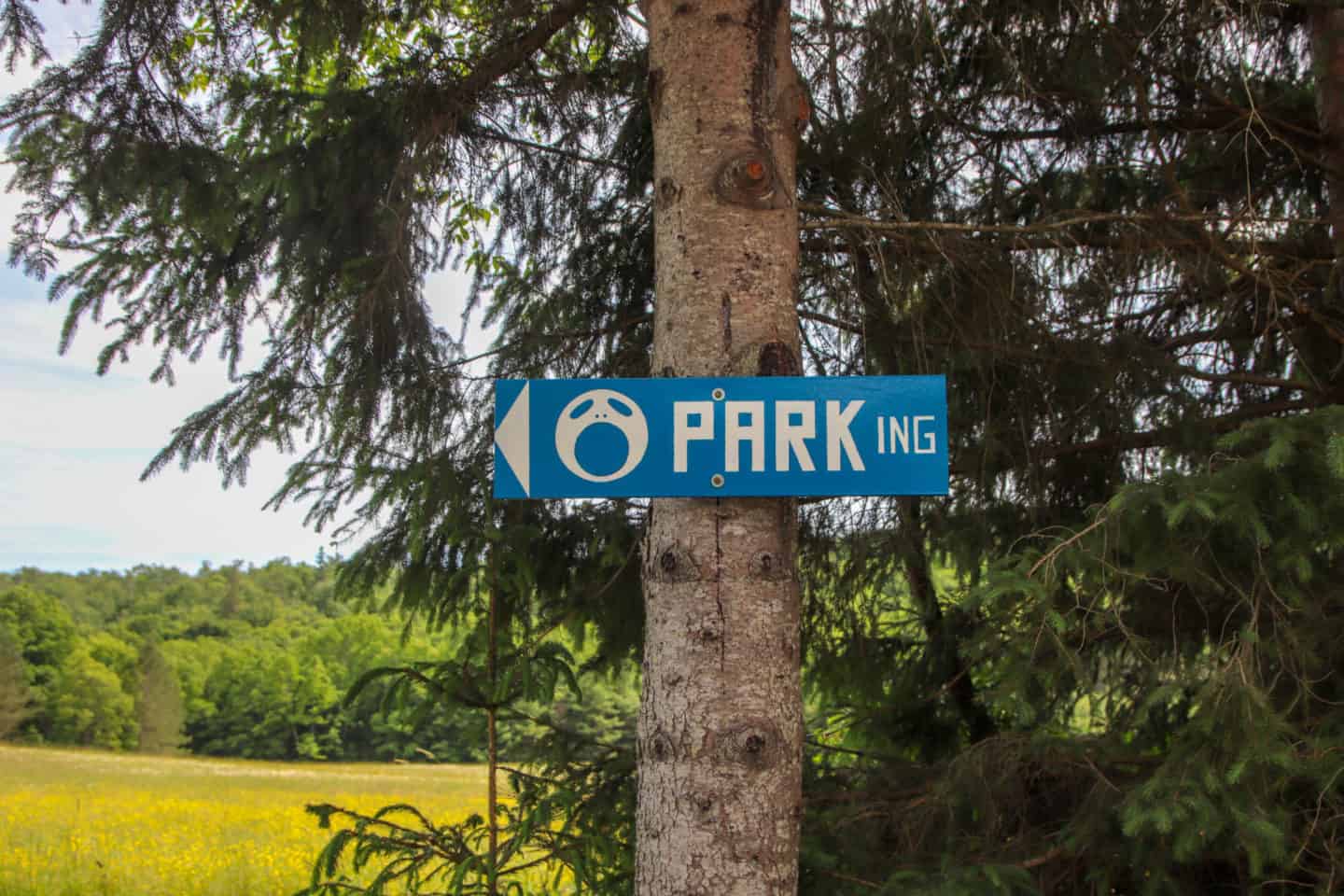 Does it cost anything to get into the Screaming Heads?
No, it doesn't cost anything to get into the Screaming Heads. There is a donation box at the front gate when you enter but it's completely voluntary. We really enjoyed our experience so we made a small donation on the way out. It's my understanding that the donations are used to help keep the property running.
Another way to support the artist and the community is to purchase something from from the t-shirt shop/information both. They've got tanks, t-shirts and hoodies in different sizes and colours available for purchase. When we were there it was cash only so if you're interested in making a purchase I'd recommend bringing some cash with you.
What is there to do at the Screaming Heads?
It's essentially a huge park with lots of trails and different parts to explore. You can walk through the different parts of the meadows, forests and ponds and even get up close and walk through the art work itself. The property is very clearly labelled as enter at your own risk and we did somehow manage to get lost once but if you stick to the trails you should be fine (yes we tried to find a short cut back to the entrance which is how we got lost).
The ponds have little docks with seating around them that I'd highly recommend sitting down for a break on!
When you enter the park you'll pass the artist's home which you'll want to make sure to take a look at. It's got some really interesting architectural features and there's a number of birds roaming free all around the house and the entrance!
If you're into disc golf there was actually some targets around so I can imagine it's a great setting to play in.
Be(e) Warned
There are lots of bugs on the property. Like insane amounts. My skin is itching just thinking of it. We sprayed ourselves with bug spray but I still got insane amounts of bites. It's not just mosquitoes and black flies either – there's some flying things I didn't recognize. Don't let it deter you from seeing the place though. Just come prepared!
When to visit the Screaming Heads?
The area and installation is open year round so you're able to time a visit to whenever you're in the area.
We visited in the summer which had some positives and negatives. It was nice and warm (borderline too warm) and all the trees were green and beautiful. As mentioned above though there was a ton of bugs which was a little difficult to deal with. I imagine if you visit in the fall or winter you won't have the bug problem to deal with which could be a huge plus.
The property has a ton of trees so when the fall colours kick in you can get some pretty amazing pictures (you can see some examples on Google). It's definitely the season I'd want to go back for. Another reason to visit during fall is to participate in the Harvest Festival. The Harvest Festival is a music festival that takes place on the property every year in September. You can find out more information on their website including information on how to get tickets.
Have you heard of the Screaming Heads? Have you been? Pin this post for your own upcoming visit!