Santorini. The island we all pretty much know. Those amazing sunsets. Those perfectly painted white houses. While everyone thinks of sunsets and white buildings with blue domes, there's actually a lot more to Santorini (I mean it's an entire island!). There's plenty to do and see and while this is not an exhaustive list this pretty much sums up the 14 things to do in Santorini that I consider a must! It looks like lots but Santorini is very easy to get across and we did the entire list in 3 days with plenty of time to relax, sleep in and enjoy ourselves.
Walk the 10 km Hike between Thira and Oia
I'm going to be honest here, this hike was harder than I thought it would be. I read a fair amount about it before we left for the trip because 10 km is not a small number and I wanted to make sure I could handle it.  Sidenote: I used to love hiking and going for walks buuut I'm way out of practice so my body's not as good at them as it used to be. I did my research to make sure it was something I could handle. After all, this was my honeymoon – I didn't want to get so tired and worn out that I couldn't enjoy the rest of the trip.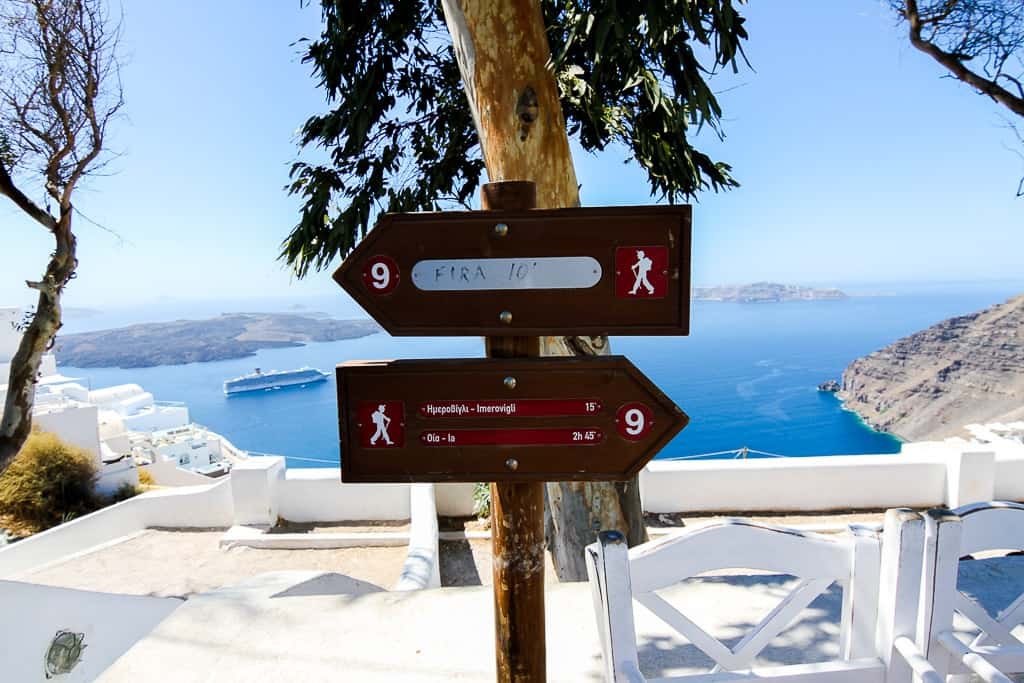 We used this link to plan our hike. While this website and pretty much every other one out there estimates the hike at 2-4 hours it took a solid 5 hours for us. We did make some mistakes though. It was an INCREDIBLY hot day. Like 38 degrees. We chose to start our hike at 1 pm without having a proper meal. Yes, it was doomed from the start. The problem for me was that it was just too hot to eat but going on that big of a walk without proper fuel is obviously a mistake. I strongly recommend following the advise of starting the hike while it's a bit cooler outside.
It's really easy to get turned around trying to get out of town for the hike but once you have gotten out it's pretty self explanatory. The only time we found the directions to be wrong was when a gate had been put up. It caused about a 15 minute delay where we wound up going around in some circles which was frustrating but at least the sights were pretty!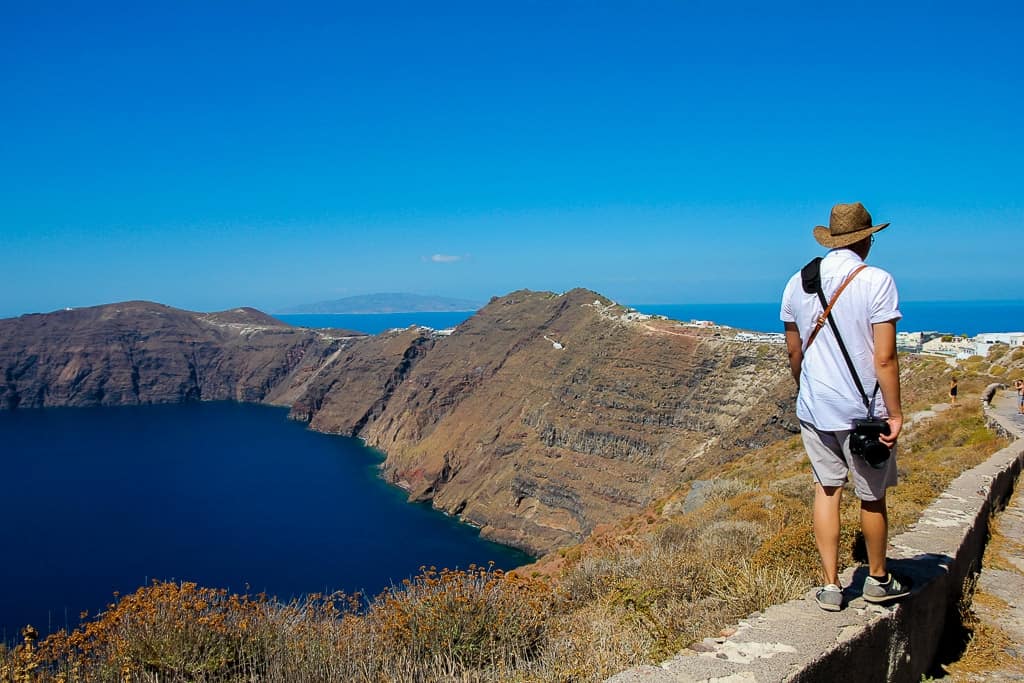 While the walk is incredibly long and at times hard (some of those inclines are insane), if you're prepared for it then it's an amazing way to see Santorini. The hike works in either direction. We particularly wanted to see sunset in Oia so we chose to walk from Thira to Oia as opposed to the other way. My understanding is that in terms of inclines it's pretty much the same thing anyways.
My best tips are to charge your camera, wear comfortable shoes and sunscreen and bring lots and lots of water. We encountered a fair amount of little shops and stands selling water along the way so that's an alternative as well. The one thing we did not encounter however were washrooms. And that was pretty miserable. So make sure you use the washroom right before setting out on this hike!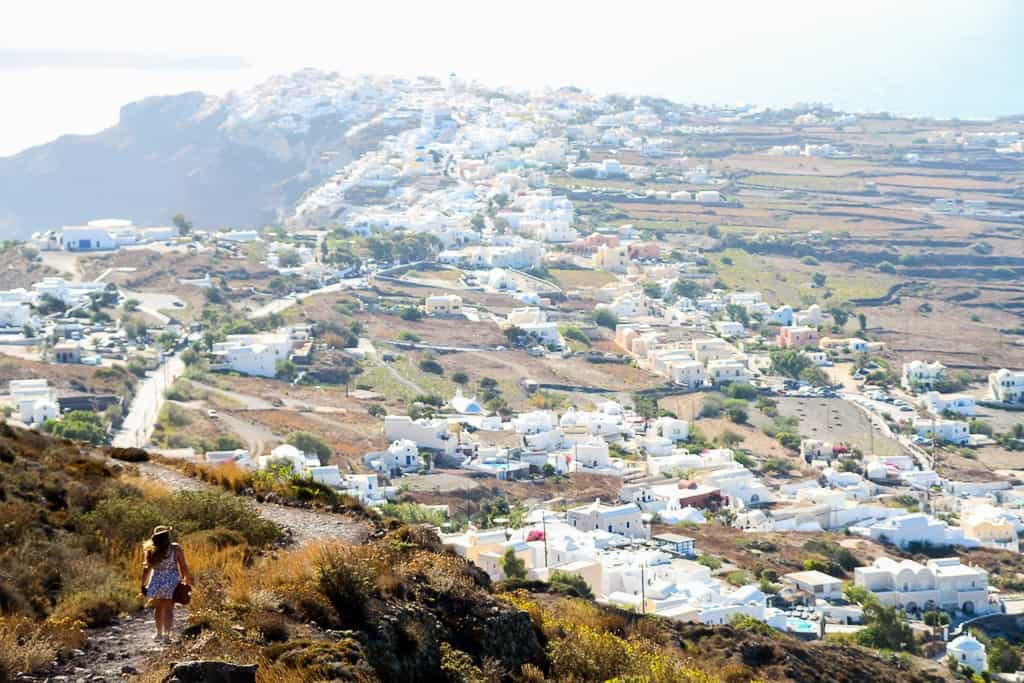 Explore Oia
Oia is one of the big towns in Santorini and one of the ones people think of 90% of the time that they think of Santorini (disclaimer: that's a made up statistic but I'm pretty sure it's accurate). Anyways, Oia is stunning. It's most definitely worth a visit. But keep in mind that everybody wants to see Oia. So it's incredibly crowded. Especially around sunset time. It's something you should be brave however because despite being incredibly touristy it's really pretty. Do keep in mind that a lot of the cruises and tours dock in Oia so during the day it really does get incredibly busy.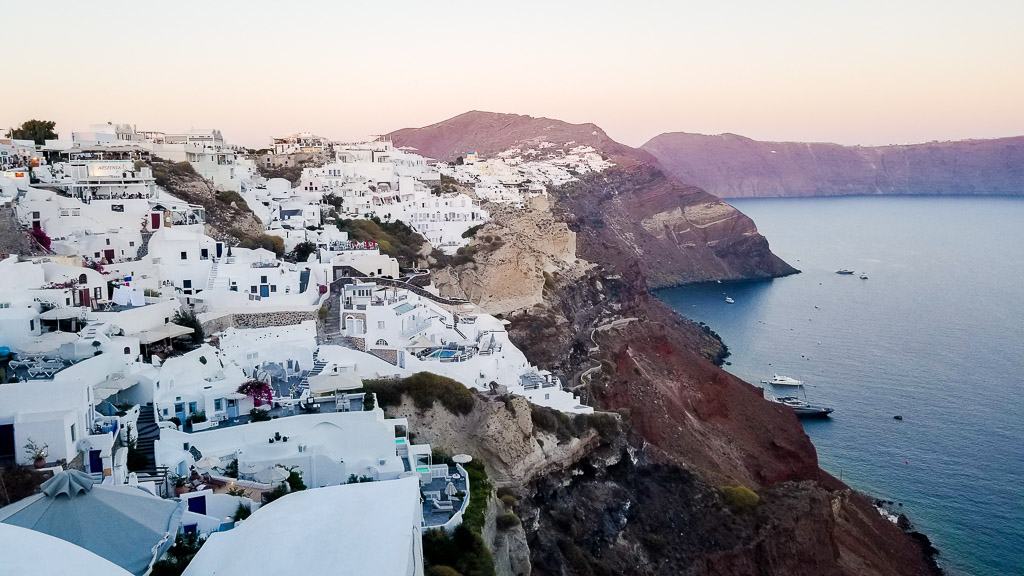 We only spent about 3-4 hours in Oia. For us this was enough. We got to see that famous shot of the 3 blue domes. We got to enjoy the sunset in two different spots. We wandered around a lot of unique and independent stores doing some fairly overpriced souvenir shopping. One of my highlights was actually seeing Oia at nighttime. It gets lit up and it's really nice to walk around (and photograph!)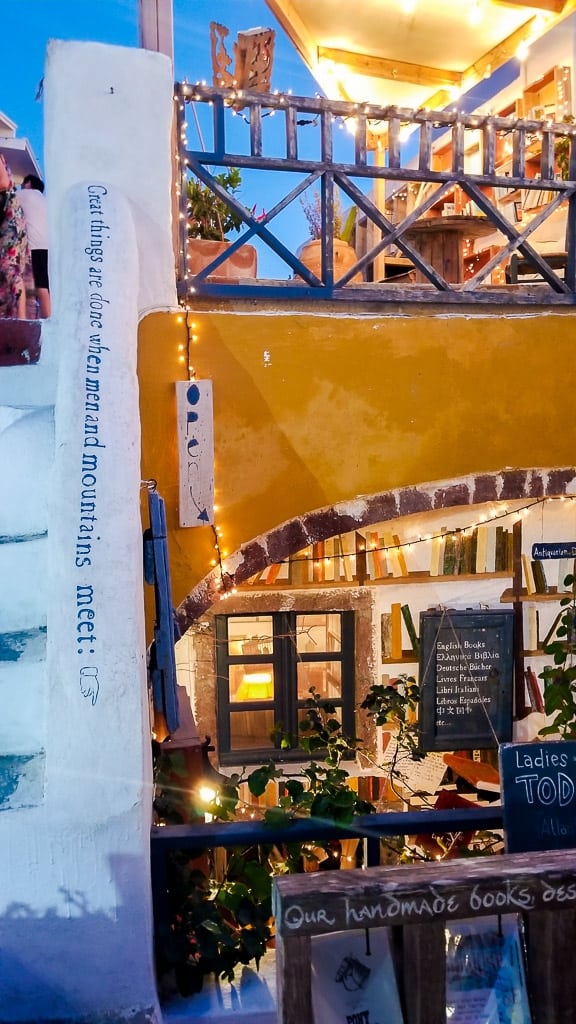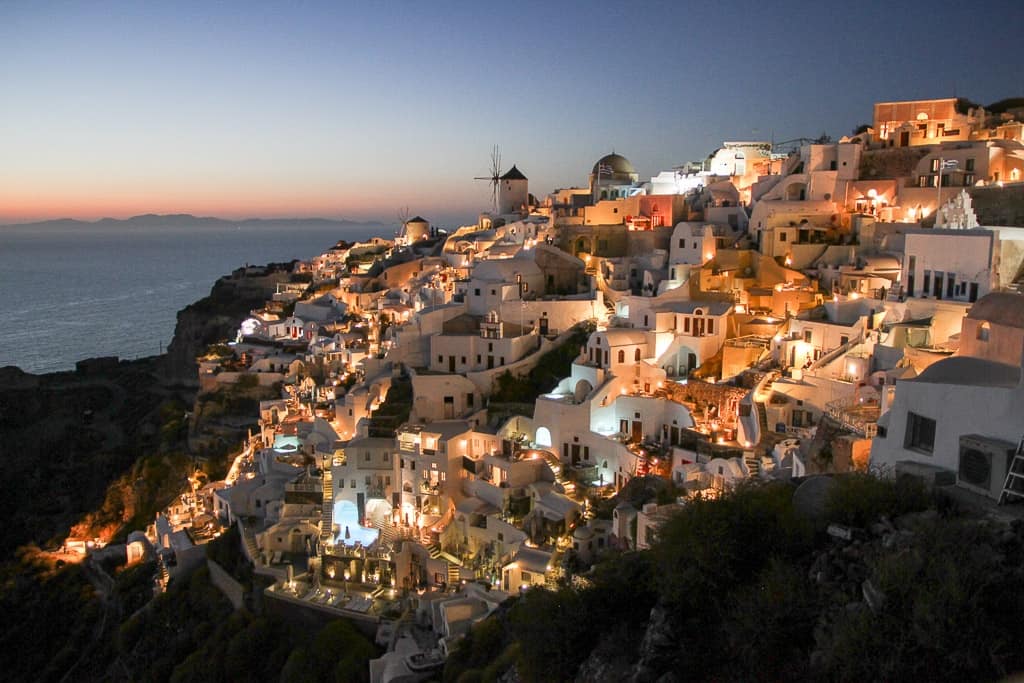 Walk down to Amoudi Bay
Amoudi Bay is located 214 steps below Oia. It's a beautiful bay with a stunning cliff setting and beautiful water for swimming (this would be around the corner and not where the boats dock). There's a fair amount of restaurants that get super busy in the evening so make sure to get there early if you want to eat! We sort of cheated in the sense that we didn't walk down here. We got a ride from the company we did our boat cruise with. But it's most definitely worth a visit whether you catch a car ride down or actually walk the 200 steps.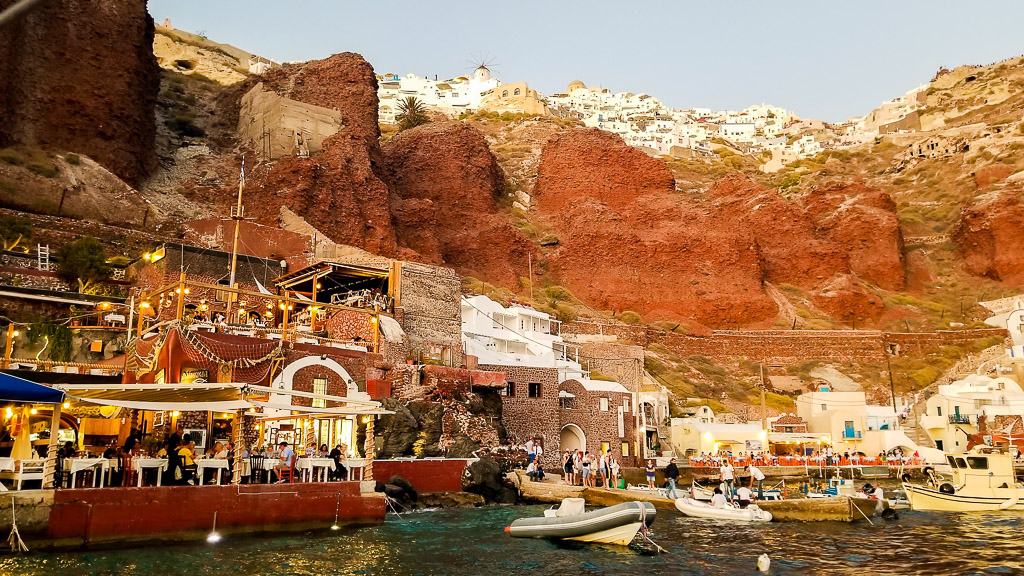 Explore Fira
Like Oia, Fira is one of the bigger towns in Santorini and another one of the really popular ones. We were there in the morning/lunch time and it was already very crowded. Apparently more so than Oia, cruise ships dock here for the day and so by lunchtime a lot of people are milling about. Fira, to me, seemed more touristy than Oia. There was lots of upscale shopping (including a Sephora) as opposed to more independent stores. Like Amoudi Bay in Oia, there's the old Port at the bottom Fira. We actually skipped this one because 587 steps up and down before taking a massive 10 km hike just wasn't interesting to me haha. They have put in cable car which costs 4 euros if I recall correctly and runs through most of the day. Whatever you do – don't ride the donkeys. It's incredibly hot and incredibly steep. Just take the cable car if you're unwilling to walk the stairs.
Rent an ATV and explore the Southern Part of the Island
We originally wanted to rent a scooter/moped because we felt it would be a lot easier getting around in Santorini this way. Prior to arriving in Greece we did some research and found lots of conflicting information on whether we could rent a scooter/moped without a valid license for those vehicles. A fair amount of websites said that we could but we didn't want to book something in advance when there were also websites saying we couldn't. We asked our hotel to arrange the night before we wanted it and the company showed up with it the next morning. We filled out some paperwork and used a credit card as a deposit but paid cash for the ATV. They showed us how to use it but it was honestly pretty easy. Santorini does have a fair amount of hills and you have to be respectful to cars while driving. Pull over towards the side so cars can pass or you may find yourself getting honked at.
In terms of exploring the ATV was absolutely great, we used it to drive straight across the island (which took about 45 minutes) and saw the lighthouse, ruins, beaches and a number of cool little beach towns. I loved driving around on the ATV and would definitely put it towards the top of the list of things you have to in Santorini. It's such a great way to get out the town and see more of the island.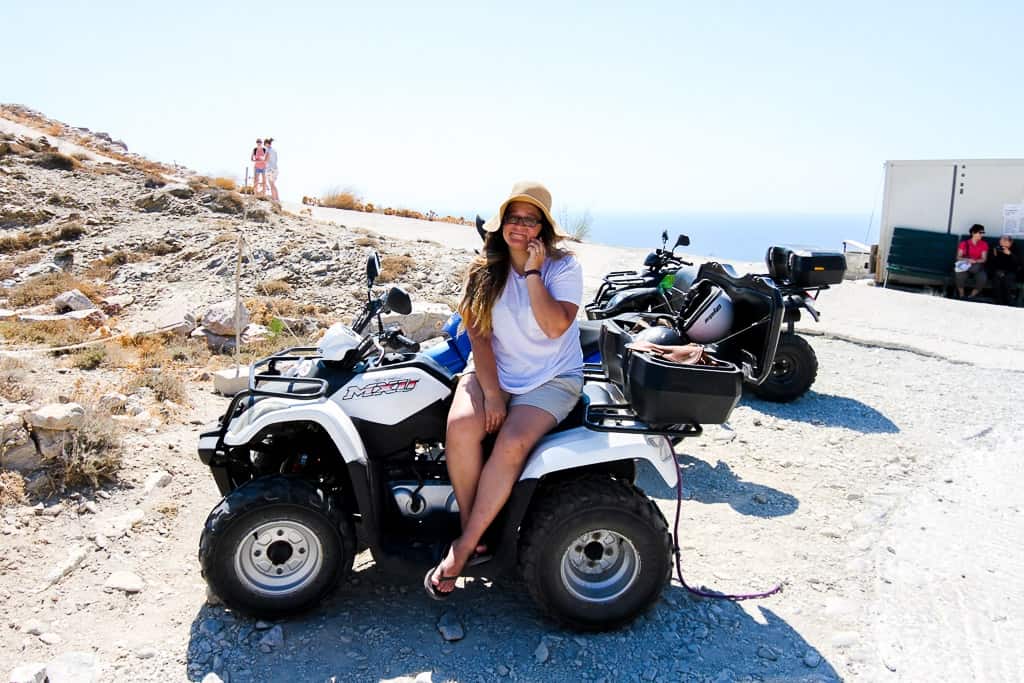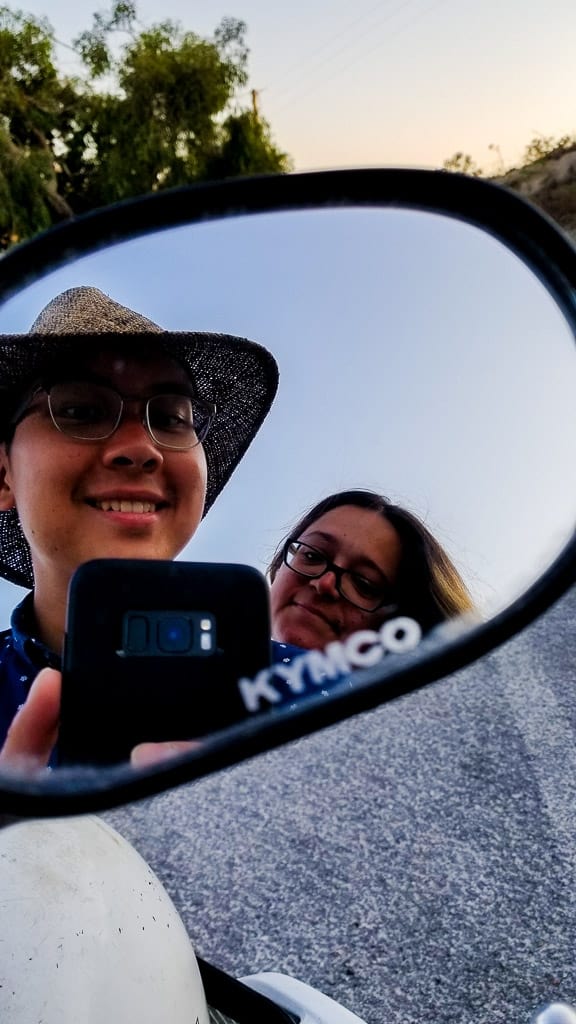 Take in the sunset
We had three sunsets in Santorini and wanted them to be as different as possible. Our first one was looking over the blue domes in Oia. Our second one was on the water while cruising around Santorini. Our third and last one was from the Akrotiri lighthouse in the Southern part of Santorini. I honestly couldn't pick a favorite. They were all stunning. They all took my breath away. I had such peaceful moments enjoying them. I'd snap a couple of pictures but then just sit back and take in the fact that I was actually in a place I had wanted to visit for such a long time and seeing such amazing sunsets. Sunsets are and will forever be incredibly romantic and symbolic. They're a fantastic way to end a day and the ones in Santorini most certainly do not disappoint – no matter where you see them.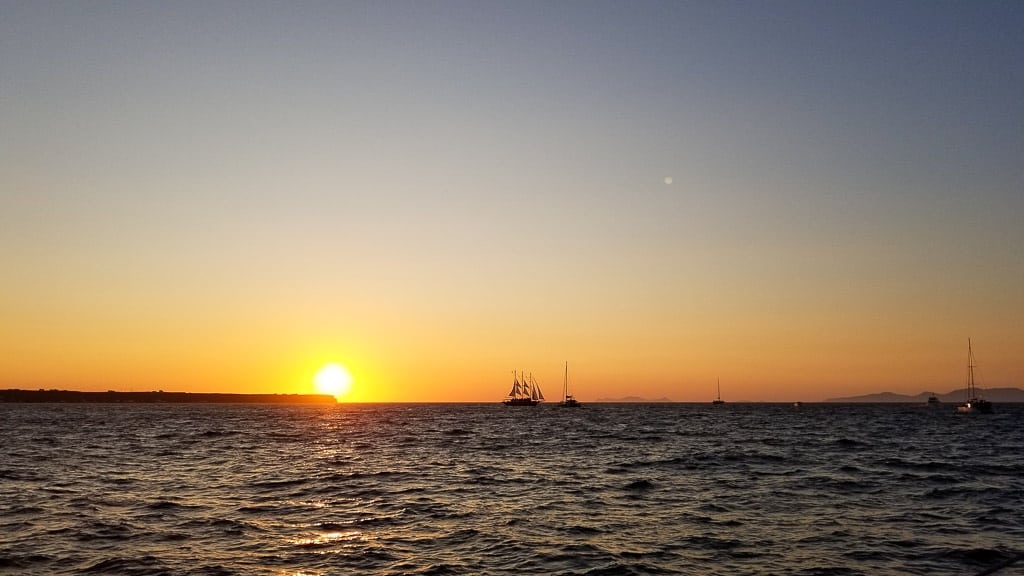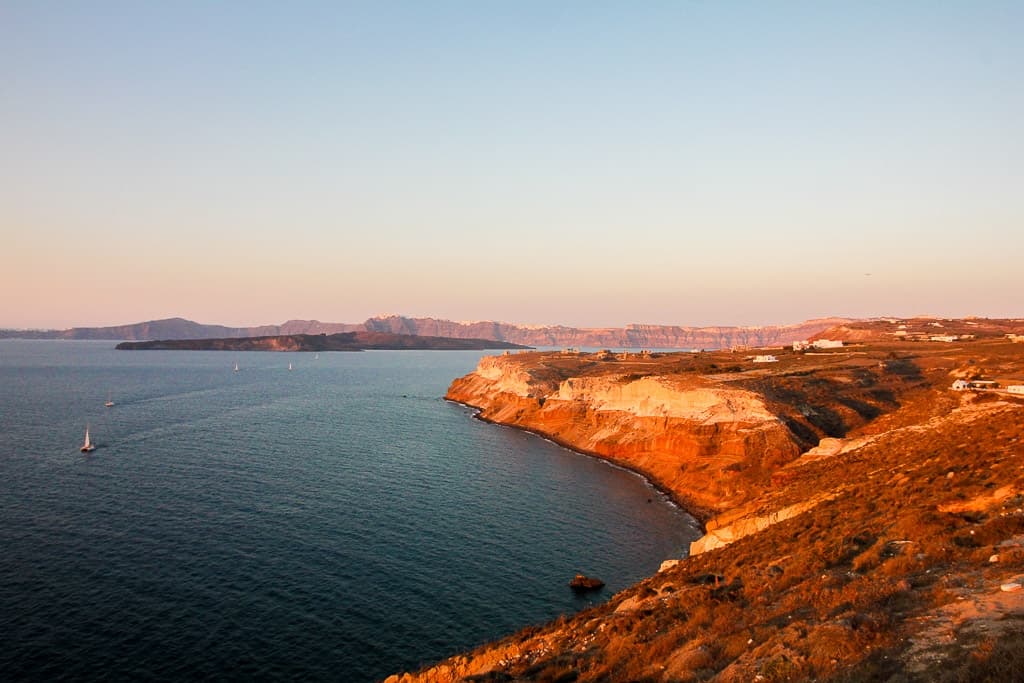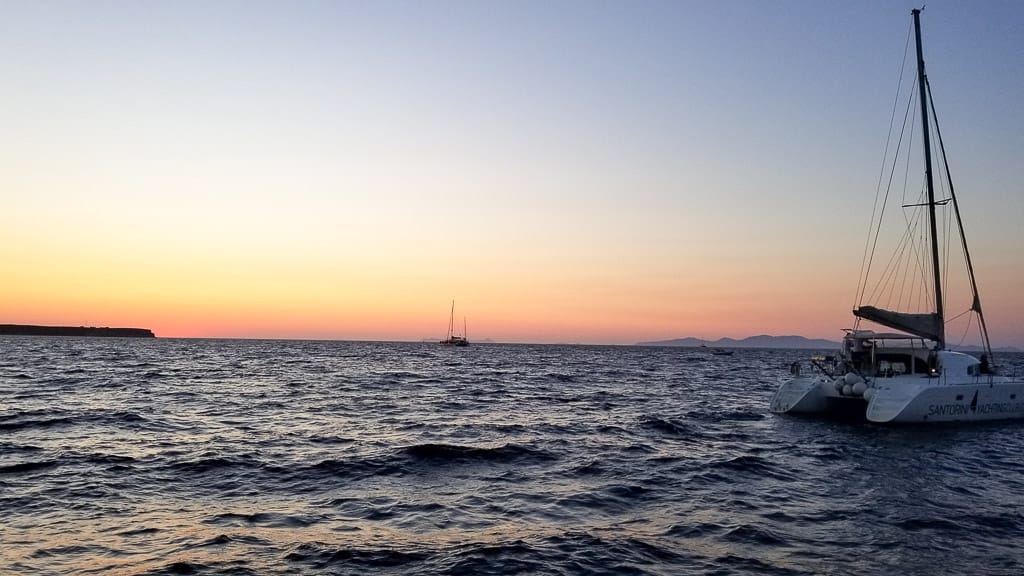 Explore Ancient Thera
Ancient Thera is an ancient city in the southern part of Santorini. It was named after the mythical ruler of the island who was named Theras. It appears to have been an incredibly successful city that flourished about 2000 years ago. Excavations on the site began about 200 years ago. The site is open for visitors between Tuesdays and Sundays and between the hours of 8 am and 3 pm. The entrance fee is 4 euros. Having just explored a fair amount of ruins in Athens I wasn't super excited about this but it was still cool to see and the views from the top of the mountain totally made it worth it. If you're interested in reading more about the history of Ancient Thera this is a great link.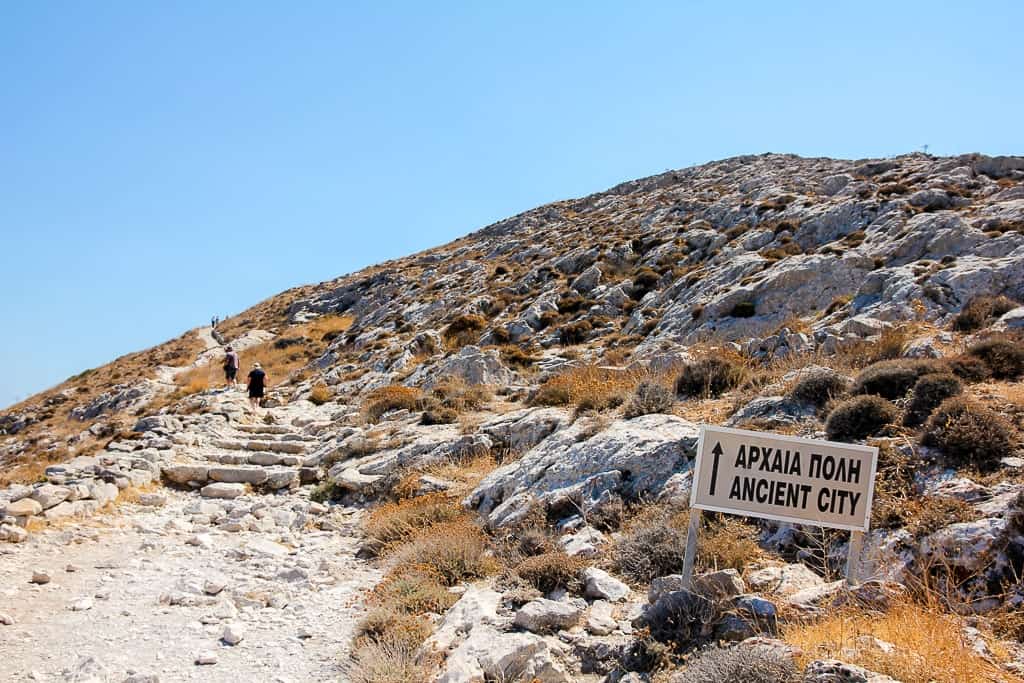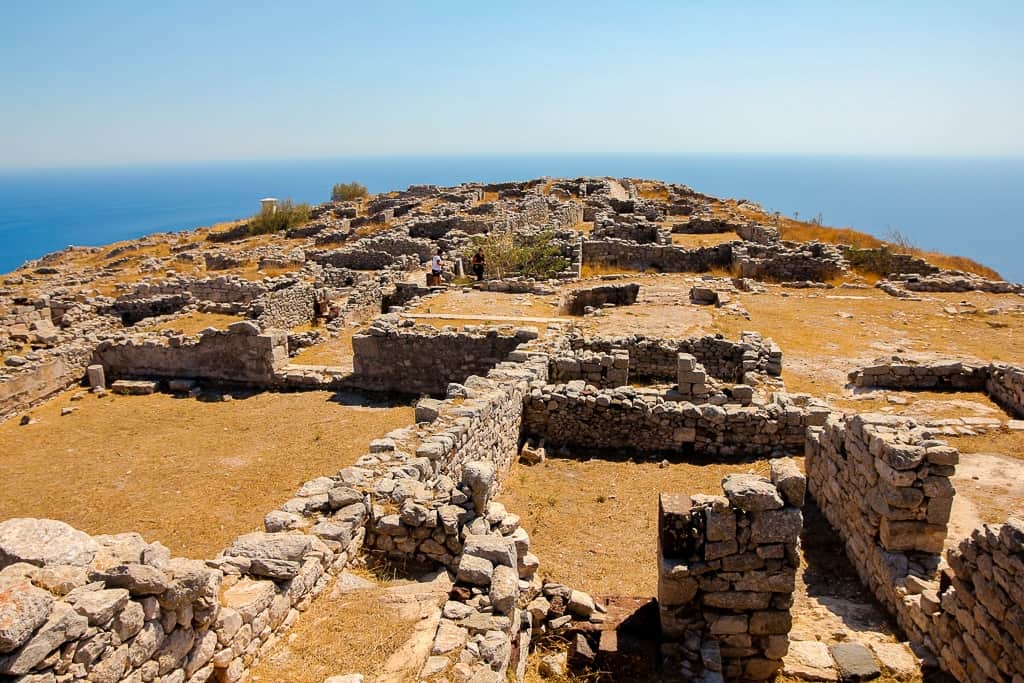 My favorite part about Ancient Thera was actually getting there. It's an incredibly winding and fairly long road that starts from Kamari. Once you reach the top you have to look down at the winding road. It's so beautiful! There's also the contrast of the town versus the water which makes for the most contrasting pictures ever. I easily stood there for 20 minutes just taking it in. One of my favorite views of Santorini for sure one and one I definitely didn't read about before getting there!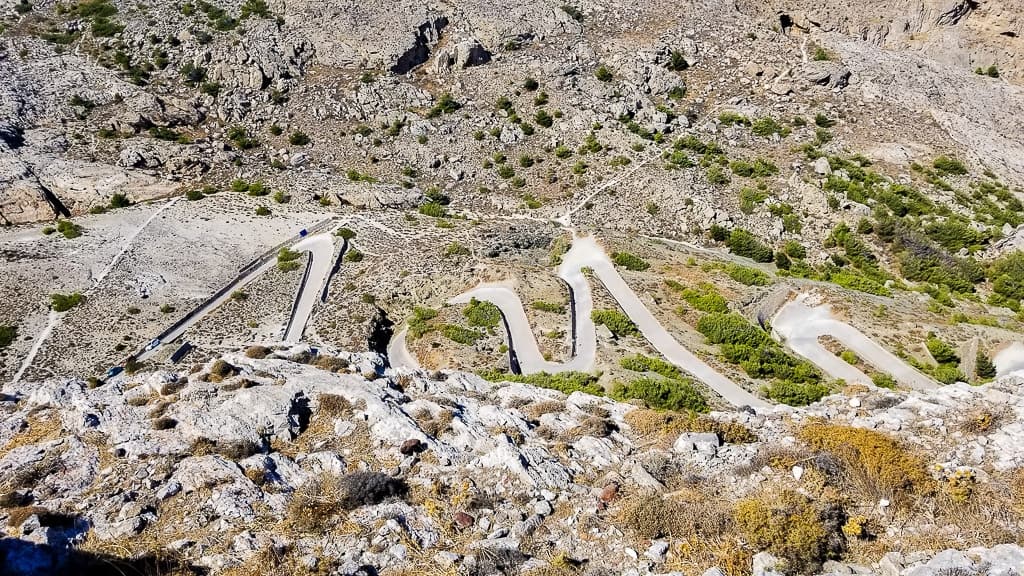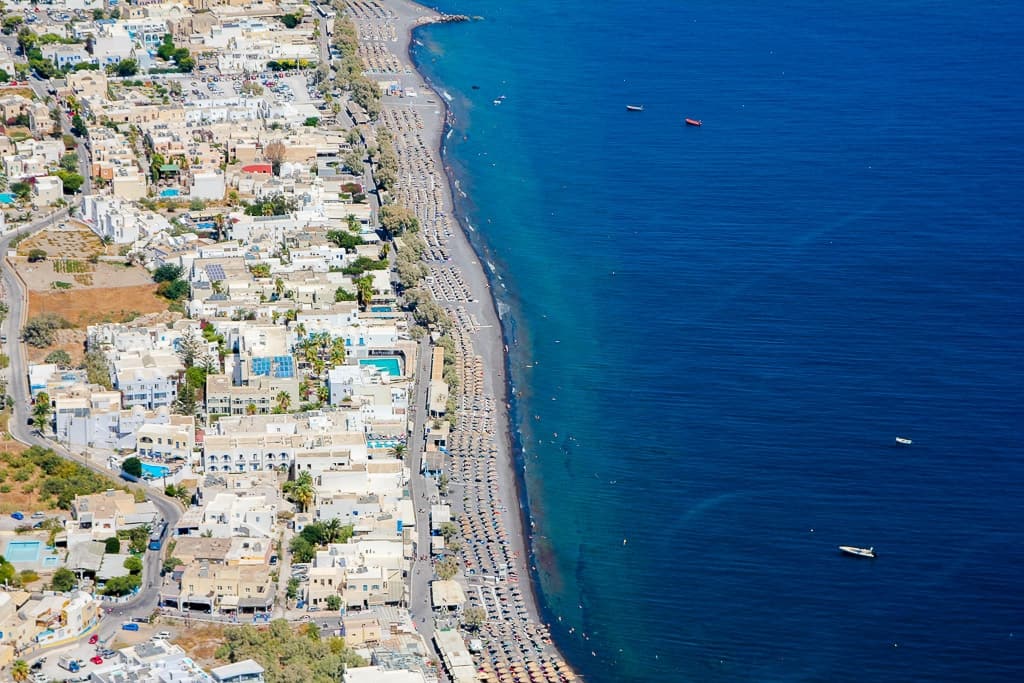 See/Take that famous 3 Blue Domed Buildings Shot
You know that shot right? The one everyone pictures when they think of Santorini? The one with the three white buildings with the blue domes on top of them? Yes, it's an iconic shot. It's pretty much the postcard image of Santorini. It's also absolutely stunning person. You just have to see it! All credit goes to this blogpost which allowed us to find the spot fairly early. We did take lots of pictures but we also stayed here for a solid hour taking in the sunset. It's such a beautiful spot and I think it's one of the best places to see in Oia.
Fair warning, this place is croooooowded. There was probably about 100 people here when we were there. There was also a wedding shoot going on so it's definitely a happening place but that doesn't make it any less special. Walk down the stairs a bit and it will feel like you have the place to yourself!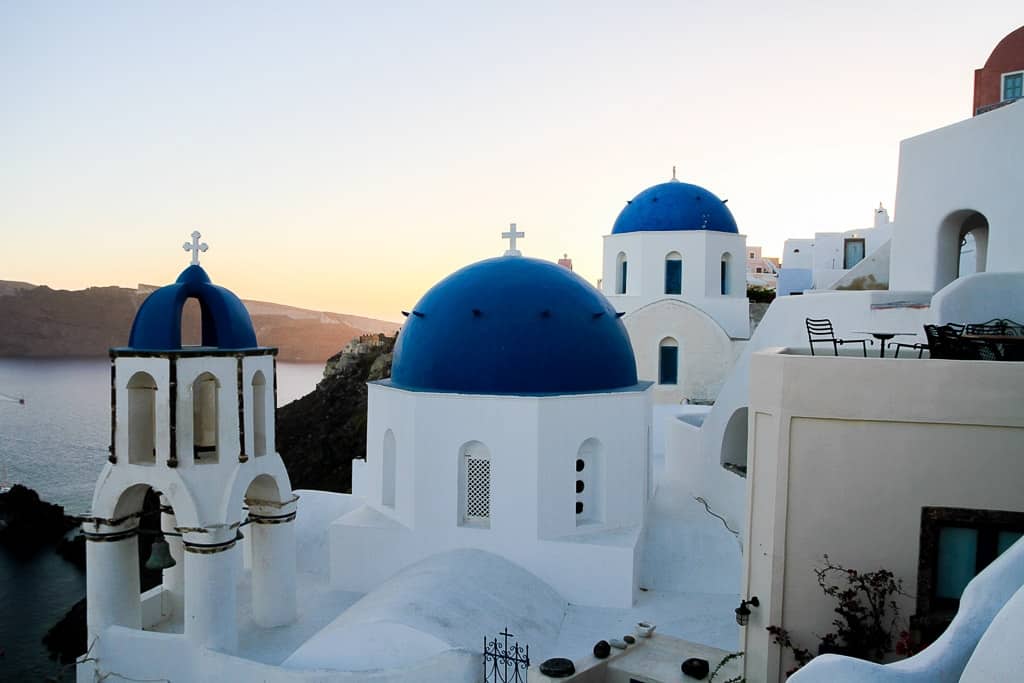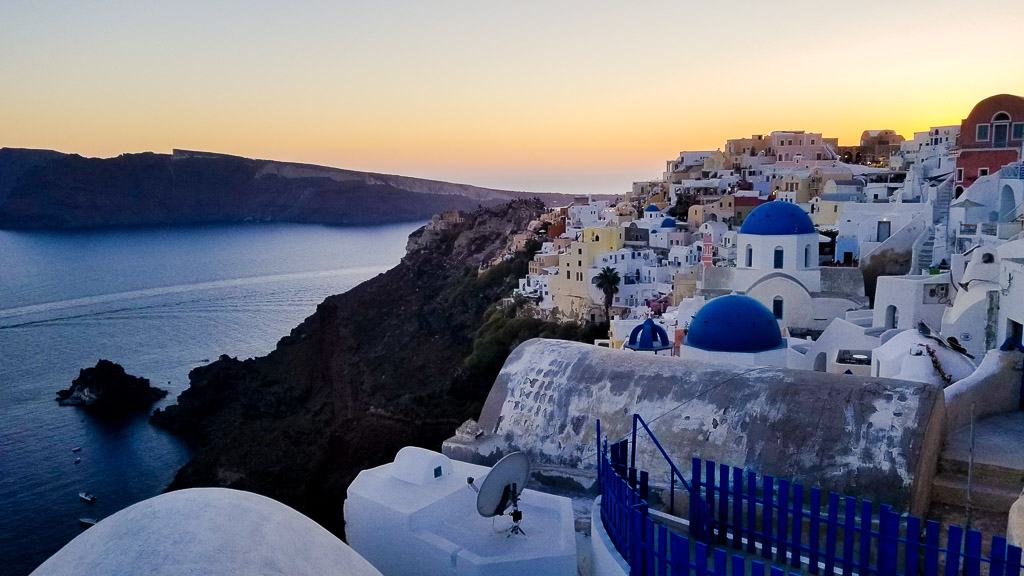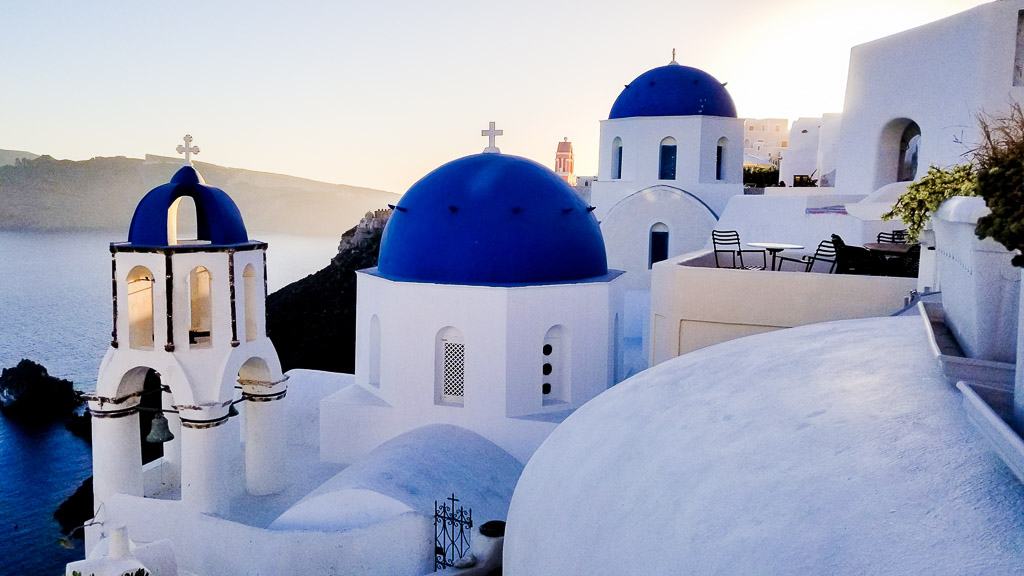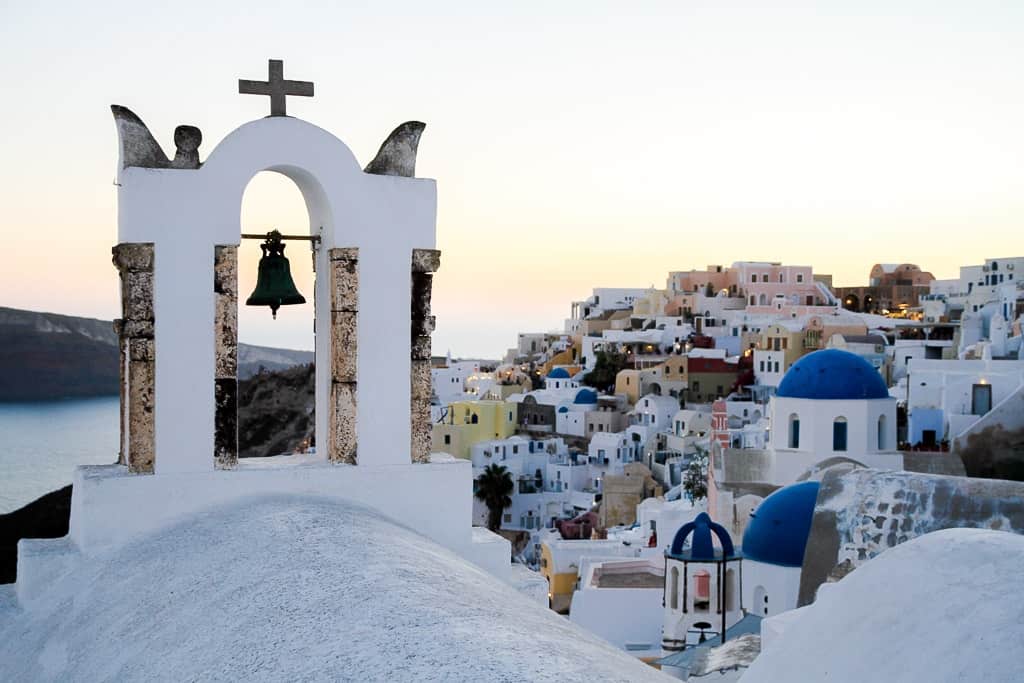 Take a Cruise/Boatride
I'll admit that this is probably not something we would have thought to do our own but it turned out to be a fantastic way to explore the island and a fantastic way to relax. One of my besties and her boyfriend got us a sunset and dinner cruise as a wedding gift and it was absolutely the best gift ever. The cruise was with Sunset Oia which is a very reputable company from what I could tell based on the reviews. We got picked up and dropped off at our hotel which was super convenient. The cruise departed from Amoudi Bay and stopped at sights like the white beach, red beach, the hot springs and so much more. We got to snorkel at both the red and white beach and got to swim in and enjoy the hot springs. I in general have a hard time snorkeling but I loved the hot springs. Was such a cool experience! The cruise also included a barbecued dinner which consisted of traditional Greek foods which was super yummy. The final part of the cruise was seeing the sunset over Oia from the water which was absolutely stunning!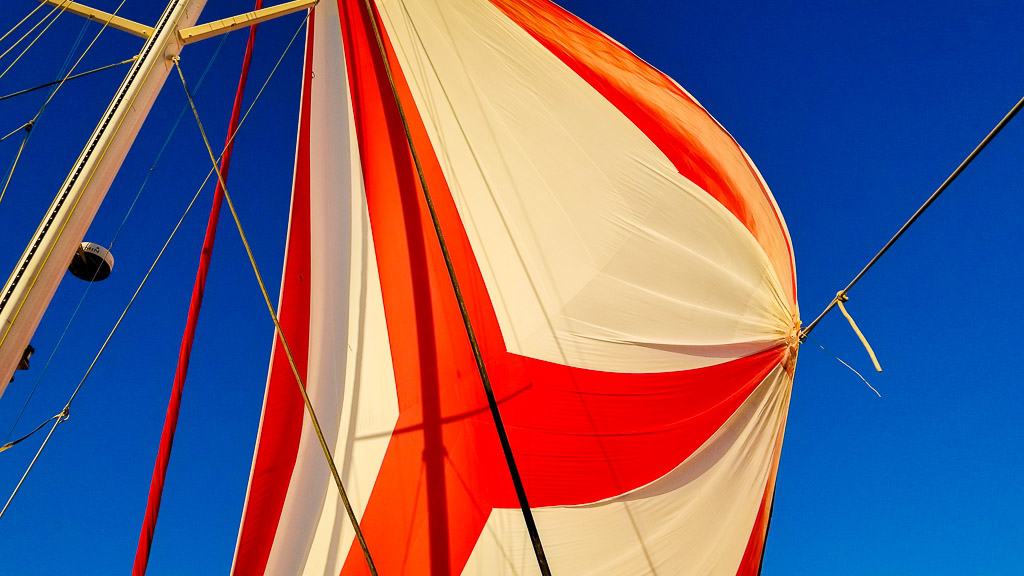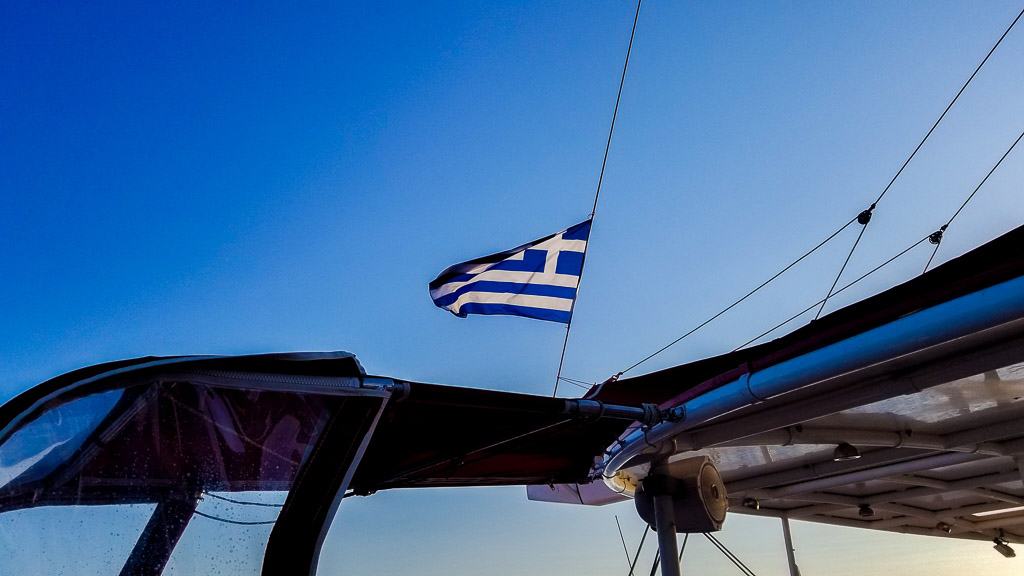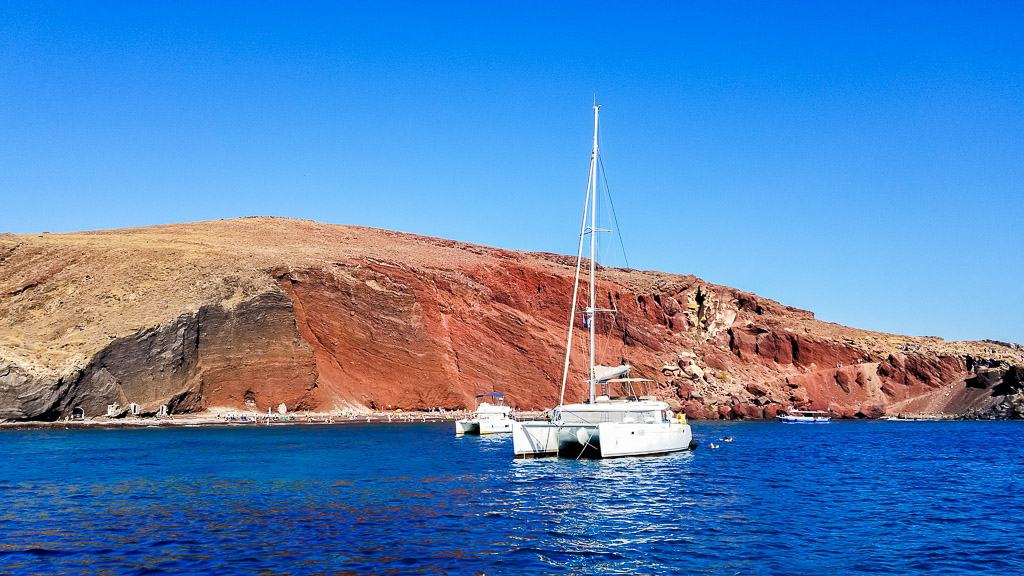 Explore the Akrotiri Ruins
Akrotiri was a settlement on Santorini that was destroyed in a volcanic eruption in 1627 BC. It was completely covered in ash and pretty much buried. In 1967 excavations to the site started and huge parts have been uncovered. It's open to the public and is actually in-doors so it's a nice way to get out of the sun and heat for a little while. Entrance to the ruins was 12 euros which is a bit steep but there's lots to see and we spent a couple of hours walking around taking it all in. If you're interested in more history on the site this is a great page to read. They've also got the opening hours on there which vary according to the season.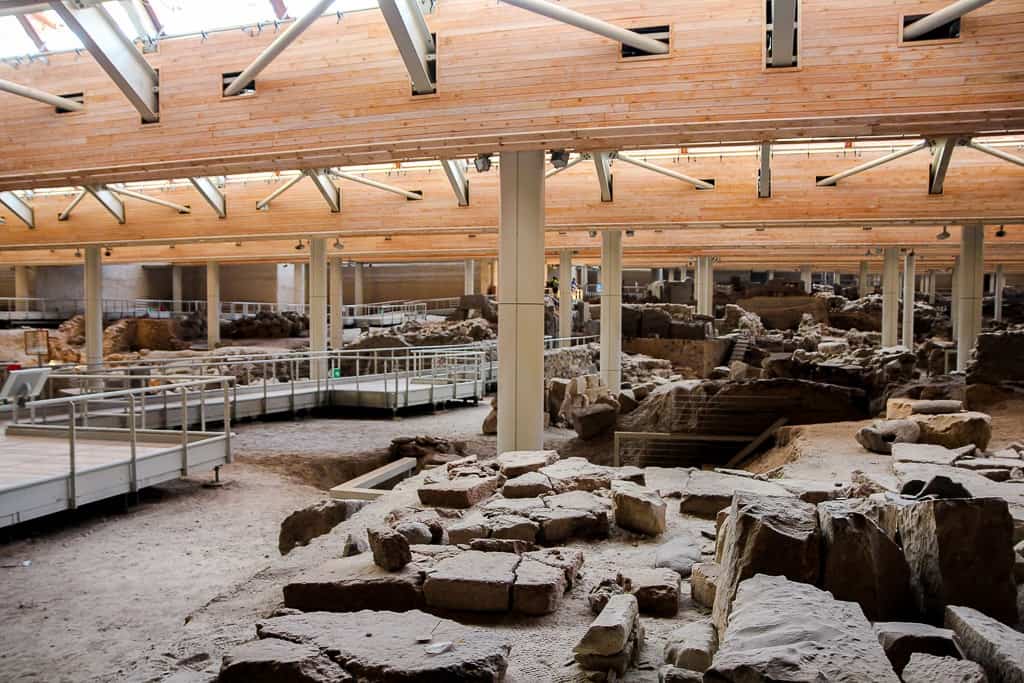 Enjoy the view from the Akrotiri Lighthouse
The Akrotiri Lighthouse is located on the southwest part of Santorini. You can't enter the lighthouse but it provides an ideal setting for sunrises and it's a nice piece of architecture to look at. It was one of the first lighthouses in Greece too which is a really cool fact since it's still standing and still in use!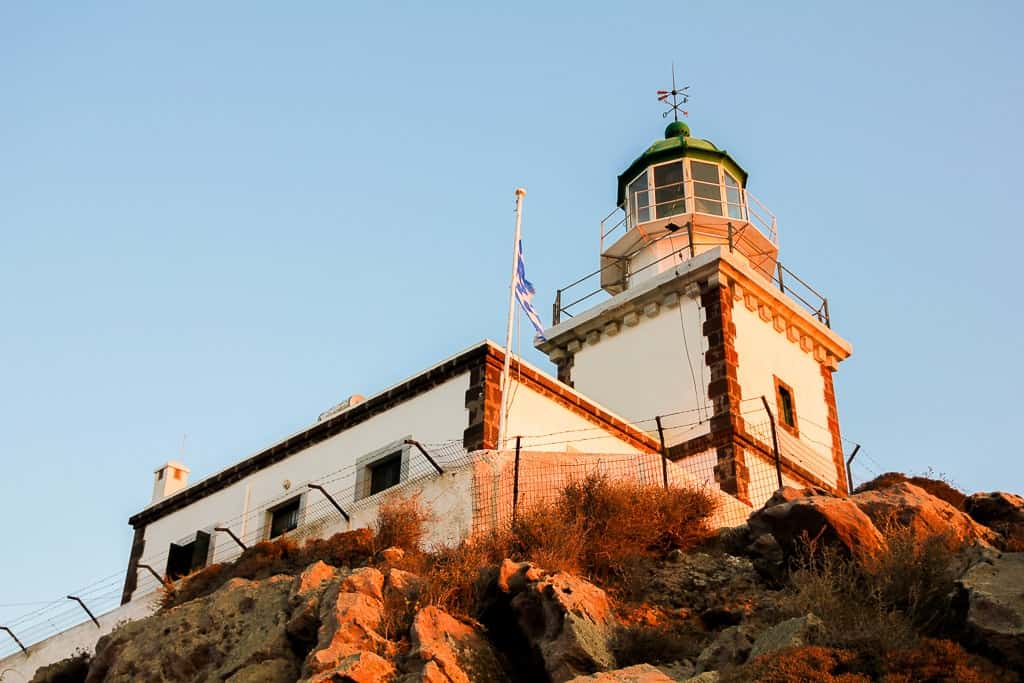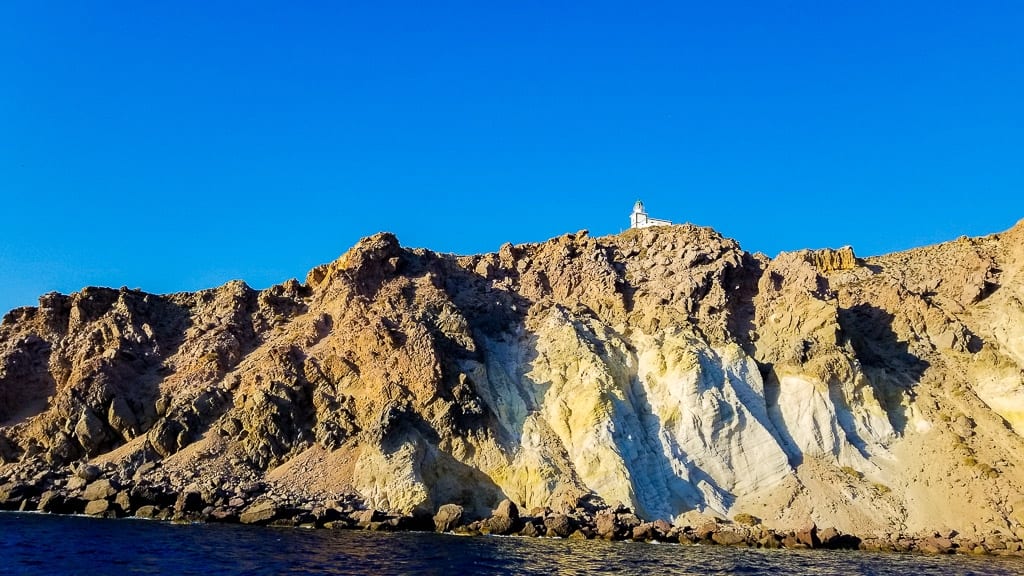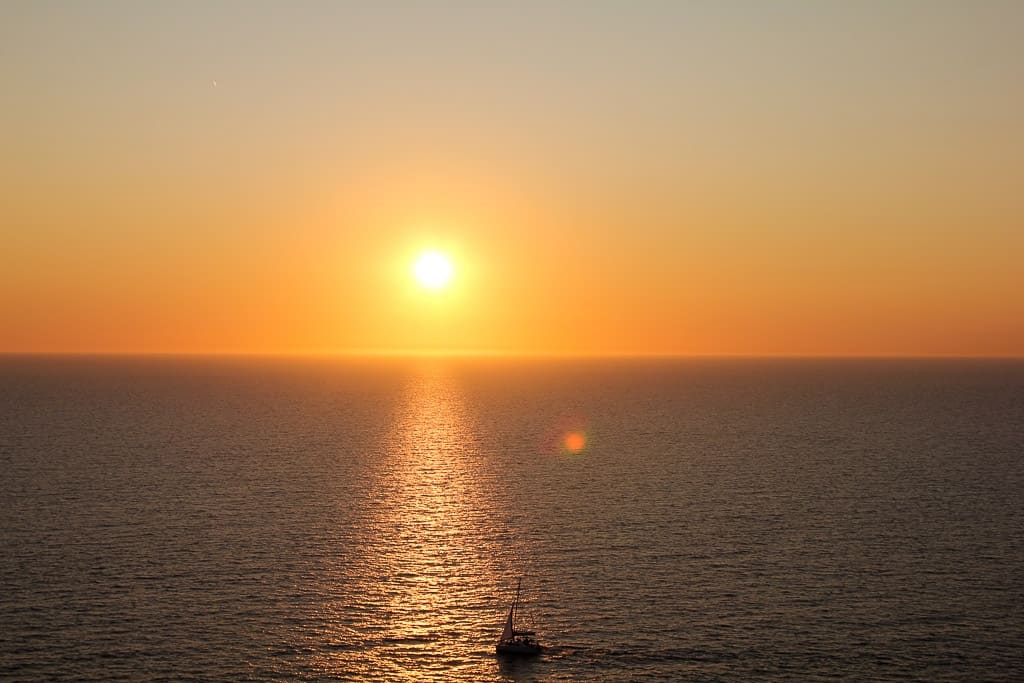 Enjoy the Red/White/Black Beaches
Santorini has every color beach possible in the form of red, white and black beaches. The red beach is located by Akrotiri. We actually snorkeled and swam around it when we were on the boat cruise as opposed to reaching it from land but the color was really nice! The white beach is fairly close by and is named so for both the sand and the white cliffs you can see surrounding it. My favorite is for sure the black beaches however! There's more than one. The well known ones are Perivolos/Perissa and Kamari. I was water shy from how cold it had been the day before so we just strolled around the beach instead of going swimming. It was a weird sensation because the sand was so hot it burnt our feet but then the water was too cold to get into so my body was extremely confused.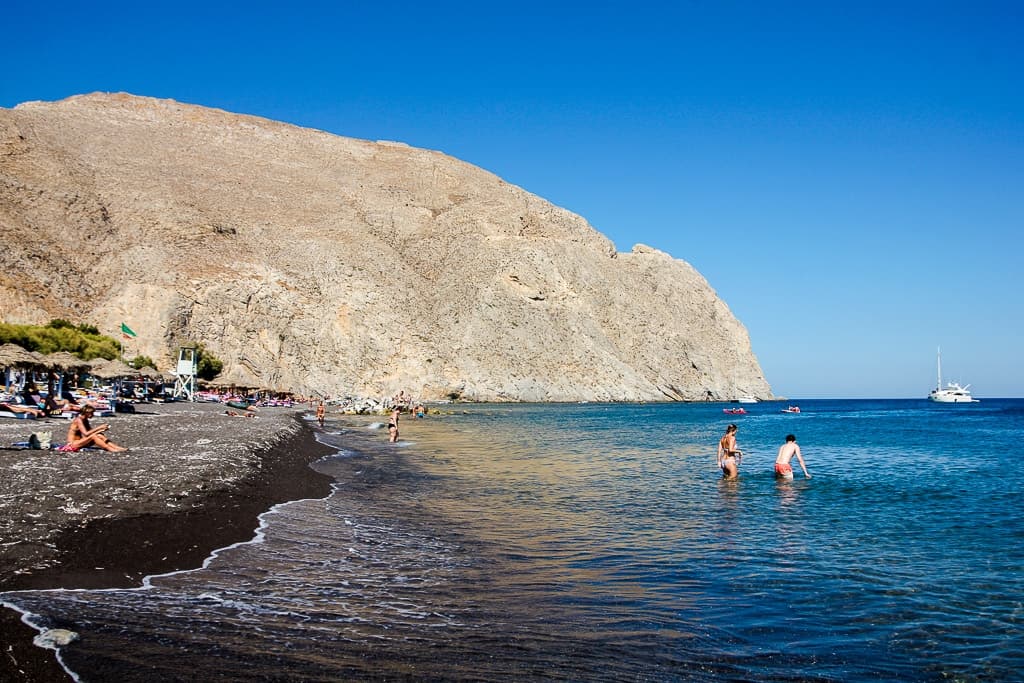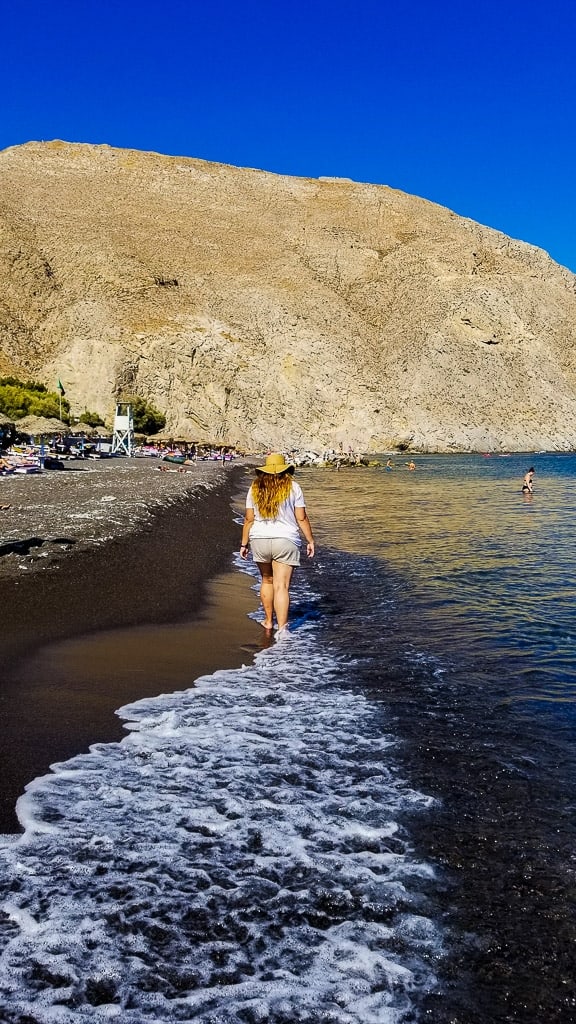 Visit the Hot Springs
We went to Greece in September and the water was definitely not a warm as I expected. So after swimming in colder than I thought water at the white and red beaches, the hot spring was a nice surprise. Is it like 40 degrees warm? Obviously not as this is a natural hot spring. It's maybe 3-5 degrees warmer than the rest of the water but it's noticeably warmer and is a nice change. I tried not to get my hair wet because of the minerals but obviously failed but luckily it didn't effect my hair as much as the Blue Lagoon in Iceland did. On that note, I've heard some people say the hot springs smells. That's in my opinion not true. I've been to Iceland. Now those hot springs actually STINK. I didn't even notice a smell here at all and I consider myself fairly sensitive to smell. So as usual take everything you read with a grain of salt because everybody experiences things differently.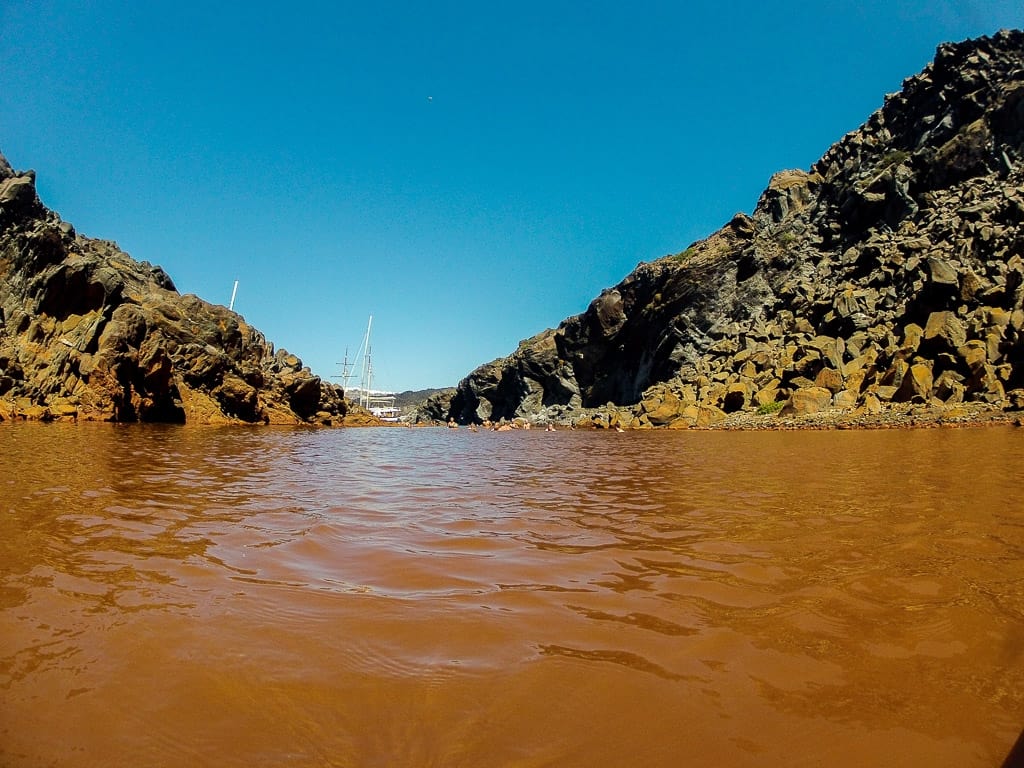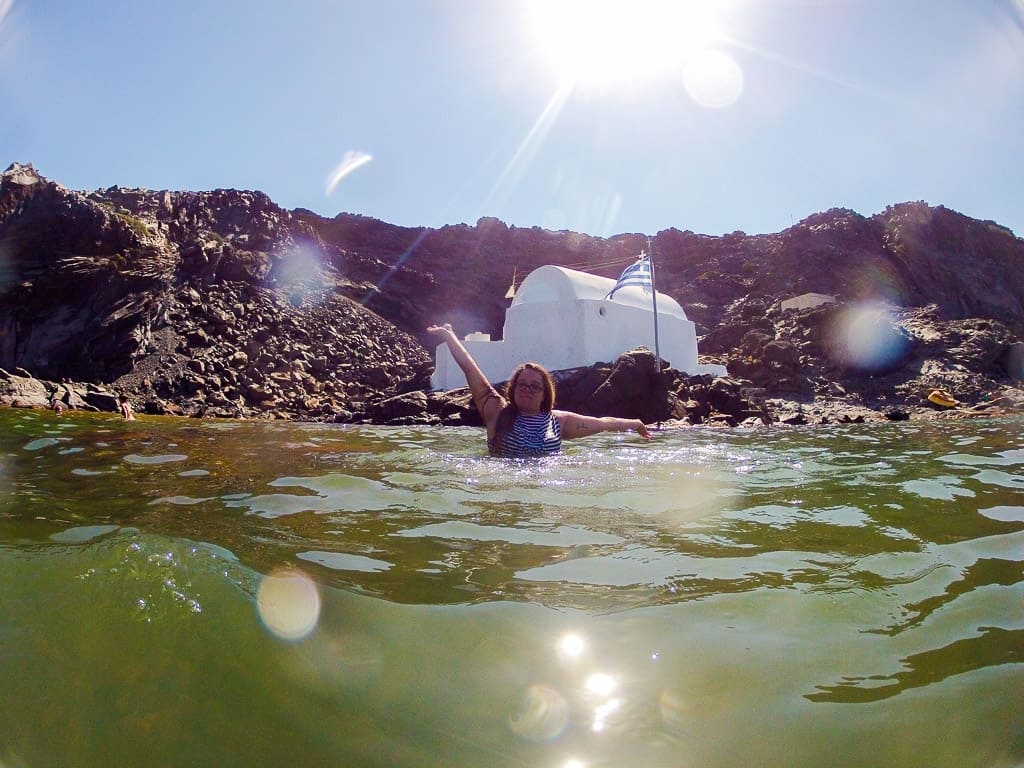 Eat!
Okay, food is obviously the best way to explore a country. I was so in love with Greek food I wrote this post like right when we got home. Santorini was no exception to how great the Greek food was. It was all super fresh, super delicious and honestly fairly healthy. My shout-out for a restaurant you absolutely have to try is to psaraki. It's in the bottom part of the island and was actually a recommendation by my boss. It's slightly expensive compared to other places but it's just so worth it. If you can only have one nicer meal make it this one. The seafood was so fresh it had to have been caught like hours prior to us eating it. The view of the marina is also absolutely stunning!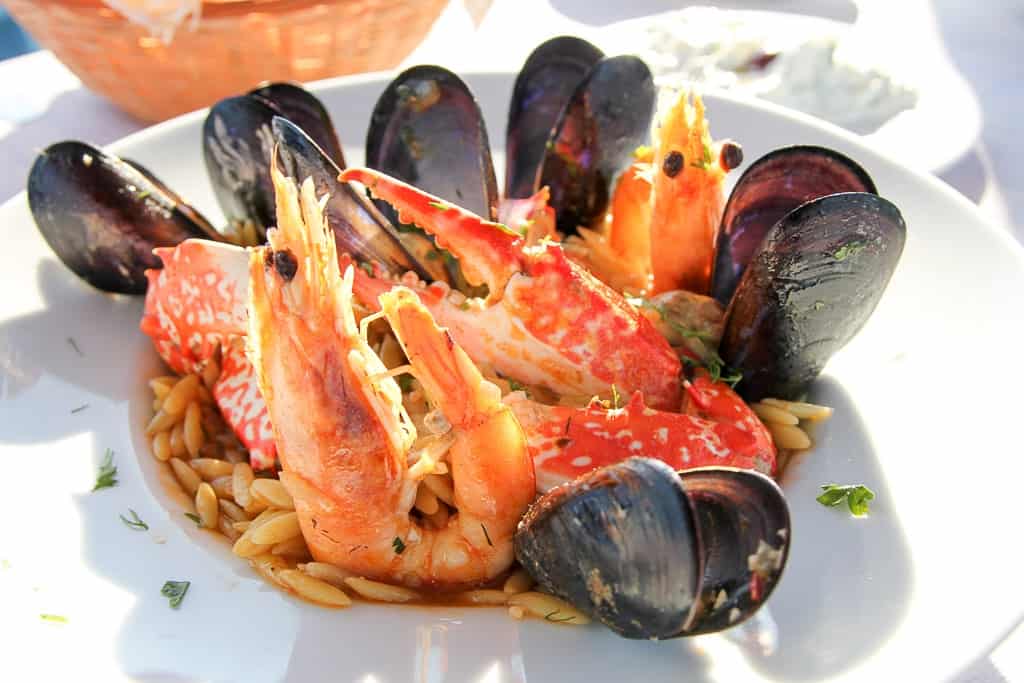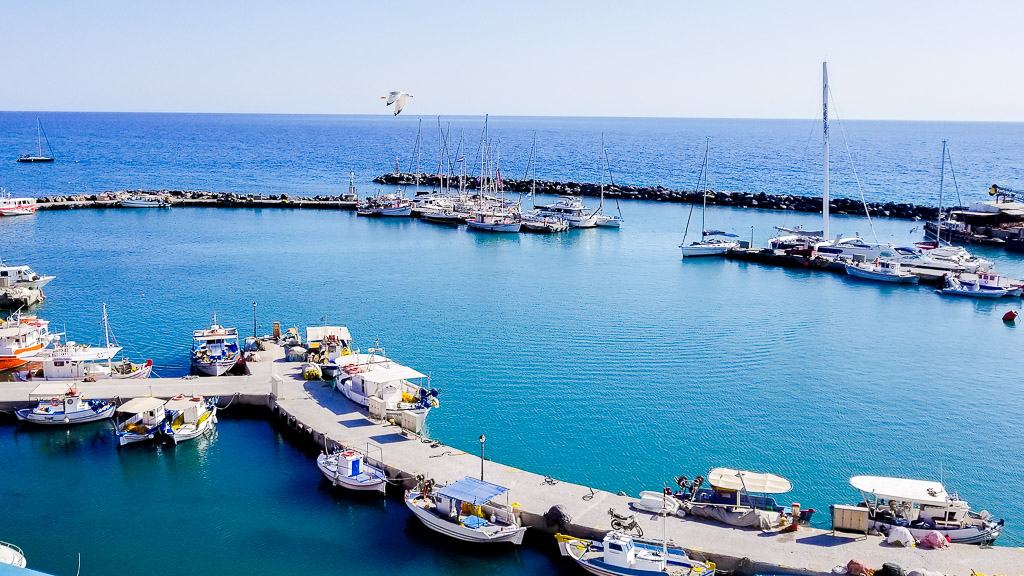 I debated writing this post as a 3-day itinerary instead but it honestly is fairly easy to split up. We started our first day exploring Fira and then walked/hiked the 10 km between Fira and Oia therefore ending our first day in Oia with that iconic blue domed image and a gorgeous sunset. Our second day was spent relaxing on a boat cruise where we snorkeled, saw the red and white beaches, got warmed up in the hot springs and took in the beautiful surroundings of Amoudi Bay. Our third and last day was probably the most adventurous. This is the day we rented an ATV and explored the southern part of Santorini. We had a fantastic seafood dinner, walked along the black beach, took in the ruins of both Ancient Thera and Akrotiri and ended our night taking in the sunset at the Akrotiri Lighthouse.
Before you head to Santorini make sure to check out this guide with some useful Santorini tips!
Have you visited Santorini? What were your favorite things to do in Santorini? If you haven't been, what are you looking forward to seeing? Let me know in the comments!