Ah, Greece. The country of democracy. Of gods and ancient ruins. Of beautiful islands and beaches. Also the country of super delicious food. This was my first trip to Greece (it has been on my bucketlist for YEARS) and the first trip I've ever been on where I ate local food the entire trip. Our meals were delicious each and every time and I'm now certain that food has to be one of the main reasons to visit Greece! I've rounded up some of the quintessential Greek foods to try in Greece so read on and get ready to start craving.
1. Tzatziki
I'm officially obsessed with tzatziki. We had it with every meal but one. It's basically Greek yogurt made with garlic, cucumber and spices. It's used as a sauce in pitas and wraps and also served as an appetizer/dip to be eaten with bread. It's often served with some olive oil and an olive on top of it.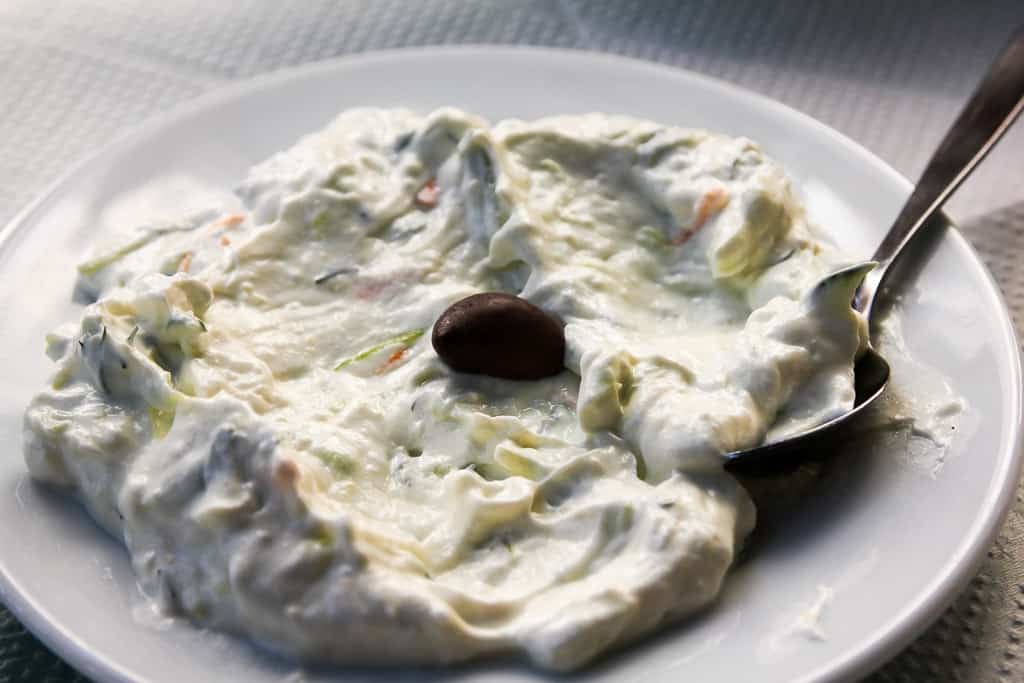 2. Souvlaki
Souvlakis are essentially meat skewers. It can be beef, chicken, pork, lamb etc. It's usually well-seasoned and served with tzatziki sauce (please note I will totally keep pointing out how tzatziki sauce is perfect for all dishes!)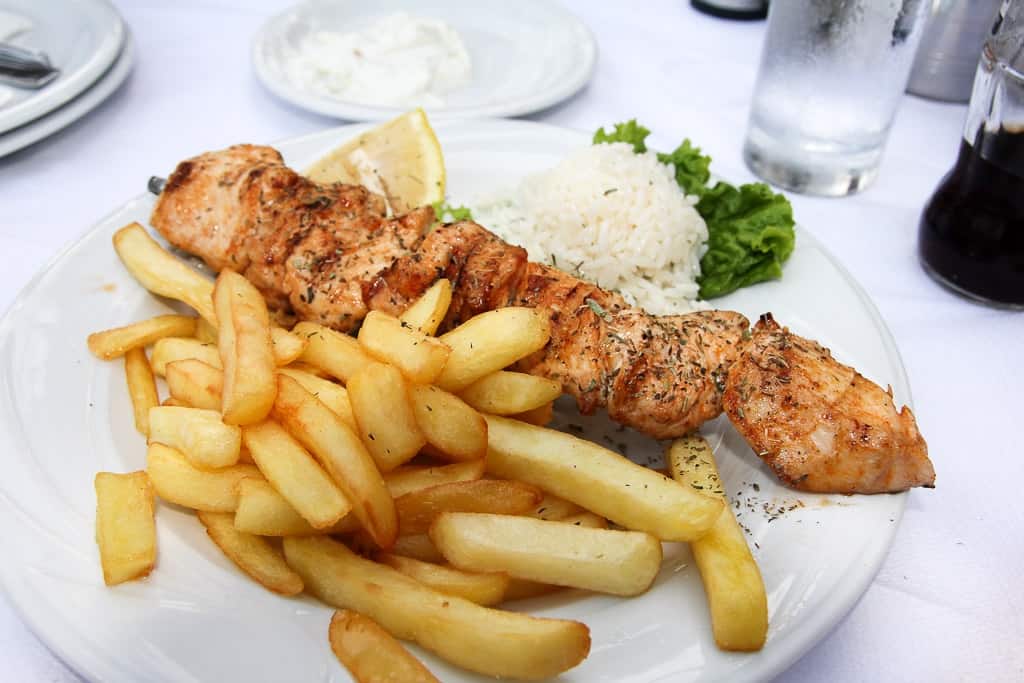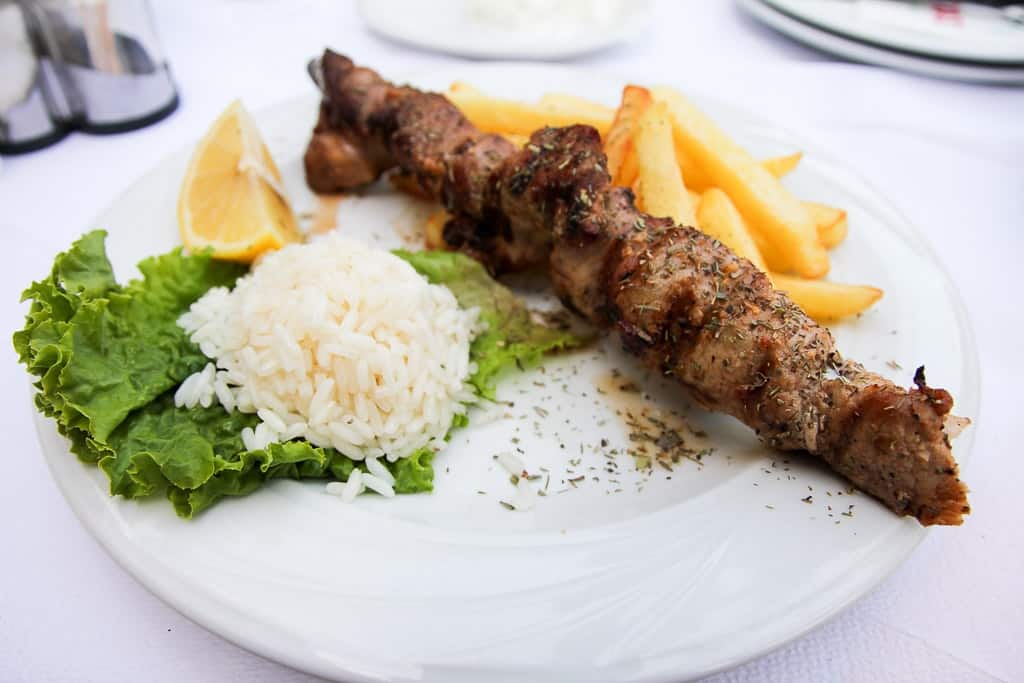 3. Gyros
Gyros are pretty much the ultimate Greek meat. Like Souvlakis it can be different types of meats like chicken, pork, lamb and beef. Gyros are made on a vertically turning spit. For my North American readers, you're going to want to picture Shawarma here. The easiest way to consume this is to grab a pita to go. They're filled with tzatziki, onions, tomatoes, fries and sometimes lettuce. The to-go pita is usually incredibly cheap as well (2-3 euros) which is an added bonus. You can also have it platter style at a sit down restaurant which is usually slightly pricier (6-8 euros)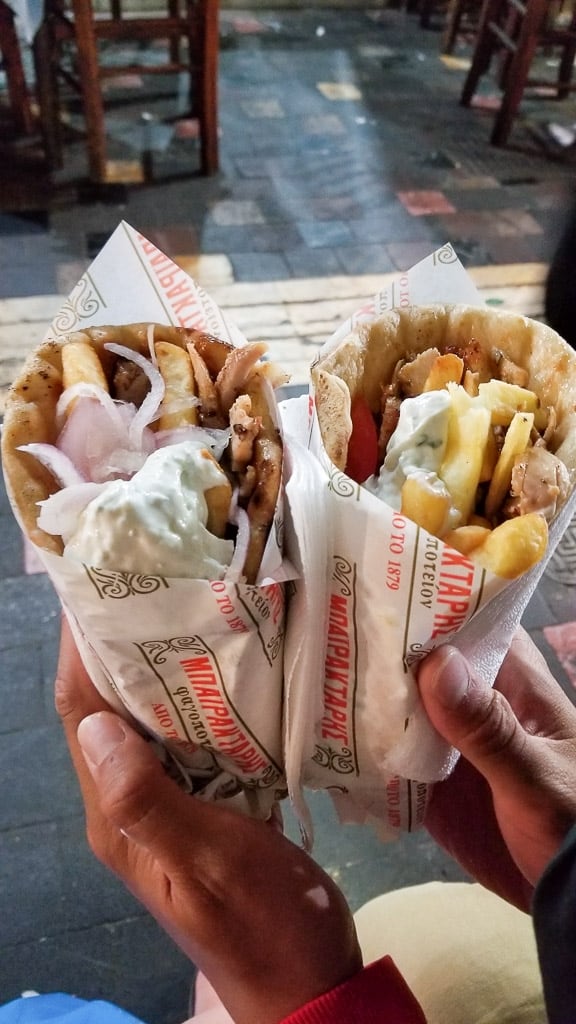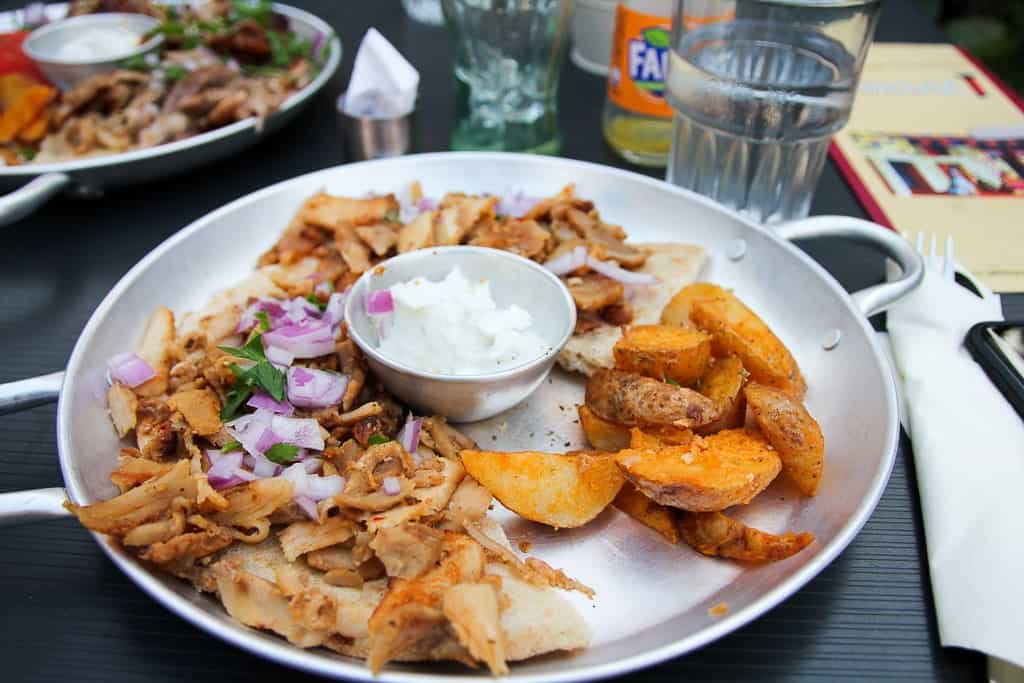 4. Kebab
Kebabs are long pieces of meat that are very well seasoned and grilled. You can get them on their own or even in pitas. We chose to be greedy and order this giant platter of meat which included kebabs.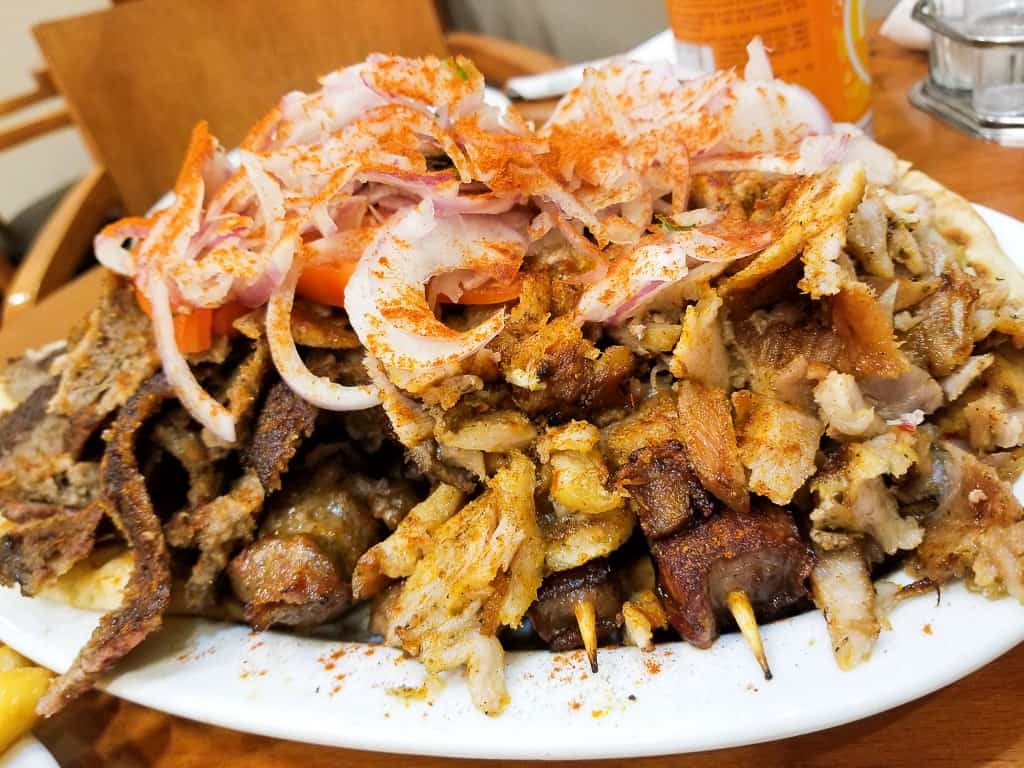 5. Moussaka
Moussaka is served pretty much everywhere you can have a sit-down lunch in Greece. It's a lasagna style dish made with tomato sauce and ground beef and layered with eggplant and sauce. It's typically a main dish!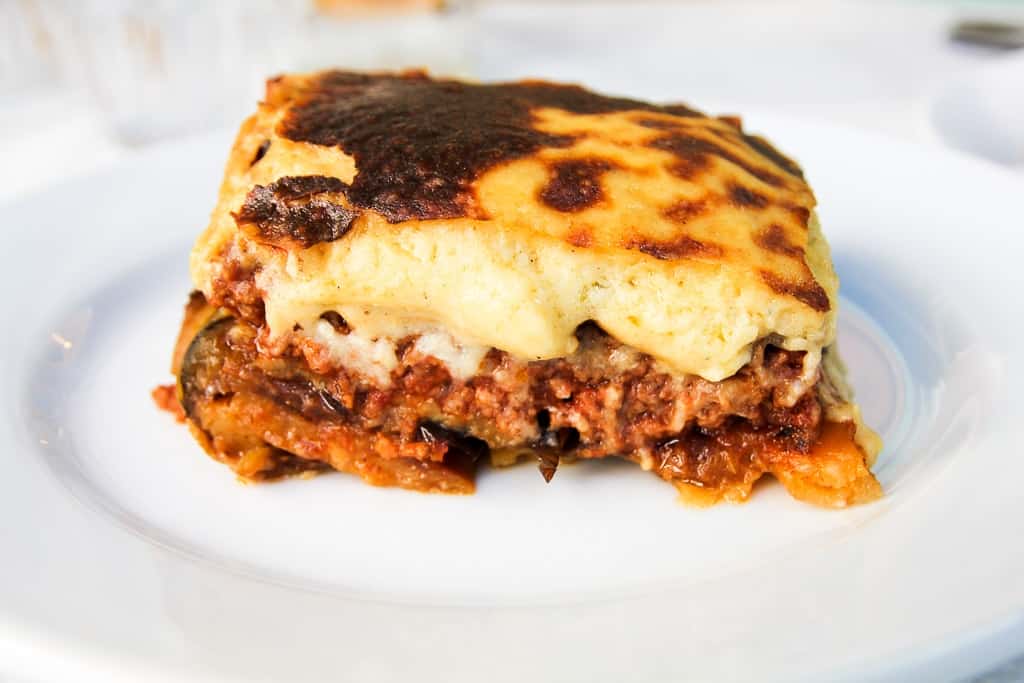 6. Squid
Squid is served as an appetizer in Greece. You can have it grilled or fried (calamari). Regardless of the way you have it, it's going to be super fresh and tasty!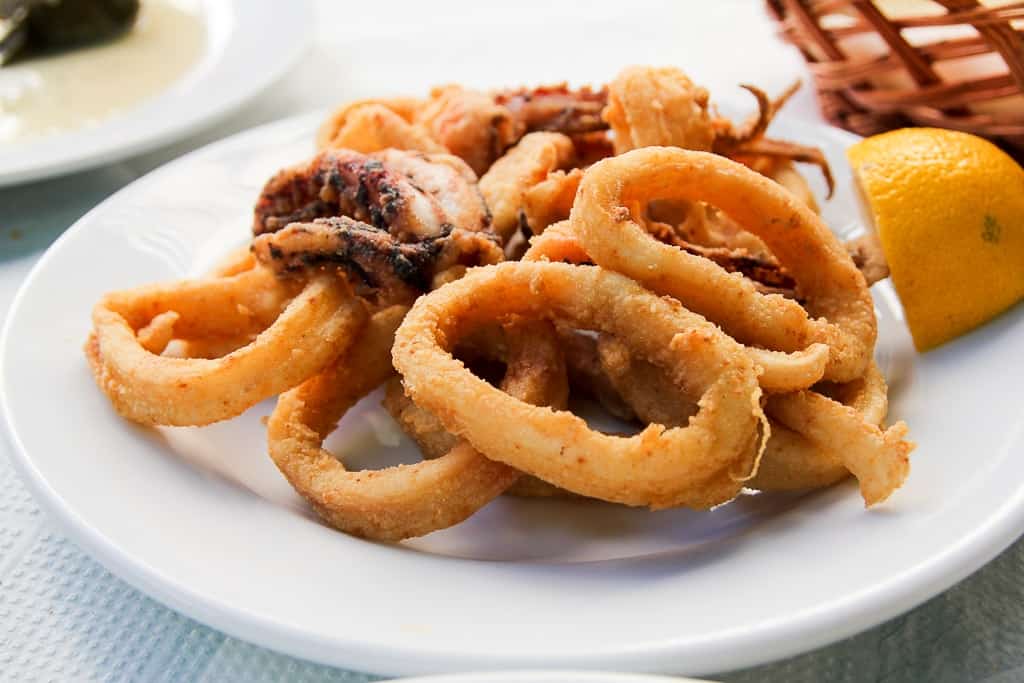 7. Fresh seafood
The pictures below are from a waterfront taverna in the south portion of Santorini. It's by far the best seafood I have ever had. The seafood is caught daily and is so incredibly fresh you'll want to keep eating it over and over again. There's lots of different variations ranging from whole fishes to lobster by the pound to shrimp. You could eat nothing but fresh seafood for a whole week!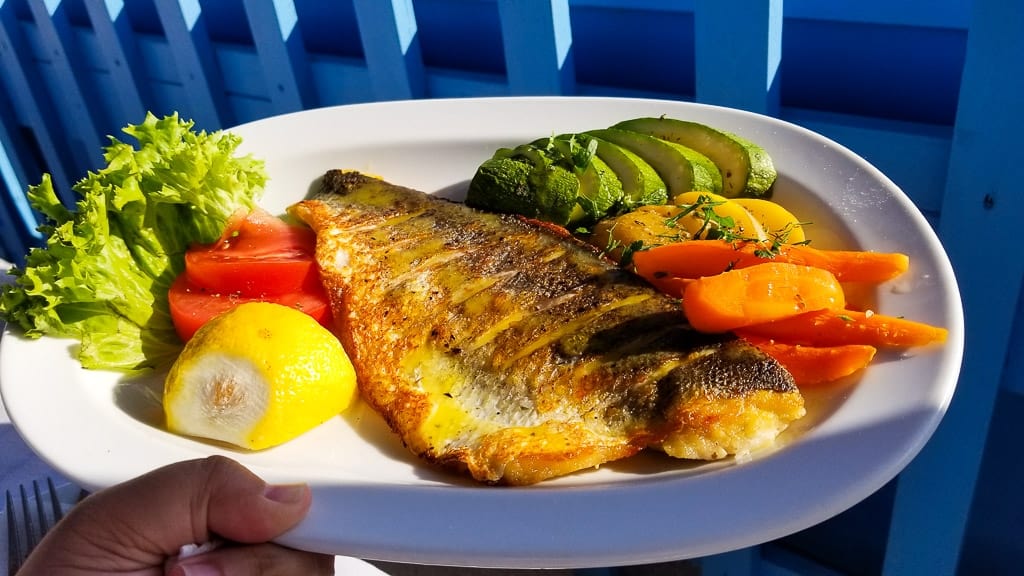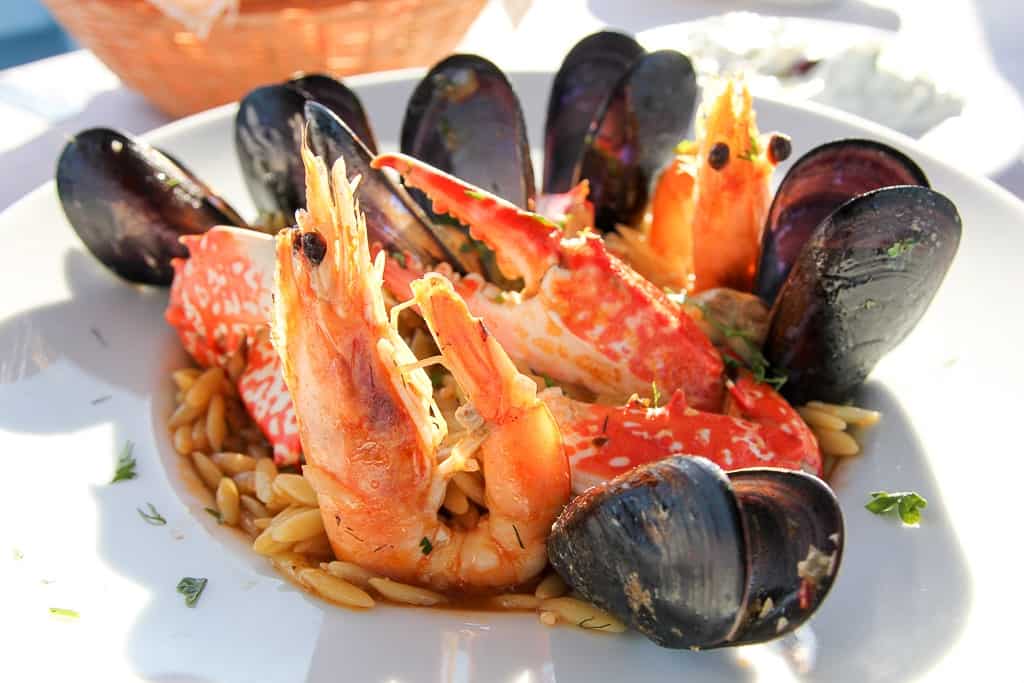 8. Dolmadakia
Dolmadakia are essentially stuffed grape leaves. It contains rice and herbs and normally ground lamb and/or beef. We found this listed as an appetizer at most places and had it served with lemons when we ordered it. I've had the Arabic style at home many times and the Greek ones (at least the ones we tried) were more loosely wrapped than those.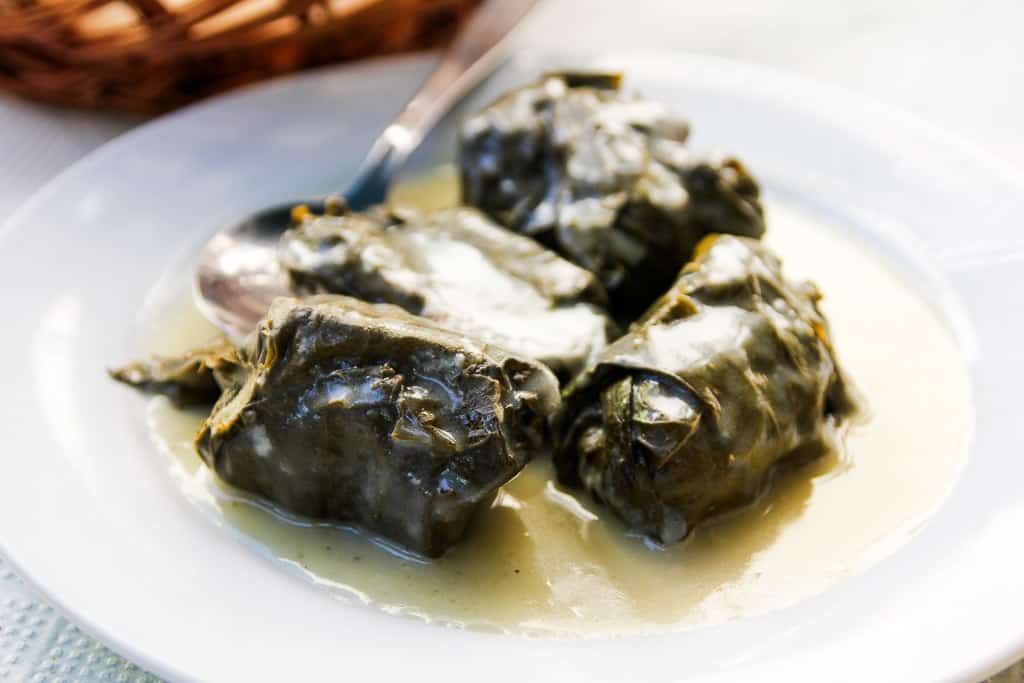 9. Patates Tiganites
Patates Tiganites aka the best fries on the entire planet are a must as well. They're insanely crispy on the outside yet super soft on the inside. They're also seasoned. Pro tip: stay away from the ketchup. I don't know what brand but we had ketchup in 3 different restaurants and it was this weird sugary vinegar mess. I gladly dipped these delicious fries in my tzatziki instead 😀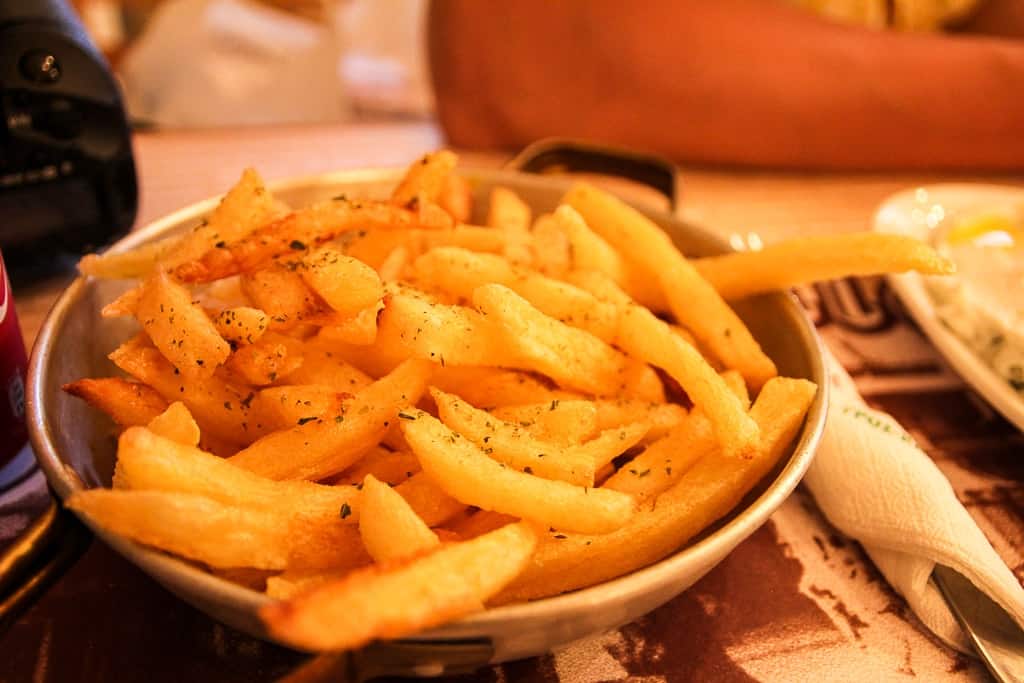 10. Baklava
Baklava is pretty much the go to Greek dessert. It's arguably one of the most popular food items when thinking of Greek food. They're small pastries soaked in a syrup and then layered with crushed nuts like walnuts and almonds. It's pretty much a combination of nuts, butter and sugary goodness. You can get it fresh from bakeries and restaurants or buy it boxed.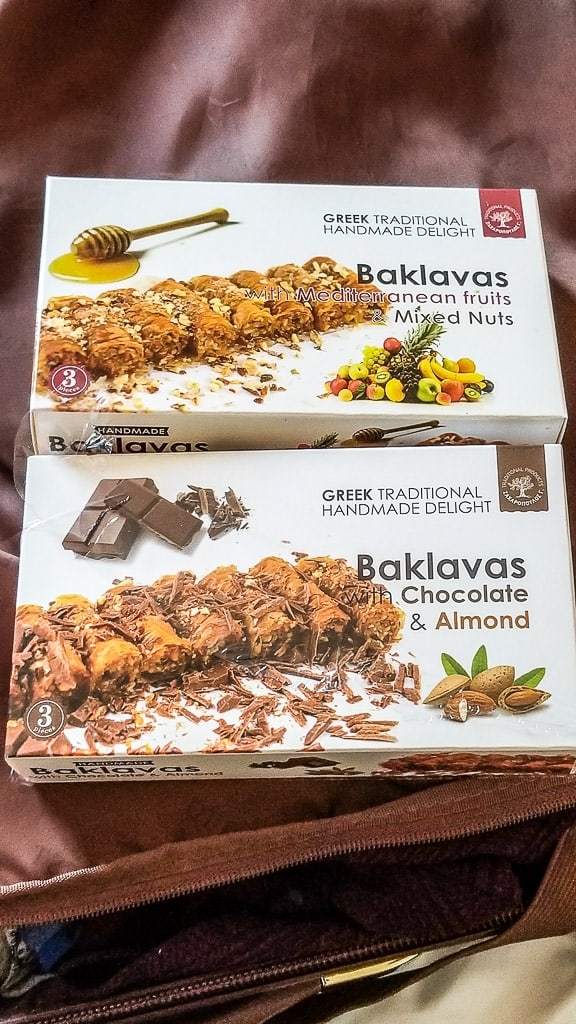 11. Loukoumi
Loukoumi is the Greek version of what is globally known as Turkish delight. They come in all flavours and are generally super tasty. We got to try handmade ones from a monk at one of the monasteries in Meteora and I was definitely impressed.  I guess you could theoretically say this isn't a classical Greek food but it was honestly everywhere we went and I liked it so much it had to be included on the list.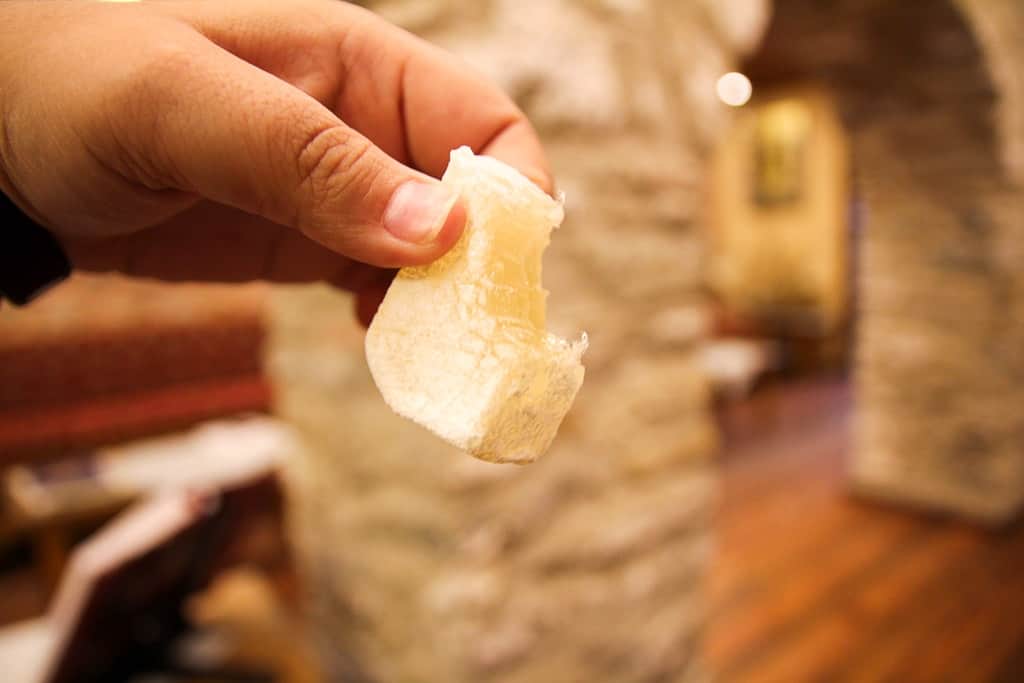 12. Greek Pastries
There are a ton of different pastries, cookies and cakes to try in Greece. They've got powered, filled and plains of everything. I highly recommend walking into a bakery and just grabbing a box and tasting them all.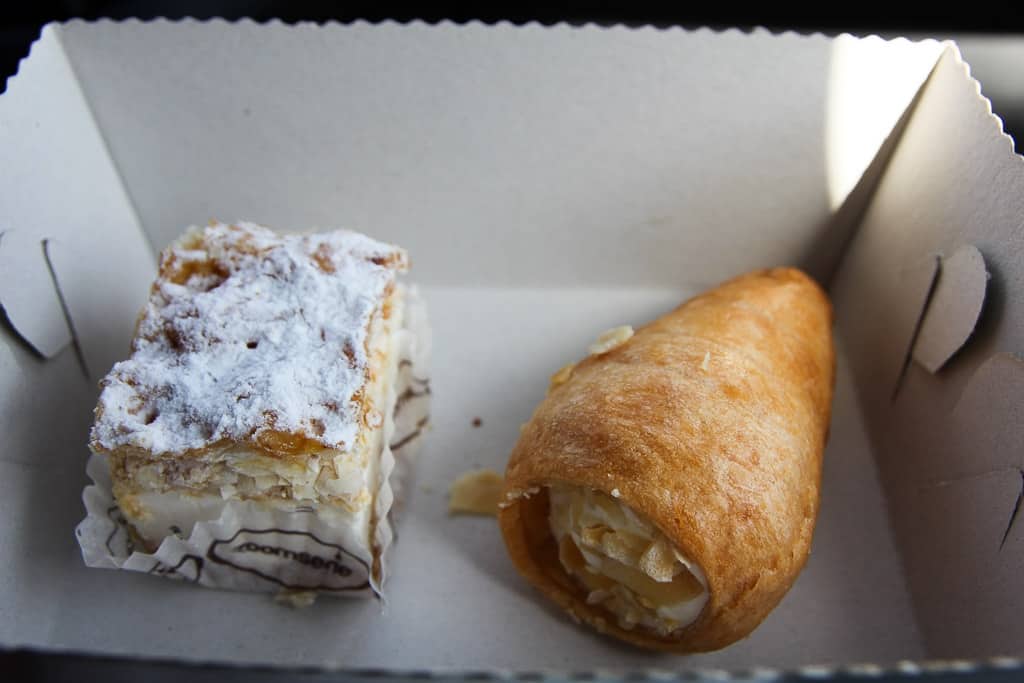 13. Gelato/Icecream
Okay, hear me out here. You cannot walk 50 feet in a town in Greece without coming upon a gelato/icecream place. It's understandable, Greece is a very hot country. But we're not talking vanilla and chocolate flavors here. We're talking the smoothest thing you'll have tasted in forever in so, so, so many fresh flavors you can't help but keep trying new ones. Suffice it to say we had icecream for breakfast 6/9 days in Greece!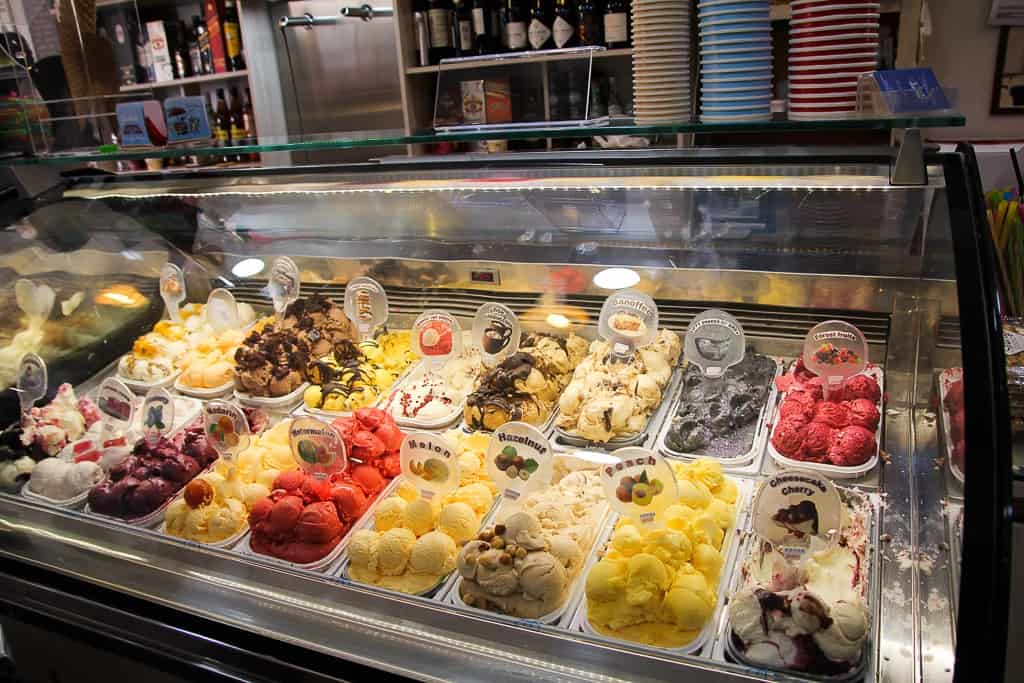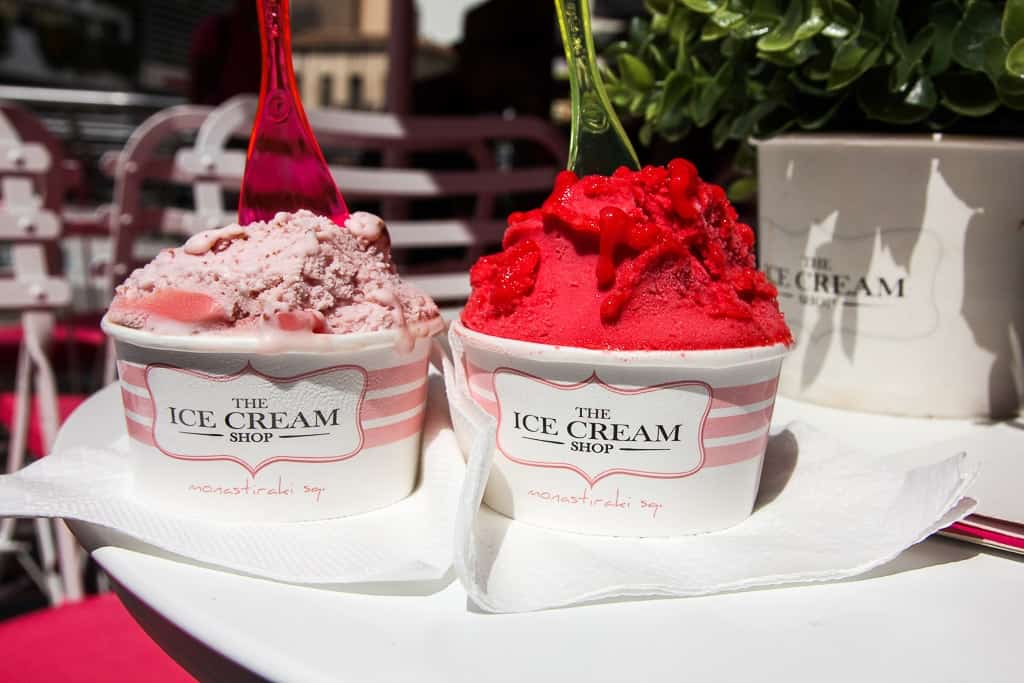 BONUS: Greek Alcohol
Greece has plenty of wineries and as such you should definitely indulge (safely of course!!) in a couple of glasses of either white or red. Depending on which islands you choose to check out there may be some local wineries there as well. Greece is also known for two other types of alcohol; Ouzo and Mastika. Ouzo is a clear liquid made out of grapes that tastes a little bit like licorice. You can drink it straight or you can have it with water or ice. If you opt to mix it with some water or ice a chemical reaction takes place which turns the clear liquid into a cloudy liquid. Pretty cool! Mastika is similar to Ouzo but is made with resin collected from mastic trees (hence the name!). Similarly to Ouzo you can have it either straight or cold and Masika also reacts to water by turning cloudy. 
There's a very obvious dish that most people associate with Greece that I skipped. I personally don't eat olives or feta cheese which is why you won't find a Greek Salad on this list but if you're a fan you obviously have to try it. I've seen it ordered in restaurants around us and the portions are giant and the piece of feta takes up like half the plate!
There's of course tons of other food that you can try as well. The one I regret missing out on is Yemista. This is a tomato that's been stuffed with rice, herbs and meat similar to the stuffed grape leaves There are variations to Yemista and many other types of vegetables can be used as well (my dad makes stuffed zucchinis at home and they are amazing!). A couple of other must dos are Koulouri (large bread rings covered in sesame sold by street vendors) as well as their pies! They've got them filled with cheese, meats an many other things. There's lots of street vendors selling nuts, vegetables and fruits as well as pastries and the above mentioned bread rings. It's a really easy way to get to try some of the local delicacies while walking around seeing the country.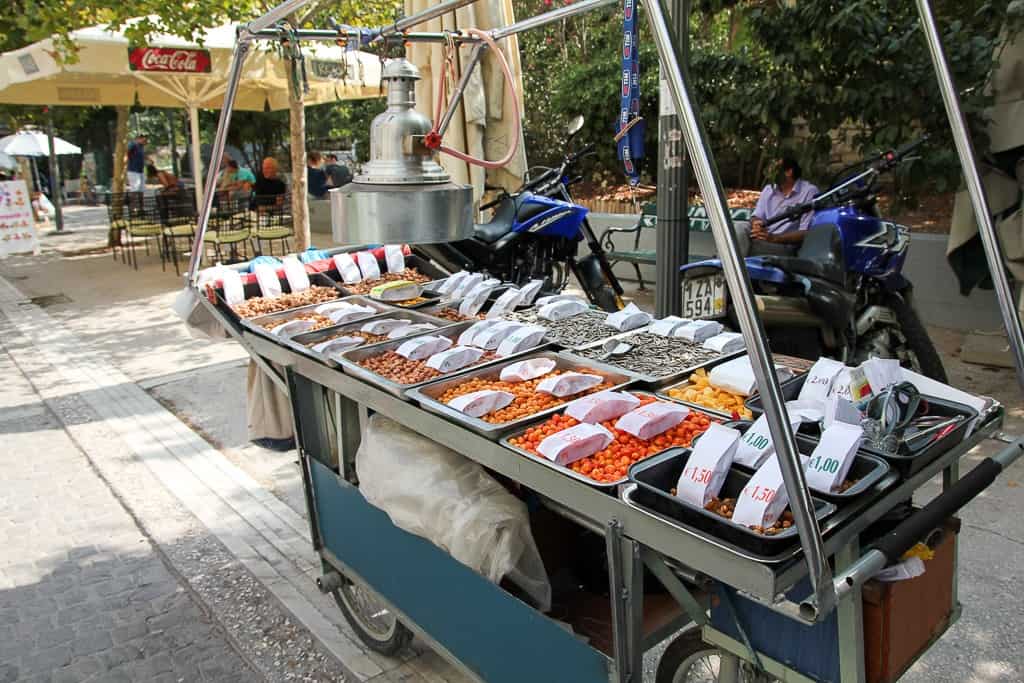 Checking out food is one of the most vital things to do during one week in Greece. This is a good link to check out the official names of a very, very comprehensive list of Greek foods if you wanted to learn more. Have you been to Greece? What was your favourite food when you were there? If you haven't been, what would you want to try most? Let me know in the comments and pin this post for your own trip!