Greece is a fairly big country and it can be difficult to figure out what parts to see on your first visit. We had 10 days in Greece and opted to do only 1 island (obviously Santorini) to be able to have time for some day trips from Athens in addition to getting a real feel for Athens. At the top of both mine and my husband's must see list was Meteora. We had seen so many pictures of these stunning monasteries on top of the cliffs and we just knew we had to fit in time for them. It actually ended up being both of ours favorite part of Greece. I loved it so much that I want everyone to go see them and because of that I've put together a guide on everything you need to know before you visit the Meteora Monasteries.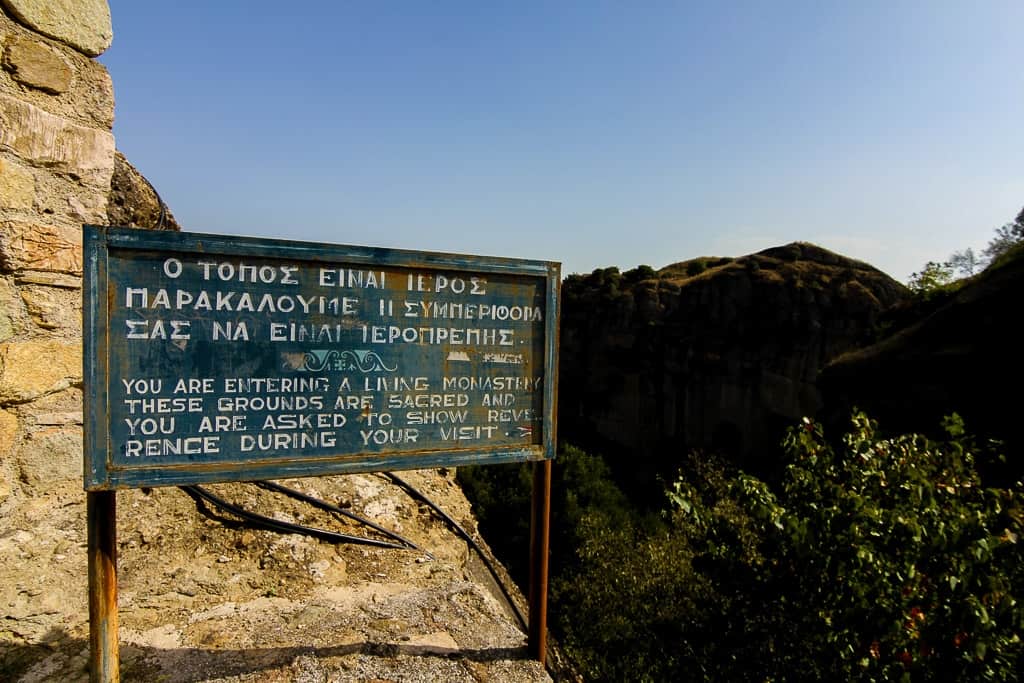 Introduction
I was completely blown away by the pictures of the monasteries so I knew I was headed here no matter what. We didn't do too much research to be honest. Mostly looked at opening hours and how we should be dressed. There's people who opt to do Meteora as a tour and that's of course more than valid. I'm not opposed to tours – I'm just not always good at them. I like setting my own pace and I like being able to come and go as I please so to speak.
The Meteora Monasteries are located in central Greece close to Kalambaka which is about 4 hours north from Athens. A lot of people will choose to overnight in Kalambaka or other nearby towns which is an option. We opted to rent a car and do the monasteries as a day trip. We saw 5/6 of the monasteries and that's only because the 6th one was closed. Regardless of whether you choose to do it as a day-trip or you chose to spend the night you really have to make time for the Meteora Monasteries on your Greece trip. They're one of a kind for sure and you will not regret it (and if you do feel free to message me and yell at me haha!).
Once you've arrived in the town of Kalambaka you can see the giant rock pillars on top of the town which is where the monasteries are located. It's an impressive sight that will get you incredibly excited. The monasteries are all fairly close to each other in terms of driving distances (5-15 minutes depending on which 2 monasteries you're driving between). Hiking/walking wise they are a bit further apart. The monasteries are not accessible what-so-ever (with the exception of St. Stephens) and most of them require a serious hike in addition to a large number of stairs to reach them. If you haven't seen a lot of pictures you may not realize that the Meteora Monasteries are a combination of nature and architecture and it's one of the things that make them so fantastic.
History
The Meteora Monasteries are a UNESCO Heritage site and have been so since 1988. The word Meteora means "suspended in air" which is incredibly apt given how high up the monasteries are (and unlike what my husband joked, they're not named after the Linkin Park album!). They sit as high as 400 meters above the ground. There were initially around 24 monasteries but that number is now down to 6 standing monasteries. They were built between the 14th and 16th century by monks. Once you've seen the cliffs you'll realize just what a project this must have been for them. The monks in the area originally lived in caves but came together to build the monasteries. They did this by hand, carrying all the materials back and forth. It took years to build them all using ropes, nets, baskets and ladders. There's lots of interesting information related to the history of the monasteries on display at each individual monastery and it's worth a read!
How To Get There
There are a number of ways to get to and around Meteora. The most popular is probably a tour followed by driving yourself. Like I mentioned above we opted to drive ourselves and absolutely loved it!
Drive
Outside of needing the actual car, all you'll need is any GPS that will be able to direct you to Meteora. We brought our own GPS from home but also had our phones and got there without any problems. It's approximately 360 km from Athens which took us just shy of 4 hours. Depending on where you are in Greece your drive may be longer or shorter. The one thing I'll note is that we read some forum posts on driving and people warned against driving if you didn't have your international driver's license as you could get pulled over and receive a ticket. We weren't trying to risk anything but we didn't realize this in time and didn't get a chance to apply for it. We drove safely enough and weren't pulled over but it's probably better to be safe than sorry when it comes to something like this. This was a great resource for us when looking into driving in Greece so check it out if that's what you're leaning towards.
Train
To take the train to Meteora you'll be taking trains to the closest town which is Kalampaka. Most major cities will have routes travelling to Meteora. You can check out routes and timetables on the train website here. The downside to trains is that you'll either have to pay to take a cab up to the monasteries or you will have to hike. The routes that we looked at were about 5 hours so it was a bit longer than driving and money wise, renting a car ended up way cheaper for us.
Bus
Just like the train, you can also take the bus to reach Kalampaka and then Meteora. It may require a couple of changes depending on from where in Greece you're coming from. You can check out routes and timetables here.
Tour
Another option is to just arrange a tour to pick you up in one of the close by towns (most likely Kalampaka). This would give you a set itinerary and also provide the transportation to and from the monasteries. There's multiple day tours, sunset tours, half day tours etc. Depending on your preference you're most likely going to be able to find something that suits what you're looking for!
Hire a Cab
A simple google search for personal cabs in Greece will bring you a ton of results with many reviews to choose from. It's a good alternative to the above suggestions because you're more in control of your itinerary but you don't have to be tired from driving yourself or from hiking from the bus/train stations to the monasteries.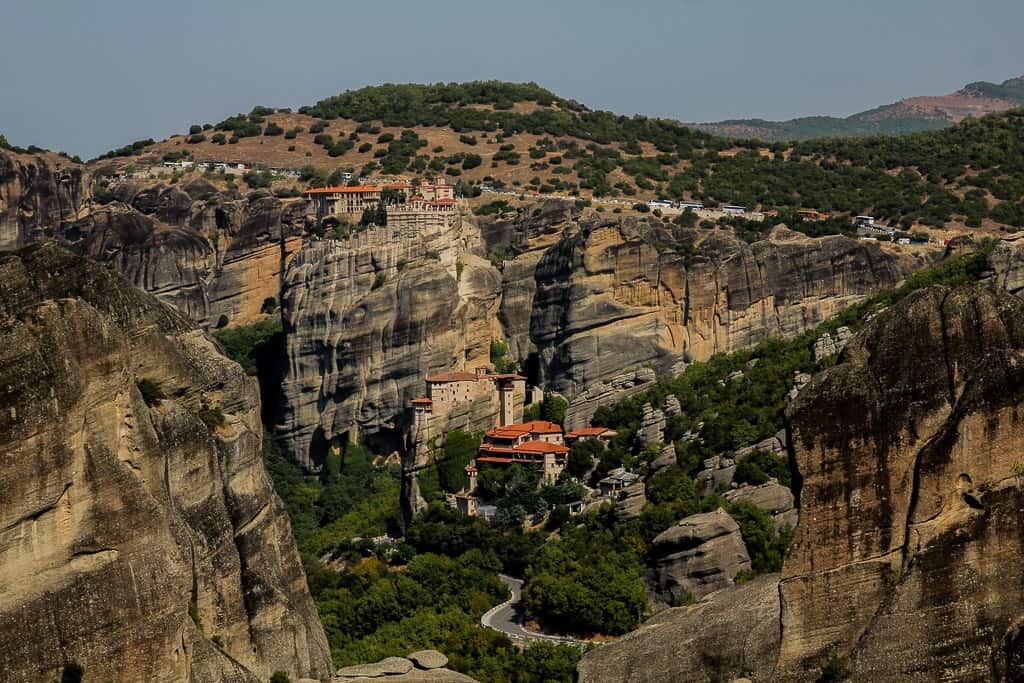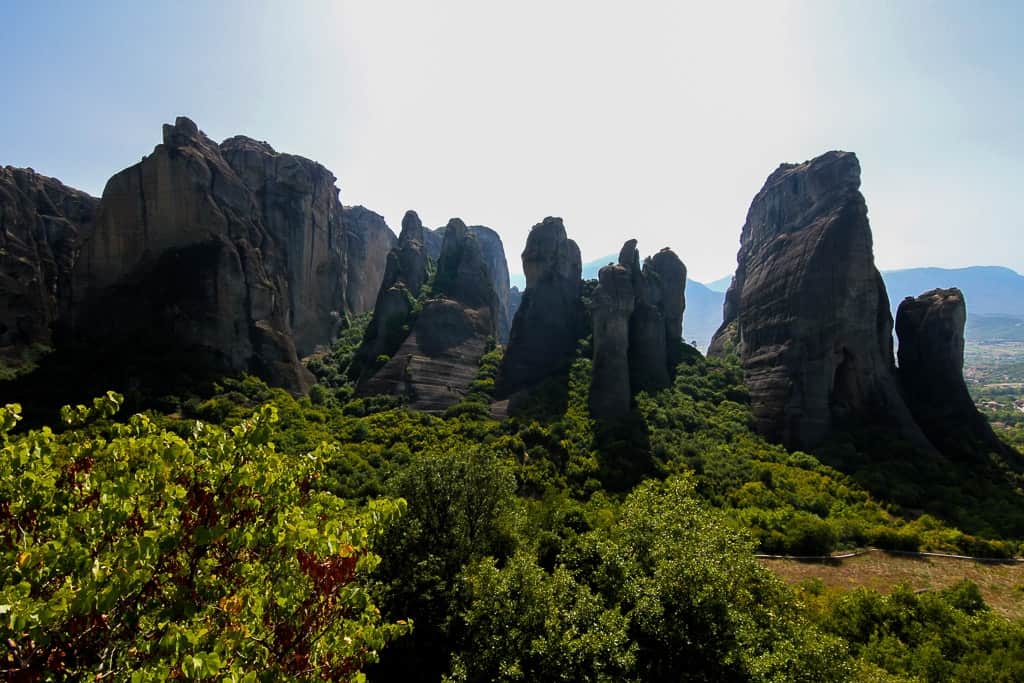 Opening Hours – UPDATED JUNE 2020
We visited Greece in September so our trip fell during the summer hours. The timing didn't work out for us to go on a weekend so we knew that no matter which day we went we'd be dealing with one closed monastery. Because St. Stephen had particular hours and I had no idea how long it would take us to hike the other ones we opted to go on the Monday knowing that one would be closed and we therefore couldn't see it. All of the monasteries are closed at some point during the week and it's one of the most compelling reasons to stay for more than one day – you'd be able to see all 6 of them.
Summer Time Table (Applicable between April 1st and October 31st)
| | | |
| --- | --- | --- |
| MONASTERY | OPENING HOURS | CLOSED ON THE FOLLOWING DAY(S) |
| Holy Monastery of Holy Trinity | 9:00 to 17:00 | Thursdays |
| Holy Monastery of St. Stephen | 9:00 to 13:30 and then again 15:30 to 17:30 | Mondays |
| Holy Monastery of Varlaam | 9:00 to 16:00 |  Fridays |
| Holy Monastery of St. Nicholas Anapausas | 8:00 to 16:00 |  Fridays |
| Holy Monastery of Rousanou | 9:00 to 17:00 |  Wednesdays |
| Holy Monastery of Great Meteoron | 9:00 to 15:00 |  Tuesdays |
Winter Time Table (Applicable between November 1st and March 31st)
| | | |
| --- | --- | --- |
| MONASTERY | OPENING HOURS | CLOSED ON THE FOLLOWING DAY(S) |
| Holy Monastery of Holy Trinity | 10:00 to 16:00 | Thursdays |
| Holy Monastery of St. Stephen | 9:30 to 13:00 and then again 15:00 to 17:00 | Mondays |
| Holy Monastery of Varlaam | 9:00 to 15:00 | Thursdays and Fridays |
| Holy Monastery of St. Nicholas Anapausas | 9:00 to 15:00 | Fridays |
|  Holy Monastery of Rousanou | 9:00 to 14:00 | Wednesdays |
| Holy Monastery of Great Meteoron | 9:00 to 14:00 | Tuesdays, Wednesdays and Thursdays |

The Monasteries
There's no right or wrong way to see the monasteries. You can do them in any order you wish and stay for as long as you wish. The only thing you do have to consider are the hours – they're pretty strict on closing down exactly when the opening hours are over. Because we visited on a Monday St. Stephen was closed but we managed to see all the other 5 monasteries (and take our time at them!)
Holy Monastery of Holy Trinity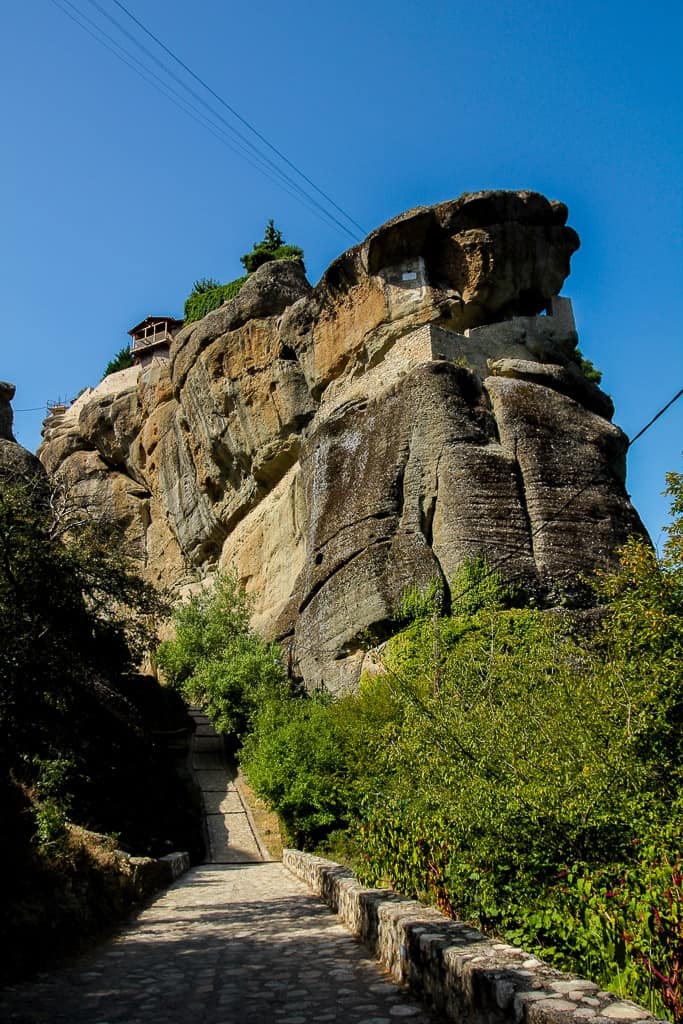 While I didn't do much research before leaving, the one article I read argued that the Holy Monastery of Holy Trinity would be the hardest hike. And seriously. It was. We chose to start the day with this one partially because I didn't think I'd have it in me to do it after we had already done some other hiking and partially because it's the one I had no way of predicting the time it would take for. You start at a higher point and then hike down to the path to a giant winding stair case. And then up you go. With no shame I can admit I had to take several breaks on the way up to this monastery. It's definitely the least accessible one which you can tell just based on how few people there were here. It felt like we had the entire place to ourselves and we still got there a couple of hours after opening. The Holy Monastery of Holy Trinity is also one of the most distinguishable of the monasteries because it sits on top of a really high cliff that's fairly isolated from the other rocks.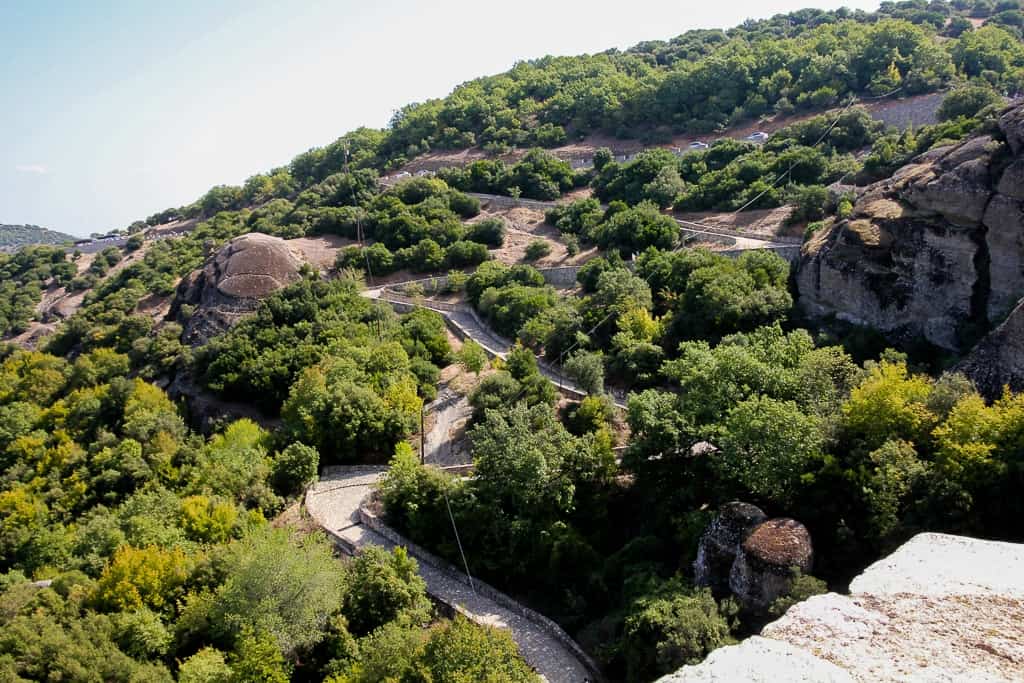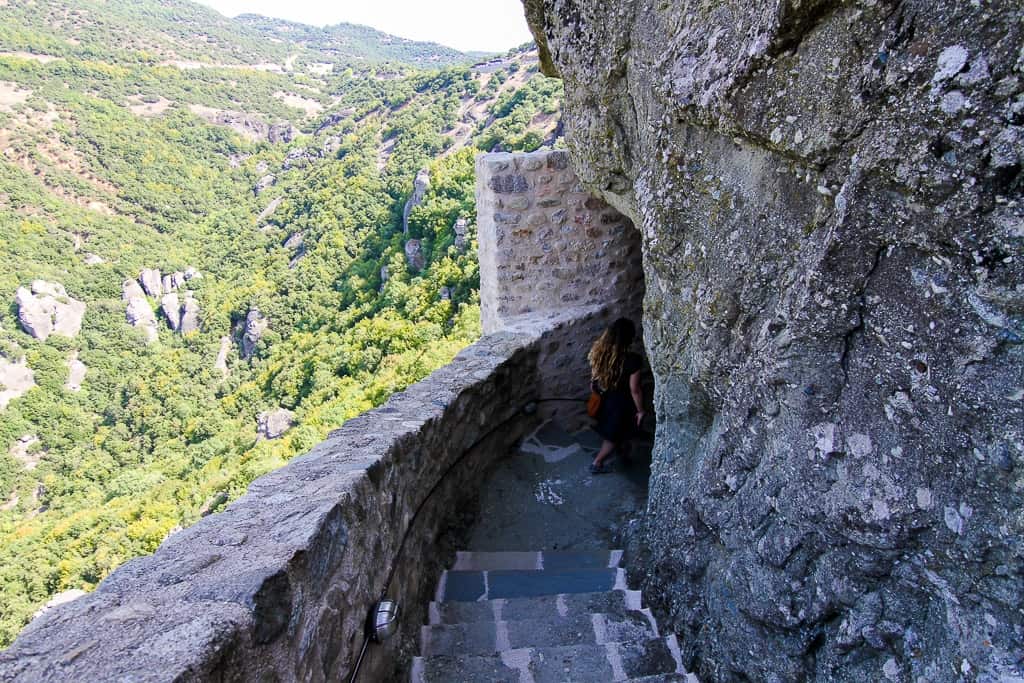 Holy Trinity Monastery was built in the 14th century, specifically between 1458 and 1476. At that point the only way to access the monastery was with rope ladders and nets which absolutely blows my mind. The 140 steps which almost killed me weren't added until 1925 at which point visitors could now access the monastery. These days there's also a funicular which helps with carrying materials to the monastery. The monastery used to be the center of the community with 7-8 monks living there. Presently only 4 monks live here. The monastery had a large amount of scriptures and relics but many were lost during World War II. What still exists has been donated to St. Stephen's Monastery as the Holy Trinity Monastery was closed for a period of 50 years. If you're interested in reading more about the Holy Monastery of Holy Trinity this is a great link with a ton of information on the history of the monastery.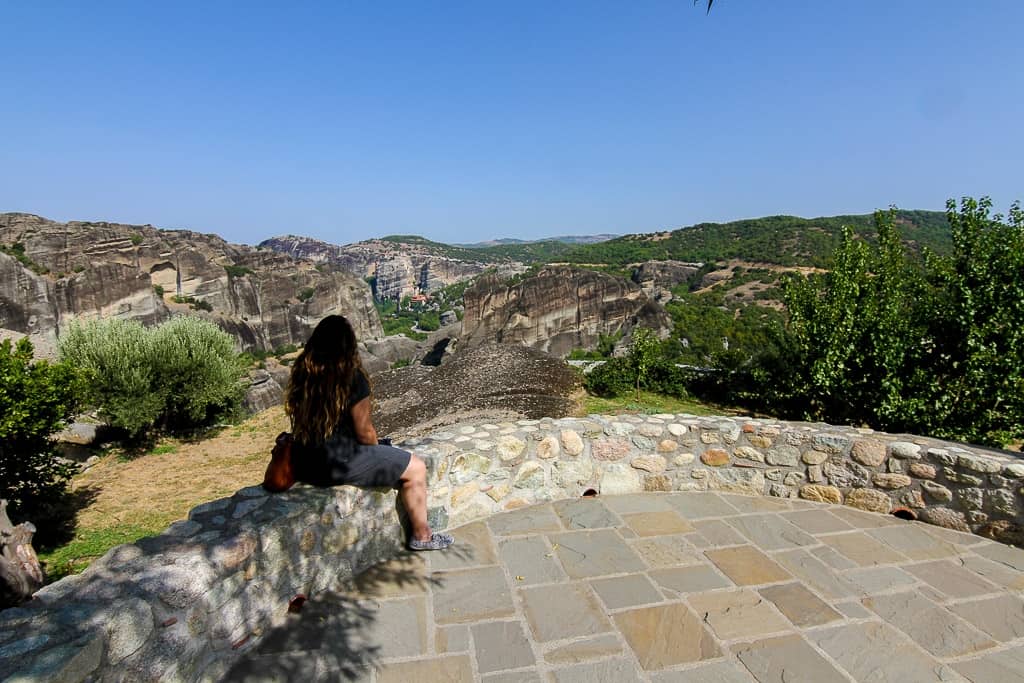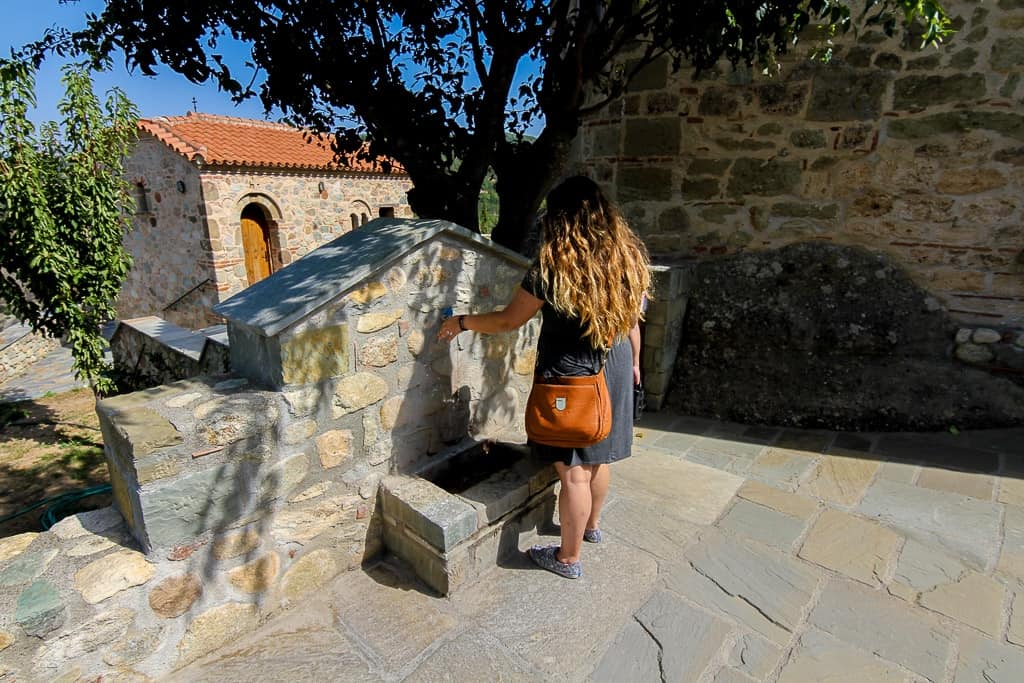 The monastery itself is very sparsely decorated but you may recognize it from the James Bond movie For Your Eyes Only. The inside has only a couple of rooms that you're able to access but the real beauty of the Holy Trinity Monastery is the outside view. Once you proceed through the monastery there's a bit of a hill. Continue up through this hill to a viewing platform and you'll be blessed with such a great view of the town below. There's also a giant white cross on the viewing platform which makes for absolutely stunning pictures. We sat up there taking in the views for a really long time. There's such a reward in hiking up to this monastery, the views are phenomenal and while the interior of the monastery isn't as spectacular as some of the other ones the view is unbeatable.
Holy Monastery of St. Stephen
We weren't able to explore St. Stephen but it's definitely the most accessible monastery. There's no climb up and all you have to do is cross a little bridge to get into the monastery. St. Stephen's was founded in the 12th century by monks. About 100 years ago over more thank 30 monks lived here but around 1960 the monastery was virtually empty. In 1961 it became a covenant instead. St. Stephen has an incredible collection of rare books and over 150 manuscripts (some as old as from the 11th century!). The museum in the monastery also has some great art work on display and there are beautiful wood carvings all around the monastery. If you're interested in more information about the Holy Monastery of St. Stephen this is an excellent link. We did admire the outside of the monastery however and were charmed by these very photogenic cats!
Holy Monastery of Varlaam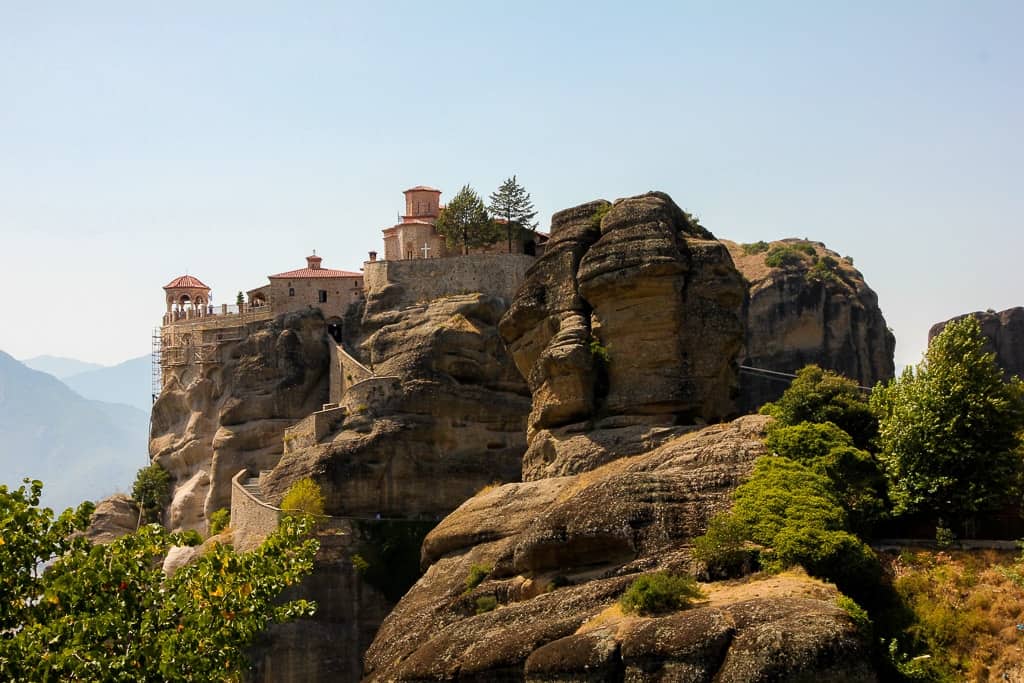 The Holy Monastery of Varlaam was named so after the monk who lived on the rock in the 14th century. He built portions of the monastery but when he died the rock was abandoned for about 200 years. In 1517/1518 two monk brothers reached the rock and they started building the monastery from scratch. It took them 22 years to transport all the materials but then it only took 20 days to build the actual monastery! If you're interested in reading more about Varlaam Monastery you can do so here.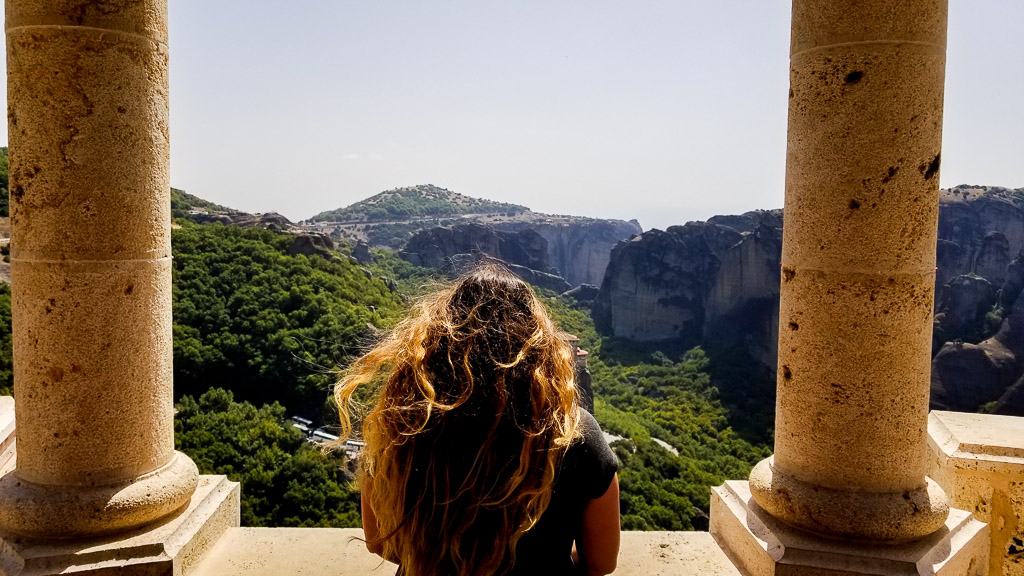 Arguably one of the really cool things about Varlaam Monastery is this little gazebo completely made out of stone. It was very popular for pictures and the views from it were stunning!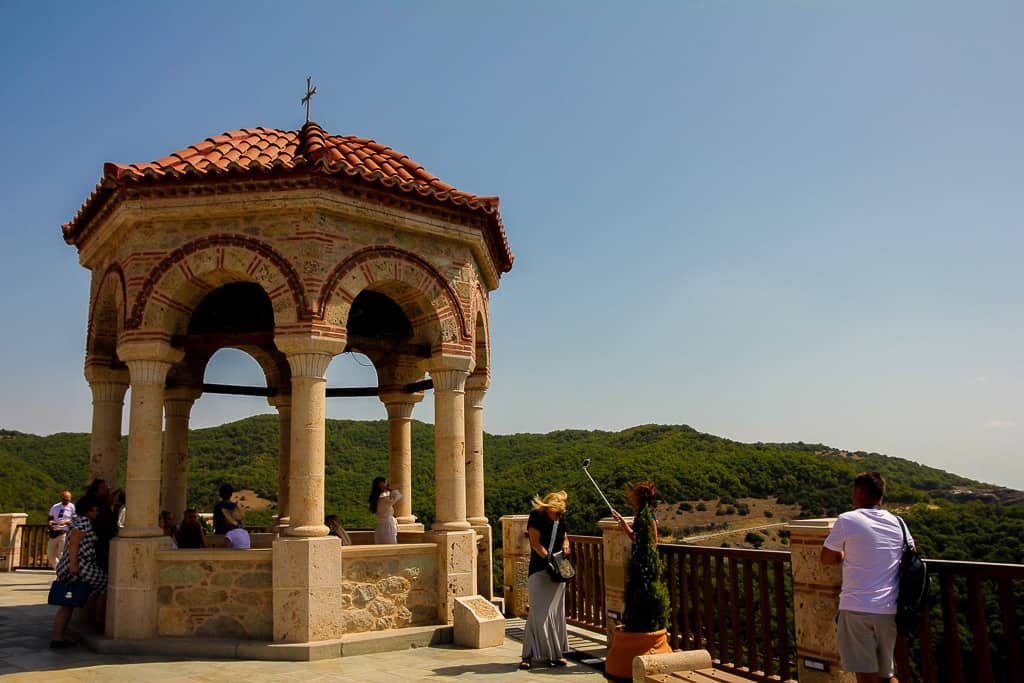 Varlaam is probably one of the monasteries we spent the most time actually exploring. There's lots to see and plenty of rooms that are open to the public (unlike Holy Trinity). There's a museum with a fair amount of nice pieces on exhibition like clothing worn by the monks, scripture and so much more.  There's also a really, really nice gift shop. We originally stopped at the food truck right outside of the monastery to get some water and ice cream (really convenient!) and looked around at the stalls at the front of the monastery. We decided that we'd shop on the way back so we wouldn't have to carry too much. Luckily we didn't shop because the gift shop inside Varlaam had everything we wanted to bring back for our parents! It appeared that all the funds were going back into the monastery and that some of the items were even made at the monastery but I haven't found anything online verifying this. They did take credit cards if you don't have enough cash which answered my question on whether the monastery had electricity or not!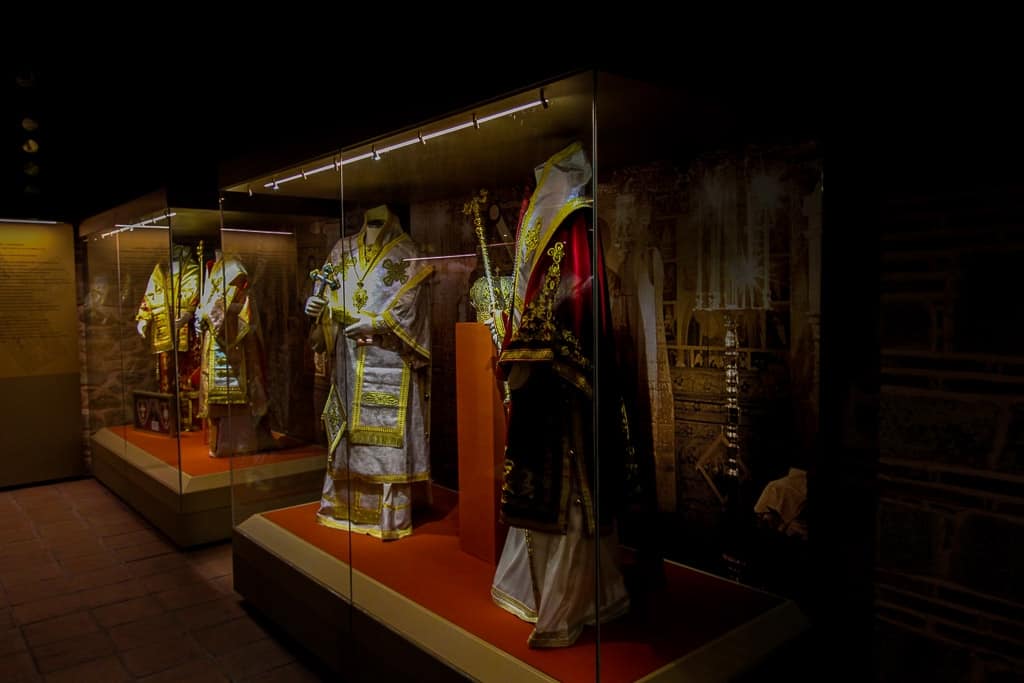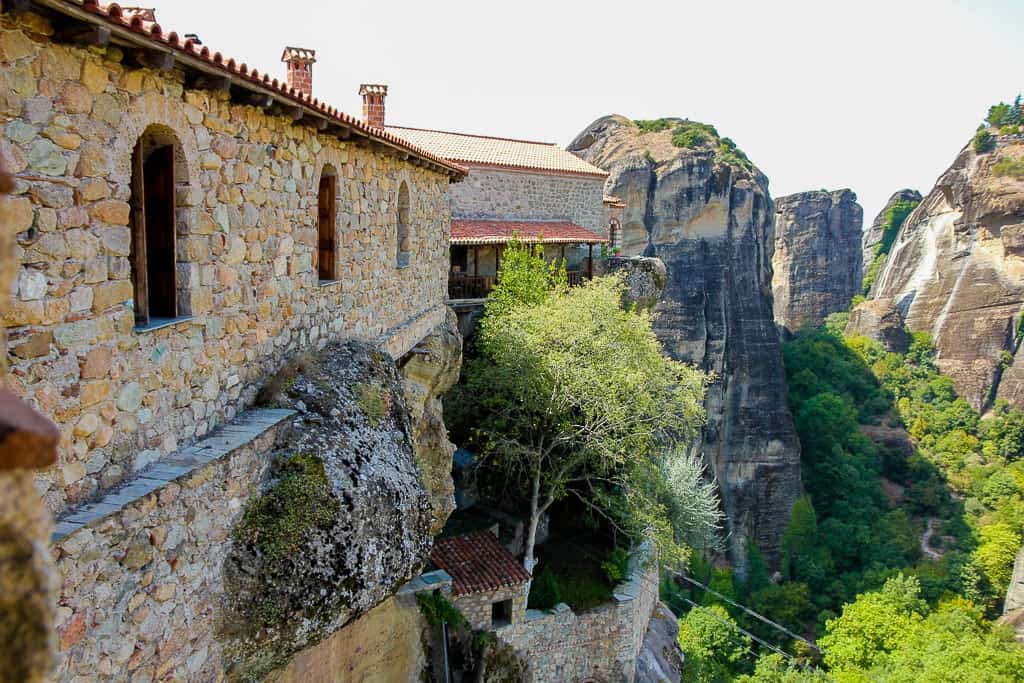 Holy Monastery of St. Nicholas Anapausas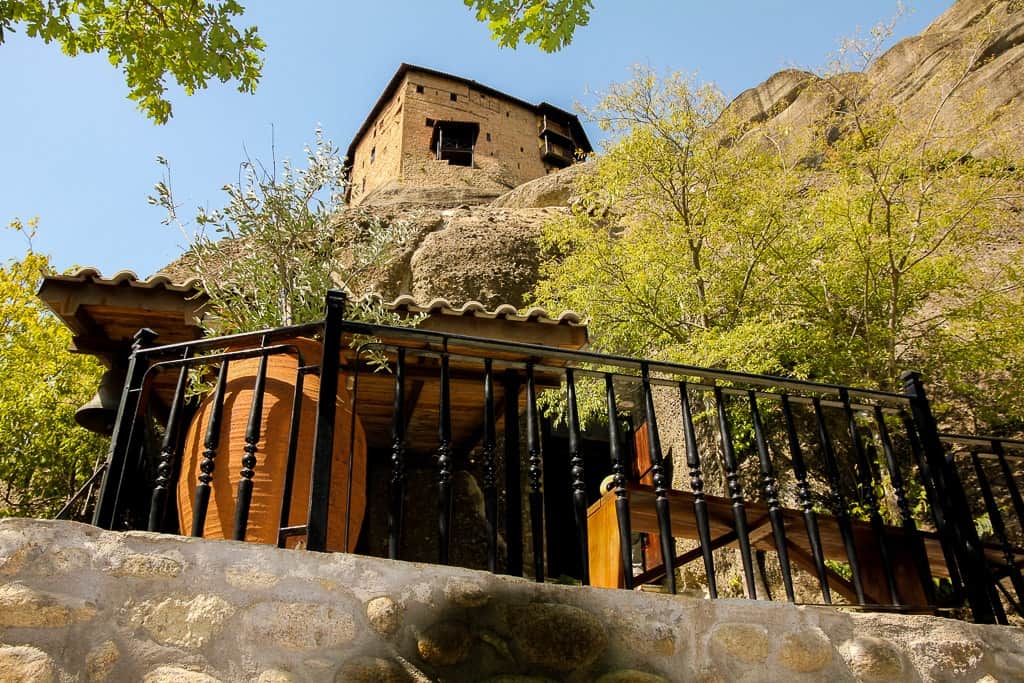 St. Nicholas Monastery was probably my favorite one. Similar to Holy Trinity this one was fairly empty. I'm not sure why because the hike was nowhere near as challenging as Holy Trinity (although not easy by any means haha). It was founded in the 14th century and while it's assumed it's named after its founder nobody is really sure. Unlike a lot of the other monasteries this monastery isn't particularly spread out but instead has multiple stories to it which has to do with how small the rock it's built on is. In the beginning of the 1900s the monastery was completely abandoned until the 1960s when it was revived. A priest lived there until 1982 but was then forced to leave at which point the monastery closed for 15 years. It started operating again in 1997 and now only one monk lives there. If you're interested in reading more about the history this is a great link.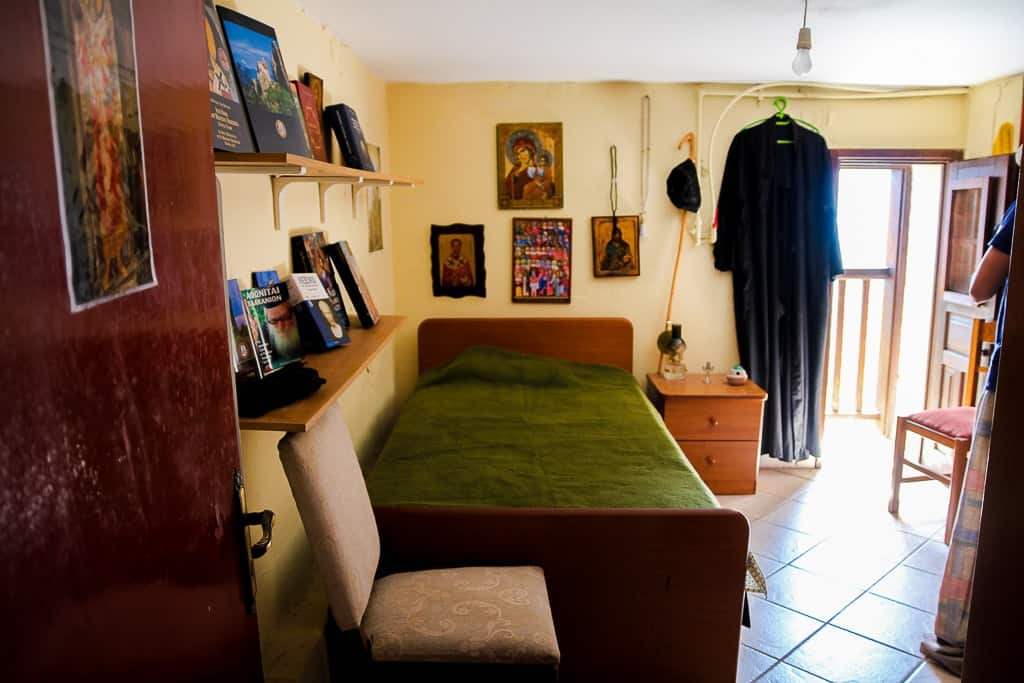 One of the reasons St. Nicholas was probably my favorite monastery was because it just felt so open. The monk who currently lives there has made his bedroom/office accessible to everyone and you're allowed to go in and take pictures. It's such a small space with the bare basics that it's definitely humbling. His view on the other hand is absolutely amazing. I don't think I'll ever agree to go into a covenant but I would not say no to waking up to the below view every morning.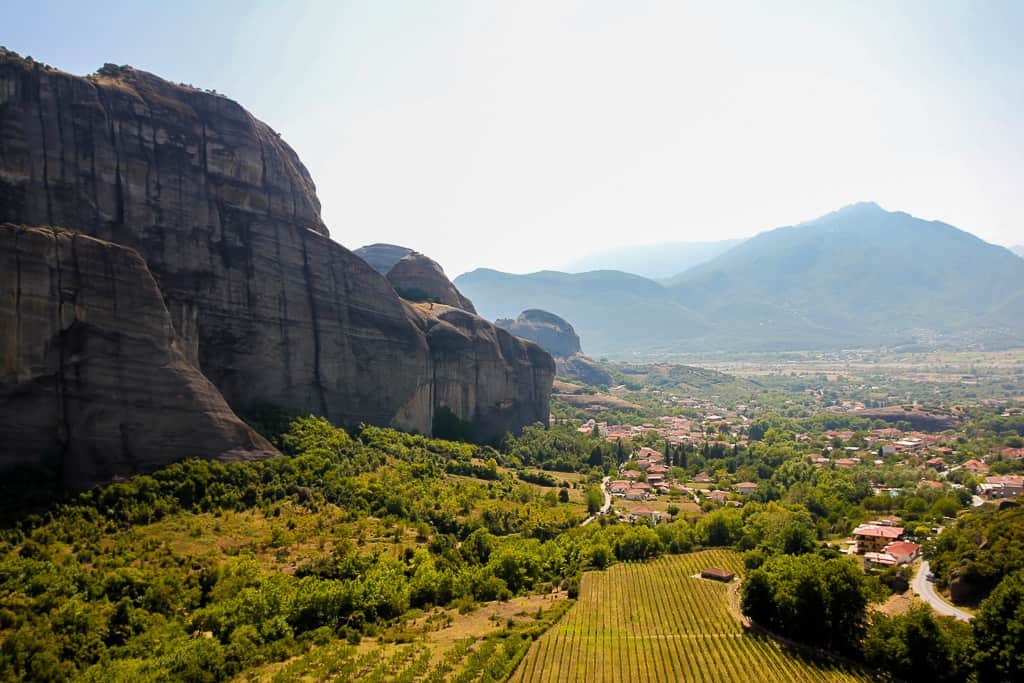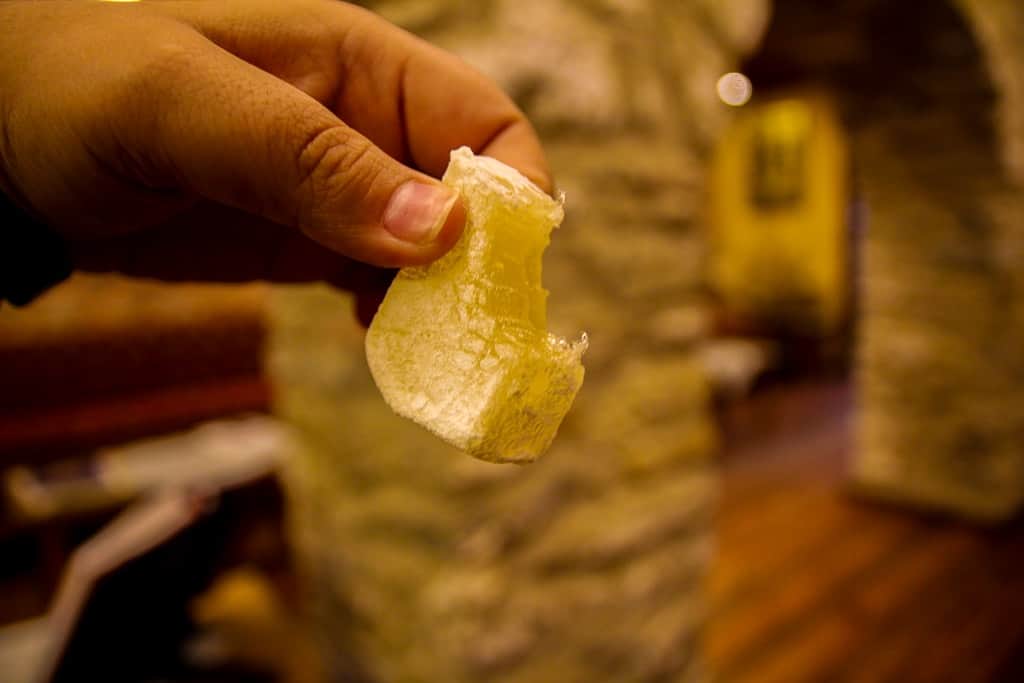 The keeper of the monastery (unsure of what else to call him but he was like the person greeting everyone) handed out homemade loukoumi which was one of my favorite sweets in Greece!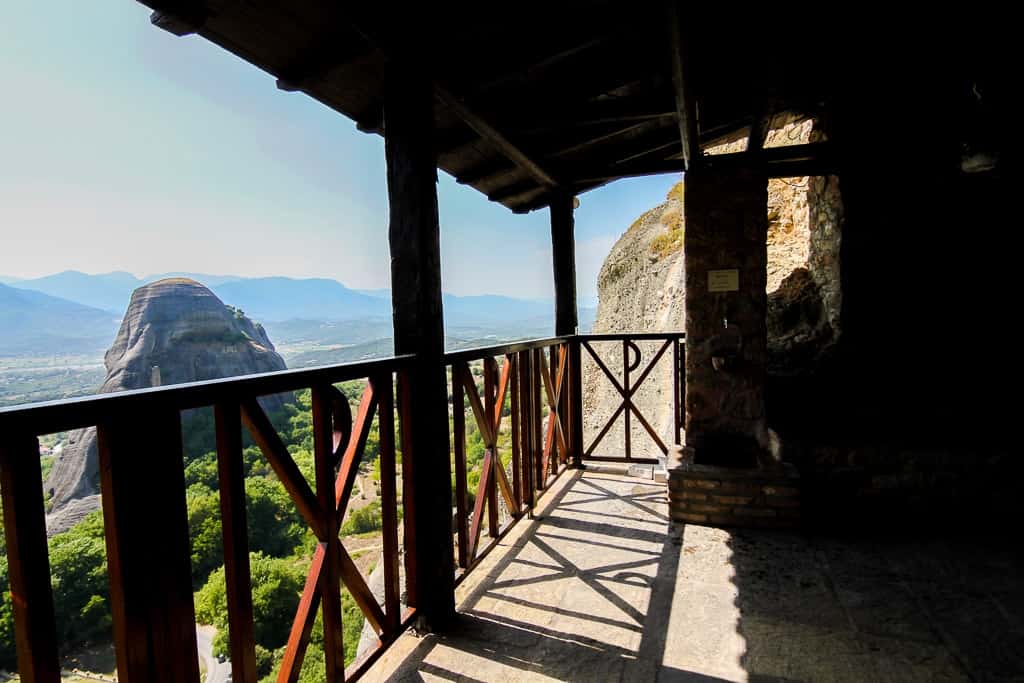 Similarly to Holy Trinity, the real prize at St. Nicholas has to be the stunning viewing platform on top. It's the closest we got to the actual rocks and the striations and marks in the rocks were incredibly interesting to look at!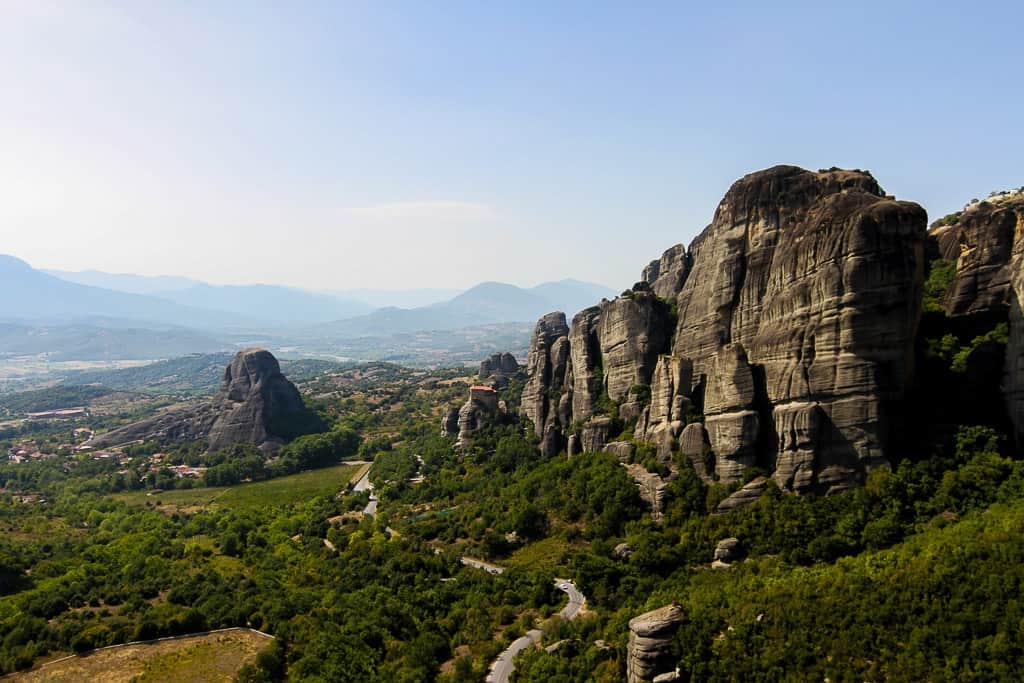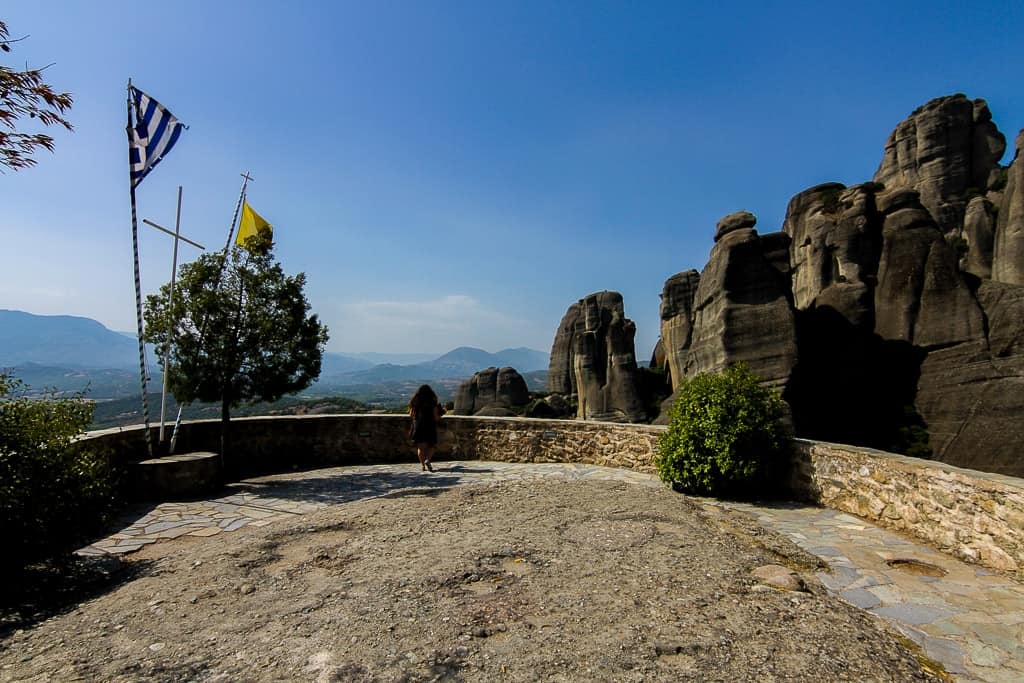 On the way down we passed a local woman selling some handmade goods and while she didn't speak English we couldn't resist stopping to buy something. The little pins were so cute and I got one for my grandma because yes that's who the woman made me think of <3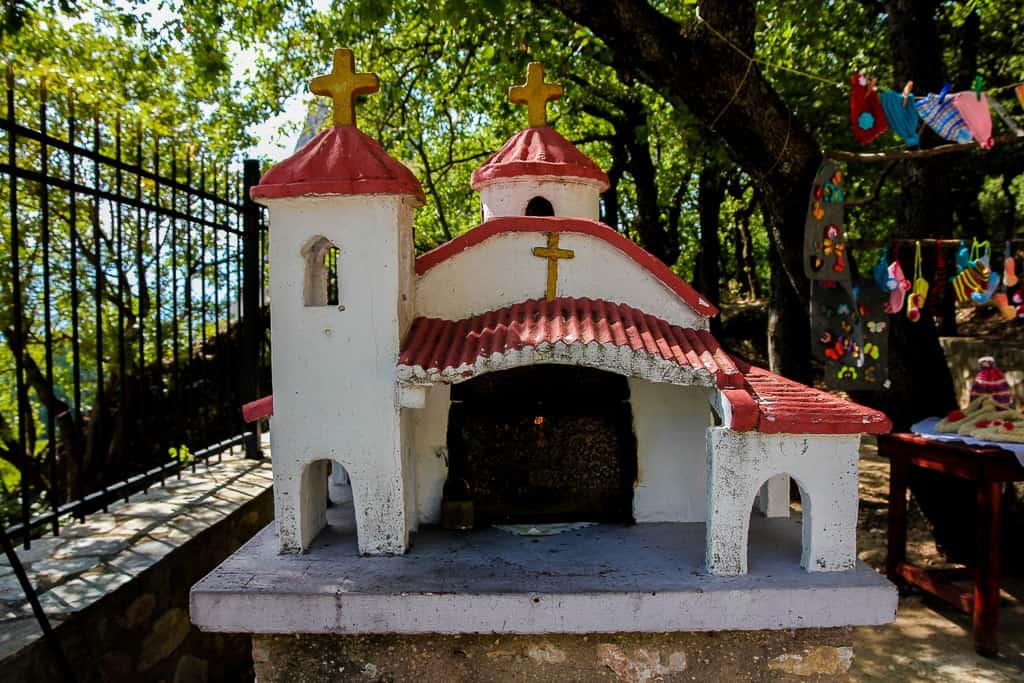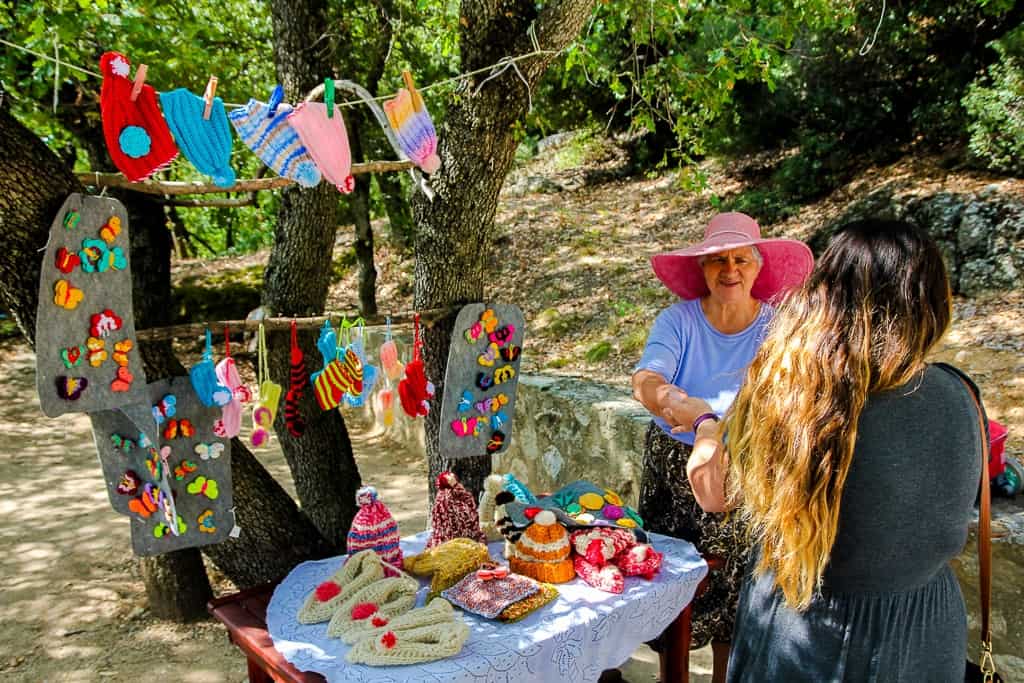 Holy Monastery of Rousanou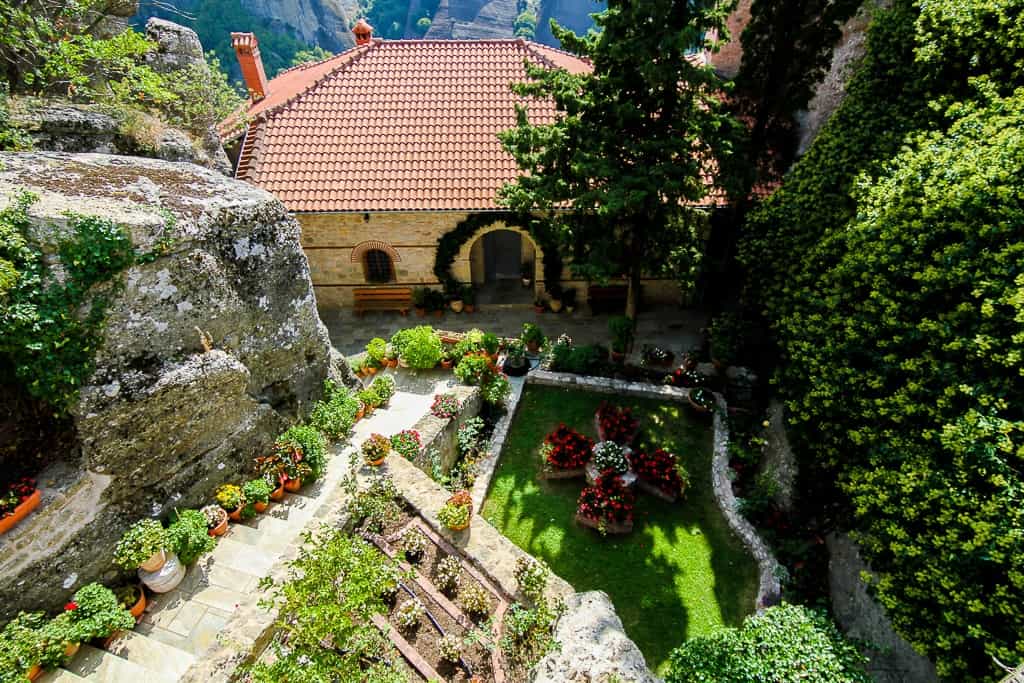 Some historical records say that the Holy Monastery of Rousanou was started in 1388 but while that hasn't been confirmed what is for certain is that in 1527 two monk brothers were given permission to build the monastery upon the rock. Similarly to St. Nicholas there isn't a historical record of where the name of the monastery comes from but it's most likely from the person who originally occupied the rock. It's actually also known at the St. Barbara Monastery. While monks originally lived in the monastery there isn't a record of how many and the monastery was closed for a long time with women not being given access. In the mid-1900s a nun helped re-open the monastery and restore it so it was usable again and it's currently run by nuns who live there. One of the spectacular parts of Rousanou Monastery is the veranda which has absolutely stunning views! If you want to read more about Rousanou then this is a great link.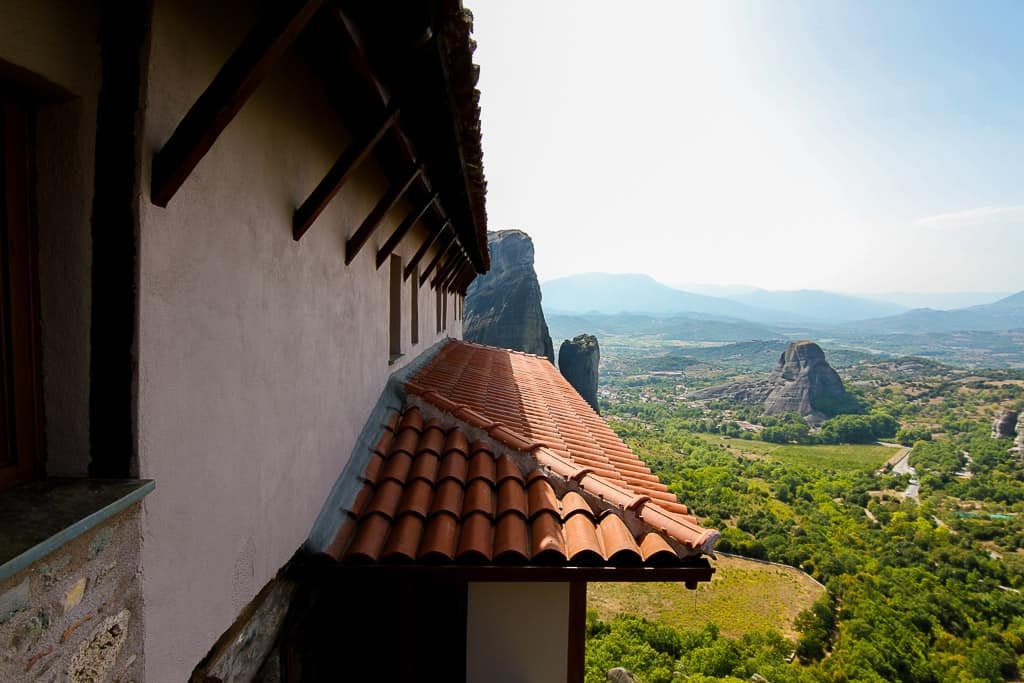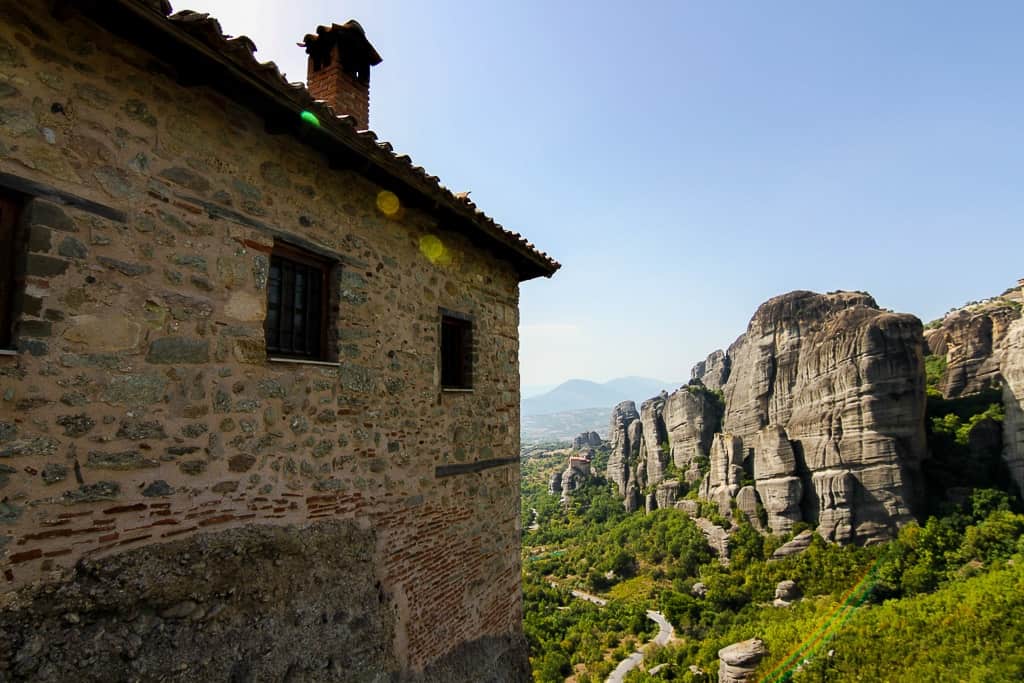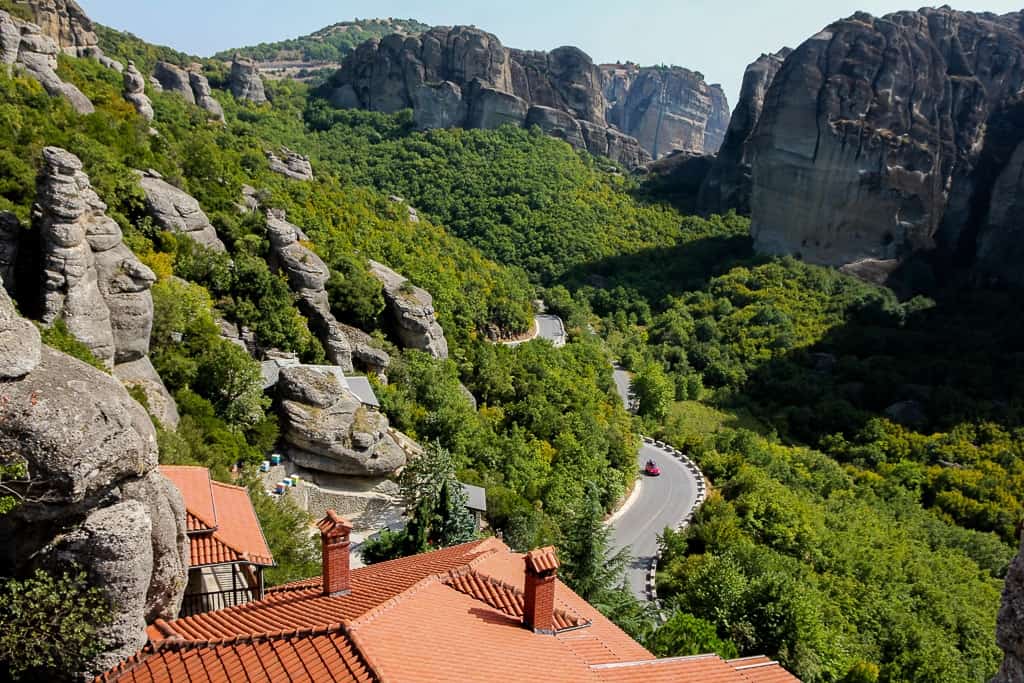 Holy Monastery of Great Meteoron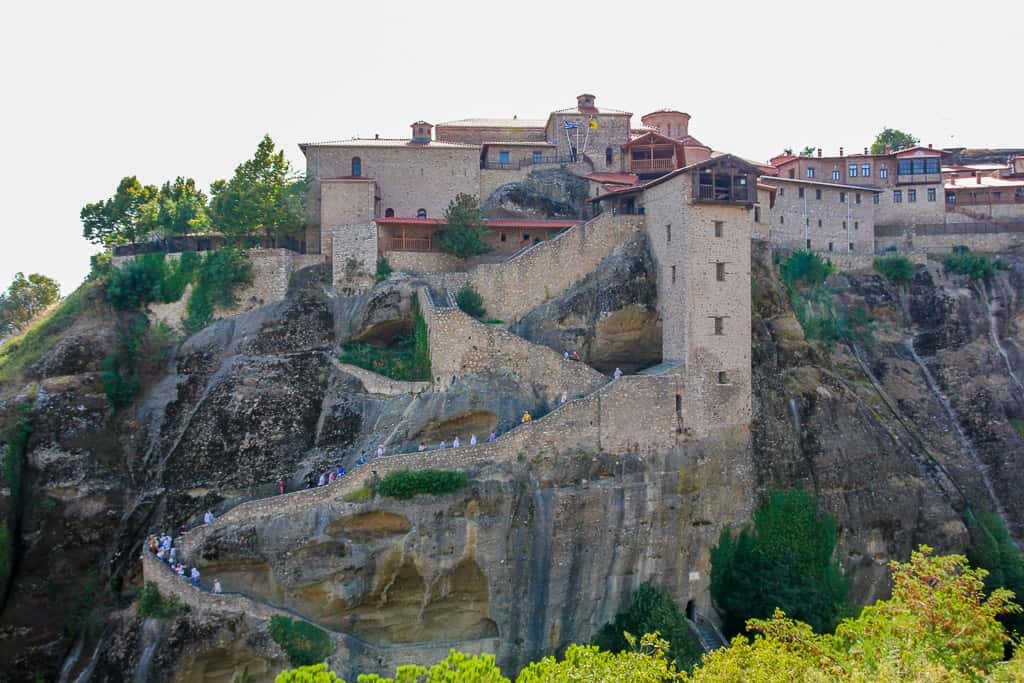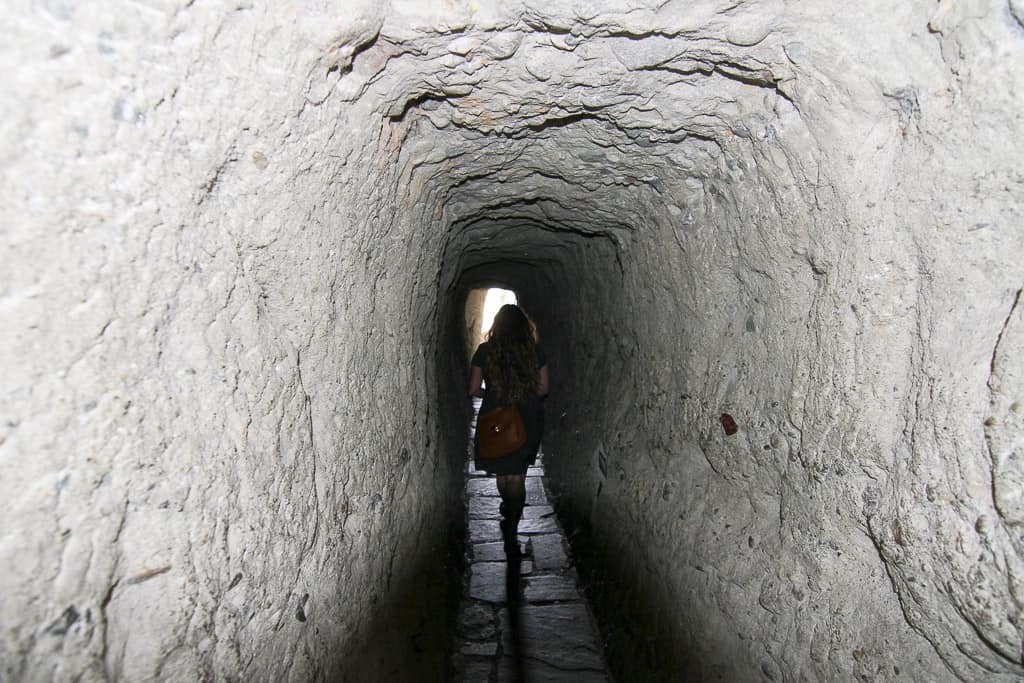 Great Meteoron Monastery, which is also known as the Holy Monastery of the Metamorfossis, is the oldest and largest out of all the monasteries. It was founded around the middle of the 14th century by Saint Athanasios the Meteorite and has now been around for more than 600 years. It became incredibly well known and successful and received a lot of donations in the 16th century which made it flourish to officially become the biggest of the monasteries. If you're interested in the details of the history and the founders this is a great link.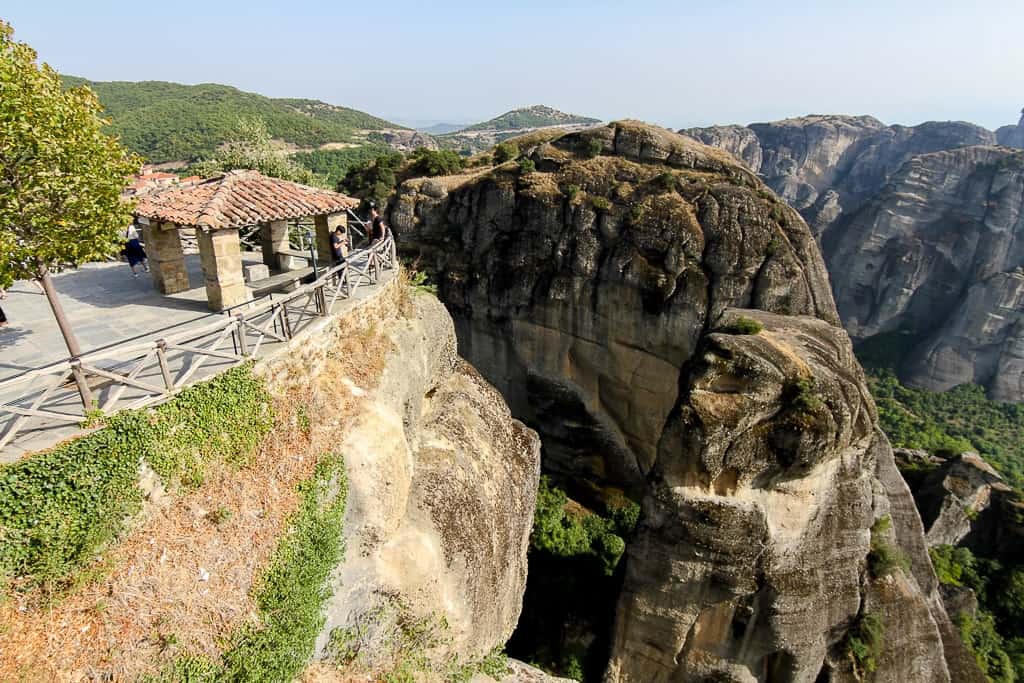 Right before you get into the monastery is a rock alcove where you can leave notes. While I'm not sure on the significance of this many, many, many people have left notes throughout time and almost every crack in the rocks had a note stuffed into it.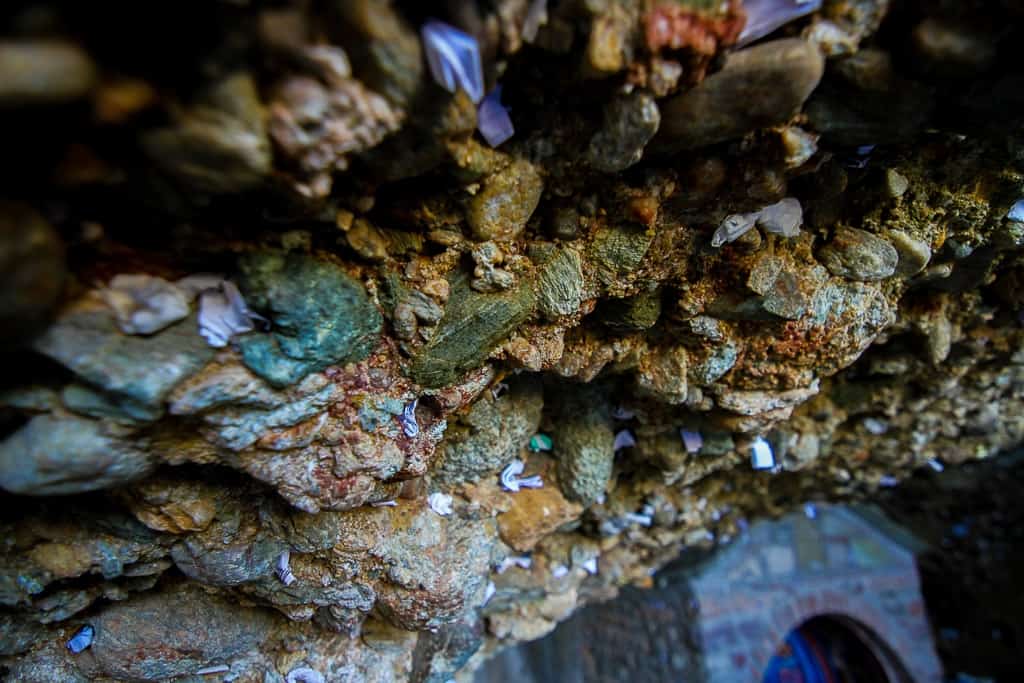 Great Meteoron Monastery is definitely the biggest. There was a ton to explore and there were lots of tour groups walking around. It was also the busiest which was obvious by the 4 or 5 buses parked out front. If I could redo the day, I may have started at this one so it wouldn't have been quite as packed as it was. But it's easy to find a corner all to yourself. The museum and the other "exhibition" rooms were incredibly crowded – less crowded were the courtyards and beautiful archways!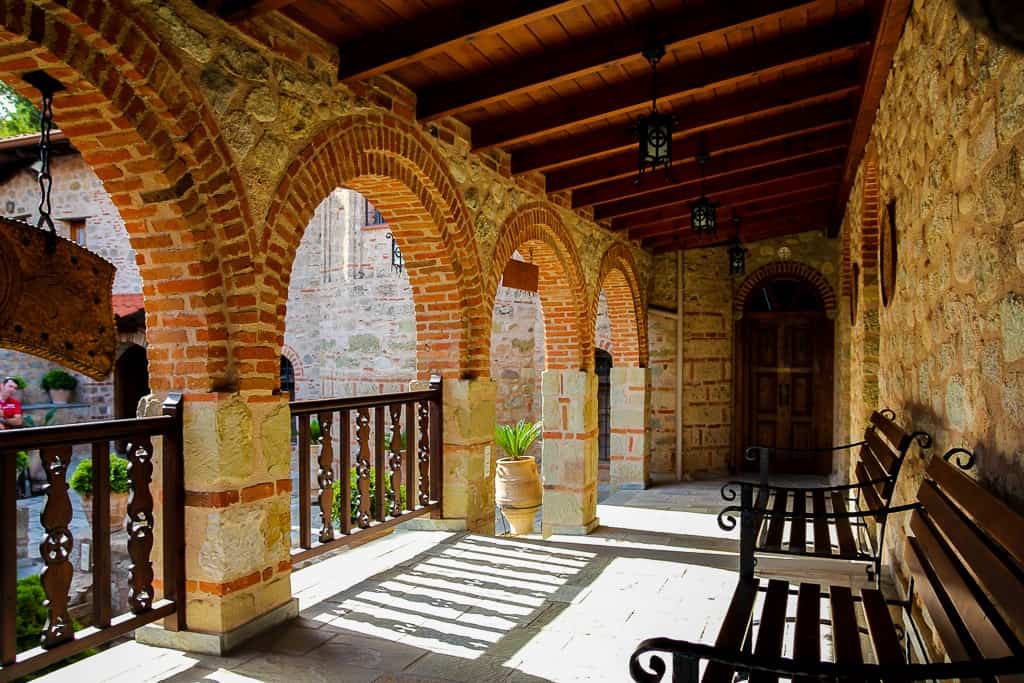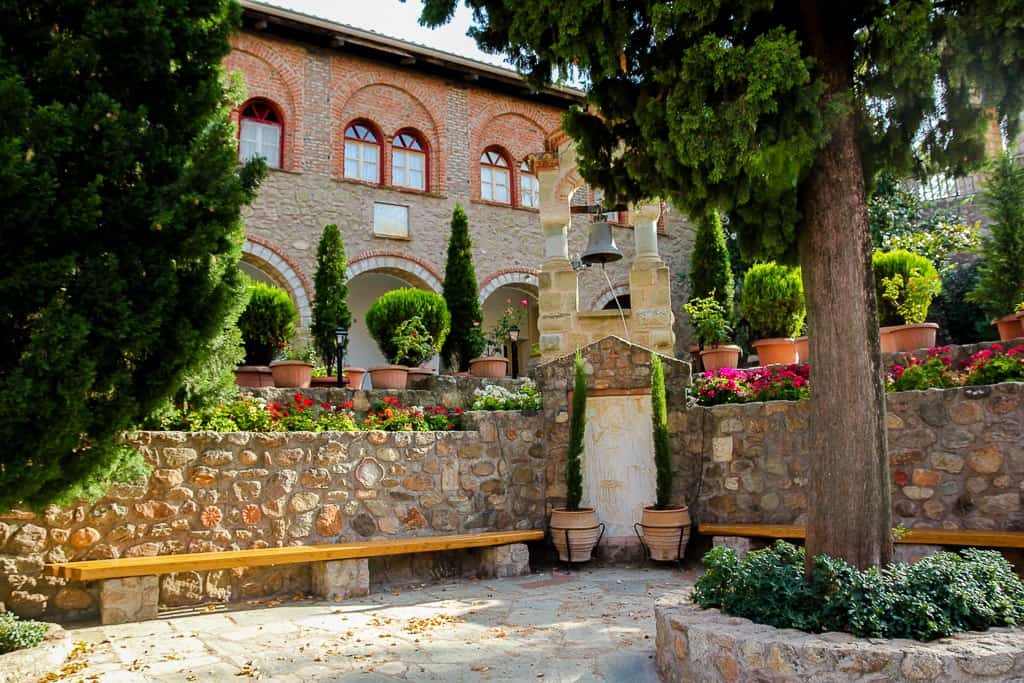 On the way down and out of the monastery my husband pointed out this squirrel face in the rock and I could not unseen it. It looks just like a squirrel!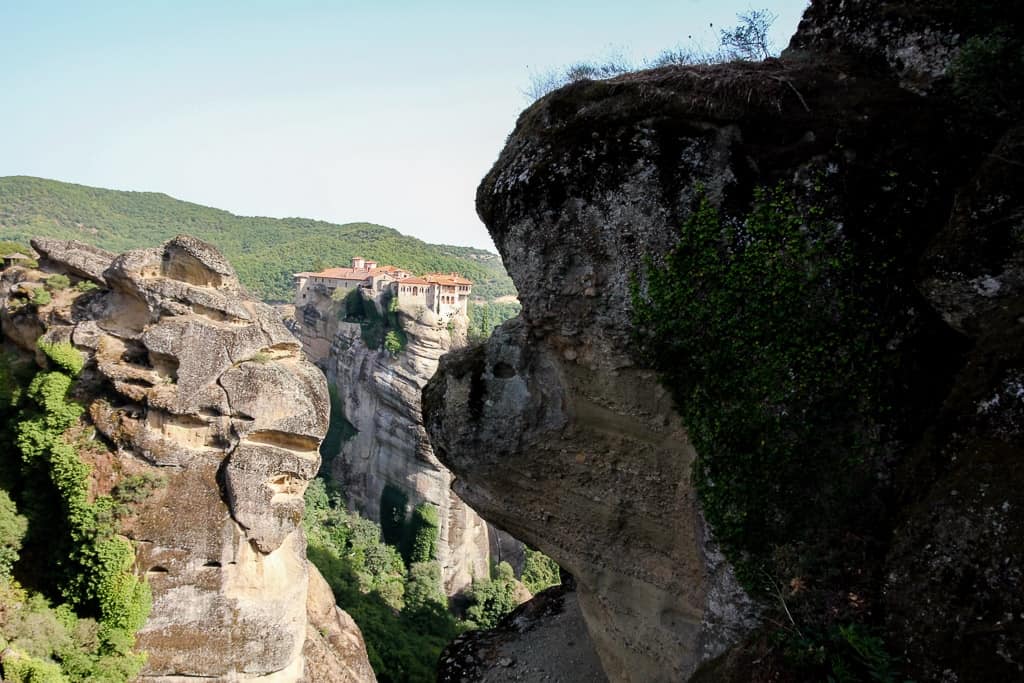 Tips for Visiting
Entry to each monastery is 3 euros. If you're aiming to see a lot of them you should have enough cash with you as none of the monasteries took credit cards for the entrance fee when we went.
Wear comfortable shoes. Like, really comfortable shoes. There's lots of walking involved as most of the monasteries involve some kind of climb to get to them. There are steps carved out but some parts of the walks are slippery because of the stones so comfortable shoes that can grip are ideal.
Dress conservatively. As you can see in the pictures I wore an almost knee-length dress with short sleeves. I didn't get asked to fix my outfit at any point but many, many women were. As old-fashioned as it may be the monasteries don't allow women to wear shorts or pants and will ask that you put on a skirt over your bottoms. This also applies to sleeveless outfits. You'll be asked to cover up. A couple of the monasteries were so conservative men were asked to put on pants over their shorts as well. Depending on your comfort with wearing public clothing you may be better off just dressing appropriately before you enter the monasteries. The picture below indicates the type of clothing you'll be asked to wear if you're not dressed according to their standards
Bring water and a snack. There are trucks outside of Varlaam and outside of Great Meteron selling snacks and water so it's not the end of the world if you don't have any (or if you run out!).
Some of the monasteries had water fountains which were free so they were an option for drinks as well!
If you have the option to, consider staying the night to maximize your time. We weren't stressed by any means and we saw 5/6 of the monasteries while taking our time but we also can't eat too much in the warm weather so we didn't head back down to town for lunch. If you do this you probably lose an hour in the day which may put some stress on time
Make sure you stop along the road! Yes the monasteries are absolutely fantastic up close but all those amazing shots of the exterior you see online and on Instagram are all from vantage points along the road!
Have you visited the Meteora Monasteries? Is it on your bucketlist? Which was your favorite monastery? Let me know in the comments!