Canada is a huge country (the second largest in the world in fact) and is covered in amazing nature. We have everything from mountains to lakes to forests and so much more. There are 38 Canadian National Parks, 10 National Park Reserves and now there is also one National Urban Park (located in the east end of Toronto). Given how big the country is and how much there is to see and do it can be difficult to know where to start when planning your trip. Fear not, I've asked my fellow travel bloggers to help narrow down some of your planning by picking the absolute best national parks in Canada and they're a great starting point for your Canadian itinerary. 
Admission Fees
There are a number of different admission fee levels for the Canadian National Parks. It's important to note that not all parks will cost the same!
Individual entry for adults range from $5.90 to $10 per person. For seniors it ranges between $5 and $8.40. Everybody under the age of 17 can enter the parks for free. Family/group admission ranges from $12 to $20.
Some parks also have different pricing for the peak season versus the shoulder season. I'd highly recommend checking out the Parks Canada website prior to visiting to get up to date pricing for each individual park.
If you plan on visiting multiple parks or visiting the same park multiple times then a Canadian Parks pass is probably worth looking into. The yearly pass for all of the parks costs $139.40 and is good for a family/group of up to 7 people (in the same vehicle). It can be purchased here. A few of the parks have yearly passes specific to their parks as well and those can be purchased here.
Alberta
Banff National Park
Mountain peaks that scrape the sky. Turquoise lakes that look like they were photo shopped. Glittering, roaring rivers of ice. Wolves, grizzlies, elk, and caribou. In the heart of the Canadian Rockies, Alberta's Banff National Park is unlike anywhere else on earth and is a place that should be on every traveler's bucket list.
Both of Canada's most famous bodies of water are here, Lake Louise and Moraine Lake. A visit to Banff would be incomplete without laying your eyes on those photogenic beauties. If you visit in the summer, you can even take a canoe or kayak out on them or one of Banff's other numerous lakes.
There are also hikes galore. One of the most popular, the Plain of Six Glaciers, leads to the foot of Victoria Glacier as well as a full-service tea shop. Another, Johnston Canyon, takes hikers through a narrow canyon to views of multiple waterfalls.
But you can't leave Banff without a road trip along the Icefields Parkway. The Parkway connects the town of Banff to Jasper. You could drive the entire thing, but the most popular vistas are within Banff National Park. Make sure to stop at Peyto Lake, Canada's bluest lake, and Crowfoot Glacier.
The closest city (and airport) to Banff is Calgary, just 1.5 hours away.
– Suggested by Maggie from Pink Caddy Travelogue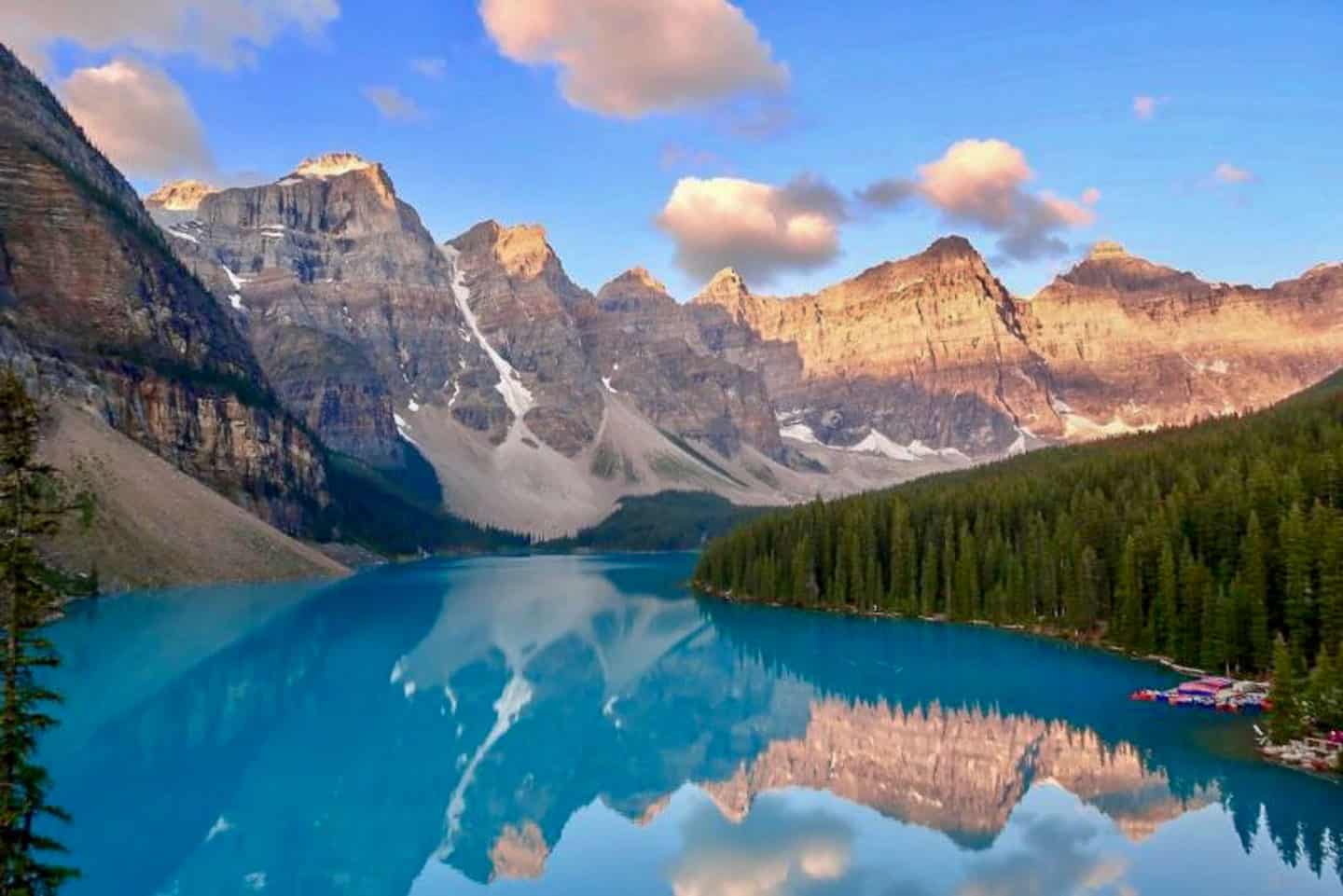 Jasper National Park
One of the best national parks in Canada is Jasper National Park. This park is filled with beautiful lakes, tall stunning mountains, glaciers, and beautiful waterfalls. It has it all! It is located in Alberta, about 4 hours west of Edmonton. It is also located north of the world-famous Banff National Park. Since most people flock to Banff, Jasper has more of a laid back and uncrowded atmosphere. It is perfect for someone looking for a mountain getaway.
One of the best things to do is to take the Gondola up Whistlers Mountain. The view from atop is stunning. You can see the city of Jasper and all the lakes and surrounding mountains. Another popular activity is to experience Spirit Island located in the Maligne Canyon Area by either taking a boat or canoe to the area. The magnificent beauty of this peninsula is hard to describe. It is one of the most picturesque views of Alberta. The final best activity to do is to see the Athabasca Glacier. This glacier is located on the Icefields Parkway. You can pay a tour company to take you on the glacier to walk on it, or you can view it from afar. Either way, it is a beautiful area with many hikes and viewpoints around. You can't miss it!
– Suggested by Michelle Stelly from The Wandering Queen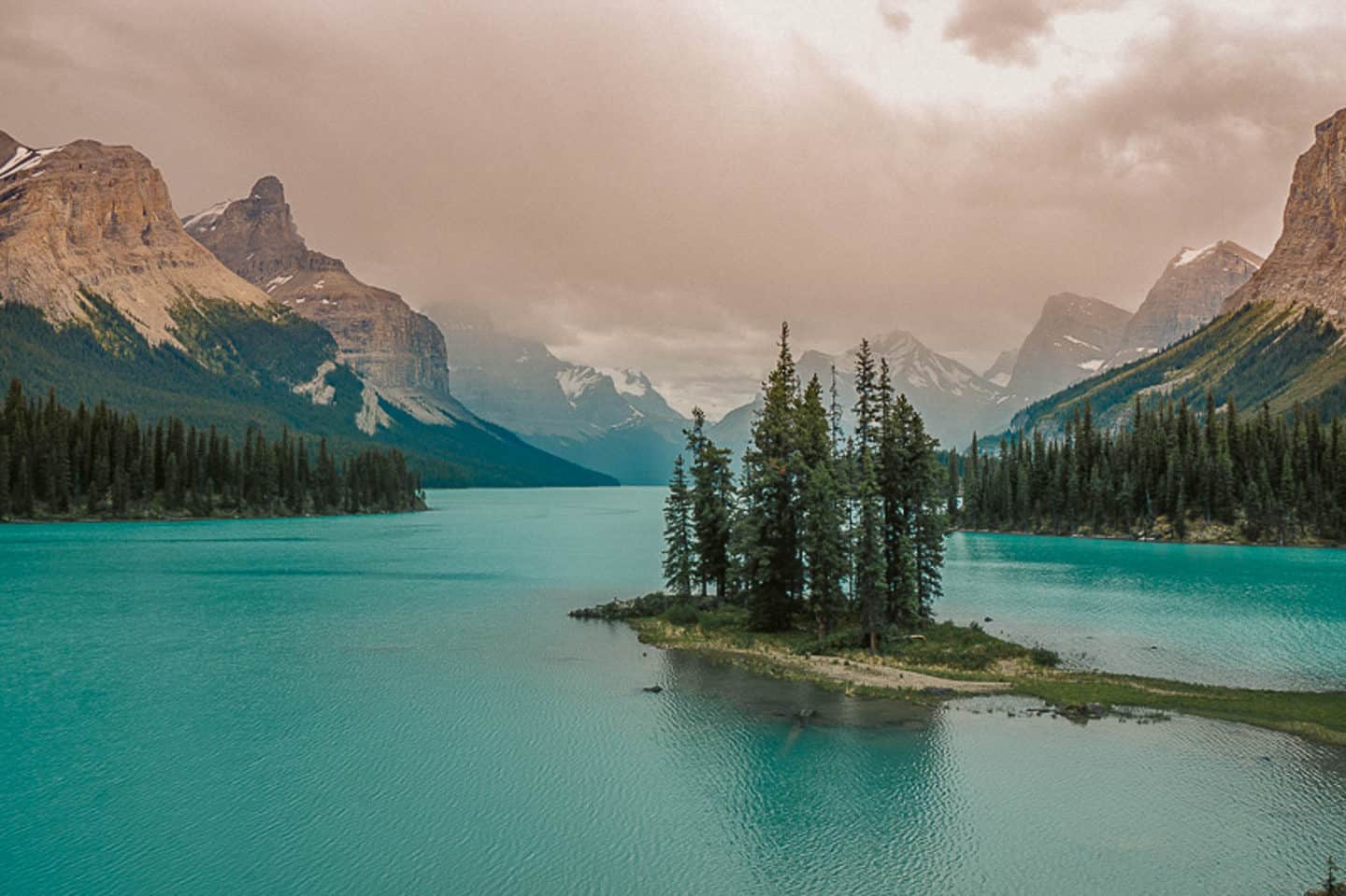 Waterton Lakes National Park
Waterton Lakes National Park is a small national park on the Alberta/Montana border.  A 3-hour drive southwest from Calgary, will take you from the golden prairies to the amazing Rocky Mountains.  You'll see mountain peaks, valley streams and stunning lakes, especially the namesake Waterton Lakes.
One of the best ways to experience Waterton Lakes is by foot.  There are hiking trails for all ability levels ranging from short and flat trails to long and steep ones. Lake Linnet Loop, a paved path around beautiful Lake Linnet, is perfect for families with young children. For the more adventurous hiker, Crypt Lake makes the perfect day hike. With steep uphill climbs, including a ladder climb and navigating through a narrow 20 meter tunnel, this challenging hike rewards you at your destination with a great view of Crypt Lake.
You can also cruise on Upper Waterton Lake aboard the oldest operating passenger vessel in Canada, the M.V. International. The ship cruises across the Canada/United States border halfway down the lake, into Glacier National Park, Waterton's partner in the Waterton-Glacier International Peace Park. This Peace Park is a UNESCO World Heritage Site.
Finally, before you leave, make sure you visit the iconic Prince of Wales Hotel. This National Historic Site, sitting on top of a bluff overlooking the lake makes a stunning sight.
– Suggested by Andy from Avrex Travel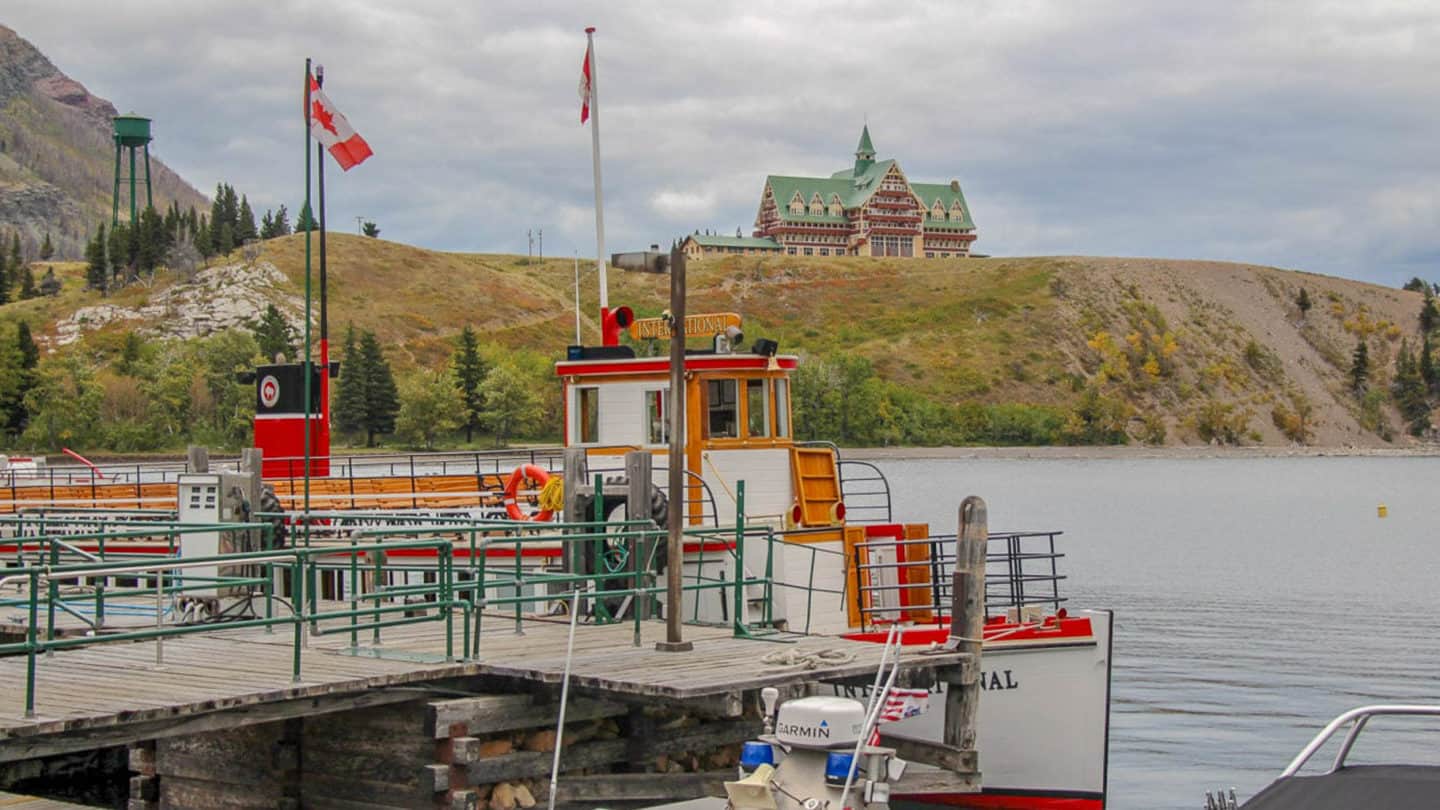 British Columbia
Mount Revelstoke National Park
Mount Revelstoke National Park is located almost halfway between Vancouver in British Columbia, and Calgary in Alberta, and is easily reached by both. Calgary is slightly closer and will take you 4 and half hours by road.
Overshadowed by its mighty neighbor of Banff National Park, Mount Revelstoke National Park is often overlooked, yet it is packed full of incredible things to do. For a start, the park is extremely beautiful, with towering mountain peaks and lush vegetation below. The highlight, however, is the mile high, rolling, alpine plateau that you are able to reach with ease by car. It is one of the few places in the whole country where you are able to drive right into a subalpine meadow, accessed by a twisting road with a new viewpoint at every turn. Summit Road winds 18 miles up the mountain, with plenty of places to pull over and admire the sights along the way.
At the summit, there are several easy hikes you can take, including one to a historic fire lookout tower, or the First Footsteps Trail which explores the sub-alpine meadows, plus a series of unique sculptures and artwork.
Back on the ground, another great thing to do is take the Skunk Cabbage Boardwalk Trail, an easy trail that is a bird lover's dream. The Giant Cedars Boardwalk also should not be missed, where you get the chance to walk among the giants in the world's only inland cedar rainforest.
– Suggested by Victoria from Travels on Uneven Pavements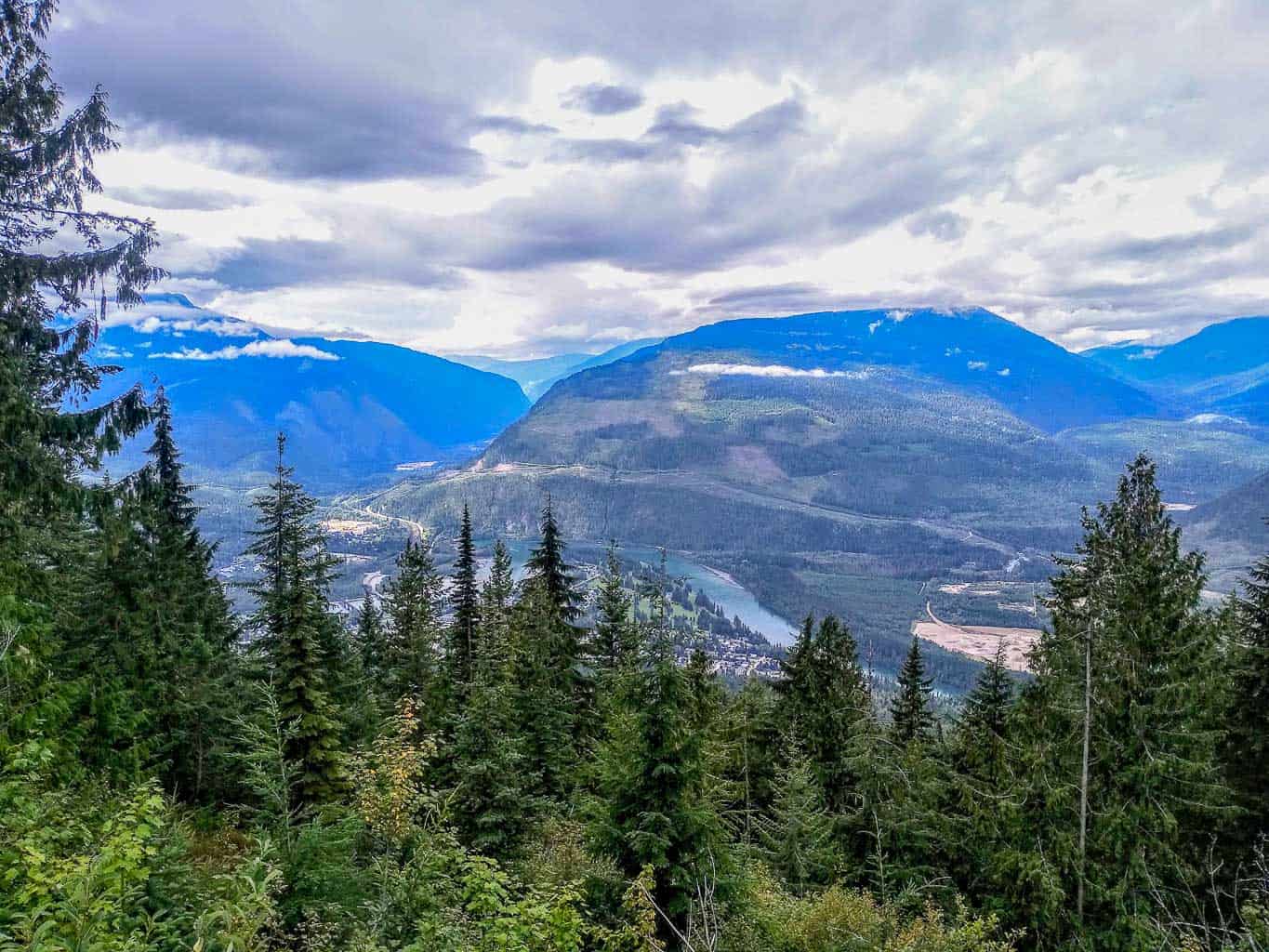 Pacific Rim National Park
On the west of Vancouver Island you will find the ruggedly beautiful Pacific Rim National Park. This national park is in British Columbia and spans a large part of the west coast of the island. It has two main sections, one that is an hours' drive from Victoria and another which is just a few minutes' drive from the small surf town of
Tofino
.
While both areas of the park are stunning, the best part of the national park lies in the area surrounding Tofino. Pacific Rim National Park is a cold water paradise with many beaches scattered along the coastline and surrounded by tall Douglas fir trees. Surfers travel from far and wide to catch some of the west coast's best waves on Long Beach which is one of the most popular beaches in the park. If you don't fancy jumping into the water you can walk along the many beaches where the tall trees meet the cold seas, explore the ancient forests or hike to the top of one of the many lookouts. The national park is also home to some incredible wildlife including black bears, wolves, cougars and whales so make sure to keep your eyes peeled as you explore.
Pacific Rim National Park is absolutely breathtaking and the natural beauty, mixed with the activities and wildlife on offer here makes it one of our favourite places in the world.
– Suggested by Luke from The Coastal Campaign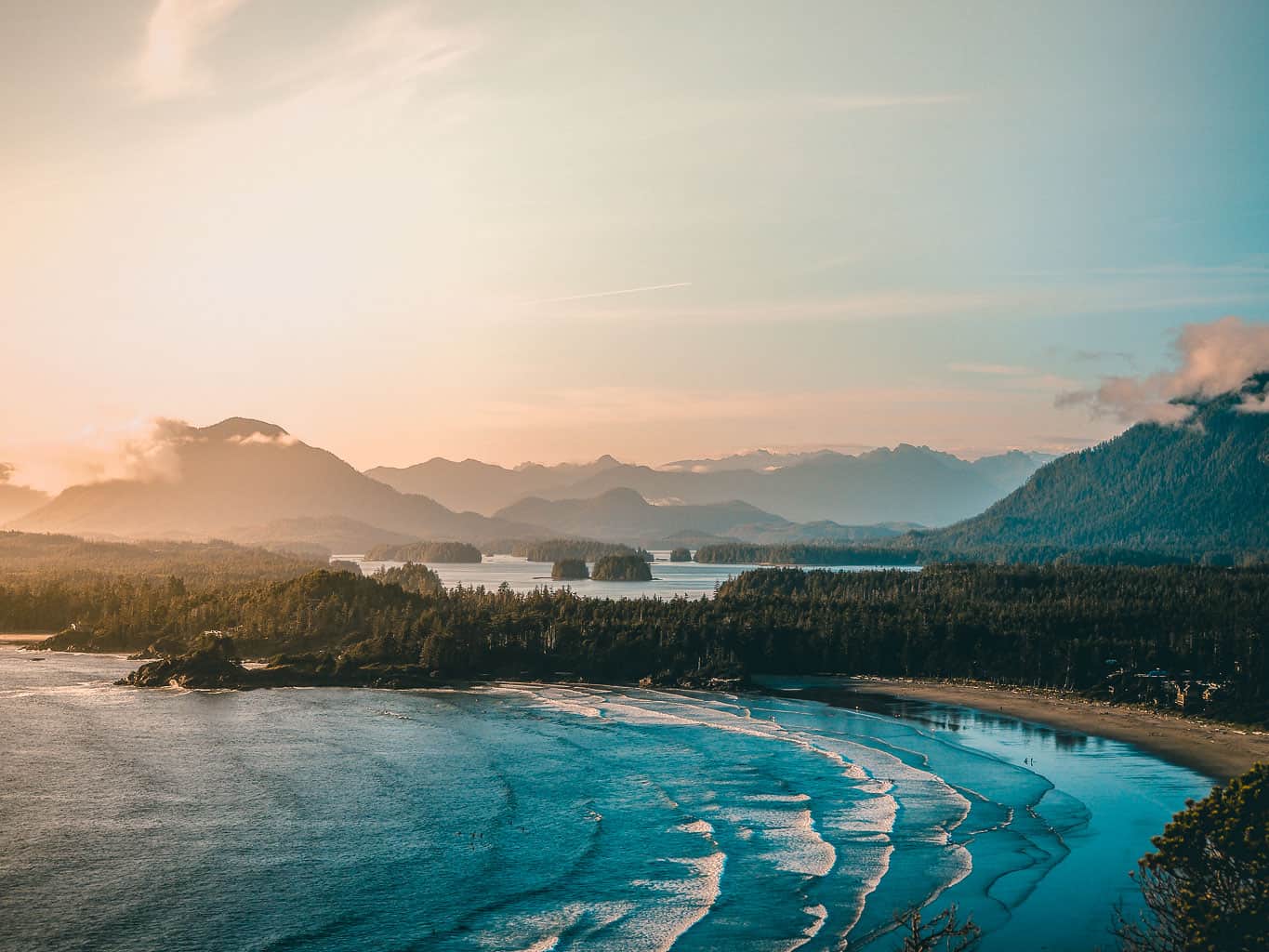 Yoho National Park
Yoho National Park
is a hidden gem located in the heart of the Canadian Rockies in British Columbia. The park is located 3 hours west of Calgary, and 4 hours east of Kamloops and the Okanagan Valley. If you are visiting Banff or Jasper, do yourself a favor and work Yoho into your schedule, you'll be glad you did.
The best activity in Yoho is hiking, where you'll be able to see a few of the most stunning sites in all of Canada. Lake O'Hara and the Opabin plateau offer some of the most beautiful views you will ever see. Twin Falls and the Iceline Trail have equally stunning landscape views as well.
If you are not much of a hiker, there are also a few attractions that you don't need to hike to in order to experience. Takakkaw Falls is one of the tallest and most powerful waterfalls in Canada, and is inspiring to see up close and personal. Emerald Lake is perhaps the most famous attraction in Yoho, and is an amazing place to see. The green color of the lake and the stunning mountaintops around it make for a perfect photo. The Natural Bridge is a final site that is a must-see on your Yoho trip.
Yoho is an amazing National Park, one of the best in Canada. Enjoy your trip to this hidden gem!
– Suggested by Zach and Julie from Ruhls of the Road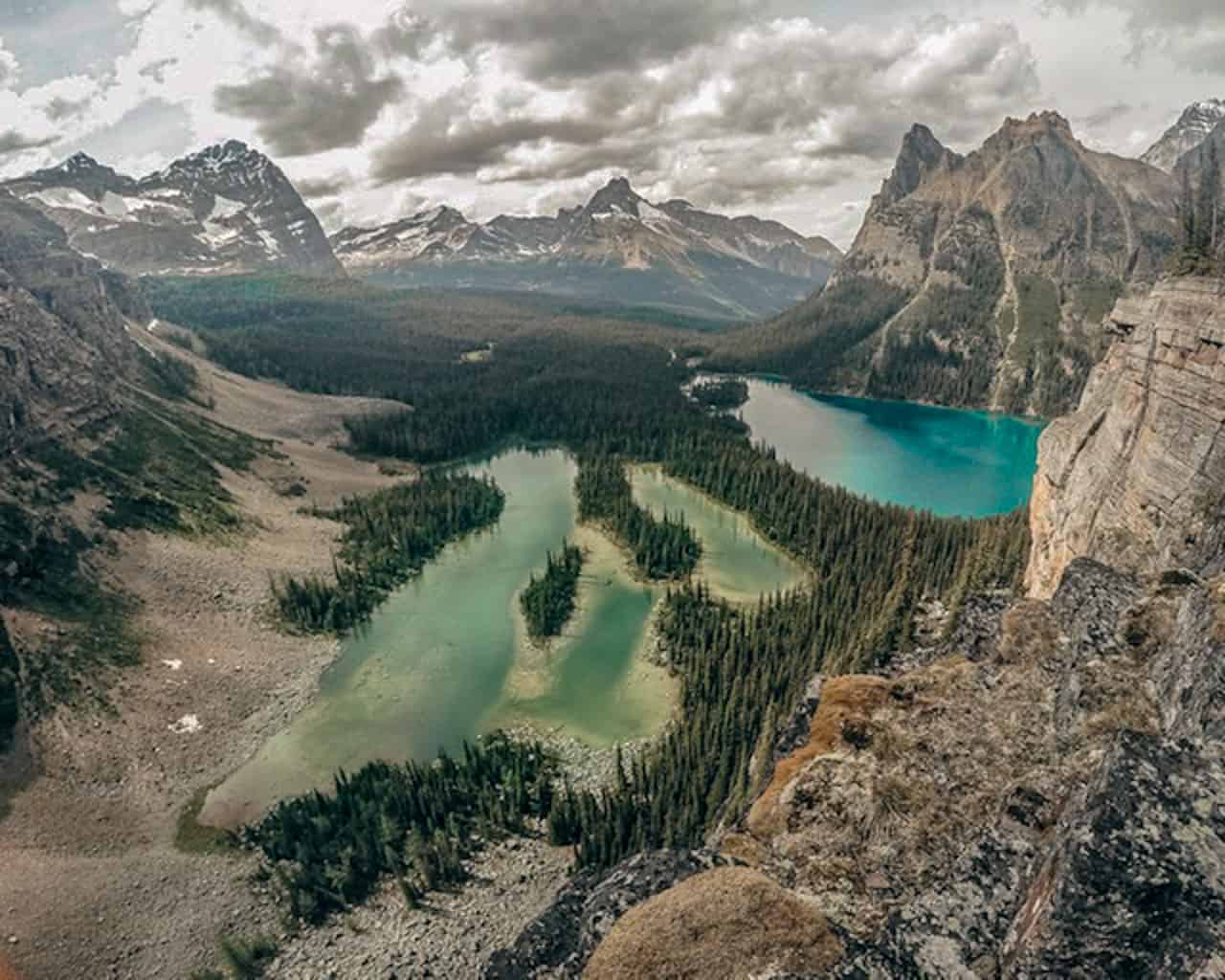 New Brunswick
Fundy National Park
Fundy National Park is located in the province of New Brunswick, about an hour drive from the town of Saint John. The park is great for hiking in the beautiful woods or along the coast of the Bay of Fundy.
This national Park is famous for its water features: waterfalls, streams and lakes but the most prominent and unique feature of Fundy National Park is the lowest and highest tides in the world. The difference between the tides can be more than 50 feet! The best place to observe these phenomenal tides is at the Wolfe Point Beach where the water disappears from the delta of Point Wolfe River for several hundred feet but then comes back rushing in. Just be very careful so that you are not caught in the tide!
Another reason I love Fundy National Park is that it is never crowded because it is located far away from all major cities. If you are lucky you may even encounter a moose or a beaver here. The park borders the Atlantic Ocean (via the Bay of Fundy) and this area is the prime ground for lobster fishing.
When you visit the park, stop by the town of Alma and try some lobster in one of the local restaurants. They are so cheap here and so fresh and delicious!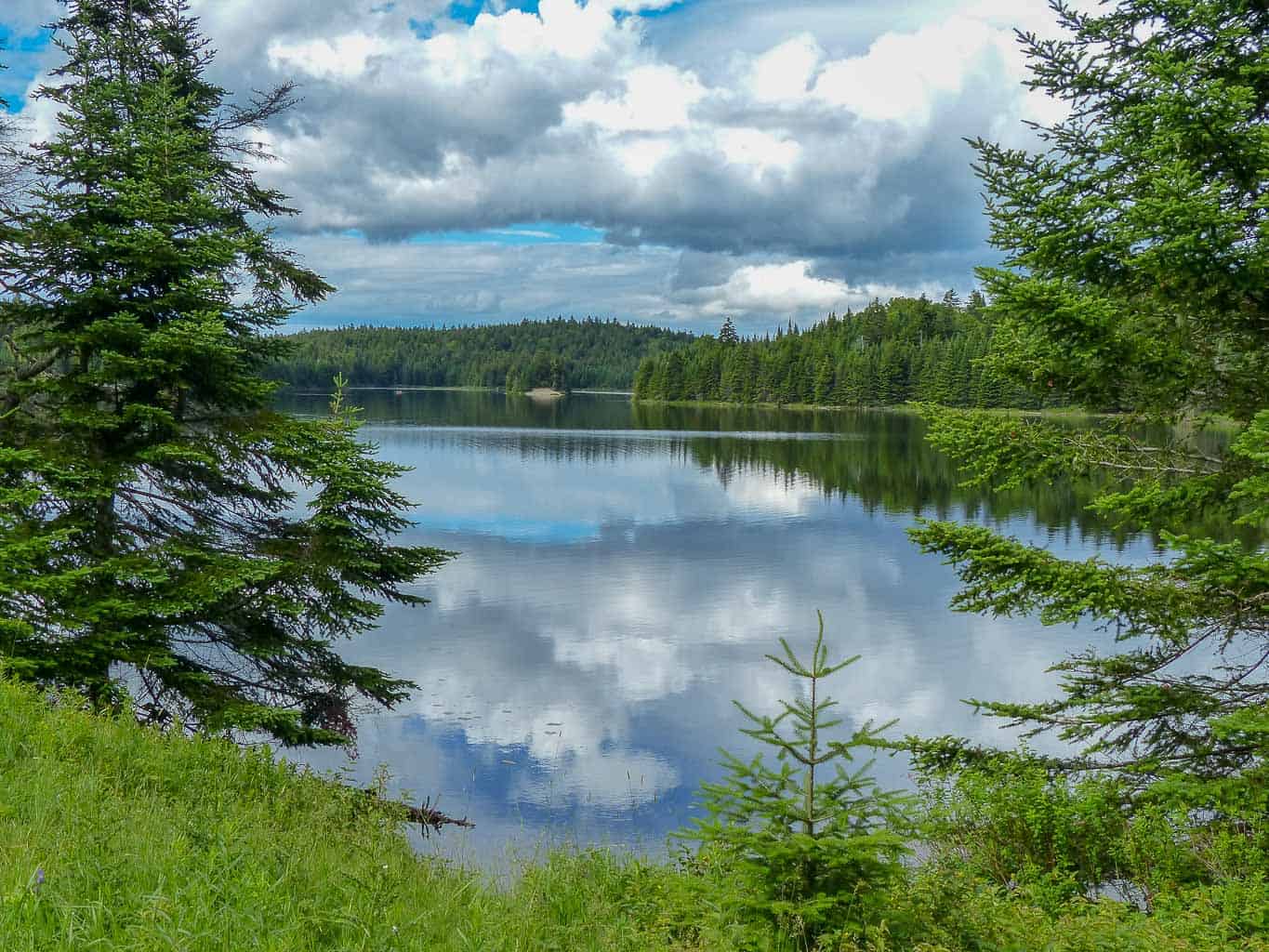 Newfoundland and Labrador
Gros Morne National Park
If you're visiting Eastern Canada, then don't miss
Gros Morne National Park
 in Newfoundland.  The park is just a 30-minute drive from the town of Deer Lake, where there is an airport. If you are driving from St. John's, the capital city of Newfoundland, then It's a 7-hour drive scenic drive across the island.
Gros Morne has some of the most beautiful landscapes in all of Eastern Canada. It's the perfect setting for all kinds of outdoor adventure and in particular, hiking. There are over 100km of hiking trails to explore, taking you through breathtaking scenery. One of the best day hikes to do there is Gros Morne mountain, a 16km round-trip hike where you can get breathtaking views of the surrounding landscape. Gros Morne is also famous for the Long Range Traverse, a 4-day trek that takes you to one of the most iconic viewpoints in Newfoundland.
Another must-do activity in Gros Morne is to take a boat ride through Western Brook Pond, which will take you through ancient glacier-carved fjords with cascading waterfalls. The park also has whale-watching boat tours, which is the perfect activity to do if you're visiting in the summertime when thousands of humpback whales make their way to Newfoundland.
– Suggested by Lora from Explore with Lora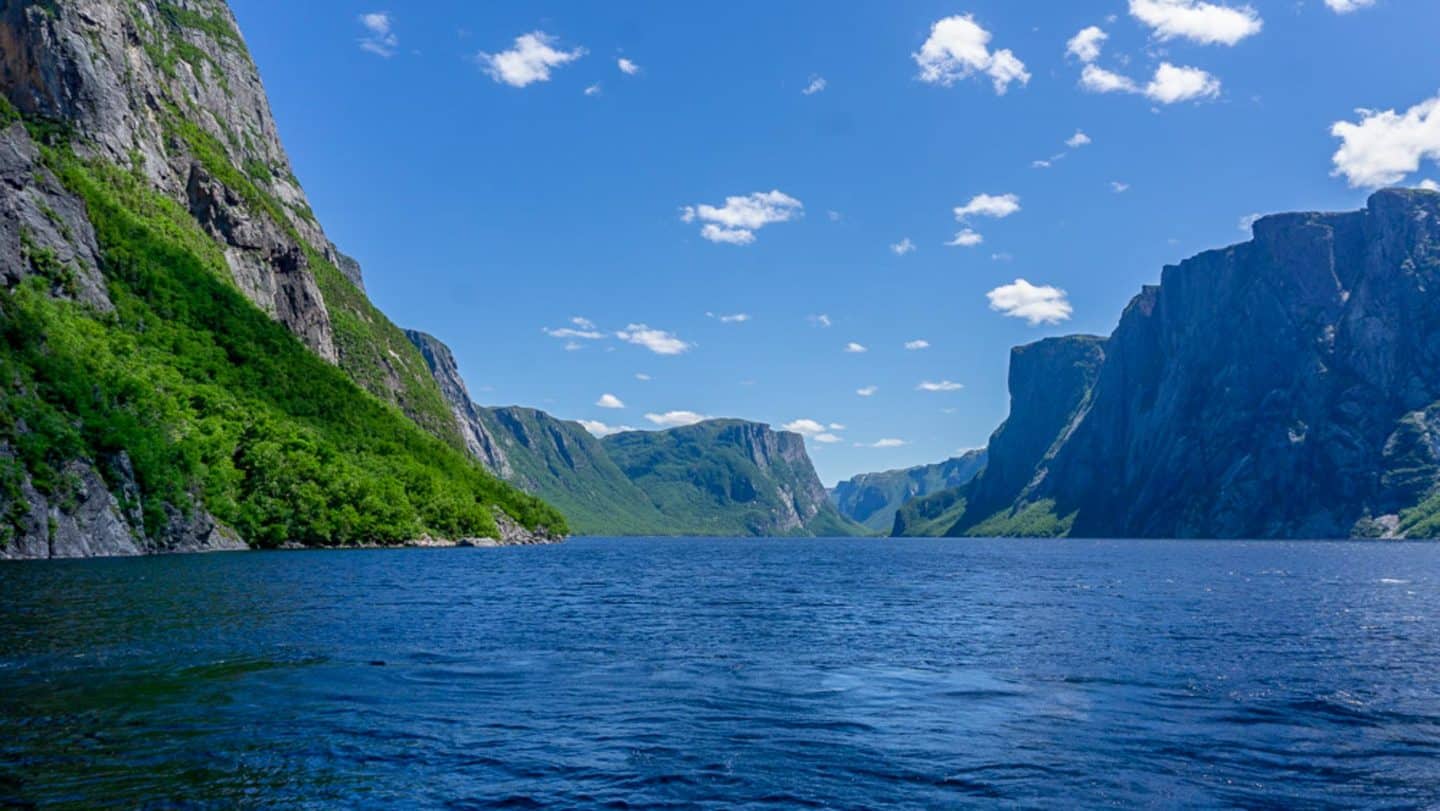 Northwest Territories
Wood Buffalo National Park
Straddling the border between the Northwest Territories and Alberta (as well as the 60th parallel!) you'll find Wood Buffalo National Park. It has a number of claims which easily make it a top contender for the best national parks in the country. Not only is it Canada's largest national park (as well as the second-largest national park in the world just behind Northeast Greenland National Park) but it's also the world's largest dark sky preserve.
An eight-hour drive from the capital of Yellowknife, stop by the visitor's centre in Fort Smith before exploring the park. Inside you'll not only meet incredible people but get all the details you need for your adventure. You'll be without cell service for the majority of your time in the park so it's important to be prepared!
Now, what are some of the 
things to do in Wood Buffalo National Park
? Pay a visit to the only salt plains in all of Canada. Walk across a Mars-like landscape with the glacial erratics scattered across the rust-coloured clay of Grosbeak Lake. Water for wildlife as you hope to come across the bison who call the parking home. Oh, and we are in a dark sky preserve so it would be a sin not to do some stargazing. You have a chance to see the Northern Lights over 200 nights of the year so keep your fingers crossed for clear skies and enjoy the show!
– Suggested by Lindsay from I've Been Bit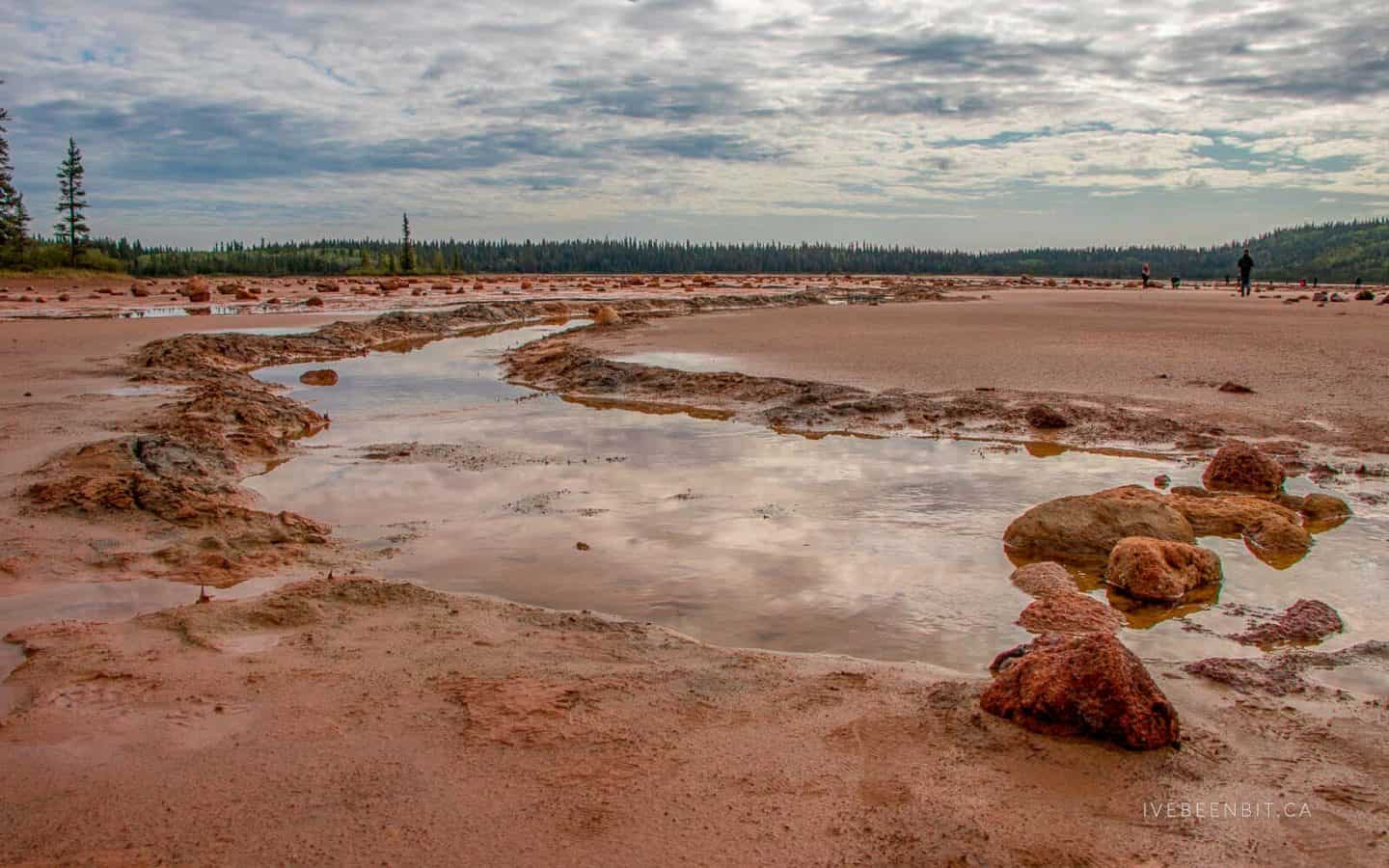 Nova Scotia
Cape Breton Highlands National Park
Cape Breton Highlands National Park can be found on Cape Breton Island, in the province of Nova Scotia. Located about 2 hours from Sydney, this is one of the many places you can drive through as you road trip through one of the most scenic drives in the world, the Cabot Trail.
Cape Breton Highlands National Park offers many scenic lookouts and cultural experiences for locals and visitors. The Acadian village of Chéticamp can be found towards the Western entrance of the park and when you're in the area you can learn about hooked rugs and fiddle music or swim IN a gypsum quarry. On the Eastern side of the park you will find Ingonish which is home to some of Cape Breton's best beaches.
Not only can you spend a night at the Keltic Lodge resort but if you're a golf lover, you will want to swing by Highland Links, one of the top 100 courses in the world. Remember to pack your bathing suits if you're visiting during the warmer months of July and August because there are five main salt water ocean beaches in the park and two freshwater lakes.
Cape Breton Highlands National Park is also home to wildlife and beyond birds you can spot otters, deer, lynx and many local creatures. If you're lucky you may even spot whales, seals and dolphins in the wild! Of course there are many hiking trails in the park but what I enjoy the most are the guided culinary and star gazing experiences which one can purchase tickets for. You can also upgrade your camping experience and sleep in an oTENTik. How many National Parks can you enjoy a lobster boil, sunset hike and glamping experience at?
– Suggested by Yashy from ParentingToGo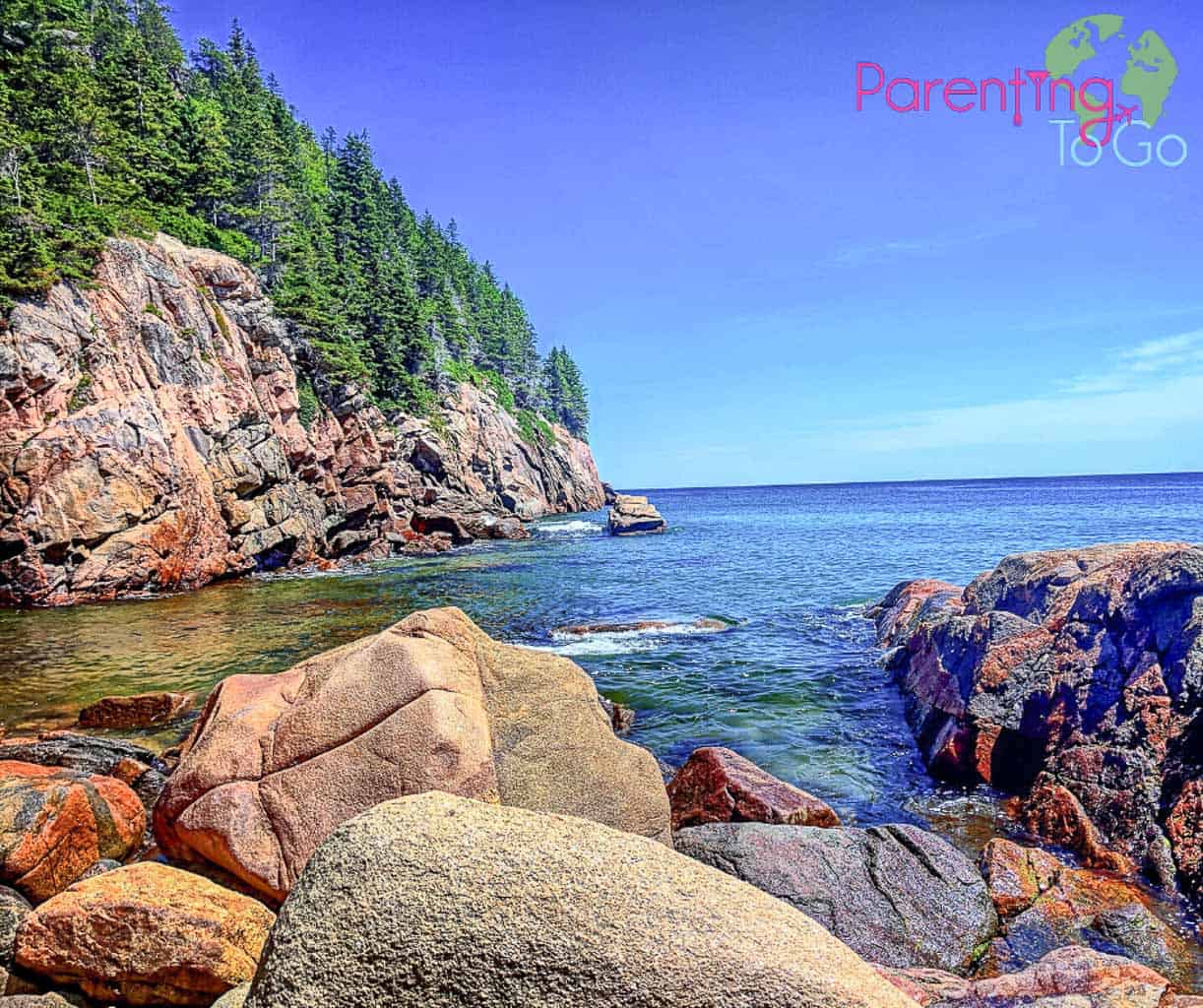 Nunavut
Auyuittuq National Park
Auyuittuq National Park is located in Nunavut, an hour plane ride north of Iqaluit. Covering over 21,000 km2 and straddling the Arctic Circle, "Auyuittuq" means "the land that never melts" in Inuktitut. The parks features expansive tundra, jagged granite peaks, fiords stretching into the Arctic Ocean and ice fields. With less than 900 visitors last year, this is one of the least visited parks in all of Canada.
Hiking is the most popular activity in the park. Many backpackers will start in the community of Pangnirtung and hike north to the Arctic Circle and back. Others will hike the Akshayuk Pass, which requires 10-12 days and takes hikers from Pangnirtung in the south to the community of Qikiqtarjuaq in the North. Due to the remoteness and challenging features in the park (like river crossings and the risk of polar bears) hiking in Auyuittuq should only be attempted by experienced backpackers or with  the support of an outfitter.
There are also outfitters who can take visitors on boat tours from Qikiqtarjuaq to explore the fjords. Here you can visit the famous Coronation Fiord (picture below).
Auyuittuq National Park is an incredible park in Canada and one of the most popular destinations to 
visit in Nunavut
.
– Suggested by Mikaela from Voyageur Tripper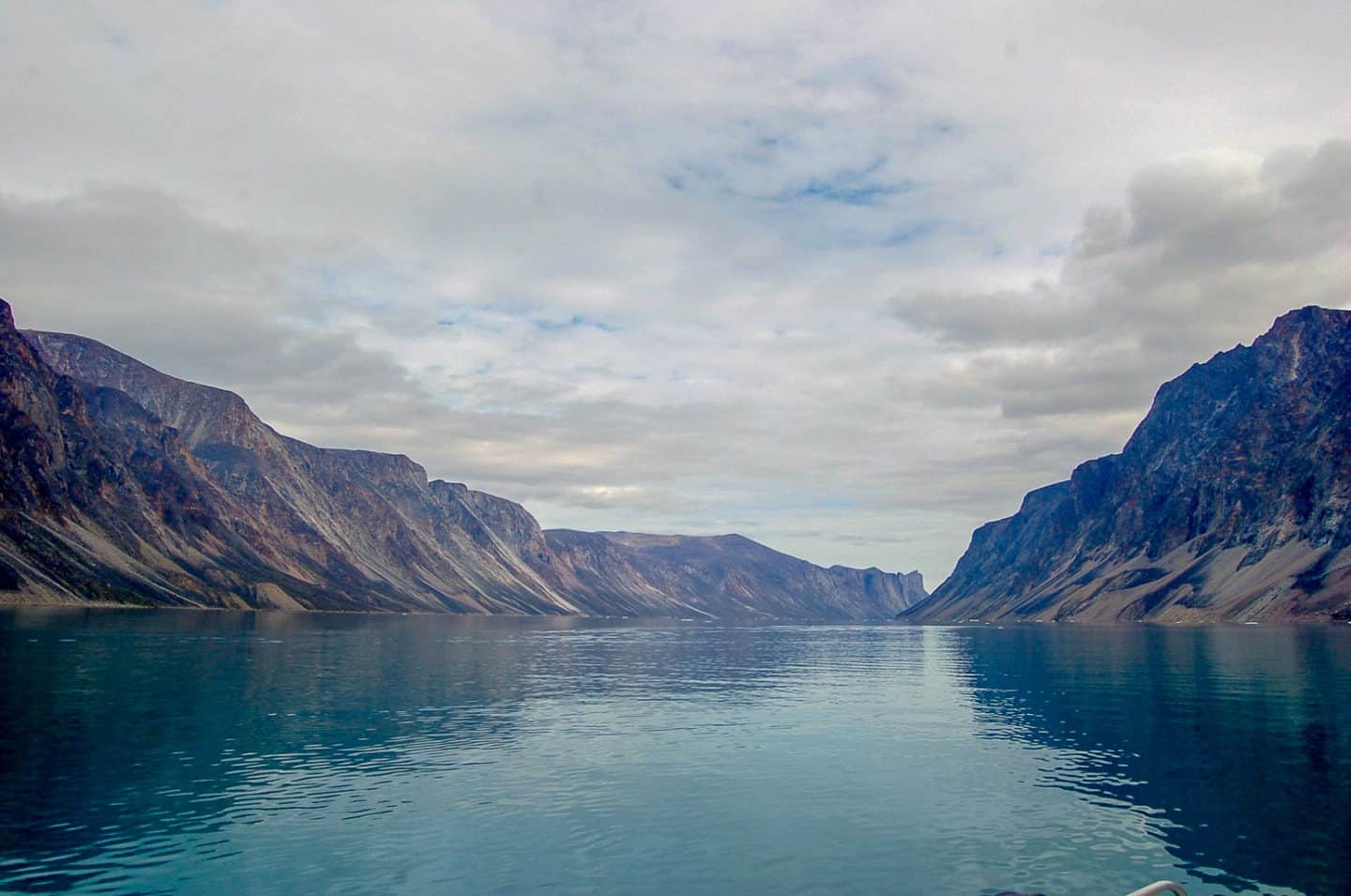 Ontario
Bruce Peninsula National Park
Located 4 hours from Toronto you'll find the super popular Bruce Peninsula National Park. It's located by the town of Tobermory which is a favorite summer destination for people from Ontario road tripping the province. Besides the national park there are plenty of things to do in Tobermory and you can also explore Fanthom Five National Park Marine Area and its famous flower pots.
Bruce Peninsula National Park is known for it's dramatic rocky Georgian Bay coastline and it's crystal blue waters (you'll swear you're in the Caribbean).  There's a nice mix of nature with both sand and pebble beaches, forests, shorelines and much more!
There's plenty of hiking trails (6 different ones) and there's a really nice visitor center with a good bathroom. Behind the visitor's center you can climb to the top of the lookout tower for a great view as well. One of the most well known aspects of Bruce Peninsula National Park is the Grotto (also known as the Tobermory Grotto). It's a little cave you can hike down to and explore!
– Suggested by me 

Point Pelee National Park
One of Canada's best national parks for bird watchers is Point Pelee National Park in Ontario. Located three and a half hours southwest of Toronto, Point Pelee juts out into Lake Erie and is the southernmost point of Canada's mainland – like Northern California south! Point Pelee is Canada's second smallest national park at only 15 square kilometres. It was established in 1918 and was the first national park to be established for conservation. This tiny swatch of land is a birdwatching hotspot and also home to a host of rare and endangered species.
It may be small but there are still so many great things to do in Point Pelee National Park. With a range of habitats, from sand dunes to Carolinian forest and even beaches, it makes for a great spot to hike. And 70% of the park is marshland, with boardwalks meandering over it, or you can opt to canoe and kayak through them for an incredible new perspective on the park. There's even Parks Canada accommodation in adorable oTENTiks, which are a fun mix between a tent and an a-frame cabin. And while anytime is a good time to visit, the best times to visit Point Pelee is during the spring bird migration when hundreds of species of birds pass through the park, or in the fall for the magical monarch butterfly migration. So, if you're looking for a small park that packs a big impact then visit Point Pelee National Park.
– Suggested by Stephanie from The World As I See It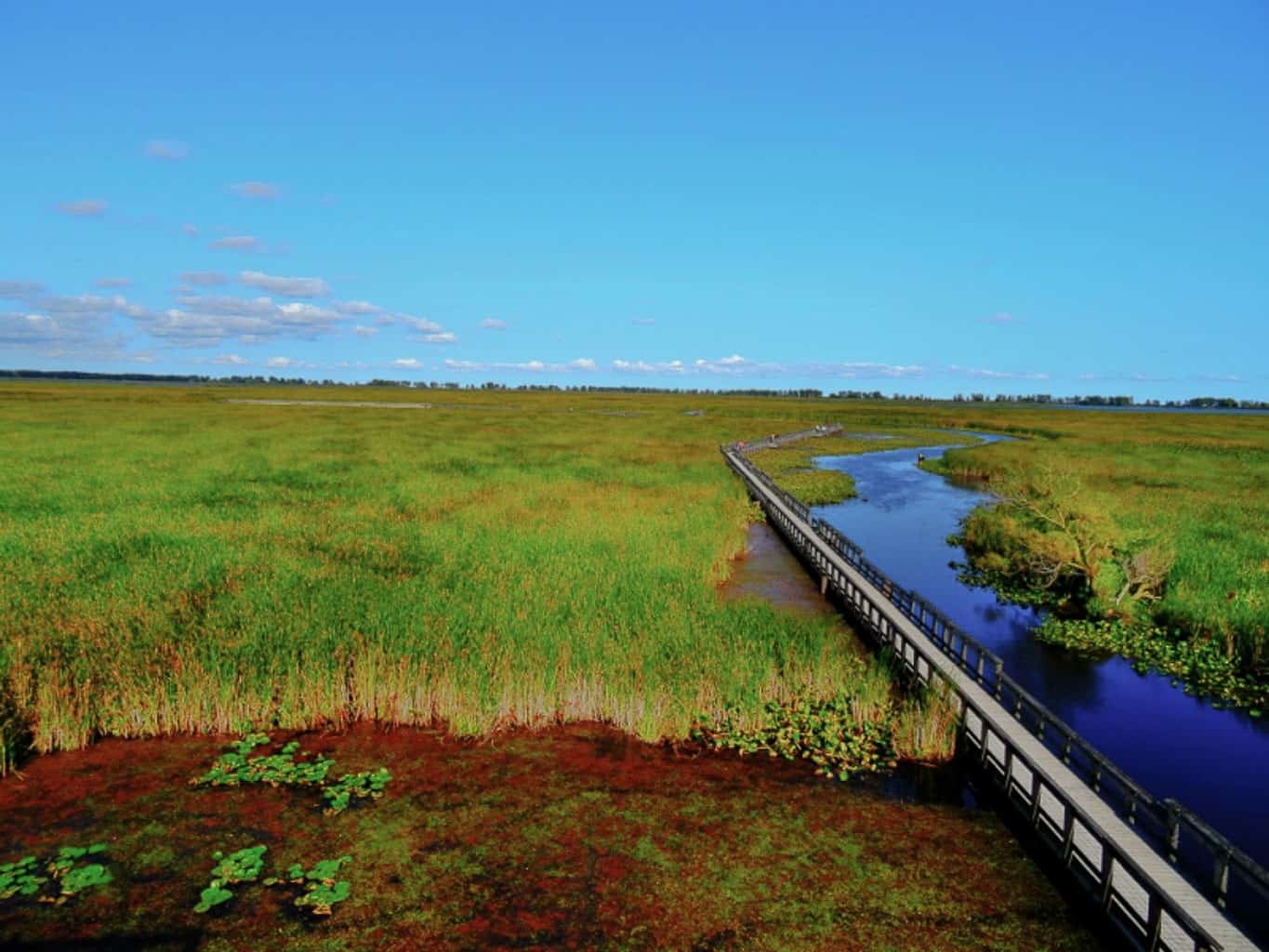 Thousand Islands National Park
Thousand Islands National Park is one of six national parks in Ontario, and it's one of the smallest national parks in Canada. However, it's one of the most beautiful and significant regions in the country. Thousand Islands National Park is a little over three hours away from Toronto and about a half hour from Kingston (the closest town is Gananoque, Ontario). The park is spread across three mainland properties and 20 islands on the St. Lawrence River.
The 1000 Islands are a UNESCO World Biosphere Reserve and part of the Frontenac Arch Biosphere. They are actually 1864 islands in total that are actually form the tops of an ancient granite mountain ridge, submerged beneath the water after the last ice age.It's ecologically significant because it has one of the highest regions of biodiversity in Canada. Also, many threatened species like the osprey, blue heron, and black rat snake live at the Thousand Islands National Park.
Many places in the national park are only accessible by small boat, kayak or canoe. I suggest staying overnight in one of the
oTENTik
cabins or camp at the islands for the complete outdoor adventure experience. If you choose to go hiking at the Thousand Islands National Park for the day, the trails at
Landon Bay
are a highlight of the park. There are dense forest trails, paths around beaver ponds and osprey nests, and a scenic lookout that's well worth the short trek to the top of the hill.
– Suggested by Lauren from Ontario Hiking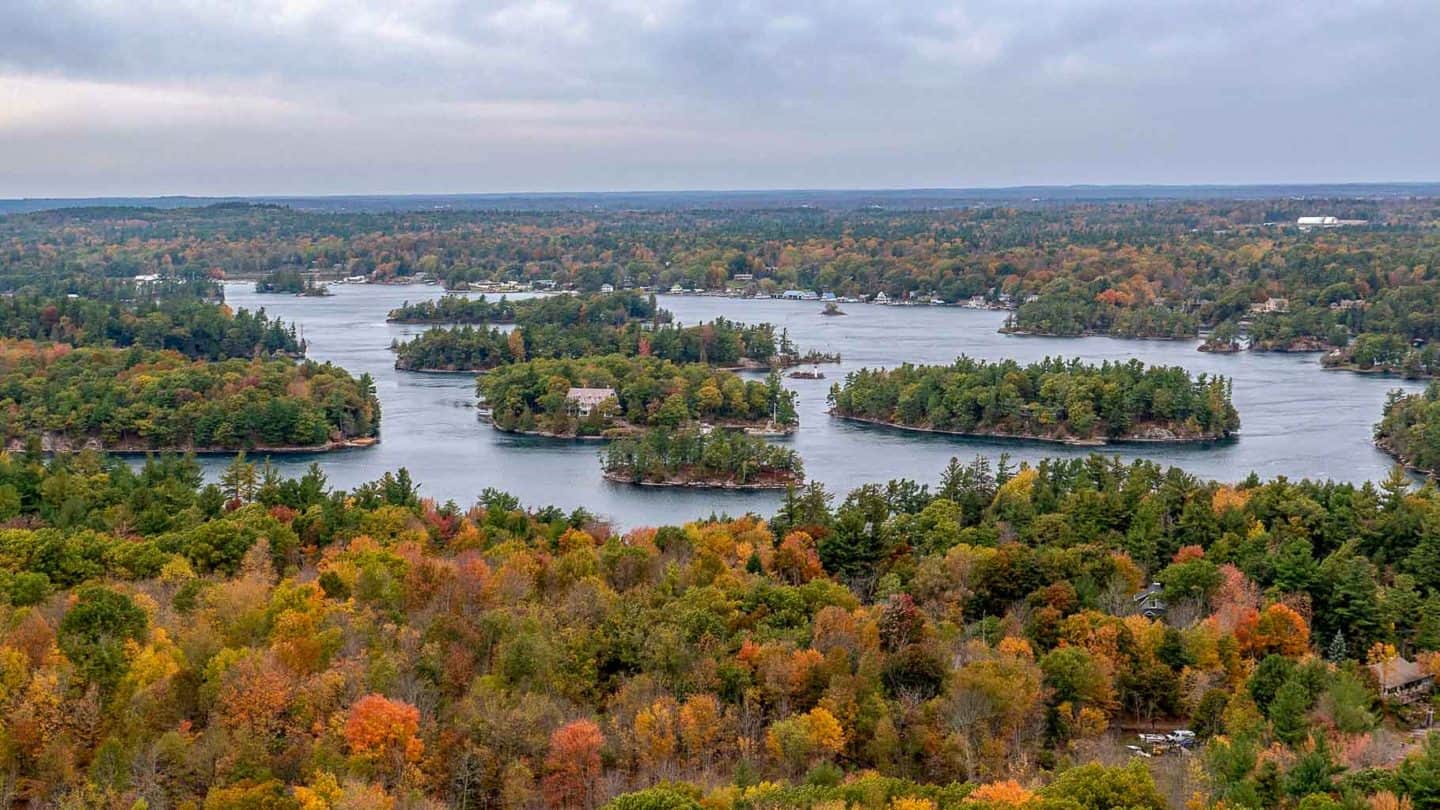 Quebec
Forillon National Park
Forillon National Park is a 10 hour drive from Montreal or an 8 hour drive from Quebec City.
Forillon National Park marks the end of the long Appalachian mountain chain and it is at the easternmost point of the Gaspé Peninsula. It has a wide range of experiences by the sea, along cliffs and in the forest. It is also a historical site, the area has been frequented by Aboriginal peoples for more than 4,000 years and it has the only World War II coastal battery in Canada. The Park covers a total of 244.8 km2, I suggest camping onsite since one day is not enough to visit and enjoy the park!
We did 3 notable hikes. La Chute takes you to a 17-metre-high waterfall. The Mont-Saint-Alban hike takes you to an observatory tower where you can see breathtaking views of the sea, cliffs below and the boreal forest. Hike up to Cap-Gaspé to see the lighthouse and you can admire where the Saint-Lawrence river meets the sea. This is a beautiful vista worth spending time there relaxing on one of the Parks Canada Muskoka red chairs or to do your picnic. Stay on the lookout for possible whales on the horizon! Follow the trail down to the bottom of the cliff until reaching the Land's End sign.
– Suggested by Melanie from BRB Travel Blog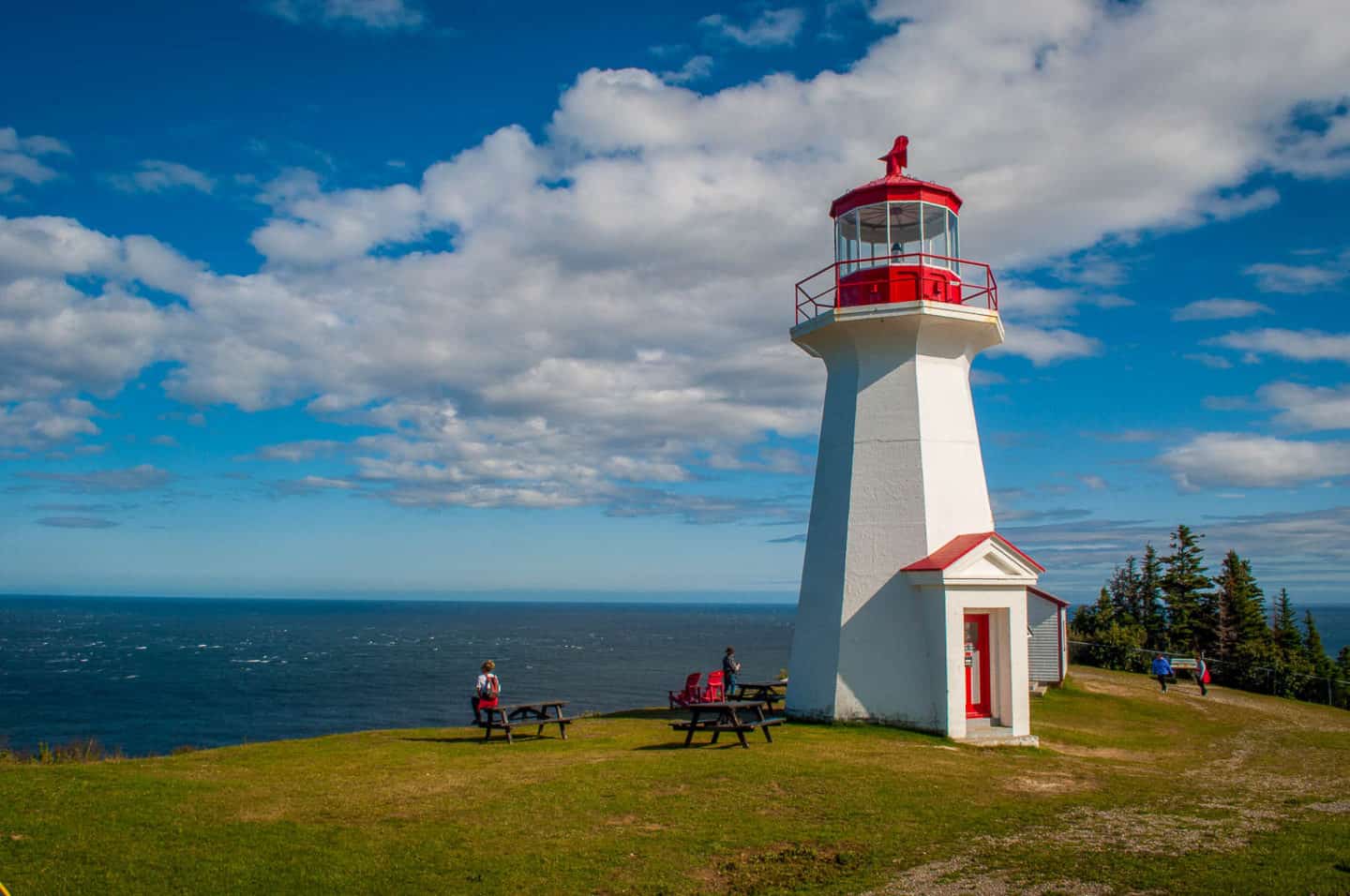 La Mauricie National Park
The beautiful Parc National de la Mauricie is located in the province of Quebec. It's a 2 hour drive from Trois-Riviéres.
La Mauricie is famous for its many lakes, there are 150 lakes, like Lac Caribou and Lac Édouard. The park covers 536km² with forests, lakes and pink granite. La Mauricie is a rugged and pristine nature park.
La Mauricie is an all year park. In the summer you can go hiking, swimming, biking and canoeing. In the winter you can go skiing and langlaufing. The summer is also perfect for picnicking and visiting the beach. All year round one can enjoy the mesmerizing views of the lakes and forests.
Make sure to hike the les Cascades trail, an easy hiking trail which has a sand beach, a picnic area and a beautiful waterfall close to each other. Another not to be missed thing is the scenic drive along the parkway. It's a 63 kilometer long, bendy road through the park. It meanders along the large lakes. Stop at the Le Passage and Île-aux-Pins lookouts for beautiful vistas, especially in the fall. Other top things to do in La Mauricie are the Solitaire lake trail, a picturesque hike where you see the lake from above. Picnicking at Bouchard lake and a backcountry hike to the Waber Falls are also other must dos.
Go for the maple leafs, mesmerizing vistas and the hikes to waterfalls and around lakes. Maybe see a brown bear, beaver or a moose.
– Suggested by Cosette from KarsTravels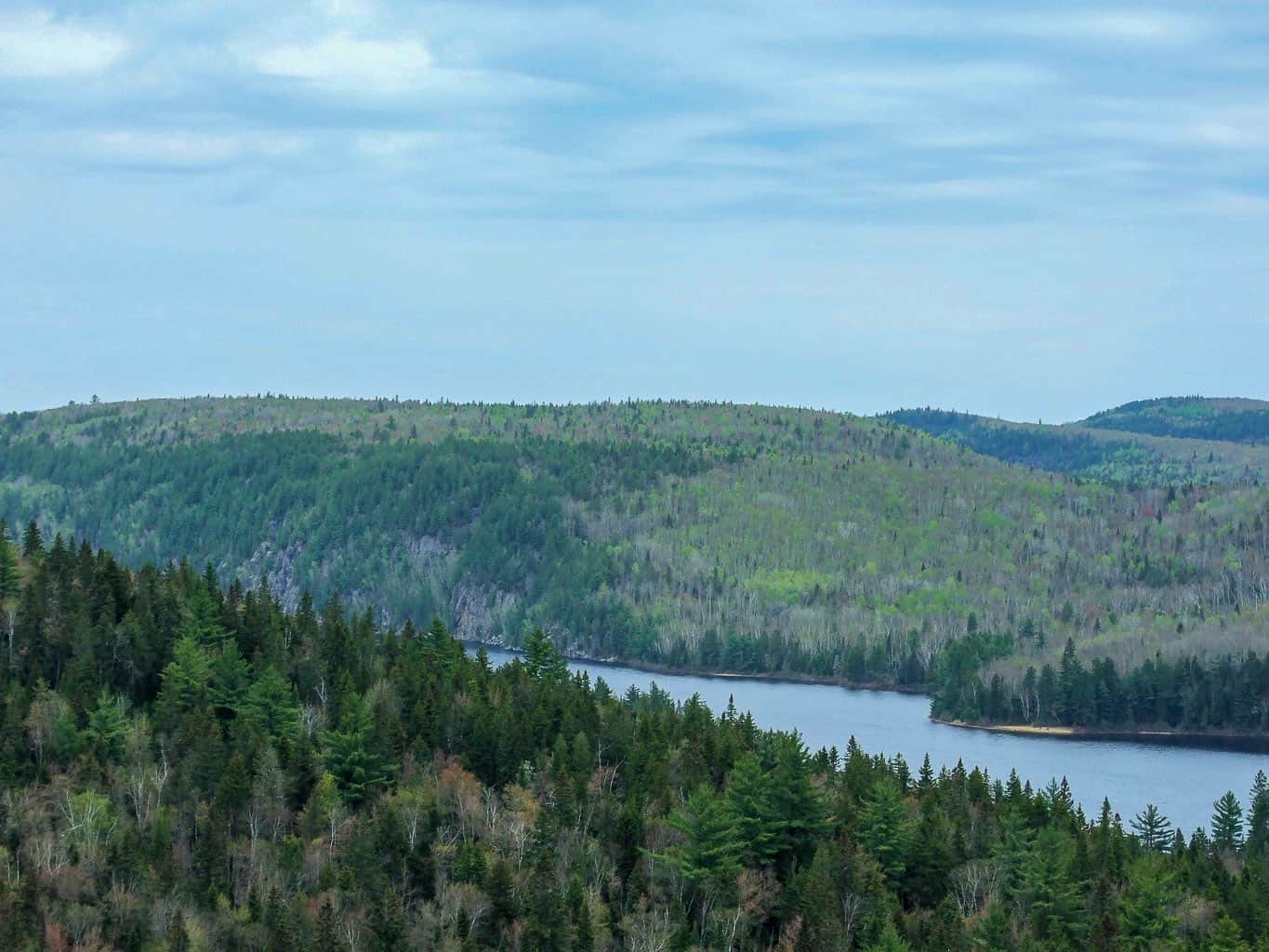 Saskatchewan
Prince Albert National Park
National Parks in Canada are a crowd puller and make it on everyone's bucket list. Apart from the popular parks in the Canadian Rockies, a visit to less famous ones will still give you a good dose of wanderlust. One of those underrated but fantastic parks is Prince Albert National Park in Saskatchewan.
Prince Albert National Park is located about 2.5 hours from Saskatoon, one of the biggest cities in the Prairies. It is also the closest airport to the national park. This national park was established in 1928, and it is a real treat for those living in the province.
There are tons of activities to do in Prince Albert National Park from fishing, slow travel, bird watching, over camping, biking, etc. Inside the park there are campgrounds, but there cabins and lodges available as well for a night's stay or two. Bike rental stations are also available.
On a warm day, you can enjoy a picnic or soak in the sun from the beachside. Lake Waskesiu and Lake Emma are perfect for that.
Within the national park borders, there are Chinese food restaurants, ice-cream parlors, and a grocery store. There is an interactive information centre inside the park as well.
The park is busiest during summer months from June to August. Ensure you pack mosquito repellent and bug spray when you visit. Rains are a possibility in late summer months, to ensure you pack a waterproof tent if you intend to camp!
– Suggested by Mayuri from To Some Place New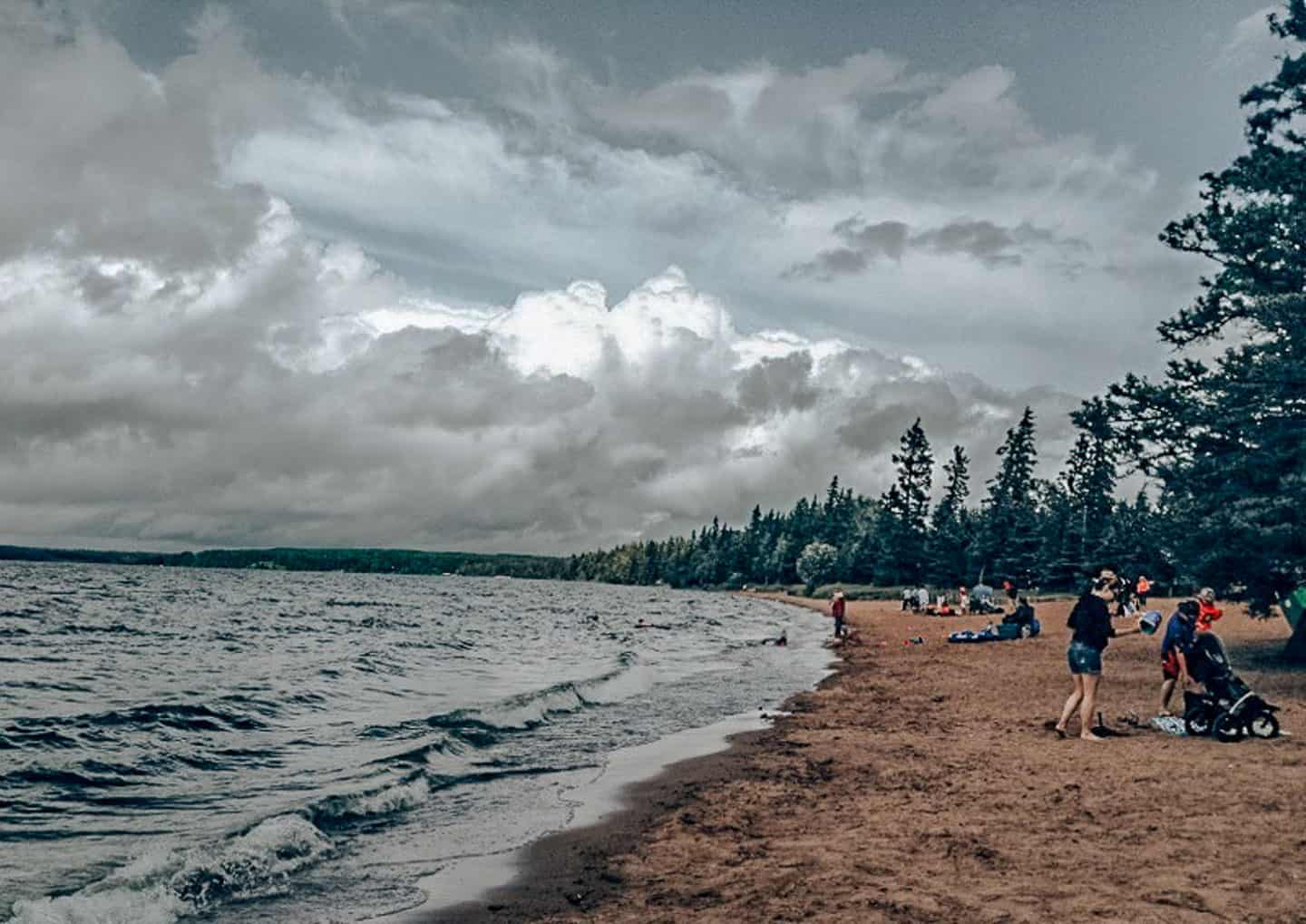 Yukon
Vuntut National Park
Vuntut National Park is located in the northwest part of the Yukon and is perfect for those who love the outdoors with no civilization around. Much of the park is just wilderness with no roads or developed paths.
The National Park was established relatively recently – in 1995. Land claims and disagreements have led to extensive negotiations between Vuntut Gwich'in people and the Government of Canada, which is also a major factor in the park's underdevelopment.
Vuntut National Park is located north of Old Crow – the closest community to the park. The nearest road, Dempster Highway, is about 109 miles away. Your best bet might be taking one of the scheduled flights to Old Crow and venture into the park from there.
Hiking, kayaking, skiing, bird and animal viewing are available in the park. One of the main activities is watching the migration of the largest Porcupine Caribou herd in the world. The herd has a special significance for the people of Gwich'in who have lived in the region for thousands of years. Caribou has been their constant source of food, clothing, tools and shelter.
Other wildlife species in the park include mukrakradi, grizzly bears, black bears, wolves, foxes, wolverines, vultures, minks and others.
There are no facilities or services in the park. Visitors need to be extra careful when planning a trip and bring everything they need to be self-sufficient and be able to handle an emergency on their own.
– Suggested by Inna from Planet Dreaming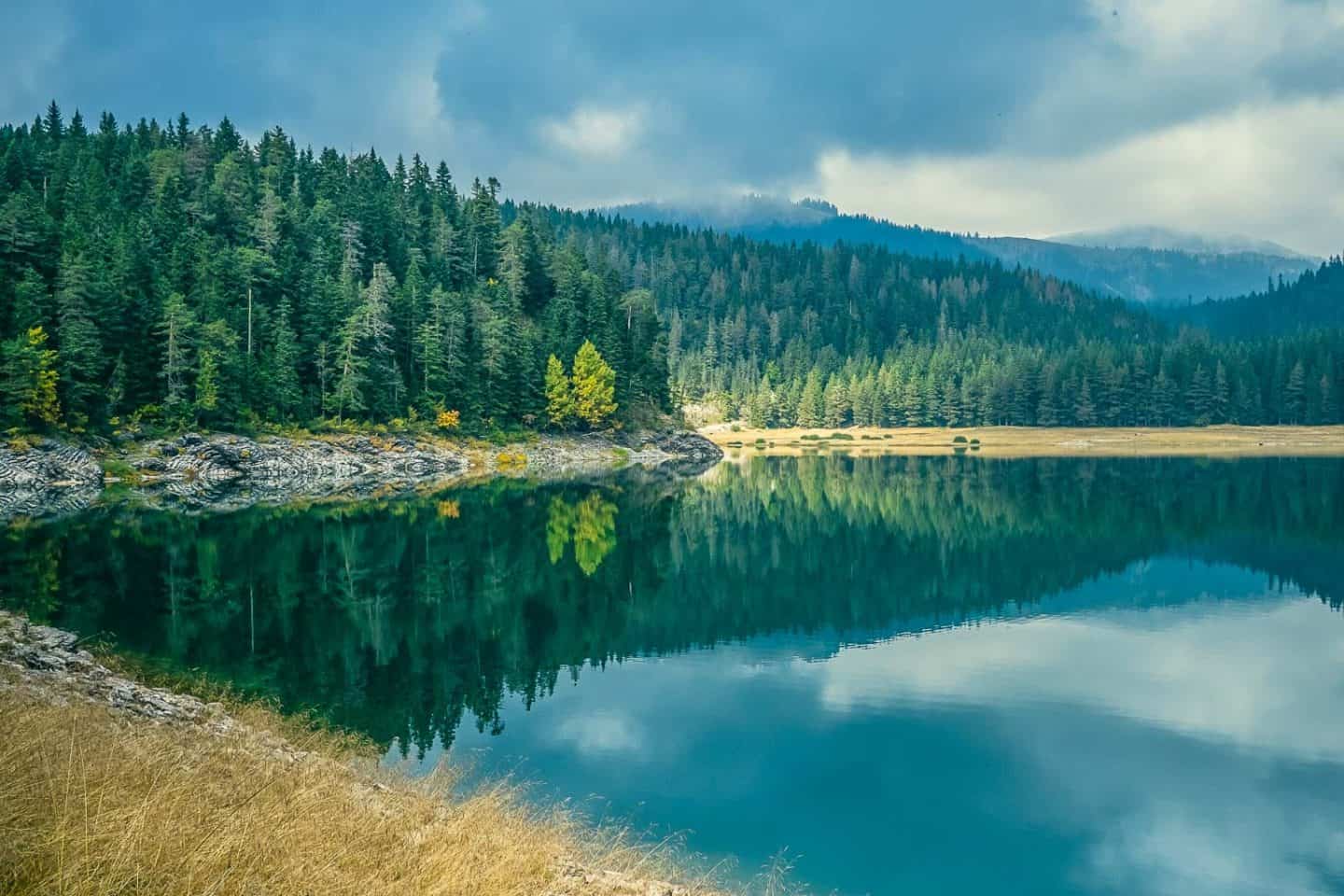 There you have it! 18 of the best national Parks in Canada. Is your favorite on the list? Have we missed any? Let me know in the comments and as always pin this post for your own upcoming trip to Canada.