If you've checked out some of my old posts you know I like National Parks. I like them so much it's a bucket list item for me to visit all the American and Canadian National Parks. When we were in San Francisco back in February I made sure that we could fit in a visit to Yosemite National Park. Unfortunately for us, we were there during that rainstorm that partly ended the 6 year long drought California has had.
I wanted to share pictures from our visit but to be honest I don't have very many tips for visiting Yosemite National Park. There were a ton of road closures. There was also construction so we saw majority of the park from the car. We also almost destroyed our lenses because of the mist and rain. We also got incredibly wet. Like. Soaked to the bones wet. So you'll just have to take a look at the pictures below and see why even while being rained out Yosemite National Park was still worth the visit.
Entering Yosemite National Park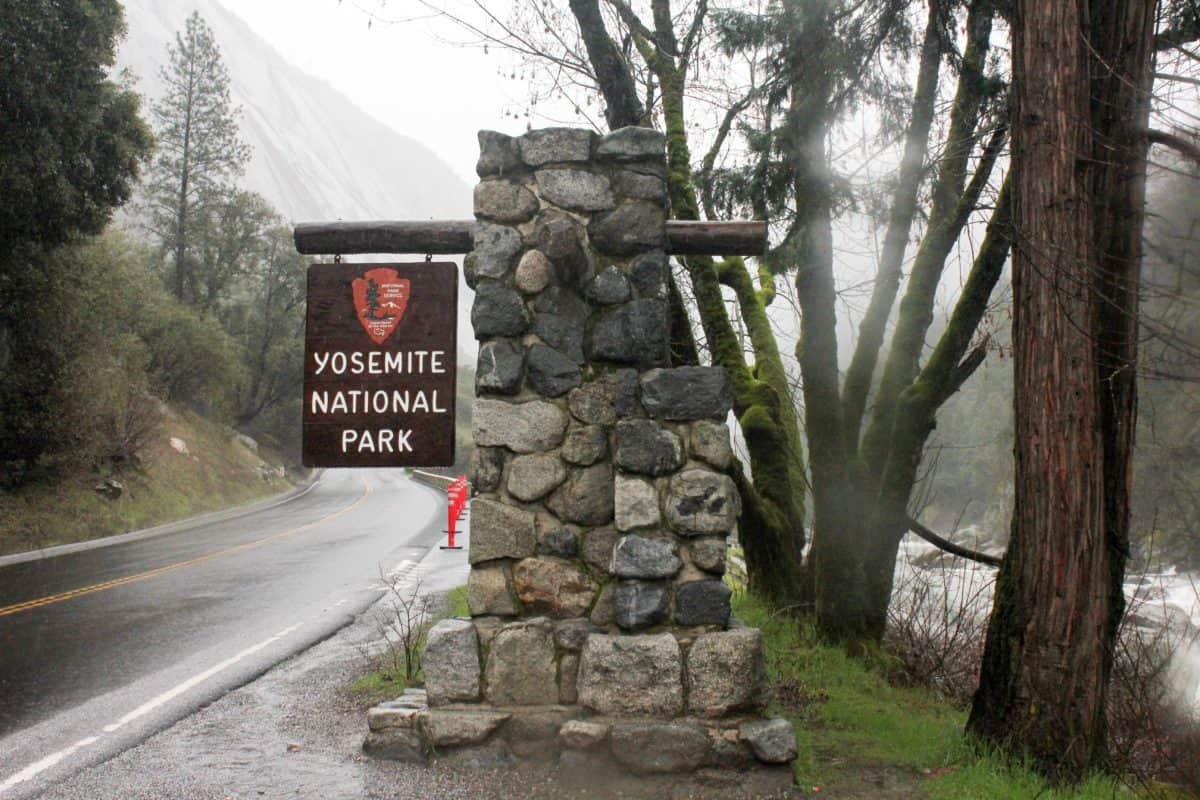 This cute little rock gathering is right outside of the entrance to the park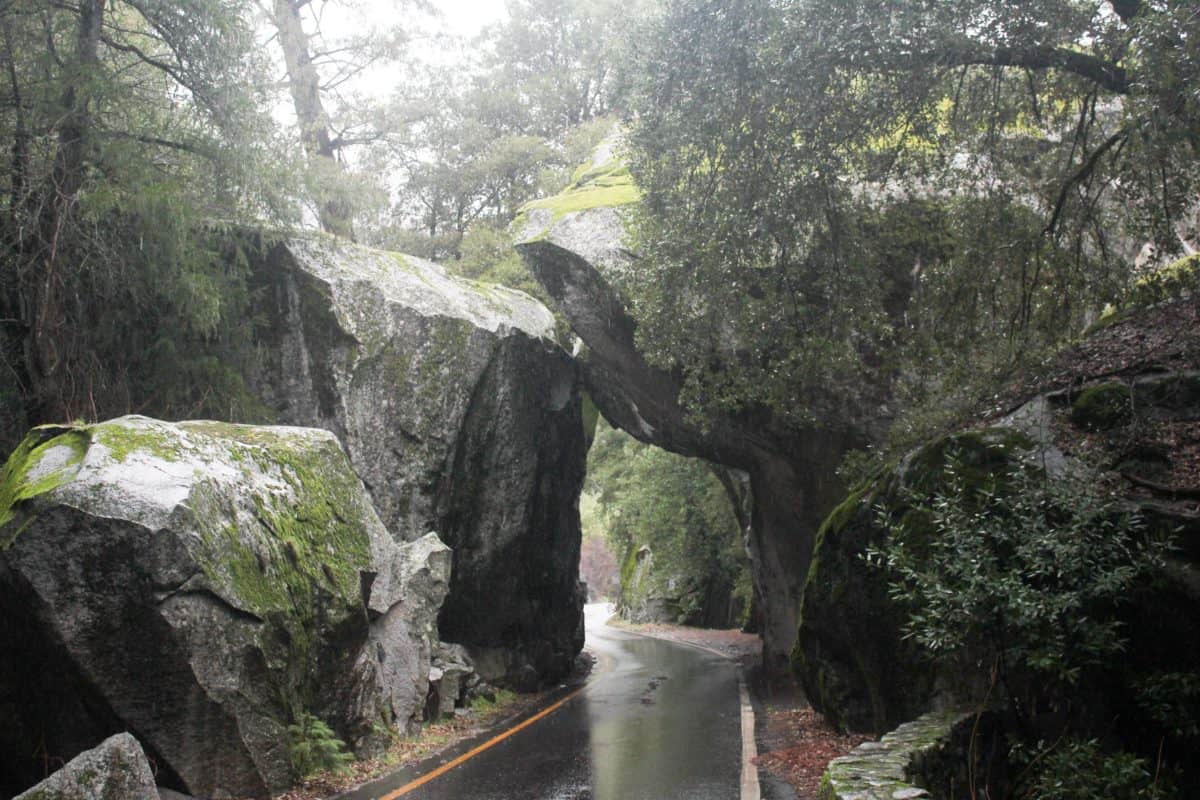 This archway is right by the entrance. Kind of made the start of the drive feel really mysterious right away.
Driving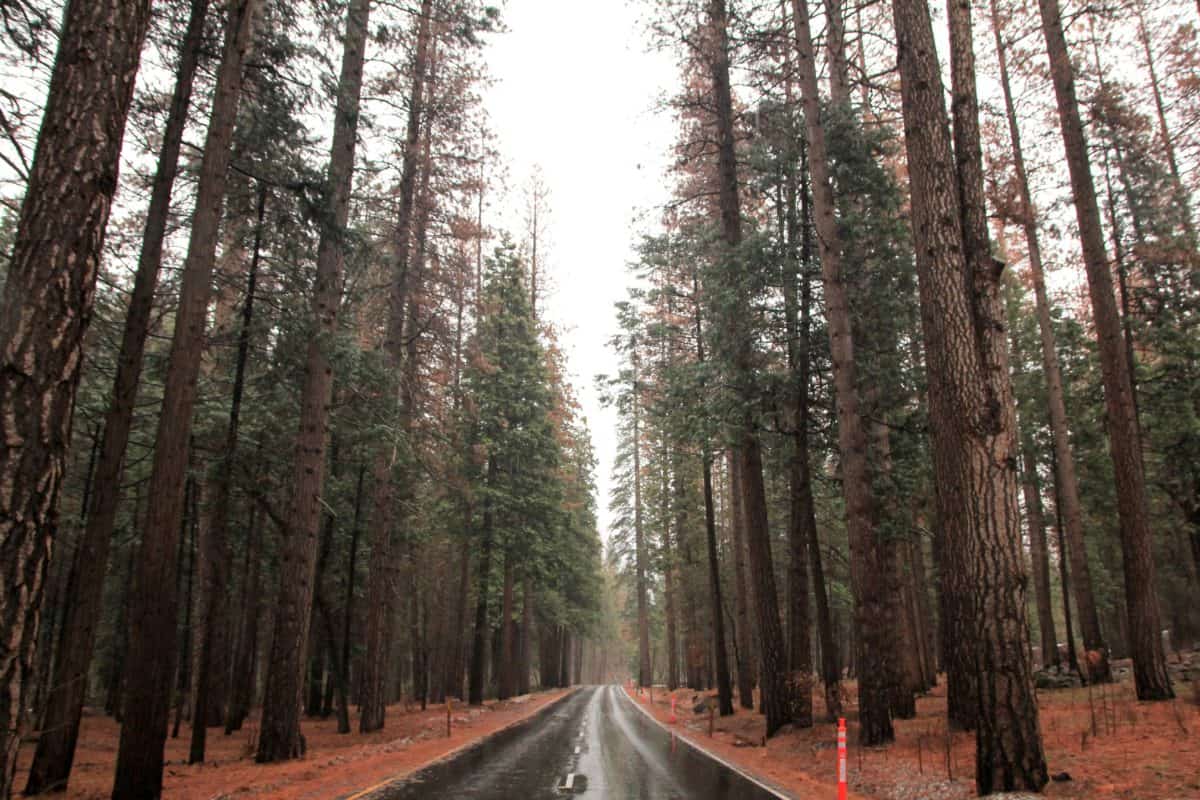 One of the benefits of the weather was that we were blessed with really empty roads and it made it feel like we had the park to ourselves!
Tunnel views
Landmarks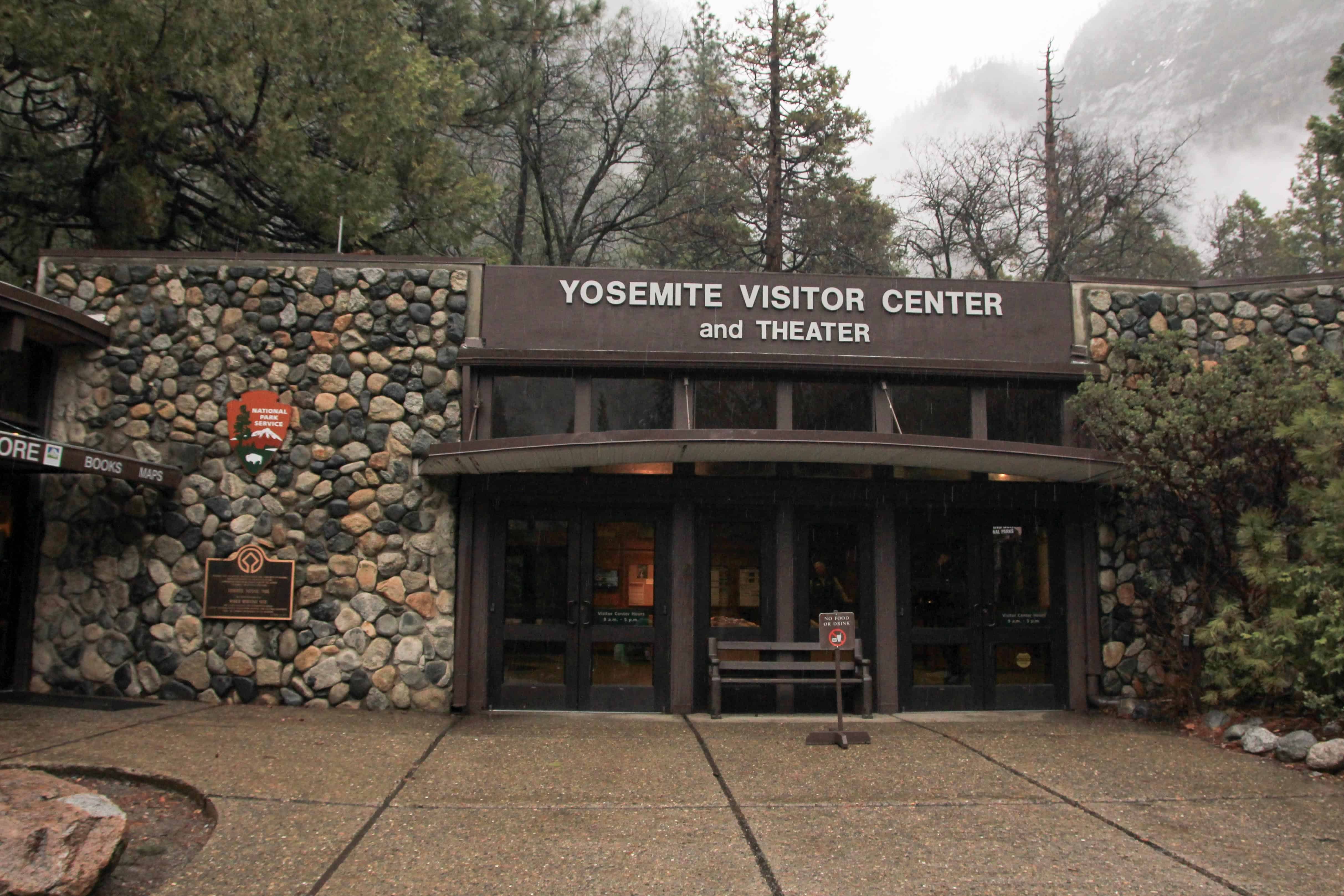 The visitor center has got some cool displays on the history of the park and the people who used to live there. It's well worth a visit and a perfect way to escape the weather!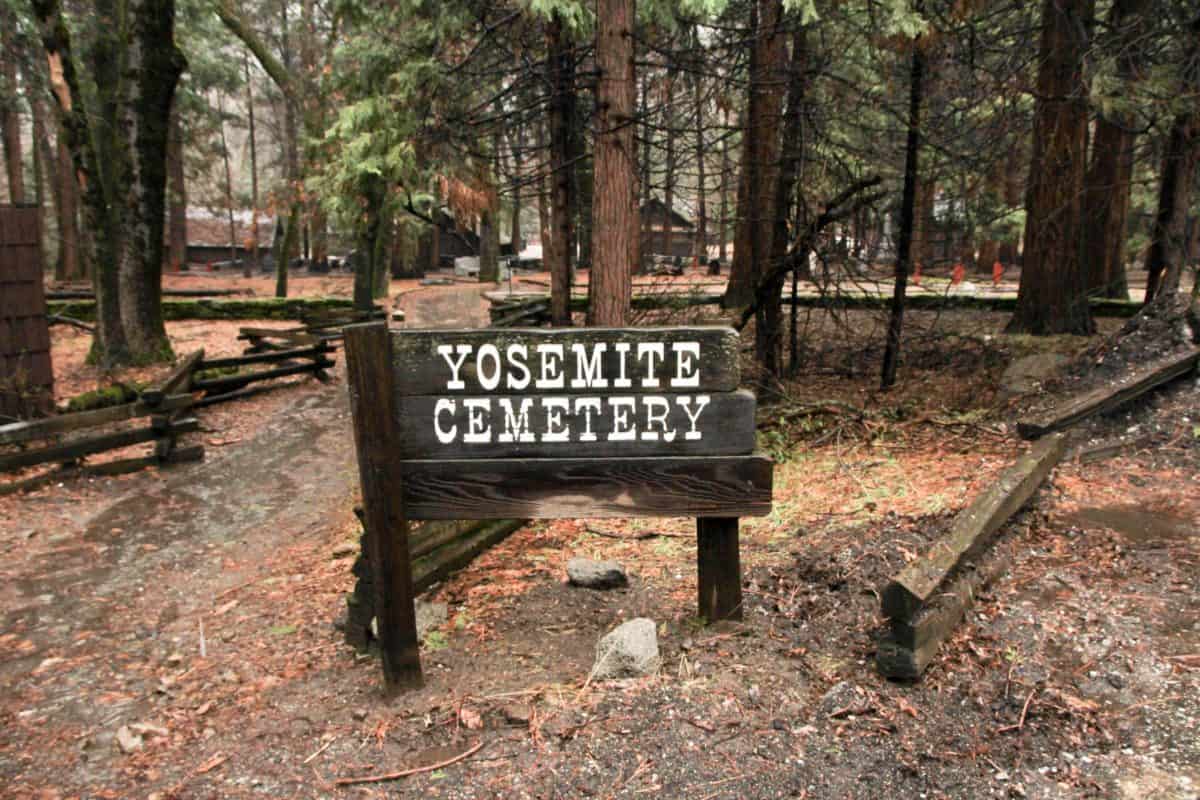 Yosemite Cemetery has various people buried in it. This includes Native Indians, people important to the park development and casual park visitors.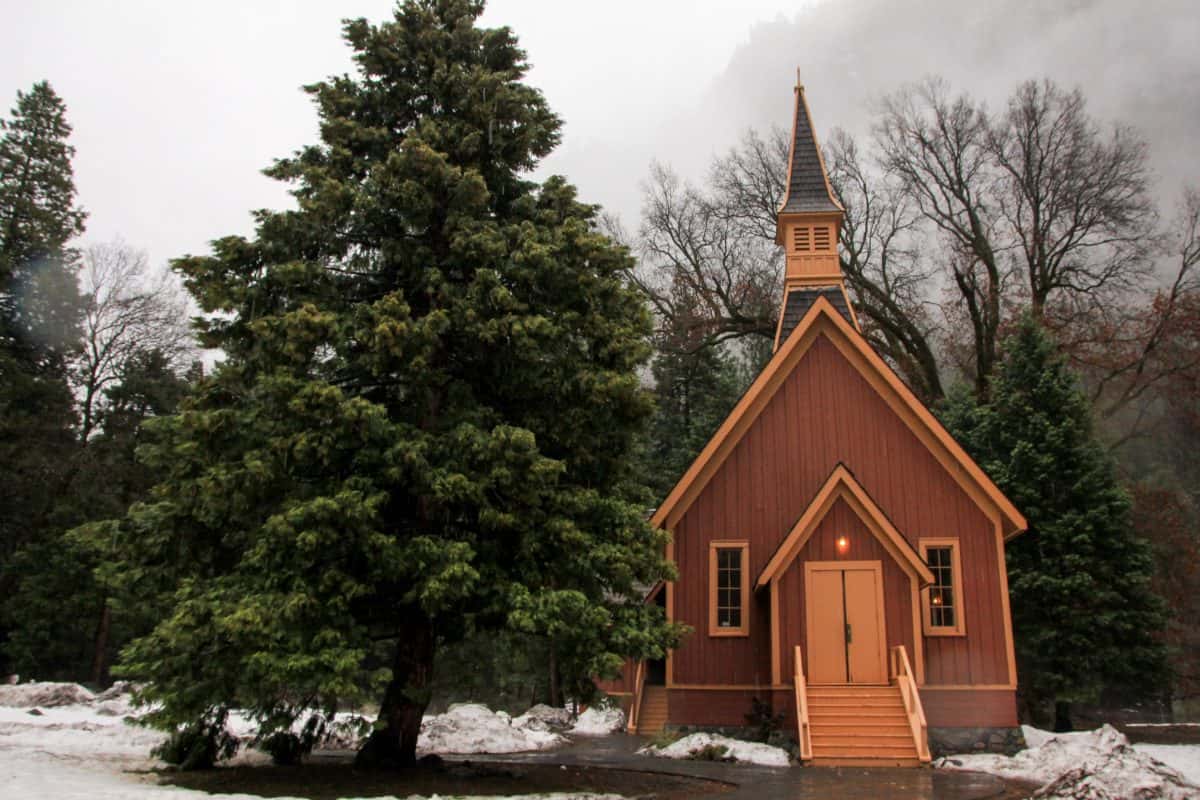 Yosemite Valley Chapel is a church that's been around for 135 years.
Nature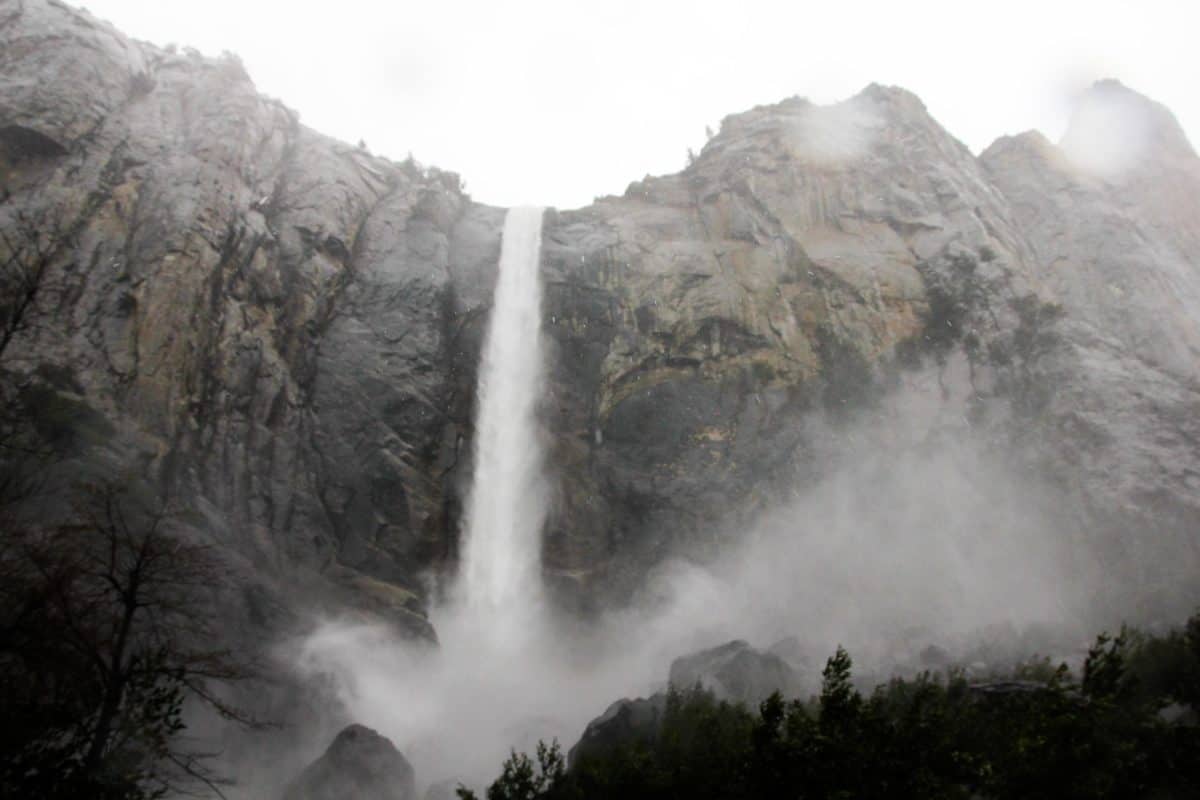 The gorgeous Bridalveil Fall. This is a quick and easy 20 minute hike that takes you fairly close to the water.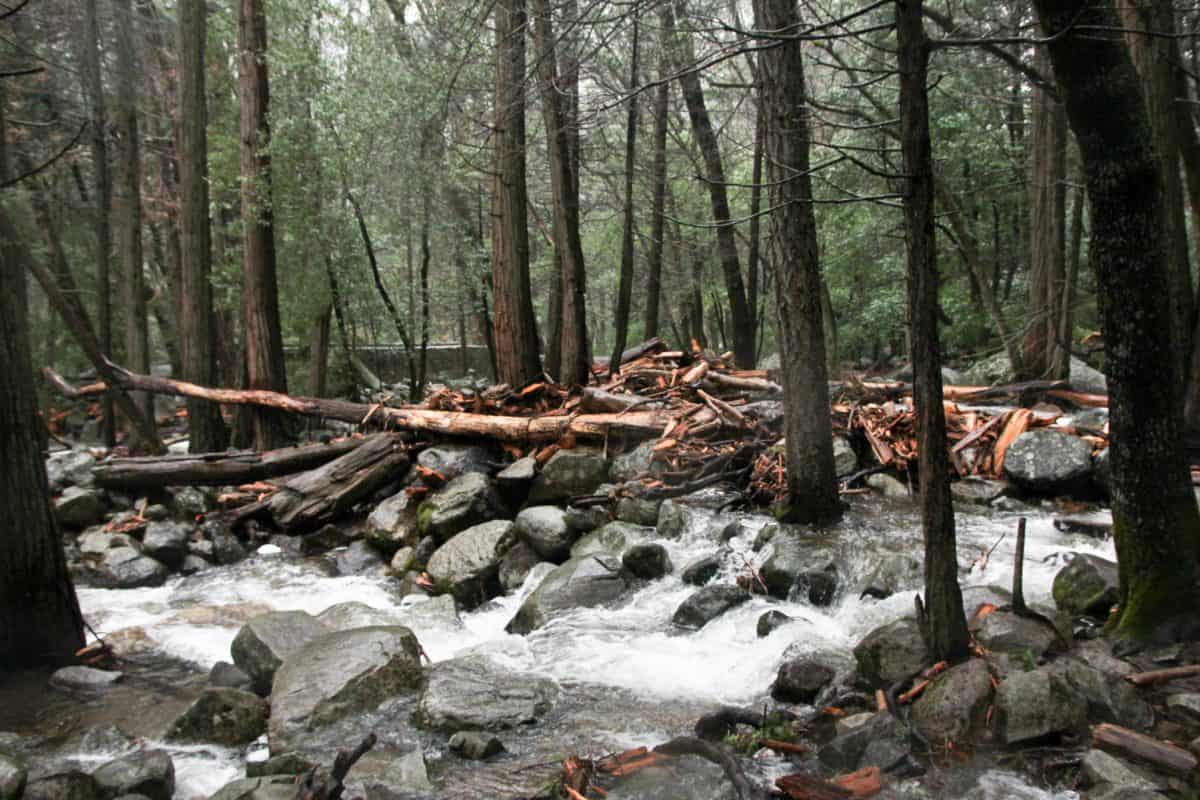 Due to the large amount of precipitation the stream were rushing powerfully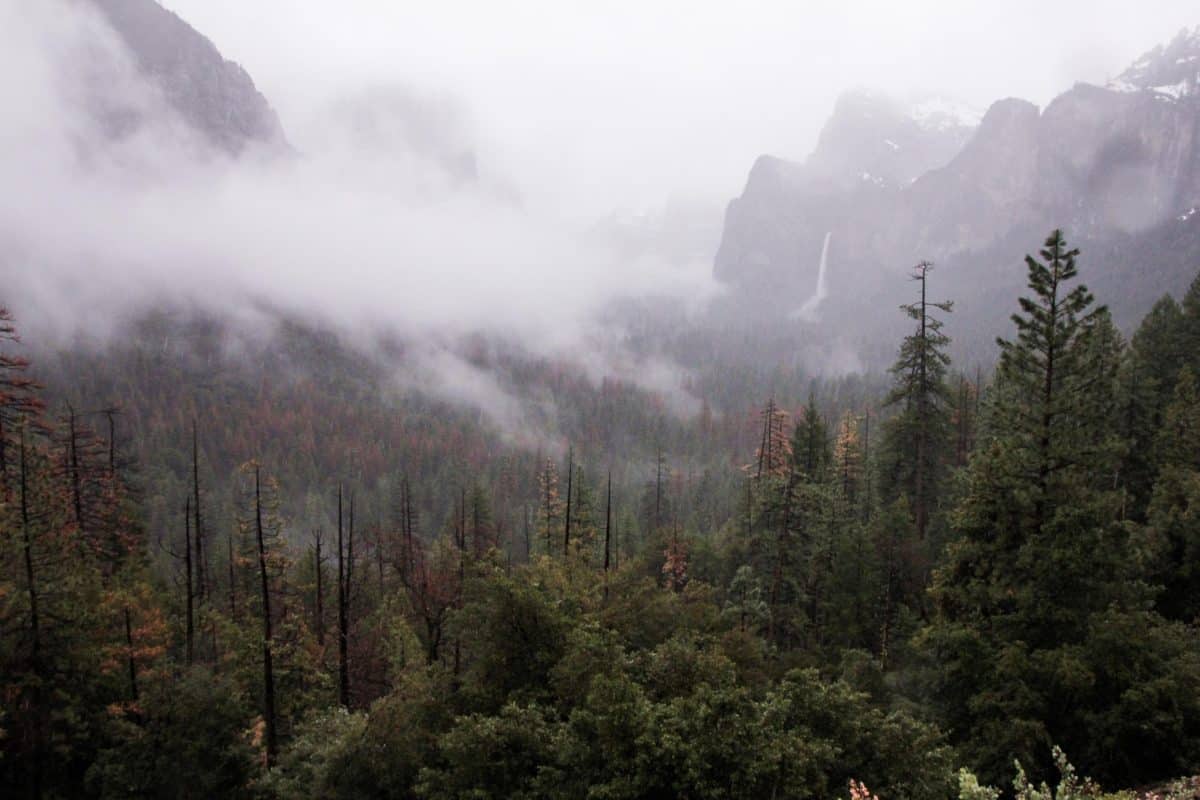 The famed Tunnel View. Unfortunately we got fogged out. We're talking zero visibility here. But it was still impressive in it's own way. Had a horror movie kind of feel to it.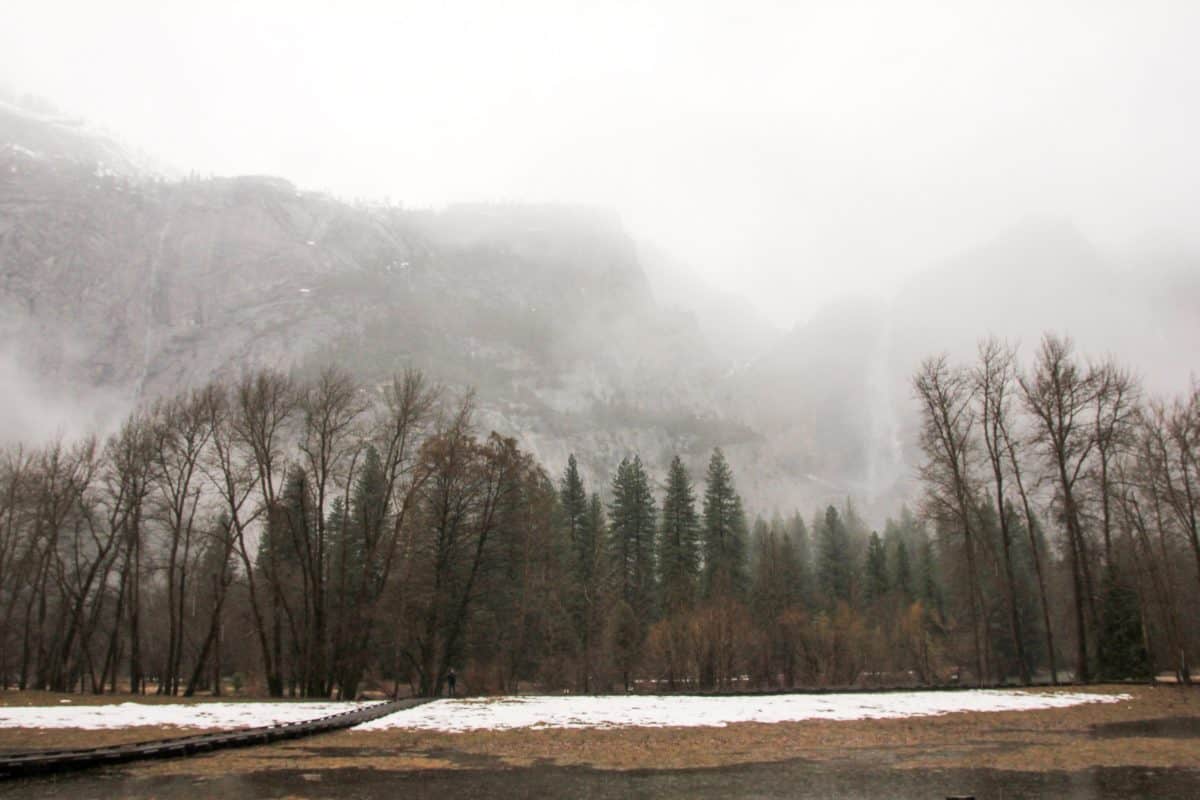 The fog was so thick it almost hid the mountains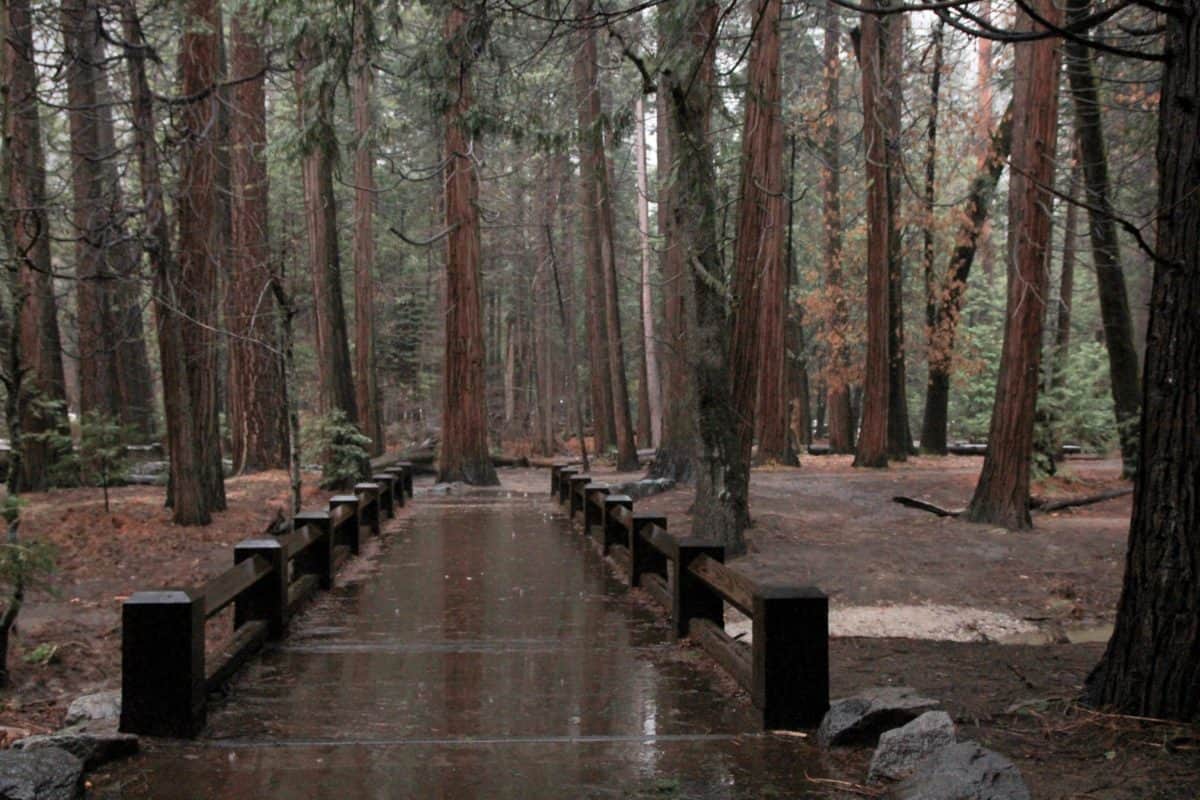 While not muddy, these walkways sure were slippery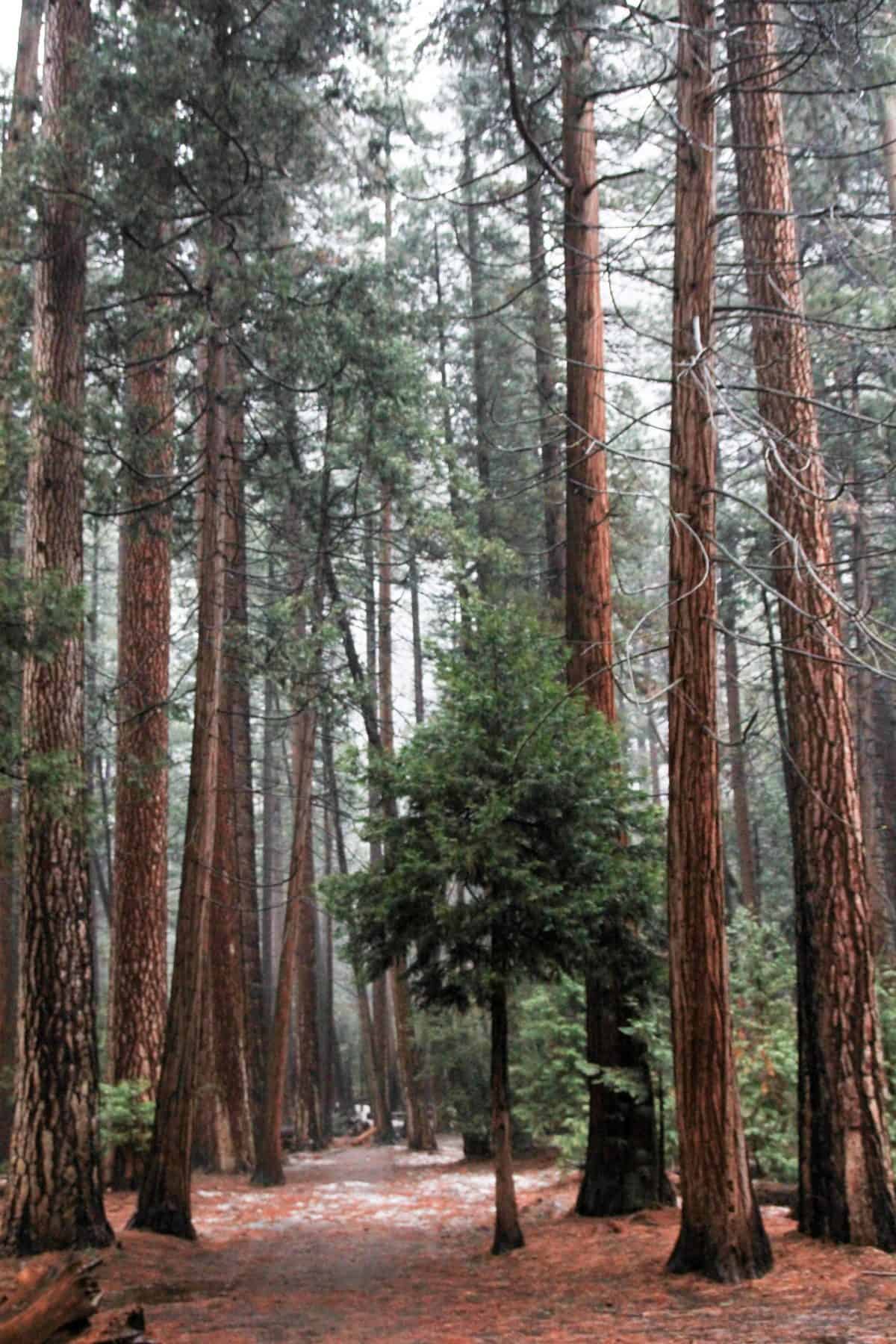 Tall beautiful trees as far as the eye can see
Lots of red and lots of wet!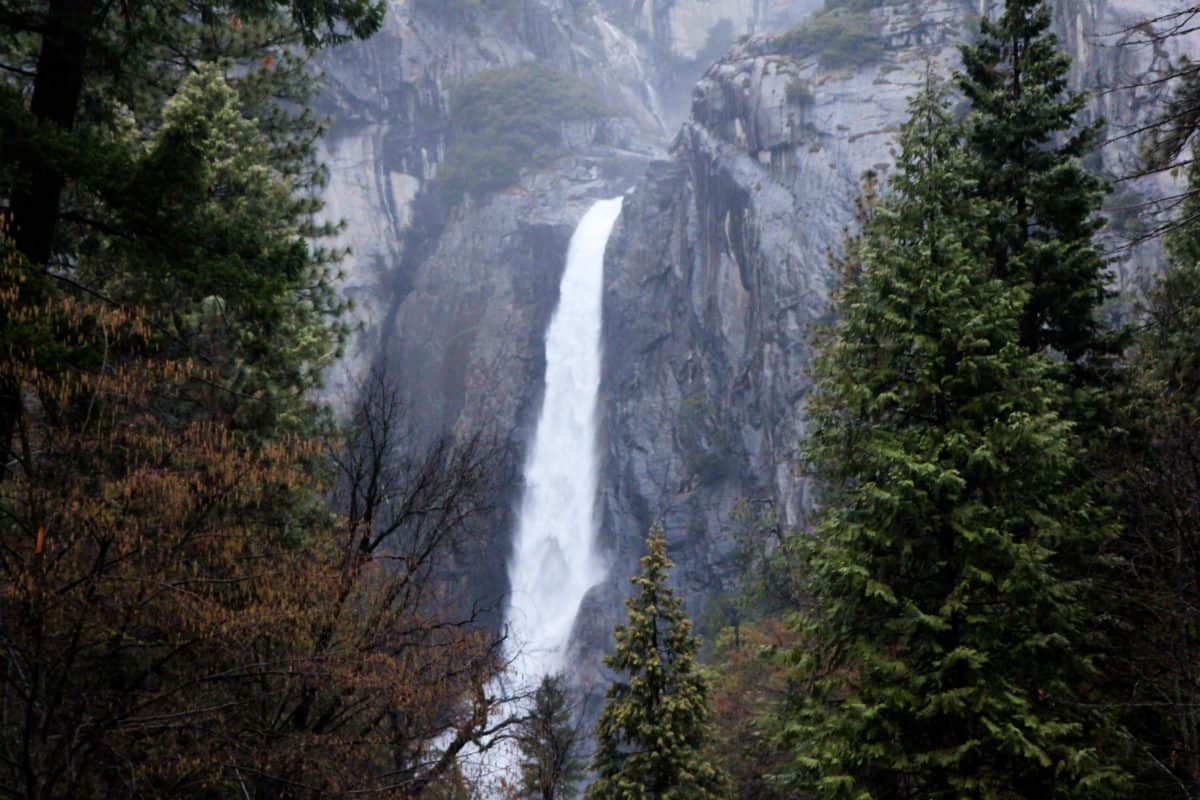 Lower Yosemite Falls
I wanted to focus on the nature because it's the one true reason you have to go check out Yosemite National Park but if you're rained out like we were then I strongly recommend the chili in the hotel bar restaurant! Fantastic way to heat up and the hotel's got a little sweet shop and a beautiful interior.
I'll definitely have to head back to enjoy the park in some better weather and to actually hike it but I enjoyed my first visit. Since I'm still not sure I'm dry from it I have no concerns about ever forgetting this visit!
Have you ever been to Yosemite National Park? What was your favorite part?
ps. Did you like the pictures? Please share and pin the below image!