Meiringen, Switzerland isn't the most well known of the towns in Switzerland and isn't always a stop on a Switzerland itinerary but that's a shame because the small town is actually the home to Reichenbach Falls which is super well known because of its relation to Sherlock Holmes. Meiringen is also where the meringue was created so the town has become known for both Sherlock Holmes and the meringue. Meiringen is located close to Interlaken, which is definitely a Switzerland bucket list stop, so it's easy to pop over and spend a couple of hours exploring the town discovering Sherlock Homes in Meiringen, Switzerland.
The Final Problem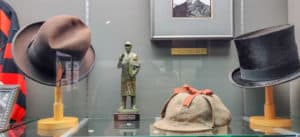 If  you're a fan of Sherlock Holmes in any shape then you'll be familiar with the Final Problem. On May 4, 1981 Sherlock Holmes and his nemesis Professor Moriarty had a final struggle at the Reichenbach Falls where they both fell to their deaths. Sir Arthur Donan Coyle took inspiration from the falls themselves when he visited Sir Henry Lunn in Switzerland.
Fans of the series will know that this obviously wasn't Sherlock Holmes' actual demise as it turns out he just faked his death. Interestingly, Sir Arthur Donan Coyle intended for the death to be permanent as he wanted to focus on other writing but after a decade he was persuaded to resurrect Sherlock Holmes.
There's a small plaque (in 3 languages: English, French and German) at the falls, on a ledge, which marks the spot where Sherlock Holmes and Professor Moriarty fell to their deaths on May 4, 1981. There's also a large white spot that marks the exact spot where they stood when they fell.
Sherlock Holmes Museum

The Sherlock Holmes Museum is located in the basement of the former English Church in town. On the first floor they have a new exhibition with some new objects. One of the best features of the museum is the recreated living room of 221B Baker Street. You can find the whole catalogue of what they have here. Make sure to look in all the displays as you'll find some really cool things like the letters from Watson.
You'll find the museum in a square officially called Conan Doyle Place. Outside of the museum you can also find a life-sized statue of the famed detective ready for all of your selfies. There is also a small viewing device outside of the museum that you can use to look at where Reichenbach Falls is located. The museum was opened in 1991 and Sir Arthur Conan Doyle's youngest daughter, Lady Bromet, officially opened it.
The museum is open daily from 1:30pm to 5pm (Monday, Tuesday, Wednesday, Friday, Saturday, Sunday) and between 4pm and 8pm on Thursdays. These hours are valid for Summer 2020 and may change slightly in the future but you can check out the up to date hours here.
Admission to the museum costs 5 swiss francs however if you have a Swiss Travel Pass then the Sherlock Holmes Museum is one of the 500 free museums that you get entry to. Make sure to get the audio guide. It's about 35 minutes long but talks you through multiple of the items in the museum and gives some great insight.
Other Sherlock Holmes, Meiringen Points of Interest
You can tell that the town of Meiringen has embraced its relationship with Sherlock Holmes and you'll find plenty of references to Sherlock Holmes throughout the town.
The local bakery, Frutal, sells meringues with a Sherlock Holmes face on it. They can be found at Bahnhofstrasse 18. When I visited they were sadly out of the meringues but I did go at the end of the day so you may have better luck earlier in the day.
There's also a Sherlock Lounge at Alpbachstrasse 11 which has local bands playing and is somewhere you can get something to eat (and drink!).
If you're looking to spend a night in town you can spend it at Hotel Sherlock Holmes or Hotel Adler (which I'm not sure is actually named after Irene Adler but it's fitting enough for a Sherlock Holmes stay).
Visiting Reichenbach Falls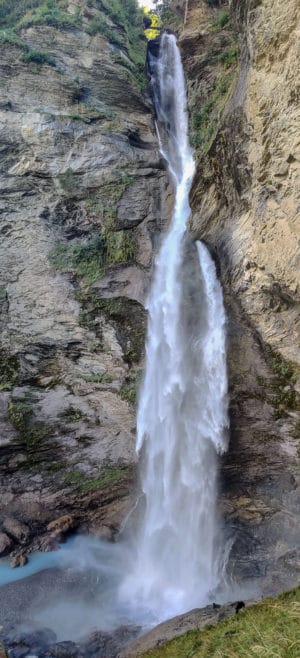 Reichenbach Falls is a 120 meter high waterfall that falls along cliffs. There are two ways to get to Reichenbach Falls: hiking to them and taking the funicular.
The hike to the falls is a 6-7 km round trip hike which takes an estimated 3 hours to complete. I personally did not opt for the hike (because it seemed exhausting) but there are some accounts online of it and it does seem fairly difficult. I'd be prepared for a hard hike with a fairly steep incline. The hike will however take you to the plaque (mentioned above) which the funicular will not. This map will give you an overview of the hike.
The funicular station (the bottom one) is a 20-minute walk from Meiringen train station or a 6-minute bus ride (the stop to get off at is "Willigen, Klinik Reichenbach". The funicular has been operating since 1899 but has obviously been maintained and updated accordingly. The wagons are newer but were built to replicate the originals and can carry 24 riders at a time. The ride takes 7 minutes from bottom to top and vice versa. Make sure to look out over the valley for a great view. The funicular takes you right to the viewing platform from which you can see the waterfalls. The funicular stops operating in bad weather (i.e. powerful winds etc.) so you may not be able to use that option.
The funicular operates between June 11, 2020 and October 4, 2020. It's open between 9am and 5:30pm every day and the last ride up is 5:15pm. It departs every 15 minutes. Tickets cost 12 swiss franc for the return trip and 8 swiss franc for the single trip. They can be purchased in person (for cash) or online ahead of time. You can also get a combination ticket with the museum entrance. Combination tickets can be found here and funicular tickets can be found here.
From the viewing platform you can choose to take the staircase up to the top of the falls to try to view the plaque but it is on a landing that is often closed for safety concerns.
A tip for visiting is that if there's a slight wind you will get water blown on you so mind your camera! Additionally, if you opt to visit in the winter, the funicular isn't operating and the waterflow is pretty much non-existent so you won't have the same experience you would in the summer.
Other Things to do in Meiringen, Switzerland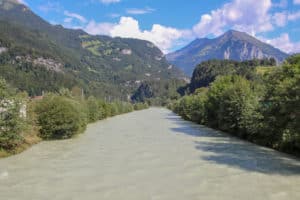 Besides Sherlock Holmes activities, there's many other things to do in Meiringen:
One of them is Aare Gorge which is a ravine that you can walk through. that is 180 meters deep.
You can also go for a walk along the Aare River.
Meiringen is a popular destination for hiking with over 300 km worth of trails in the area.
In case it wasn't obvious from above, you have to have a meringue. In fact, why not have a bunch of them and try to find the best one?
You can also visit the Haslital Museum which is a free museum exhibiting local life in the valley.
Getting to Meiringen, Switzerland
Meiringen is located between Interlaken and Lucerne and makes sense as a day trip from both. From Interlaken it's only a 35 minute train ride and from Lucerne it's about a 1 hour train ride.
Are you a fan of Sherlock Holmes? Would you want to see the Reichenbach Falls in person? Let me know in the comments and pin this post for your own upcoming trip to Switzerland.