Oxford is a place many know of by name. It's a world class university that has produced greats like C. S. Lewis, J. R. R. Tolkien and Stephen Hawking. Many of the same university buildings are still standing and open to visitors from across the world. Imagine being able to walk in the same footsteps as Lewis and Tolkien? It's a bucket list destination for many people and visiting from London on an Oxford Day Trip is one of best way to experience all that there is to do in Oxford. On a quick glance it appears the town is pretty much just the university but that couldn't be further from the truth. While the colleges are definitely a must see on your one day in Oxford there's plenty of other things to see and do so read on for everything you'll need to know in order to plan the best Oxford day trip.
How to get to Oxford from London
Oxford is located about 60 miles (97 km) northwest of London. There are a number of ways to get to Oxford from London. The most time efficient way is a train but the cheapest is bus. If you're driving you of course have more freedom with your schedule and if you're road tripping around England it may be your only option but Oxford comes with some limitations in regards to parking.
Bus
The Oxford Tube is the easiest way to get from London to Oxford and vice versa. The bus does pick up from a number of locations in London, runs incredibly often and you can buy your tickets both online and on the bus itself. My round trip bus ticket purchased on the bus was 15 pounds. A totally reasonable price for the trip!
X90 was a service you could previously take between London and Oxford but as of January 4, 2020 this bus service has been discontinued.
National Express provides service between Victoria Bus Station in London and the Oxford Bus station. Tickets start at 5 pounds each way but again will vary with when you take you trip.
Train
The train ride from London to Oxford takes approximately 1 hour. It departs from both Paddington Station (more frequently) and Marylebone Station (less frequently). Make sure to not take the local trains as these will stop more frequently and result in a much longer trip. You can find tickets and schedules on Trainline. You can price compare to Rail Europe as well.
I'd recommend pre buying your tickets and having them downloaded to your mobile. You can often save a little money if you buy a return trip but this may vary across different routes. Remember that travelling in off peak hours is also cheaper.
Walking from the Oxford Train Station into the main parts of town takes about 15 minutes so it's not too out of the way.
Car
It takes about 60-90 minutes to drive to Oxford from London but once you get into town you'll have to figure out parking.
Oxford Town has 5 park and ride sites from which buses run to the city center. I would recommend checking out Oxford's official website on this but note that even they advise against parking in the core of the town as it's difficult and expensive.
If you're planning on doing any England Road Trips than driving would make sense as you could fit Oxford into those itineraries.
Tour
If you opt to take a tour (more on that later) then transportation to and from London may be a part of your tour. It's a worthy option if you're going the tour route anyways.
Things to Do in Oxford on an Oxford Day Trip
As a rough guide for this Oxford Day trip itinerary, I got into Oxford around 9:15 am and headed back to London around 6 pm. I spent majority of the day there but you can of course lengthen/shorten the day depending on your preference. The order of the below things to do in Oxford is the order in which I spent my day but if you book tickets for a college tour or want to see a specific one then this order can obviously be adjusted.
Oxford Covered Market
Oxford's Covered Market can be found at Market St, Oxford OX1 3DZ, United Kingdom. It's a historic market with permanent stalls and stores and is a covered market (as opposed to an outside one). The market is open to the general public between 8am and 5:30 pm Mondays through Fridays, between 8am and 6pm on Saturdays and between 10am and 4pm on Sundays. It's important to note however that individual stores/sellers set their own hours so some of them will be closed on Sundays. You can check out the hours of each trader here.
The market has been in place since 1774 and is popular with both locals and tourists. It's a great place to grab some souvenirs from local vendors or to grab yourself a treat since there are multiple bakeries.
Radcliffe Camera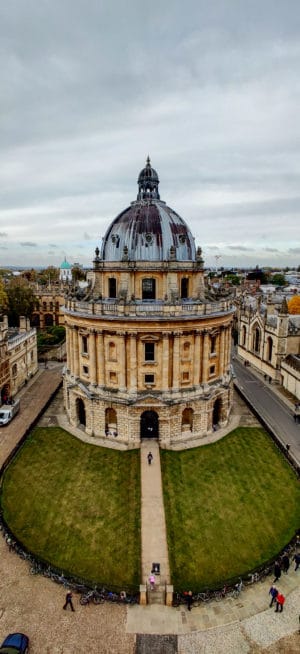 Located down the street from the Market you can find Radcliffe Camera. Radcliffe Camera is the name of the iconic Radcliffe Science Library.
The building was built between 1737 and 1749 and has been standing ever since.It's open to the public only for tours and can be visited in combination with the other parts of the Bodleian Library (more on that later).
Because I knew the tours for Bodleian Library were limited and popular I headed straight there to reserve my tickets for the 12:30 pm 30-minute tour (again, more on that later).
There are two ways to view the building from the outside. The first is just to walk up to it and walk around the exterior and take some pictures.
The one that's going to get you more of a head on picture (and sort of a shot from above) is from St. Marys Tower in University Church (also more on that later)
Bridge of Sighs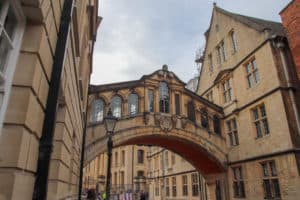 Just down the street from Radcliffe Camera and Bodleian Library you'll find the Bridge of Sighs. It's one of the iconic landmarks of Oxford that joins the two parts of Hertford College.
The bridge got its name after the bridge in Italy but it's not meant to look like the famous Bridge of Sighs and was actually designed to look like the Rialto Bridge in Venice.
If you arrive here early enough in the morning you can usually get a decently empty shot!
Christ Church College & Meadow
If you're a Harry Potter fan then this is the college for you. Founded in 1525 Chris Church College is one of the oldest and largest colleges that are part of Oxford but more importantly (to me at least) it served as inspiration for many of the Harry Potter film locations. In addition to that this is also the college where Alice in Wonderland was written by Lewis Carroll!
Great Harry Potter spots include the Great Dining Hall which doubled as the Great Hall in the film series. The Bodley Tower Staircase and the cloisters were both used in the movie as well.
While the highlights may be the Harry Potter spots, the college as a whole is beautiful and has a lot of history. Don't skip the chapel, the quad or Tom Tower as they're all important to the college. The chapel is also the burial site of John Locke the famous philosopher. Tom Quad is actually the largest quad of the entire university so it's definitely worth checking out!
The college is open to visits Monday-Saturday between 10 am and 4:15 pm and on Sundays between 2 pm and 4:15 pm. The visit costs 8 pounds between January and June and 10 pounds between July and December.
The audio tour/guide is part of the ticket price. I would estimate it took about 1 hour total to walk through the college and following the guide. You may want to add a little extra time for pictures
Located right next to the college is a large meadow where you can find some cows resting. It's a really nice spot for nature in the middle of the busy town and university.
Alice's Shop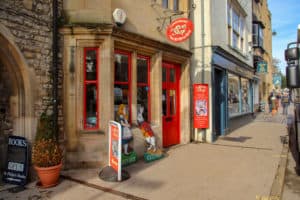 When you're exiting Christ Church College, follow the path to the right and you'll find yourself back on the busy main street of Oxford. If you make a left down St Aldgate's (specifically at 82 St Aldgate's) you'll find Alice's Shop.
Given the importance of Oxford in the history of the story of Alice in Wonderland, a souvenir from Alice's Shop is a great item to take home!
The store is open from 10:30 am to 5 pm every day. In July and August the hours extend so the store is open between 9:30 am and 6:30 pm. The store is closed on December 25th and 26th.
If you end up liking a ton of items in the store and don't want to weight your luggage down, you can actually order items online and have them shipped to yourself.
Lunch at G&D's Ice Cream Shop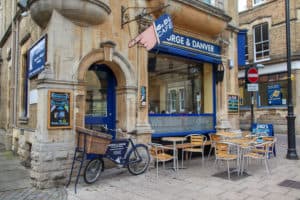 G&D's is a nice local cafe/ice cream shop with multiple locations in Oxford. They're open between 8 am and midnight every single day. There's one just down the street from Alice's Shop & Christ Church College which was a great place to stop for lunch on my itinerary.
I had a bagel sandwich and a cup of tea (obviously) and was ready to keep going with my itinerary!
You can see the locations on their website our just pop down the map below to see where they are in relation to the other itinerary spots.
Carfax Tower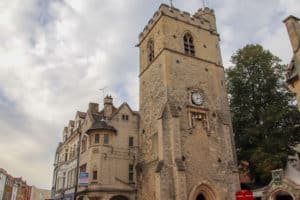 Carfax Tower is the only remaining part of St. Martin's Church which was the official city church of Oxford until the main part of the church was demolished in 1896.
You're able to climb to the top of the tower, which stands at 74 feet tall, and since no other building is allowed to be built bigger than the tower you can get a really decent view of the city. Climbing to the top involves 99 steps. I was already booked in on a 12:30 pm tour so I thought it would be cutting it a little too close and decided to skip it (plus I got a great view from University Church later on in the day).
If you are interested in climbing the tower it'll cost you 3 pounds. It's open daily between 10 am and 5 pm between April and September, between 10 am and 4 pm in March and October and between 10 am and 3 pm between November and February. It's closed on Christmas Day, Boxing Day and New Year's Day.
Bodleian Library & Divinity School Tour
There are a number of different tours you can take of the various parts of the Bodleian Library. Overall I'm not a huge tour person but the part of the library I was most interested in, the Divinity School and Duke Humphrey's Library (both featured in Harry Potter) were part of a 30 minute tour so that is what I opted to do. I was partially interested in seeing the Radcliffe Camera but since that was only included in the 90 minute tour I didn't think that I had enough time in the day to dedicate it towards that.
The tour starts in the Divinity School which was used as the infirmary in the Harry Potter films and then continues on towards the Duke Humfrey's Library which was the restricted section in the Harry Potter films. You can take pictures of the Divinity School but not of the library.
The rules within the library are quite strict to the point when many years ago a king was staying on the campus he was not allowed to take any books out. This also meant that when they filmed the Harry Potter scenes they weren't allowed to use real candles so the shots you see in the movies have the actual fire edited in!
The hours, durations and prices of the tour vary depending on the one you opt for so take a look at the different ones before going.
Sheldonian Theater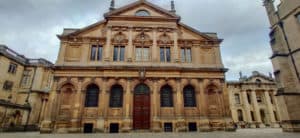 The Sheldonian Theater is another piece of stunning architecture on the Oxford campus. You can visit it both with or without a tour.
If you wish to visit without a tour it'll only cost you 3.80 pounds but a tour would cost 8 pounds.
The theater normally opens to the public at 10 am but as it is still operational it's worth looking into the hours ahead of time.
Weston Library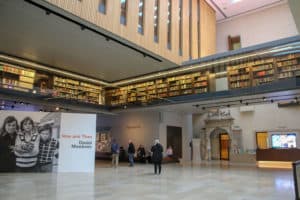 The Weston Library is stands apart from the rest of the buildings in Oxford because on the inside it's actually fairly modern and probably looks a lot more like the museums you're used to seeing but there are older features like the arch you can see in the picture of the library.
It's worth a quick walk through the lobby to see some of these details.
You can find the hours online as well as a list of all the past and ongoing exhibitions.
Oxford Natural History Museum
The Oxford Natural History Museum is located on Parks Road. There's plenty of signage around town to direct you between the buildings and towards the museums so you'll easily find it. It's approximately a 5 minute walk from the Bodleian Library buildings. Admission to the museum is free but they do appreciate donations. They're open between 10 am and 5 pm daily.
The museum is housed on two floors. It's probably a little smaller than other Natural History Museums but it's got some stunning skeletons and the large open space makes for excellent photographs. There's also a display case with some information on the real Alice in Wonderland and her visits to the museum which is quite interesting.
Pitt Rivers Museum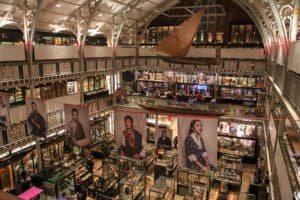 Located in the same building as the Oxford Natural History Museum you'll also find the Pitt Rivers Museum. The museum focuses on anthropology and archeology and has an incredible amount of artefacts packed into the museum. Quite uniquely, the museum sorts their artefacts by items as opposed to by age period or geographic location of discovery. For example, all knifes would be grouped together and all musical instruments would be grouped together. This would allow you to see differences and developments within one specific tool which was actually super interesting.
Like the Oxford Natural History Museum, Pitt Rivers Museum is also free to visit but they also appreciate donations. The museum is open between 12 pm and 4:30 pm on Mondays and between 10 am and 4:30 pm on Tuesdays through Sundays.
Holywell Street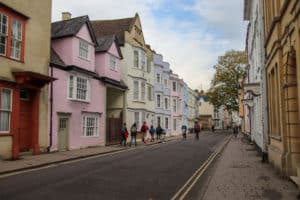 While there's nothing too significant about Holywell Street, it was a really pretty street with coloured houses (think Notting Hill in London) that was worth stopping by for a few pictures.
If you consider it a detour or you're not into that sort of thing you could easily skip this.
New College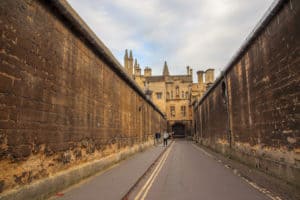 New College is another one of the quintessential Harry Potter stops in Oxford. The cloisters were used in the Harry Potter films and the ancient Oak Tree on the quad is where the infamous scene of Moody turning Malfoy into a ferret happens!
Unfortunately I did not take my own advice (and hence I'm recommending it here), and I did not look up the hours of all colleges before my visit and I missed that New College was closed on Mondays and so unfortunately I wasn't able to visit! Easily the biggest letdown of the day but I saw and experienced so, so, so many great things in the town that it ended up okay anyways.
To do better than me, make sure to check out the hours and cost on the New College website.
University Church of St Mary the Virgin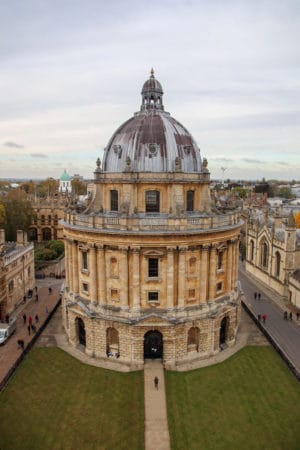 Heading back towards Radcliffe Camera and the Bodleian Library buildings you'll find University Church of St Mary the Virgin.
Visiting the church is completely free and worth doing but you're really here for the view. 5 pounds will get you access to climbing to the top of the tower.
It's 127 steps to the top and it does get quite narrow in the actual tower portion.
Once you're on top the walkway is also incredibly narrow and you'll have to squeeze past other people. Highly recommend not taking bags up here if you don't have to!
The view from the tower is incredible and it's worth noting that it's the best spot to get great shots of the Radcliffe Camera.
The church is open Monday-Saturday between 9:30am and 5pm and on Sundays between 12pm and 5pm. In July and August they close at 6pm. The Tower (and gift shop) are open during the same times as the church but the last admission to the tower is 30 minutes before closing.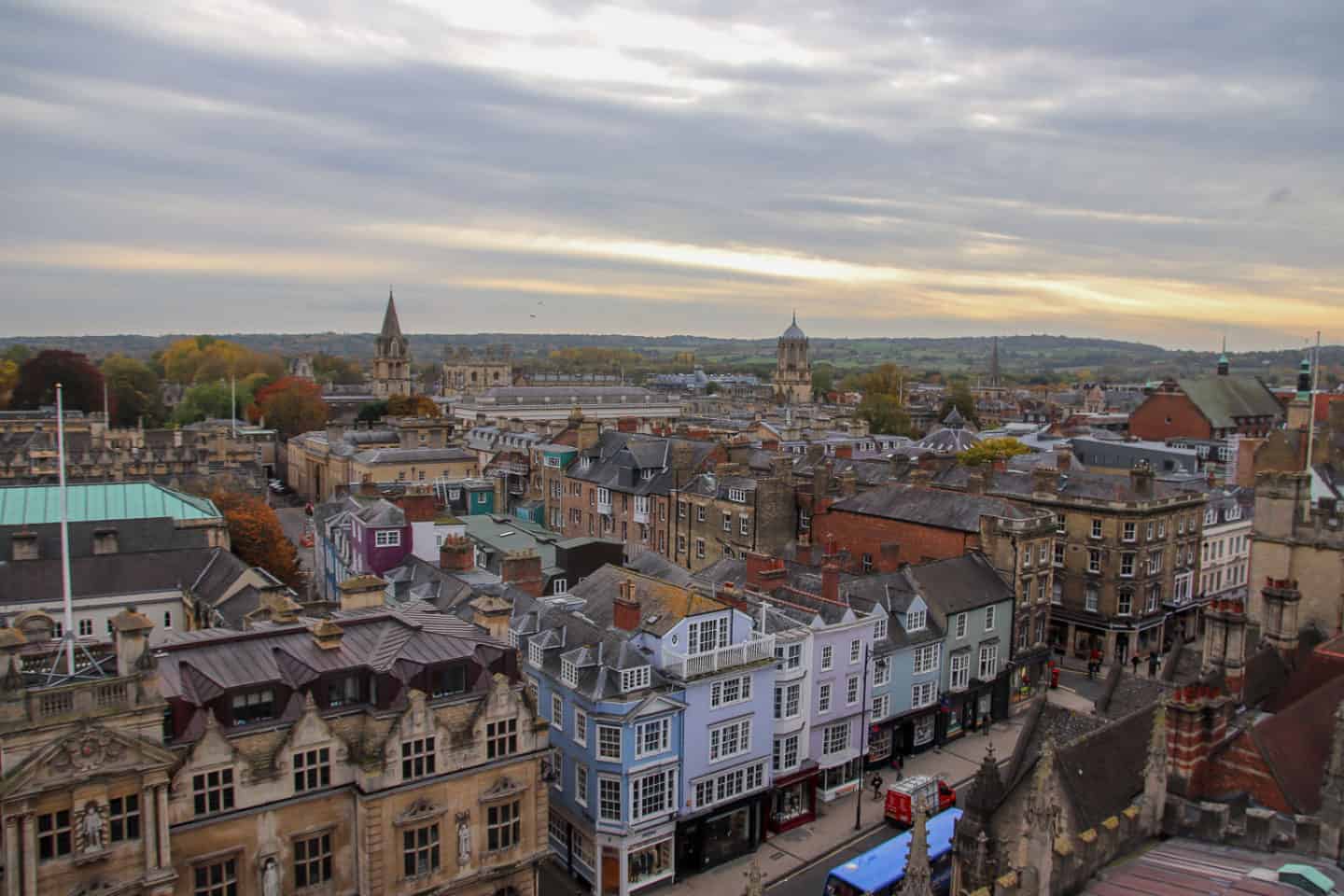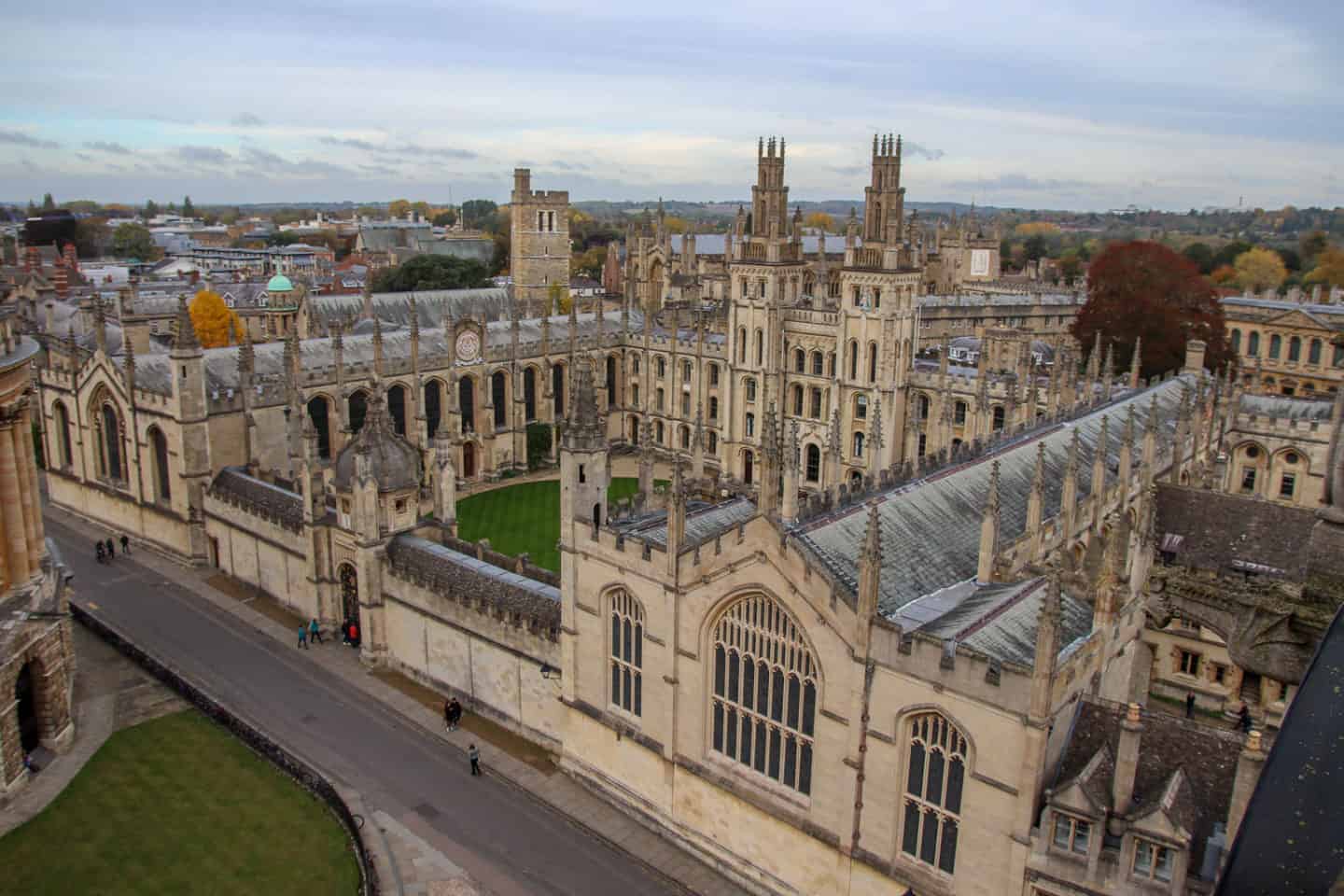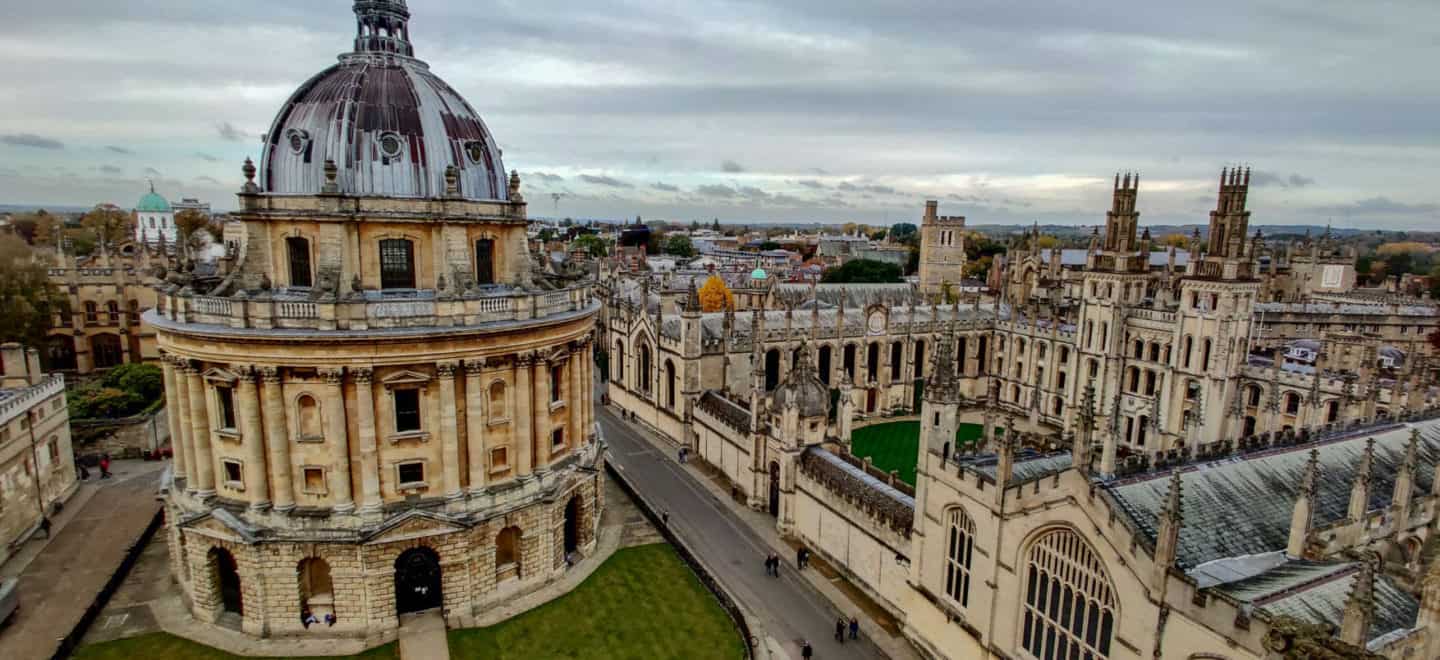 Visit the Narnia Door & Lamppost 
C. S. Lewis was a student at Oxford and after finishing his studies he returned to Magdalen College at Oxford where he taught English for 29 years. He had served in World War I and when World War II broke out he tried to re-enlist but wasn't accepted. He opened his home to children who were evacuated from London and if you're familiar the Chronicles of Narnia stories then you know that this is reflected in the stories he wrote.
C. S. Lewis is said to have gotten a lot of inspiration for the Chronicles of Narnia from his time at Oxford and there's a specific door and lamp-post that fits a lot of aspects of the stories.
The door and lamp-post can be found along St Mary's Passage between Radcliffe Camera and High Street. If you're walking towards Radcliffe Camera then the door will be on your left and University Church will be on the right.
The door is quite extravagant and has several elements that tie into Narnia and it's stories. The giant lion in the middle of the door certainly brings to mind the Great Aslan just like the golden fawns on either side of the door brings to mind Mr. Tumnus.
There are multiple locations in Oxford that are meant to be the inspiration for the lamppost in Narnia. The one that marks the beginning of Narnia. The one where Lucy Pevensie first meets Mr. Tumnus. One of the lampposts is right by the door so it's easy to see why this one in particular would have been the inspiration for Mr. Lewis.
Magdalen College
Magdalen College is home to a number of famous alumni including C.S. Lewis and Oscar Wilde. The college is one I would recommend more for the grounds than the buildings themselves. While the architecture and Grand Hall are stunning, it opens on to a great meadow which you can walk around on.
One of the great nature spots on the meadow is to walk Addison's Walk where you can walk in the same footsteps where C.S. Lewis and J.R.R. Tolkien walked.
Magdalen College is open between 10am and 7pm or dusk (whichever comes earlier) all year round but closed on the following days: June 25th to June 28th, July 19th, September 25th, October 4th and December 23rd to December 31st. Admission costs 8 pounds and closes 30 minutes before closing time.
Oxford Botanic Garden & Arboretum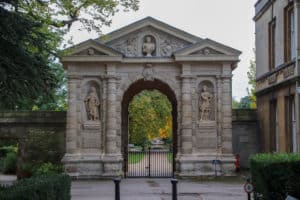 The Oxford Botanic Garden is the oldest botanic garden in Great Britain and one of the oldest scientific gardens in the entire world. It was founded in 1621 to grow plants for medicinal research and today houses over 6,000 different plants.
The Harcourt Arboretum was acquired by the University of Oxford in 1947 and became a part of the Oxford Botanic Garden in 1963. It has one of the best collection of trees including some of the world's rarest species.
Admission to the Botanical Garden and Arboretum is open to the public for a fee. Admission costs 5.45 pounds per adult and can be purchased online.
Opening hours vary by season but are as follows:
November to February: Daily, 9am to 4pm (last admission 3.15pm) and closed on December 25th and 26th
March to April: Daily, 9am to 5pm (last admission 4.15pm)
May to August: Daily, 9am to 6pm (last admission 5.15pm)
September and October: Daily, 9am to 5pm. (Last admission 4.15pm)
More Time?
If you've somehow sped through the above Oxford Day Trip itinerary then there's definitely plenty of other options for you to explore. These are some other suggestions on things to do/see but they're not definitely not an exhaustive list:
Other colleges: I've only touched on Christ Church College, New College and Magdalen College but Oxford has 39 colleges in total and you could easily spend a few days exploring the rest of them.
Ashmolean Museum: The Ashmolean Museum is not only free to enter but is also Britain's first public museum and the world's oldest university museum. With 5 different floors you'll certainly have much to explore.
History of Science Museum: The History of Science Museum is pretty much what you think it is. It's a museum dedicated to some of the different science branches but houses some pretty cool items like Einstein's blackboard.
University Parks: In the middle of town you can find this huge park with plants, trees, water and lots of different walking paths.
Modern Art Oxford: If you're interested in art then Modern Art Oxford is a great place to check out some contemporary art.
Oxford Castle & Prison: This is one of the oldest parts of Oxford (at almost 1000 years old) and you can still explore the prison wing and you can see where Legends of King Arthur was written.
The Story Museum: As the name may tell you, the Story Museum focuses on all kinds of stories through interactive exhibitions.
Punting: Punting (which is essentially going down the river in a boat) is a super popular activity in Oxford and if you're visiting in the summer (or if you've brave in bad weather) you'll want to take advantage of this. You can hire a punt at the Magdalen Bridge Boathouse.
Visit Tolkien's Grave: Located just north of town in Wolvercote Cemetery you can find J. R. R. Tolkien's grave which is almost a must do if you're a Lord of the Rings fan.
Visit C. S. Lewis' Grave: Located just east of town in Holy Trinity Headington Quarry you can find C. S. Lewis' grave.
Tips for a Day Trip to Oxford
If you're looking to visit a specific college I highly recommend looking up the hours ahead of time. Some colleges are only open specific days/hours and some require tours that sometimes sell out. You can see the hours (and costs) of the colleges on the official website.
In addition to the colleges having specific hours, the may shut down parts of it without notice due to regular school operations.
When you visit will make a big difference on crowds – I visited on a weekday in October when school was on and there was way less tourists/visitors then I would have expected.
While there are local buses that run throughout the town, if you're sticking to the above itinerary and/or the major sights then you won't really need it. The core of the town is incredibly walkable and you'll be able to take in so much more while walking around.
Map of all the things to do in Oxford
To make your planning slightly easier I've put together a map of all of the above points of interest for you to use for your planning:
Tour or no Tour?
So, personally I opted against a tour just because I in general prefer not to do tours but there are plenty of short and long tours out there. I spent a full 3 weeks in London on what was my 6th visit so I wasn't exactly short on time but if you are then doing a combined tour may be the best option. There's many, many options out there and Oxford can be combined with anything from Cotswold, Downtown Abbey or Stratford-Upon Avon. I'd highly recommend reading the reviews in addition to what the tour includes. If you have your heart set on a specific landmark do make sure that the tour includes that.
There you have it! Everything you need to spend one day in Oxford whether it's on a daytrip from London or not.As always, please pin this post for your own upcoming trip and let me know if you have any questions and I will gladly assist in any way I can.