Gatineau is a small town located right across the river from Ottawa in Quebec, Canada. While there are a ton of things to do in Ottawa, Gatineau is a nice destination for a weekend away and one of the things you must do when you're there is to take in the wonderful Gatineau Park. Read on for some suggestions on things to do while hiking Gatineau Park and as always let me know in the comments if you have any questions.
Gatineau Park is a stunningly large 361-square kilometer park with trails, lakes, look out points and so much more. Best of all is that it's completely free to visit the park. In the summer, you have to pay for parking at the beaches and the Mackenzie King Estate however. In the winter you can buy a number of different passes for the winter activities. I'd recommend starting your visit with a stop at the visitor centre before heading out to your hikes or destinations within the park!
Explore the Visitor Centre
My recommendation is to have your first stop be at the Visitor Centre. It's located at 33 Scott Road, Chelsea, Quebec J9B 1R5. You'll be able to pick up a map and get up to date instructions on which roads/trails are open and accessible. The visitor centre also has a proper toilet (not a dry toilet) and free wifi. If you've got kids with you there's some interactive displays that they can take part in.
There's also a dining room available to eat your packed meals in and if you're in the market for any souvenirs you can pick some up at the visitor centre.
The hours of the visitor centre are as follows:
November 1 to April 30:
Monday to Friday, 9am to 4pm
Saturday and Sunday, 9am to 5pm
Closed on December 25
December 26 to January 3: Open daily, 9am to 5pm
May 1 to October 31:
Open daily, 9am to 5pm
Hike King's Mountain
Climbing King's Mountain (344 meters high!) is one of the must do things in Gatineau Park and while the incline can be a little difficult it's definitely a beautiful hike worth doing. The trail goes through different forests, which is noticeable due to the change in trees, and opens up to some pretty stunning views of the Ottawa Valley.
To find the trail for King's Mountain look for Lac Black on your maps. There will be a parking lot right by it which is right at the start of the trail.
The trail is a loop trail that is 1.8 km long. The elevation gain is 84 meters and the walk is rocky along portions of the trail but it's a relatively easy hike when flat. The portions with stairs are the steepest (there's definitely way more stairs than my unfit body liked but it's not unreasonably hard).
One of the cool stops of the King's Mountain trail is the first geodetic station that was built in Canada. It's now a historic site and there's an memorial sign on it explaining the significance and history behind it.
The trail has free parking and universally accessible dry toilets by the trail. There are also picnic tables which are accessible but the trail itself is not.
If you're taking your pets (including dogs) to Gatineau Park please note that they're not allowed on the King's Mountain trail!
Please note that the King's Mountain trail closes for the winter. You need to access it through the Champlain Parkway and this closes on the last Sunday in October. To keep up to date with the road closures in Gatineau Park I'd highly recommend checking out their website before heading out.
Hike to the Carbide Willson Ruins
One of the great hikes within Gatineau Park is the one to the Carbide Wilson Ruins. It's a fairly flat and easy hike and one that everyone can partake in. The really interesting part of this hike is the history behind the ruin.
There are signs (although they are slightly damaged) that explain the story of the ruins but to summarize: Thomas Wilson settled in the area in 1907 to study chemical fertilizers. He had made his fortune with his discoveries and inventions in electrochemistry and considered the site ideal for daring experiments. He earned the nickname "Carbide" by creating the process by which calcium carbide is made. Willson eventually went bankrupt and the estate he had built was given to one of his investors who didn't care for it and let it fall to ruins which is why it's in the state it is now
To get to the trail for the Carbide Willson Ruins head towards Meech Lake. Right before Meech Lake you'll find parking lot 11 (O'Brien Beach Parking Lot) on the right side. This is where you'll park and find the beginning of the trail. Keep in mind that because it's a parking lot shared by a beach there is a fee to park there (according to recent reviews it's as high as $12).
The trail to the ruins is a 4.4 km round trip. It's fairly flat and is easy enough for most people to hike. If you don't have any specific plans to see Meech Lake then the Carbide Willson Ruins is a great trail because you'll hike past the lake and get to take in a pretty great view of the lake. The area around the ruins also has a really nice waterfall and plenty of places to sit down o the rocks after your hike there.
Like the King's Mountain trail, the Carbide Willson Ruins trail closes in the winter as it's used for cross country skiing.
If you're hiking to the Carbide Willson Ruins you'll actually be passing Meech Lake so you'll get a chance to explore one side of it that way but if you're interesting in spending more time around the lake that's doable as well!
If you're interesting in swimming, Meech lake is bordered by two beaches: O'Brien Beach and Blanchet Beach. They've both got dry toilets and changing rooms. As mentioned above, parking applies at both beaches.
Meech Lake is also surrounded by a big looped trail often called Giant's Trail or Meech Lake Trail. It's a 17 km looped trail that follows the rough shape of the lake.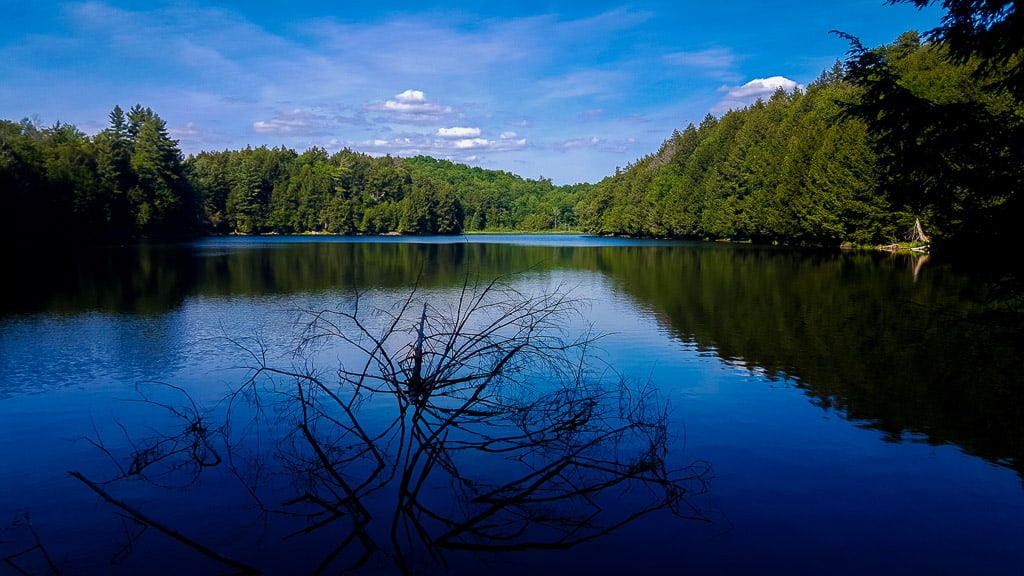 Take in the sunset from Champlain Lookout
The Champlain Lookout is at an altitude of 335 metres and is on the edge of the Eardley Escarpment which marks the southern boundary of Gatineau Park. From Champlain Lookout you get a fantastic view of the St. Lawrence Lowlands the Eardley Escarpment, The Canadian Shield and the Ottawa River. The Canadian Shield is some of earth's oldest and most resistant bedrock It covers 4.5 million square kilometers which accounts for almost one half of the total area of Canada.
The area gets busy so you'll usually see lots of cars here but it's worth the crowds for the stunning sunset views.
Champlain Lookout also has a trail which is on the easier side. The trail begins at the lookout and is 1.3 km long and is fairly flat so it's a lot easier than some of the other trails.
Visit the Mackenzie Estate: Kingswood
Mackenzie Estate is a giant 231-hectare country estate that belonged to William Lyon Mackenzie King who was Canada's 10th prime minister and Canada's longest-serving prime minister. Prime minister King building the property for 50 years and then gave the estate to all Canadians.
The estate has more than 10 cottages available to the public that act as museums now. Kingswood is one of the smaller cottages but it's also the original cottage where the former prime minister made a home for himself. He later moved on to Moorside which is really what became his vision for the estate.
There's also a very popular tea room at Moorside Cottage where you can enjoy a great meal after having strolled around and taken the estate in.
Explore the Abbey Ruins Portion of Mackenzie Estate
At Moorside Cottage specifically you can explore some ancient roman ruins named Abbey Ruins. The former prime minister salvaged architectural fragments from buildings that were being repaired or demolished. The Abbey Ruins have been pieces from the Canadian Parliament buildings that were destroyed by fire, from grand homes around Ottawa and from British Parliament buildings that were destroyed in the blitzkrieg-era.
King's intention was to create a chapel from the stones but he did not have enough material and so a gothic abbey and a Greek temple, amongst other things, were created.
The stones were preserved and integrated into the landscape and is now a days used as a photo opportunity for many of the visitors.
Hours
Access to the grounds and museums is free at all times.
Museum and cottages
May 17 to October 20, 2019
Weekdays: 10 am to 5 pm
Weekends: 11 am to 6 pm
Tuesdays: Closed
Café and tearoom
For menu and hours, or to make a reservation, visit tandco.ca.
Pink Lake Observation Lookout & Trail
Before you get excited I have to warn you that Pink Lake is not actually Pink. It got its name from the family that settled nearby the lake.
Pink Lake is a meromitic lake (essentially the top and bottom layers of water don't mix) and the green color of the lake comes from the algae that grows in the lake. Ironically the algae is actually bad because it takes over the oxygen around the lake but it does produce that nice green color.
There are two ways to explore Pink Lake. One is an observation deck right off the parking lot that gives you a view of the lake from above. The second way is the 2.5 km hike around the lake. It does involve some staircases so be prepared for that. There are signs around the lake describing the ecosystem and plenty of lookouts with beautiful views.
Looking for more to do?
If you're looking for more things to do in the park these are some options:
Explore Lusk Cave. Lusk Cave can be found in the Phillipe Lake Area and is an easy 10-km round trip hike with interpretive signs.
Hike Wolf Trail. This trail is on the difficult site and can be reached from parking lot 13. It's a 7.9 km loop that has many uphill portions and is definitely not for everyone. Set aside at least 3-4 hours for this hike.
Hike Luskville Falls Trail. While not as long as the Hike Wolf Trail, the Luskville Falls Trail is difficult because you're hiking at an incline the entire time. The round trip is 4.6 km.
Hike some more. There are a number of trails around the park not mentioned in this post that are worth checking out as well.
Visit some of the other lookouts. While Champlain lookout offers some stunning views, it's definitely not the only viewpoint in the park and it's worth checking out some of the other ones as well.
Spend some time by the lakes. While Meech Lake and Pink Lake are incredibly well known there are alternatives in Philippe Lake and La Pêche Lake
It should go without saying that if you're visiting the park please make sure to be respectful and leave no trace! Pick up your trash and make sure to take anything you bring with you back out of the park.
After you've spent a day hiking, why not make your second day a stop at Nordik Spa? It's a fantastic way to disconnect and super relaxing.
Have you visited Gatineau Park? What was your favourite stop/activity? Let me know in the comments and pin this post for your own upcoming visit?