I don't often get the chance to enjoy long layovers because I usually try to minimize my flight times so I can enjoy more of my actual destination. Our recent trip to the Middle East was an exception. We had to fly back two days before we were due back at work because of the flight availability out of Cairo and that meant we could try for a longer layover and it perfectly matched up so that we could have a layover in Frankfurt. I had the opportunity to go to Berlin a couple of years ago but actually purposefully missed my flight so I could have a couple of days more in Sweden with family so I was super excited about the opportunity to finally get to see a small portion of Germany. We had a 7 hour Frankfurt Layover and were determined to make the most of it and I think we did. If you're in the same position or if you're just exploring Frankfurt as a day trip then read on for how to make the most out of your visit!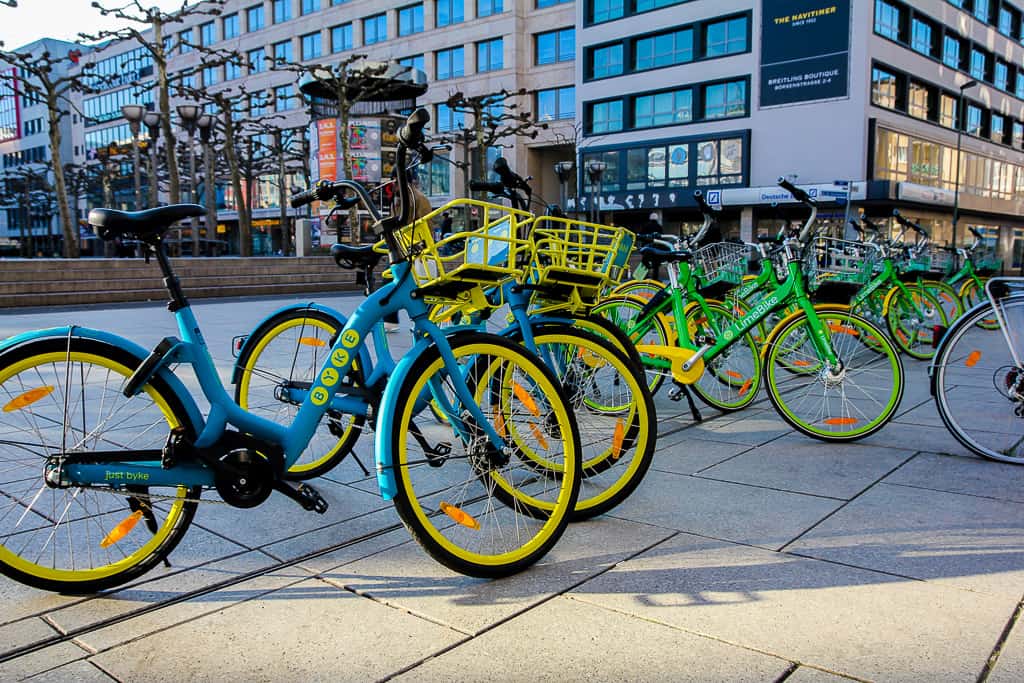 Getting into Town
Once you've cleared immigration (make sure you're allotting enough time for this) you can buy tickets around Terminal 1 and then the regional train station is in the basement of Terminal 1 by the Arrival Hall. You'll be looking for the regional trains or the S-Bahn which will be indicated by a big green S sign and most likely you'll be looking for track #1 which you can find downstairs by taking the escalator.
An all-day metro pass costs 16.60 euros for the group pass which was good for two adults (actually covers up to 5 people!). It's good for all local transit (regional trains, S-Bahn trains, U-Bahn (metro), trams and buses). Keep in mind that the all-day passes are valid for the day they're purchased on and not for 24 hours! If you're looking for single tickets these cost 4.75 euros for the one way ticket. Unless you're travelling solo it's probably more cost effective to get the group pass which allow you to jump on and off the trains/buses all day long without worrying as well. If you are a solo traveler there's a day pass for you as well which costs about 8.90 euros. The machines for the tickets are very obvious and will sometimes have lineups in front of them. Once it's your turn you'll just use the touch screen to purchase your tickets. There's an option to use the machine in English and overall they're fairly simple to use. We used a 20 euro bill but there was an option to pay with cards. Keep in mind that not all machines abroad take American/Canadian credit cards (I've had this problem elsewhere).
For what it's worth, the trains operate on an honor system. Nobody checked our ticket a single time but from my research it looks like you'll be hit with a pretty heavy fine right away if you can't produce a ticket (about 40 euros from what I've read).
The train ride from the airport into the Main Station (Hauptbahnhof) is very quick and takes about 11 minutes (it's only 3 stops). If you don't have any luggage to put away you can get off at Hauptwache instead of the main station (5 stops from the airport) which is where our self-guided walking tour starts. The trains run fairly often (every 15 minutes or so) and starts running around 4:15 am until late at night. To actually search out the routes you can do so here.
If you've got any questions there was plenty of staff around in the central station directing people where to go based on the train and destination they were looking for!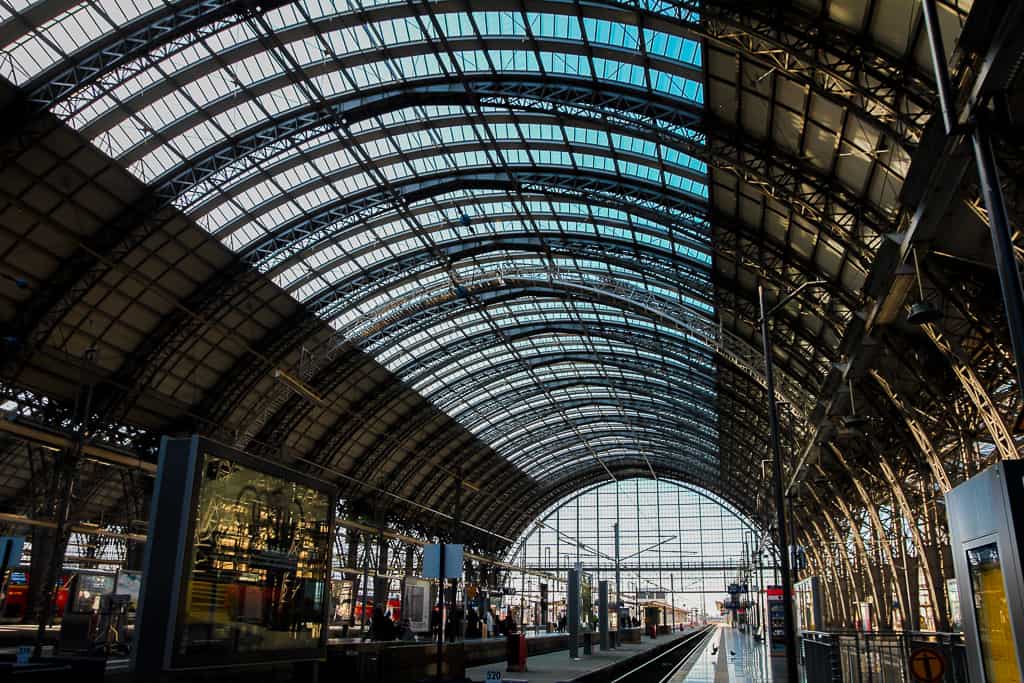 What to do with your luggage
The easiest place to store your luggage is at the central train station in Frankfurt where there are luggage lockers. Once you walk up the stairs to the main level of the station and past the customer service station you will find the luggage lockers all the way at the end of the station (along platform #23) and on the left hand side. There are two sizes of lockers depending on what you need. The smaller locker costs 3.5 euros while the larger one costs 5 euros. The larger ones are really big and will fit multiple carry on luggage pieces. Please note that you will need coins to deposit your luggage in the lockers. There's a McDonald's in the train station in addition to some other restaurants that can hopefully give you change if you don't have any.
There's another option which is to leave your luggage at the airport but when we looked into this they were charging something like 7 euros per piece and it just didn't make sense to us.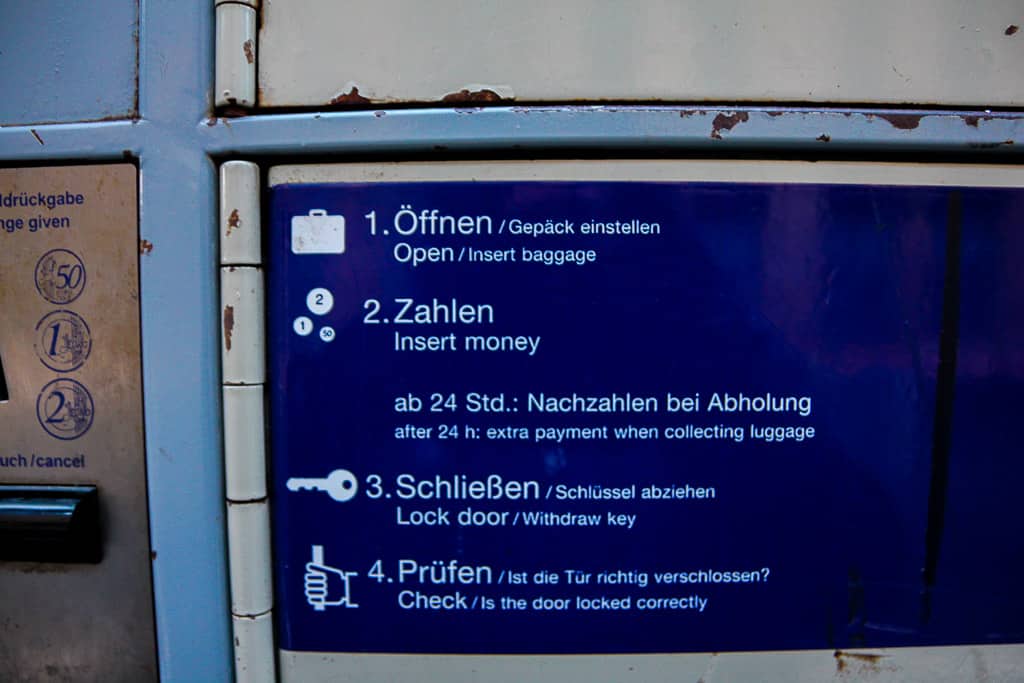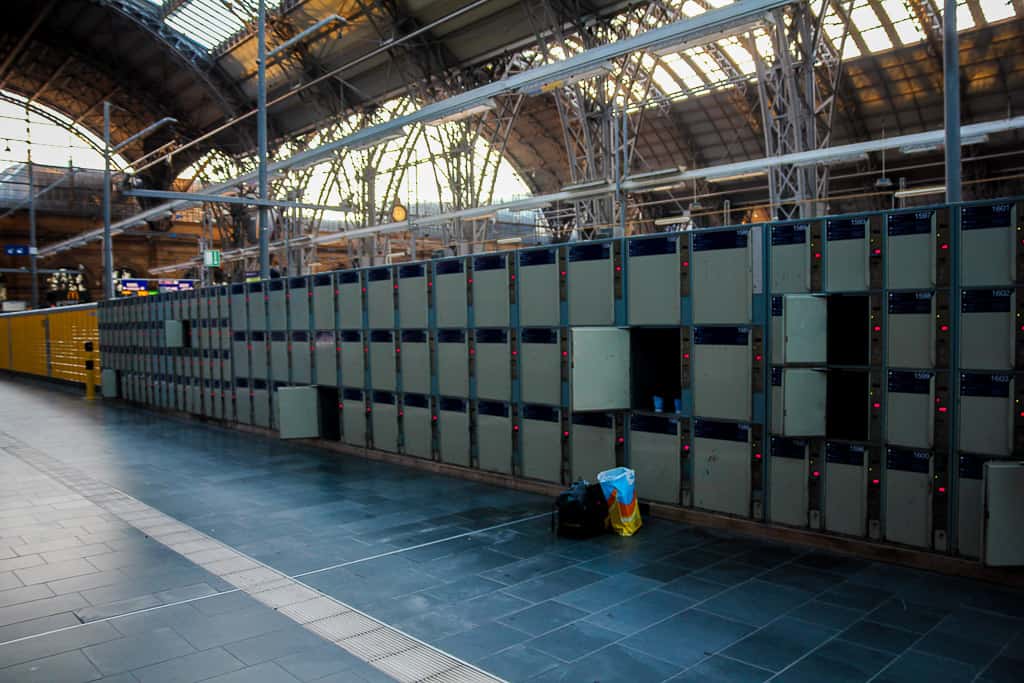 Map of Sights to See During a Frankfurt Layover
I've put together a map of all the points that we hit up on our walking tour. They're in the order that we did them and the order that I recommend doing them below but given how easily walk-able most of them are you can definitely pick and choose depending on how much or little time you have and weather conditions!
Self-Guided Walking Tour
Hauptwache
Your first stop will be at the Hauptwache station. If you've got no luggage to lock up you can head here straight from the airport. Hauptwache is a historic Frankfurt plaza with a couple of important buildings. The one that stands out the most is Katharinenkirche (St Catherine's Church). It's the largest protestant church in Frankfurt and it was severely damaged in 1944 which is when most of the square was severely damaged during the war.
The middle of the plaza is sunken down and has a couple of food places and some shopping. It's also the entrance to the train station and is unsurprisingly called das Loch which means the hole in English. The plaza itself connects to a ton of shopping streets and if you're here on a day/time that isn't Sunday morning (unlike us haha) then you can have a look around in the stores as well!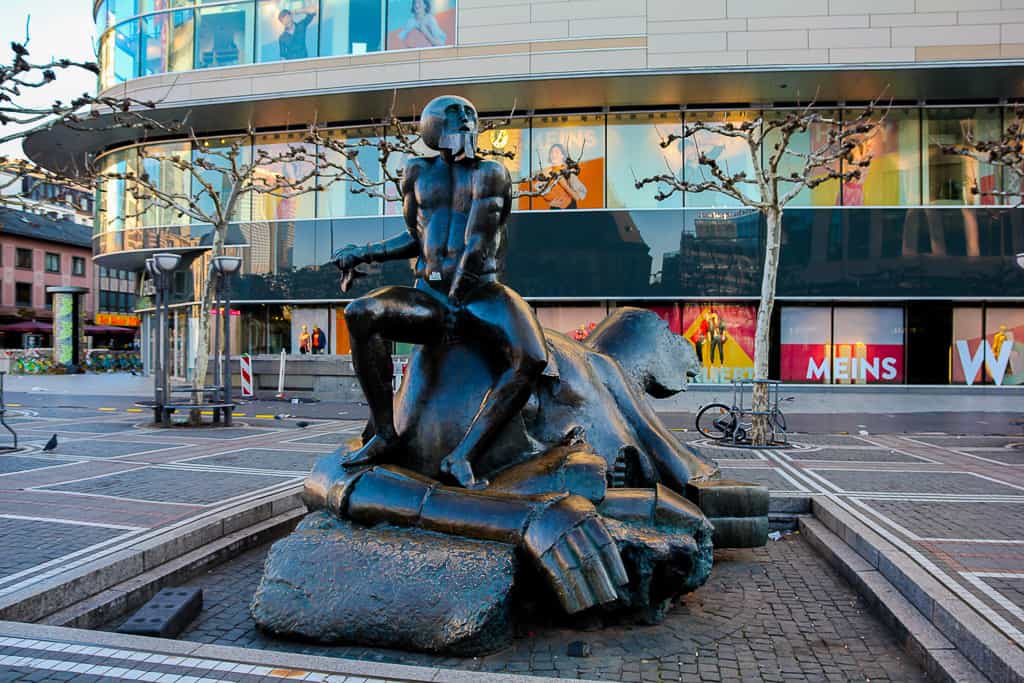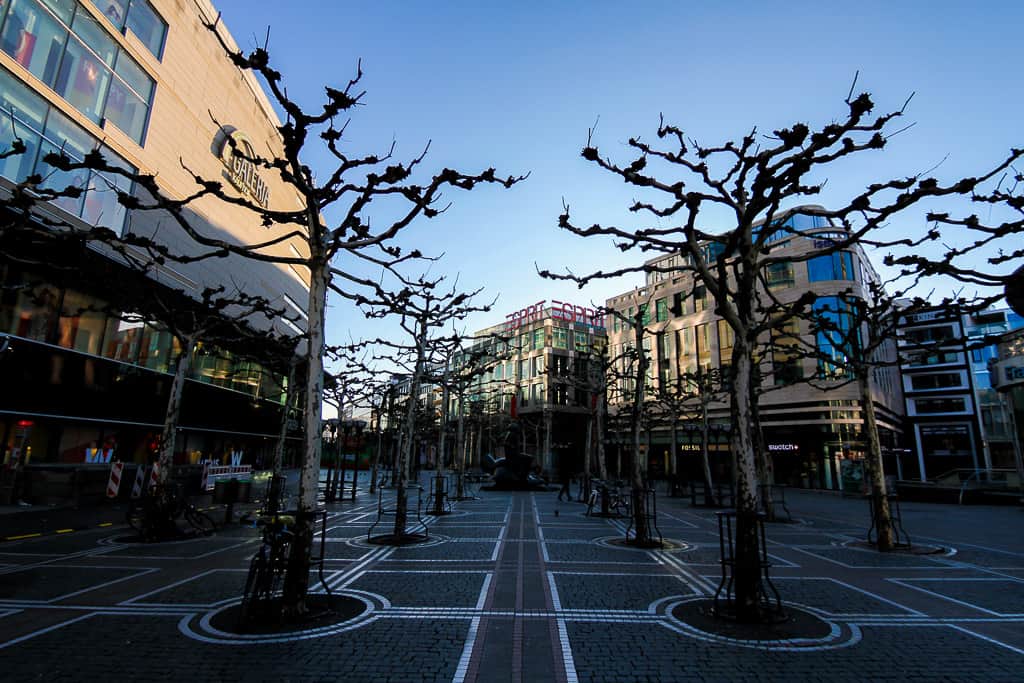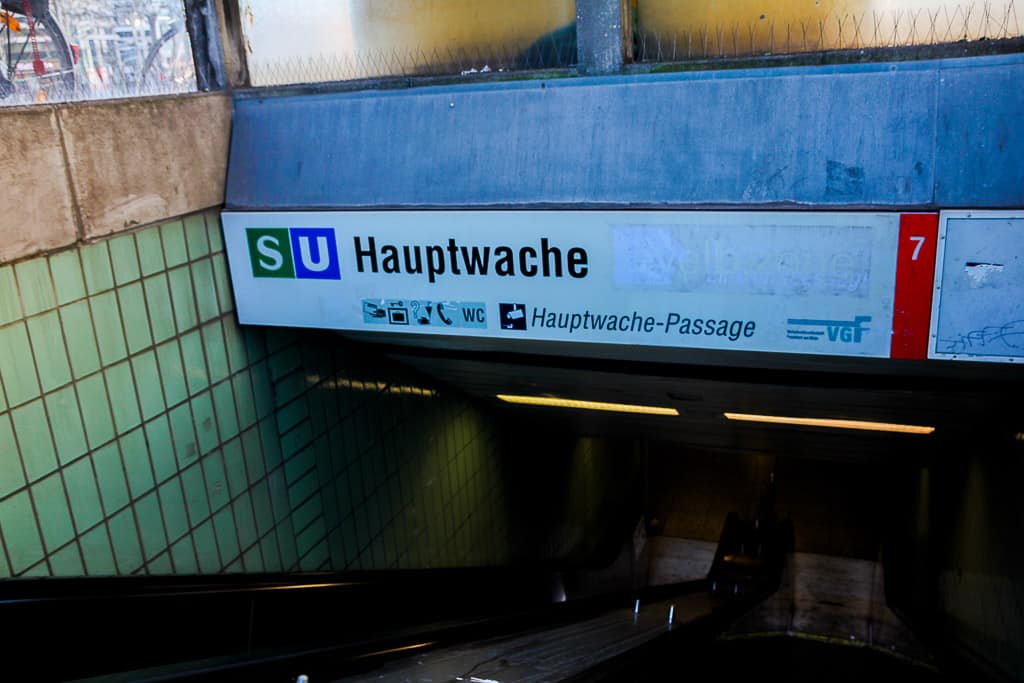 Bulle & Bär (Sculpture)
To get to the Bull and Bear sculpture from Hauptwache all you have to do is walk straight down Schillerstraße which is the street located between the McDonald's building and the Wormland one and after about 100 meters you'll see the square with the statues on your left. This is about a 2 minute walk.
The Bull and the Bear is a set of sculptures that's located outside of the Frankfurt Stock Exchange. They were erected in 1985 and made by Reinhard Dauchler. They're meant to represent the up and down of the stock market but we just had fun posing with them.
The Stock Exchange building itself is a really nice building as well and quite impressive in the middle of the square.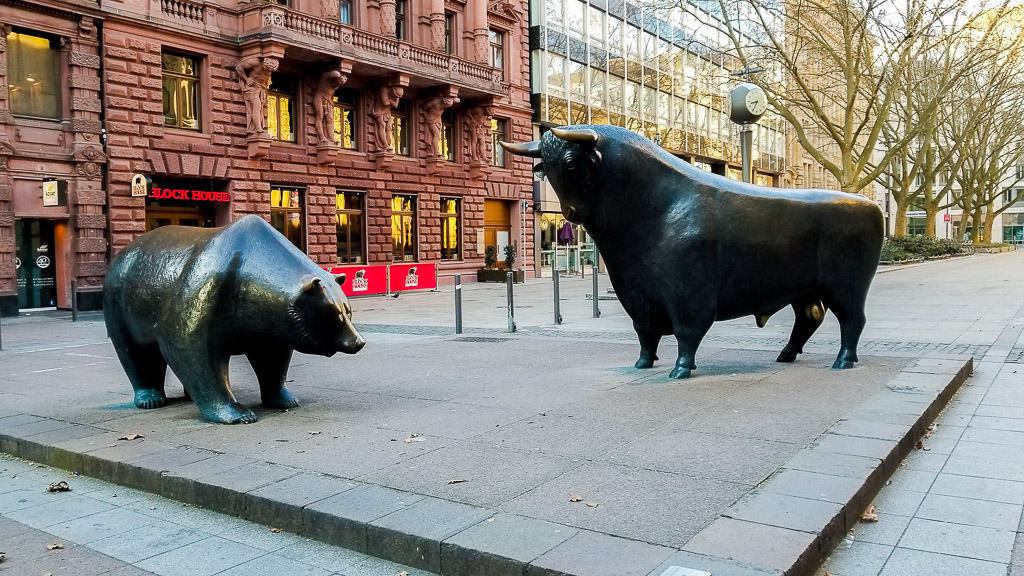 Eschenheimer Turm
To get to Eschenheimer Turm from the Bull and Bear statues you just continue down Schillerstraße which is the street you came down to see the sculpture. Once you've walked about 220 meters make a right onto Eschenheimer Tor/Große Eschenheimer Str. and you'll be able to see the tower. It's only about a 4 minute walk from the statues. You'll find that being right underneath the tower doesn't make for the prettiest picture so check out a few angles around it to see all sides!
The tower is an originally standing guard tower from Frankfurt's outer defensive wall which was built in 1425. It's also Frankfurt's oldest standing structure since a large majority of Frankfurt was damaged/destroyed during World War 2. The tower stands tall at 47 meters high and has 8 levels and 2 attics. There's now a restaurant/cafe in the tower that you can visit as well if you'd like to.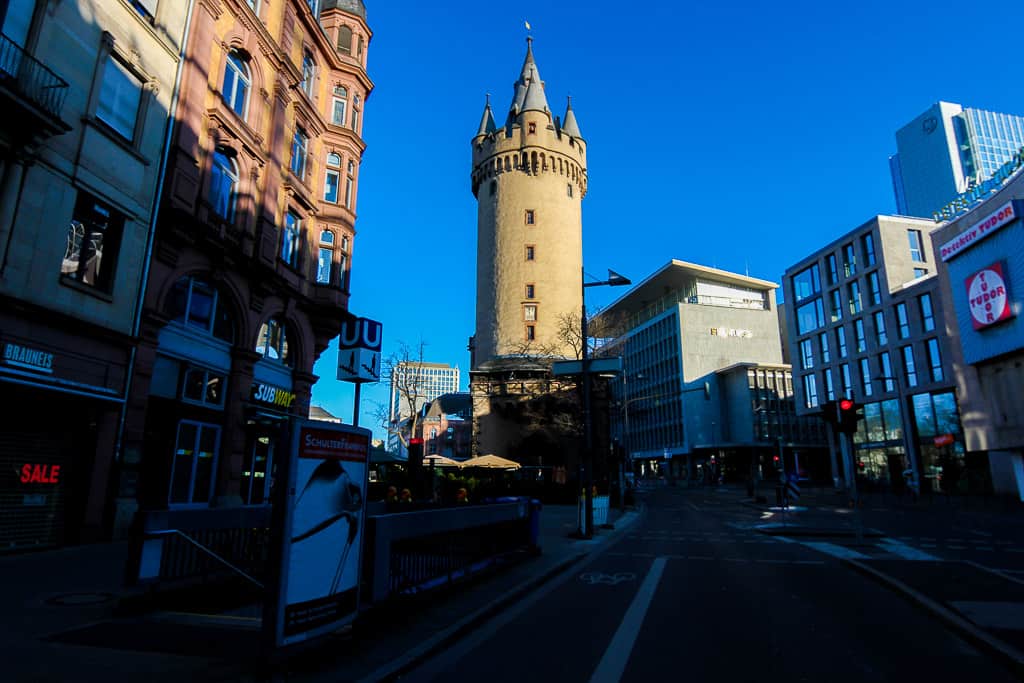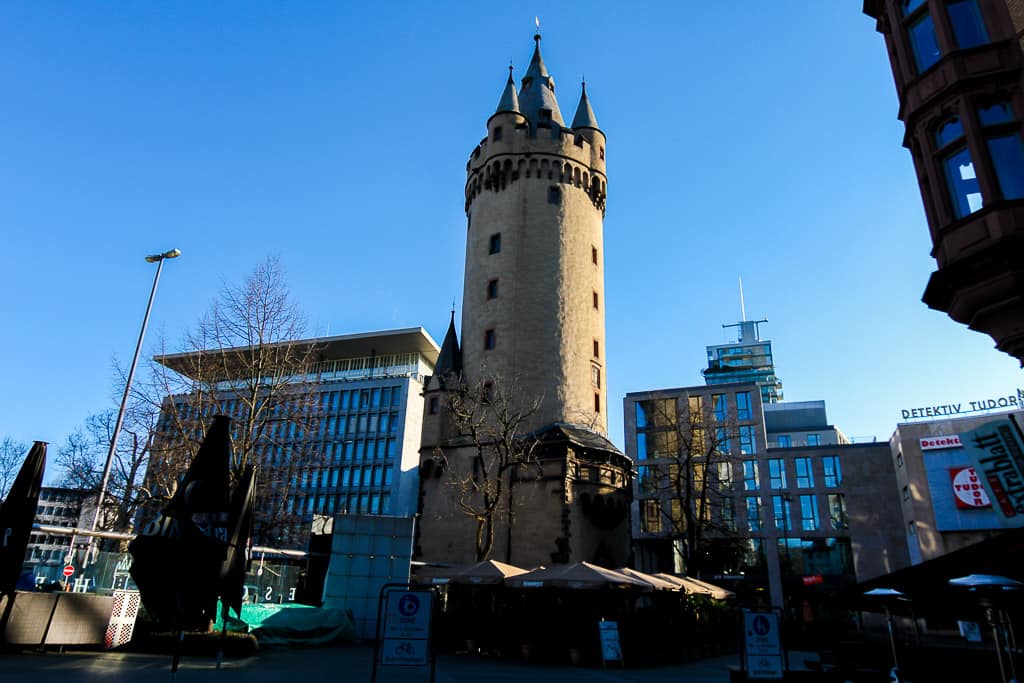 Thurn und Taxis Palais
To get to the Thurn and Taxis Palace from Eschenheimer Turm you have to walk south on Eschenheimer Tor/Große Eschenheimer Str. toward Stiftstraße. You'll hit the Palace after about 170 meters. You can walk around it to see all angles. It's about a 3 minute walk from Eschenheimer Turm.
The Thurn and Taxis Palace was the palace and home of the German nobility family by the same name. The family is one of the wealthiest in Germany and the current head is Prince Albert II. The palace was damaged in the bombing of Frankfurt during World War 2 (like most of the city) but actually could have been rebuilt. But for some reason it was demolished a few years later and only rebuilt in the 2000s.
It now houses some shops and a restaurant called TNT which serves German food. An option if you're getting hungry at this point in your walking tour!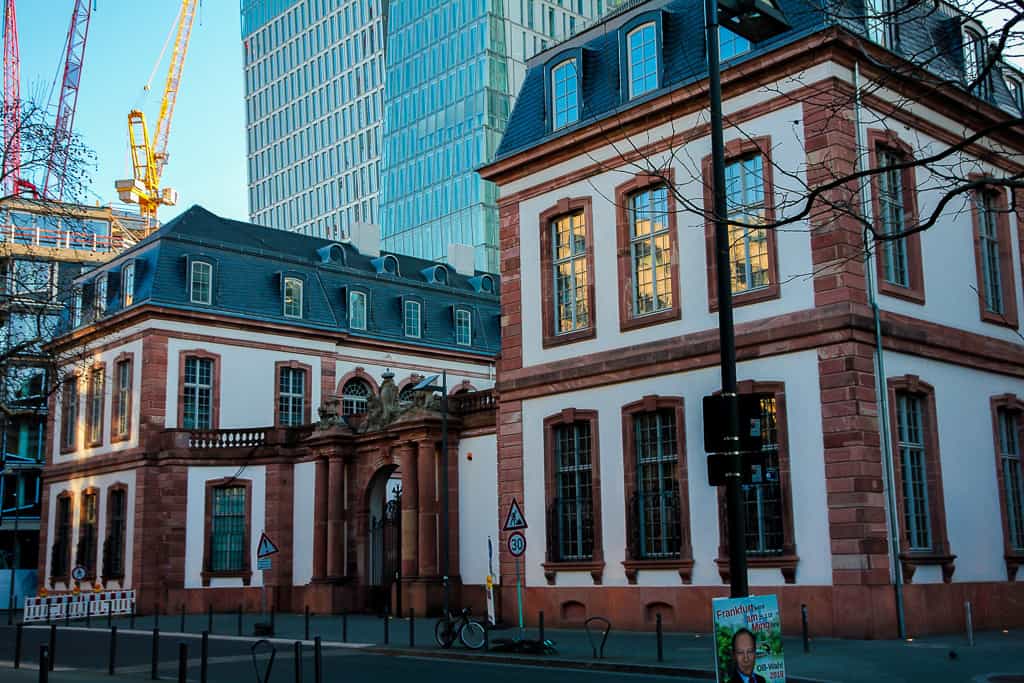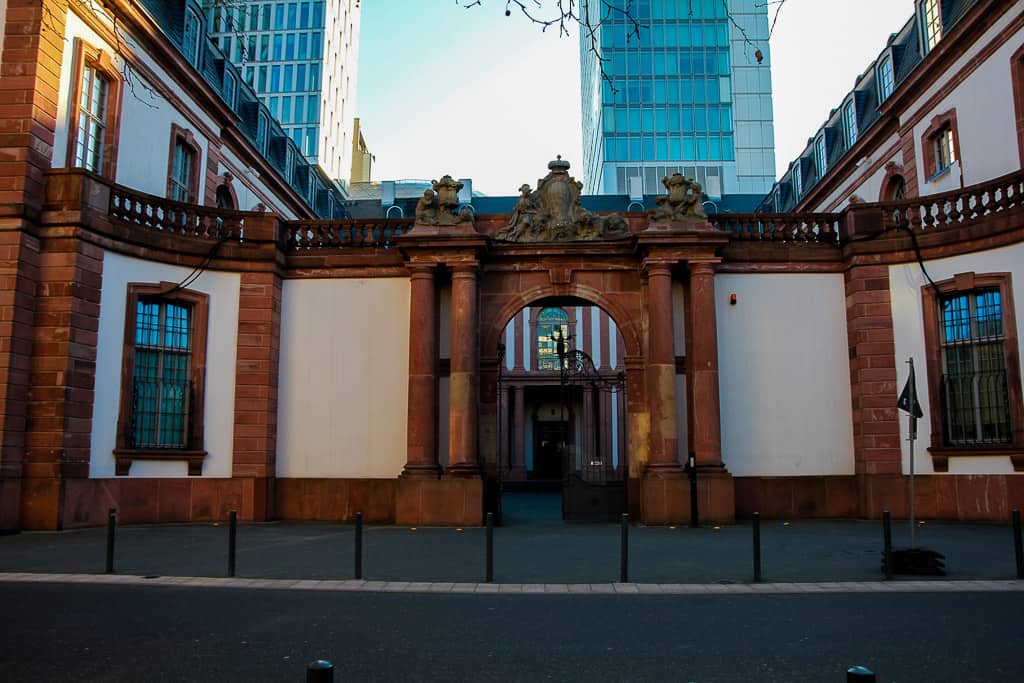 Jewish Holocaust Memorial Wall
You can either take the 12 minute walk to the Jewish Holocaust Memorial Wall from the Thurn und Taxis Palais or reduce that walk by jumping on the train real quick. Since we had the all day pass and were absolutely freezing this is what we opted to do. Hauptwache station is just down the street from the Thurn und Taxis Palace and from there you can ride one station to Konstablerwache. From here it's a 4 minute walk to the Jewish Holocaust Memorial Wall.
The Memorial Wall can be located behind the Jewish History Museum. The museum didn't open until 10 am so we didn't get a chance to go inside but I would have loved to. If you've got more time than us check out the More Time section below for some information on the museum and other things to see in Frankfurt.
The memorial wall contains 12,000 cubes which have the names of Frankfurt Jews that were deported and killed by the Nazis. Stretching down a city block, it's a very powerful and emotional sight and one we definitely spent the most time at. There's one particular cube which brings a little bit more attention to it. The name inscribed on it? Annelies Frank. Anne Frank was born in Frankfurt and later moved to Amsterdam with her parents which is where the family was eventually found and taken to Auschwitz. While I think you should take your time walking down the line of cubes to take in just how much damage was done to even one city's population if you're here just to see the cube with Anne Frank's name then it can be found on the piece of the wall facing the street and it's about halfway through.
I found the project incredibly touching and it was easily one of my favorite things we saw in Frankfurt. World War II had such a profound effect on Frankfurt with almost the entire city being destroyed and with such a large part of the population feeling the effect of the Nazis.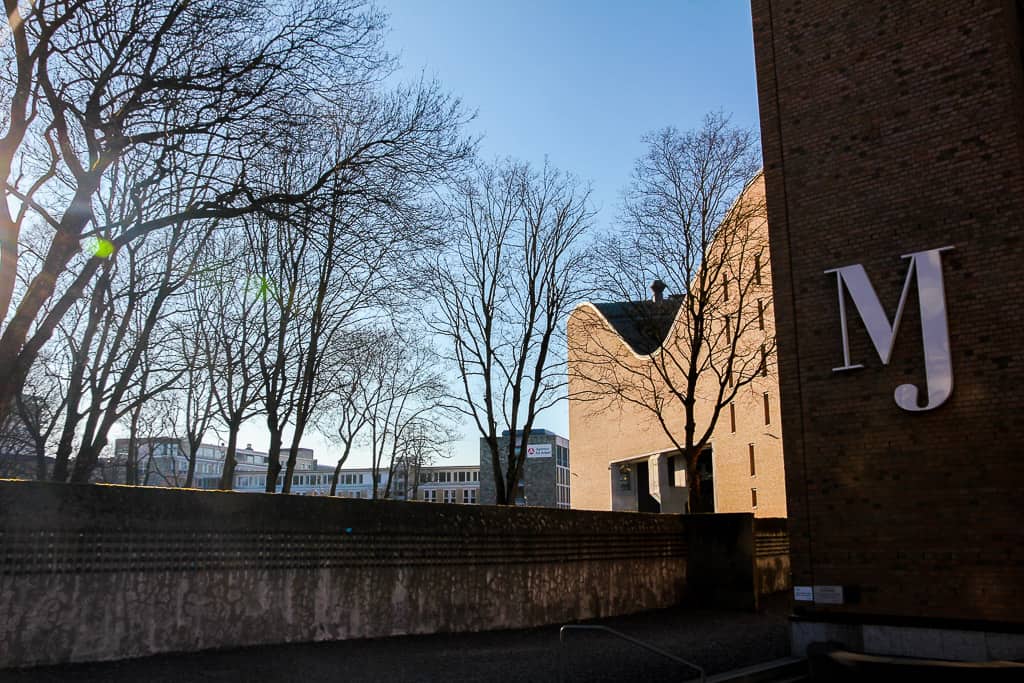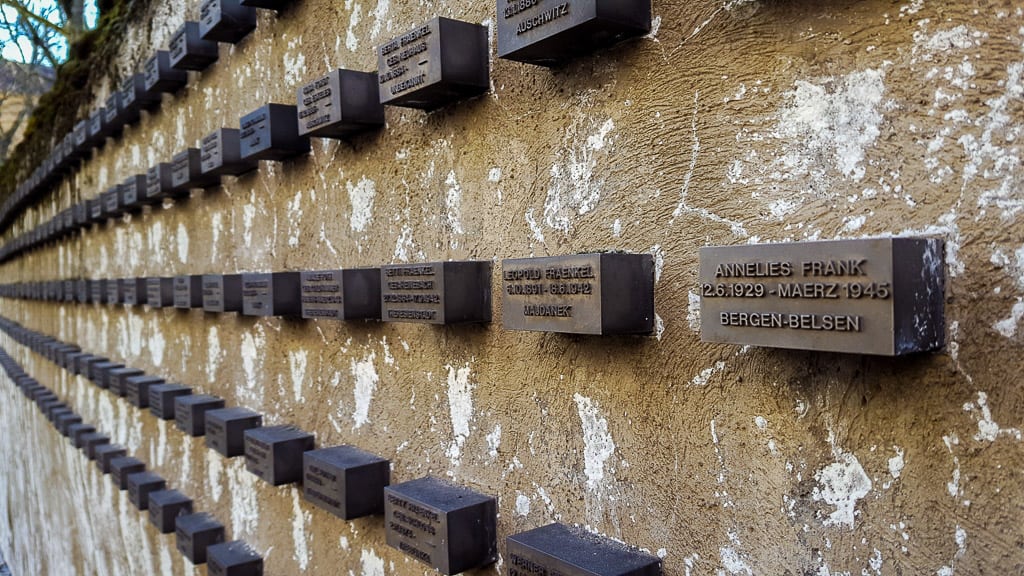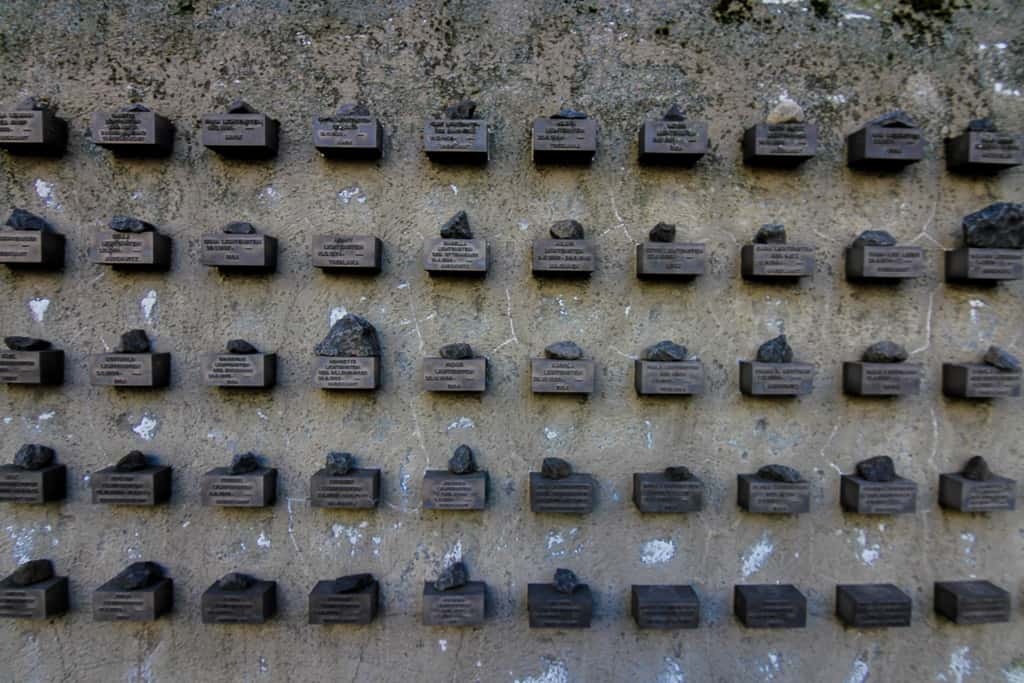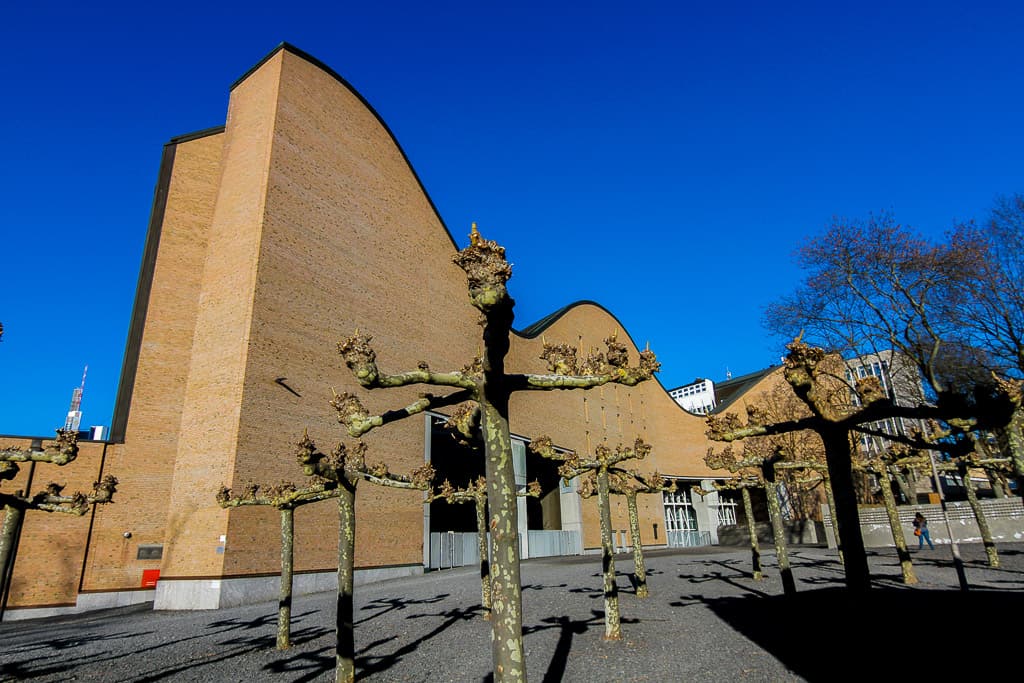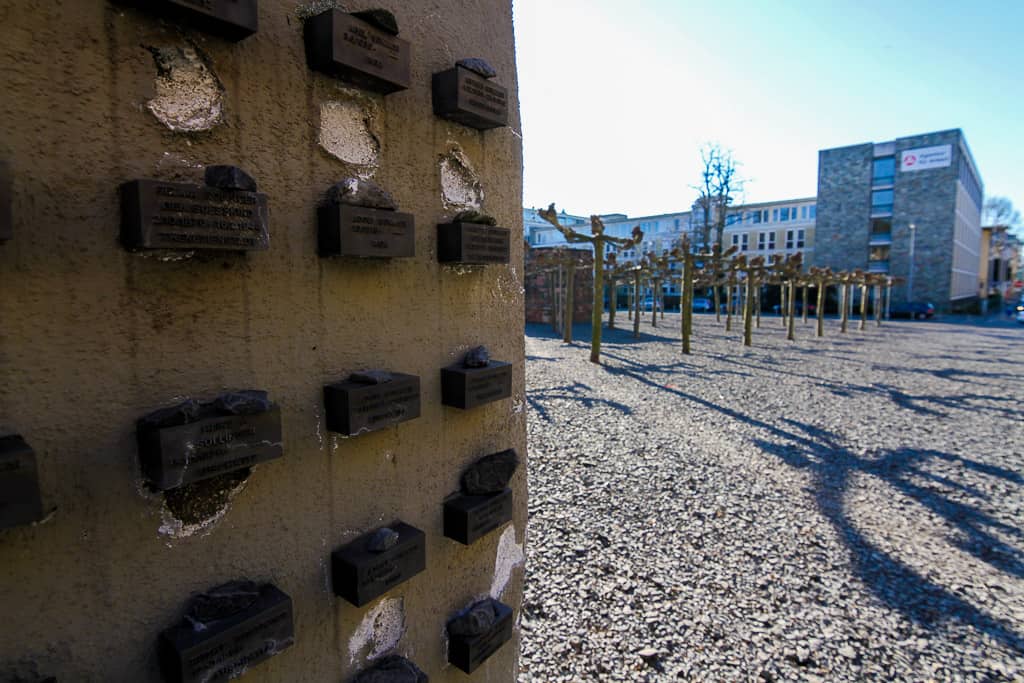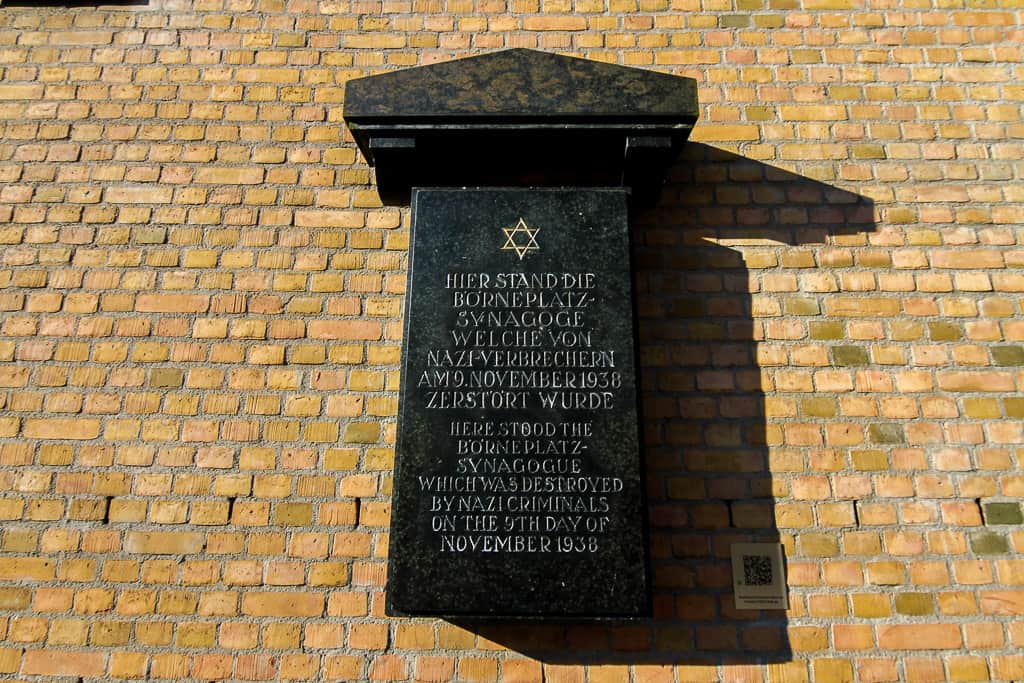 Medieval Jewish Cemetery
The memorial wall surrounds one of the oldest and largest Jewish cemeteries in Germany and while you can't access the cemetery it was such a symbolic landmark I think it deserves a mention.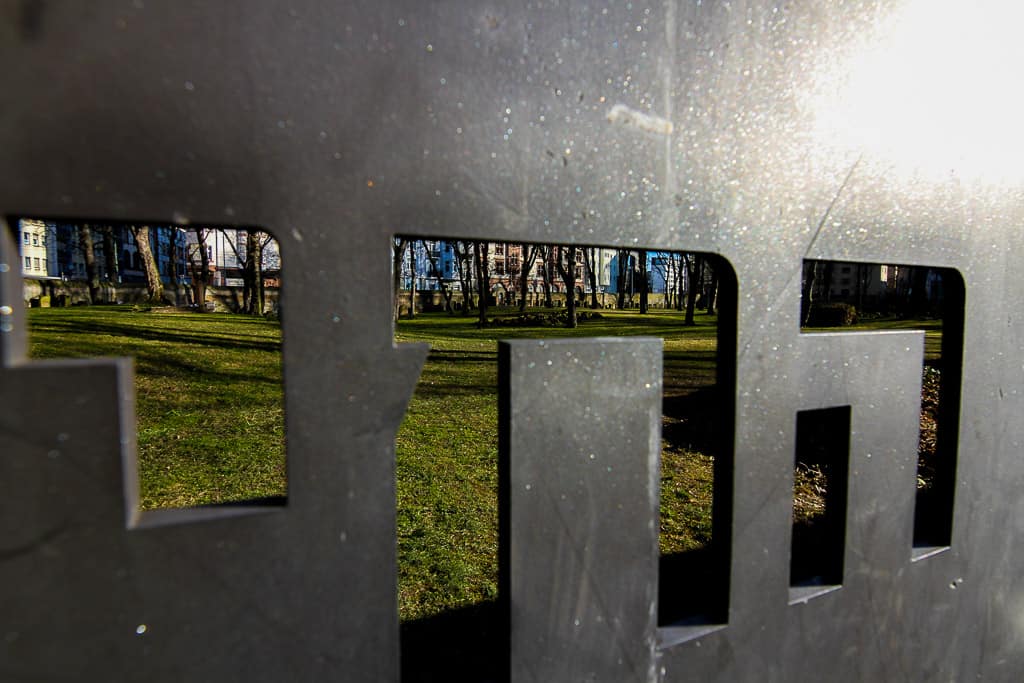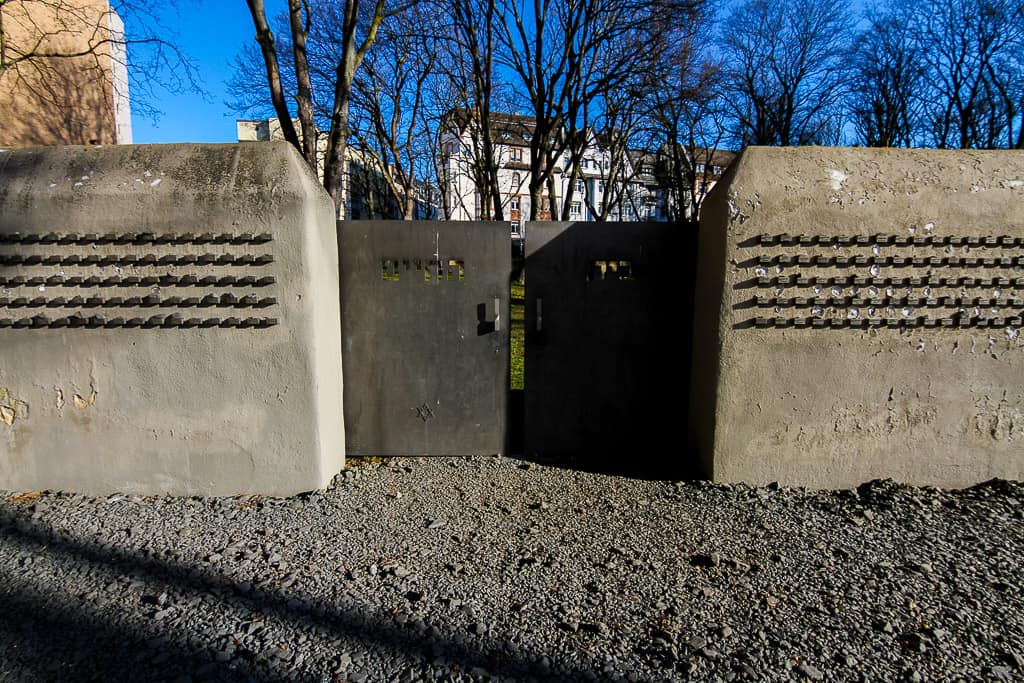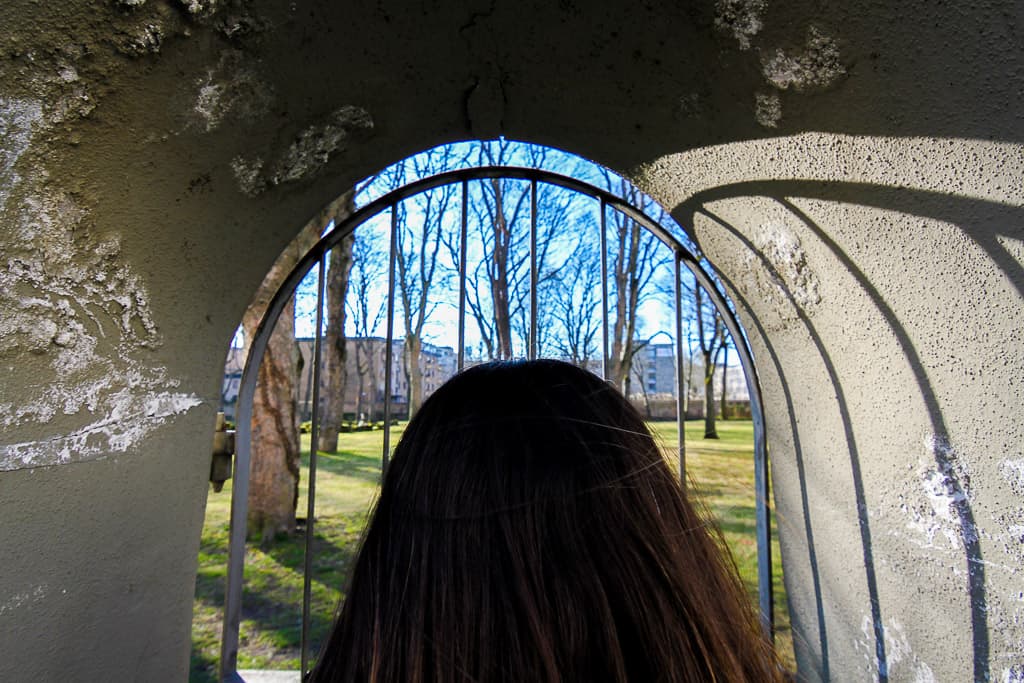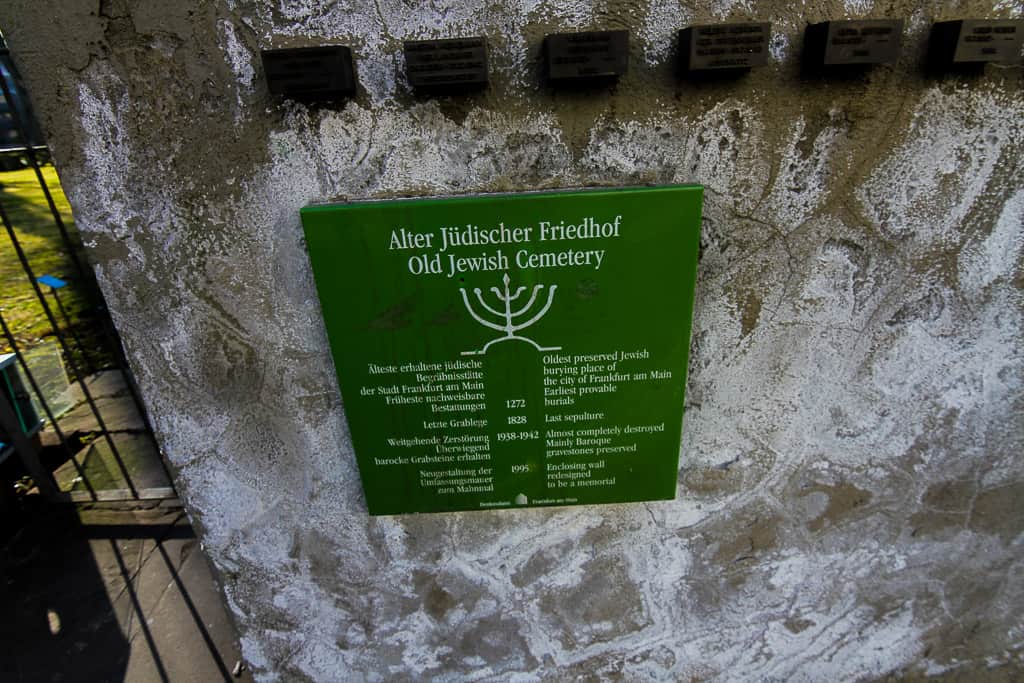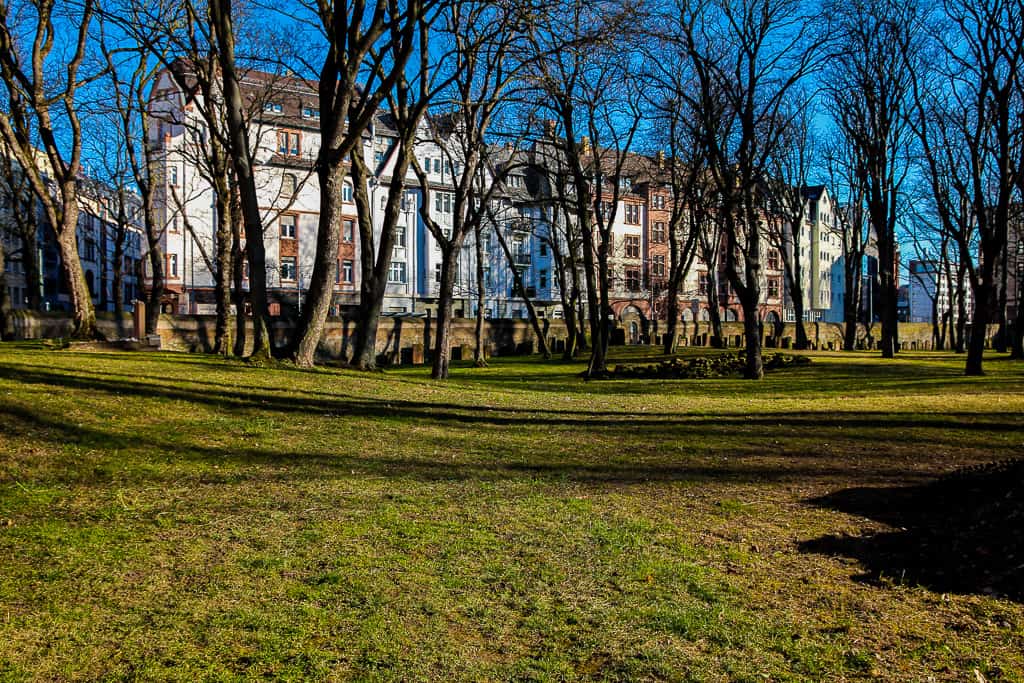 Frankfurt Cathedral
It's a 6 minute walk from the Memorial Wall/Cemetery to Frankfurt Cathedral. You'll head west on Battonnstraße toward Kurt-Schumacher-Straße (the big main road at the intersection of the museum), then make a left onto Fahrgasse and almost right away make a right onto Braubachstraße and then finally a left onto Domstraße.
The Frankfurt Cathedral is a massive church by the name of St. Bartholomew. It's also known as the Kaiserdom and has been the site of elections and coronations for the Holy Roman Emperor for centuries. The tower is 95 meters high and can be seen from many parts of Frankfurt. There's an observation platform about 66 meters up the tower which is supposed to give you great views of Frankfurt. Like other parts of the city the church was damaged during the bombings in World War II and was then reconstructed.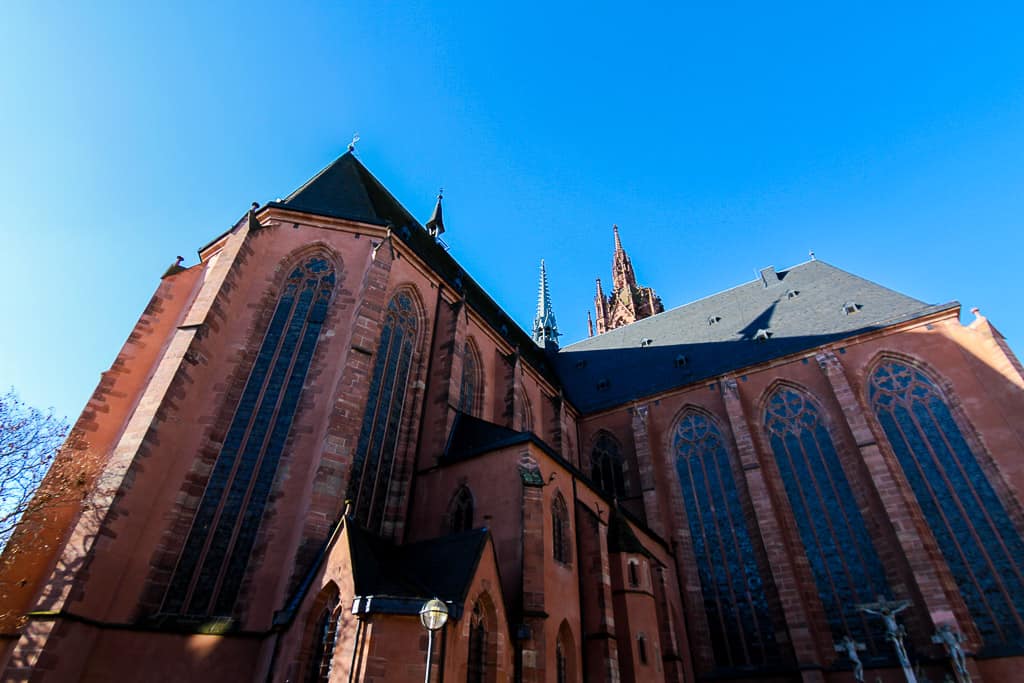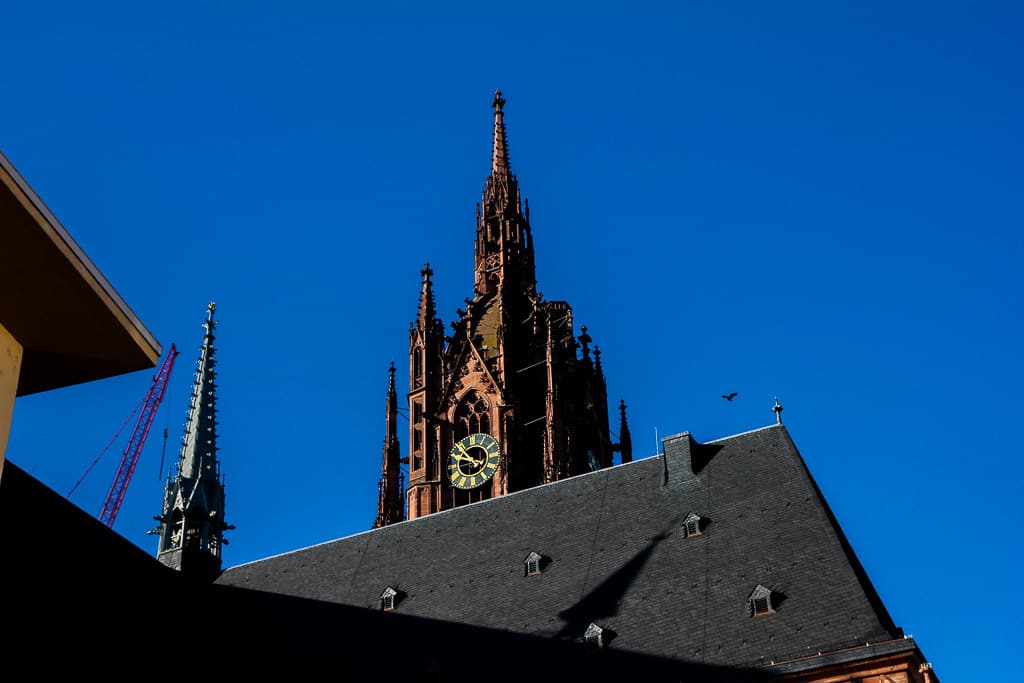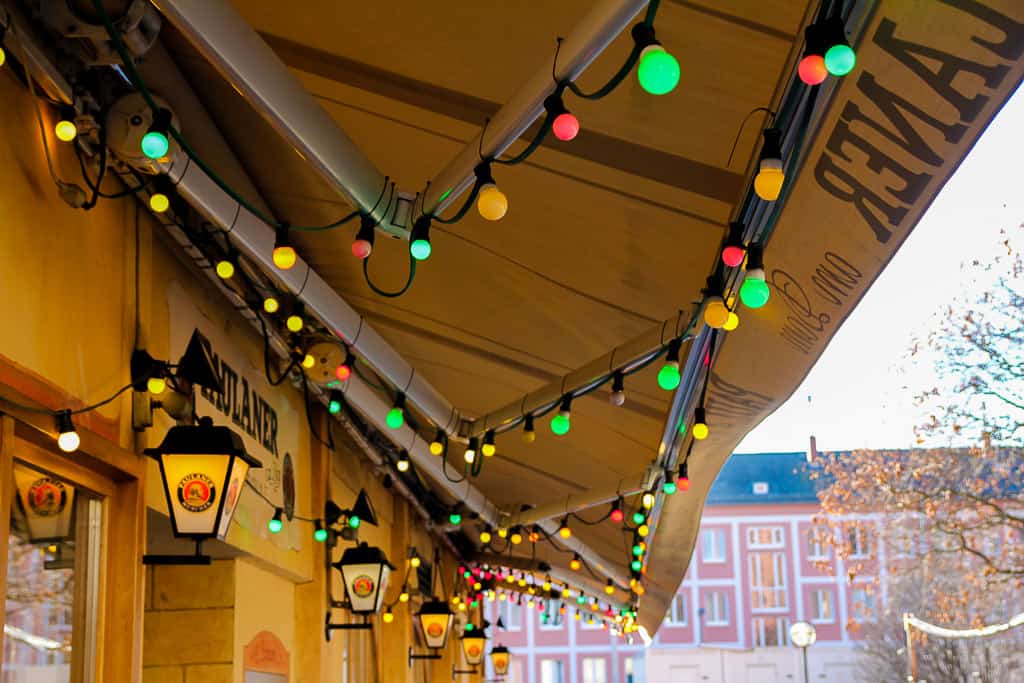 Staufenmauer/Jewish Ghetto Wall
The Staufenmauer is a 5 minute walk from the Frankfurt Cathedral. You head north toward Krönungsweg/Markt, make a left onto Domplatz which turns slightly right and becomes Domstraße. After that you turn right onto Braubachstraße and then left onto Fahrgasse. We actually misunderstood the location of this and somehow bypassed it and by the time I figured it out it was too late to come back.
The Staufenmauer is a piece of the old defensive walls that were built in 1180. It later on also became one of the walls that surrounded the Jewish Ghetto. From the pictures I've seen it's definitely worth its inclusion on this list and I'm bummed we missed it!
The Kleinmarkhalle is a 3 minute walk from Staufenmauer. You head west on Fahrgasse and make a right to stay on Fahrgasse. Then you make a left onto Töngesgasse and finally a left onto Hasengasse.
Kleinmarkthalle is a little market hall that based on reviews has a ton of great options including fruits, vegetables, chocolates, pastries, cheeses, breads, meats, fish and other delicacies from around the world. Unluckily for us it's closed on Sundays and holidays and we didn't get to visit the market. Had it been opened however this would have been the perfect place for lunch and which is where I recommend you stop for a meal if you haven't eaten already.
Frankfurt Tourist Information Römer
The Frankfurt Tourist Information Center is a 4 minute walk from the Kleinmarkthalle. To get here you'd head south on Hasengasse towards An der Kleinmarkthalle and then continue onto Domstraße and turn right onto Braubachstraße. You'll then see the building on your left.
The Frankfurt Tourist Information Center in Römer is a great central spot. If you're participating in the daily walking tour operated by Frankfurt on Foot this is where you'd meet too. It was a great spot for us to warm up in and to grab a couple of small souvenirs. If you're interested in seeing a map of where you're going it's a great place to grab one as well. A lot of major points are centered around here so if you've only got an hour or two hanging around here is definitely the way to go.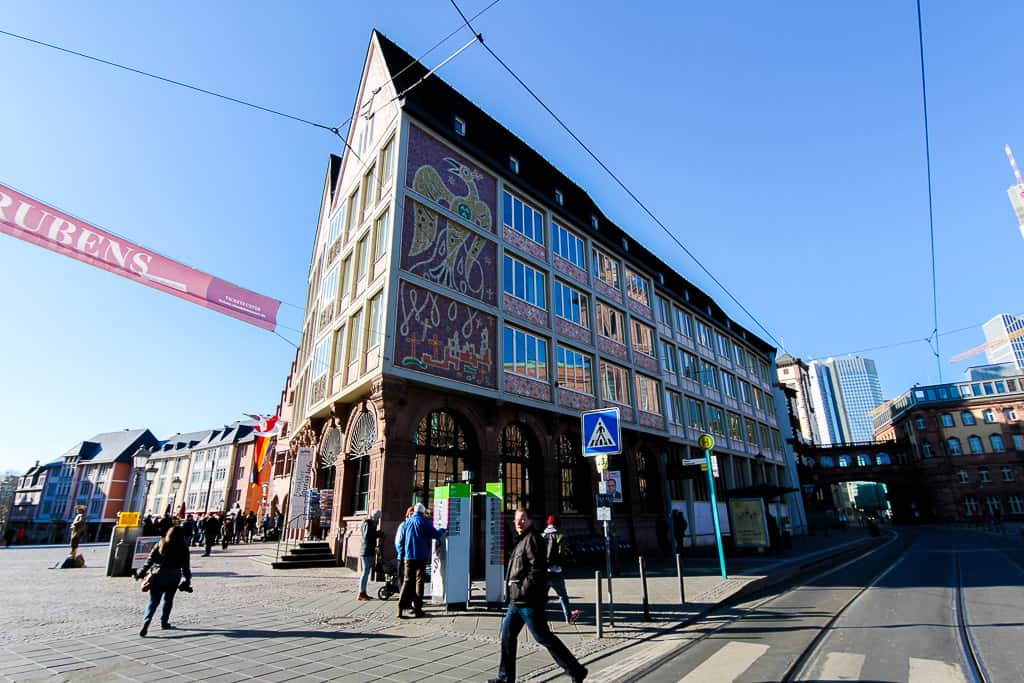 St. Paul's Church
St. Paul's Church is located down the street from the tourist center. Like you can't miss it. In the above picture it's just on the right hand side of the frame barely cut off.
St. Paul's Church is a symbol of German democracy. It's where the first democratic constitution for Germany was created. Like mentioned above on many other buildings, the church was destroyed during the bombings of World War II but because of it's importance to Germany history it was one of the first buildings to be rebuilt after the war. Today the church is used for symbolic functions and is more celebrated as a historical landmark as opposed to a religious one.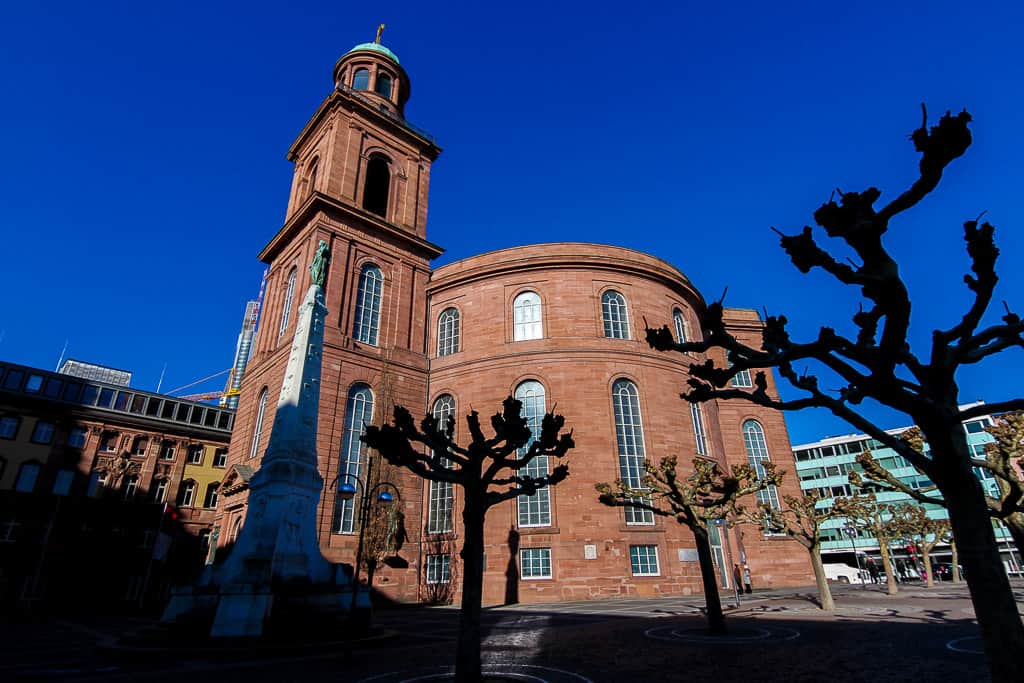 Römerberg
Once you've checked out St. Paul's Church and the Tourist center you're already in Römerberg!
Römerberg is a historical plaza in the heart of Frankfurt. The plaza has a bunch of cool things for you to check out. One of the highlights is Römer City Hall which is the beige/brown building with three parts to it. It's also got some other important buildings like St. Nicholas Church, the Historical Museum (see more information in the Got More Time Section) and Haus Wertheym. Like mentioned above, St. Paul's Church and the Tourist Information Centre is also located around here. It's also got a fountain and the book burning memorial. There's some shops around and some places to eat and to the south of the plaza you'll find the River Main. If you find yourself here in December it's also where the Frankfurt Christmas Market takes place!
Reaching the main square took us about 2-2.5 hours from the start of our day and we had worked up an appetite so I'd highly recommend stopping in somewhere for food. We had the disadvantage of being here on a Sunday but we found a great bakery/cafe just off the main square where we stopped in for some pastries that were absolutely to die for. If we had been there on any other day we would have stopped for food at the market hall after the Staufenmauer (see above in the walking tour).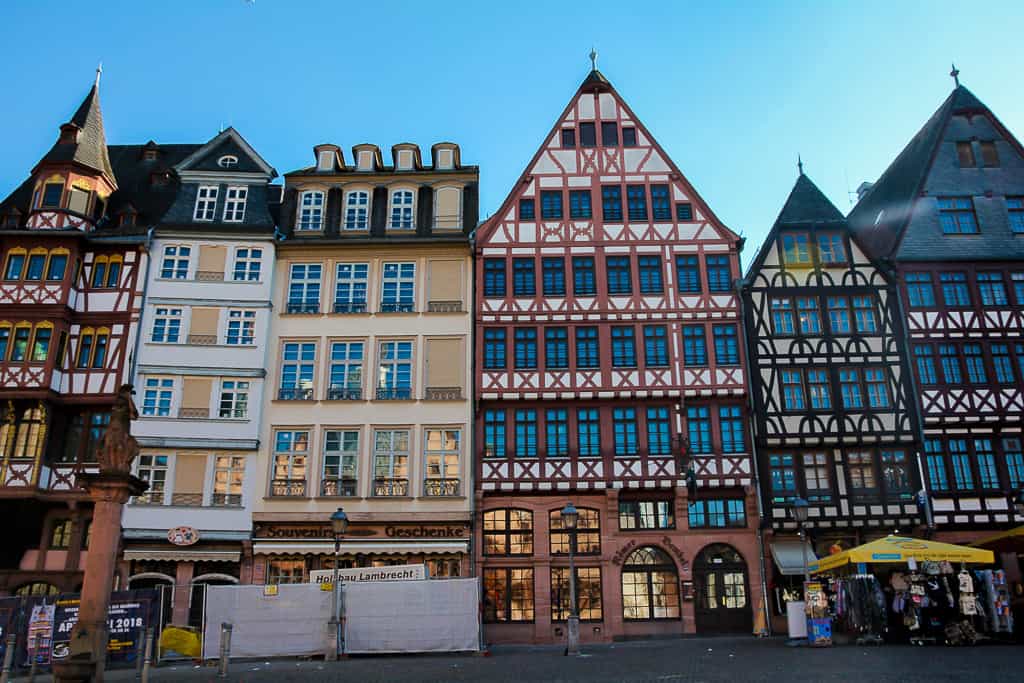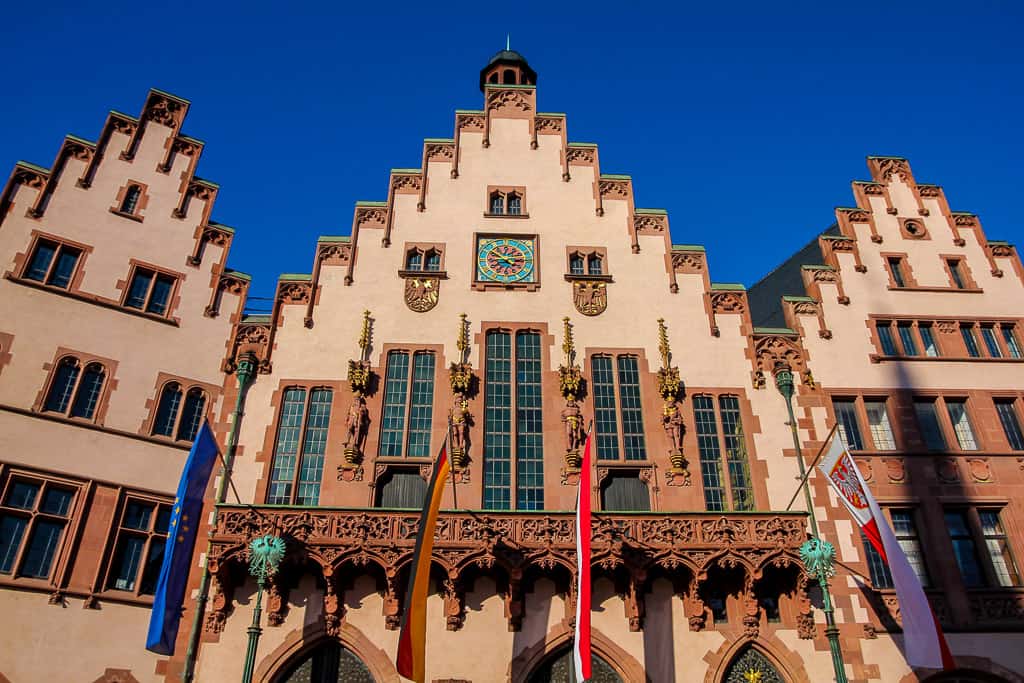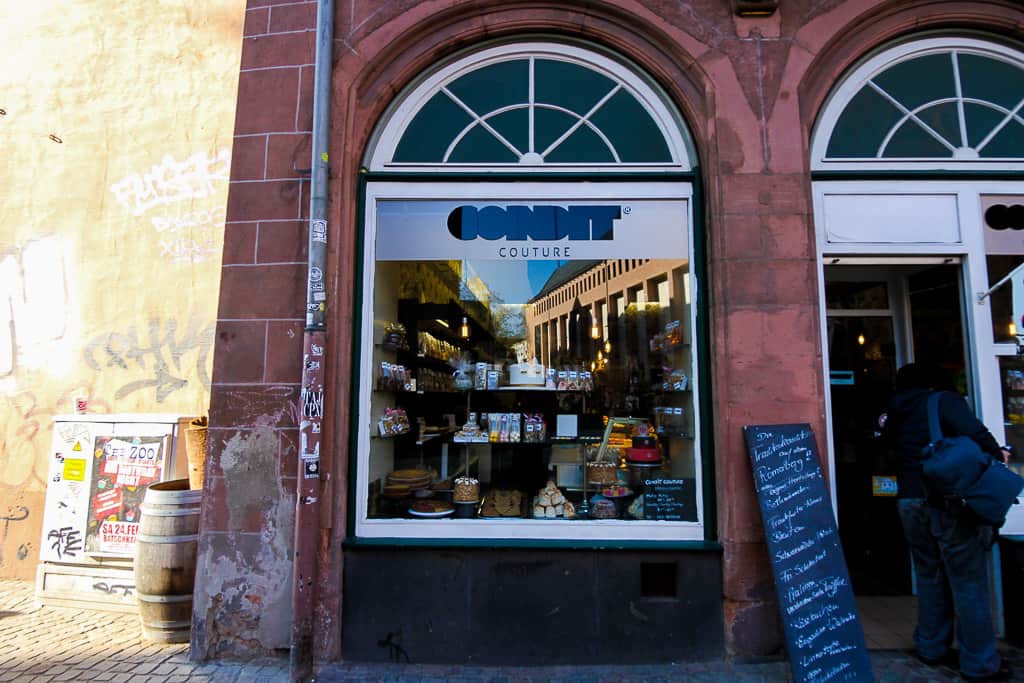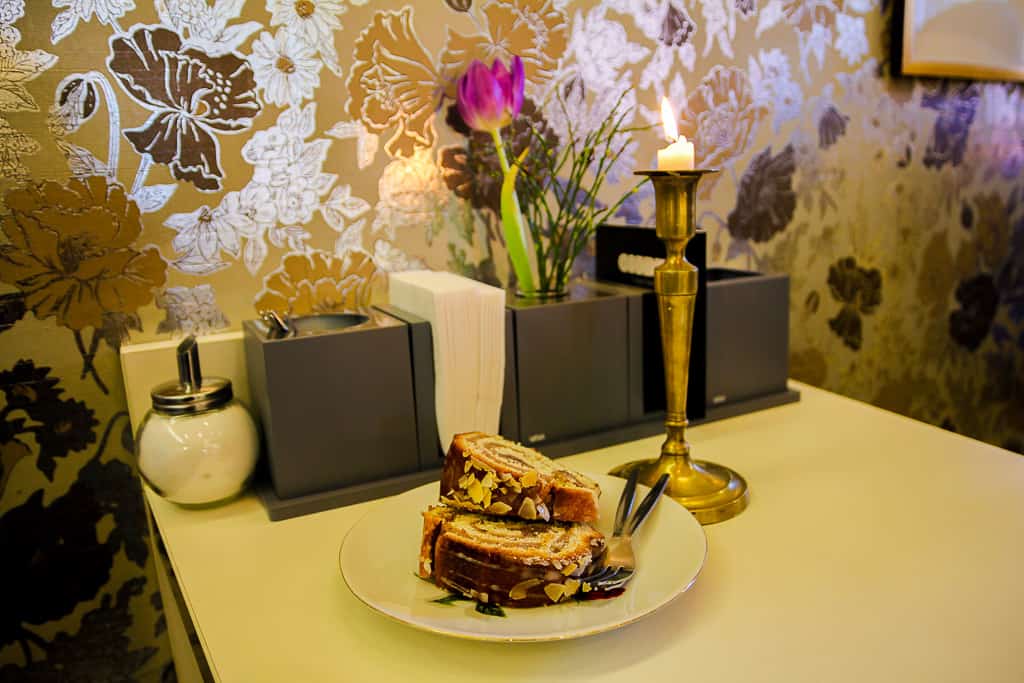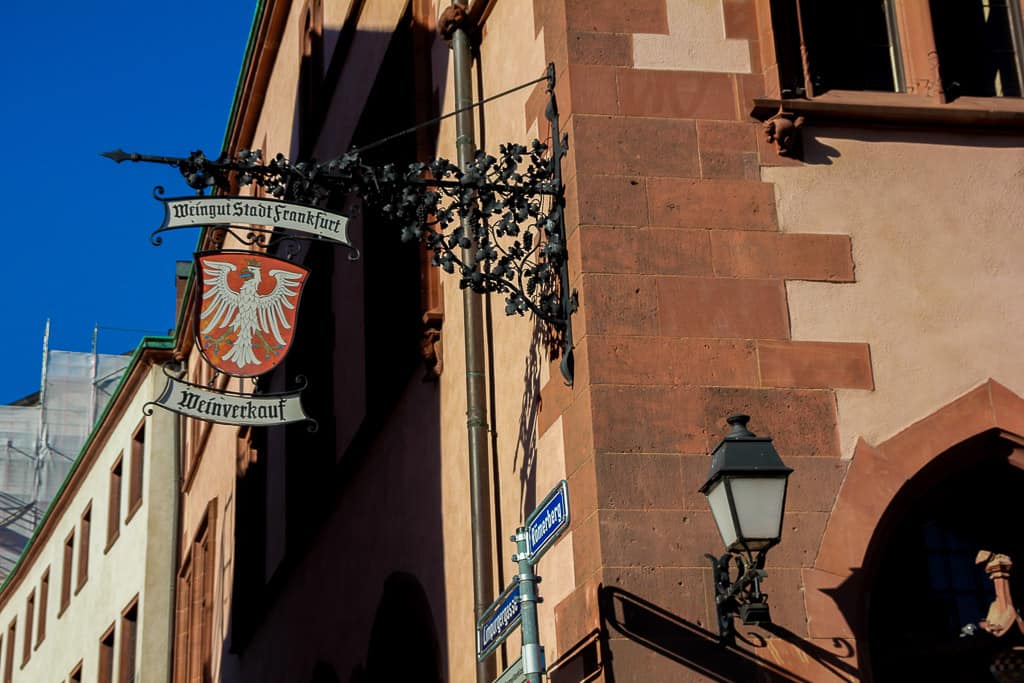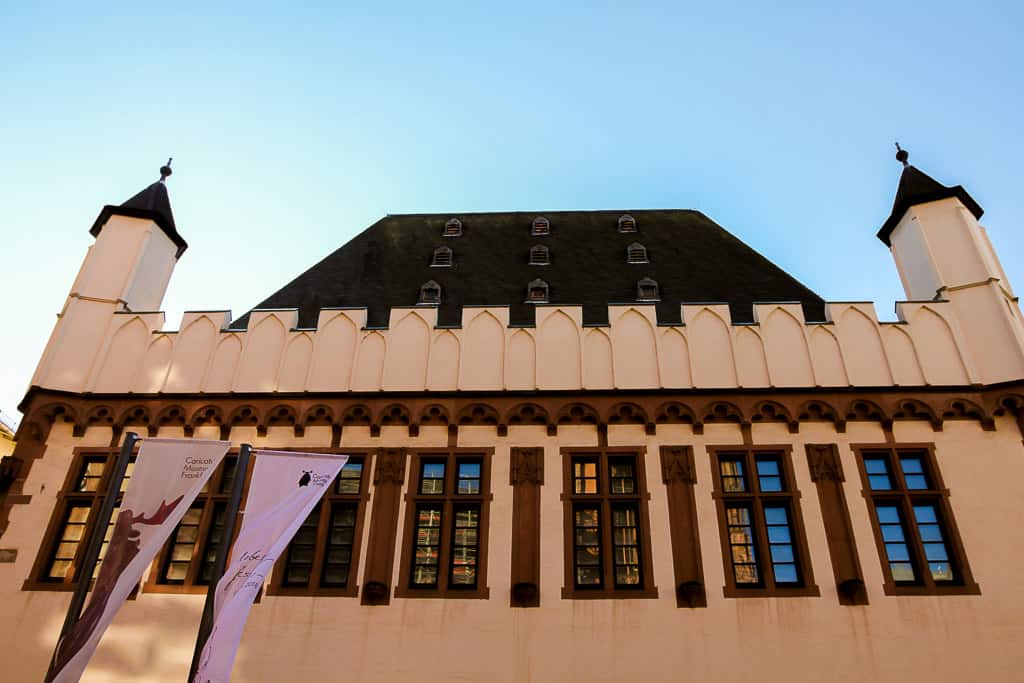 Book Burning Memorial
Located right next to the fountain in the center of the square you can find the Book Burning Memorial. It's been placed there in remembrance of an event that took place in 1933. On May 10, 1933, a large book burning took place in the square. Nazi supporting students burned books which showed a different opinion than the one from the Nazis and books that were written by Jewish authors among others.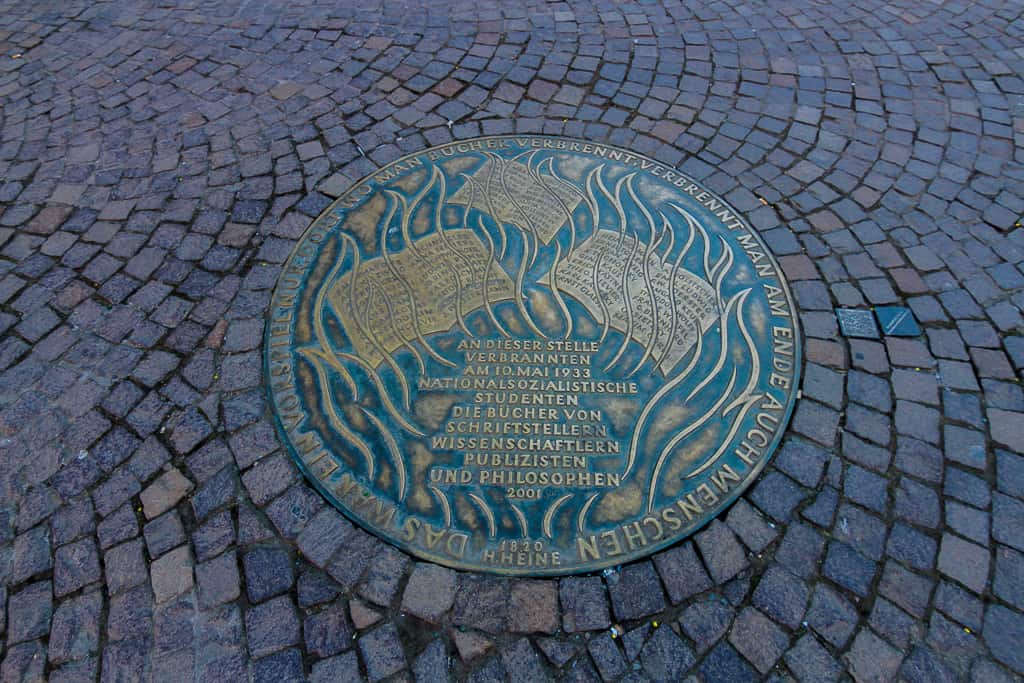 Alte Nikolaikirche
Once you look up from the Book Burning Memorial (or really any other part of the square) you'll see the Old St. Nicholas Church which was built in 1290. While most of Frankfurt sustained heavy damages during the bombings of World War II, Old St. Nicholas Church actually got away with relatively minor damages and is still operational as a church today. It's got 47 (!) bells that operate.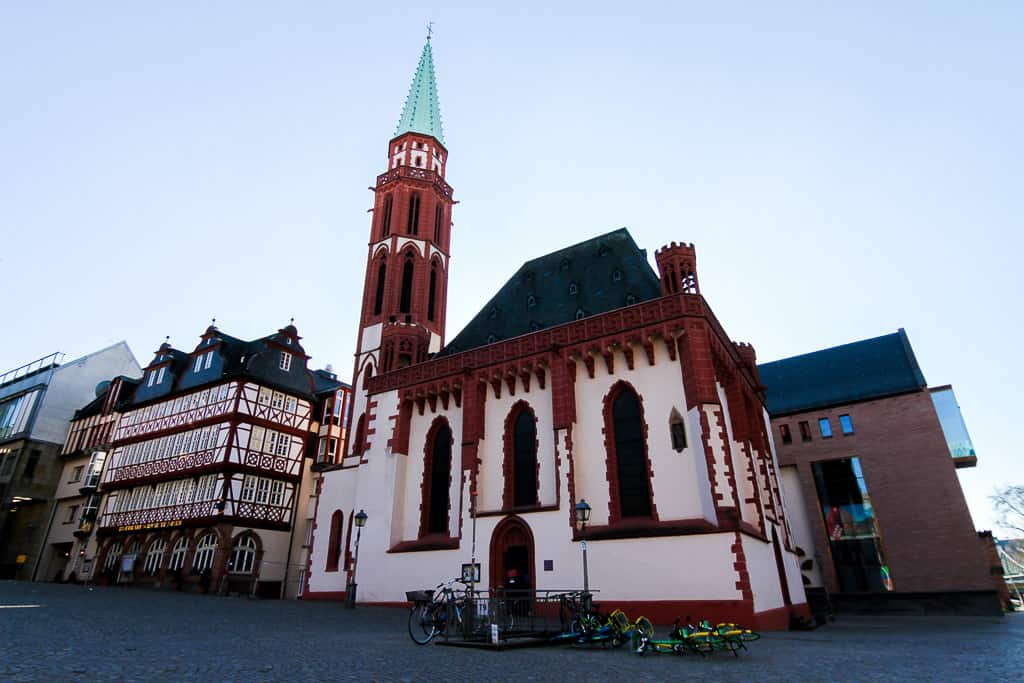 Haus Wertheym
Haus Wertheym is located towards the southern part of the square headed towards the river. It's an old timber house from the Medieval Times. It's been around the 1600s and is the only house with exposed framework that survived the bombings of Frankfurt during World War II. While the big appeal is really the aesthetic of it there's actually a restaurant in it if you're feeling up to it!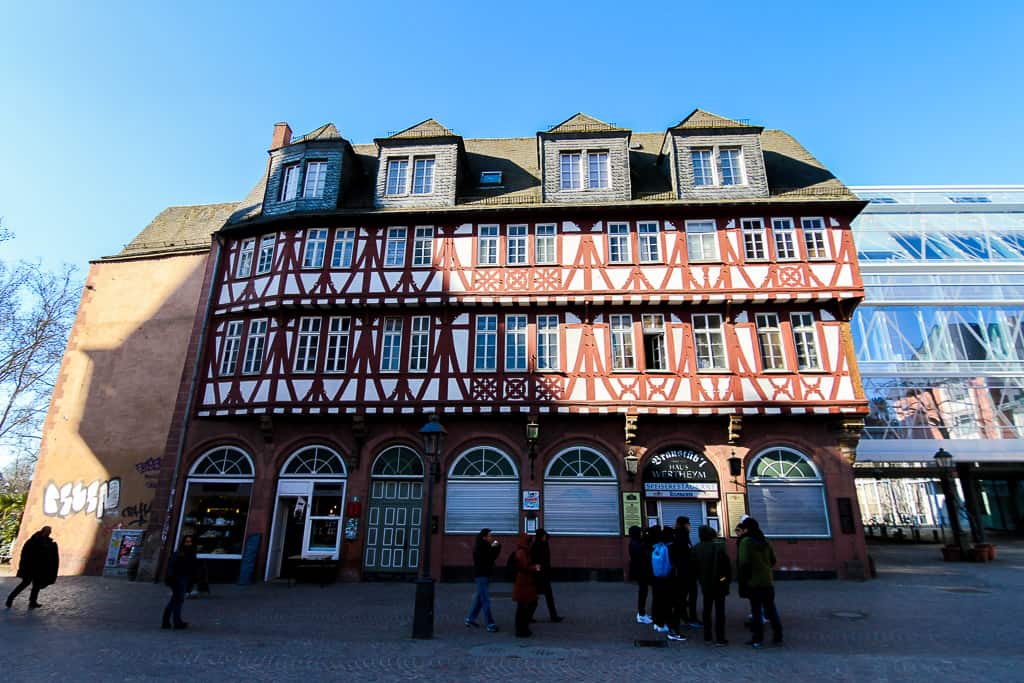 Eiserner Steg
Eiserner Steg is located literally like a minute's walk from Haus Wertheym. All you have to do is head south on Fahrtor toward Mainkai and then turn right onto Mainkai and there is the bridge.
Eisener Steg, also known as the Iron Bridge, is a pedestrian bridge over the Main River that was built in 1868. It has great views of the Frankfurt skyline and is a great place to take in the river as well. Like most of Frankfurt, it was destroyed in World War II and then rebuilt shortly after. It's best known of the thousands of love locks people have locked onto it. While not everybody agrees with the practice of placing locks on bridges (and in some cases where forbidden it's wrong to do so) you do have to admit that they make for excellent pictures.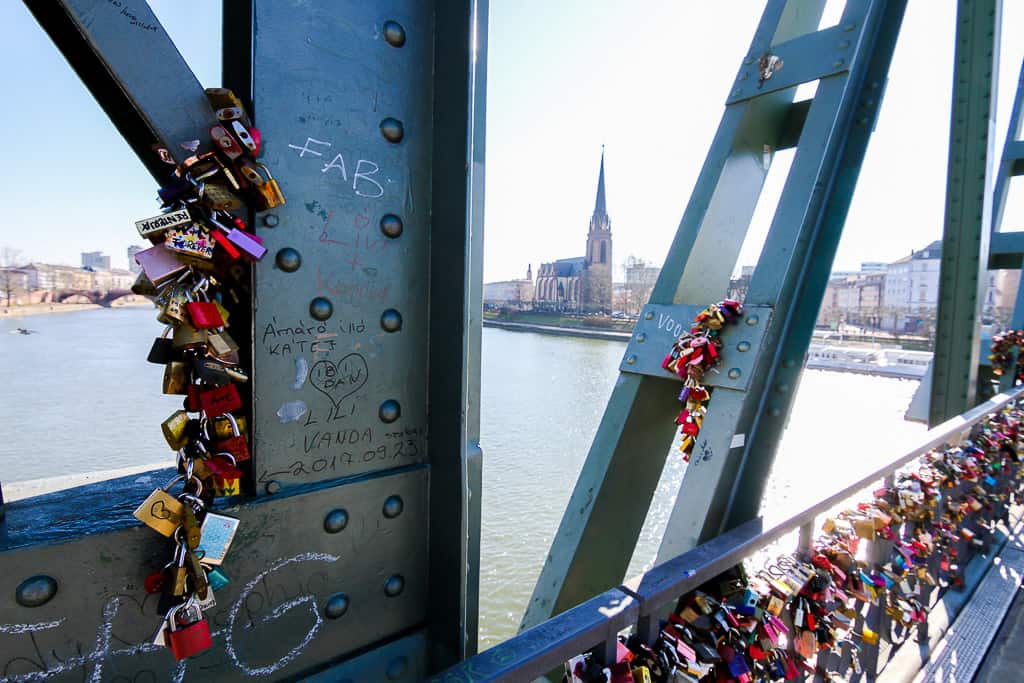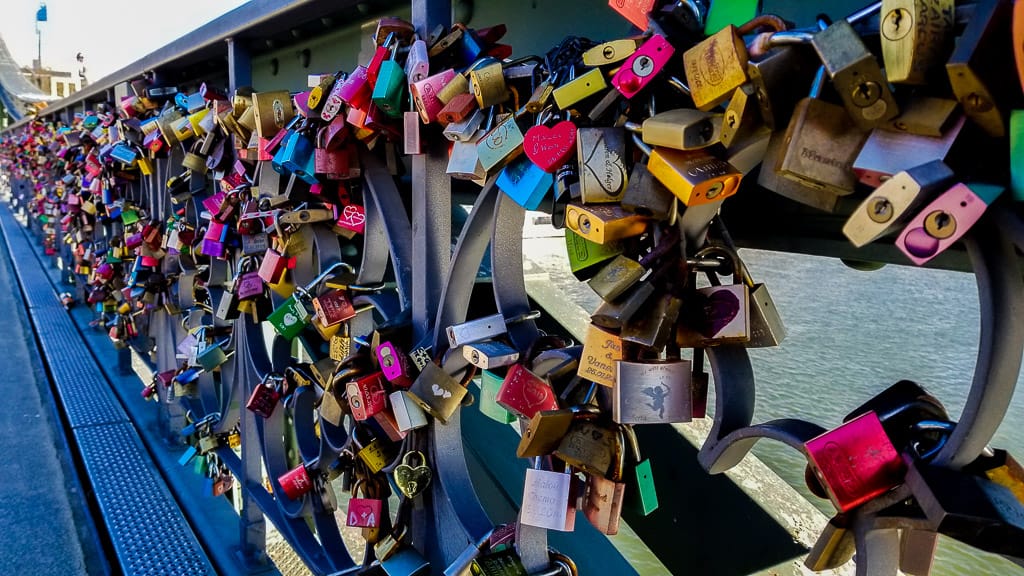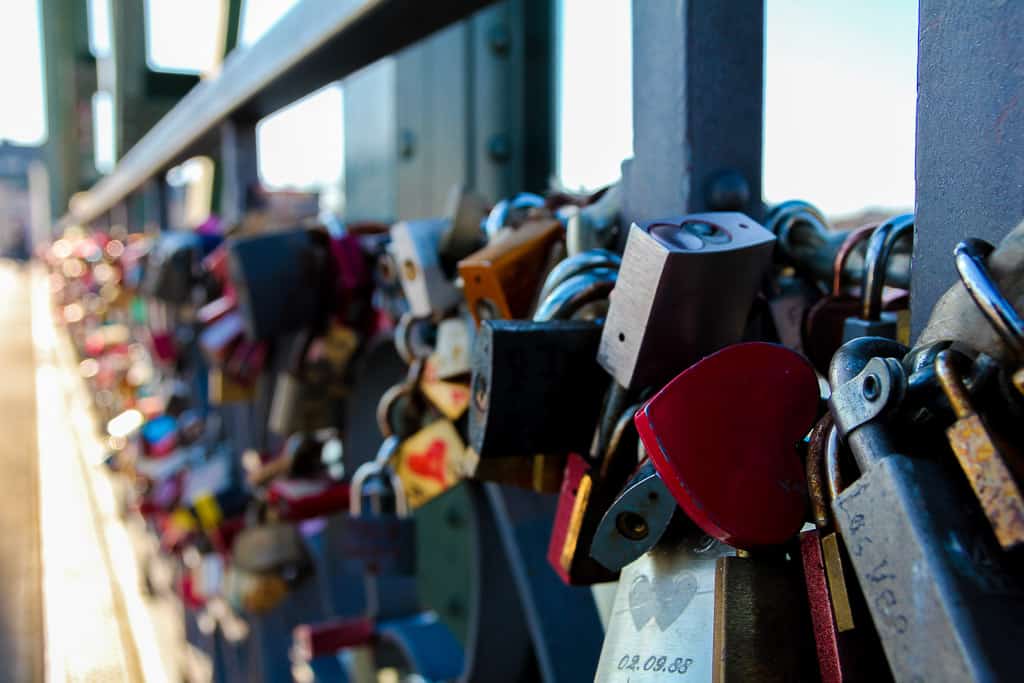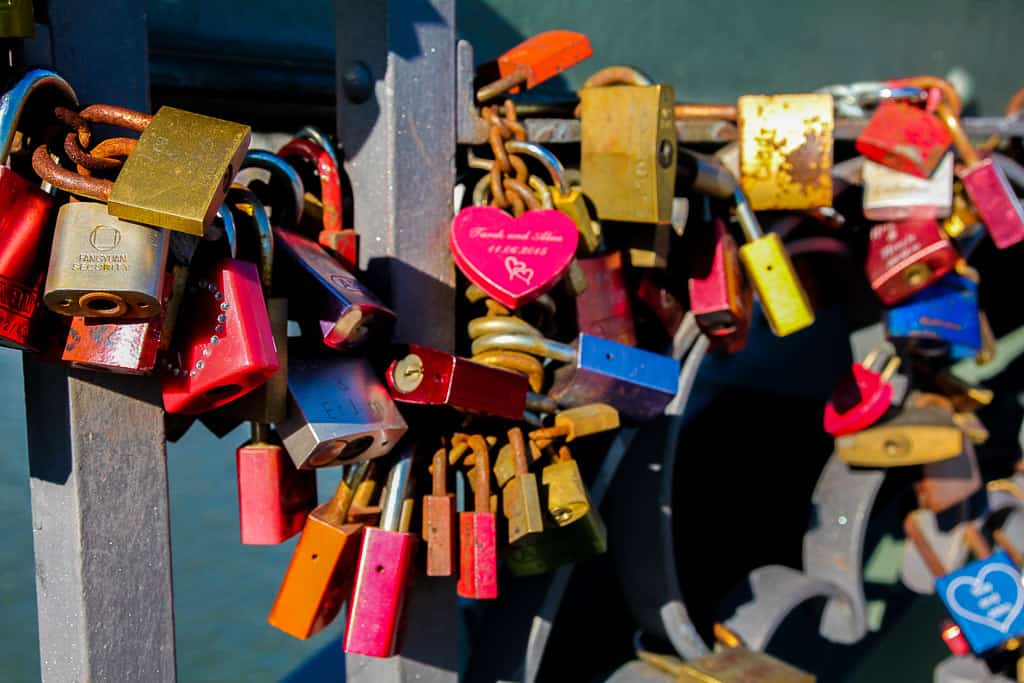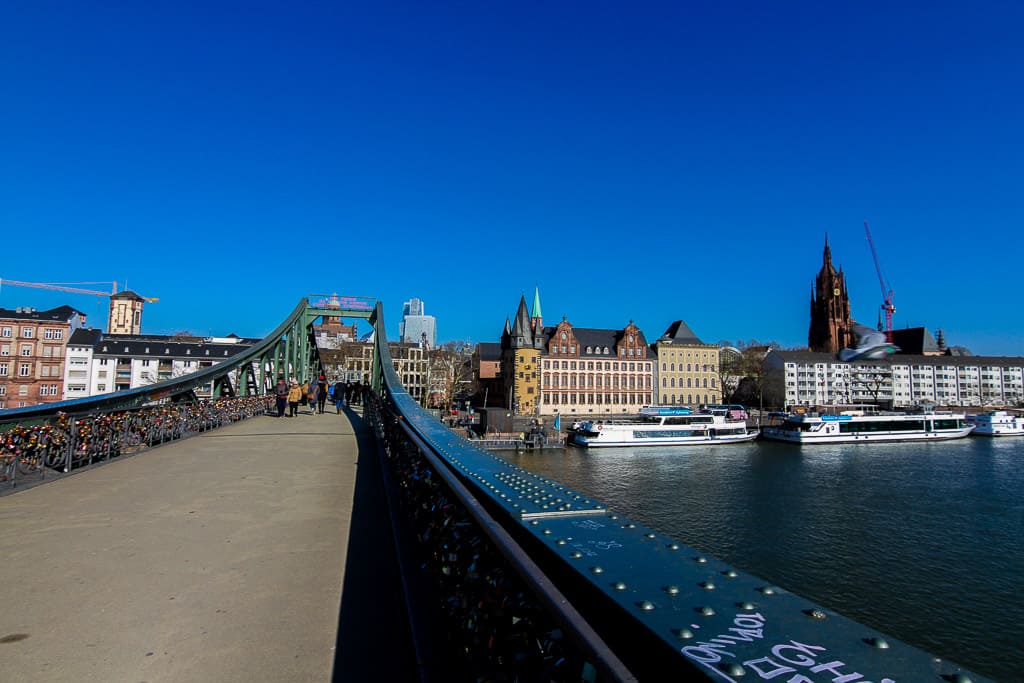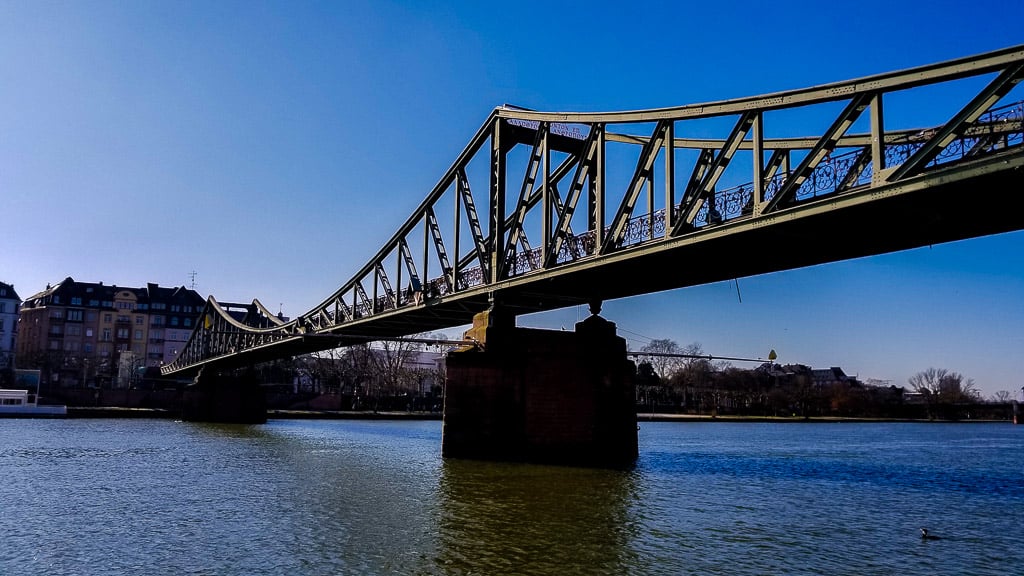 Karmeliterkloster
To get to Karmeliterkloster from the Iron Bridge is about a 5 minute walk. You head west on Mainkai toward Leonhardskirchhof and then make a slight right onto Alte Mainzer G. You then turn left to stay on Alte Mainzer G., then make a right onto Buchgasse and finally turn left onto Münzgasse.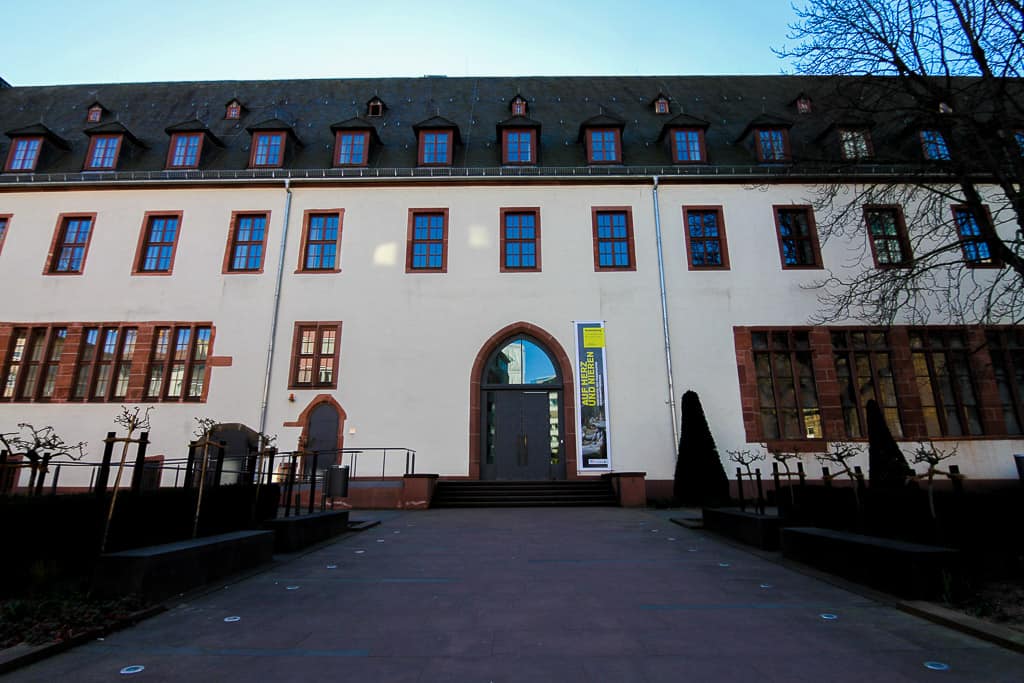 Goethe House
To get to Goethe House from Karmeliter Kloster you west west on Münzgasse toward Bethmannstraße and then turn right onto Weißfrauenstraße and then finally left onto Großer Hirschgraben. It's a short walk and should only take about 3 minutes.
The yellowish house is the house where the well known writer Johann Wolfgang Goethe was born in 1749. The glass building right next to it is the museum (which is an excellent place to pop into to heat up if you're freezing like we were!). The original house was destroyed in the World War II bombings (I know I'm repeating myself but these are facts people!) and restored afterwards. If you want more information on visiting Goethe House check out the section below called Got More Time.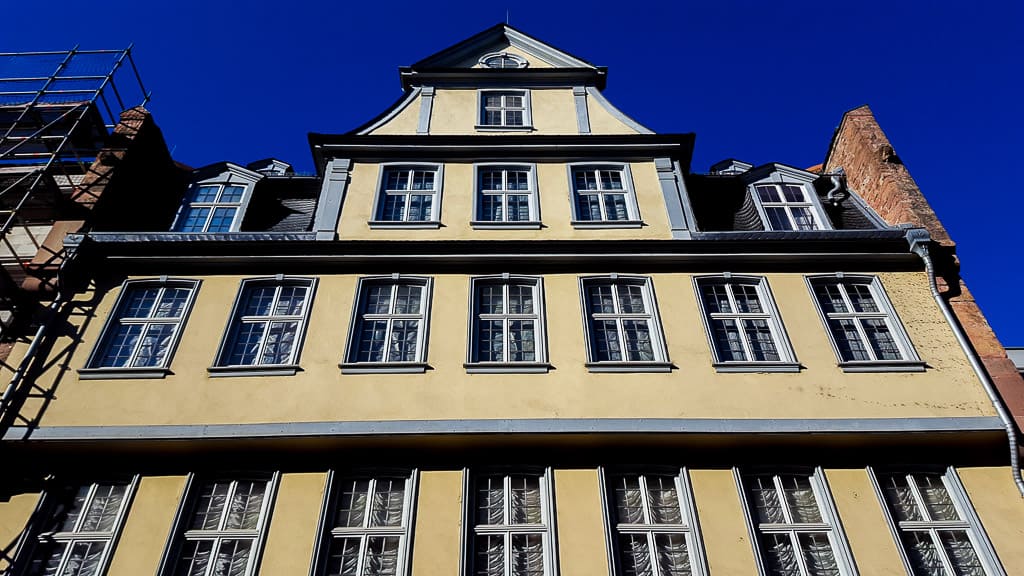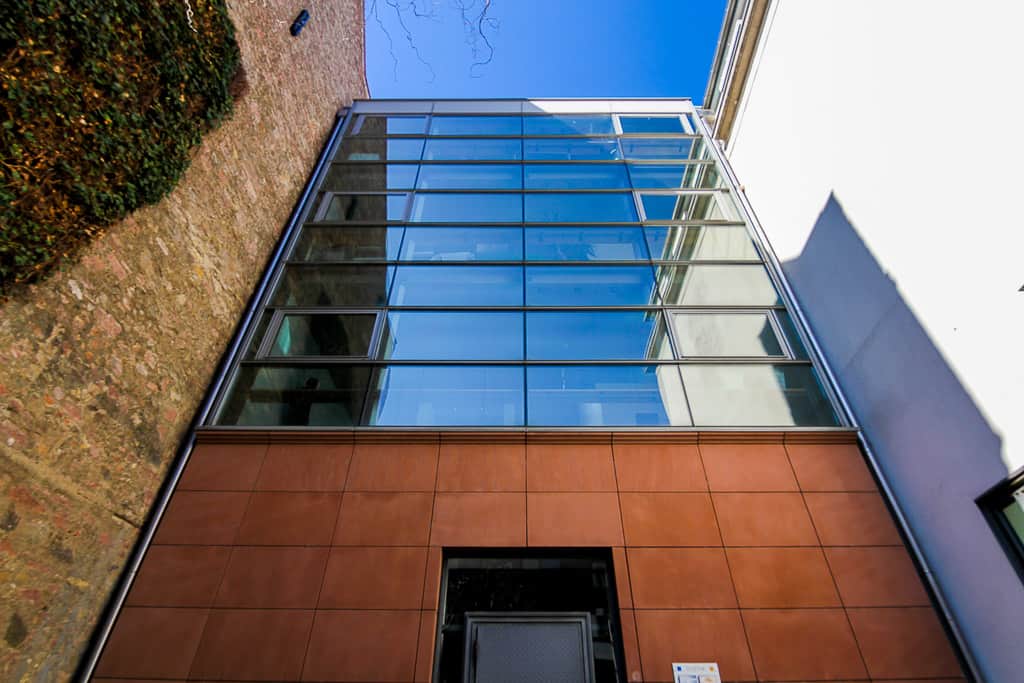 After taking in Goethe House we walked back to Hauptwache station which was only a 4 minute walk away. We got there by heading north on Großer Hirschgraben toward Weißadlergasse which turns slightly right and becomes Kleiner Hirschgraben. We then had to make a left onto Katharinenpforte and finally a right onto Roßmarkt. We didn't get to try any local cuisine besides the pastries (i.e. sausages!!) because all the stands were closed so when I saw a stand at the central station I didn't have a choice but to get some. It was an excellent way to end our day and one I highly recommend. We picked up our luggage from the locker and used our group pass to head back to the airport after a very successful layover!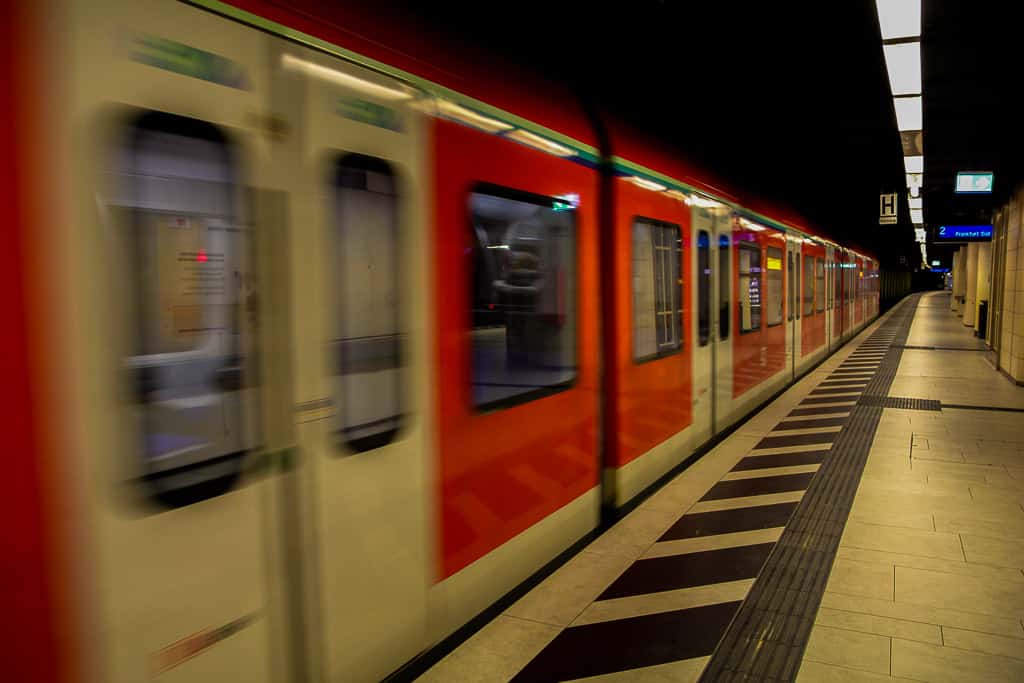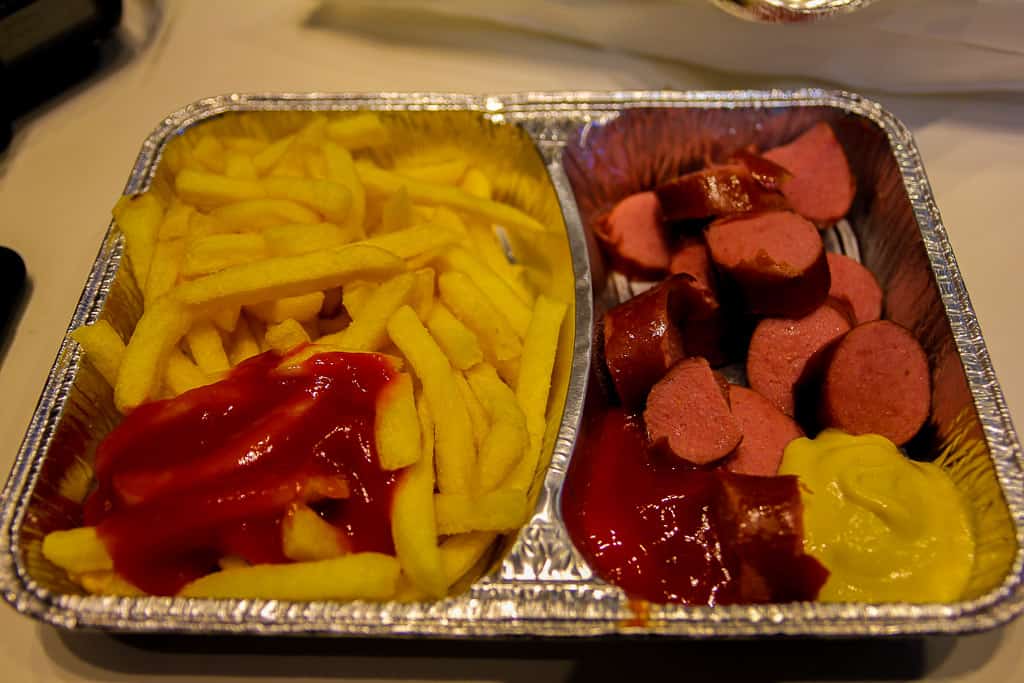 Got more time?
There's a ton more to do in Frankfurt depending on how much time you've got. Some options include:
Museum Judengasse: A museum dedicated to Jewish History. Open between 10 am and 8 pm on Tuesdays, between 10 am and 6 pm Wednesday-Thursdays and closed on Mondays. The admission fee for adults is 6 euros. You can check out more information on the museum here. Located at Battonnstraße 47, 60311 Frankfurt am Main.
Frankfurt Historical Museum: A museum dedicated to Frankfurt and how Frankfurt used to be. Open between 10 am and 6 pm on Tuesday, Thursdays and Fridays, open between 10 am and 9 pm on Wednesdays, between 11 am and 7 pm on Saturday and Sunday and closed on Mondays. The admission fee for adults is 8 euros. You can check out more information on the museum here. Located at Saalhof 1, 60311 Frankfurt am Main.
Old Opera: one of Europe's classic opera houses, once known as the most beautiful ruin in Germany. Located at Opernplatz 1, 60313 Frankfurt am Main.
No. 4 Am Hauptbahnhof: you'll see a plaque hanging outside a scruffy building that was once the home of Oskar Schindler, the German industrialist credited with saving more than 1,000 Jews during the Holocaust.
Goethe House: Writer's Goethe's birthplace and museum dedicated to art from the period. It's open between 10 am 6 pm between Monday and Saturday and between 10 am and 5:30 pm on Sundays and holidays. Admission fee is 7 euros for adults. You can find out more information about the museum here. It's located at Freies Deutsches Hochstift, Frankfurter Goethe-Museum, Großer Hirschgraben 23-25, 60311 Frankfurt am Main
You can also walk around Frankfurt finding the Stumble Stones (Stolpersteine). It's a project dedicated to remembering those who were persecuted and murdered by the Nazis. You can find a map of all the stones here.
Got even more time?
If you're in Frankfurt for more than 1 or 2 days then I'd highly recommend doing a day trip from Frankfurt since Frankfurt is ideally located to plenty of cool places to check out in Germany.
Are you a person who enjoys layovers? Have you done them often? Let me know in the comments and pin this post for your upcoming visit to Frankfurt!