To truly experience this gorgeous city I call home you have to experience a Toronto Christmas. Despite the incredible cold, and believe me it is very cold, the city comes alive with markets, colours and decorations. There's plenty to see and do across the entire city (and outside of it!) and celebrations start as early as November! To make it a little bit easier I've put together this guide on how best to celebrate Christmas in Toronto!
The Santa Claus Parade 
One of the easiest ways to tell that Christmas is starting to hit Toronto is when the annual Santa Claus Parade comes around. It's been running for over 100 years since its start in 1913. It usually takes place in Mid-November. It's an epic parade that takes about 2.5 hours in total to go past you if you're standing in the same spot. It covers large portions of Toronto's downtown core so there are plenty of places to catch the parade at. Do keep in mind that the streets fill up really fast so you should reserve your spot early (which you can really only do by standing there).
Dress up warmly because it does get chilly! There will be some street vendors around selling cotton candy and popcorn for the kids. I recommend grabbing some coffee, tea or hot chocolate before claiming your spot! If you're really eager you can park yourself down bright and early with some beach chairs (which a surprising number of people do). If all else fails you can of course just watch it on TV. It's aired on CTV the same afternoon as the parade! To check out the map and route of the parade click here.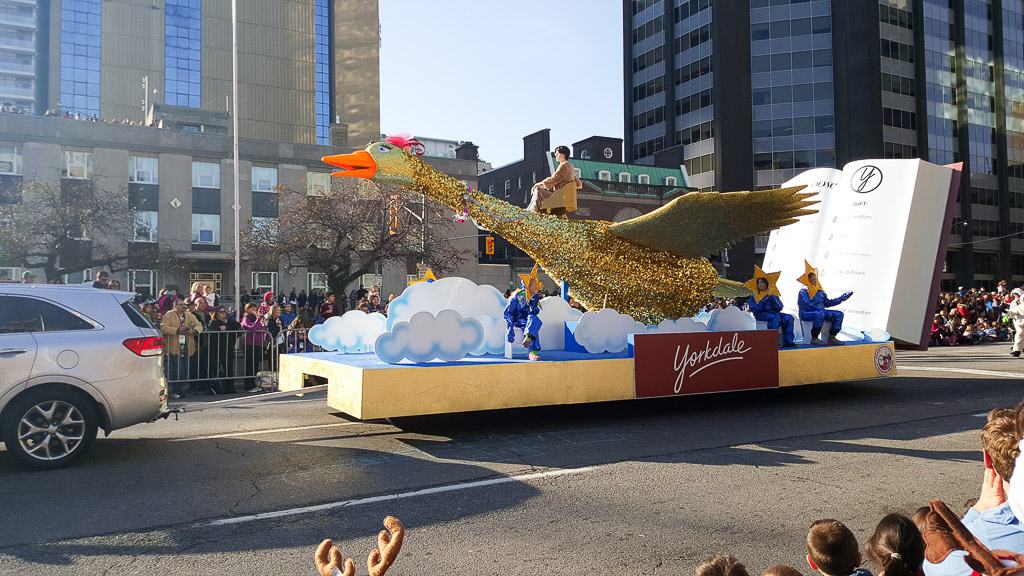 Take in the Window Displays of Hudson Bay and Saks by the Eaton Centre
For the third year in a row, Hudson Bay and Saks Fifth Avenue at the Eaton Centre are putting on a show with their holiday window displays. They're kicking things off early (as in right after Halloween) but that's just for the grand unveiling of the windows. The displays will be on showcase all season long. They're usually fun for all ages so it's something great to take the entire family to!
Cavalcade of Lights at Nathan Phillips Square
The City of Toronto kicks off the holiday season annually with a huge show that normally takes place on the last weekend in November. This year marks the 52nd year of the Cavalcade of Lights event. There's lots going on during the night including live music performances, a party on the skating rink, fireworks and the lighting of the giant Christmas tree (which is obviously the highlight). You can check out the schedule of events on the official website over here. The Christmas tree is absolutely giant with over 525,000 lights and 700 ornaments. It's up until New Year's Eve so even if you can't make it out for the Cavalcade of Lights event you should definitely stop by Nathan Phillips Square for some free skating and to see the tree!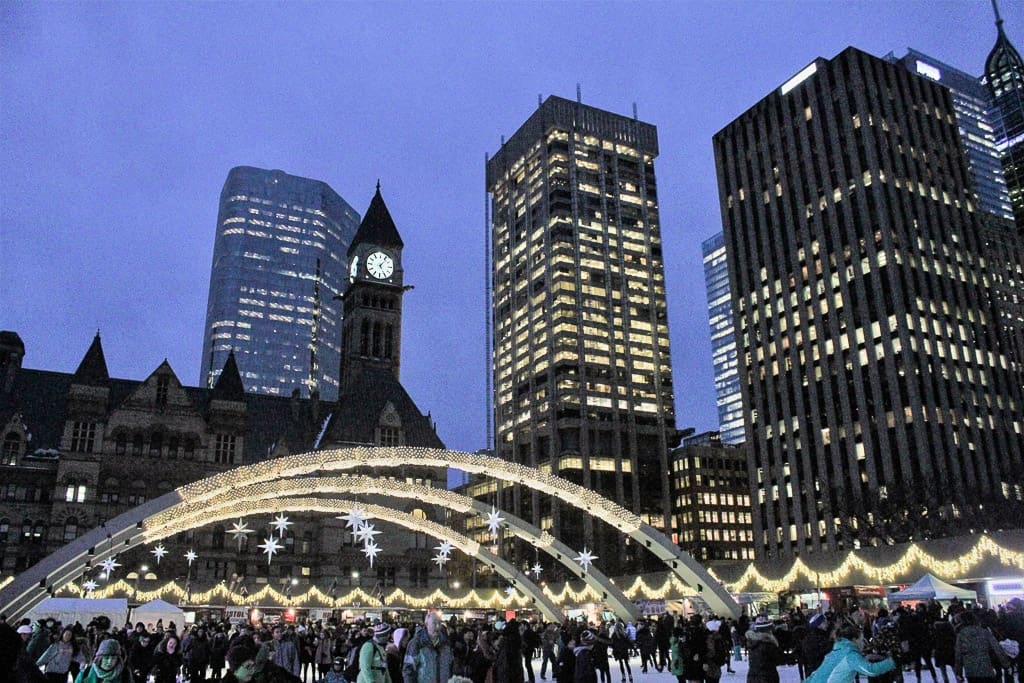 Illuminate at Yonge-Dundas Square
Illuminate is another event that's put on towards the end of November every year. There's live performances, light shows and of course the lighting of the tree. Unlike the one in Nathan Phillips Square, this is a very modern tree with over 52,000 LED lights. There's going to be some other decor in the square as well so it's definitely worth a visit even if you can't make it out to the main event. Bonus points for the fact that it's right outside of the Eaton Centre so you can squeeze in some holiday shopping too!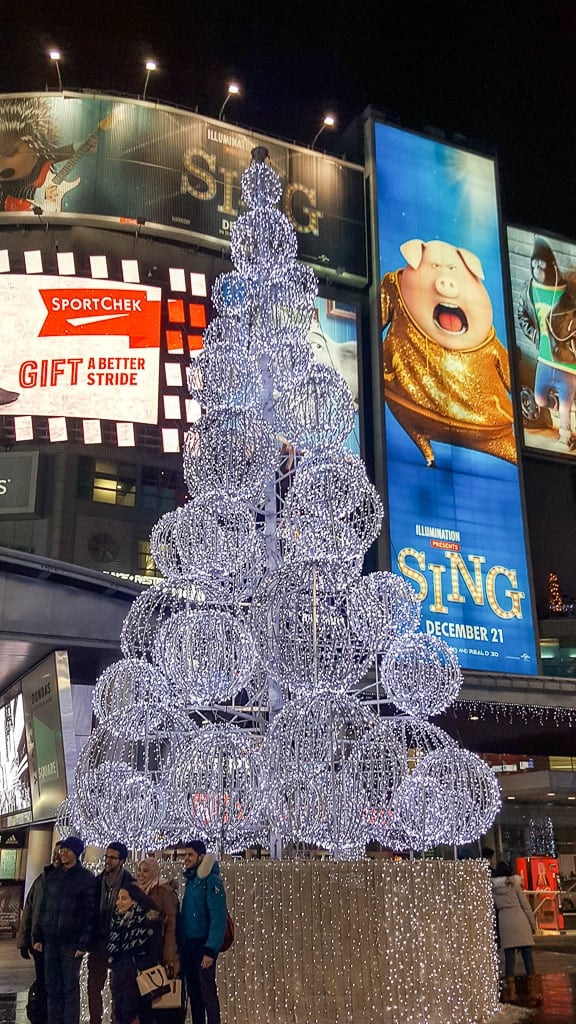 Enjoy the tallest Christmas Tree in Canada at the Toronto Eaton Centre 
The Toronto Eaton Centre is also getting in on the fun and will be hosting Canada's largest Christmas tree again. It's over 100 feet tall and is as high as the third story of the mall. You'll be able to see the lights all across the mall, that's how gigantic this thing is. My tip is to go right after the mall has closed and the crowds have died down. So much easier to get nice pictures! The mall also has some other giant decorations which are definitely worth a look or two (or a hundred).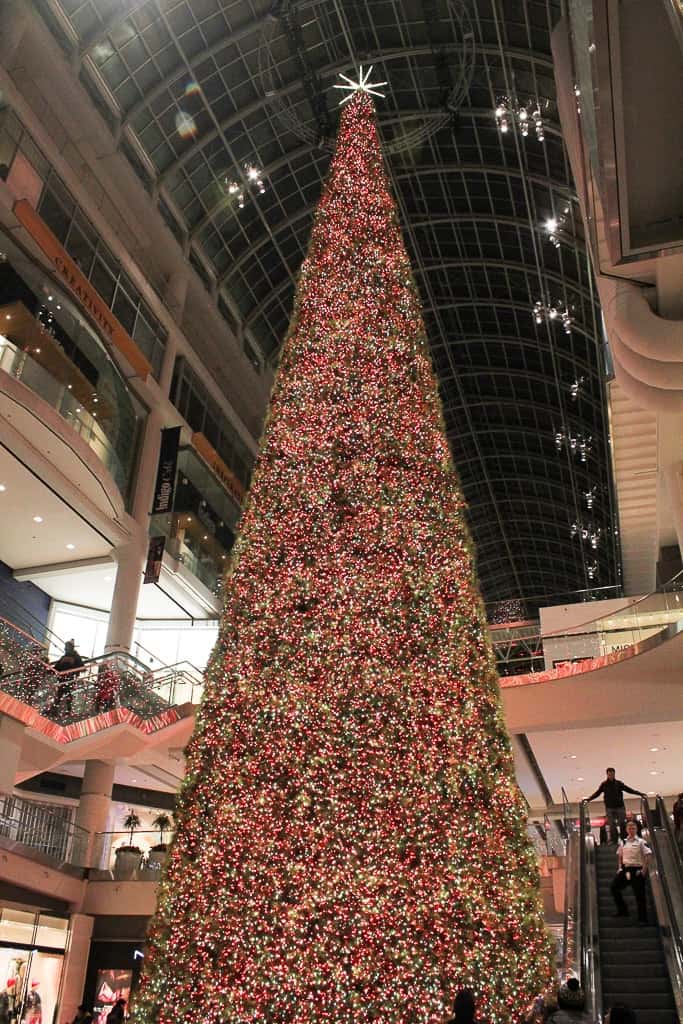 Light Up the Beach
This year marks the 10th annual Light Up the Beach Event. It's put together to support the Michael Garron Hospital Foundation. This year it starts on December 1st and over 80,000 holiday lights will be turned on all at once! This great light show takes place along the beaches and is a fantastic excuse to get out and move around this winter!
Casa Loma Winter Wonderland
Casa Loma turns into a magical winter wonderland just in time for Christmas. There are both nighttime and daytime events depending on your schedule and preference. The castle is putting on a fantastic light show in the gardens, performances, Santa himself and some food options as well. Plus if you've never been you get to explore Toronto's only castle! The daytime events kick off on December 1st while the evening events start on December 18th. You can find more scheduling details and ticket costs here.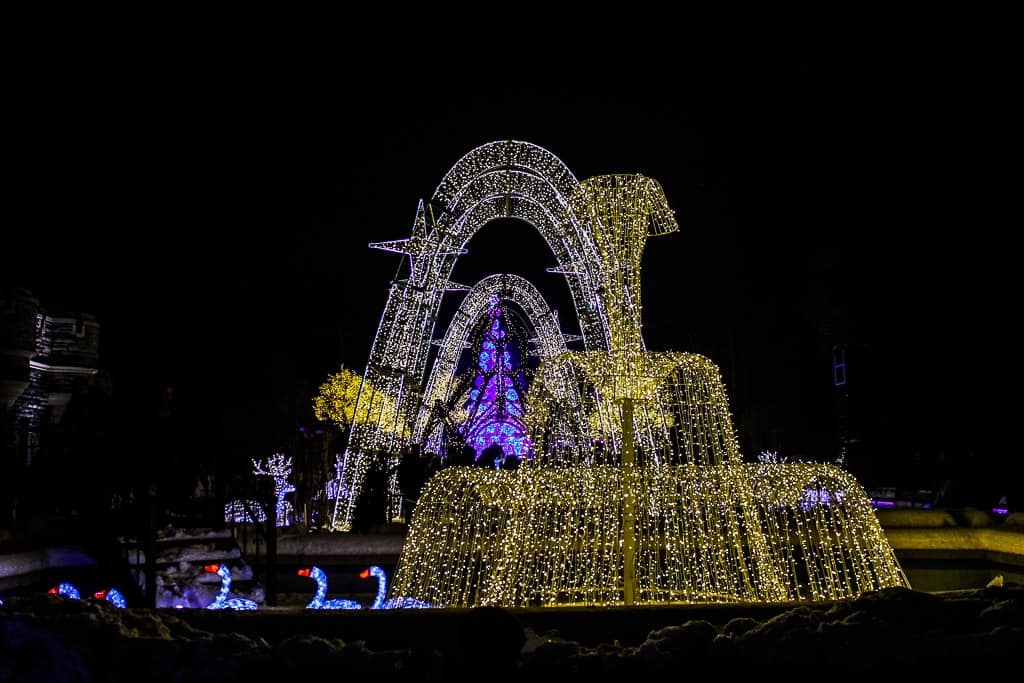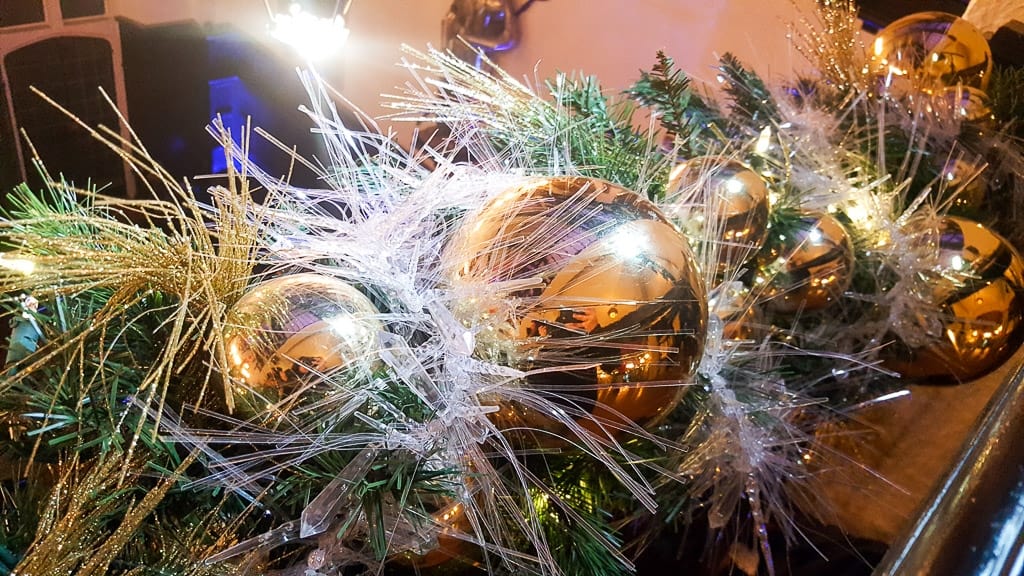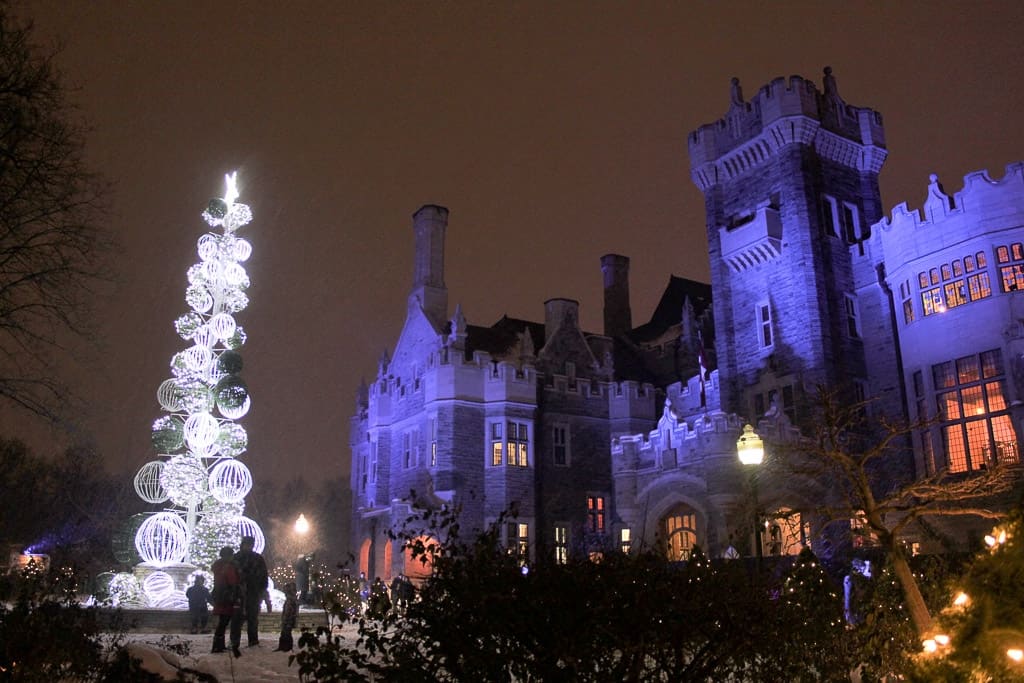 Black Creek Pioneer Village
Black Creek Pioneer Village in the west end of Toronto is a great way to spend a full day exploring what Christmas was like in the past. The site has tons of buildings staged and set in the 1800s. Their events run from mid-November all the way up until right before Christmas. The traditional events include everything from roasting chestnuts to trimming trees to Christmas carols. There's also special story times with Santa and opportunities for kids to make their own crafts. There's also a great evening event called Christmas by Lamplight that involves dressing up and experiencing a fancier side of Christmas! If you're more of an eater you can also check out their Sunday Christmas Dinners which look absolutely tasty. To get more information check out their official site here.
Gardiner Museum 12 Trees Exhibit
The 12 Trees of Christmas Exhibit is put on by the Gardiner Museum every year. The exhibit runs from mid-November to the first week of January and features the work of Canadian artists and designers. To check out more information on the event you can visit the official page here.
The Distillery District Christmas Market is pretty much the go to Christmas event in Toronto. It's a really popular event and is pretty much how you picture all those European Christmas Markets. There's tons of shopping options, incredible amounts of food and drink and of course tons of gorgeous decorations! There's even a couple of roller coasters. New to this year is also a light tunnel where you can also have fondue! It's obviously a must do event. The information for the 2018 even is as follows:
Dates: November 15, 2018 to December 23, 2018 (closed on Mondays)
Hours: Tuesdays-Thursdays between 12 pm and 9 pm
Fridays between 12 pm and 10 pm
Saturdays between 10 am and 10 pm
Sundays between 10 am 9 pm
Location: Distillery District, Toronto
Admission: Free on weekdays until 5 pm. $6 on weekends and Friday evenings.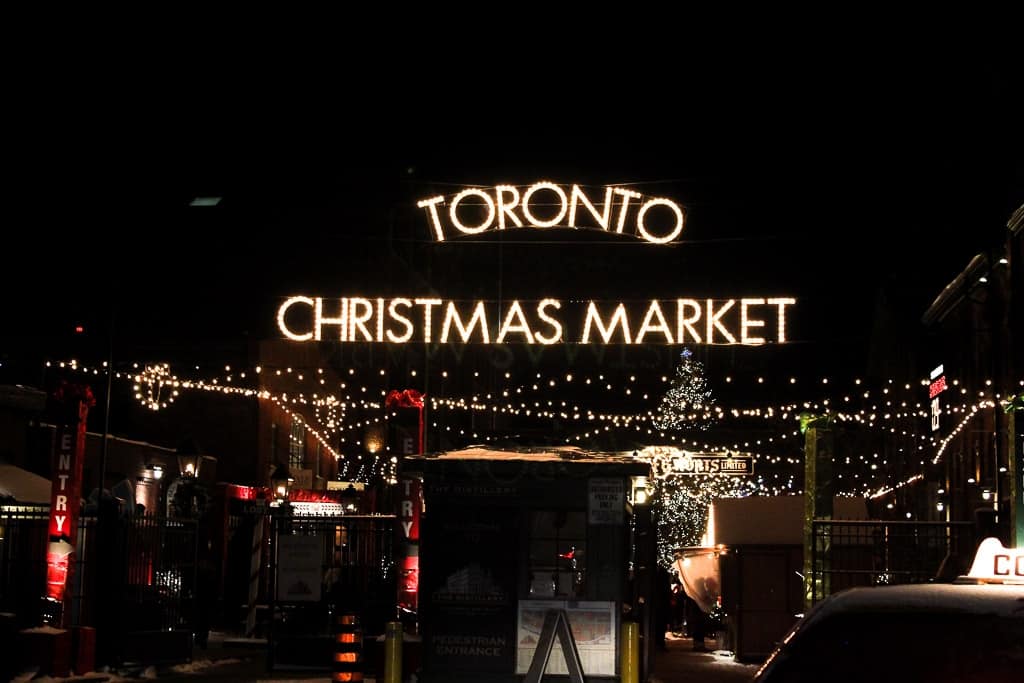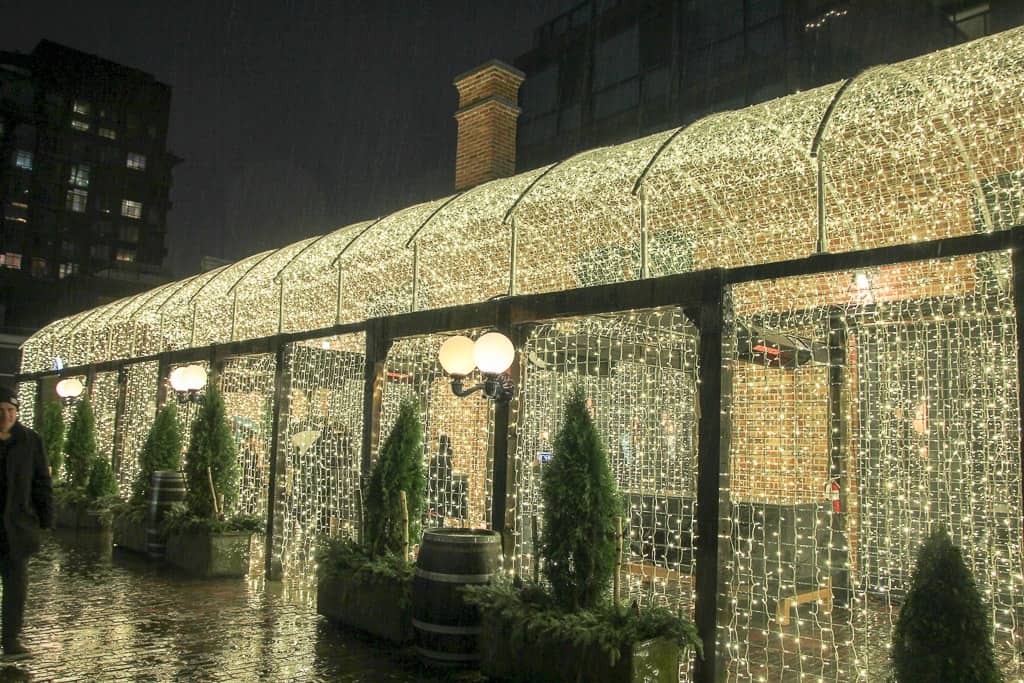 Winter at Ontario Place
Ontario Place is finally reopening this year and will host a huge winter festival between December and March. There will be a giant light exhibition, a skating rink, a bonfire and and fairy light lit walks. Pretty much a winter wonderland!
Holiday Fair in the Square
This market in Nathan Phillips Square is a perfect way to tie in a bunch of the activities on the list. There's lots of vendors and food in the square plus you'll get to see the giant Christmas Tree from the Cavalcade of the Lights and you're walking distance from the Toronto Eaton Centre and Yonge and Dundas Square! And once you're tired of looking at all the decorations and eating all the food (is that even possible?) you can enjoy some free skating!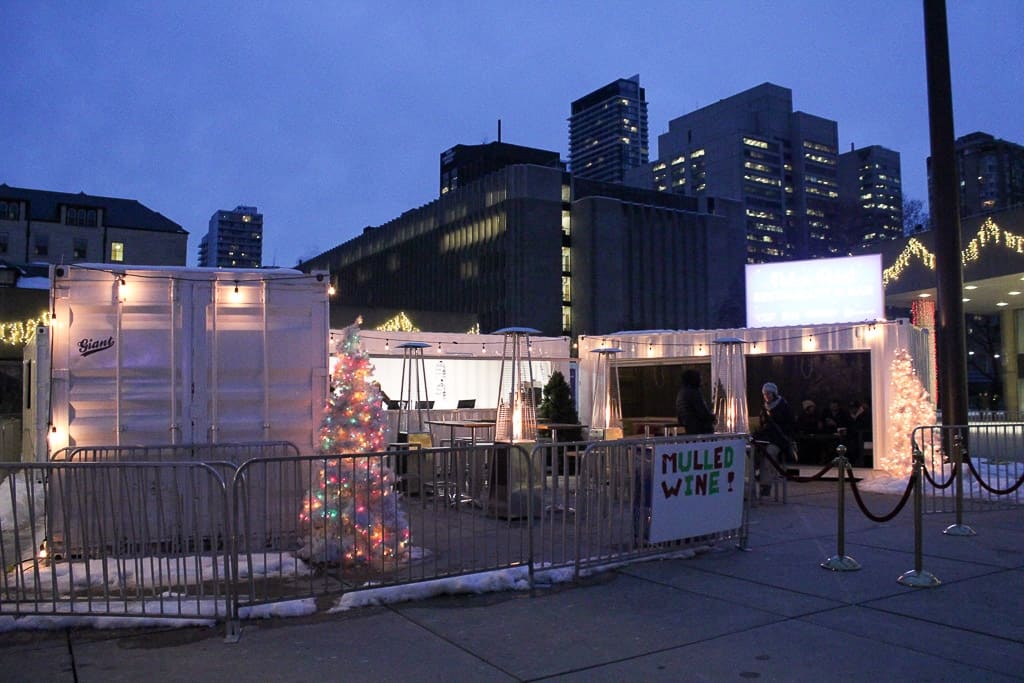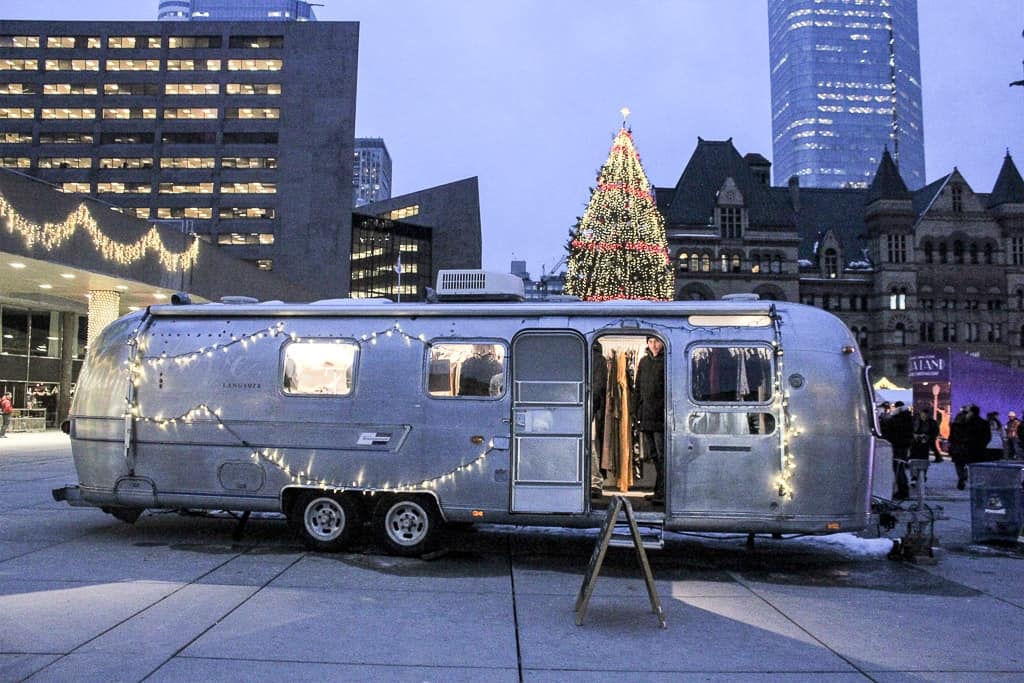 And there you have it! Tons and tons of ways to celebrate Christmas in Toronto (and around it). Would you come to Toronto for any one of the events? Have you celebrated Christmas in Toronto ever? Let me know in the comments and pin the image to plan this Christmas!