Banff is one of those spectacular and most beautiful places in Canada. It's known for its stunning nature and for the incredible amounts of activities there is to do! While there's plenty of nature activities and free things to do, there is a certain element of luxury in the town especially with the hot springs, fancy hotels, upscale restaurants and world class shopping! One of the luxury activities you have to treat yourself to is an afternoon tea in Banff and the perfect setting for that afternoon tea is the famous Fairmont Banff Springs Hotel!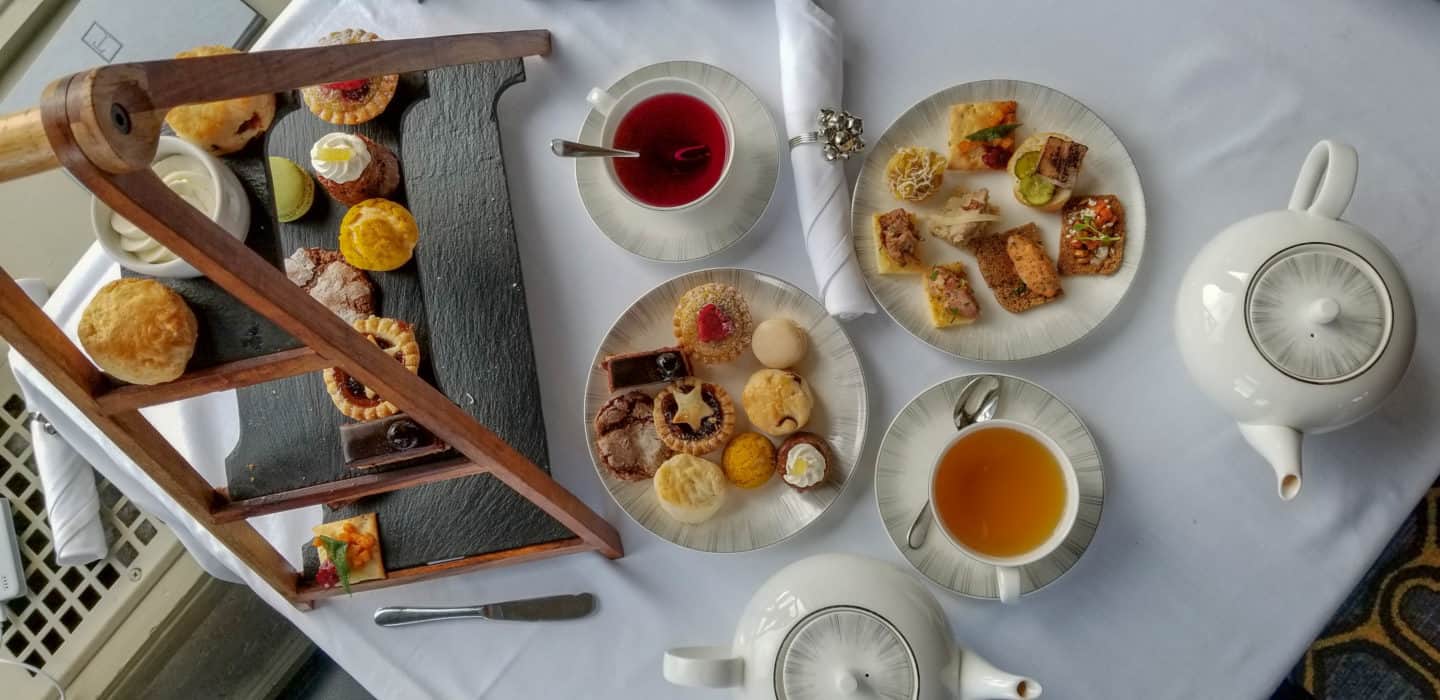 The Fairmont Banff Springs Hotel
The Fairmont Banff Springs Hotel (also called the Castle in the Rockies) has been apart of the town of Banff for over 125 years (opened in 1888). It's got some incredible amenities like a spa, a number of restaurants, a golf course, a number of shopping locations and of course the afternoon tea experience! Like Canada and the rest of the world, the hotel has gone through a lot in the last century. It's dealt with a huge fire that saw the original structure burn down, struggled through the Depression and the hotel temporarily shutting down during World War II. The hotel has a ton of stunning architecture to see and if you're staying in the hotel your stay comes with a free heritage tour. If you're not a guest you can do this self-guided tour.
It's also got the bonus that if you're into ghost stories then this is the hotel for you! Fairmont Banff Springs has two well known ghosts: the Bridge and Sam the Bellman. The Bride is the ghost of a bride who was getting married at the hotel but got startled coming down the marble staircase so she died on the stair case and while the exact cause of her death is unknown, many staff and guests have seen her floating up and down the stairs and even dancing by herself in the upstairs ballroom. Sam the Bellman is the ghost of Sam McCauley who was the head bellman in the 1960s and 1970s until he died in 1975. Apparently he's a helpful ghost and one story even claims that he once helped a couple of guests unlock their room after they lost their key card! While the two ghosts are pretty harmless, there are also reports of some of the rooms being haunted. Obviously the hotel doesn't want the hotel numbers to get out but there are a ton of stories about room 873 which is apparently haunted by the spirits of a family that all died in the room. The stories are pretty creepy and I don't even like reading them so check out this article if you're interested in more about it.
Whether it's the architecture, amenities or ghost stories I do recommend arriving early for your afternoon tea booking so you get to enjoy the hotel! If you're visiting in the winter it's a great activity as well since it's typically really cold outside and you'll get to spend some time indoors while exploring the hotel.
Reservations & Price
There are three variations of the afternoon tea. The standard afternoon tea is $65/person (CAD). You can add an Artisan cheese board with a variety of cheeses, chutney, baguettes and some grapes for an additional $28 (CAD) but this cost is split across two people. There's also an extra fancy version of the afternoon tea that comes with a glass of champagne, the artisan cheese board and the regular afternoon tea. I want to say this was $95/person (CAD) but I can't find a picture of that page of the menu so I've emailed the hotel and will update if I hear back!
The afternoon tea is served between 11 am and 3 pm and I highly recommend getting a reservation. We did see a few people walk in but they were all told about 1 hour wait so I was glad we had our reservation. You can book your table on Open Table online so it doesn't even require a phone call.
The hotel is just a bit of a walk/commute outside of the Banff core so if you're bringing your car, keep the parking situation in mind. It's $27 for the day (CAD) or $10/hour (CAD). You're probably pretty safe with paying for 2 hours since that's about how long the meal takes!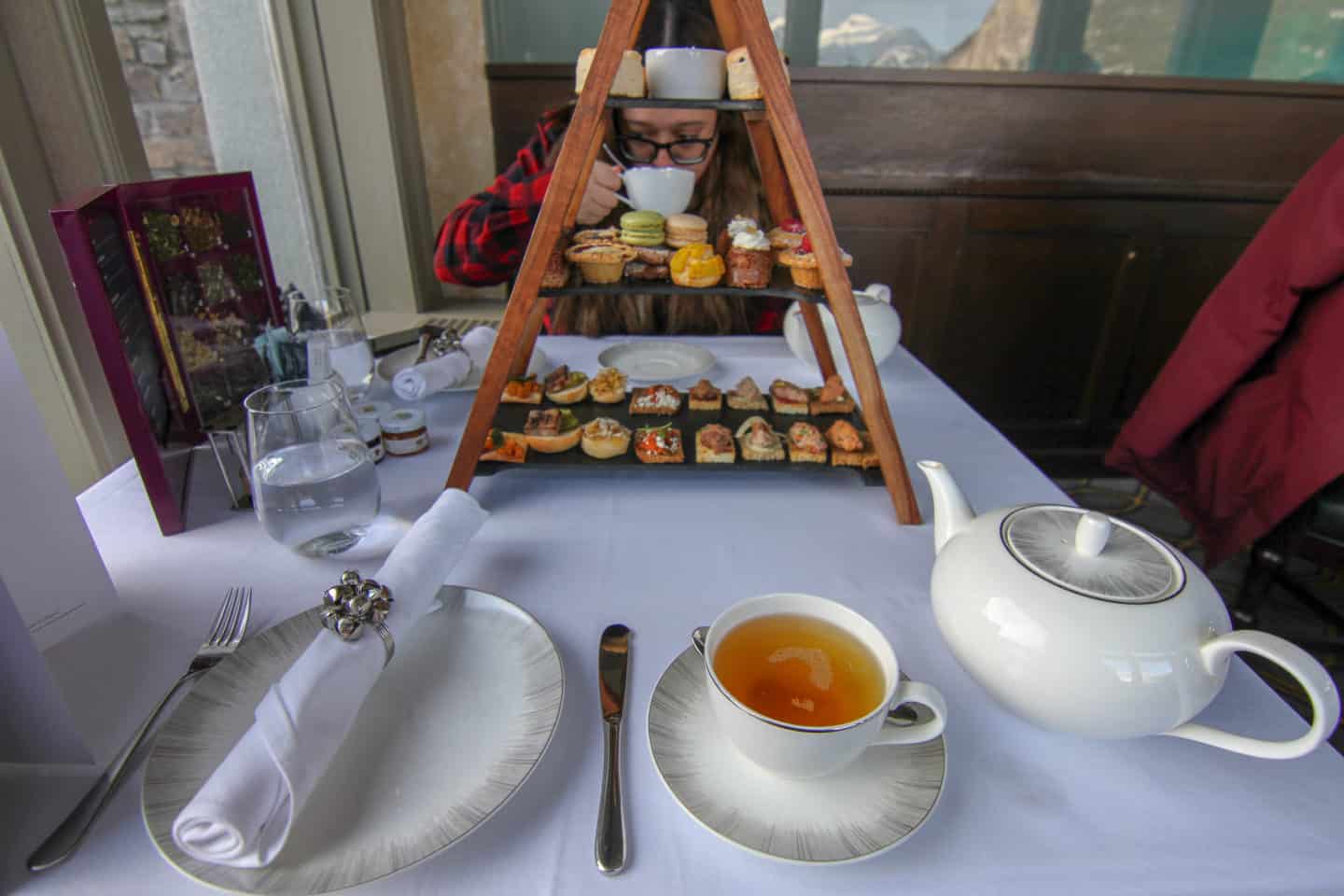 The View
One of the best aspects of the afternoon tea at the Fairmont Banff Springs is of course this stunning view! Look at those incredible mountains!
The Menu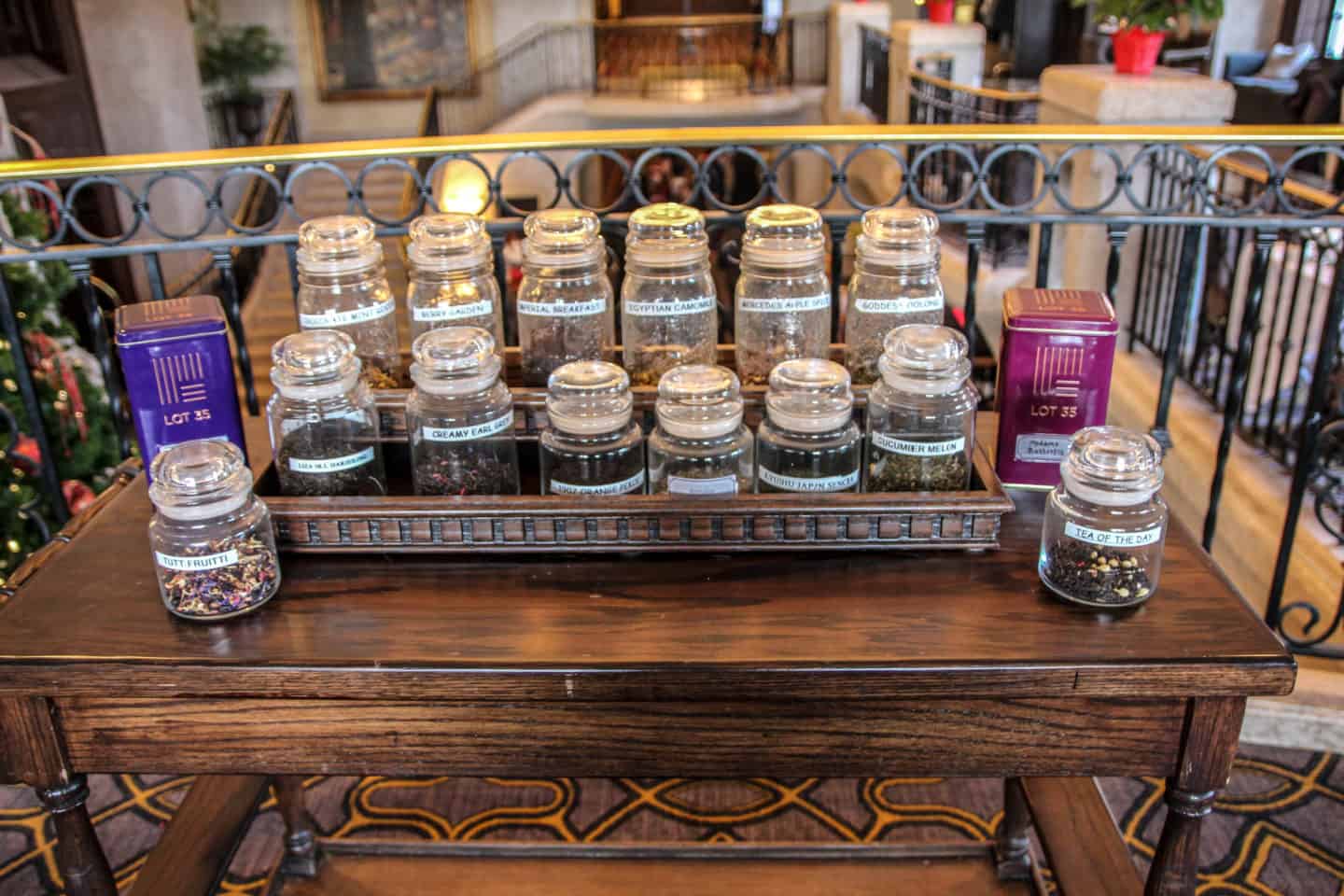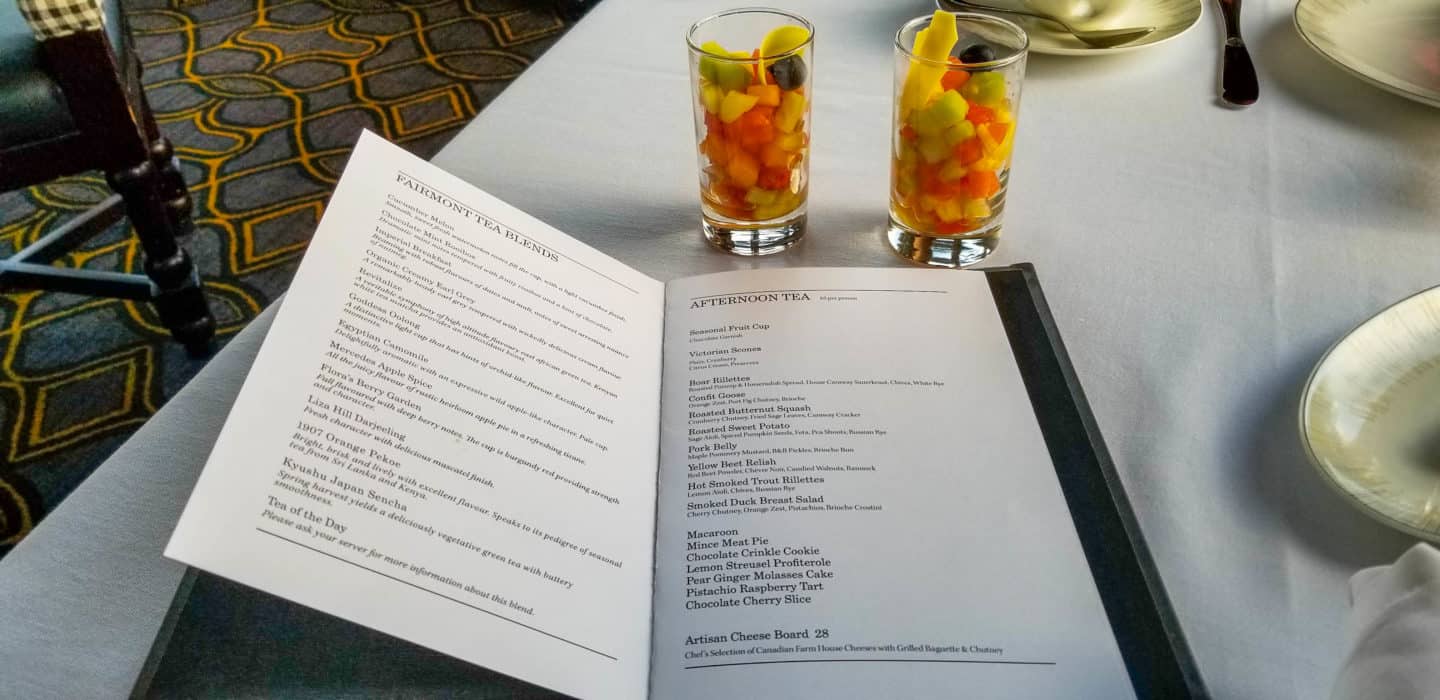 Now, for the most important part: the menu! What's an afternoon tea without the actual food right?
To start, you get to select from 14 different teas (12 standard ones, a special one and the children's flavour). You can head over to the table to smell them all before making your selection! My husband went with the Cucumber Melon which he thoroughly enjoyed. I tried the Flora's Berry Garden since I typically really like berry teas but I was actually disappointed for once! It was just incredibly sweet! Should have gone with my standard Earl Grey but that's okay because the experience was still super cool.
The menu starts out with a cup of fresh fruit (like the one picture in the menu picture above) which comes with a piece of white chocolate which is super delicious! I'm under the assumption that the fruit cup is to clear your palette which it totally does. They then bring you your tea with your own pot (there's enough for like 3-4 cups). Neither of us finished our tea, so I'm not sure if they'd refill the pot or not.
All the food comes out at once on a wooden stand with the scones (regular and cranberry) on top with some citrus clotted cream and a few jam flavours!
The savoury bites are at the bottom and are Boar Rillettes (boar, roasted parsnip & horseradish spread with house caraway sauerkraut and chives on white rye), Confit Goose (orange zest, port fig chutney, goose on brioche), Roaster Butternut Squash (butternut squash, cranberry chutney, fried sage leaves on a Caraway cracker), Roasted Sweet Potato (sweet potato, sage aioli, spiced pumpkin seeds, feta and pea shoots on Russian Rye), Pork Belly (pork belly, maple pommery mustard and B&B pickles on a brioche bun), Yellow Beet Relish (beet, red beet powder, chevre noir and candied walnuts on bannock), Hot Smoked Trout Rillettes (trout, lemon aioli and chives on Russian Rye) and finally a Smoked Duck Breast Salad (duck, cherry chutney, orange zest and pistachios on a brioche crostini).
The desserts include a macaroon (ours was pistachio), a mince meat pie, a chocolate crinkle cookie, a lemon streusel profiterole, a pear ginger molasses cake, a pistachio raspberry tart (my favorite!) and a chocolate cherry slice!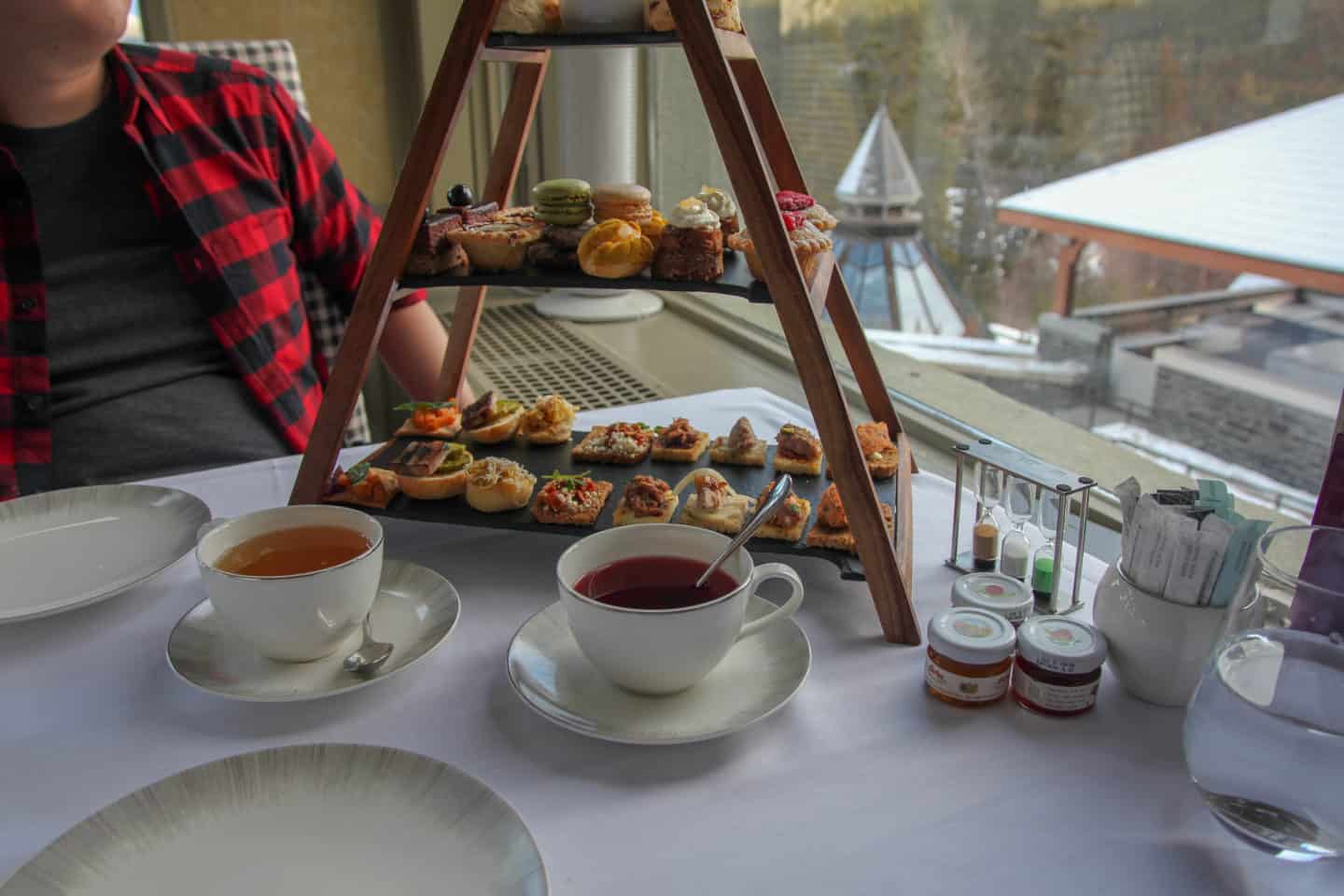 Are afternoon teas your thing? Would you do this afternoon tea in Banff? Let me know in the comments and as always pin this post for your own upcoming visit!