Athens is a super interesting city and one I've thought long about writing about. Opinion seems to be pretty split on visiting Athens and how much time you may need to visit it. I've read numerous people saying to only spend half a day in Athens to see the Acropolis and then fly out and honestly I think this is just the wrong way to go about it. I typically don't have an opinion on how much time you spend in a country because there's no right or wrong way to travel and if you really only have half a day then of course that's the way to go but don't skip Athens just because you don't think there's anything to do there! We spent 4 days in Athens and that's definitely more than average but we were coming off a few incredibly busy months and wanted a way more relaxed vacation. While you can certainly see Athens as slowly as we did, I think 2 days in Athens is the perfect way to see the highlights and to get a taste of the city beyond just the Acropolis. I've combined the best of our days to provide you a full 2 days in Athens. They are busy days and they're based on you having a full 48 hours in Athens but if you're landing on the first day then cutting out the first few items is totally fine. If you only have one day in Athens then you'll be skipping some of the things below but you'll still get a decent taste of the main sights.
Day 1:
Explore Monastiraki Square + Shop at the Monastiraki Flea Market
Start your morning bright and early at Monastiraki Square. It's easy to get to because of it's central location and the fact that there's a subway stop by the exact name right in the square. Calling it a flea market is definitely misleading – it's more like a market/bazaar similar to Khan el-Khalili in Cairo or the souks in the rest of the Middle East but if you're here on a Sunday you'll definitely see the flea market aspect a little more because people/vendors will put out tables to display goods for sale on!
Monastiraki Square is in general a great place to start your days in Athens because it has a lot to offer in terms of cafes and access to some of the major sights to see. Make sure to get something to eat and drink before moving on to the next part of the agenda.

Roman Agora
Once you've had your fill of shopping and grabbed something to eat head over to the Roman Agora. It's only a few minutes away from Monastiraki Square so you won't need to walk too far to get there.
The Roman Agora was a major town square surrounded by shops and important buildings so it was definitely one of the centers of Ancient Athens. The Roman Agora is nowhere near as big as the Acropolis and so you don't have to set aside too much of your time to be able to see it. We very lazily saw the entire place in 30 minutes so it's worth stopping by even if you're short on time!
Once at the Roman Agora, this is a great place to get the combination ticket that would allow you entrance into the major ancient ruins in Athens. You can find out more information on the hours and prices in the below post.

Ancient Agora
Located about 5 minutes from the Roman Agora you'll find the Ancient Agora. If you buy the combination ticket at the Roman Agora you'll already have your admission so you can head right on in.
The Ancient Agora was another hub of Athens. It was a marketplace selling goods and foods. Out of all the ruins, besides the Acropolis, the Ancient Agora is one of the largest ones with the most buildings to see. They're also in fairly decent shape so you'll definitely have lots to see!
While there's technically no difference in the order that you see the ruins in, taking in the Ancient Agora before the Acropolis is nice because the Ancient Agora has some really nice views of the Acropolis!
You can find out more information on the hours and prices in the above post.
OPTIONAL: Acropolis Museum
We personally skipped the Acropolis Museum because we wanted to spend more time outdoors but if you're interested in seeing it then now would be the time to do so given its proximity to the Acropolis. If you opt to do the museum you should allocate a few extra hours towards it and start your day a little earlier! We, for comparison sake, started our day around 10 am but we skipped the museum! If you want to visit it check out their prices and hours.
Visit the Acropolis
The Acropolis is obviously a must do in Athens and one that will have the biggest crowds. Based on my research (and in-person experience) the tour buses and cruises hit up the Acropolis in the mornings so unless you're willing to be the first ones there at like 8 am – you're most likely still going to deal with crowds. We opted to go towards closing (around 4 pm) so that we could beat some of the day crowds and so that we could avoid some of the mid-day heat! Make sure you're allocating enough time here because it's a bit of a hike up to the top and there's plenty of different buildings to see. In addition to the Acropolis itself you're going to want to spend some time taking pictures of the city – the view is unbeatable!
Enjoy the Street Art
Athens recently underwent some political unrest and what usually happens in those cases can definitely be seen in Athens. I'm talking of course about the large movement in street art. While there is graffiti all over the city, you can also see a number of very well done murals. Some of them are political and of course speak to what was going on in the city while they were being painted. The murals can be found all over the city but some of the areas aren't necessarily recommended that you go visit. I'd say stick to Plaka, Monasteriki and Psyri and you'll still be able to find some absolutely amazing pieces!
End your night in Plaka
Plaka is a lovely neighborhood in Athens with a number of small alleyways, cafes and restaurants. It's a great way to see what nightlife in Athens is like and a great way to end your first day. You'll see plenty of restaurants with outdoor seating and a lot of them will have live music. This part of town truly comes alive at night and it's one that's definitely worth checking out. Plus, you'll want to eat as much Greek food as possible – all of it is just so incredibly good!
Day 2:
Visit the Olympieon
The Olympieon is a great way to start your day before it gets too hot and too crowded. The biggest attraction at the Olympieon is the Temple of Zeus (so much so that it's sometimes referred to as the Temple of Zeus) and the great thing is that if you've gotten the combination ticket (from day 1 of the itinerary) then you'll be all set to just walk in and explore!

Explore Hadrian's Arch
Once you're done exploring the Olympieon and the Temple of Zeus make sure to check out Hadrian's Arch which is located right outside of the Olympieon (and along the major street so you can't miss it!). It's a great architectural feat and it's grandness is worth stopping by.
The structure has been standing since it was built in 131 AD when it was used to separate the old Athens from the new Athens. There isn't much too it so you don't need to dedicate too much of your time to the arch but it makes for a nice photo stop plus it's free and there's no admission hours that you need to be concerned about!
See the Hellenic Parliament and the Unknown Soldier Monument
When you're facing Hadrian's Arch (with the street in front of you), you'll want to continue to the right and down the main street towards the Hellenic Parliament and the Unknown Soldier Monument.
Given that Greece is the founder of what we essentially call democracy today you're definitely going to want to check out their parliament since it's such a unique thing to do! Greece's Parliament is in the Old Royal Palace and if you've only got time to explore it from the outside that's still worth while. Based on how this itinerary is set up this day in Athens isn't exhausting (unlike the first day which is busier) so you can come back at 3 pm if you're here on a Monday or Friday and join a 1.5 hour guided tour of Parliament. You do need to register at least 5 days in advance for it so you won't be able to wing it. More details on the tour can be found on the official website.
The parliament building also hosts the Tomb of the Unknown Soldier Monument. This is a war memorial monument that you can find in places around the world. The Greek one is obviously dedicated to the memory of all of the Greeks who lost their lives fighting in wars for their countries. The writing on the wall around the tomb are recent battles were Greek citizens lost their lives. For the battles to be added on the wall they're actually voted on by parliament.

Enjoy the Changing of the Guard
If it lines up with your schedule then seeing the Changing of the guard is definitely a very cool thing to take in while in Athens. It takes place at two locations: the Presidential Mansion and the Tomb of the Unknown Soldier. The guards are called the Evzones and are part of the Greek Military/Presidential Guard and the changing of the guard is essentially when the shifts between soldiers are turning over.
Every half an hour, the Evzones perform a ceremonial march so it's quite easy to witness this depending on your timing. Every hour the actual shift change takes place. The big changing of the guard you'll want to see is the one that takes place on Sunday mornings at 11 am! It's got a lot more pomp and circumstance than the other ones and involves a military band as well.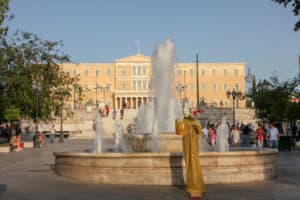 Visit Syntagma Square
Syntagma Square is one of the most recognizable spots in Athens with the big fountain and great view of the parliament. Given it's close proximity to Parliament, Syntagma Square has always been important historically and these days it's still used for protests and marchs when necessary.
Syntagma Square is also very locally placed so it makes for a great location if you're looking for hotels as you'll have close access to many of the highlights of Athens and it's also considered a transportation hub with many of the lines being accessible through Syntagma Square.
Fun fact is that Syntagma Square was featured in Jason Bourne (the 2016 movie) but it was being used as a location in Spain.
Get in some nature at the National Gardens
The National Gardens in Athens are a hidden gem in my opinion and one that a lot of itineraries don't seem to include. With all the ruins, Athens can be a little grey/brown sometimes and getting lost in the National Gardens was one of our highlights in Athens. Best of all is that admission is completely free! We spent about 2 hours strolling around the park but you can obviously adjust this based on how much time you have and if you want to spend even more time you can bring a packed lunch to enjoy!
There's a ton of turtles just casually using the pathways so if you're biking or anything make sure to keep an eye out for these little ones. If you see them in any of the ponds pay attention because there's so many of them that they're actually stacking on top of each other which was a super unique sight I'd never seen before.
The National Gardens used to be the King's Gardens and there's a lot of beautiful touches around the park. There's also a little zoo with peacocks and other animals and tons of exotic plants and flowers for you to stroll around and observe. As a side note, there are a ton of mosquitoes here so I'd bring bug spray if you're sensitive!
Ride the Happy Train
After lots of walking around you'll be happy to jump on the Happy Train to see some sights you may have missed and to get to relax for a little bit. The entire trip takes about 40 minutes (from start to finish) and it's a nice way to get a quick look at 11 different stops. There's also a little voice over that gives you some information/details on what you are seeing.
The 11 stops are: The Hellenic Parliament & Constitution Square, The Monument of the Unknown Soldier, The Benaki Museum, The Museum of Cycladic Art, The Byzantine and Christian Museum, The War Museum, The Panathinaiko Stadium, The Zappeion Hall, The Temple of Zeus & the Hadrian Arch, The Diogenes Lantern in Plaka and Plaka.
The cost for an adult is 5 euros and for a child it's 3 euros. There's no need to reserve, you can just walk up and pay your fare in cash to take a ride.
The train runs all year long. In the winter they run between 9 am and 9 pm departing every 30-40 minutes from Syntagma Square. In the summer they run between 9 am and 11 pm departing every 30-40 minutes from Syntagma Square.
Stroll down Ermou street for some shopping
Ermou Street is a pedestrian shopping street in Athens similar to ones other cities would have. There's a nice mix of international and local brands as well as high-end and budget friendly options. I wouldn't dedicate too much time to the street but it's nice to stroll along and take in some people watching and some street musicians. It does get busy so expect some crowds. It's also a great place for food as it's lined with cafes and restaurants.
Take in the sunset from a rooftop
Athens has some absolutely stunning views and some pretty fantastic sunsets. There are a number of different ways to enjoy these sunsets. Plenty of bars and restaurants have rooftops but we were looking for a more chill vibe so we went with a hotel that had a rooftop pool and therefore a fantastic view of the sunset!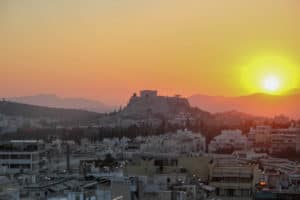 More Time?
This itinerary is based on having two days in Athens but if you've got more time there's plenty of other things to see and do and plenty of day trips you can take!

Take a day trip to Meteora
Located about 4 hours from Athens you'll find the absolutely stunning Meteora Monasteries.
4 hours seems daunting as a day trip but it's completely doable if you rent your own car. If you have enough time to do the overnight of course that's the way to go but we saw all the monasteries that were open that day on a day trip from Athens and didn't feel rushed at all. It was a long day (left Athens at 6 am and got back around 10 pm) but like I said, it's completely doable!
Renting the car was as easy as it would have been in any other country and driving was surprisingly easy! I've got an entire post dedicated to everything you could possibly need to know about the Meteora Monasteries so if it's on your to do list then check out that post below.
Nafplio is another easy day trip from Athens and one that isn't quite as far away as the Meteora Monasteries. It's located about 2 hours from Athens by car and is one of the prettiest little coastal towns I've ever seen.
There's a number of things to see in Nafplio and you can easily fill an entire day between the beaches, the forts and the alleyways filled with adorable stores.
The pace in Nafplio is much more relaxed than that of Athens and even if you end up doing nothing but strolling around you'll have a fantastic time!

Take in other ancient sites
Besides the ones already on this itinerary you could also visit Hadrian's Library, Kerameikos and the Archaeological Site of Lykeion.
They're all fairly close to each other and to the other ancient sites so it just really depends on how much you want to see in a day/how many days you have to sight-see.
A bonus is that if you've already gotten the multiple sites pass then these will pretty much be free. A lot of the sites don't take too long but they each represent a unique portion of Athens history and are definitely worth a visit.
Hit up some museums
Given the history of Athens and Greece in general you already know that Athens has a number of museums to offer and depending on how much time you have you may want to explore more than just the Acropolis Museum. Other museums of interest include the National Archaeological Museum, The Cycladic Art Museum, The Museum of Kerameikos, The Benaki Museum, The Byzantine and Christian Museum and surprisingly many more.
Visit the Panathinaiko Stadium
One of the other things you can do in Athens is to visit the Panathinaiko Stadium. It's the stadium where the first Modern Olympics were held in 1896 and it's rebuilt entirely of marble. It was originally built in 330 BC and can seat up to 50,000 people.
Map of the Sites in Athens
Tips for Visiting Athens
Like any other major city around the world, you do need to be vigilant about your belongings. We're fairly careful but my husband still got his phone stolen on the subway going into Monastiraki Square. It was by a group of people who surrounded him and they tried getting my purse as well but I caught it in time so it was a little scary and we as a result avoided the metro for the rest of the trip. We did report this to the Tourist Police but they weren't surprised at all what happened
There are lots of people in the public areas who will approach you to sell something. One of the common things we encountered was somebody trying to put a bracelet on us quite forcefully and saying it was free. They would then of course ask for money for the bracelet saying it's for a music school hosting a concert in the square later. We happened to pass by the square in the evening and there was of course no such concert.
Both of the above actually happened at Monastiraki Square so I would be particularly careful here as it's clearly a hot spot for tourists and those looking to take advantage of that
It gets really hot in Athens and you will end up doing lots of walking so I highly recommend keeping a water bottle on you because you will need it! The walk up to the Acropolis that we took was very hilly and we definitely got pretty winded from it
Some of the ruins don't have facilities readily available (as in they're usually at the entrances mainly) so do keep this in mind when heading into the Acropolis or the Ancient Agora for example!
Eat as much as possible – lots of restaurants have windows where you can grab a gyro to go. This makes for an excellent (and fairly cheap) lunch and it allows you to keep exploring without too much of a break for food.
Getting to/from the Airport
There are four different ways to get into Athens depending on where you are coming from. We took the metro into Athens but took an uber to the airport so we tried two of the ways.
For me by far the easiest option is uber. It's obviously not as cheap as public transit but at comparable rates to regular taxis you at least avoid the issue of potentially getting scammed since the rates are all within the app.
You can also take a taxi into Athens from the airport. You can prearrange this with a number of services online or you can of course flag one down at the airport. If you're staying a hotel somebody could definitely call you a taxi for your return trip. Estimations are 35 euros to 50 euros per one way.
The first public transit option is to take the bus. It's the cheapest option at only 6 euros per one way and it takes about 45-90 minutes into Athens depending on the tour you get on. It's not a significant difference to the metro but the big difference however is that the bus can sit at the stop for up to an hour before it does depart.
The last option is to take the metro from the airport into Athens. We did this on our way into Athens and had no problems doing so. It was super easy to access and to pay for our tickets. It costs 10 euros each way or 18 euros for a round trip. The metro leaves every 30 minutes (at 5 past and 35 past the hour mark) and takes approximately 40 minutes to get into the center of Athens. Do keep in mind the train only runs between 6:30 am and 11:30 pm.
Where to Stay in Athens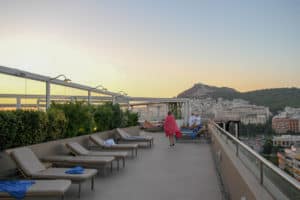 We stayed in Athens at both the start and end of our trip (for a total of like 5 days). Our first portion was in an airbnb in a more residential area so we were a little further from the sights than I'd probably have liked.
Our last night we stayed at the lovely Divani Caravel Hotel which had the most fantastic rooftop pool where we got to see a pretty fantastic sunset! It's also really centrally located so I'd highly recommend going with that.
There you have it! A pretty great outline for two days in Athens! If you've only got one day combining portions of day 1 and day 2 is totally doable especially since the major sights are close together. If you've got any questions let me know in the comments and as always, if you like the post, please pin and share it for your own upcoming trips!