Most people associate the United Arab Emirates with Dubai only. In fact, I've witnessed more than one person be surprised at the fact that Dubai isn't a country but a city. My point in bringing that up is to say that United Arab Emirates has got plenty of other areas and cities to check out. One of these cities is definitely Abu Dhabi. It's a city that's constantly evolving and adding new sights. They've got some really cool things like one of the world's only 7 star hotels, a Ferrari world, a brand new art museum and of course the Grand Mosque. The Sheikh Zayed Grand Mosque in Abu Dhabi is one of those spectacular places you'll see on instagram. It's filled with beautiful marble columns, pearl details, white domes and super photogenic corners. I highly recommend visiting Sheikh Zayed Grand Mosque while in Abu Dhabi (or as a day trip from Dubai!) so I've put together this guide of information you'll need to know before going!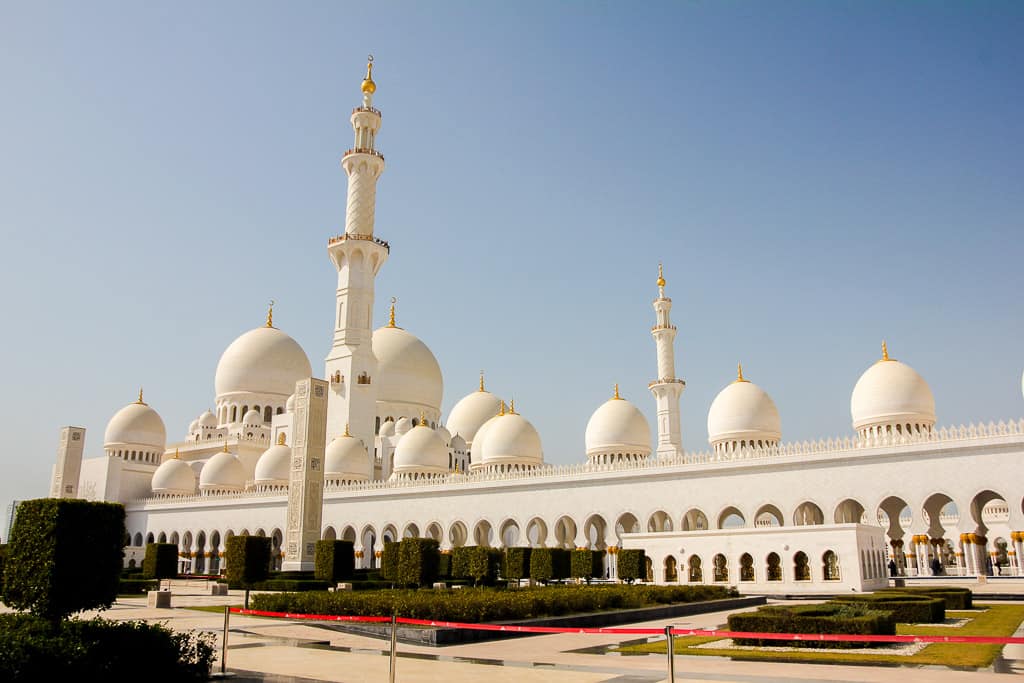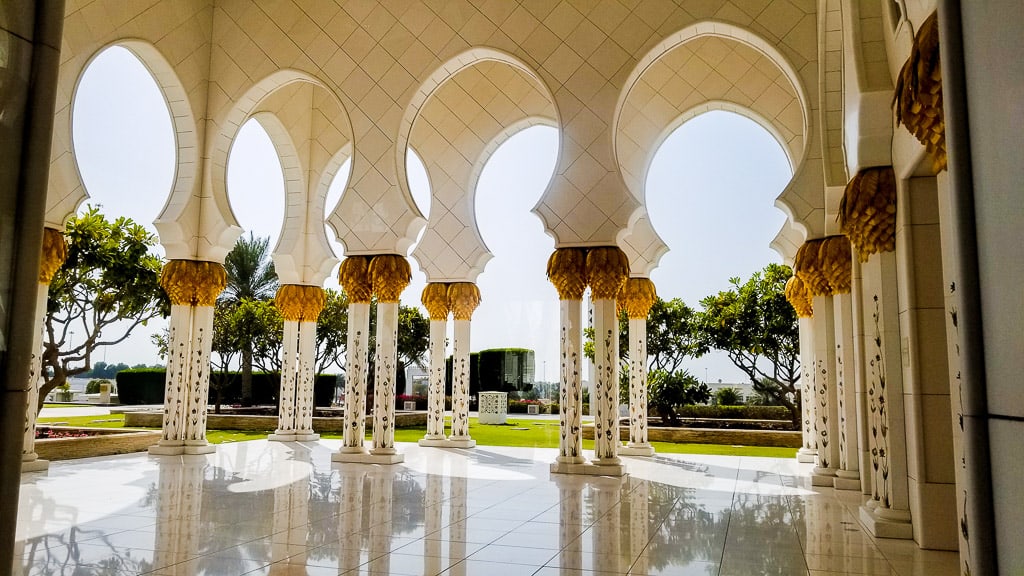 History, Architecture & Interesting Facts
It may surprise you to learn that the Sheikh Zayed Grand Mosque only opened in 2007. It's obvious to see once you've arrived because the facilities are very modern (escalators, sliding doors, electronic prayer times displays etc.). The interior (and exterior!) of the mosque is absolutely stunning. The mosque has 82 white domes that are covered in white marble. The inside of the domes are covered in Moroccan artwork and encircled with verses from the Quran. There are also green glass domes visible around the grounds of the mosque in the gardens. These are actually domes from the underground levels of the mosque!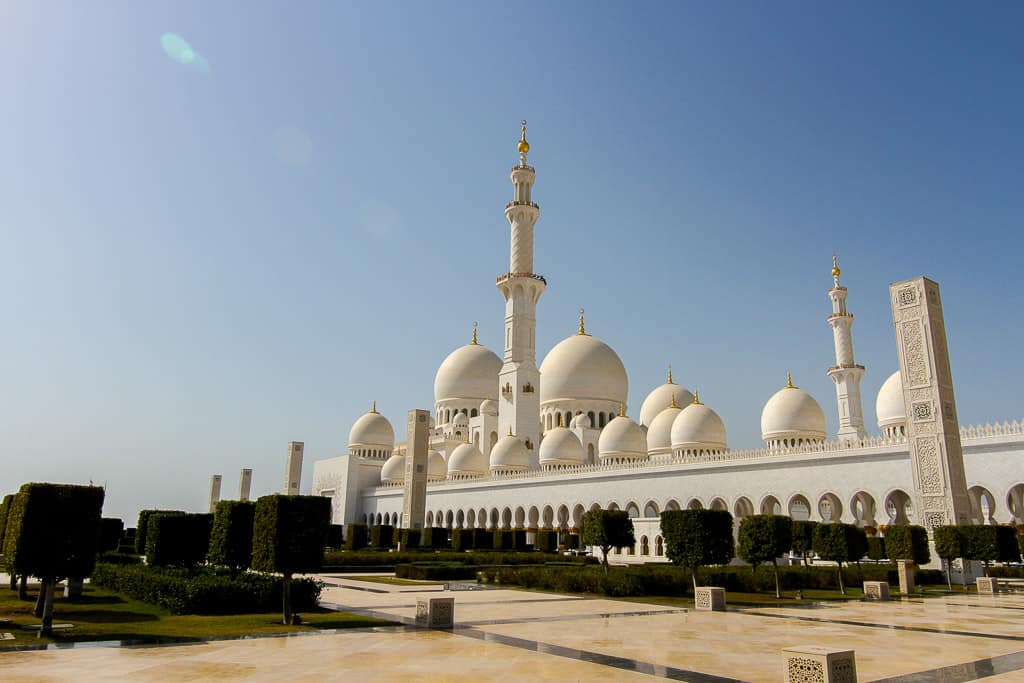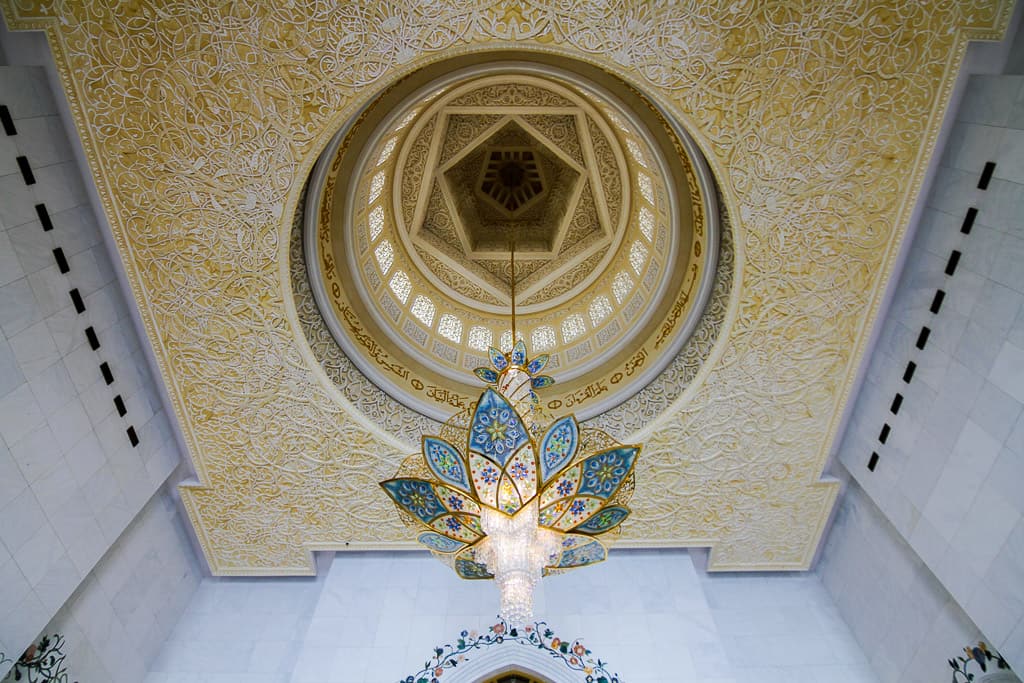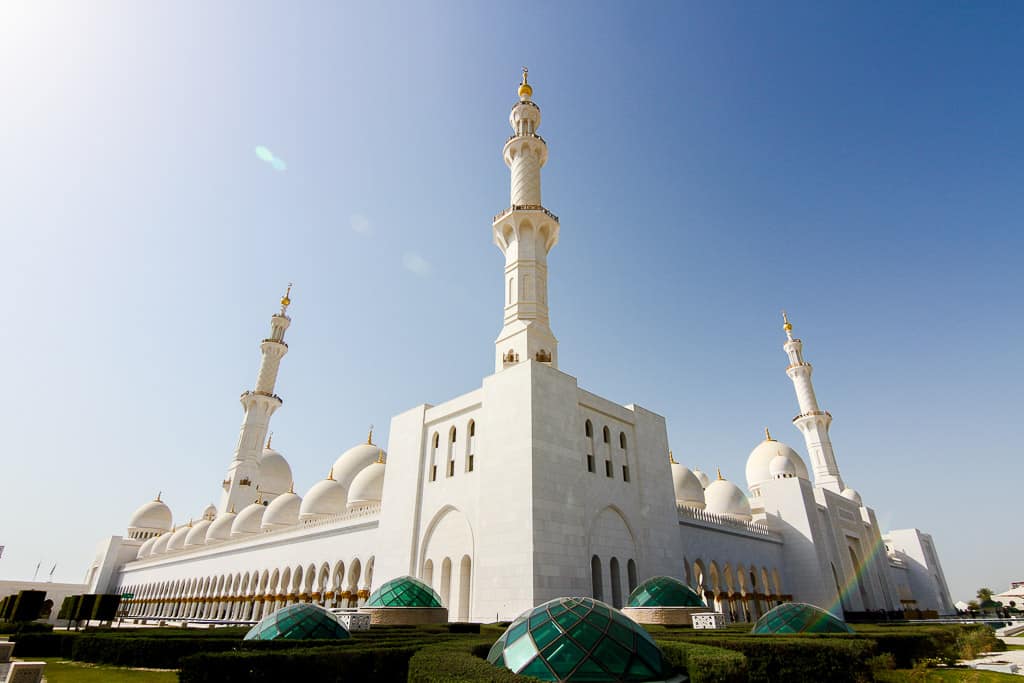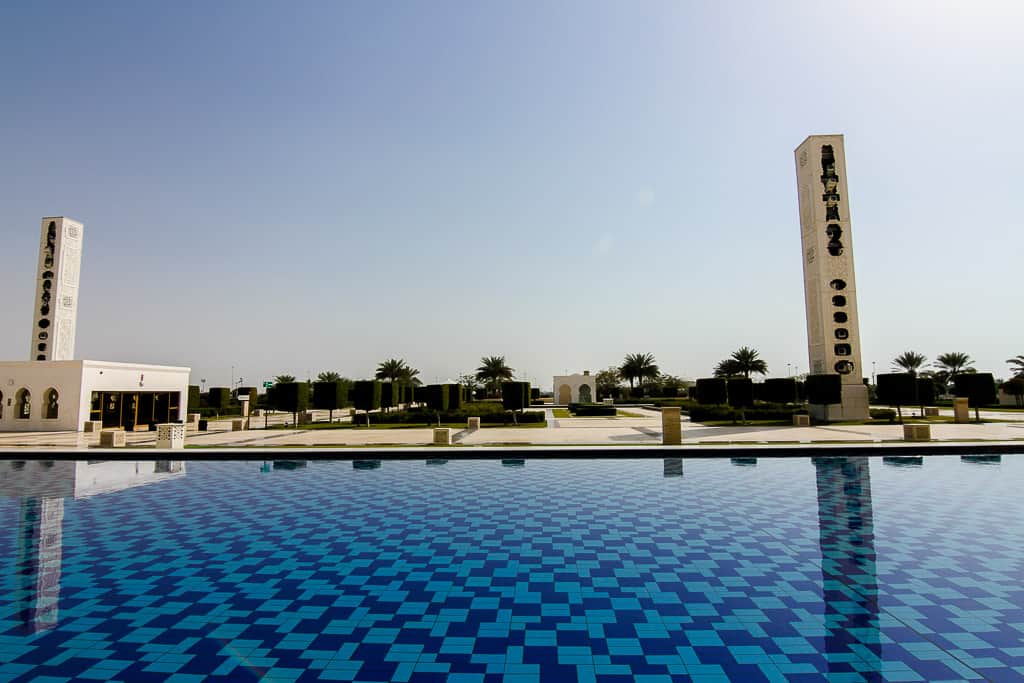 Another one of the stunning design features at the Grand Mosque is the rectangle reflecting pools that are all around the mosque.  They're all different shades of blue and are a perfect tool to get some amazing reflection shots of the mosque. The pools are even more beautiful at night when they get illuminated!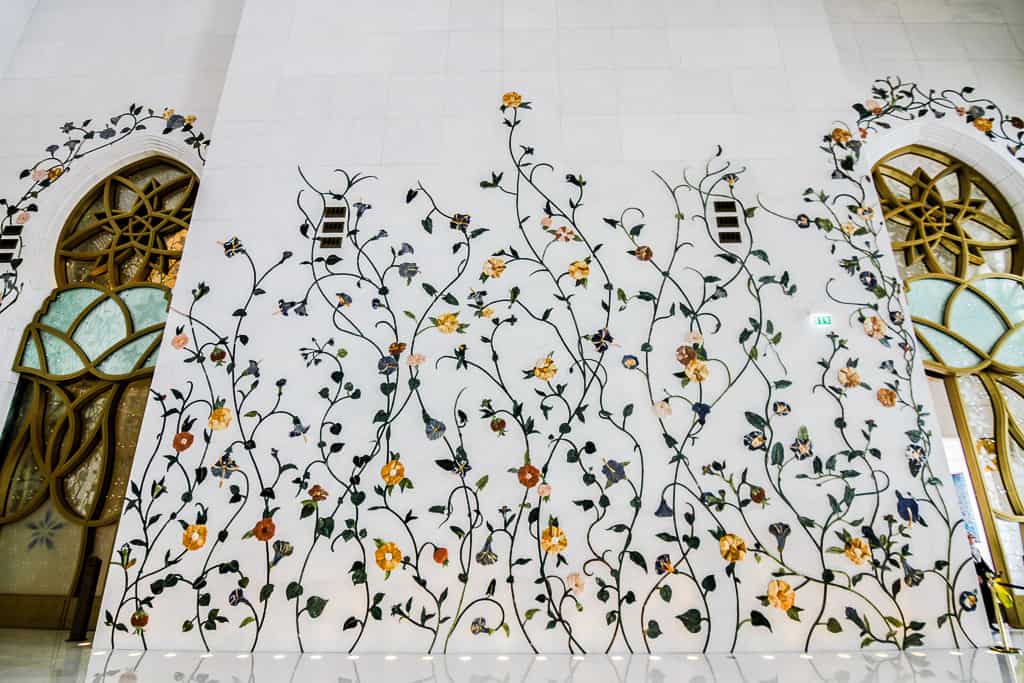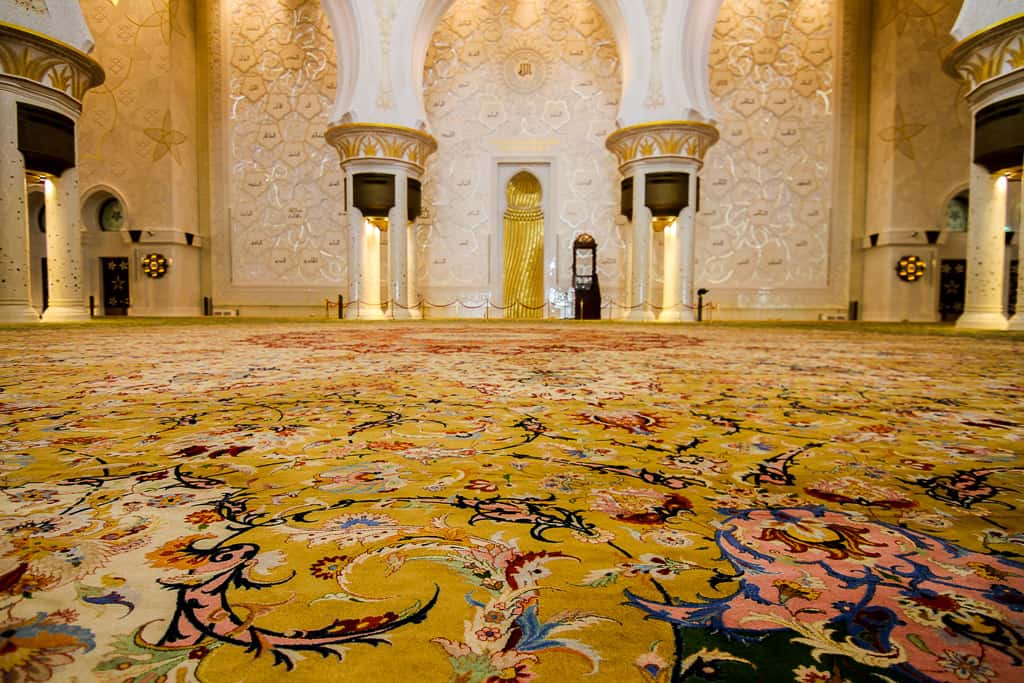 The prayer hall has the largest hand-knotted carpet in the entire world and it's actually really cool because it's all one piece! The entire project took about two years to make with 1,200 artisans working on it at a time. The final project is 5,700 square meters of intricate details.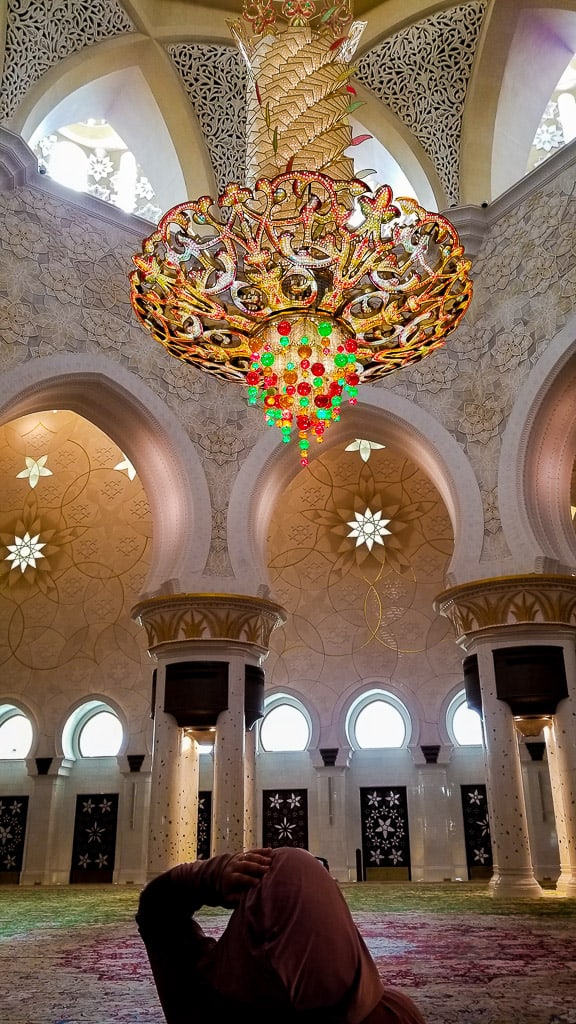 There are 7 huge crystal chandeliers made in Germany throughout the mosque. They've got glass panels with Swarovski crystals installed in them in addition to brass. Three of them are in the main prayer hall. The biggest one (pictured above) weighs almost 12 tons and is considered one of the world's largest chandeliers in a mosque. Two of the other chandeliers are smaller versions of the big one (weighing about 8 ton each). They're the other two featured in the main prayer hall. The remaining four are the blue ones pictured in one of the below pictures. They're located in the foyer entrances.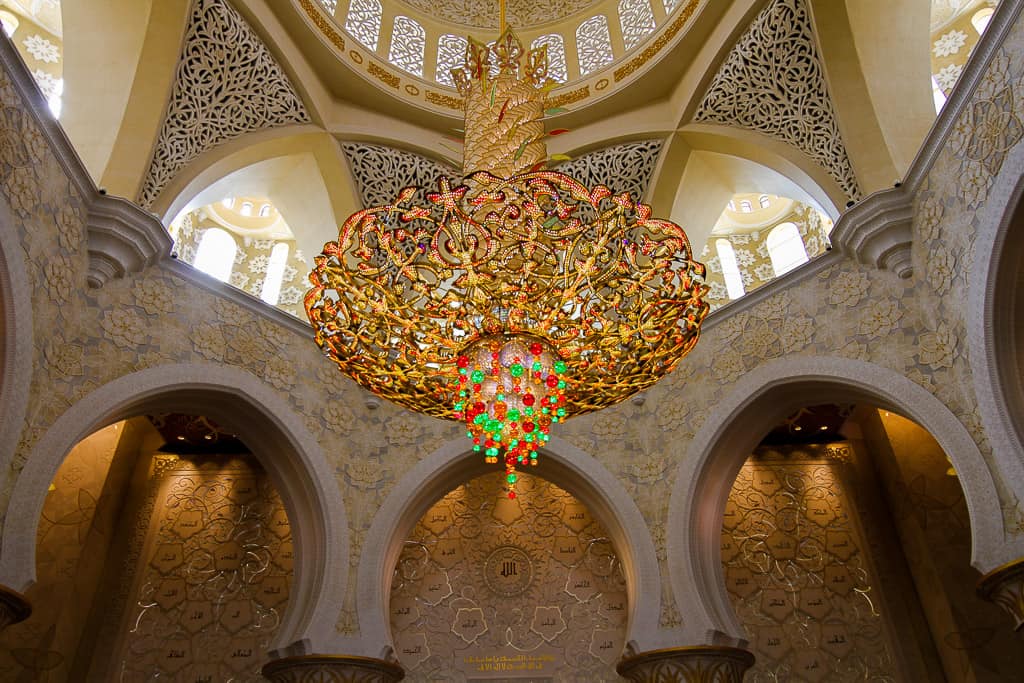 Another important architectural and design aspect of the mosque is the courtyard, also known as the Sahan. It's an open space that is used during significant prayers and gatherings like Ramadan prayers and Eid (which is the celebration at the end of Ramadan). The courtyard at the Sheikh Zayed Grand Mosque in particular can fit up to 31,000 people praying at the same time and is 17,400 square meters in size. The courtyard at the Grand Mosque is made up of marble pieces and covered in intricate floral designs like tulips, lilies and irises.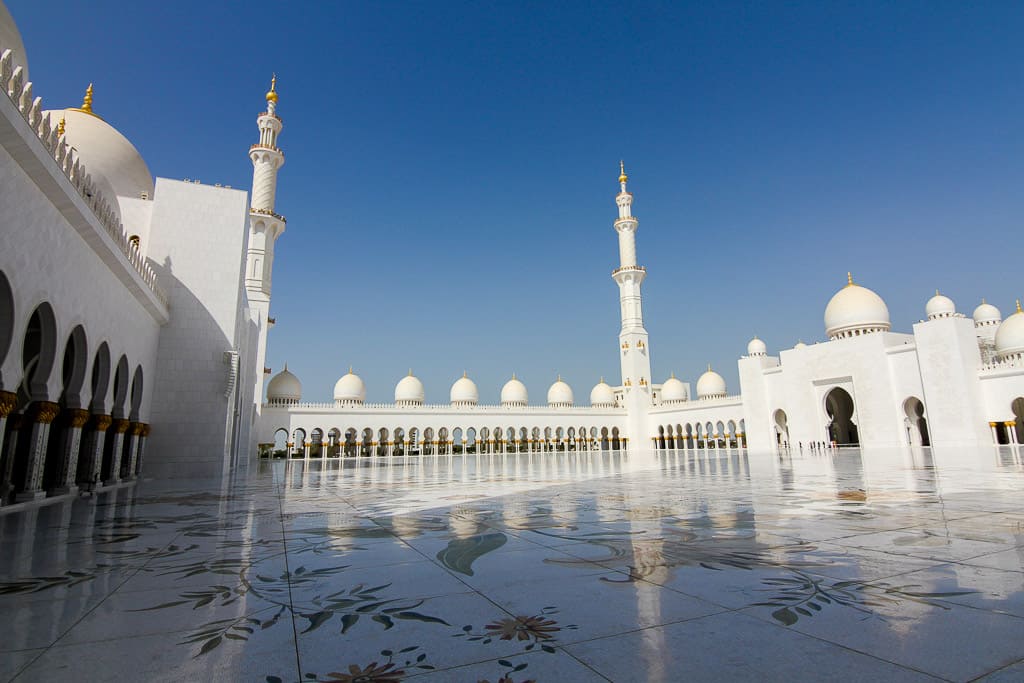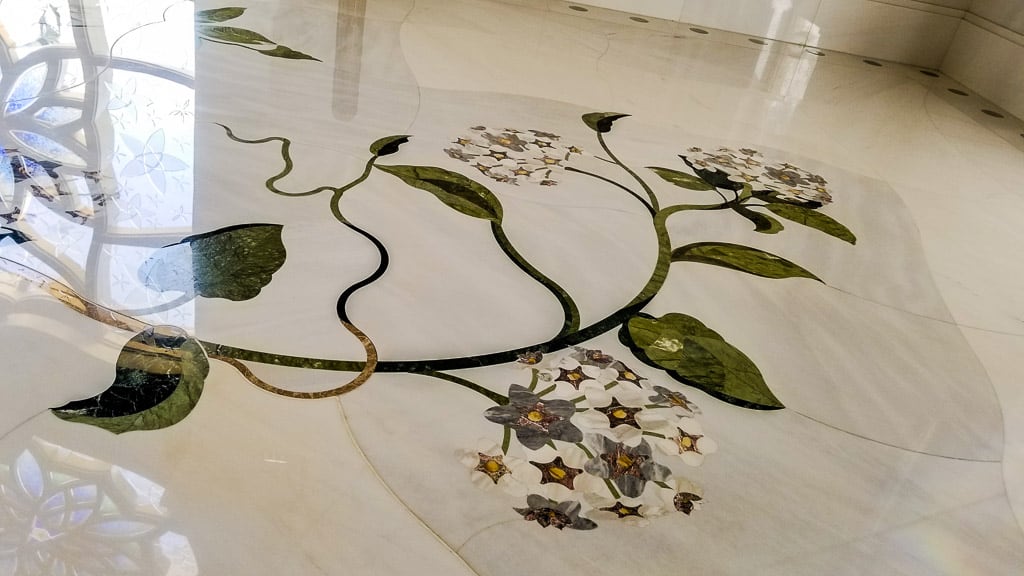 There are over 1000 columns in the mosque. There's 96 columns on the inside holding up three main domes on the inside. These columns were made in China. There's another 1096 columns all around the arcade that were hand carved in the same style as the columns in the Taj Mahal.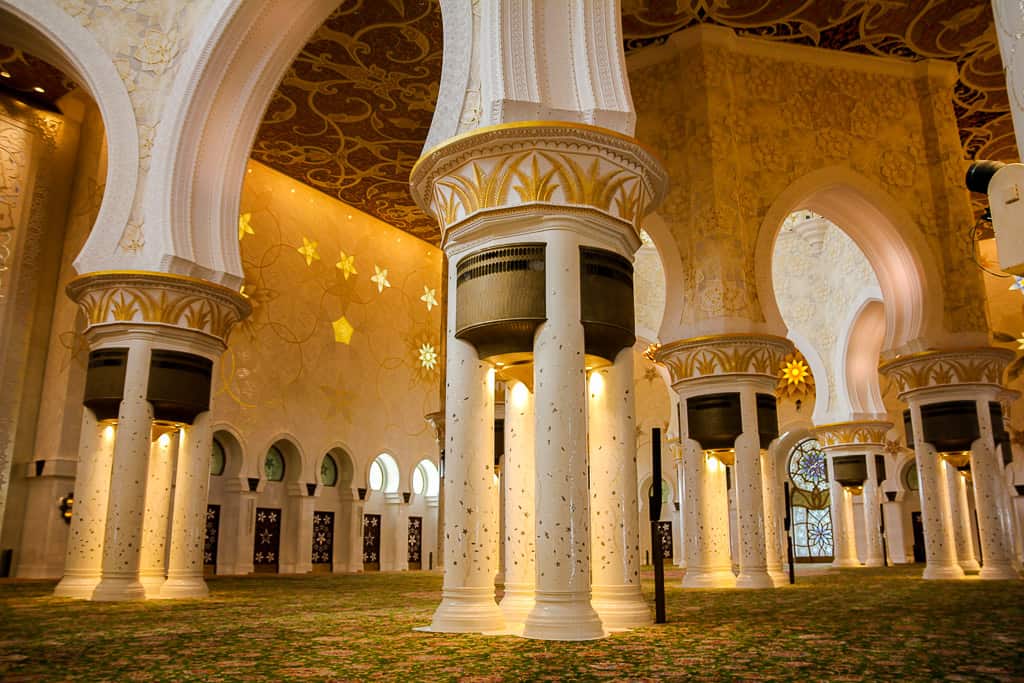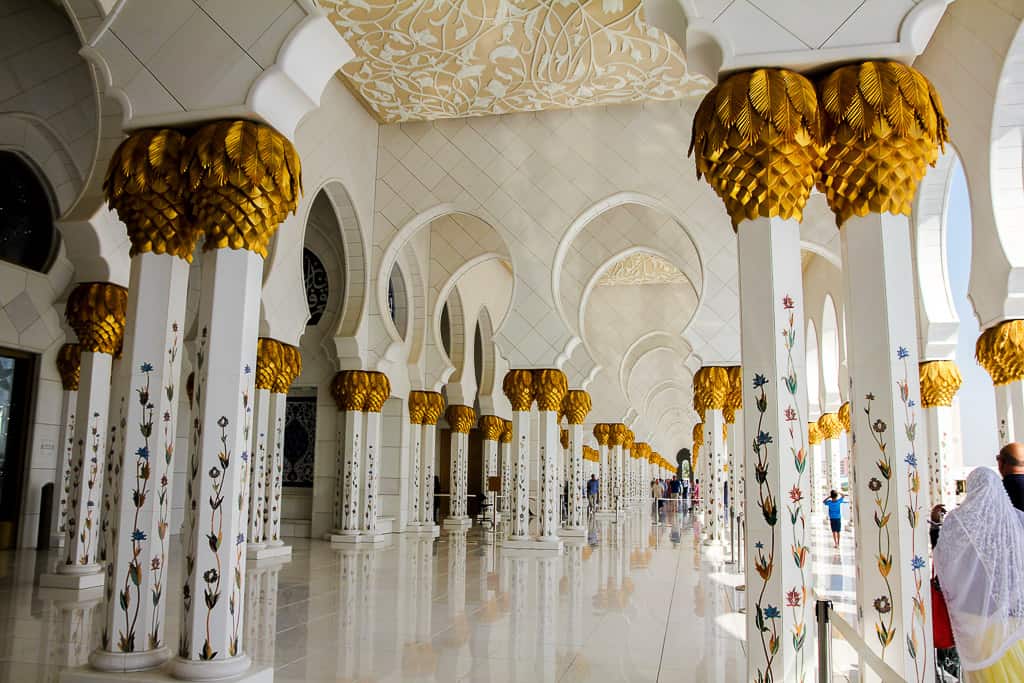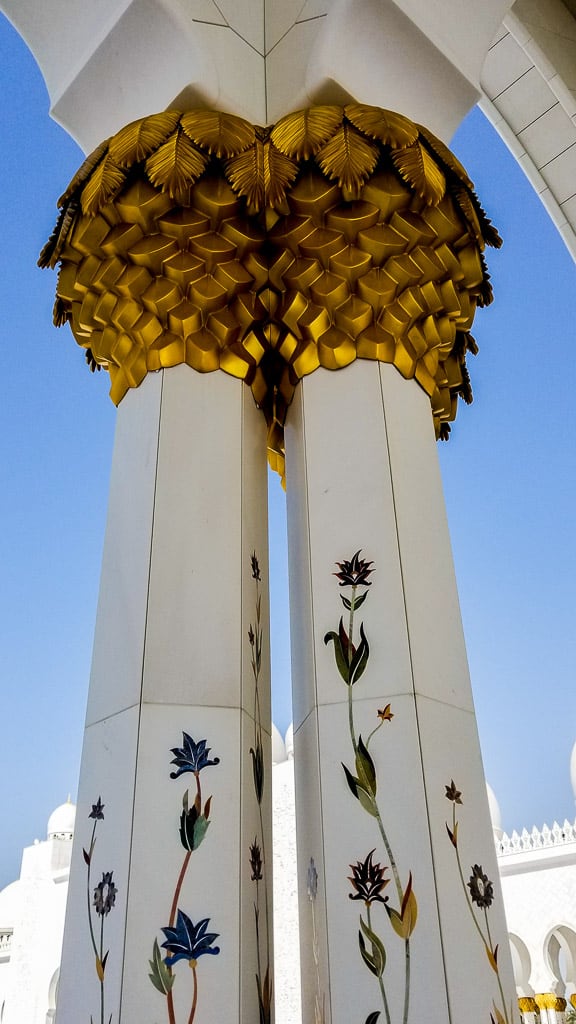 The Grand Mosque has four minarets (pretty much the towers you see in the below picture) which are all around 106 meters. The minaret is a significant symbol in Islam and is made up of three different geometric symbols: a square, an octagon shape and a cylinder.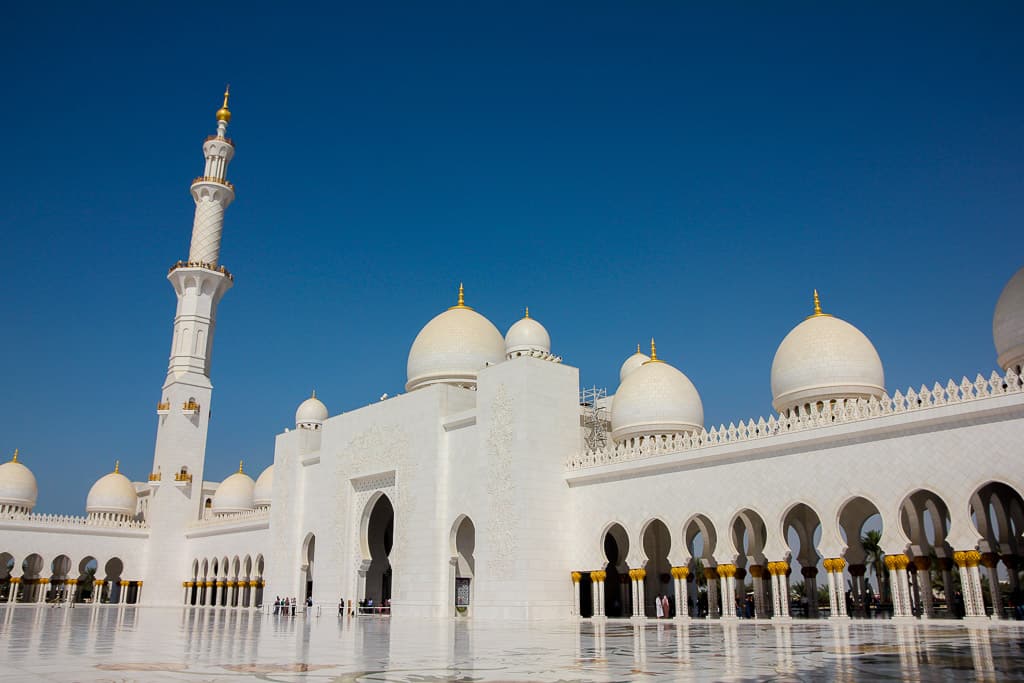 Opening Hours/Costs
The mosque has no entrance fee and even offers free guided tours. So there's pretty much no reason not to go! It's a beautiful place with lots of photography opportunities. I'd budget anywhere from 1-2 hours of your time here because there are plenty of details to look at.
The mosque is open between 9 am and 10 pm between Saturday and Thursday. It's closed on Friday mornings for prayers but opens at 4:30 pm and stays open until 10 pm. During the month of Ramadan the mosque stays closed on Fridays and is open between 9 am and 1 pm Saturday-Thursdays. Keep in mind that Ramadan changes dates every year so do check ahead of time if you're planning a visit to the mosque!
The only thing I'd add here is that the mosque does close down for special visits and as far as I can tell these days aren't really announced in advance. Check out the website for up to date hours and more information on the tours.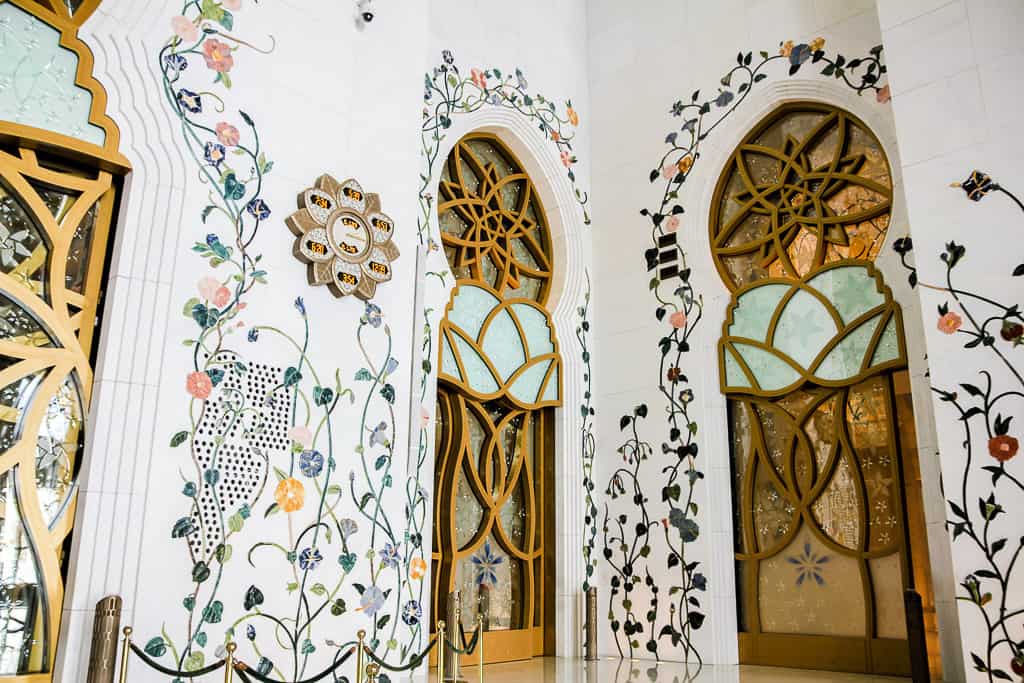 How to Get There
If you're in Abu Dhabi already it's pretty hard to miss the mosque. It's on the outskirts of the city and about 20 minutes from the airport but you'll see the domes and minarets from far away almost right away.
A lot of people will choose to visit the Sheikh Zayed Mosque as a day trip from Dubai which is very doable. You can do this a couple of different ways. You can take a cab/uber, you can take the bus or you can do it as part of a tour.
You can do a quick google search on the prices of the cabs but from my understanding most people pay about 300-350 AED each way to and from the mosque. By comparison the uber app quotes this trip as 440 AED each way. Taking a cab or an uber is the fastest way to get to the mosque with a trip time of just 1.5 hours according to Google Maps.
Buses by comparison take about 2 hours or more but are significantly cheaper (about 25 AED). You'll arrive at the Abu Dhabi bus station and will then have to take a cab/uber to the Mosque but that trip is way shorter and overall it's a more economical trip.
The last option is obviously to just book a tour to Abu Dhabi which you can have include other sights that you want to see as well. A good suggestion is to pick a tour that let's you do your own exploring because you're going to want to take your time at the mosque!
Once You Get There
Once you've arrived at the entrance to the mosque you have to go through security. There's a separate entrance for male and females here. Your bags go through security screening (similar to the airport) and you have to walk through a metal detector. Men are free to walk through to the entrance of the mosque at this point while women are inspected for their clothing. Granted, I'm sure if a man was in a tank top and shorts they'd probably be stopped as well but no males got stopped while I was visiting.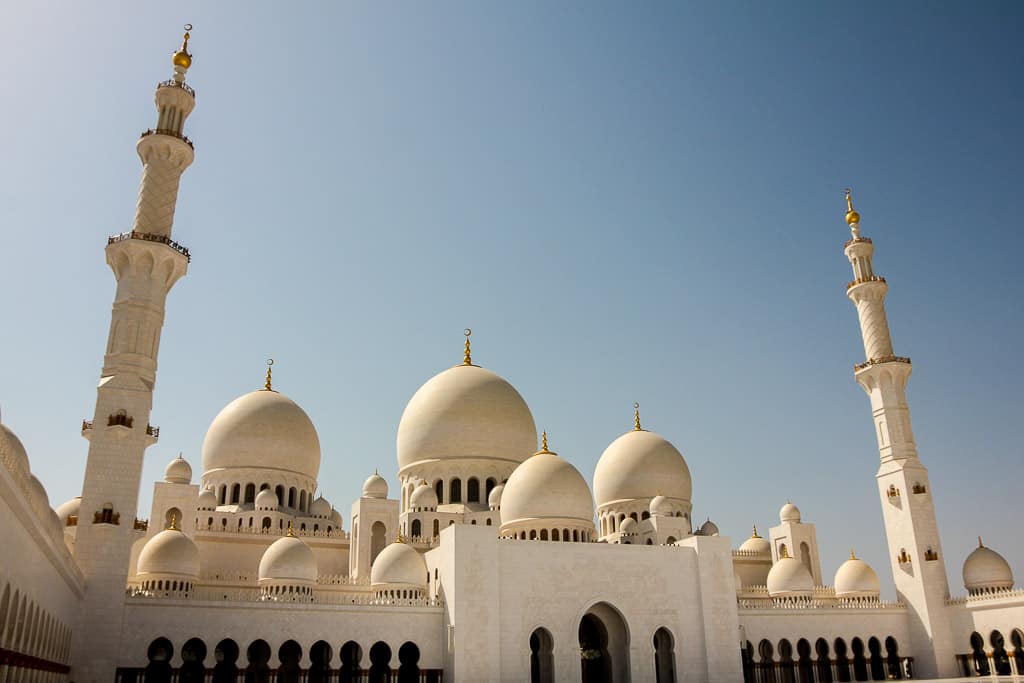 How to Dress
The one thing you have to keep in mind when visiting the mosque is to dress conservatively. I wore full length cotton pants and a long sleeve shirt but was still asked to wear an abaya on top. These are available to borrow for all women. Security will direct you into a room where a female staff member looks you up and down (I think she's assessing size) and she hands you an abaya to wear over your clothing. Once it's on properly you can pass through the gates to head into the mosque. The mosque has their own link with tips for how to dress and if you're concerned about what to wear you should definitely take a read of it. Men also have to wear full length pants so remember no shorts! Another thing to be aware of is that you're not allowed to wear your shoes in the mosque. There are little shelves for you to place your shoes in once you're ready to walk in. I'd take care to remember where you put your shoes because it's way too easy to forget where you put them. I also really recommend wearing socks! I had no idea you had to remove your shoes and I wore flip flops so I got to walk around one of the most beautiful mosques in the world completely barefoot haha.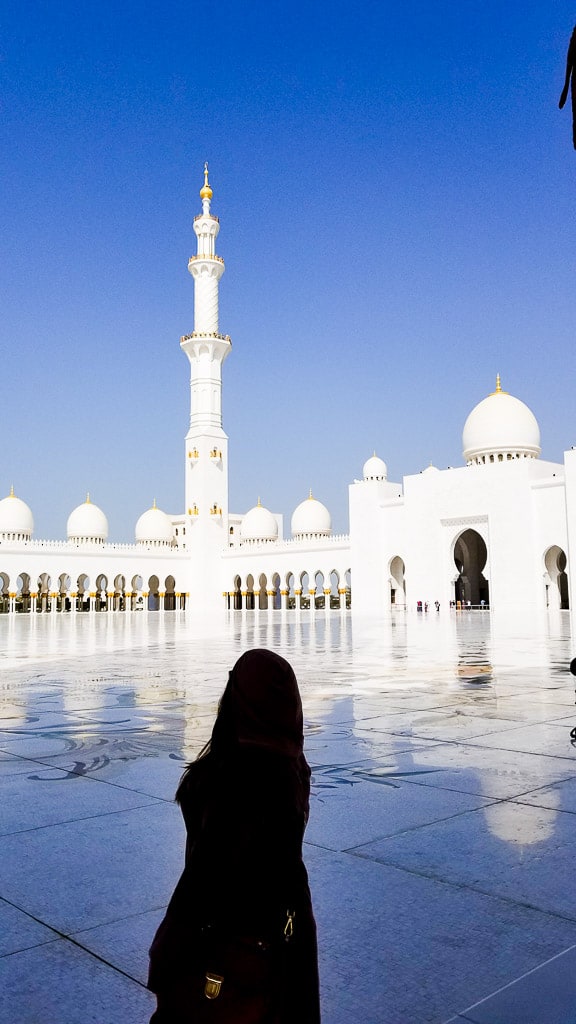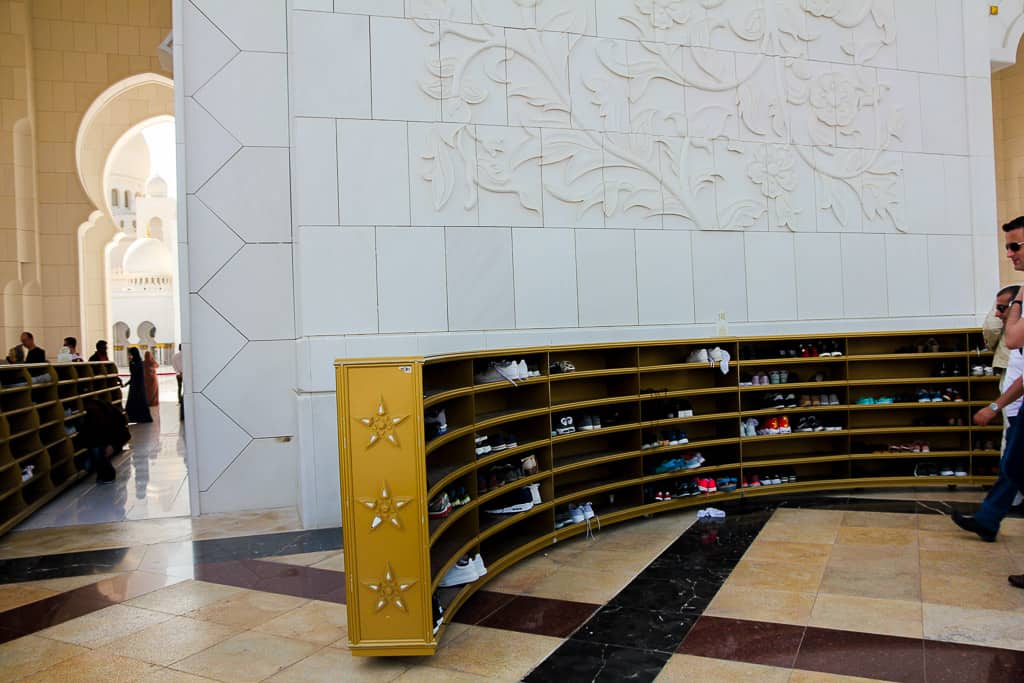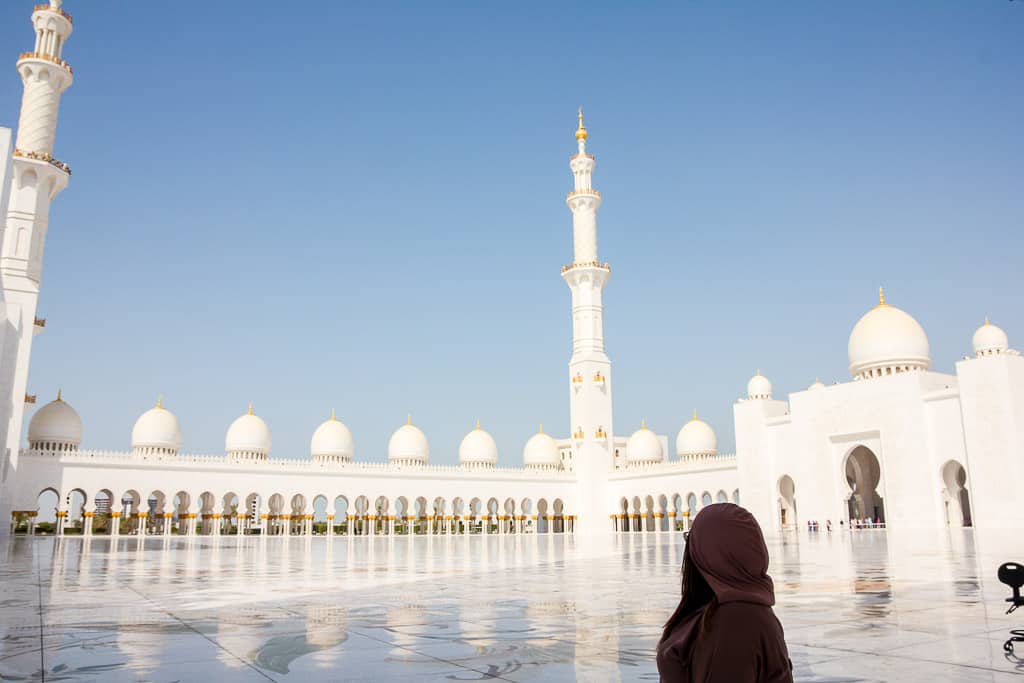 Rules for Visiting
The mosque is not restricted to Muslims, they accept visitors of all faiths. There are of course etiquette rules to follow and a sign posted by the entrance to mosque indicates some of these. They include keeping track of your children (they're not to run through the courtyard on their own etc.), no smoking, no loud speaking/shouting and no food/drinks. These are basic rules that you'll have to follow in most public places that you visit. To note at the Grand Mosque however is that they're very particular in how you take photography here. Make sure that you're not embracing or posing particularly provocatively because you will be asked to leave. Even if you're as famous as Rihanna. The security guards will definitely stop you if they feel that you're taking inappropriate pictures.
Photography Tips
In relation to the etiquette rules above, there are ways to get stunning pictures without having to get thrown out like Rihanna did. The mosque very generously allows you to take pictures in most of the areas (the prayer rooms being the exceptions). It gives you a great opportunity to try out different angles. If you have the time, coming right before sunset is a great time because you can photograph in daytime and still get to capture amazing sunsets. We unfortunately did not have the time to stick around until sunset but we still took our time walking around and making sure we got the shots we wanted. I would highly recommend using a wide angle lens to take pictures because it may be difficult to fit the entire mosque into the frame otherwise. I also recommend you take time to look around (including both up and down!).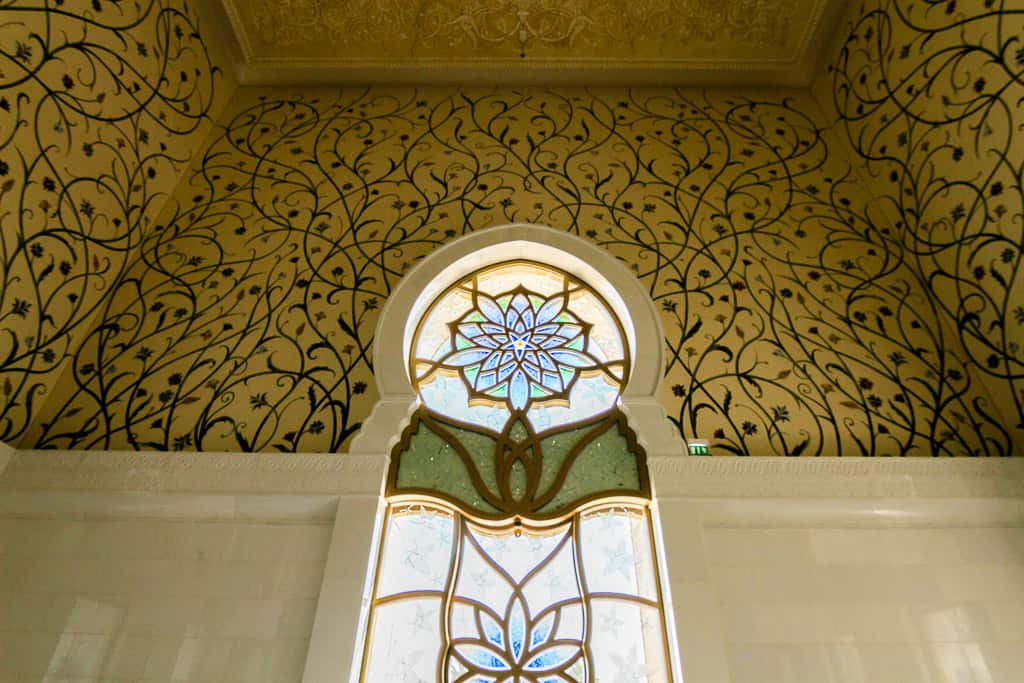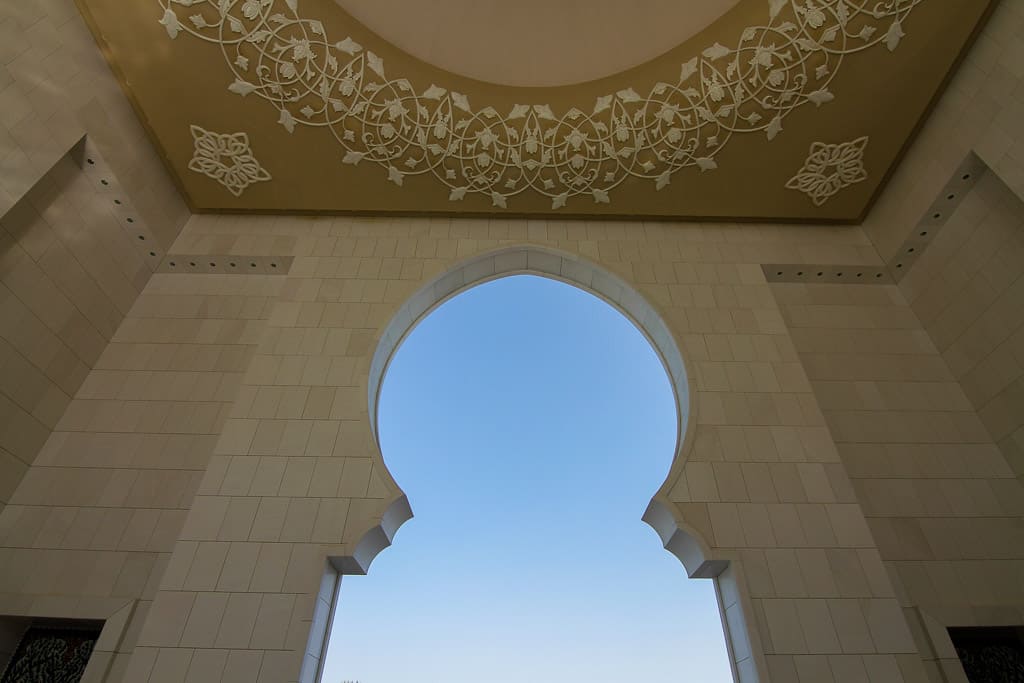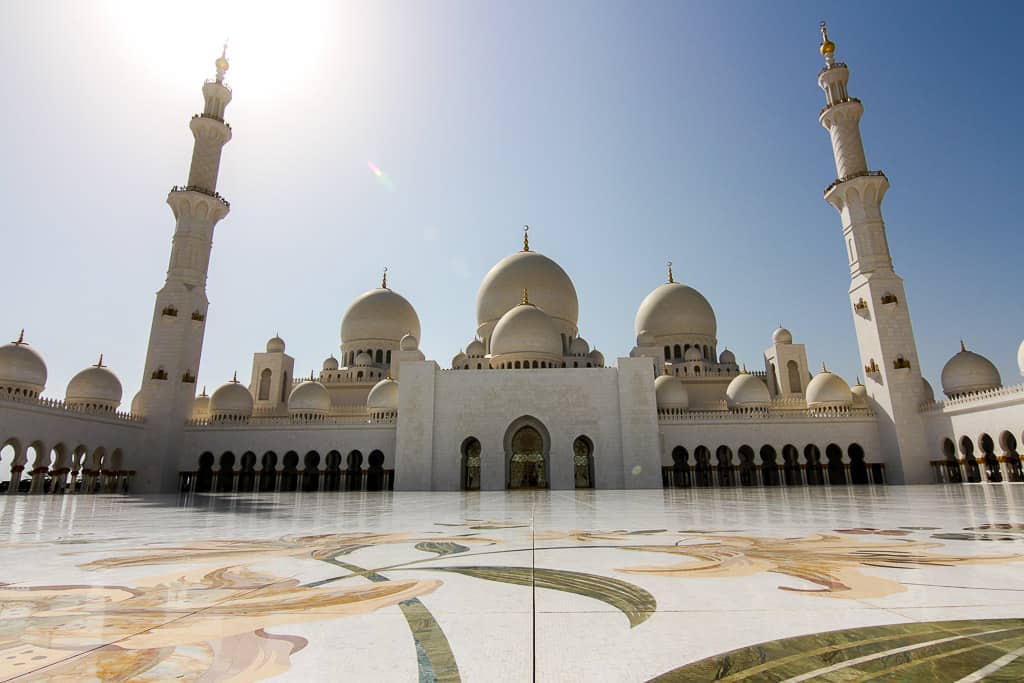 The Sheikh Zayed Grand Mosque makes for a great day trip from Dubai and it's also a great place to start exploring Abu Dhabi. Have you been to the mosque? What was your impression? Let me know in the comments and pin this post for your own upcoming visit!