Slow travel hasn't been my thing so far. I have a full-time job that I'm actually fairly great at and a home in a city I love with friends and family. This means I travel often but just not for long periods of times. So while I love getting a feel of local culture and traditions, I definitely have a smaller time frame to do so in. One thing I love doing to get a feel of a new place is actually to drive in it. It's something most locals do (and excel at) and most places will come with their own customs and rules when it comes to driving. Driving yourself around in a new area is a great way to maximize your itinerary without the restraints of relying on public transportation. In Jordan it allows you to spend your time seeing the things you want to see, like the overlooked but worth visting Little Petra, instead of being tied to a tour itinerary. We just came back from 2.5 weeks in the Middle East and while we were in Jordan we chose to drive ourselves around instead of taking tours or public transportation. Now, you may heard stories about driving in the Middle East before and while most of them are true some of it is exaggerated. Driving in the Middle East is challenging and very different if you come from somewhere like North America but it's completely doable. To help you along I've put together this list of 19 things you need to know before driving in Jordan in addition to some tips for driving in the Wadi Rum Desert and Amman specifically.
Quick Facts About Driving in Jordan
Driving in Jordan is done on the right side (like most of the world). You have to be 18 to drive a car and 25 to rent a car. The number for emergencies, which you'll need to call in case of an accident, is 911. Wearing seat belts is a requirement and you may not use your phone in the car although this isn't always enforced it's a good rule nonetheless.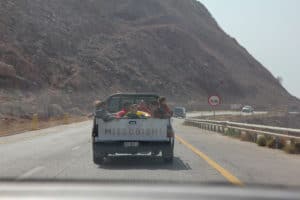 Speed Limits
Speed limits are fairly decent. On the highway it's 120 km/h, in the city it's 60 km/h and in less developed places it's 80 km/h. It's tempting go faster on the highway but you're actually going to get stopped by this annoying beep that your car makes every time you go above 120 km/h. The noise doesn't stop until your speed goes below 120 km/h so it's a decent way to keep track. I tried tuning it out. Let me tell you, it doesn't work. Just stick to the limit.
There are speed cameras and the police check points sometimes have speeding cameras as well so I'd highly recommend against speeding (not that I'd normally recommend it anyways). The logistics and potential extra fees of getting a speeding ticket in a rental car is absolutely not worth it.
Road Signs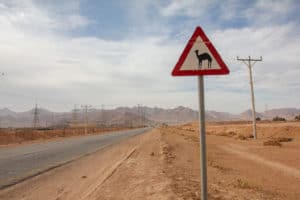 All along the highway in all of the major cities (and the major sites), road signs are in both English and Arabic which makes it very easy for travelers to spot them and you won't have to worry about having no idea what the sign says.
There's some fun signs too if you haven't driven in the Middle East before like those advising of camels. Definitely make for a chuckle the first time since it's so different from what we have here in Canada!
Toll Roads
There are no toll roads in Jordan so you don't need to worry about this. We did almost get tricked by somebody when trying to enter the area of Wadi Rum. They waived us down and said there would be a fee to keep driving. This isn't the case!
License Plates
All rental cars start with the numbers 70 (it's a good way to find your car in a parking lot in case you look track) and a good way to identify other rental cars. The most left part that has Jordan on it, is also yellow which is different from local plates. You can see the difference in the two pictures below.
Lanes
In most of the Western world, lanes are hard rules that you don't break. You have to signal before changing lanes and you have to stay in your lane. In Jordan however? Most certainly not the case. Most of the King's Highway is two lanes each way but there's no rule about being faster in the left lane or only using the left lane to pass cars. One minute you'll see a car going 140 in the left lane and 2 minutes later that same car is going 60 in the same lane. It's difficult to figure out but luckily the highway is not very busy and you're not going to run into problems with lane changes until you get into Amman. In Amman there's pretty much no such thing as lanes. Majority of the roads we drove were supposed to be 3 lanes but you'd easily have it be 5 or 6 lanes across. The easiest way to deal with this is to be confident and assertive. Nobody's going to let you go, you kind of just have to go (safely of course!).
Highways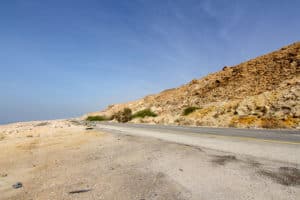 Jordan has three main highways: Highway 15 (the Desert Highway) and Highway 65 (the Dead Sea Highway) run from the north to the south (and obviously vice versa). Highway 35 (the King's Highway)  which runs between these two highways. It's incredible scenic and the one we drove as much as possible. Pull over, safely!, and snap some pictures. It'll be worth it.
Police Checks
The distances between places in Jordan are not very far. You can get from one end of the country to the other within the same day yet there are a fair amount of police checks on the way. They're very subtle about waving you over so make sure that you slow down enough to see if they're signalling you to pull over. We got waved over about 3 times. 2 of the times they just waved us through to keep driving but the 3rd time they actually asked for our passports and what we were doing in the country. I'd say it's a hit or miss on getting pulled over (we passed probably a dozen stops we didn't get pulled over into) but to be aware of them while driving.
Everyone who stopped us spoke English so it's a great opportunity to ask about directions if needed as well.
Renting a Car in Jordan
Your car rental location will obviously depend on your itinerary but we decided to keep the car for the duration of our itinerary so we both picked it up and dropped it off at Queen Alia International Airport. If you're super nervous about driving in Amman (which I don't think you have to be) you can add Amman either at the end of beginning of your itinerary and then get the car accordingly. I would make sure to book with a reputable car rental agency as there's been some issues, based on reviews online, where people were unhappy with the services at more local agencies.
While it's a personal choice to rent in-person or book ahead of time, I would definitely recommend booking online ahead of time.
Gas Stations
I would recommend keeping an eye out for gas stations as they come and checking what your tank is like. We didn't run into any issues with it but to be on the safe side we filled up anytime we saw a gas station and we had fallen below the half tank mark. The further out of Amman we got, the longer it went between gas stations so definitely keep it in mind while driving.
Gas stations in Jordan are typically serviced so do keep in mind you'll be paying a tip as well and be very clear in how much you want to gas up.
While we did not run out of gas in Jordan, we have done so on a road trip in the United States and it was not great. In Canada all the tanks are pretty much automatic. You pay at the tank, pump your gas and then you go. But on this road trip in the United States you had to enter the gas station to pay and at 4 am when we needed to fill, they weren't open. So it left us waiting in the parking lot until they opened up shortly after 6 am. All this to say that it's better to be safe than sorry, fill up often rather than risking it!
Navigating
We have travelled in areas without GPS connection before so we always make sure to bring along both our GPS (Garman) and get a data sim card for our phone. While we make sure to download the maps for the GPS prior to a trip, you can't always guarantee that they're up to date. Similarly with your data on the phone, you can't always guarantee that you'll have a connection so having both with us ensure we minimize our risks.
I'll add that you should take the time estimations on both the GPS and Google maps with a grain of salt. We very rarely got anywhere in the time it said we could and the day we were driving from the Dead Seas to the Wadi Rum Desert Camp we were staying at overnight, our trip was approximately 2-3 hours longer than we estimated it to be and our party had already set off to the camp and a guide had to come back for us. It's a combination of things that slow you down here. The police stops, the speed bumps and the general road conditions add time to your distance.
Night Time Driving
I'd highly recommend against night driving. Like I mentioned above, when we drove to the desert the time was completly off and instead of arriving around 7pm we didn't get there until closer to 10pm. The darker it got, the more we had to slow down and be careful and ultimately the more it delayed our trip in general. There was definitely some lights but nowhere near what you would be used to in North America or Europe.
Jaywalking
You would think that jaywalking would only be an issue in the city but it's a problem everywhere. We'd be going 120 km/hour down the highway and a woman and her son would casually be crossing the highway. It was incredible. And it's definitely something you need to be on the lookout for. It's even worse in the city where people will cross the street before even looking to see if the street is empty. And there's 0 point in being outraged because they will look at you like you're an idiot for trying to stop them from crossing the street haha.
Speed Bumps & Potholes
Another thing to be very aware of on the highway are the number of speed bumps and potholes. The potholes are just a testament to the condition of the road. They're something you have to try to avoid because they can cause serious damage to your car. Plus, if your passenger is sleeping it's an incredibly awful wake up call. I would know, it happened to me far too many times. In regards to the speed bumps however, this was something brand new to us. In Toronto and in Canada in general speed bumps are more of a residential situation in order to get cars to slow down where more people will be walking and playing. In Jordan however, they were all over the highway and we'd come across one every 15-20 minutes or so. They're not labelled (like no signs indicating that a bump is coming up) and they blend in with the actual road really well so it's very hard to spot them coming. Just be aware that they're there because going flying over a speed bump at 120+ km/h is not the funnest feeling in the world (or stomach!).
Traffic Lights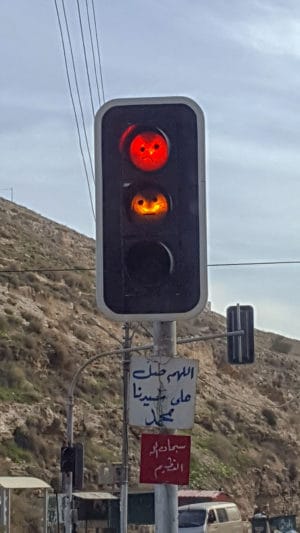 You're really only going to encounter these in cities and they're the ones you'll have seen before with red, amber and green. Typically red means don't go, green means go and amber means slow down or speed up (depending on where you are in the road). I don't necessarily think this how locals interpret it however so if you're going past a four way intersection do be very cautious.
International Driver's Permit
We didn't get asked for our international driver's permit once but we had read online that the fees for getting caught with one were in the 100s of JODs and to us it wasn't really worth the risk. We got our IDP at CAA who are the Canadian sole providers of IDP. It was only $25 CAD so definitely worth not being worried about being pulled over and getting fined.
Traffic
The only place we experienced traffic was in Amman – when we were driving along in the rest of the country it almost felt like we were the only ones driving at times. Of course this was paid back in full because we got stuck in a complete traffic mess in Amman with cars barely moving.
Driving in the Wadi Rum Desert
My tip for driving in the Wadi Rum Desert is actually not to do it. Firstly, you're most likely going to need a 4×4. Secondly, there's no connection what so ever so a phone GPS is of no help in case of getting lost. And while the Bedouin may know how to get around the 720 square km area, I sincerely doubt that anybody else will be able to. I tried to track how they were driving (and my husband even asked questions about it) and totally had zero idea on how they were tracking. We did notice some 'landmarks' like piles of stones arranged in a certain way or rows of stones. But I mean, to an outsider with no idea these all pretty much look the same. Now, I'm not saying it's impossible. If you're so inclined you can get a map in the visitors center and drive yourself around. You'll see a fair amount of trucks driving around giving tours. If you've never driven on sand before I would suggest practicing doing that first as it's different from other driving surfaces. I would also recommend bringing a shovel in case the tire gets stuck.
Driving in Amman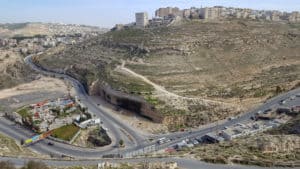 While we found driving around in Jordan fairly easy, driving in Amman is a whole other situation. We were actually advised not to do it by a couple of people we had met on the road and to take ubers instead but I was concerned about having to go back and forth so much and having to wait on the ubers. The police check situation doesn't really apply in Amman but what does seriously apply are the lanes. There's pretty much no order to it in Amman. People drove both ways on one way roads and turned around whenever they wanted to. 3 lanes turned into 5-6 lanes. The jay walking is also a concern in Amman (more so than anywhere else). And fair warning, Google Maps is very incorrect in Amman. Amman runs in a circle kind of system and for whatever reason Google Maps lead us wrong an incredible amount of times. If you miss your exit to the road you need to get to your best bet is to just go back around because the route Google finds will often make your route much longer than necessary. But, I point out all this for you to be prepared and not for you to be discouraged. Driving in Amman is possible – you just have to pay a lot of attention to it.
Do you like driving in places you visit? Have you driven in a country completely different from your own? Would you consider driving in Jordan? Let me know in the comments and pin this trip for your own upcoming trip!