Ah, fall. It's one of the best seasons of the years. There's nothing like that fresh, crisp air. The changing of the leaves. Getting to wear cozy sweaters. There's this fantastic sense of change in the air. And it absolutely does not hurt that it's so stunningly gorgeous! The weather here has been very unpredictable so the Toronto fall is only really arriving now which is definitely strange. BUT, it does mean there's still time to get out and see some foliage! So read on for my favourite locations to see some amazing colours around Toronto.
High Park
High Park, in the west end, is one of the largest parks in Toronto with over 161 acres of space (that's about half the size of Central Park). It's got lots to do and see with playgrounds, a zoo, sporting fields, a pond and so much more. While High Park is incredibly well known for its cherry blossoms it's also got some incredible fall colours.
How to get here: The closest two subway stations are Keele and High Park. Depending on which corner of the park you're interested in either one will get you there.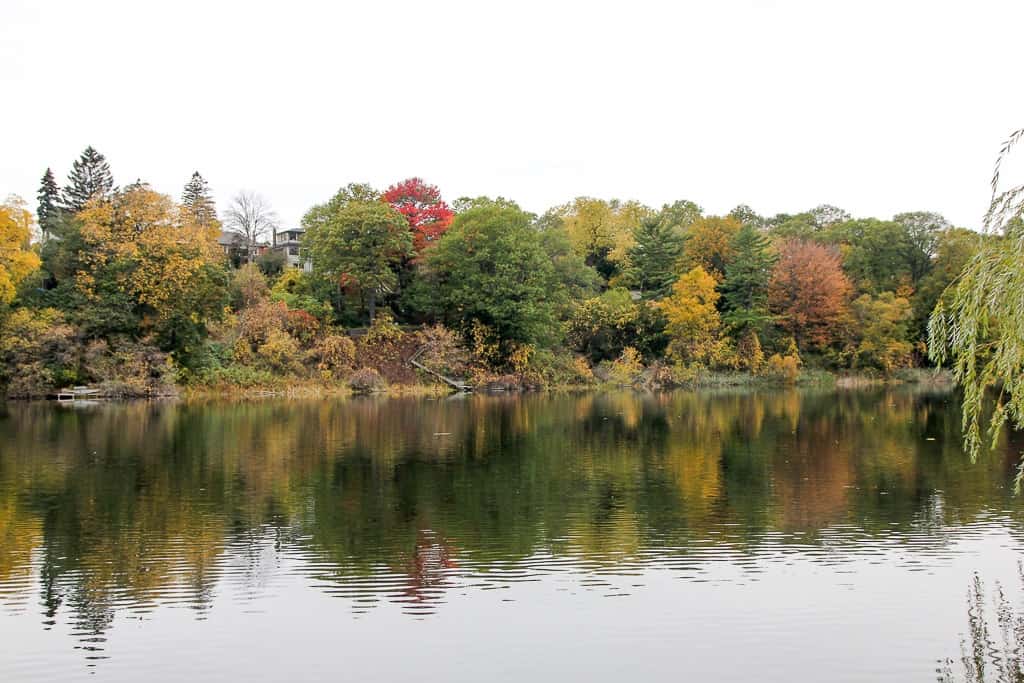 Evergreen Brick Works
Evergreen Brick Works is one of those cool places in Toronto you have to visit if you've never been. It's a couple of old brick works buildings (obviously hence the name) that have now been converted into use for the public. There's a cafe and a store as well as lots of cool events (that normally include great food trucks!). There's some pretty cool graffiti too! It's also got a beautiful park with great hiking right behind it. In the winter there's skating as well! Have I sold it to you yet haha?
How to get here: You've got two options for getting here. You can take the Bayview South Bus (Number 28) from Davisville Subway station or you can take the free shuttle from around the Broadview Station area. More information on the shuttle can be found here.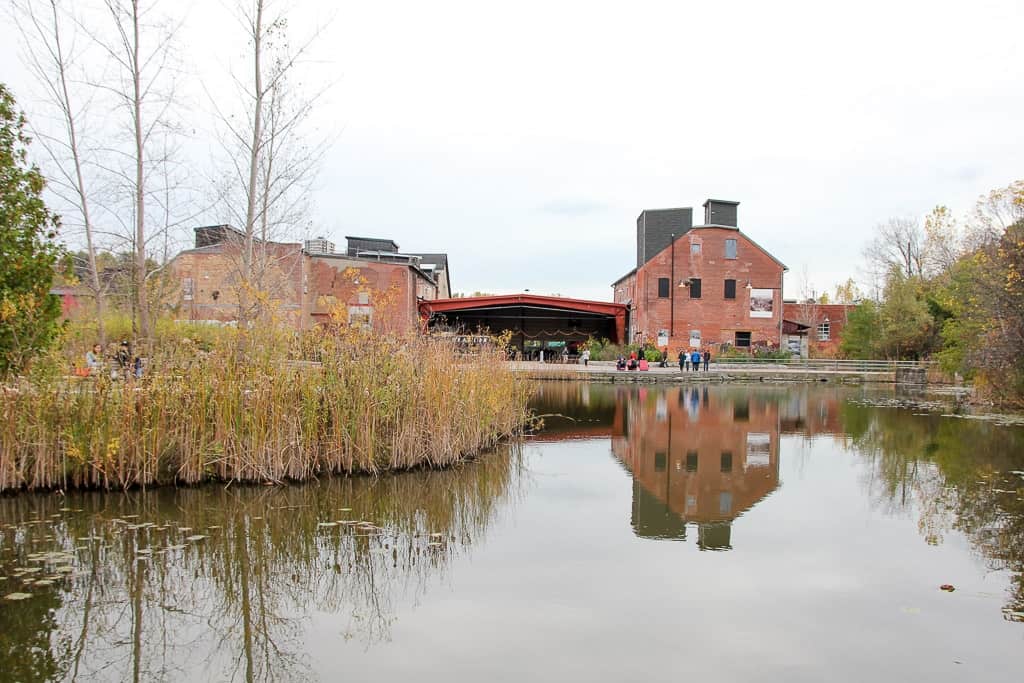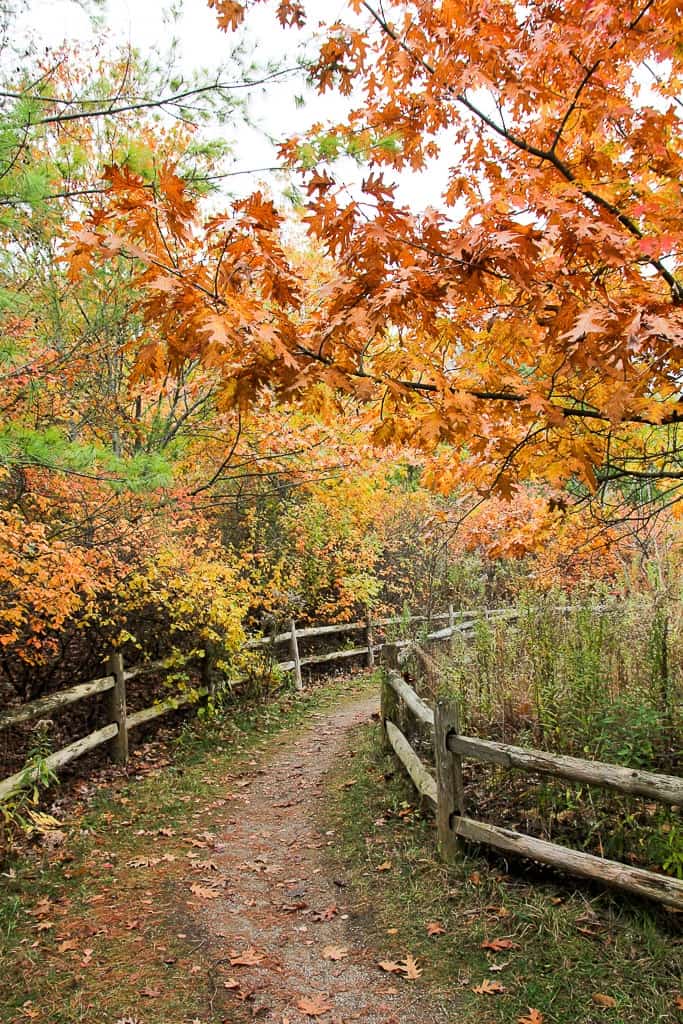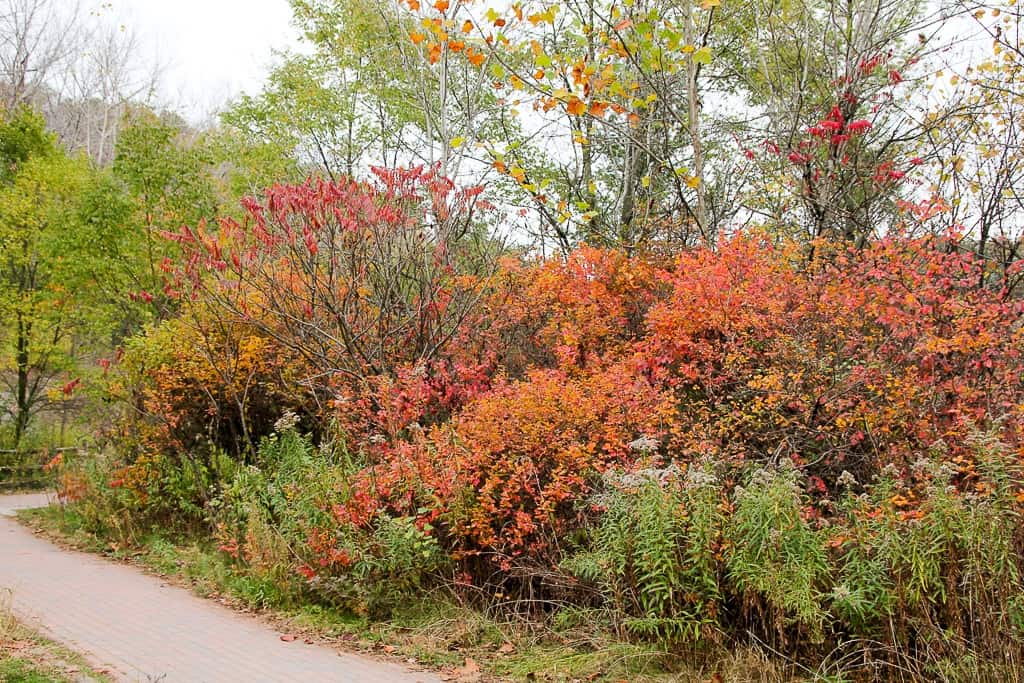 Edwards Gardens
Edwards Garden is a huge botanical garden/park located in Toronto around the ravine area. There's lots of walking trails and a lot of flowers to see. It's a great spot to practice some macro photography! There's also a gardening plot, a cafe, a tiny little waterfall and a gorgeous bridge. It's super popular for engagement shoots and you can even have your wedding there. It's hard to disagree with those who choose to do so since it's a beautiful area of Toronto!
How to get here: The parks located at the corner of Lawrence and Leslie so either the Leslie Bus (51 bus) or the Lawrence bus (Number 54 and 54A) will get you there if you're living on either of those streets. You can also take bus 162 from Eglinton Station (51 and 54 also depart from here.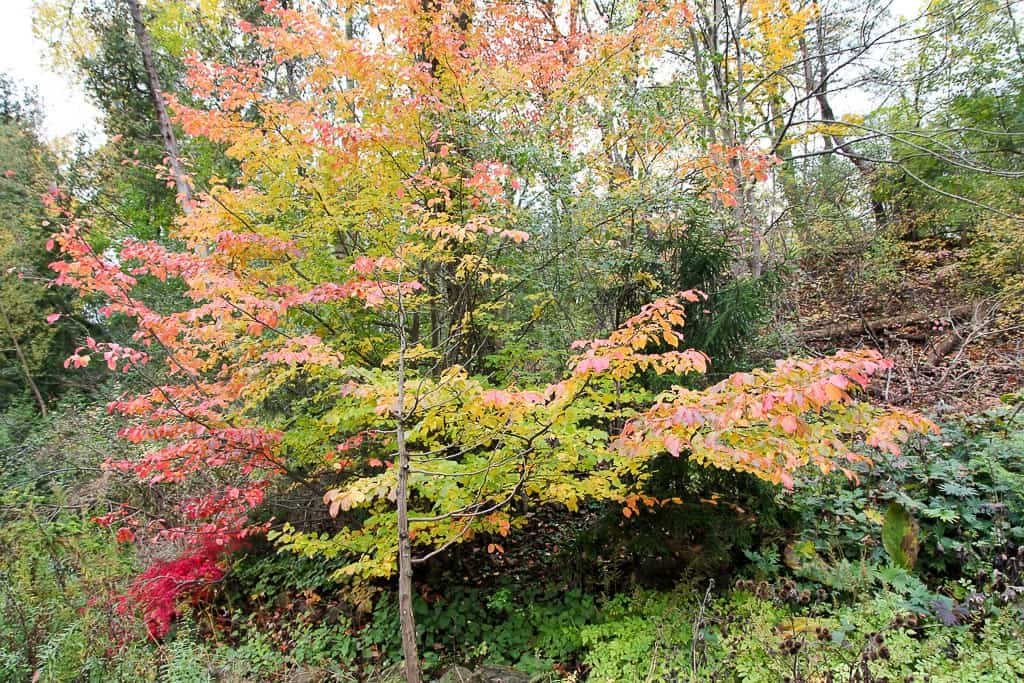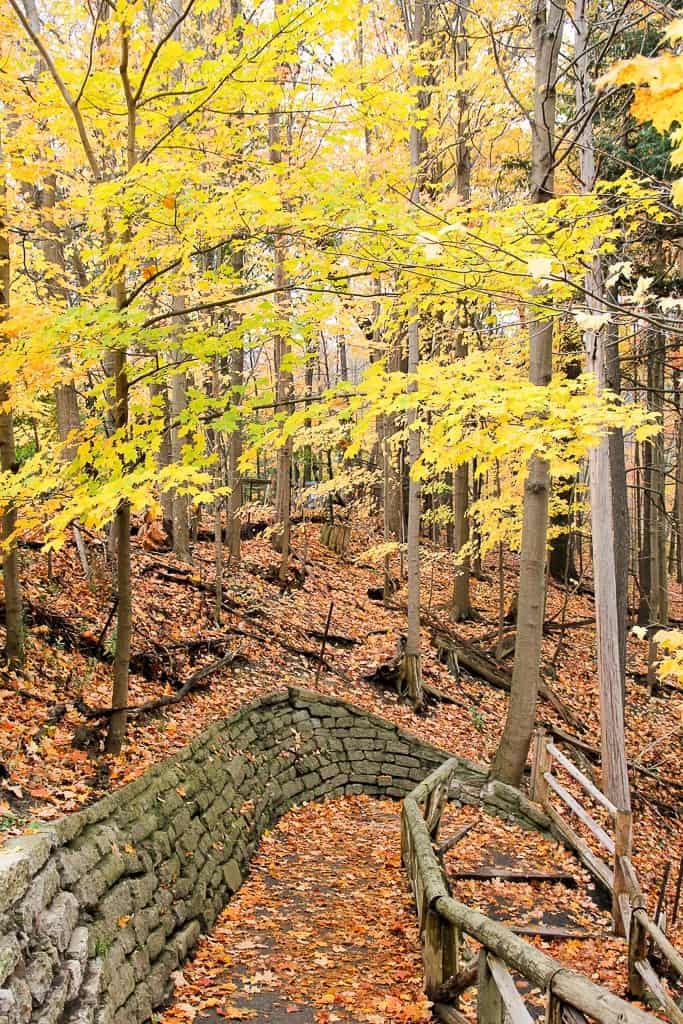 Trinity Bellwoods Park
Trinity Bellwoods Park is the most downtown location on this list. It's located on Queen Street West and is a popular place for hangouts. There's playground and basketball courts as well and lots of benches. It's also a great place to get a more unique picture of the CN Tower. They've also got an official white squirrel running around so you can hopefully catch a glimpse of that!
How to get here: There's a couple of ways to get here. The easiest is to take the 501 streetcar from outside of St. Andrews station.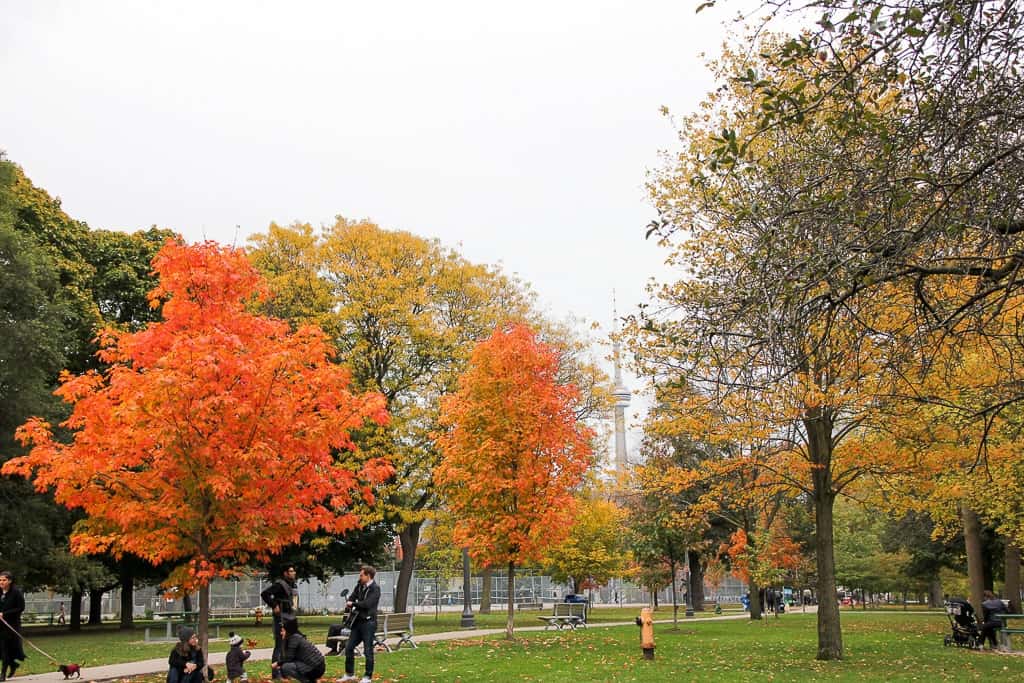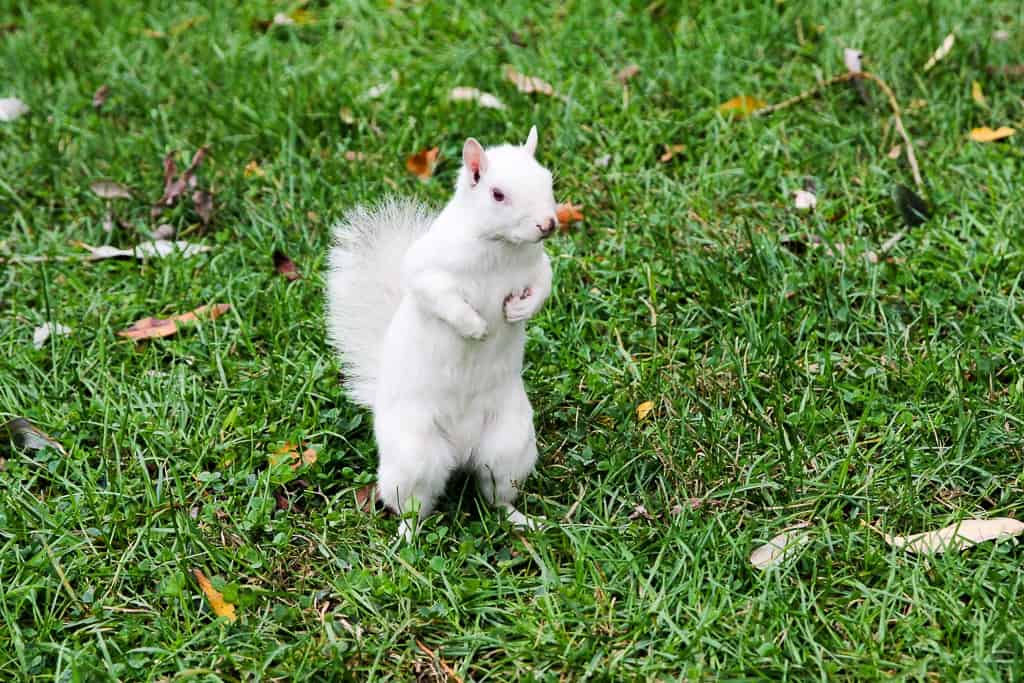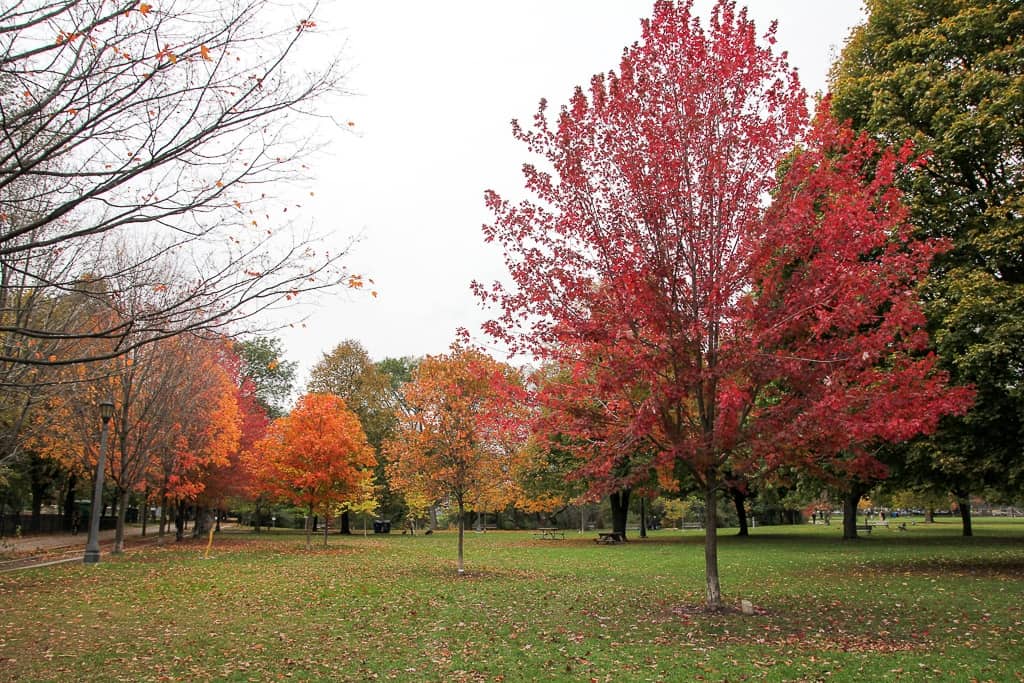 Rouge National Urban Park
Rouge National Urban Park is the largest urban park in all of North America (13!! times bigger than Central Park for comparison) and actually borders a couple of different cities including Toronto. Rouge Park is great because it's so big it almost always feels like you're the only one there. It's very different than most large parks you can think off in the sense that it's not as maintained. The rest of the parks on the list have people who come and maintain it and keep it under control. In that sense Rouge Park is definitely more wild. There are designated trails and given how much wildlife there is I'd definitely recommend staying on a trail. BUT when it comes to fall colours this wildness is one of the best things about the park. There are trees absolutely everywhere and there are so many different kinds that you get to see all the ranges of the colours in one go!
How to get here: Again, given the size of the park there's lots of different ways to get here. I'd take a look at the Parks Canada official site here to see what part of the park/hiking trail you'd like to visit and how to get to that park.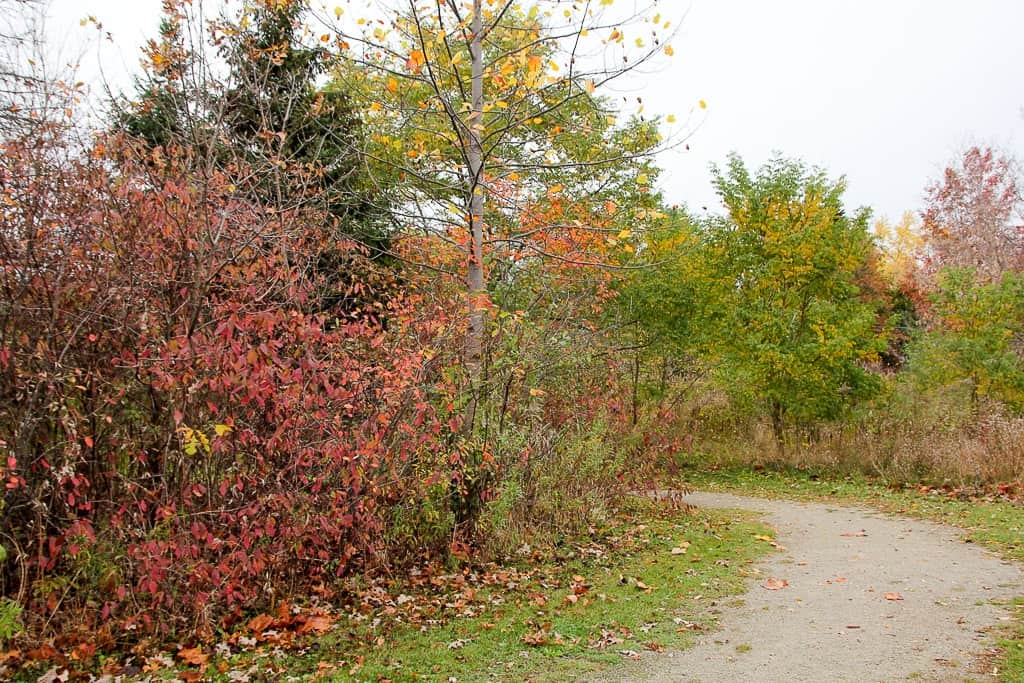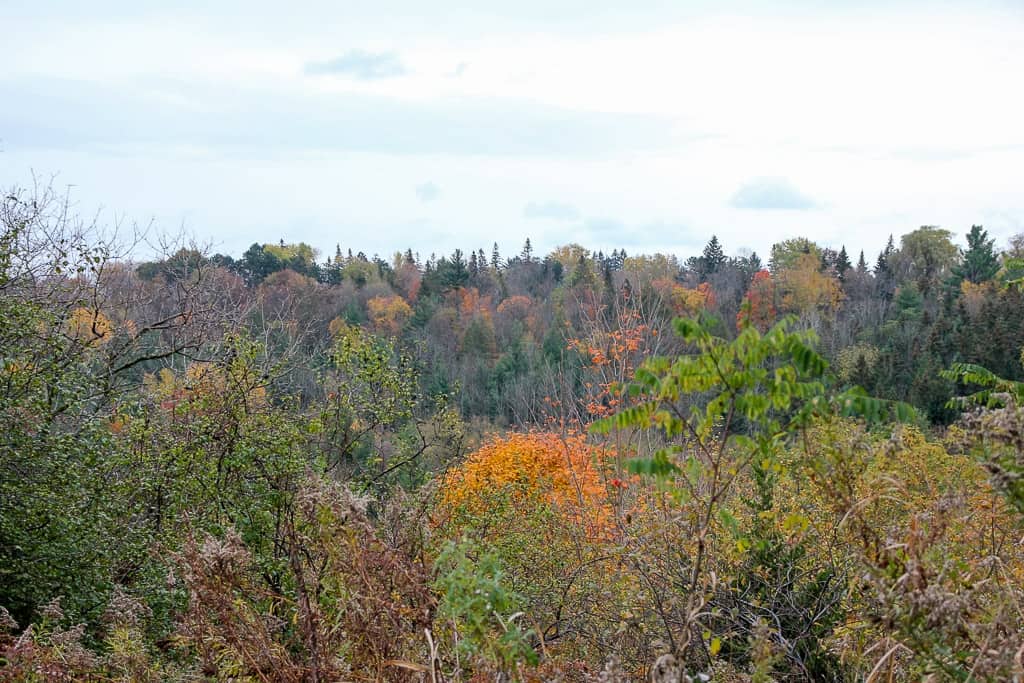 Scarborough Bluffs
Ah, Scarborough Bluffs! One of my favourite parts of Toronto! It's absolutely stunning and it's hard to believe something like this is part of Toronto. With majestic cliffs and a stunning backdrop of Lake Ontario it's just a must do regardless of the season. But in fall? With sunset? Holy. Mind. Absolutely blown!
How to get here: The top view is from Scarborough Crescent Park which can be accessed with a walk from the bus stop at Kingston Road and Ridgemoor Avenue. Bus number 12A from Victoria Park Station goes there. If you're interested in the beach/Bluffers Park at the bottom of the cliff you can take the same bus to Brimley Road and Kingston Road and then walk down to the area.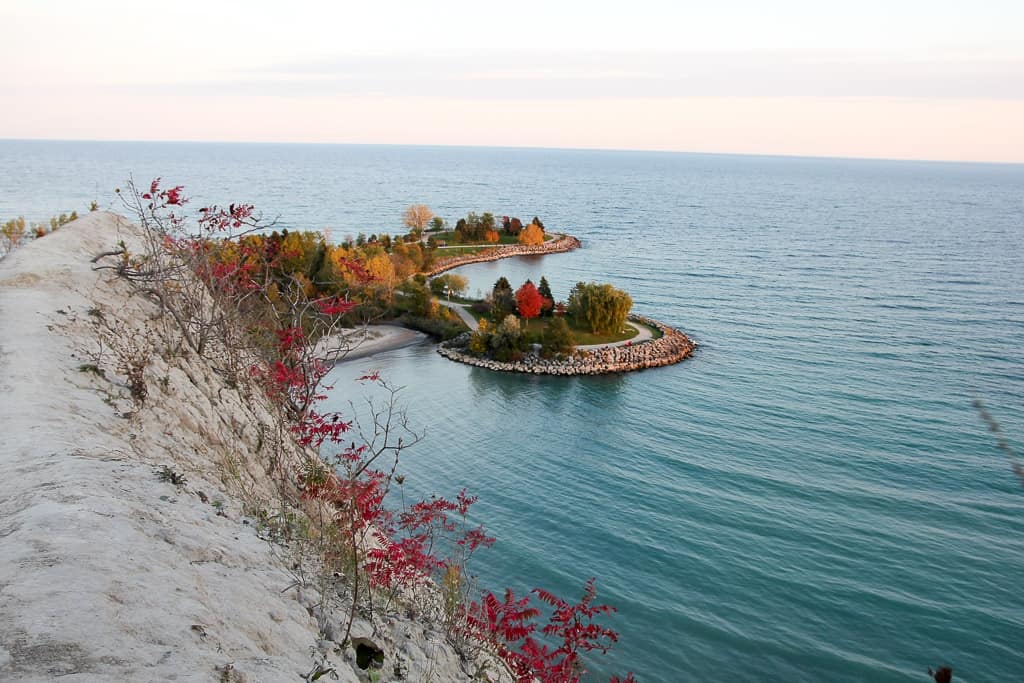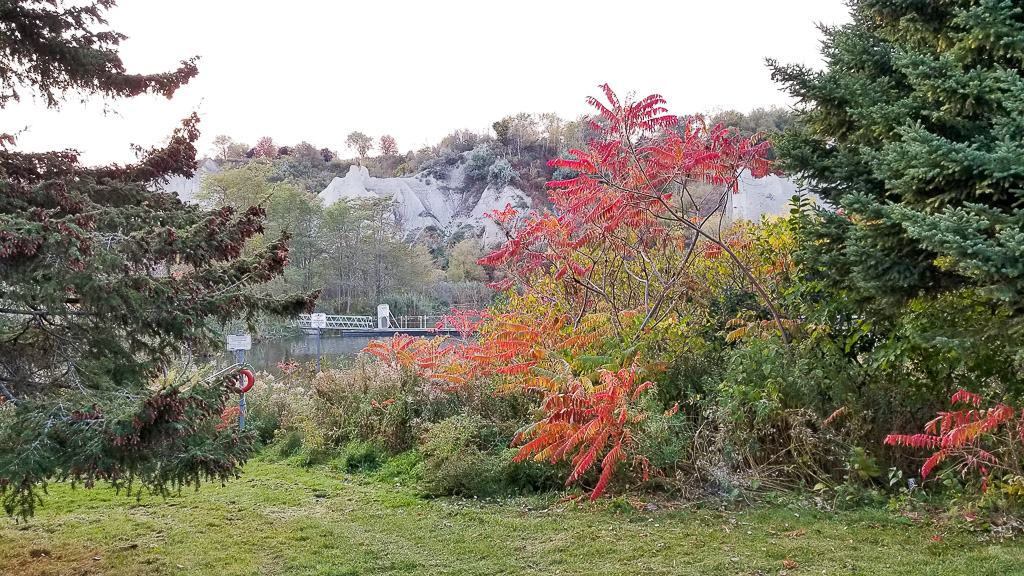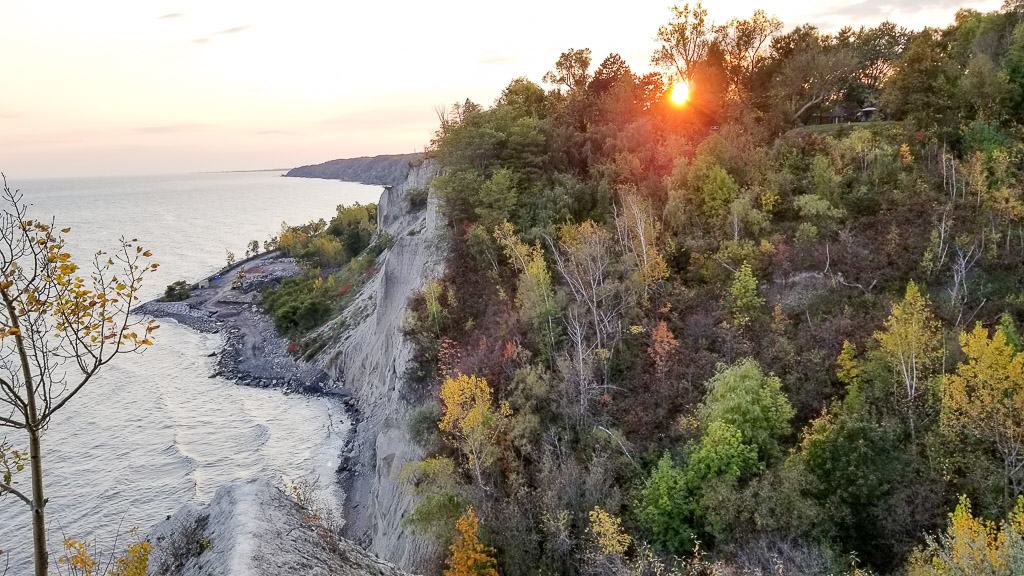 I've put together a map of the locations so you can see what's closest to you. I highly recommend checking some of these areas out!
Have you visited any of these locations? Let me know in the comments and pin this post for your own Toronto fall colour exploring!