If you're from Toronto, odds are you've been to Hamilton, aka the capital of waterfalls, and explored the surrounding areas like Stoney Creek, Ancaster and Dundas. Unless you've been living under a rock you have most likely then heard of the incredibly popular Dundas Peak. Dundas Peak is part of the Spencer Gorge Conservation area and is one of the must visit places in southern Ontario. Hiking Dundas Peak and exploring Webster Falls and Tews Falls is an easy day trip from Toronto and one I highly recommend.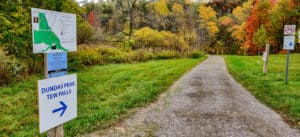 There's a lot of information out there because there's been many changes to the area. Years ago, there were no fees, no fence and you could hike between Tews Falls and Webster Falls and you could even get to the bottom of Webster Falls. A lot of things have changed due to the popularity of the place hence the need for an updated guide like this. So do read on for everything you will need to know about hiking Dundas Peak and visiting Tews Falls and Webster Falls.
The Spencer Gorge Conservation Area is part of the Niagara Escarpment and includes Dundas Peak, Webster Falls and Tews Falls. It is known for its rare and diverse variety of plants and animals and its distinctive Y-shape. While Dundas Peak offers the absolute best views, both the falls and different spots along the hiking trail will give you great glimpses of the gorge.
Located about 50 minutes west from Toronto, you'll find the parking lot for Dundas Peak. While normally open 7 days a week between sunrise and sunset, you'll need a reservation until November 15, 2020 if you plan to visit. More on that below.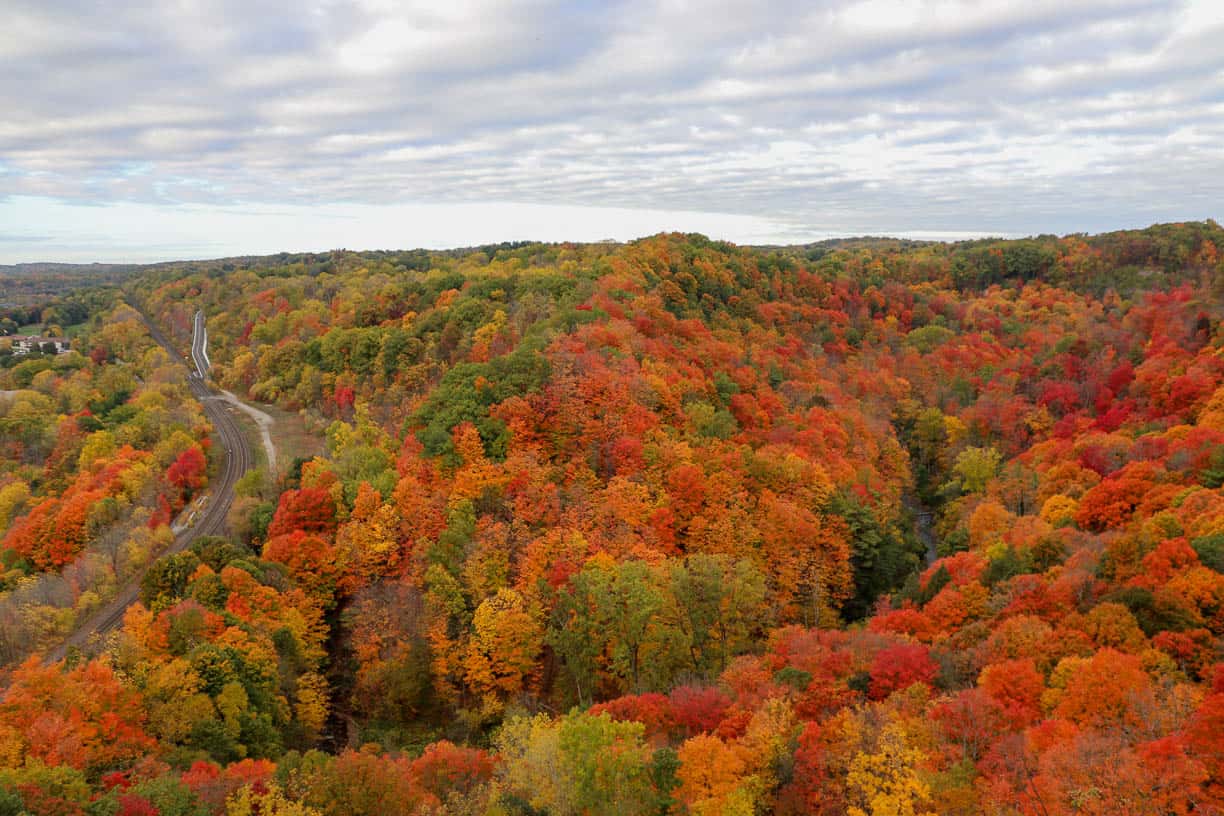 Parking, Reservations & Fees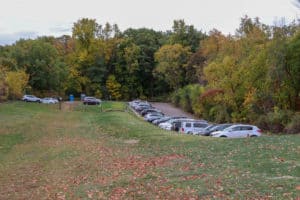 Dundas Peak and the Spencer Gorge opened for visitors again on September 19, 2020. From the day it re-opened until November 15, 2020 a reservation is required to visit. To note, you will require a reservation (and ticket) to visit Dundas Peak/Tews Falls and a separate reservation and ticket to visit Webster Falls.
For Dundas Peak, you'll be entering 581 Harvest Road, Dundas, ON in your GPS for the parking lot destination. For Webster Falls you'll be entering 27 Fallsview Road, Dundas, ON in your GPS for the parking lot destination.
The reservation fee is $10 but you will also need to pay a vehicle fee of $10 and a $5 fee per person. For a 2 person visit (aka me and the husband) we ended up paying $30. It's a little on the steep side in my opinion for a 2 hour visit but I understand the restrictions and the need to limit the crowds. If you have an HCA pass you'll get free admission but you have to pay the $10 reservation fee.
Reservations open 1 week before your desired appointment time and new slots are released at midnight. In my experience the weekends sell out really quickly so I would recommend being online immediately to snag your spot if that's your desired time. Each time slot only allows for 10 bookings so there aren't many spots to go around.
The time slots are booked in three rounds:
9 am, 9:15 am, 9:30 am, 9:45 am (the 9:45 isn't available for Webster Falls)
12 pm, 12:15 pm, 12:30 pm, 12:45 pm (the 12:45 isn't available for Webster Falls)
3 pm, 3:15 pm, 3:30 pm and 3:45 pm (the 3:45 isn't available for Webster Falls)
Your reservation is good for two hours. They do allow up to 30 minutes grace time if you are running late but you are still expected to have exited the area 2 hours from the start of your reservation time, not from the start of your arrival.
Reservations can be made here. Once you arrive on the site you'll be asked to select your site (either Dundas Peak or Webster Falls), the number of people in your party and the date you wish to visit. If you're selecting a date further than 7 days out it'll prompt you to advise that this date hasn't been opened for bookings yet.
Once your two hours is up you can use your reservation to get into the Christie Lake Conservation Area for free since while the reservation system is in place you won't be able to hike between the two areas.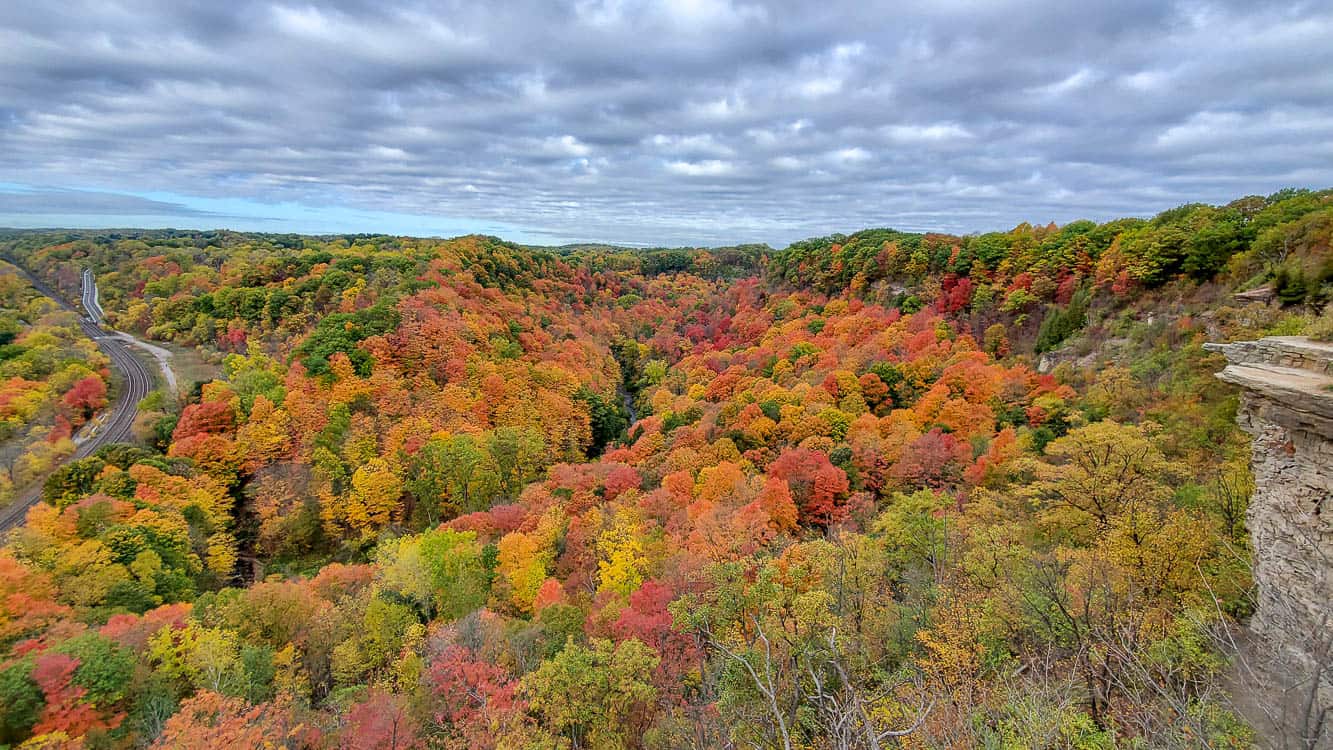 Parking at Dundas Peak has been a huge problem for local residents and if you park on the side roads you will most likely get fined. If you're visiting with a reservation, this gives you access to the parking lot as it's included in your ticket.
If you're visiting during the weekends in the summer, as of 2017, you will no longer be able to park at Dundas Peak or Webster Falls. From May all the way to end of October, you will have to take a shuttle to the Spencer Gorge Area from Christie Lake Conservation Area. The shuttle takes approximately  10-15 minutes and runs every 15 minutes. Be prepared for a line-up! With the current reservation system the shuttle is not operating since you can park right at the parks now but I will update this post once the shuttle is back in service.
All this to say, you can't escape paying for parking here unless you're willing to walk a really, really long way. It's not recommended and depending on the route you take, it's not really allowed either.
Tews Falls
Tews Falls flows over a bowl-shaped rock formation which happens to be the most recent basin in the Spencer Gorge. It's suggested that it was at one time as large as the Horseshoe Falls in Niagara because of the widening of the gorge downstream. In fact, Tews Falls is 41 meters and only a few meters shorter than Horseshoe Falls that rings in at 52 meters tall.
Immediately when you start the trail there's a viewing platform of the falls to your right. Once you head up the stairs to continue hiking you'll find a second platform (also to the right) that provides a slightly higher vantage point of the falls.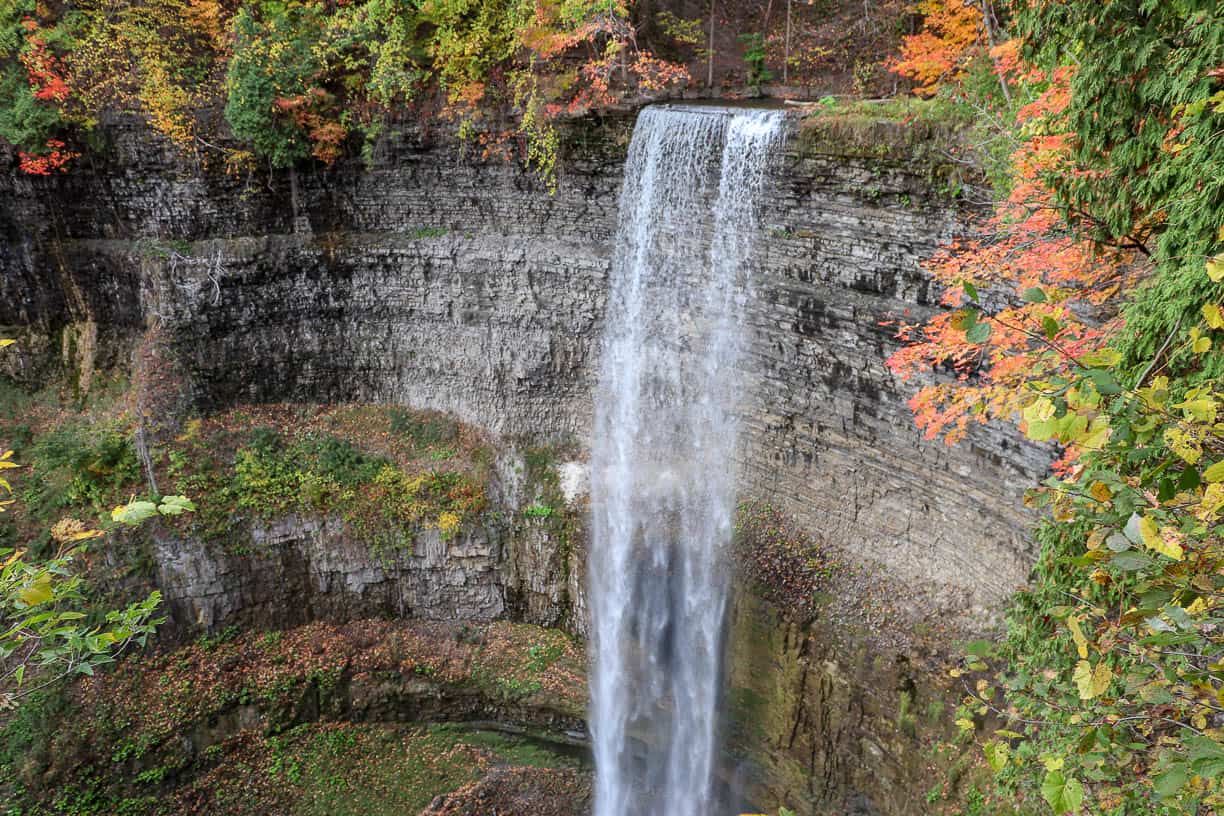 Webster Falls
In the past you have been able to hike the 3 km round trip from Tews Falls to Webster Falls but the hike/walk went through the back of private property and since people haven't respected the fact that it's private property the owners have now decided that they're not making this portion available anymore. This means that if you wish to visit both sites you'll have to park separately, and during reservation times, you'll have to get two separate reservations.
Webster Falls is easily accessible from its parking lot. You'll pass a cobblestone bridge that takes you right to the falls to view them. In the past there was a 123 step metal staircase that would take you to the bottom of the staircase but this has been removed now.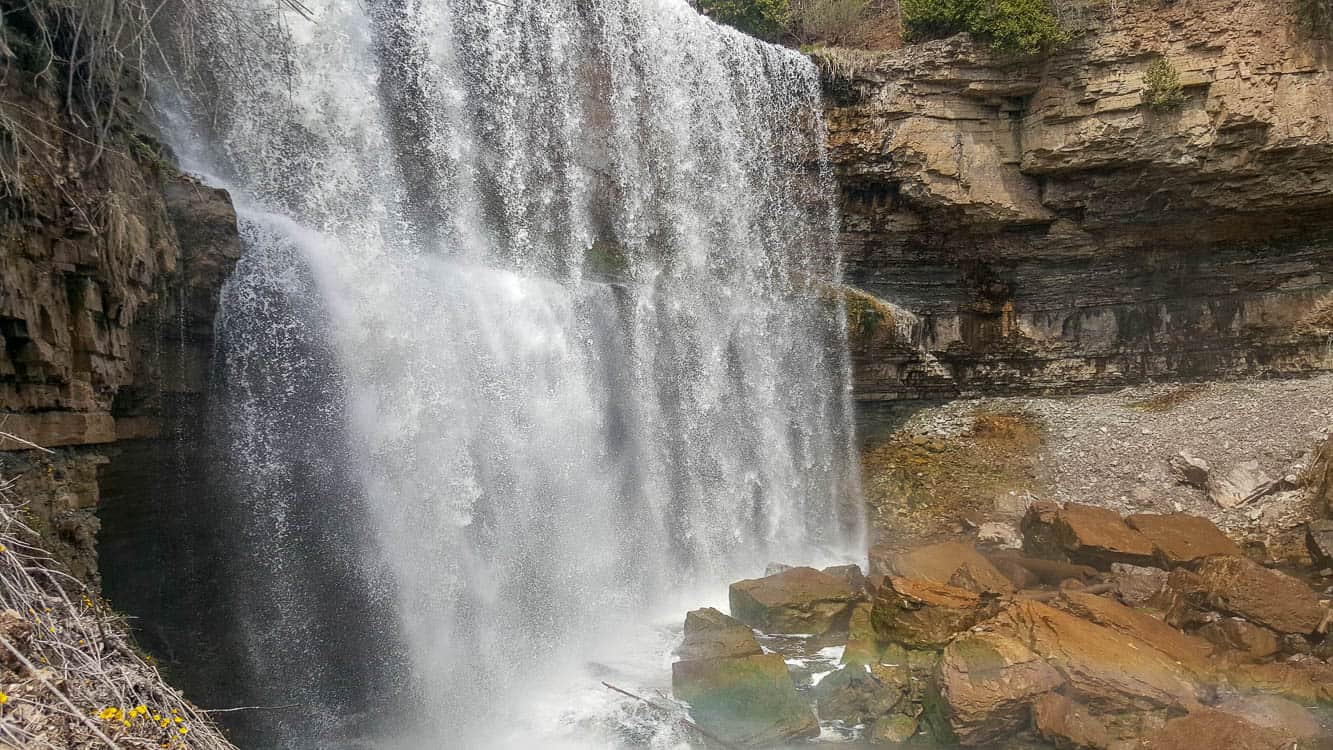 Hiking Dundas Peak
The portion of the Bruce Trail between Tews Falls and Dundas Peak is nicknamed the "Shurvin Mile" in recognition of Mark Shurvin who served the area as a councilor and served as the mayor of Flamborough. He was instrumental in advocating for public open spaces.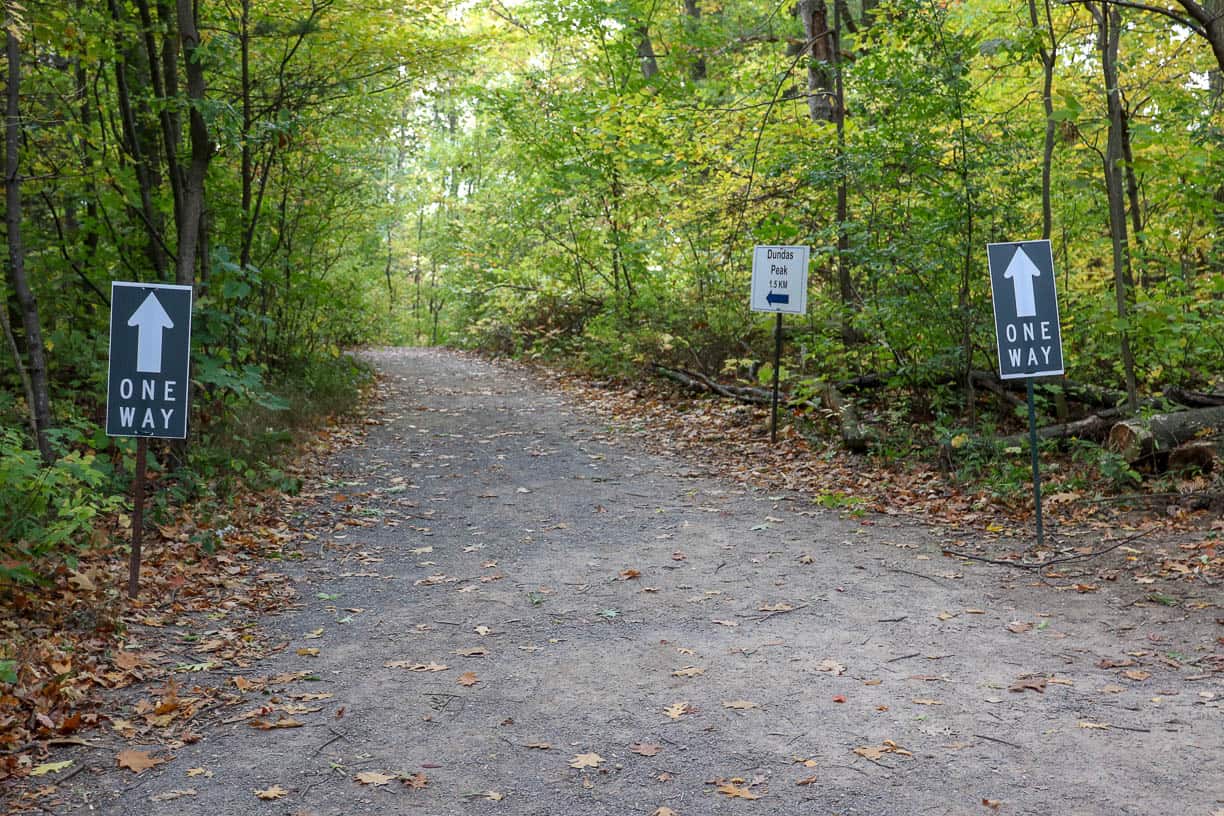 I'm going to preface this as I usually do by stating that I'm really not that fit. I love going for walks and lighter hikes but again by no means actually fit. All that is to say that I wouldn't label Dundas Peak a super easy hike. The ground is fairly even so you're not risking falling over but there is a fair bit of incline on the hike that you should be aware of.
From the parking lot you're looking at a 1.8km loop trail which passes Tews Falls and goes up towards the platform/peak and then back down. I say up because as mentioned, you're dealing with some incline on this hike.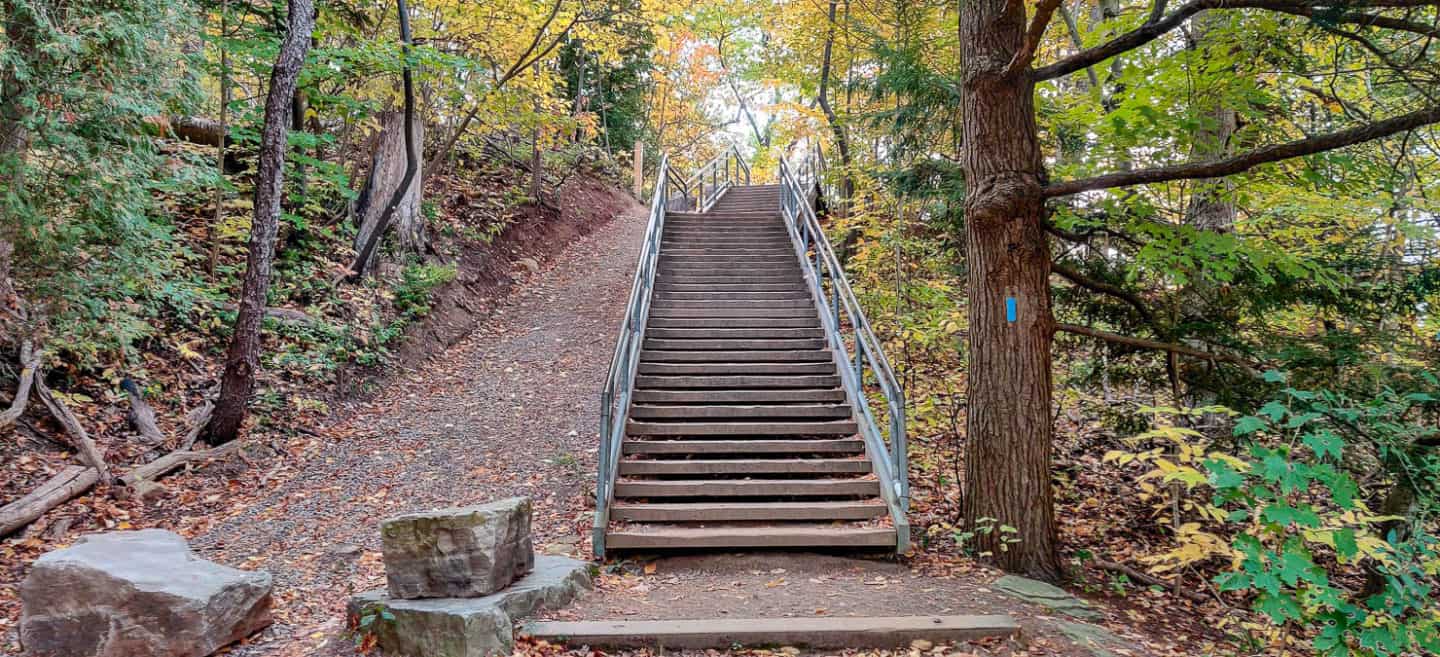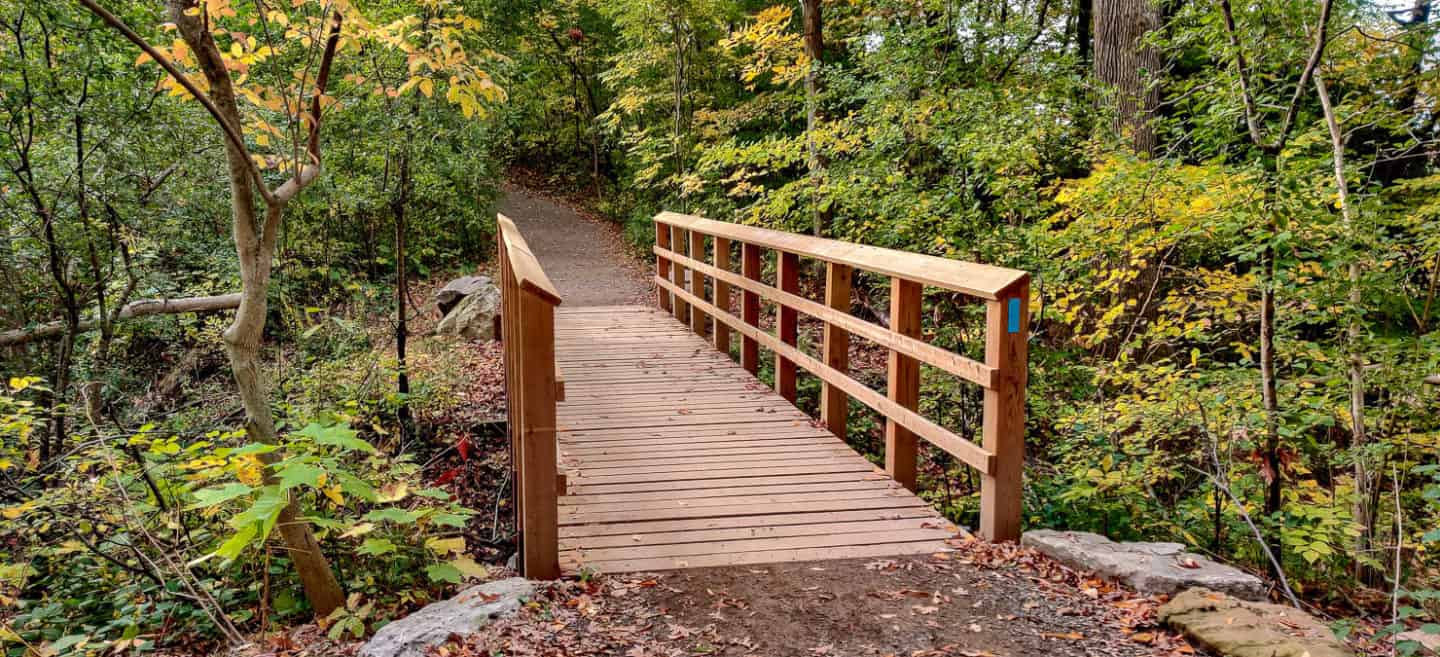 From Tews Falls you'll walk up a staircase (which leads to the top platform to view Tews Falls from) and then continue on through a wooded hike. After a few minutes you'll reach a wooden platform (on the right) that looks out over the gorge. It is partially obstructed with trees but it's a nice hint of what's to come at the peak.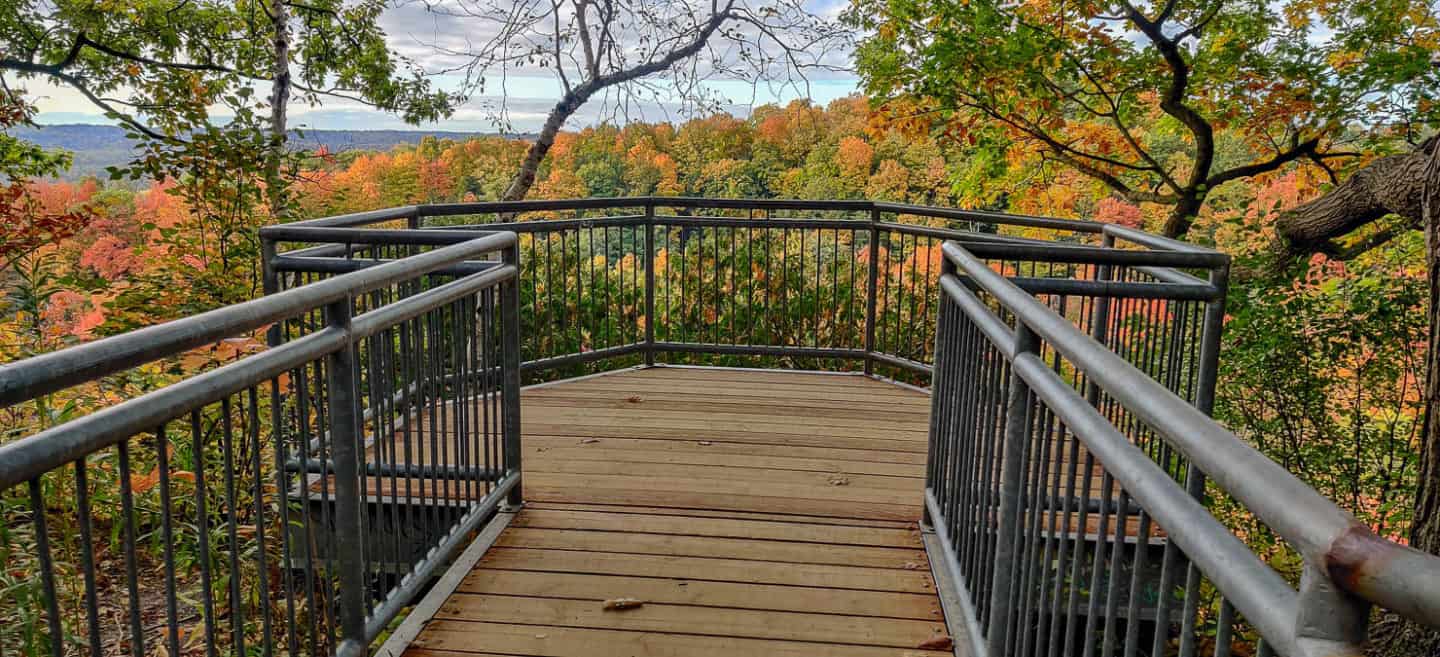 It took us about 20 minutes to reach Dundas Peak from Tews Falls and another 15 minutes back down to the parking lot. Obviously you'll end up spending a fair bit of time both at the top and at Tews Falls taking pictures so do account for this when planning out your visit.
Dundas Peak
Once you've reached the peak you'll be blessed with the absolutely stunning views you can see below. Fall is a super popular time to visit Dundas Peak because of the absolutely spectacular fall colours that are on display. I've visited once in early Spring and now again in fall and the difference is like night and day The view is great no matter when you visit but it's hard to compete against those beautiful colours and is obviously one of the reasons it's incredibly popular this time of year.
On a clear day you can see everything from Stoney Creek to Hamilton Harbour to Dundas and Ancaster.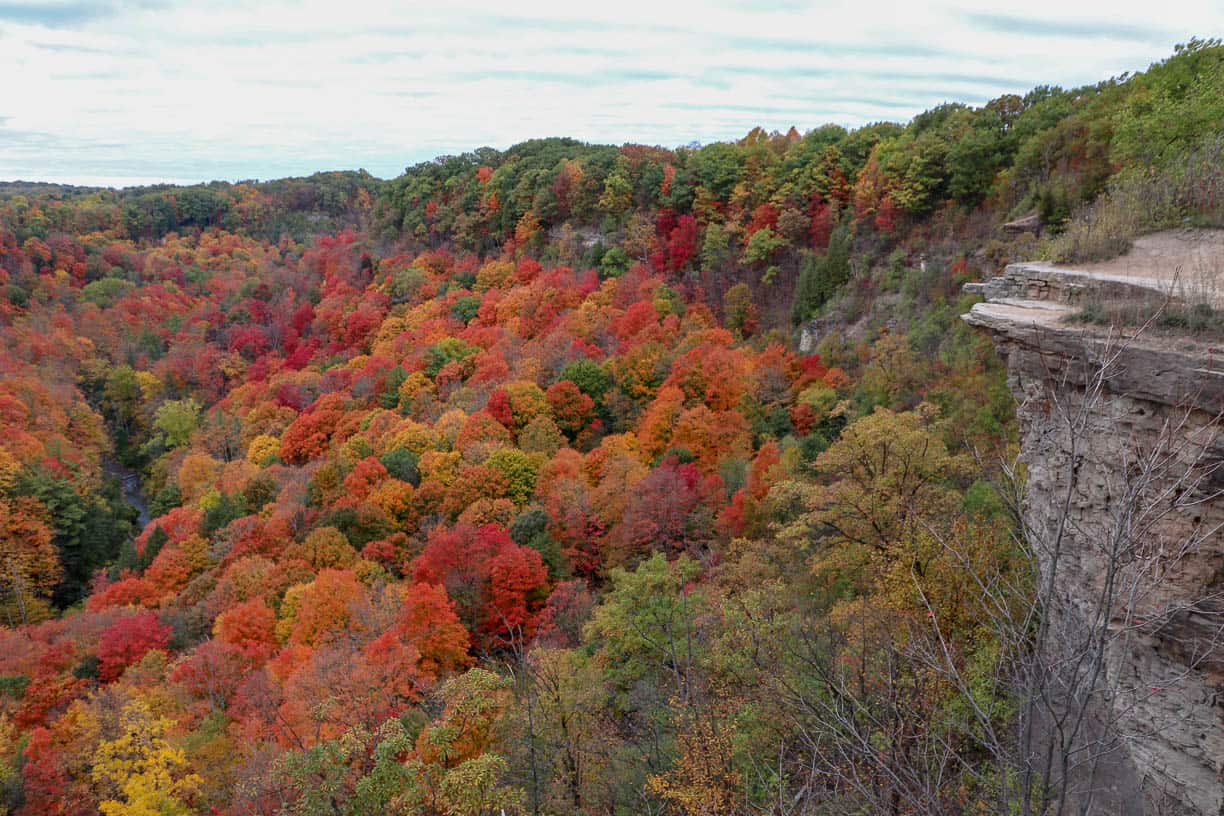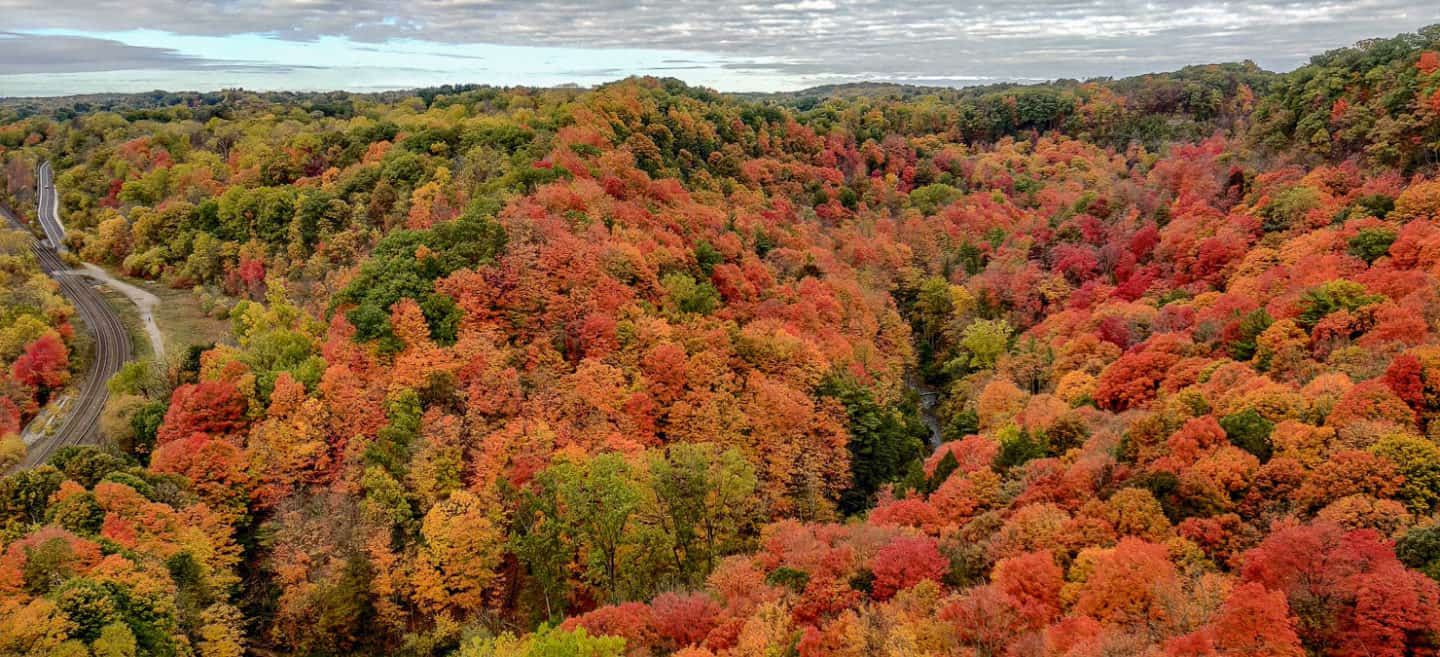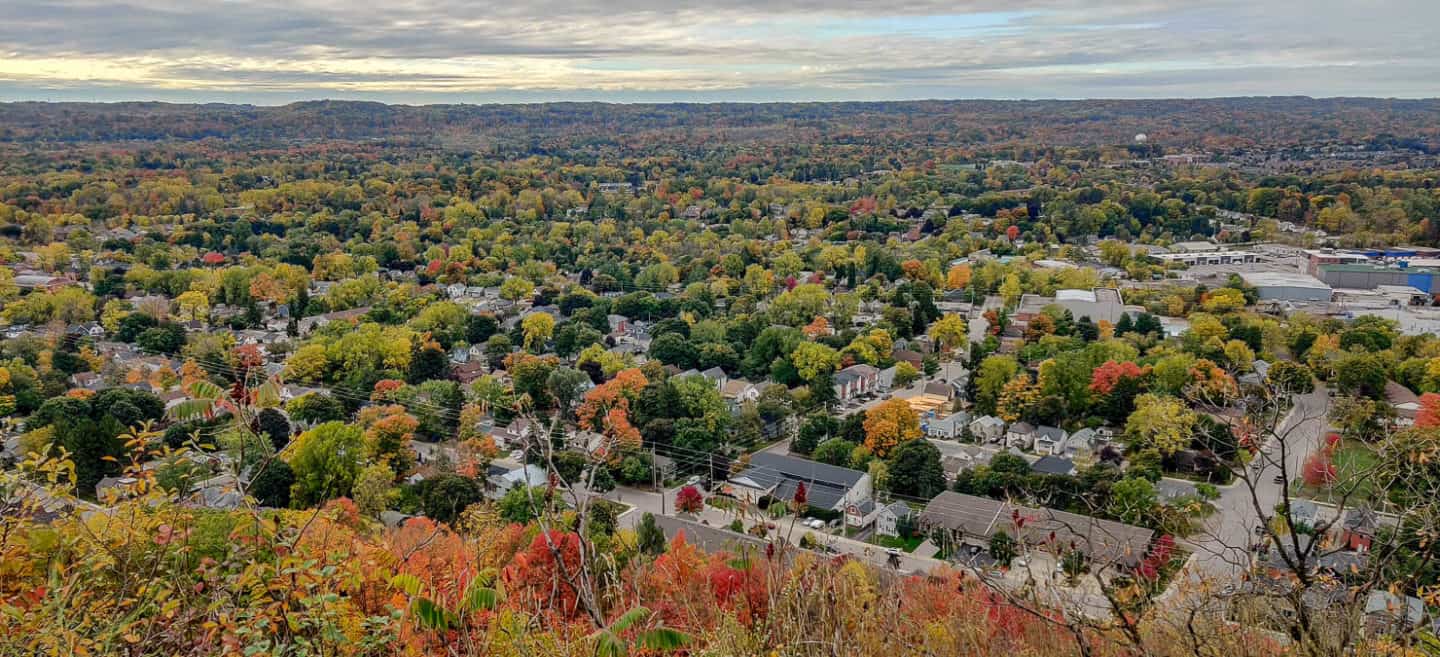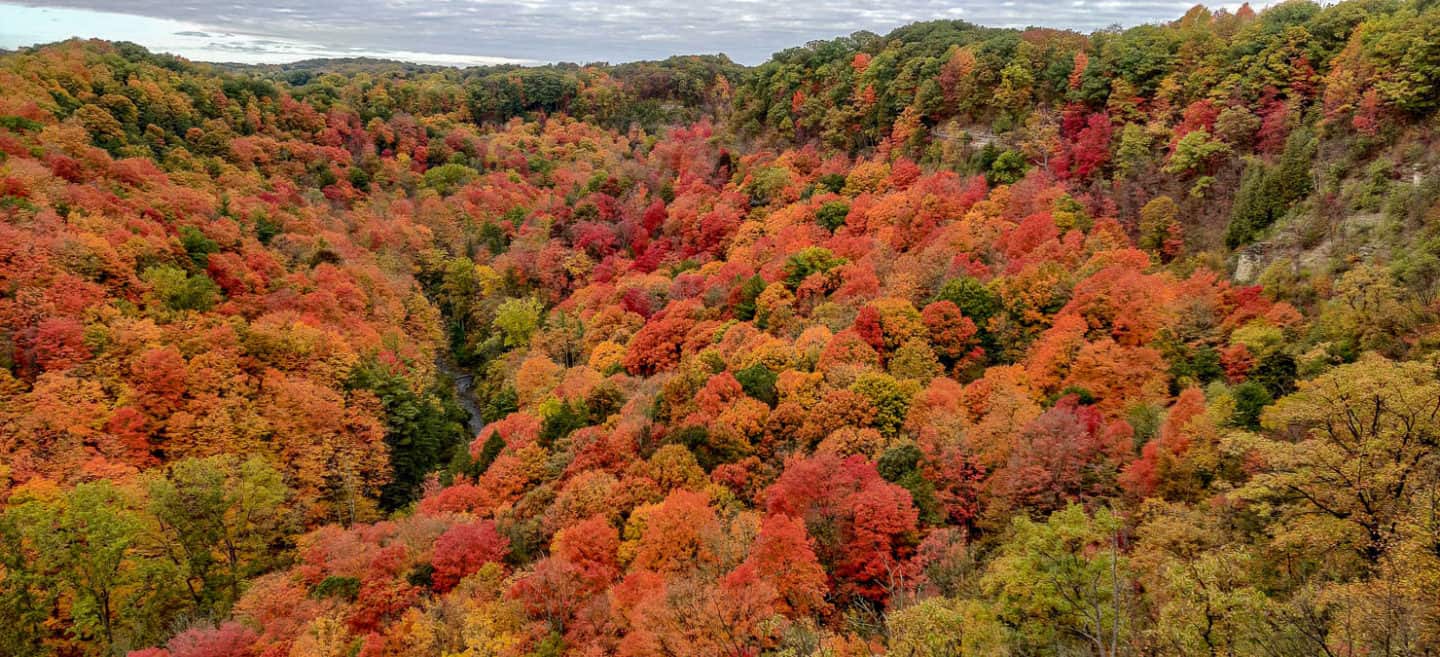 Fence Around The Top
If you've visited Dundas Peak in the past you may notice something new this year and that's of course the shiny black fence that's all around the lookout. This means if you've seen pictures of people sitting on the cliff before (like below) that will no longer be possible. While it's a bit of a shame because the views from the edge (and the pictures!) are quite epic, the fence is there for a reason and make sure to respect it! There have been incidents of people falling off the cliff and in the name of safety the fences were installed.
While you may miss out on a really cool picture of sitting on the edge, the fence doesn't really take away from the view so don't be too concerned about that.
There are signs on the trail letting you know not to jump the fence. I will say based on recent pictures on Instagram, it's obvious that people are jumping the fence. Please don't be these people. It's unnecessary and wasteful for first responders to have to rescue you because you wanted a cool picture.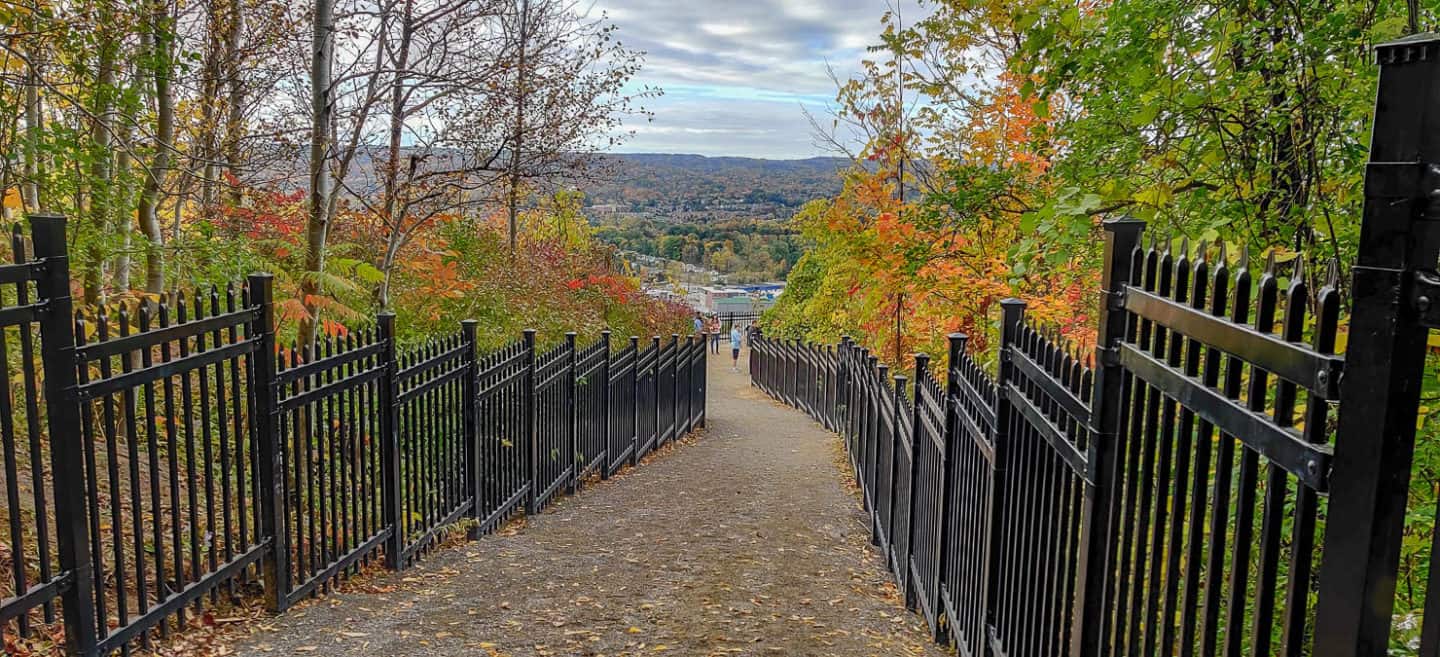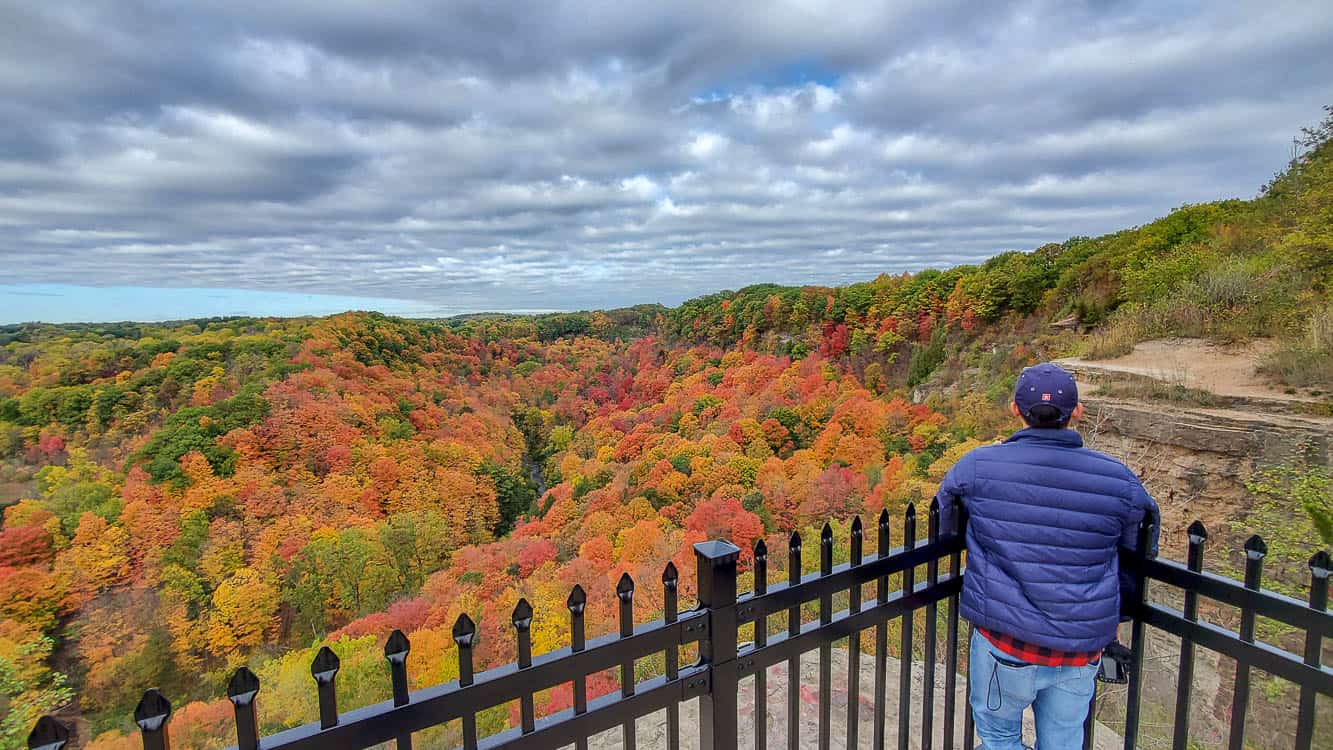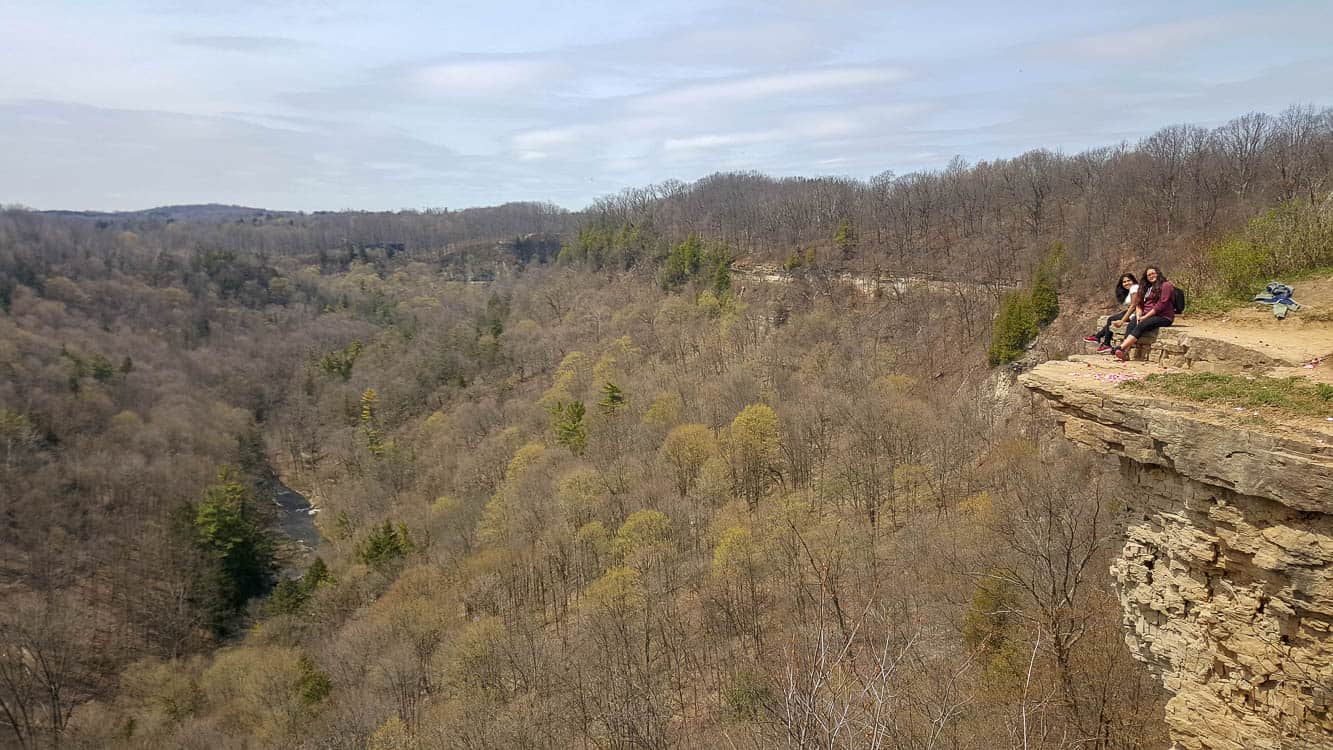 There you have it! Everything you need to know about hiking Dundas Peak, Tews Falls and Webster Falls. If you have any questions please let me know in the comments and as always pin this post for your own upcoming trip to the area.