Indonesia is a country with so incredibly much to offer. It's got everything from islands to bustling cities to temples and beaches and jungles and so much more. As many islands (1000s!) as there are in Indonesia, there are just as many, if not more, tasty food options from the different parts of the country that you can, and should, enjoy. Of course there are some that stand apart which is why we've put together this list of the best Indonesian food the country has to offer and the Indonesian dishes we think you absolutely have to try on your visit to the country!
I had the privilege of visiting Indonesia with my husband who was born and raised in the country (Jakarta specifically). So it of course just makes the absolute most sense to have him prepare this post for all of you. Read on to see what Indonesia food he absolutely recommends you try on your visit to Indonesia.
Sate Blora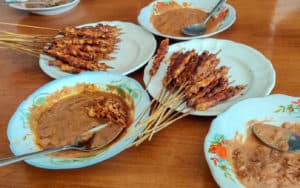 A personal childhood favourite and one that will always be at the top of the list of best Indonesia food is Sate Blora.
The dish originated from the city of Blora in Central Java. This dish is normally served, not on a plate, but on a bed of teak leaves, where the rice is drenched in yellow Opor soup, garnished with fragrant fried onions.
The dish consists of chicken satays, peanut sauce and a side of rice. The star of the show, in my opinion, is not the chicken satay, but the peanut sauce. It may be unhealthy but it is so good that you should feel zero guilt when drenching your satays with them.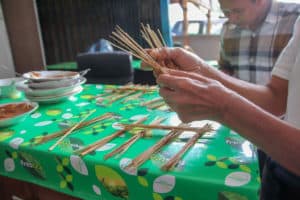 In Jakarta, mostly in the eastern region, there are a few joints that make them exceptionally well, namely Pak Agus and Pak Yudi, but there are other great alternatives like Sate Ayam Blora Subekti if you're around that area. Just don't bank on them serving the dish on teak leaves, only regular plates, but everything else is close to the original!
It's also important not to throw away the skewers the satays came on, as they are how the vendor bills you – by deducing how many skewers were eaten and calculating the total owed; it's how they make their living.
Nasi Padang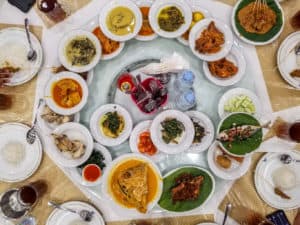 Another unique cuisine to come out of Indonesia is Nasi Padang.
It originated from the capital city it became the namesake of and this West Sumatran cuisine offers a dining experience with the theme of: options. Literally options. Options of dishes, each unique in their own way, no two dishes are the same or even similar, so you get your penny's worth.
The experience starts from the server skillfully carrying what seems like 10-20 plates in one full arm, delivering them to your table and stacking them in front of you.
Some of my personal favourites include: Ayam Pop (chicken cooked/steamed in coconut juice), Ayam Bakar (flame-grilled chicken), Ayam Gulai (chicken cooked in distinctively-Padang curry), Ayam Goreng (fried chicken with crispy bits) – yes, I'm biased on the chicken dishes particularly. But, there are also other dishes like: Rendang (beef stewed in spicy gravy until dry), Petai Goreng (fried stinky beans), Sambal Ijo (green chillies). If you're the adventurous kind, there are also: Gulai Otak (cow brains in Padangnese curry), and Gulai Kepala Ikan (red snapper's head in Padangnese curry). Safe to say I'm salivating as I'm writing this.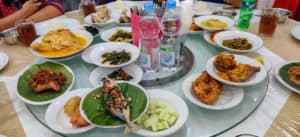 The best place to try this cuisine is at the heart of the city itself: Padang, West Sumatra. But, if Padang isn't part of your itinerary, then Jakarta offers a ton of Nasi Padang restaurants. My recommendation is Restoran Sederhana, as they are now a chain of restaurants, so their quality and sanitation is more well enforced and maintained.
Similar to Sate Blora, they calculate your bill based on what's missing from the plates, so it may take a while for them to hover over your table to figure out. Bring a lot of friends you love to connect with, at least 10 of them, the food tastes better when you do.
In general, Nasi Padang is a great choice for the best Indonesian food vote because it allows you to try so many different dishes all at once.
Babi Guling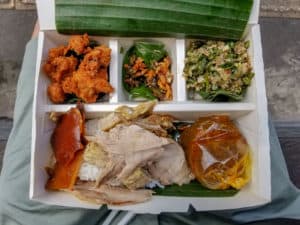 Flying over to the paradisical Bali, there are plenty more food gems to be had. Babi Guling is particularly special to Bali as Bali is one of the few places in Indonesia that eat pork.
Babi ("pork") Guling ("rotating") is basically a pork cooked by rotating spit/rotisserie. This causes the pork to have tasty crispy skin, and succulent meat underneath all that goodness. Aside from the natural flavour from its juices, the meat can be bland on its own, but they remedy this with their unique lemongrass-y concoction that always comes with to pair with the protein. They are also known to add smaller side dishes to go alongside the star of the dish, such as Gorengan (tasty fritters), pork sausage, and, if you want it, extra pork skin.
My personal recommendation, particularly in the vicinity of Ubud, Bali is Warung Babi Guling Ibu Oka. Since the first time I had it in 2008, they have built a couple of new branches of the restaurants in and around Ubud in addition to their original location. You may find more variants of Babi Guling outside of Ubud, but it will most likely be a hit and miss.
Bale Nem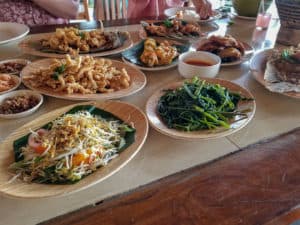 Bali is a super popular destination and usually included in an Indonesia itinerary for most people. Bali has a number of different foods worth trying and one of the great ways to try it is through the small plates style of sharing. While this style of eating isn't unique to Bali it is common across Indonesia and is a great way of trying lots of Balinese dishes.
If it's your first time in Bali or you have limited time there I'd highly recommend trying Bale Udang. It showcases some of the seafood must-haves: fried squid and fish, grilled shrimp, Sate Lilit (lemongrass chicken or fish satays), tasty vegetarian side dishes, and my personal favourite condiment, unique to Bali: Sambal Matah (chilli sauce based with lemongrass and palm oil). They offer different types of communal meal packages based on the number of people in your party. We were 11 people in the group, so we got the packages for 6 people ("Bale Nem"), and 8 people ("Bale Megibung"), and we traded seats frequently to try out the "other package". Their refreshing in-house drinks are great pairings to the enormous meals.
Bebek Tepi Sawah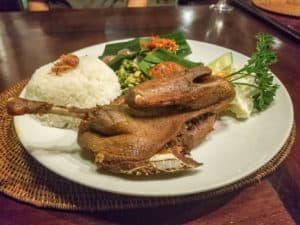 Another Balinese dish worthy of the spotlight is the famous Bebek Tepi Sawah ("paddy field duck").
With duck generally being high in fat underneath their skin, they have found the sweet-spot deep-frying technique that yields a crispy layer of skin with virtually no fat, whilst still allowing the meat to stay juicy and tender.
My personal recommendation is Bebek Tepi Sawah Restaurant & Villas to have your first taste of this dish. While the restaurant offers other types of protein like chicken and fish, I would go directly to the crispy duck and never look back. Another must have in Bali.
Ayam Betutu
The third of the Balinese meat trifecta, Ayam Betutu, represents a great fabrication of a chicken dish. The chicken is steamed in bold spices known to be the Betutu spice mix. You know it's Betutu whether you're tasting it the first time or the 100th time – it truly is an incomparable taste that you can never forget. This dish is normally served on rice with roasted peanuts and, the ubiquitous Sambal Matah.
My recommendation to try this dish is at any of the Ayam Betutu Khas Gilimanuk branches. They are mostly located on the southern portion of the island, and offer alternatives such as duck and fried chicken as well. This restaurant, ironically, was the place that sparked my love for Sambal Matah – so much that after all the meat on the table is finished, I asked for more of this condiment just to have it with roasted peanuts and rice! It's that good.
Sate Lilit
The last honourable mention of a uniquely-Balinese dish is Sate Lilit.
These satays, typically minced fish or chicken mixed coconut milk, lemon, shallots, and pepper, wrap around ("lilit") lemon grass stems. As they grill over an open charcoal fire, the meat is permeated by a strong lemon grass flavour from the inside out. In the absence of lemongrass skewers, they are typically replaced by flat bamboo skewers.
One of the best places to try these satays is at Warung Satria around the Denpasar area. Places like Warung Satria offers multiple Balinese dishes (not just Sate Lilit) to form what Indonesians call Nasi Campur ("mixed rice"), where you get a heaping portion of rice, and you pick and choose the dishes to go around the rice, so you get a variety of choices to try from. And because it's a "warung" type of restaurant, it doesn't break the bank at all and you get to eat till your heart's content. Other restaurants in Bali will most likely have this food item on their menu, so I recommend trying it whenever you can get your hands on some.
Bakmi GM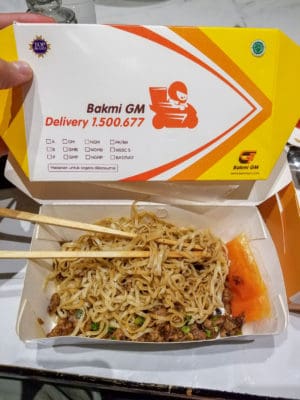 Bakmi ("noodles") Gajah Mada, also known as Bakmi GM, has noodles that will guaranteed be in your forever Top 5. The noodles are presented "dry", alongside a chicken-and-mushroom topping with some veggies and chicken broth on the side.
Originated and based in Jakarta, their story came from humble beginnings, and have now become a chain restaurant.
Another popular dish favourite by my family and I are their Pangsit Goreng (deep fried wontons) that comes with some sweet-and-sour sauce, and every bite is crunchy delight, down to the beef core, and you then start on the next one.
If noodles or fried wontons aren't you cup of tea, they also make some very tasty Nasi Ayam (chicken and rice), Nasi Goreng (fried rice), and Nasi Brokoli Sapi Lada Hitam (black pepper beef with broccoli and rice).
Soto Ayam
My dad's personal favourite, which I've inherited a love for is Soto Ayam. This yellow chicken soup makes a hearty meal for cold, rainy days in Indonesia (or otherwise). Having turmeric as the main spice to achieve that "yellow" base colour, the dish itself is decorated with many more spices, shredded chicken (or beef) pieces, egg, vermicelli noodles, scallion, and coriander. Upon consumption, it is them topped with lime, fried onions (or garlic), crackers, and a bed of rice. It's so ubiquitous, you will be able to find it just about anywhere on any street; whether in a restaurant or a seller on their carts.
If you're in Jakarta, I recommend Soto Kudus Asli Gereja Ayam in the Kelapa Gading area, or, if by some random chance you're in Mojokerto, East Java, try Soto Ayam Madura Ratna Cak Tubi.
Nasi Campur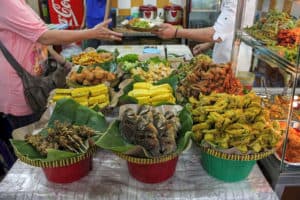 Nasi Campur is a classic Indonesian dish because of how versatile it is. Roughly translated as "mixed rice", it's a dish where you get a heap of rice, and you pick and choose the protein and/or vegetables to go with it. It's a no-frills type of food, as at its foundation, it's simple, quick, tasty, and cheap. The different type of dishes would be up to the vendor and what they feel like making the day of, or there will be popular ones that they will always have on the menu.
You can find these vendors almost at every corner of the street if you look hard enough, and you don't have to spend a leg and an arm (unless it's the poultry kind) for it. Try at least three different dishes with your rice, and keep adding more as you please. And then come back the next day to try the other dishes you haven't. And repeat.
Martabak Manis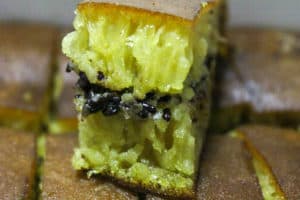 One of the few desserts on this list is Martabak Manis which is a very classic Indonesian food.
To say this dessert dish is indulgent would be an understatement. It's veeeeeeeery indulgent. It's a variant of a pancake, cooked in a specialized cast-iron pan, with copious amount of butter, chocolate sprinkles and peanuts.
The end product is a sweet, buttery-rich cake worthy of a food coma. When you eat it, have some napkins ready to absorb all butter and a cup of tea before you chow down, but this food will be worth every weight gain and is definitely a guilty pleasure.
Pempek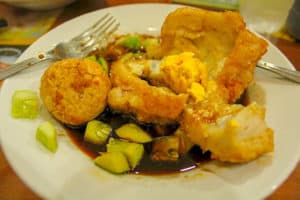 Originating from the city of Palembang in South Sumatra, this dish wins on its texture alone: crispy on the outside, and chewy on the inside. It's made of mainly fish and tapioca. Think of fish cake that is elevated by deep frying it. It's also meant to be drenched in this very rich sweet and sour sauce made specially to complement the Pempek's texture.
In Jakarta, my recommendation is Pempek Palembang & Otak – Otak 161 in the Kelapa Gading area.
When you're there, don't forget to also try their Otak-otak (fish cake, grilled), and Es Kacang Merah (iced red beans; I, to this day, don't know how they manage to make beans to be that plump and tender as a dessert).
Bubur Ayam
Bubur Ayam ("chicken congee") is a classic breakfast staple in Indonesia. The bubur vendor will be up and ready before you will, so they will either walk around in your neighbourhood with their cart, or you'll be able to find one only be a short walk away.
A typical bowl consists of the rice congee, shredded chicken (ask for the skin if you dare), scallions, fried onions, cilantro, yellow chicken broth, sweet and salty soy sauce. All of this will be topped with a generous amount of shrimp or garlic crackers.
When you mix everything up, that texture and mouthfeel you will remember for a long time, and it will be the reason you come back for more every morning. Good to fill you up until lunch time.
Ikan Bakar

Another oldy-but-goody classic dish in Indonesia involves grilling fish (usually the freshwater type) with a special spice mix, garlic, shallots, and sweet soy sauce all over fiery charcoal to give it that delicious charred taste.
Garnished with lime or calamansi, it is to be enjoyed with a bed of rice, a side of sambal ("the" chili condiment of Indonesia), and an array of fresh chopped vegetables.
You can find this dish just about anywhere, more likely near a body of water, but many inner-city restaurants will have it, too.
Kepiting Saus Padang

Analogous to the Singaporean Chilli Crab, Kepiting Saus Padang offers a richer taste from the spices used in the Padang sauce. Your taste buds will be tickled from this hot and spicy sauce made of shallot, garlic, red chili pepper, bird's eye chili, ginger, turmeric and candlenut (different vendors will put their own mix to it) — so it warrants as much rice as you need to sop up the infamous sauce.
While the best place to try it is still Padang, West Sumatra, if you're in Jakarta, I recommend Sandjaja Seafood & Ayam Bakar in the Kelapa Gading area. And if you're lucky, and it happens to be in season, you can ask for a "pregnant" female crab to have the bonus crab eggs with the Padang sauce.
Honourable Mentions
Hot Chickens at McDonald's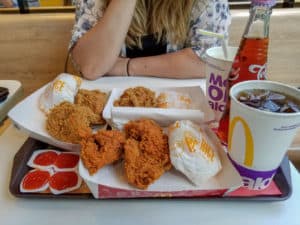 As cliche as this one always sounds like for any country, McDonald's in Indonesia, since my childhood, always has the one thing no other McDonald's seems to have on their menu: hot chicken. This fried chicken is so spicy, it's mouth-numbing. And when in Indonesia, you eat fried chicken with, none other than, rice. The rice helps curb the spiciness a notch, but it makes you want to eat more and non-stop; it's a vicious cycle.
Besides the hot chicken, I recommend trying 3-4 other menu items like: Bubur Ayam (chicken congee) for breakfast, Nasi Uduk Ayam (rice cooked in coconut milk paired with fried chicken and egg on the side), Ice Top Talas (vanilla cone dipped in taro sauce), Iced Lychee Tea (*sip, ahhhh*), Klepon Cake (green-coloured rice cake stuffed with melted palm sugar), and Star Fruit Fizz (Sprite with star fruit syrup).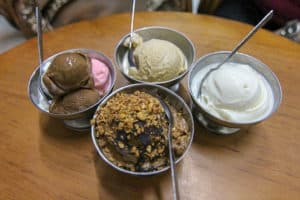 This ice cream shop has the one thing no other ice cream shop in Indonesia has: history. Built in 1932 by two Italian brothers who moved to Jakarta (back when it was called "Batavia") to work at a sewing company, they still maintain their colonial-times interior, giving visitors that cozy, old-timey feel. Oh, and they serve ice creams. They take pride in using fresh cow milk, so the end product is one that is velvety and free of any preservatives.
If you have the time in Jakarta, I recommend visiting them to cleanse your palate after dinner from one of the heavy meals above, and enjoy the breezy Jakartan air.
I may be biased about Indonesian food, but I can guarantee your first experience with any of these dishes will be unforgettable. It will be hard to find dishes that capitalizes on fresh herbs and vibrant spices to make one-of-a-kind dishes for unbelievable affordable prices.
Though this list will leave you feeling satiated on your first visit, it barely touches the surface of Indonesian cuisine – there are many more islands, big or small – for you to explore and try their local foods, so don't hold back, and come back often.
There you have it! A wholesome list of Indonesian must-have dishes. Have you been to Indonesia? What was the best food you had there? Let me know in the comments and as always pin this post for your own upcoming trip.