Canary Wharf is one of the newer areas of London. Unlike the rest of London there's a ton of shiny and giant skyscrapers of which many function as office buildings. It's pretty different from the rest of the city but there's still lots of fun things to do in Canary Wharf and depending on how much time you have in London, I'd definitely spend a few hours there and then head on over to Greenwich for the remainder of the day as there are a ton of things to do in Greenwich as well.
Canary Wharf is considered the secondary business district of London and it's located in the East End on the Isle of Dogs so it's surrounded by water.
The area is quite busy during the week (on account of the number of people who work here) but lately has been getting busier over the weekend as well with all the nice things to do in Canary Wharf and the proximity to Greenwich.
Things to do in Canary Wharf
Museum of London Docklands
One of the (many) great things about London is that many of the museums are completely free to visit. The Museum of London Docklands is no exception but they do of course appreciate a donation which you can make at one of the boxes at the entrance.
The Museum of London Docklands features 4 floors of exhibitions highlighting the history of London and water trading.
The museum is located at No1 Warehouse, West India Quay. It's right by the water and on a cobbled street with a beautiful flowered building right next door.
The museum is open daily between 10am and 6pm with the galleries closing at 5:40pm.
Crossrail Place Roof Garden
Crossrail Place Roof Garden is not only one of the most instagrammable places in London but it's also a hidden gem that's worth discovering.
The free rooftop garden provides a really nice nature oasis in the middle of all the tall buildings. The garden is enclosed but there are portions where the ceiling is open.
You can access the garden daily until 9pm (or until sunset in the summer) and since the garden hosts free events, workshops and performances you may come across something fun!
There are a number of different plants from across the world and lots of informational signage for you to learn about the plants.
Billingsgate Market
Billingsgate Market is the UK's largest wholesale fish market and is reminiscent of the ones you'll see across the world.
The market is open between Tuesday and Saturday. If you want to visit here though you're best to start your day bright and early! The market opens at 4 am and shuts down by 8:30 am which is why most people miss it.
There's a number of different vendors selling their sea food and you can spend a decent amount of time walking around selecting what you'd like. Do note that the traders themselves will hand you the items!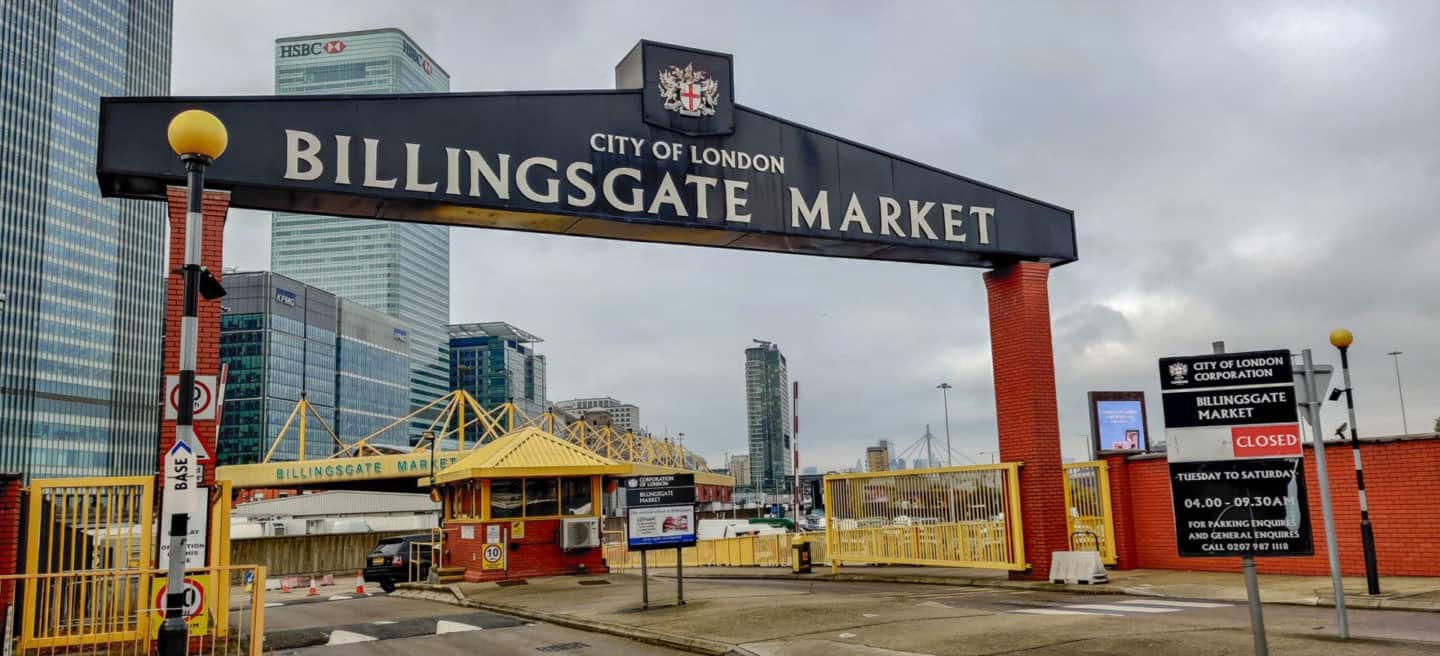 Check out the modern Canary Wharf Station
A lot of the London tube stations are on the older side and many are deep underground and to be frank, a little bare. Canary Wharf Tube Station is by comparison way more modern. The entrance is nice and grand and much more open than the stations you're probably used to.
There's a number of shops within the station and it operates on the Jubilee line.
I passed through bright and early one morning and it's definitely a really busy station during the working hours!
Relax in the public squares
Despite Canary Wharf sort of being a concrete jungle, there are actually a number of public squares and parks. The four main areas are Canada Square Park, Cabot Square, Westferry Circus and Jubilee Park.
Canada Square Park is a grassy area located next to One Canada Square. There are restaurants and trees lining the square and provides a nice break in the day.
Cabot Square is located west of One Canada Square and features some public art in addition to a large mountain that is pretty much the center piece of the square.
Westferry Circus is a walled garden in the centre of a roundabout.
Jubilee Park is located just above Canary Wharf Station and has lots of trees, grass and water installations and feels the most like an actual park.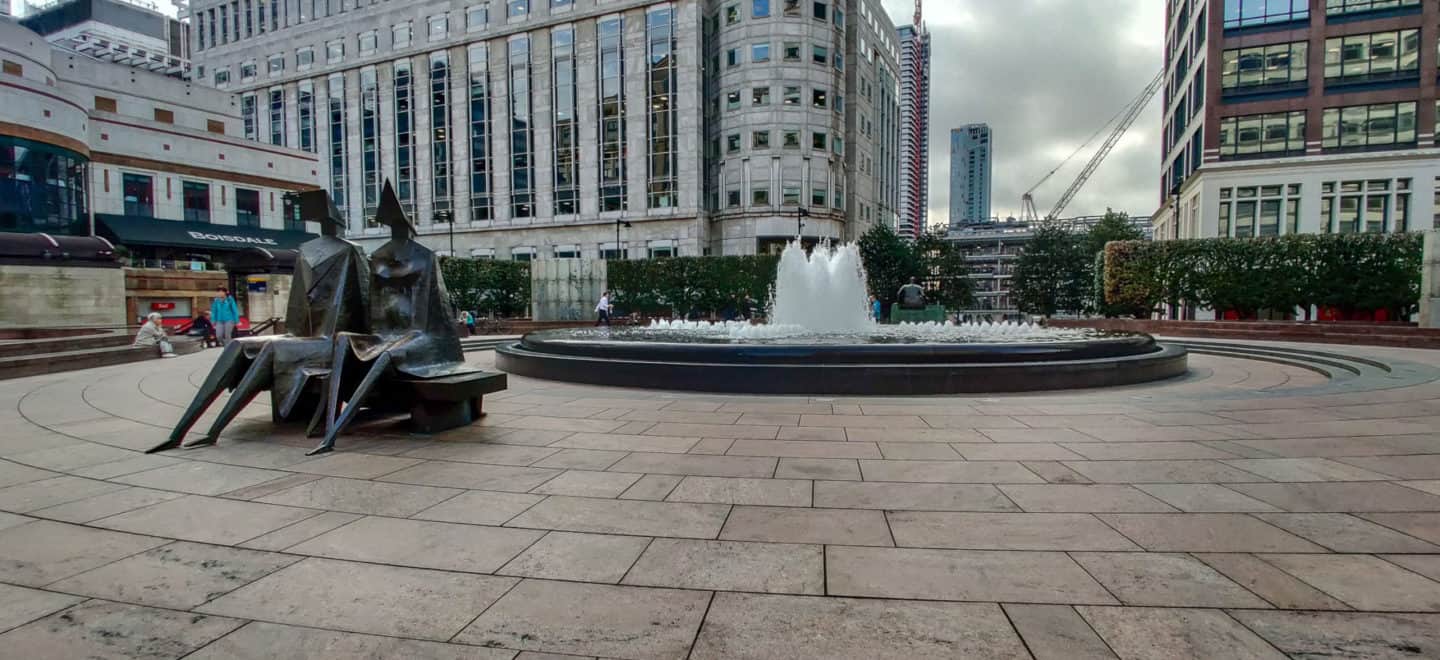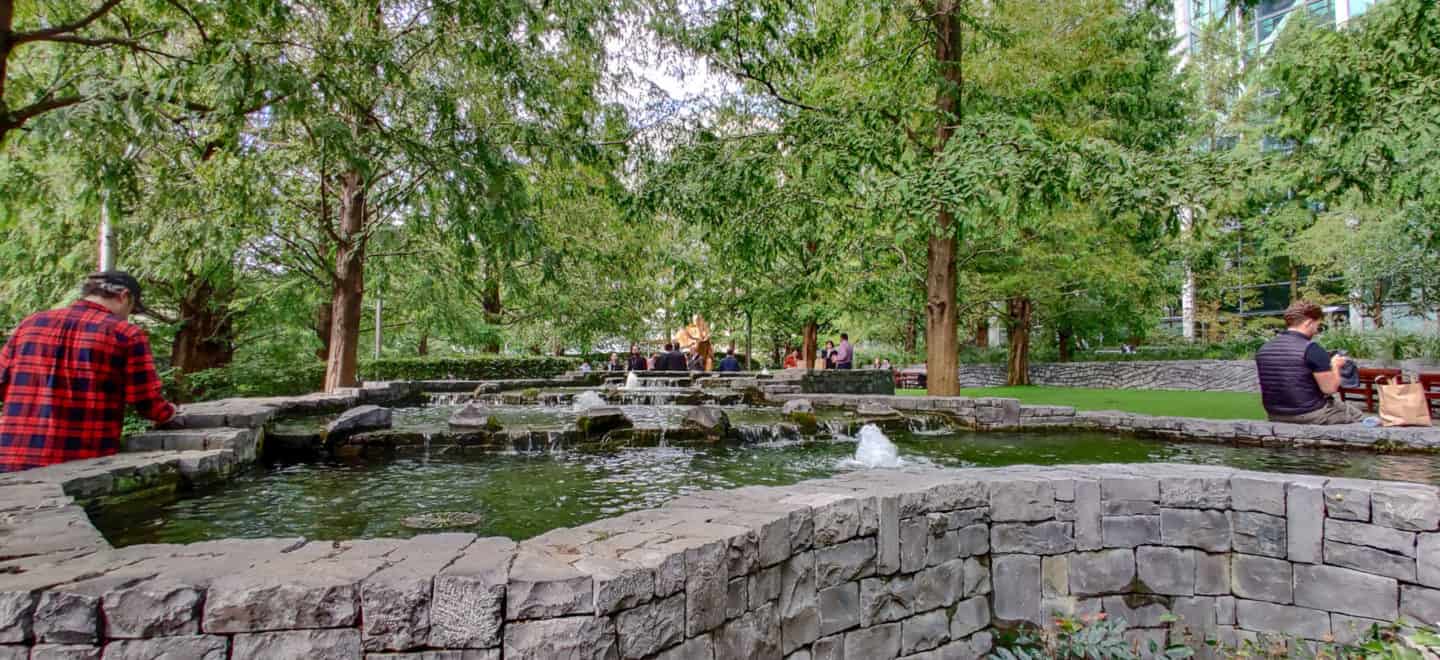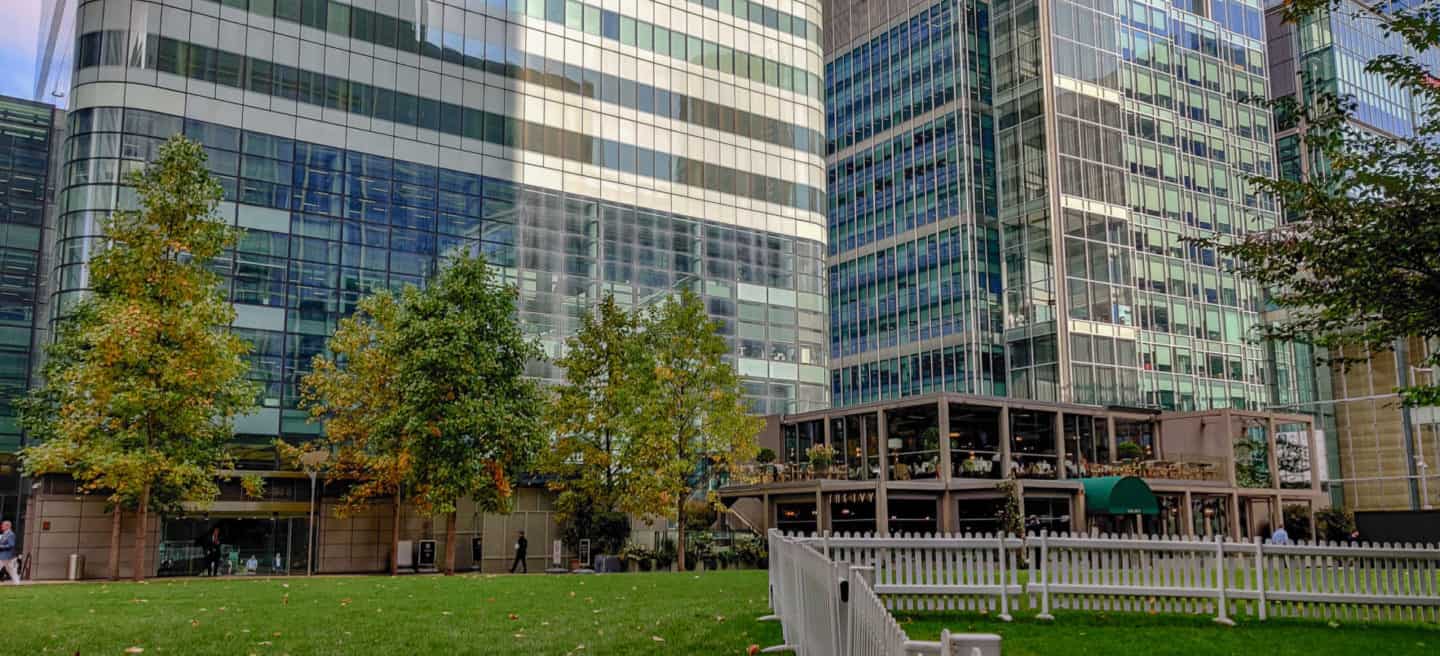 Grab a burger at Shake Shack
Shake Shack is one of the best burgers in the world and London happens to have a few locations from the famous chain. One of these locations can be found in Canary Wharf. The restaurant is located inside Canada Square's Park Pavillion and even has a patio.
If burgers aren't your thing however, there are a number of restaurants in the area you can pick to have lunch from instead!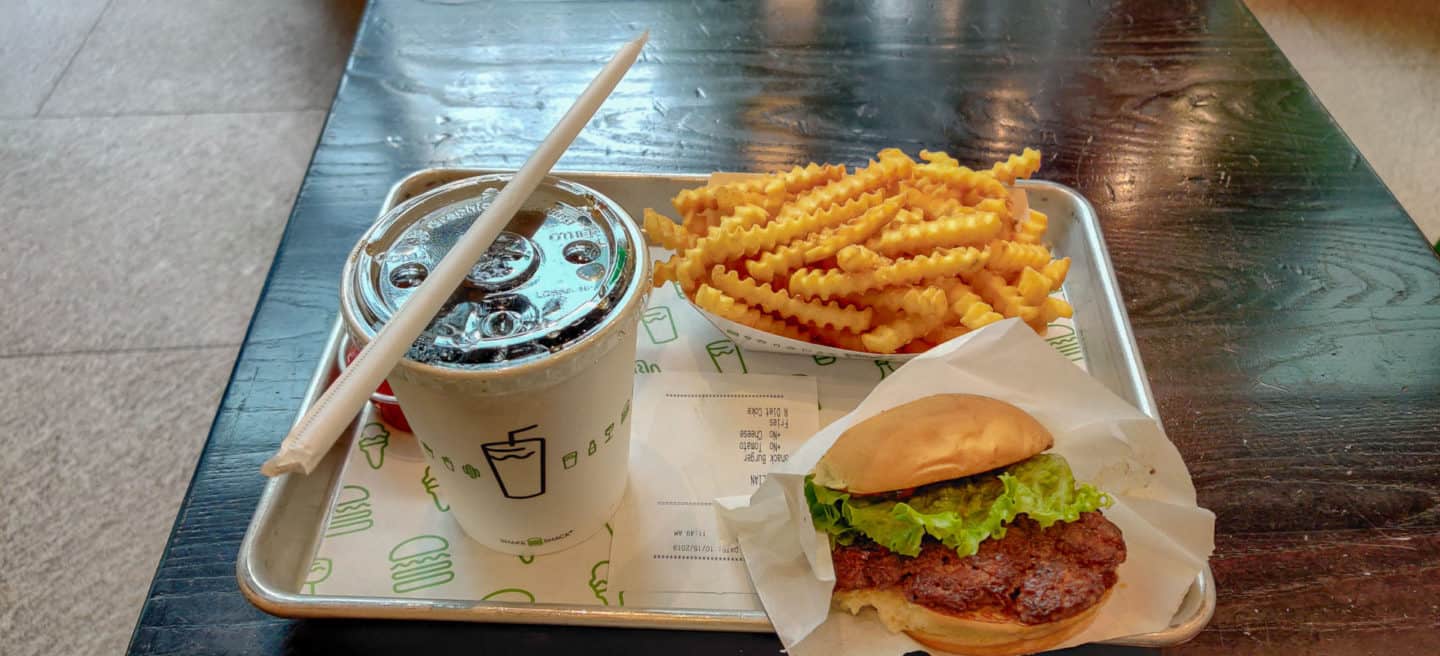 Marvel at the Traffic Light Tree
One of the more unique (and sort of out of place) things to do in Canary Wharf, is to head over to the Traffic Light Tree.
It's located right outside of the Billingsgate Fish Market main entrance in a little roundabout.
The sculpture was created by Pierre Vivant in 1998. It stands tall at 8 meters and has 75 (!) sets of lights that randomly change!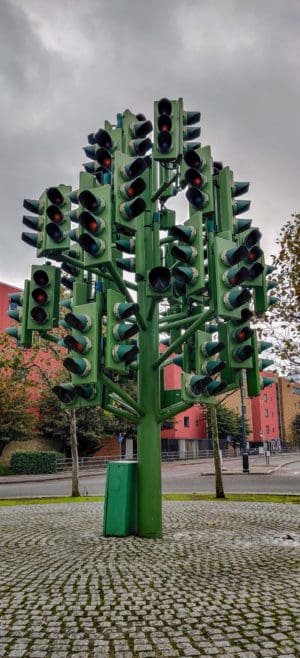 Pose with the Two men on a bench
Two men on a bench is a statue made by Giles Penny in 1994. It's a large bronze statue that can be found in the main Canary Wharf park overlooking a pond.
The statue is meant to represent 'the loneliness of the urban man' which is ironic given that the two men are facing each other but it's symbolized through their directions – with the men facing away in opposite directions.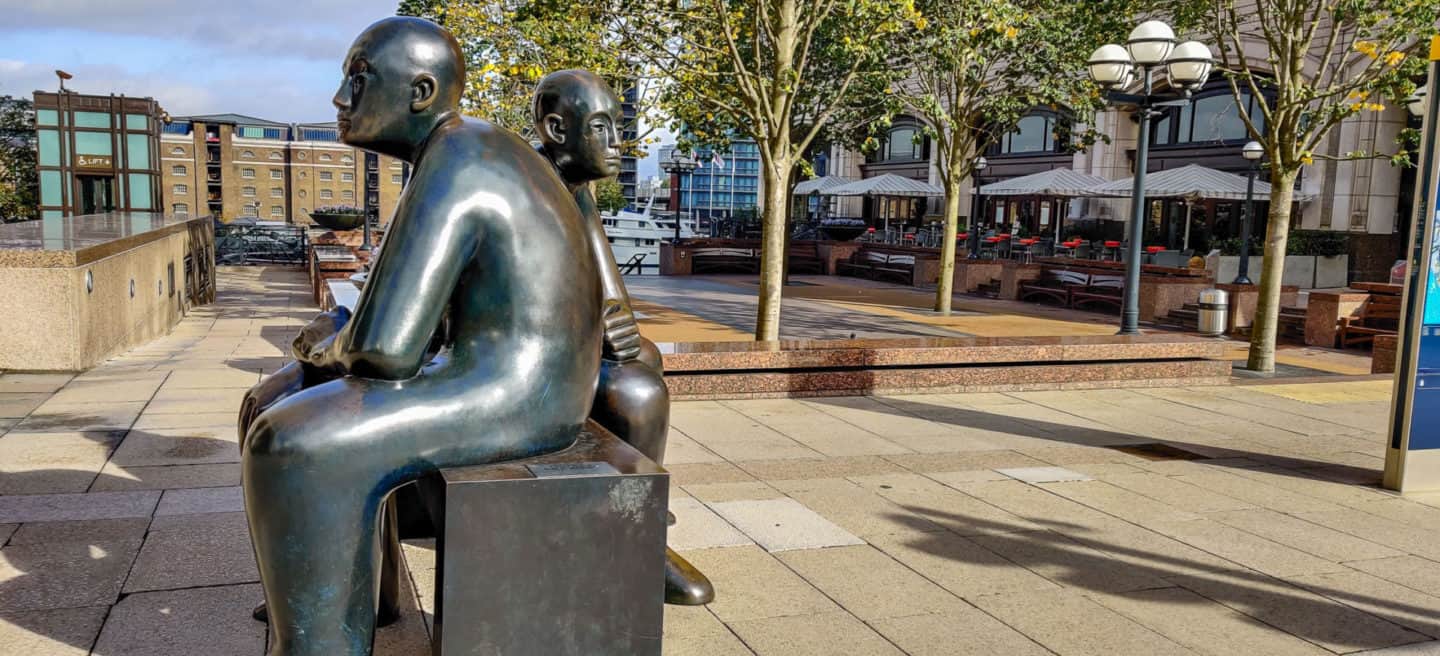 Public Art
Besides the known 'Two men on a bench' Statue, Canary Wharf has a number of other pieces. In fact, it's the largest collection in the UK of public art displays.
You can use this map to locate any of the ones you're interested in but as you can see there are dozens of different ones. Even if you're not using the map you will come across them by just strolling around the area.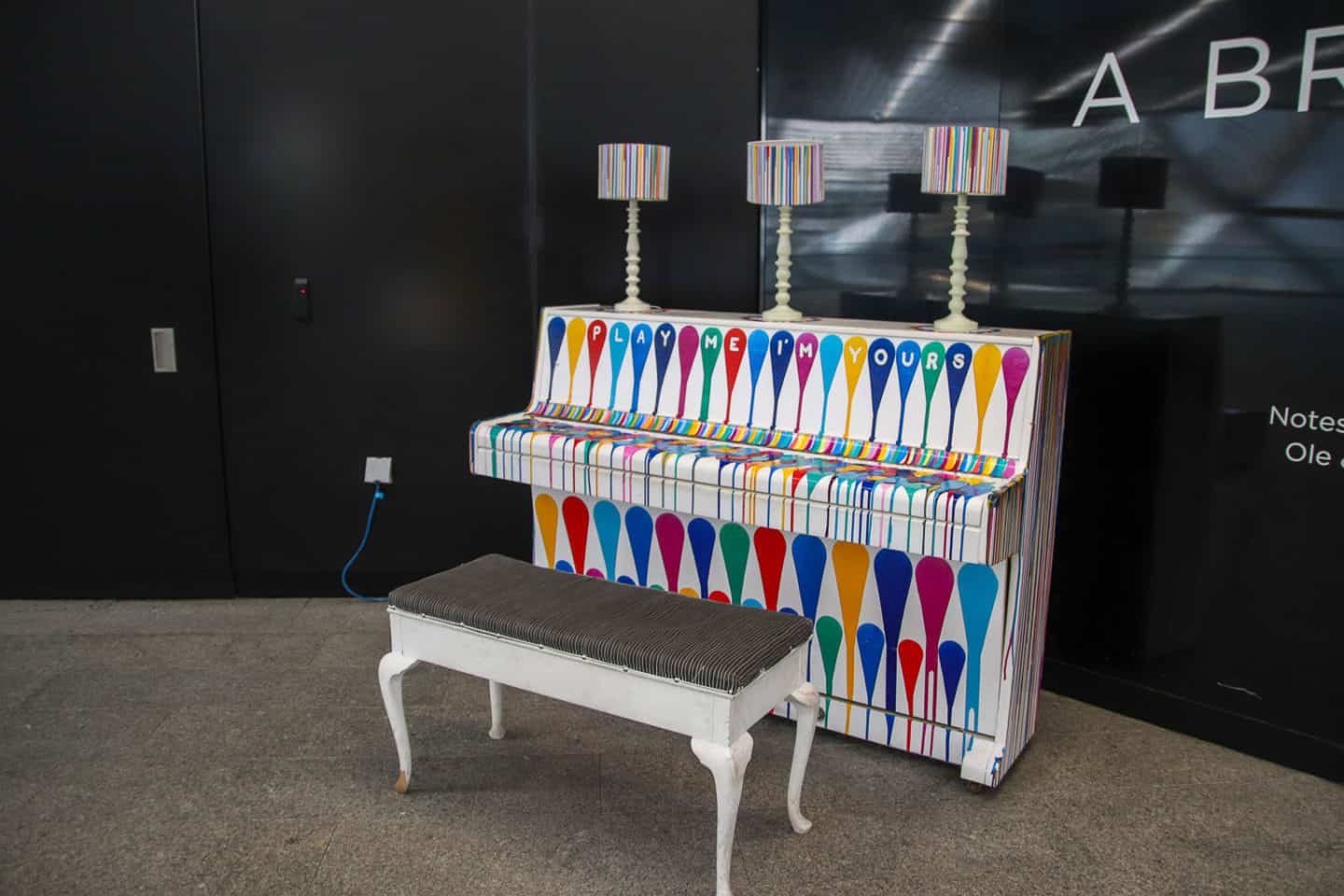 Play a free round of mini golf
Located in the Columbus Courtyard you will find a completely free 9 hole mini golf course set up. While it may appear sort of random, given the business in the area it's probably a very nice way to spend some time relaxing!
You can get the balls and clubs from Canary Wharf Management.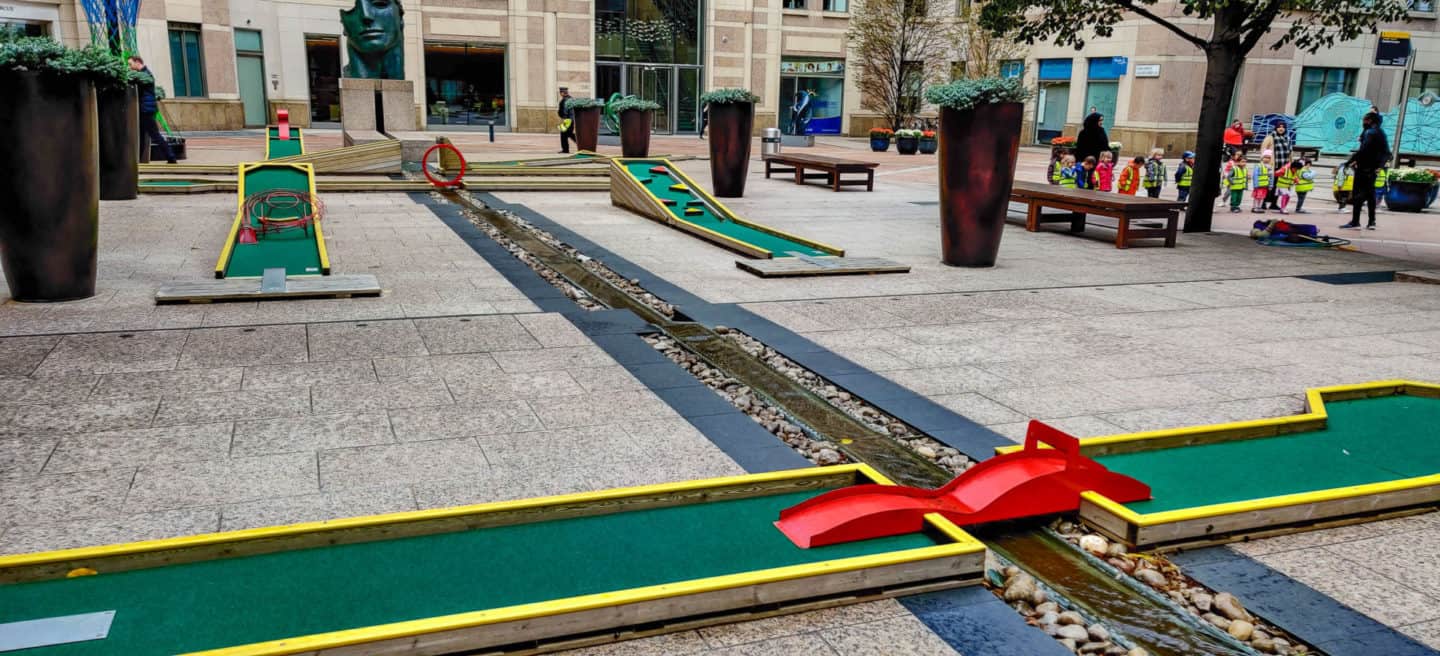 Walk through Adams Place Bridge
If you've ever wanted to pretend you're in a Star Trek movie then Adams Place Bridge is a hundred percent the place to be.
I wasn't even aware of this place but a security guard saw me walking around taking pictures and recommended I head over to it to snap a picture as well.
The bridge is located between One Canada Square and Crossrail Place.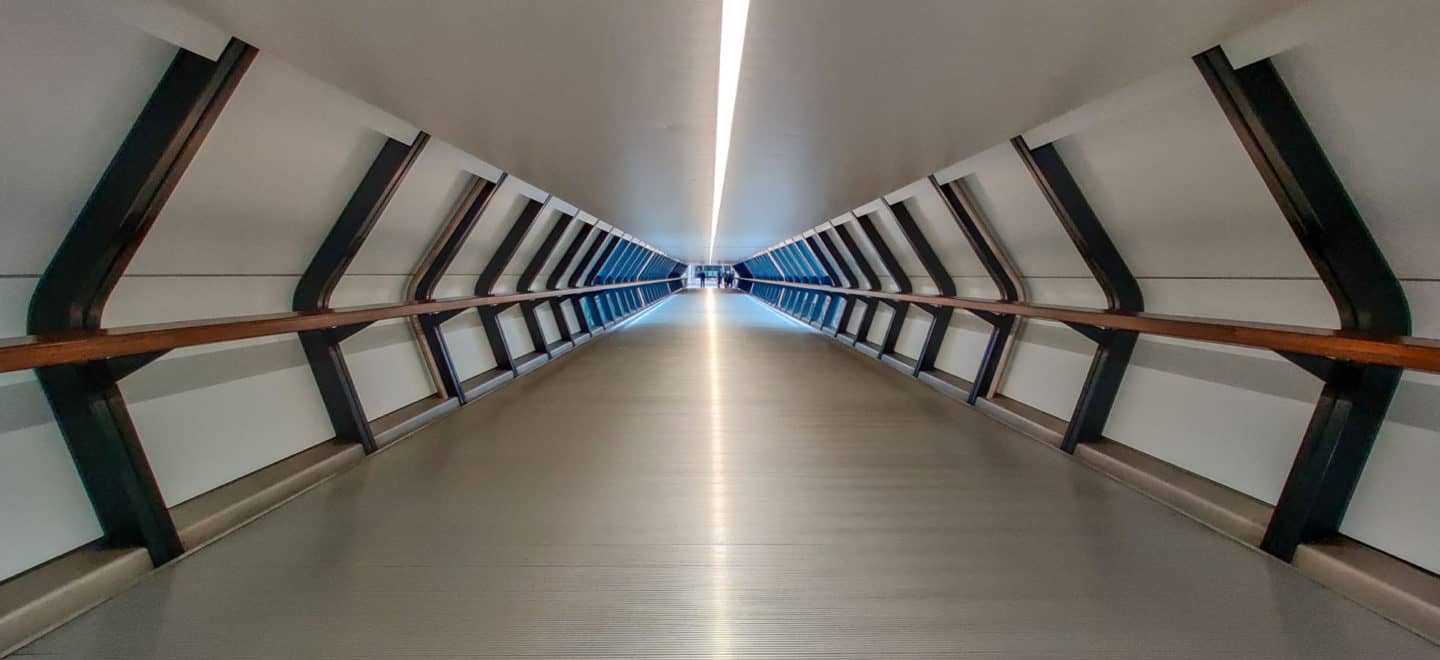 Go Shopping
Surprisingly, there's a number of places to shop in Canary Wharf and you'll most likely find it way less busy than Oxford Street or any of the other high street shopping areas in London.
There are two separate malls: Canada Place Shopping Mall and Jubilee Shopping Mall but you will also find stores at Churchill Place, Cabot Place, Columbus Courtyard and and Crossrail Place and in total there are over 300 different shops including some very high end stores.
Walk the Greenwich Foot Tunnel
Walking the Greenwich foot tunnel is one of the more unique things to do in London. The pedestrian tunnel runs underneath the Thames. The two access points are right at the very south tip of the Isle of Dogs and across the river at the Cutty Sark location of Greenwich.
The tunnel is open 24/7 and there are elevators (in addition to stairs) on either end but these may be out service on under repair at times.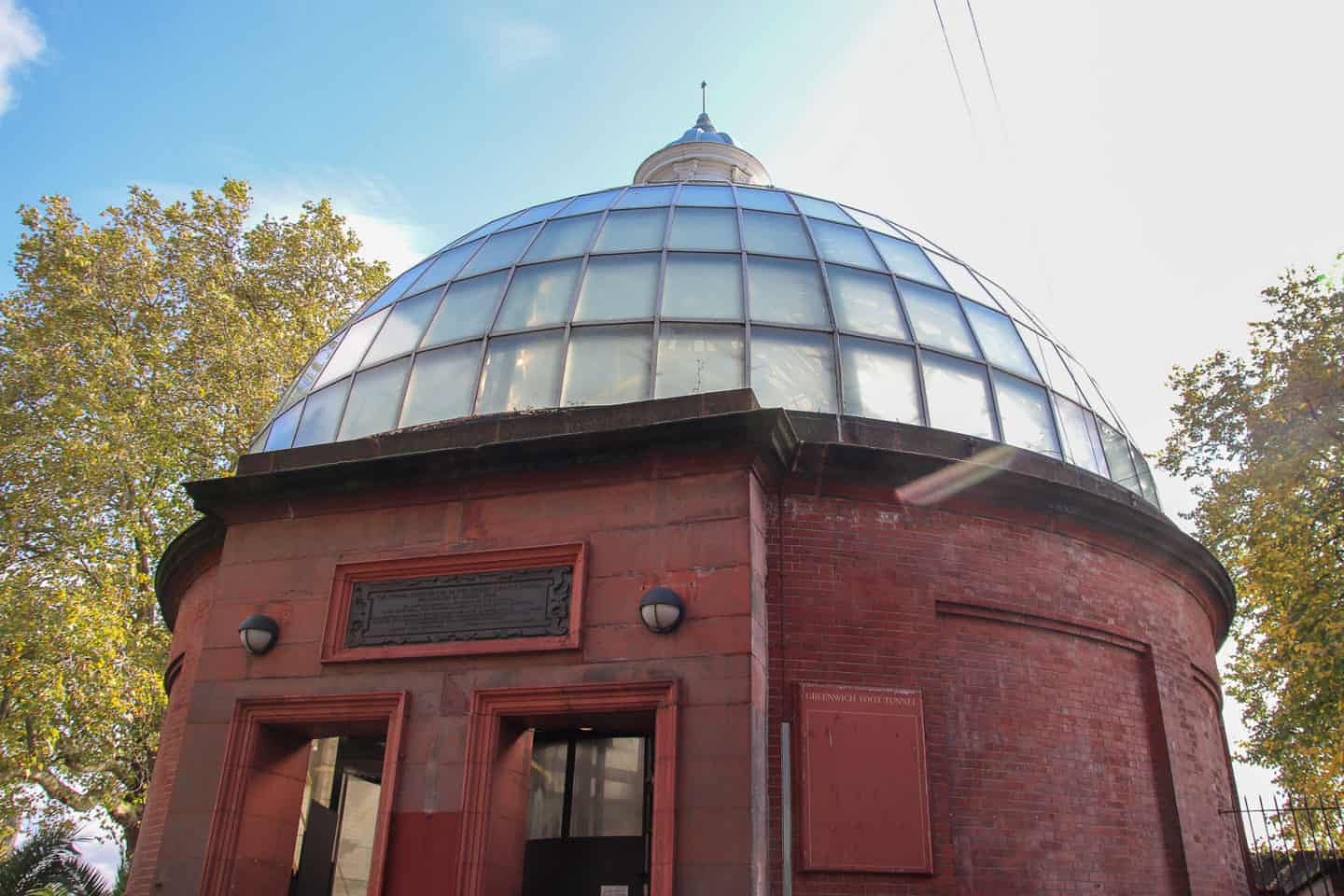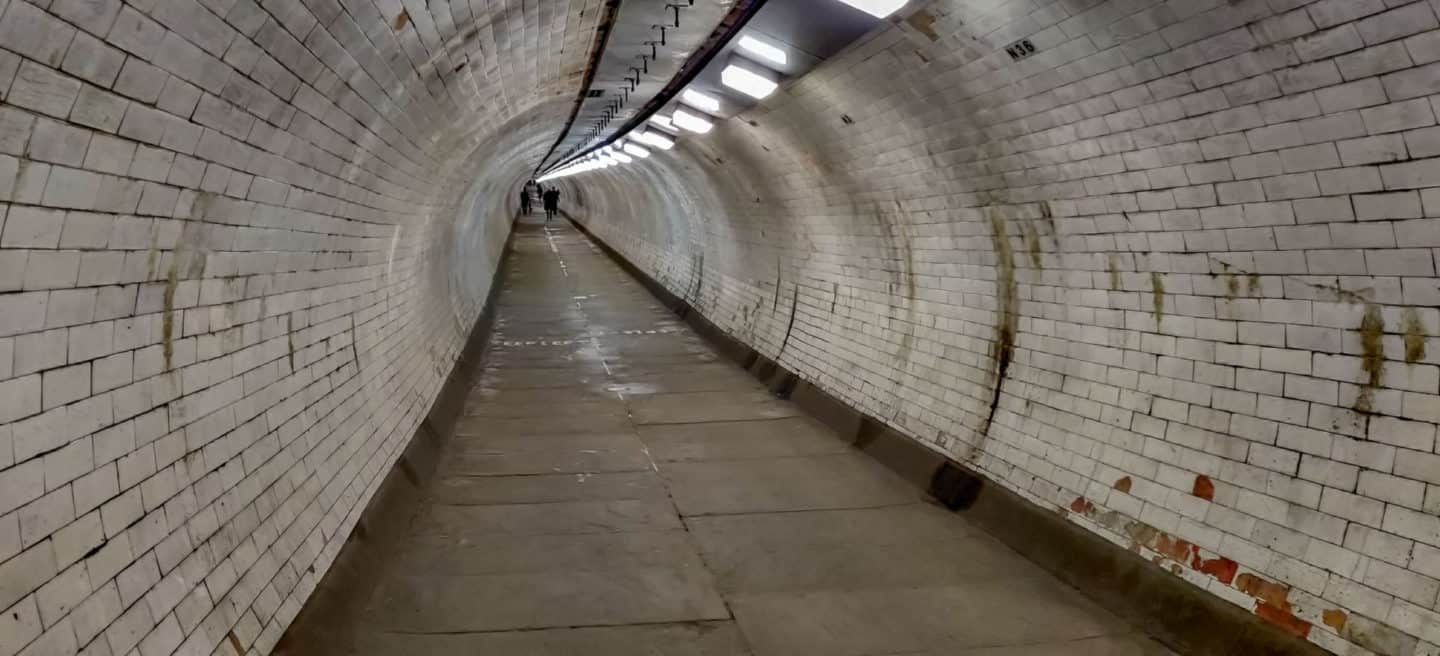 Trinity Buoy Wharf
Located just east of Canary Wharf you'll find Trinity Buoy Wharf. It's an area known for it's art and is popular with photographers for the multiple container city buildings it has. There's also a lighthouse which is always popular
There are a ton of events going on so the area is worth checking out!
Map of all the Things to do in Canary Wharf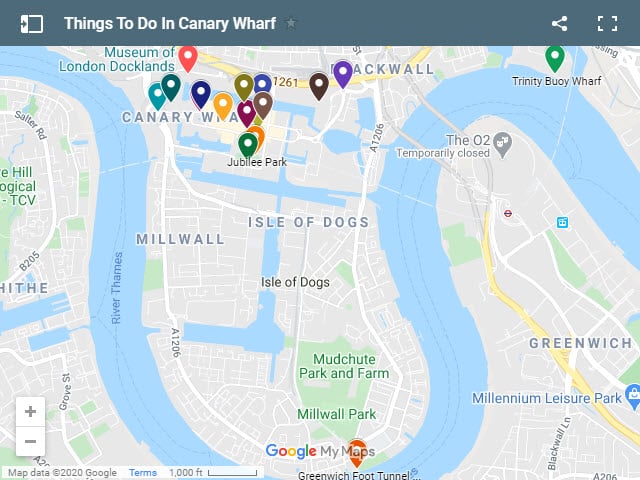 There you have it! Some surprising things to do in Canary Wharf hopefully that'll make you want to spend a little of your time in London in this area.
As always, please pin this post for your own upcoming trip and let me know if you have any questions.