Have you somehow found yourself with only one day in Toronto? Fear not – this itinerary will show you everything you can do in Toronto in one day and exactly how to do it and which spots are absolute must dos.
Let's start off by saying that if you only have one day in Toronto you're definitely going to want to spend it in the downtown core. Toronto is a lot bigger than most people realize and most people don't know that it's the fourth largest city in North America. While a lot of the things to do are centered in the downtown core there's certainly plenty of great and exciting things to do around the city on visits with more time but given your limited time to explore we'll stick to the downtown core like I mentioned for this one day itinerary.
I've lived in Toronto for way too many years now (going on 20 years soon) and hosted a number of family members in the city and if you're up for a long day and seeing as much as possible then this is absolutely the itinerary I would go with!
Getting around
This one day in Toronto itinerary is completely walkable (although it will be a very long day!). If you prefer to take the TTC (Toronto's transit system) you're able to do that between the different stops as well. Single tickets for adults cost $3.25 but if you're travelling with a partner I'd recommend a day pass for $13. It'll last you the entire day for unlimited travel. These can be purchased at Presto Machines inside stations.
Another great way to get around in Toronto is one of the many bike share programs. You'll find them pretty much all over the downtown core and renting them to get from one part of the itinerary to another is a great way to get around.
If you're not a huge fan of walking then you can always go the good old route of Uber. The downtown core always has a number of ubers available and with the option for pool you'll be able to get around for fairly cheap since the destinations aren't too far from each other.
One Day in Toronto Itinerary
Start Your Day at Union Station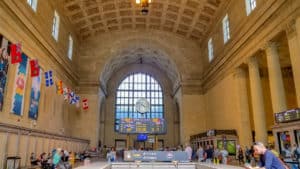 Start your day off at Union Station. It's the most central location for transit and it'll be fairly easy to get to it regardless of where you are staying in the city. If you're coming straight from the airport or one of the neighboring cities then Union Station will also be your closest destination since it services not only the TTC but also GO Trains and VIA Rail Trains.
Union Station is the closest thing Toronto has to Grand Central Station and both the interior and exterior architecture is great and I'd recommend dedicating some of your time to walking around the station. There are sometimes events and exhibitions going on and with the most recent renovations there's a number of stores in the underground path and a fairly large food court with a number of options if you want to grab a quick coffee before starting your day.
Fun fact: multiple movies, including Suicide Squad, have been shot at Union Station!
St. Lawrence Market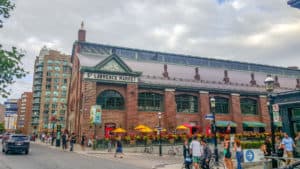 A short 10 minute walk from Union Station you will find St. Lawrence Market and all the great food that it has to offer.
Do take your time walking to the market however because you'll pass some great landmarks like the fun dog fountain in Berczy Park and Toronto's own flatiron building (the Gooderham Building). You're definitely going to want to get some pictures of these landmarks.
The market has over 100 vendors and you'll be able to find all kinds of foods here from coffee to perogies to peameal bacon sandwiches and so much more which is why it's an ideal stop for breakfast first thing in the morning!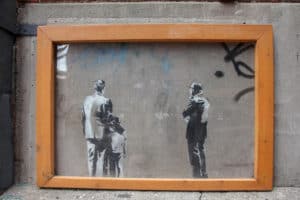 St. Lawrence Market is so great that National Geographic voted it the World's Best Food Market in 2012 and if you're a fan of Anthony Bourdain you may recognize it from his episode of the Layover. He ate at Carousel Bakery which is well known for its peameal bacon sandwich which coincidentally happens to be what I recommend you grab for breakfast! Do note that they however only take cash!
Fun Fact: Banksy visited Toronto in 2010 and while almost none of the pieces remain one of the ones that do can be found extremely close to the St. Lawrence Market. It's on a wall right by the side of Goose Island Brewery and it has been protected to make it last so it's a great hidden gem of Toronto! The exact coordinates of the piece are here.
Distillery District
About a 15 minute walk from the St. Lawrence Market you can find the stunning Distillery District. It's one of the most historic parts of Toronto with many buildings left over from the old days of Toronto. It stands in contrast to a lot of the big towers that Toronto has to offer so it's a nice difference to that big city feeling.
The area is completely pedestrian free so it's one place you definitely won't have to worry about traffic! There's lots of little alleyways in the area so you do need to take your time looking around to see everything the area has to discover. You'll find great unique stores selling clothes, gifts etc. There's plenty of restaurants including dessert and coffee places. There's also some great art galleries to explore!
The Distillery District is one of the best spots for photography in Toronto. You don't want to miss the love sign or the giant red heart but even just the alleyways and buildings themselves are incredibly photogenic. The area is also one of the places where there's usually some kind of
event
going on whether it's the Christmas Market or the Lights Festival odds are that you'll get to see something happening while you're there.
You could easily spend half a day in the Distillery District. I'd recommend an hour or two to see the highlights!
If you're interested in eating dinner here (there are some great restaurants!) then perhaps keep the Distillery District for later on in your itinerary.
Kensington Market
It should be lunchtime right about now which you should be spending in Kensington Market. Kensington Market is about a 1 hour walk from the Distillery District. If you're not interested in doing something big in the afternoon (like the AGO or the ROM or anything) then it's a great walk that'll take you across the well known Queen Street West and passing through Nathan Phillips Square where you can see both the old and new City Hall in addition to the very instagrammable Toronto Sign. It'll also make you hungry which is great because there's tons of places to eat in Kensington Market and you'll want to try them all.
If a 1 hour walk isn't exactly what you had in mind then I'd recommend taking transit for this one which would involve two streetcars. You'd get to see a lot of the city which is great!
Kensington Market is one of my favorite places in Toronto. There's just so much to see and do that you can't possibly be bored. To start off, the shopping in the area is so much fun. You'll find everything from vintage stores to an Asian candy store to a specialty cheese store. In addition to the shopping there's also so much to just look at. There's some great street art pieces all over the area and the storefronts themselves are super pretty to look at and that doesn't even take into account the awesome places to eat. I highly, highly recommend a donut from Dipped Donuts (the vanilla cardamom is my favorite) which is easily one of the best donuts Toronto has to offer in addition to any of the actual lunch places you'll choose (my votes for Moo Frites or Seven Lives!).
Pro tip: If you head to the top of the Green P parking lot (you can take the elevator to the top) you'll get a great view of the city (as seen in the below picture).
China Town and Graffiti Alley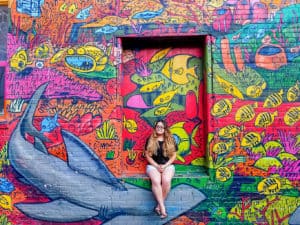 After wrapping up in Kensington Market you'll be heading over to Graffiti Alley but take the scenic route and walk down Spadina until you pass Queen Street West. This route walks you through China Town which is a great place to pick up some souvenirs or some more snacks (like bubble tea or bubble waffles).
Once you've passed Queen Street West (which should take about 15 minutes depending on your stops) you'll find Graffiti Alley on your right.
The alley is pretty much what you think it is. It's a 1km long alleyway covered in every kind of graffiti possible. I absolutely love it and if street art is your thing then you're definitely not going to want to miss it. How long you want to spend here really depends on how many pictures you take and how many of the side alleys you venture into. You could quickly walk through it in 10-15 minutes I'm sure but I've always spent an hour plus here.
Take your pick: AGO, ROM, Allan Gardens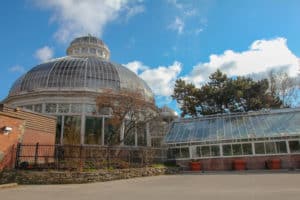 This is the portion of the itinerary this is super flexible. You can take your pick between the ROM, AGO or Allan Gardens. If you're feeling behind on the itinerary (like you're nearing the evening) then you can even skip this portion and go straight to Harbourfront and opt to do dinner late (similarly, if you're feeling rushed on time this would be the portion I'd skip).
The AGO requires the least amount of commuting as it's a short 15 minute walk away from Graffiti Alley. If art is your thing then the Art Gallery of Ontario is definitely worth checking out. You can find their hours here and their prices here. They're open late (until 9 pm) on Wednesdays and Fridays and between 6 pm and 9 pm on Wednesday they have free admission!
The ROM is a little further away at a 36 minute walk or a 20 minute commute ride but if museums are your thing then the ROM is very cool. The exterior architecture is super unique and the permanent collection on the inside has a lot to offer. You can find their hours and prices here.
While there are a dozen choices you could do for the afternoon, I will round it out with a third option which would be visiting Allan Gardens. Allan Gardens is a 40 minute walk from Graffiti Alley or a 30 minute commute. It's however completely free to visit and is one of the 3 Toronto Conservatories around the city. It's open from 10 am to 5 pm daily (365 days a year) and is naturally heated so it's a great alternative if you don't want to do as much walking in the cold.
Dinner and/or Drinks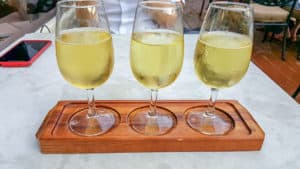 Depending on what you opted to do in the afternoon (or how long your day has been so far) you may not be ready for dinner yet. Which is okay! If you're not then you can flip this portion with the Harbourfront portion or just opt to do drinks. Trust me when I say you'll be spoiled for choice. Toronto has over 7500 restaurants ranging in everything from Japanese to Ethiopian to South American food and you'll be able to find almost anything you're looking for.
In addition to the all the fantastic restaurants Toronto has to offer, there's also a huge bar and brewery scene. You'll be able to find a bar (and often multiple bars) in every single neighbourhood in Toronto. That's not even mentioning the dozens of breweries you can find around the city. If alcohol is your thing then Toronto is definitely for you. I'm not a huge drinker but can personally recommend Her Father's Cider in the University of Toronto area for some awesome, locally produced, ciders.
Sunset at Harbourfront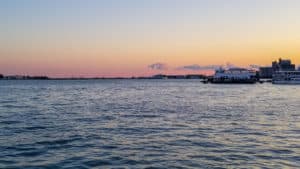 There's nothing like ending the day with sunset and a walk along Harbourfront. This one more than anything else on this list is very seasonally dependent. It's a lot colder on the waterfront in the winter and the sun also sets much earlier so if you're visiting in the winter months then it may not make too much sense for you to add this in and you can have a bit more of a leeway with rushing/taking your time.
If you are visiting in the summer however then the Toronto Harbourfront has a number of things to see/do and you can spend as much or as little time as you want exploring it.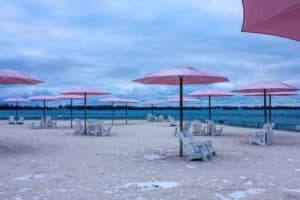 Some of the highlights include:
Toronto Music Garden: This escape from the bustle was designed by the famous cellist Yo-Yo Ma in collaboration with architect Julie Moir Messervy and is meant to remind you of a Bach piece.
Sugar Beach: a man made beach with pink umbrellas and chairs for relaxing
Harbourfront Centre: The centre is a haven for creation and you can find everything from artisans working in the Craft Studio to hanging out by a pond that converts to a ski rink in the winter to concerts and events. There's always something going on at the Centre so I'd highly recommend checking out what's on before your visit.
You of course can't miss sunset which is absolutely stunning!
Toronto at night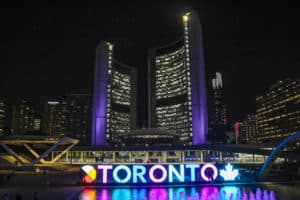 Toronto may not be the city that never sleeps but there's a number of options for your evening in Toronto.
If you have the money to spend then taking a trip up the CN Tower to see the city light up at night is pretty fantastic. Tickets cost
If you're looking for a more budget friendly option (or if you've got lots of energy) you can also head over to Nathan Phillips Square to see the Toronto sign completely lit up (which makes for great pictures!). Yonge-Dundas Square is also really close by and is awesome when lit up at night. Think Times Square but smaller and way less crowds!
If you're looking for an actual activity you'll still have plenty of options like a comedy show at Second City, see some live music at a number of bars or go dancing at any of the clubs. On the other hand, it's been a fairly long day and if you wanted to head to bed nobody would blame you!
Alternative Itineraries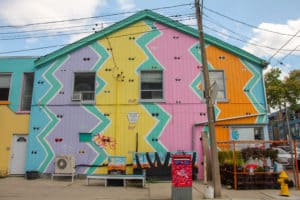 If you're looking for a less hectic version of this itinerary then I'd start with any of the great brunch places Toronto has to offer, continue with some shopping and sightseeing on Queen Street West (including the beautiful murals the city has to offer and Trinity Bellwoods Park), taking in the AGO and wrapping the evening up in Kensington Market with some amazing foods.
For sport fans: if you're visiting in the summer then taking in a Blue Jays game in the evening is a great way to spend the night and tickets are usually quite cheap and unless it's playoffs can typically be bought on the spot.
For nature lovers: if you're visiting anytime but the winter you can easily replace half of this itinerary with a visit to the Toronto Islands instead. It's a great nature spot super close to downtown Toronto. You'll take a ferry from the Jack Layton Terminal which is a 15 minute walk from Union Station.
For those who love to save money: If you're on a budget I recommend checking out my giant list of the absolutely free things to do in Toronto.
For those visiting in Winter: If you're in Toronto in the winter and you may want to slightly modify the itinerary. I recommend breaking up some of the outdoor walking with more indoor activities and perhaps adding a second museum or the Eaton Center would be a great way to do that. You can also check out more of my recommendations on things to do in Toronto in winter.
The itinerary is modifiable depending on whether you actually have a full 24 hours or whether you have a portion of a day. A lot of the times it's easier to start the day from Union Station just because of the central location and its proximity to the start of the itinerary but if you get in midday I would recommend starting right away at Kensington Market.
Toronto's a lovely city that has a ton to offer. One day in Toronto isn't enough to see everything but it's a great way to get a feel for the city and hopefully it'll just entice you to come back to see more of the city!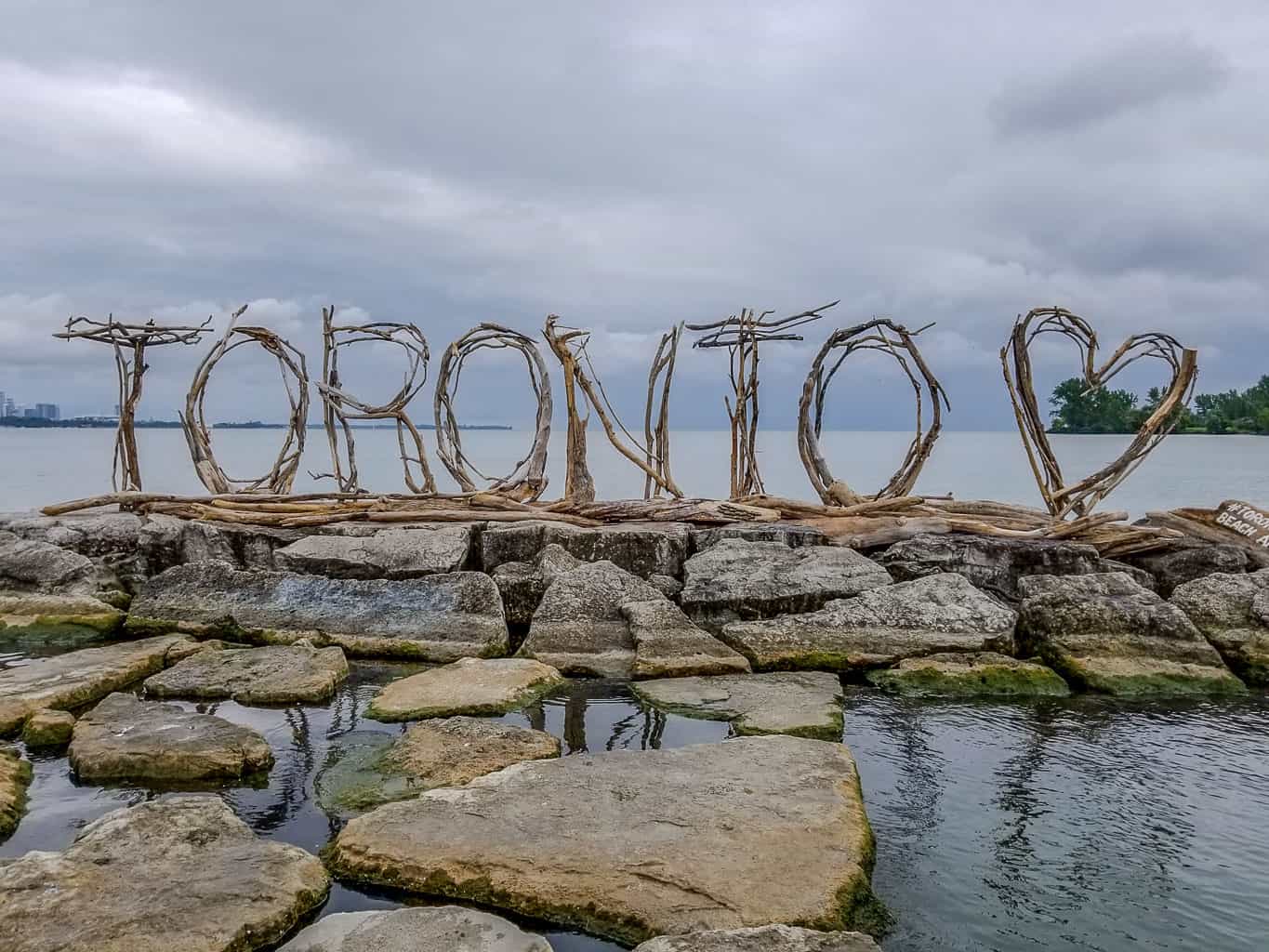 There you have it! A complete one day in Toronto itinerary. Have you been to Toronto? Did you have more than a day? Let me know in the comments and as always pin this post for your own upcoming trip.