As you may know from previous posts, Toronto has a fantastic food scene and I've been making an effort to highlight it as best I can. Next up for my food round up is the best donuts Toronto has to offer. Similarly to the other food posts, I'll keep updating it as I discover new gems but for now read on about where to find the 11 best donuts in Toronto.
Dipped Donuts
Location: 161 Baldwin St #1, Toronto, ON M5T 1L9
Hours: Tues-Thurs 10am-6pm Fri – Sun 10am – 7pm or until sold out. Closed on Mondays.
Price: The regular donuts are $3.25 with special flavours costing a little more and the donut holes are $4 for half a dozen or $7 for a full dozen
What to Order: The Vanilla Cardamom Donut (to die for)
Dipped Donuts is by far my favorite place for donuts in Toronto and one of my absolute favorite desserts in Toronto as well. It helps a lot that it's located in Kensington Market and it should be no surprise that I consider it one of the best places to eat in Kensington Market as well.
They've got some staples that are beyond tasty (my vote is for the Vanilla Cardamom Donut and London Fog) but they do rotate in seasonal flavours and special donuts as well. They've got some really interesting flavour combinations too like Lychee Rosewater Raspberry and Lemon Lavender. You can check out the current menu on their website.
In addition to the full size donuts (which are huuuuge) they also sell the donut holes (in cinnamon sugar and chai masala) for $4 for half a dozen and $7 for a dozen.
Dipped Donuts is arguably one of the most popular places on this list and its location in Kensington Market means that it's usually really busy as well.
Tiny Toms
Location: Truck travels around to fairs and festivals but the permanent location can be found at 7323 Woodbine Ave, Markham, ON L3R 1B5
Hours: The seasonal locations will depend on the event's hours but the permanent location is open Monday to Saturday between 11 am and 5 pm and closed on Sundays
Price: The special is buy 3 dozens and get the 4th dozen free with each dozen costing $5. The permanent location also sells 8-packs for $3.50
What to Order: The cinnamon is my favorite but you can't go wrong with the classic powdered sugar
If you've ever attended a festival (or the CNE) in Toronto, you'll have seen Tiny Toms and their pretty little donuts. Their permanent location in Markham gives you access to them all year around but they're pretty much a staple for Toronto events.
Their mini donuts can be purchased in the following flavours: powdered sugar, cinnamon, chocolate or apple n' cinnamon and I'd highly recommend grabbing 2-3 flavours and sharing them.
Because of how they're bagged you can't split the flavours – you'll have to get a dozen/flavour!
Von Doughnuts
Location: 713 Danforth Ave, Toronto, ON M4J 1L2
Hours: Closed on Mondays. Tuesday-Saturday open between 10 am and 6 pm.
Price: 1/2 dozen for $17.10, full dozen for $29.95. Specialty donuts are slightly more expensive as are the kabobs. Mini donuts are available for $27/dozen
What to Order: The Sangria and Nutella were my favorites
Von Doughnuts is a staple in Greek Town on the east end of Toronto. They've got yeast doughnuts that seem denser than a lot of the other places on this list so you'll definitely get full on one!
Their menu is day specific since the donuts are baked freshly so if you're interested in trying a specific donut I would head over to their website to see which days that specific donut will be offered on.
I'll add that I found their hours strange – we visited mid-day and they were closed for lunch and when they did re-open they were pretty much sold out of most stuff. I'd give them a call ahead of time at 416-901-8663 to make sure they're open and stocked!
Glory Hole Doughnuts
Location: Glory Hole Donuts has 2 different locations. The first location is at 1596 Queen St W, Toronto, ON M6R 1A8 and the second location is at 1505 Gerrard St. E., Toronto, ON M4L 2A4
Hours: Open between 9am and 6pm Monday-Friday and between 10am and 5pm on Saturdays and Sundays
Price: 1/2 dozen are $24 and a full dozen are $46. A single classic is $3.75 and a single special is $4.25
What to Order: The toast and butter donut
Glory Hole Doughnuts is a Toronto staple and they've got a number of different options for you to order and now two different locations to order at as well. They run out of donuts quite early in the day (like some of the other places on this list) so I'd recommend stopping by as early as possible.
Glory Hole Doughnuts has a ton of options and make both yeast and cake donuts in addition to vegan donuts. You can see their pretty huge menu here.
Jelly Modern Doughnuts
Location: Brookfield Place, 181 Bay Street C350, concourse level, Toronto, ON M5J 2T3
Hours: Monday-Friday between 7am and 6pm and closed on the weekends
Price: Single donuts are $2.95, dozen donuts are $33.95
What to Order: Classic Jelly and Seasonal Fruit
Jelly Modern Doughnuts is one of the original gourmet donut spots in Toronto and while it was originally at a different location it can now be found at Brookfield place in the financial district. While stores normally start in Toronto and expand to the rest of Canada, Jelly Modern Doughnuts actually started in Calgary and then expanded to Toronto.
If you don't work downtown then this place may be the hardest to try just because they're closed on weekends and close fairly early in the evenings as well but fear not because you can order them for delivery in the downtown core!
Sud Forno
Location: Queen: 716 Queen St W, Toronto, ON M6J 1E8. Temperance: 132 Yonge St, Toronto, ON M5C 1X3.
Hours: Queen Street: Sun-Wed open between 8am and 8pm, Thurs between 8am and 9pm, Fri-Sat between 8am and 10pm. Yonge Street: The main floor is open Mon-Fri between 7.30am and 10pm, Sat between 8.30am and 10pm, Sun between 9am and 5pm. Other parts of the restaurant have different hours
Price: The smaller bombolini costs $2.15 and the larger bombolone one costs $3.75
What to Order: One of each flavour in the bombolini
Sud Forno has two locations downtown, one on Queen Street West and one on Yonge Street in the financial district. While they do have a sit down portion, they do have a main floor take out section and that's where you can grab your donuts from.
Sud Forno doesn't have a large selection of their donuts. It's pretty much the vanilla pastry cream one or the nutella one. They come in two sizes: the smaller bombolini one or the full size bombolone one.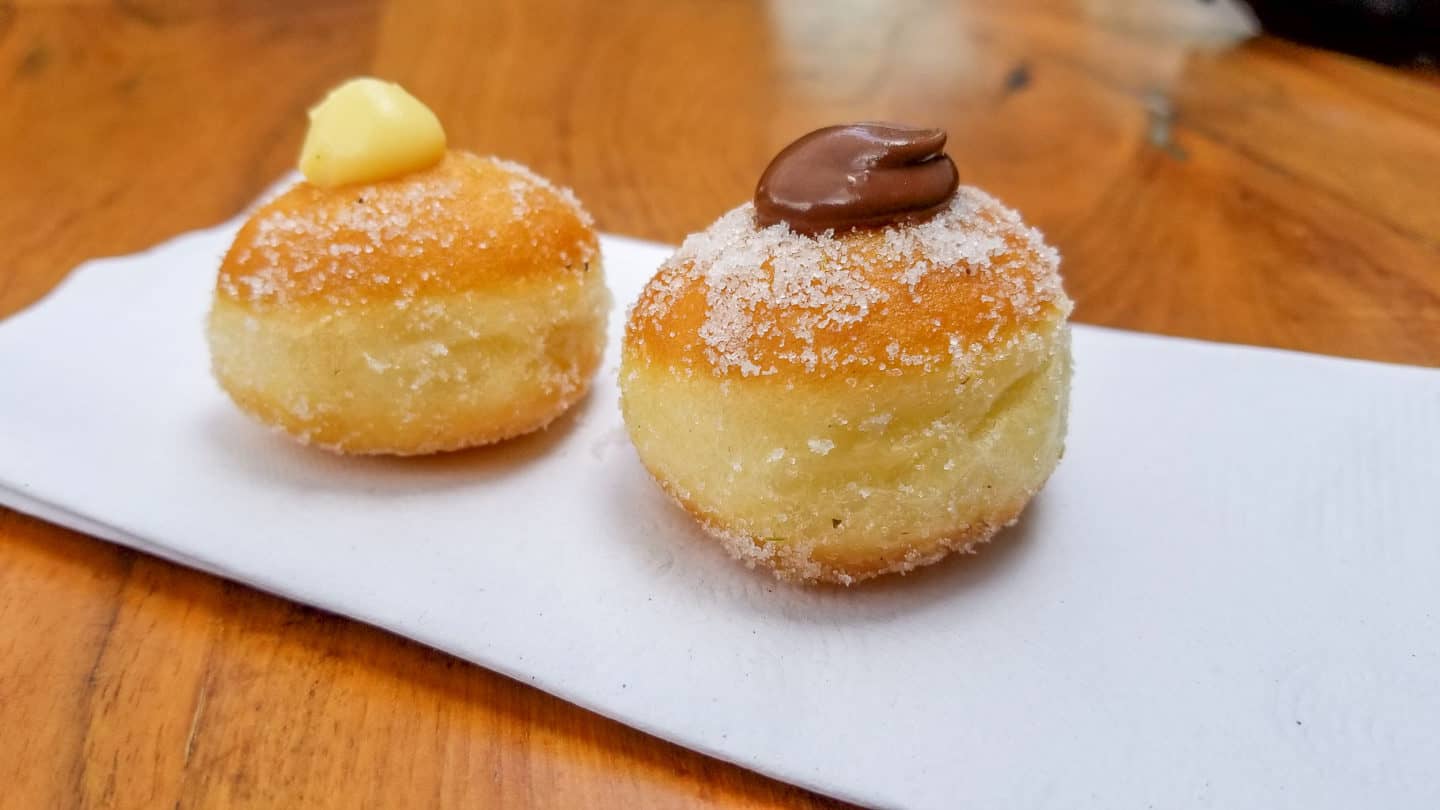 Fugo Desserts
Location: 205 Dundas St W, Toronto, ON M5G 1C8
Hours: Sun-Thu between 12-9 pm and Fri-Sat: 12-10 pm
Price: Specialty mini donuts come in 3 ($2.90), 6 ($5.75), 16 ($14.15), 32 ($26.25), or 48 packs ($40.15). The classic ones come in 6 ($3.75) or 12 packs ($5.75)
What to Order:
This place is strictly take-out (but the wall on the inside is quite instagrammable as a back-drop for the desserts) so you'll have to get the stuff to go.
While the place is more known for their very instagrammable ice cream cones (which are absolutely worth getting), they do make some great mini donuts.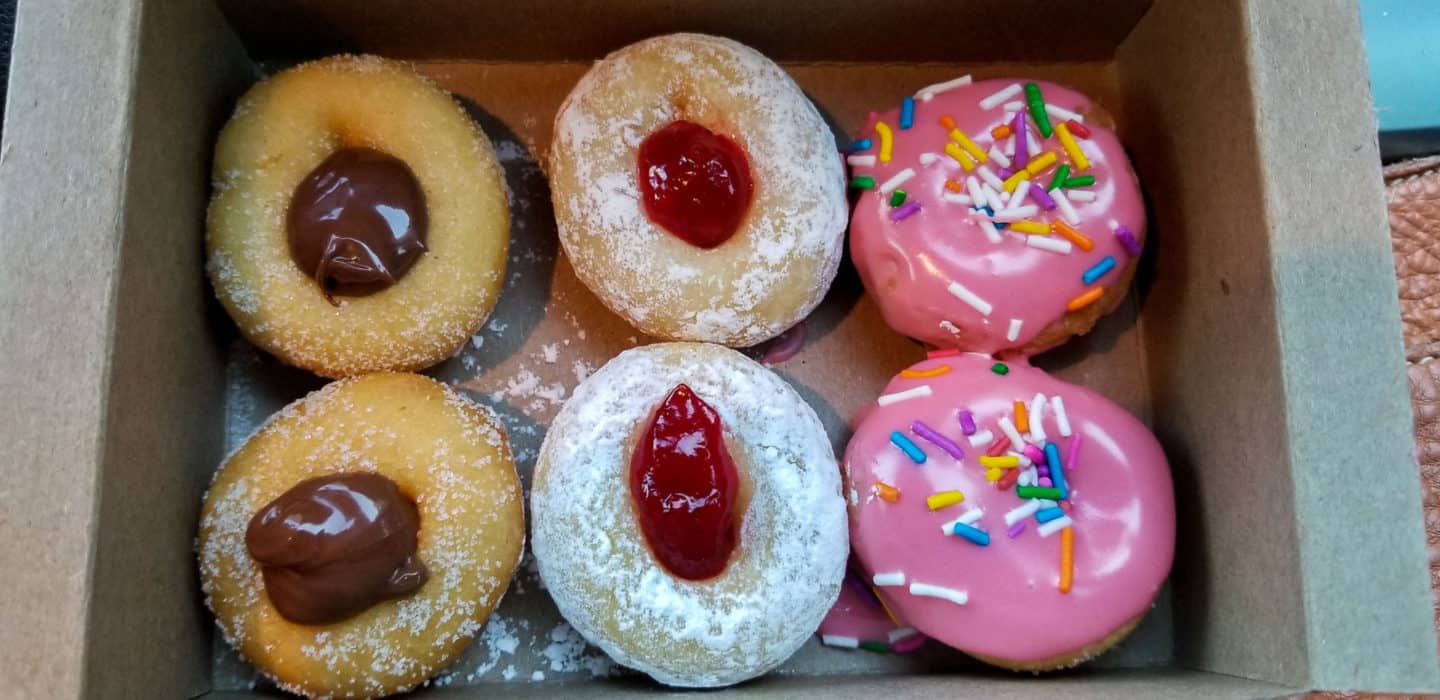 Flipside Donuts
Location: 12 Case Goods Lane, The Distillery District, Toronto, ON, M5A 3C4
Hours: Sun-Thur between 10 am and 8 pm and Fri-Sat between 10 am and 9 pm
Price: The sweet minis can be bought as a half dozen (1 or 2 flavours) for $5.95 or a full dozen (1 to 4 flavours) for $10.95 or a double dozen (up to 8 flavours) for $19.95. The savory minis can be bought as half a dozen (1 or 2 flavours) for $7.95 or a full dozen (1 to 4 flavours) for $12.95
What to Order: Bay St. Blueberry Lavender and Kensington R&R are my personal votes
Flipside Donuts is one of the newest places on this list and can be found down one of the alleys in the Distillery District. Like Tiny Toms and Cops they specialize in the mini donuts. Their flavour names are in honour of Toronto spots and I highly recommend the Bay St. Blueberry Lavender and Kensington R&R.
Sweet flavours include Bellwoods Bonfire (toasted spiced walnuts, smoked maple syrup), Kensington R&R (raspberry puree, candied rosemary, freeze-dried raspberries), Bay St. Blueberry Lavender (wild blueberry puree, lavender, dehydrated blueberries), South Coast Sour (lemon curd, toasted poppy seed), Danforth Drizzle (pistachio butter, Toronto Honey, puff pastry), Colborne Crumble (apple puree, oat crumble, warm spices) and High Park (cherry & cheesecake drizzle, graham crumble).
Savoury flavours include College St. Porchetta (roast coppa, red wine demi glace, pistachio butter, crackling), Green Belt Thai Curry (coconut milk, green Thai curry, pickled chillies, micro cilantro), Spadina Streetcar (braised duck, hoisin glaze, pickled vegetables, micro cilantro) and Yorvkville Cheese Plate (brie, dried fruit, light curry glaze).
They also serve some classic flavours like the flipperoos that are 10 dunkable mini donuts with vanilla sprinkles and hazelnut chocolate dips for $9.95. They've also got 10 classic cinnamon sugar mini donuts for $7.95.
Donut Monster
Location: Stackt Market: 28 Bathurst Street, Toronto, Ontario, M5V 0C6
Hours: Mon-Thur between 11am–8pm (or until sold out) and Fri-Sun between 8am–8pm (or until sold out)
Price: $2.75 to $3.75 per donut
What to Order: Any of the unique flavours like Blood Orange Hibiscus or Tequila
Donut Monster is originally a Hamilton based business that has opened a location in the new Stakt market in Toronto.
The Toronto location is smaller than the Hamilton ones and once they sell out for the day that's pretty much it. Highly recommend starting your day here!
Sanremo Bakery
Location: 374 Royal York Rd, Etobicoke, ON M8Y 2R3
Hours: Closed on Mondays. Open between 8 am and 7 pm Tuesday-Saturday and between 8 am and 6 pm on Sundays.
Price: A regular donut clocks in at $2.15 but the season flavours can go anywhere from $2.99-$4.50. Half a dozen donuts is $10.99 while a full dozen is $19.99. Mini donuts are $1.99 and jumbo ones are $35.
What to Order: The wild berry filled and lemon filled ones are personal favorites but the Maple Bacon is a popular and unique one to try as well
Located in the West End, Sanremo Bakery is another Toronto staple that has been around for a long time. Their prices are a little cheaper than everybody else's so that's a positive they have going for them.
Personally love, love, love the berry and lemon filled ones but the Maple Bacon one was popular with others!
One of the stand out features of Sanremo Bakery is that they have the giant versions of their donuts. They do cost $35 but they're pretty much cake sized and definitely for special occasions.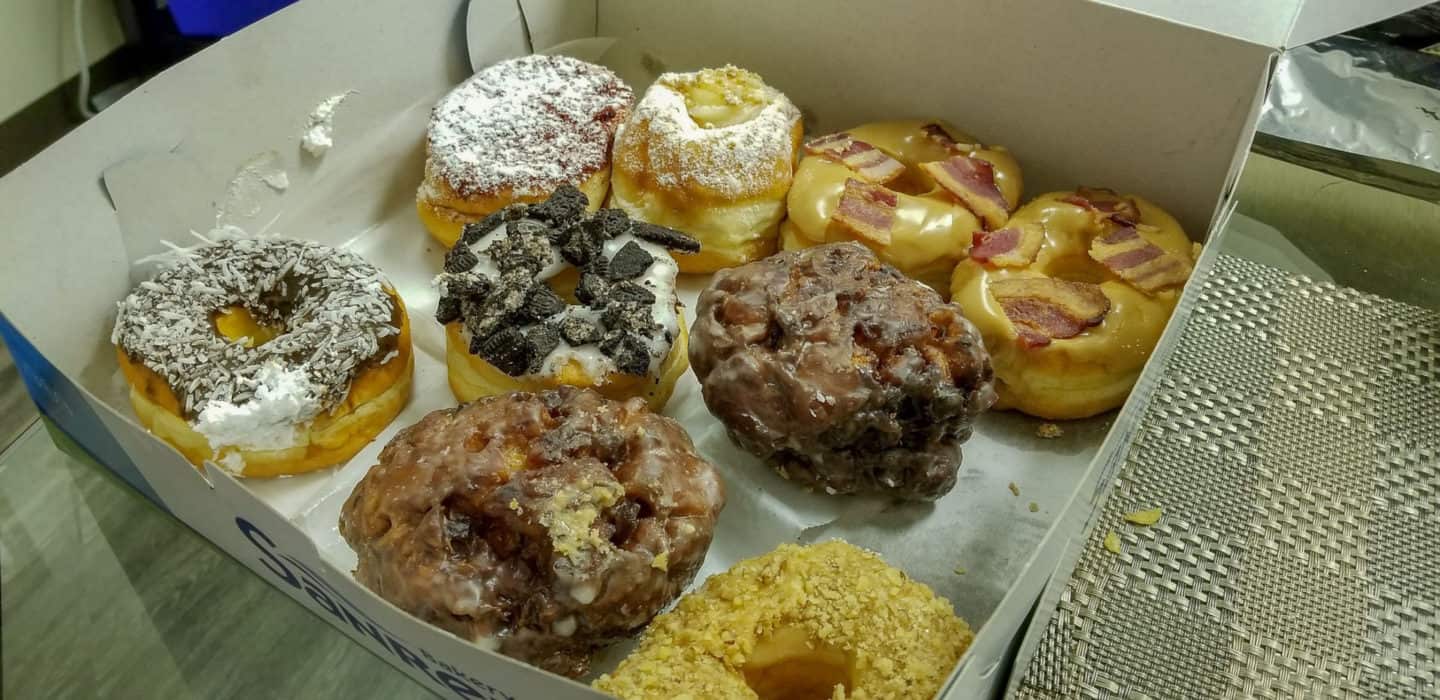 COPS Donuts
Location: 445 Adelaide St W, Rear entrance (enter off Morrison), Toronto, ON M5V 1T1 (in the pink building)
Hours: Monday-Friday between 8:30 am and 4:30 pm, Weekends between 10 am and 6 pm
Price: 1/2 dozen of the regular flavour is $4, a full dozen is $7, the special flavours are $5 for the 1/2 dozen and $7 for the full dozen
What to Order: The sour cream glazed originals
COPS Donuts is a pretty no-frills place. They do a few flavours but they do them quite well. Their standards are cinnamon sugar and original sour cream glazed and they rotate in some special flavours. COPS, like Flipside and Tiny Toms, is a place that focuses on the mini donuts but pack a whole lot of flavour in.
The place has a few benches and a simple, yet quite instagrammable, aesthetic. Depending on the weather you may want to take your donuts to go since the interior is on the smaller side.
Don't miss the pink exterior! Definitely worth a shot or two!
How many of these places have you tried? Which is your favourite? Let me know in the comments and pin this post for your own upcoming visit to Toronto or to remind yourself of the ones you still need to try.